When it comes to breakfast, everyone has a method to their madness. Some swear by a hearty, savory meal. Others opt for something light and sweet. Most prioritize speed and convenience, while a few relish the slow ritual of cooking a gourmet dish. Whether you're a breakfast enthusiast or a coffee purist—a health-conscious eater or an occasional indulger—breakfast is a deeply personal affair. But does your morning meal contain enough fiber for optimal digestion and stable blood sugar levels? Let's take a closer look at what's on your plate. It's time to kickstart your day with these high-fiber breakfasts.
Featured image by Michelle Nash.
How much fiber should you eat in a day?
Unfortunately, most of us aren't getting enough. In fact, when we talk about the pitfalls of the American diet, we tend to focus more on our addiction to processed sugar and less on our inadequate fiber intake. Currently, the average American consumes 10-15 grams of fiber per day. Which—spoiler alert—is nowhere near the mark. So, how much fiber do you need? The official recommendations state no less than 28 grams/day. However, what we actually need may be 50+ grams/day.
Tips to Add More Fiber to Your Diet
To begin, start slow. After all, a sudden increase in fiber can lead to digestive discomfort. But by gradually incorporating more fiber-rich foods into your meals, your digestive system has time to adapt. This gradual approach is key. Below are 10 ways to add more fiber to your diet:
Start your day with whole grains. Choose organic oats, oat bran, or sprouted-grain English muffins (instead of refined grains).
Eat in color. Incorporate fruits and vegetables into every meal and snack. Fresh, frozen, and canned all count.
Leave the skin on. When possible, leave the skin on fruits and vegetables like apples, potatoes, and cucumbers, as it's often rich in fiber.
Add legumes. Include beans, lentils, and chickpeas in soups, salads, stews, and stir-fries. You can even swap traditional tortilla chips for bean-based chips!
Snack on nuts and seeds. Grab a handful of almonds, walnuts, or pumpkin seeds for a satisfying and fiber-rich snack.
Blend greens into smoothies. Add a handful of spinach or kale to your morning smoothie.
Use alternative flours. When cooking or baking, try using almond flour, coconut flour, or garbanzo bean flour to up your fiber intake.
Choose fiber-rich snacks. Air-popped popcorn, veggies with hummus, chia pudding, and mashed avocado with seed-based crackers are great options.
Read labels. Pay attention to food labels and choose products with higher fiber content. Aim for at least four grams of fiber per serving!
Stay hydrated. Drink plenty of water as you increase your fiber intake to prevent digestive discomfort.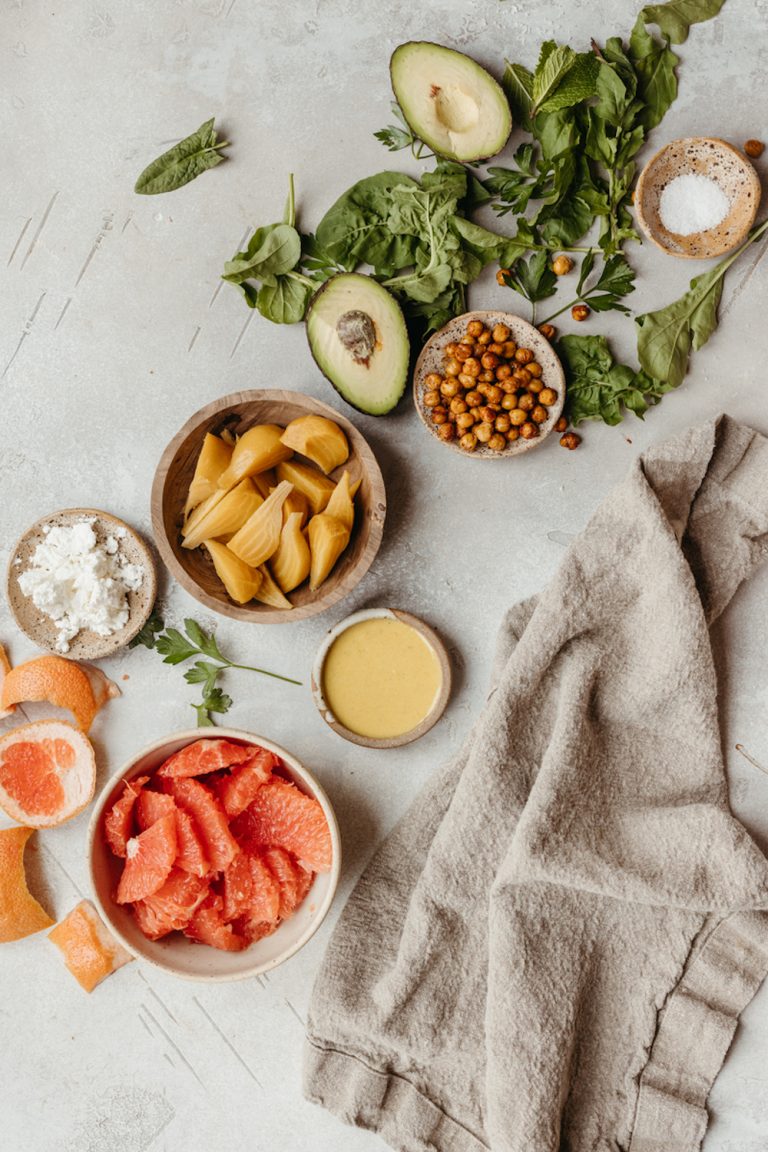 Why Your Breakfast Needs Fiber
Okay, need is a strong contender, but hear us out: fiber is the unsung hero of morning nutrition. First and foremost, it's your digestive system's best friend. It encourages regular bowel movements—key for minimizing bloating and detoxing excess hormones.
Second, fiber plays a pivotal role in managing blood sugar levels. By slowing the absorption of starchy carbs and sugars, fiber helps prevent a mid-morning energy crash. Third, fiber supports heart health by lowering cholesterol levels. Whether you prefer a simple piece of toast or something more elaborate, make fiber a non-negotiable.
Sources Of Breakfast Fiber
With fiber as the focal point, what are the best sources of breakfast fiber? From nuts and seeds to leafy greens and psyllium husk, the sky's the limit.
Chia seeds
These tiny seeds are packed with both healthy fats and fiber. Add them to yogurt, use them to uplevel your peanut butter toast, or mix chia seeds into oatmeal. You can also make chia pudding or toss them into your smoothies.
Flaxseeds
Ground flaxseeds are also an excellent source of fiber. Sprinkled on cereal, mixed into batter for pancakes or muffins, or blended into smoothies, they can be incorporated similarly to chia seeds.
Basil seeds
New to basil seeds? As their name suggests, these small, black or brown seeds come from the basil plant. Like chia seeds, they're gelatinous when soaked in water. Despite their small size, basil seeds are a good source of dietary fiber. Incorporate them the same way you would with chia seeds!
Fruit
Most fruits—particularly berries, apples, pears, oranges, and kiwi—are high in fiber. To get the most bang for your buck, enjoy fruit, whole, with their skins on.
Nuts
Almonds and pistachios are among the highest in dietary fiber. Almonds contain approximately 3.5 grams of fiber per 1-ounce serving, while pistachios provide about 3 grams of fiber per 1-ounce serving! A blood sugar-friendly addition, pair nuts with carbs (fruit, bread, granola, etc.).
Bran
Bran, like other whole grains, is an effective way to increase your daily fiber intake and support overall digestive health. In fact, bran contains the highest concentration of fiber in grains! If you haven't tried bran (oat bran, bran flakes, etc.), it's hearty, filling, and rich in insoluble fiber.
Leafy greens
Spinach, kale, and Swiss chard, are all high in fiber. They contain both soluble and insoluble fiber, which adds bulk to your diet and aids in digestion. Toss leafy greens into scrambles, smoothies, etc.
Artichokes
Although not your typical breakfast food, artichokes are packed with fiber. In fact, artichokes are among the highest-fiber veggies! Add marinated artichokes to a breakfast grazing board, toss them into a frittata, or make an egg and artichoke tartine.
Legumes
Beans, lentils, chickpeas, and peas are all rich in both soluble and insoluble fiber. Make breakfast tacos with black beans, swap your avocado toast for chickpea socca, or dollop a hearty spoonful of peanut butter on top of your oats.
Psyllium husk
Last but not least, psyllium husk. This is a plant-based source of soluble fiber that can be very effective in relieving constipation. Add a teaspoon or two to your smoothie, mix it into yogurt, or bake it into gluten-free recipes (as a binding agent).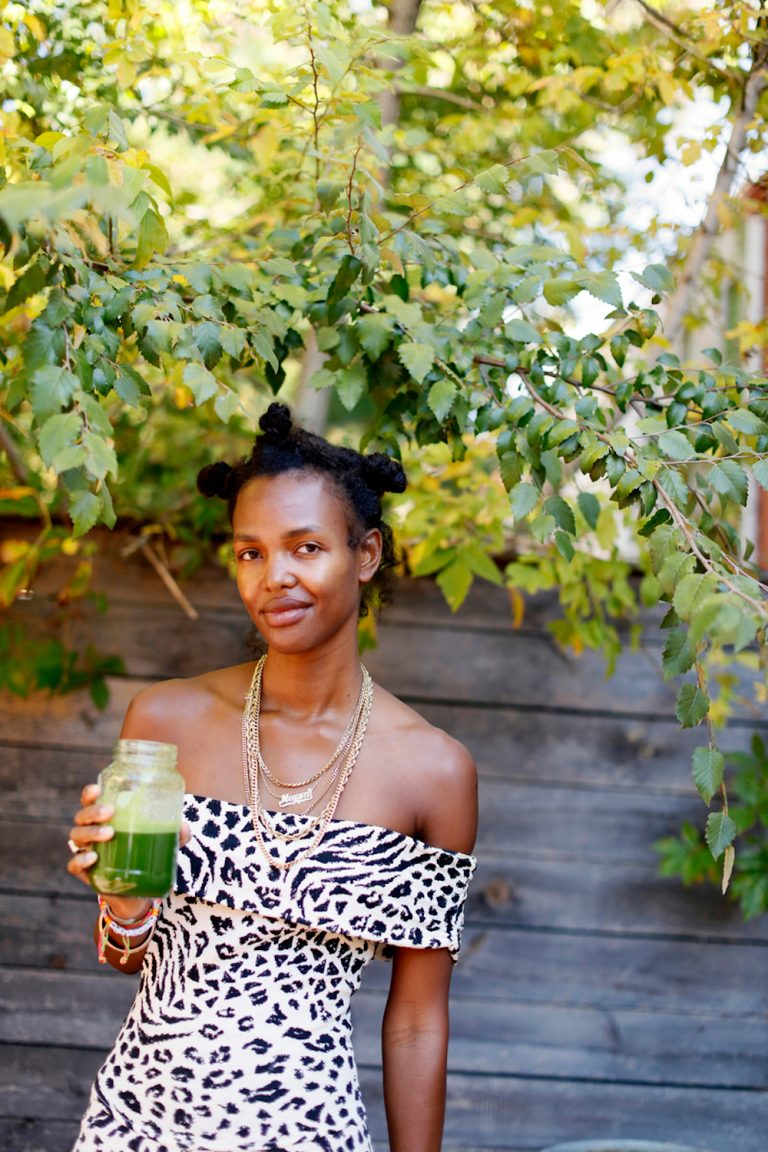 Balanced Breakfast Formula
Of course, fiber is only a piece of the puzzle when it comes to a balanced, satisfying breakfast. Ultimately, you want a mix of nutrients to support sustained energy, stable blood sugar levels, and satiation. That said, what does a balanced breakfast look like?
Protein (25-30% of your plate):
Scrambled eggs or a serving of Greek yogurt
Plant-based options like tofu or tempeh for vegetarians
Lean protein sources like turkey or chicken breast
Healthy Fats (20-25% of your plate):
A serving of avocado
A tablespoon or two of nut butter
A serving of ghee, extra-virgin olive oil, full-fat cheese, etc.
Fiber (25-30% of your plate):
A generous portion of non-starchy vegetables (spinach, kale, peppers, broccoli, etc.)
A piece of whole, low-glycemic fruit
A serving of seeds (chia, flax, etc.)
Starchy Carbohydrates (15-20% of your plate):
A small serving of whole-grain cereal
A slice of whole-grain bread or a whole-grain English muffin
A serving of cooked oatmeal or quinoa
Adjust the portion sizes according to your individual dietary needs and preferences!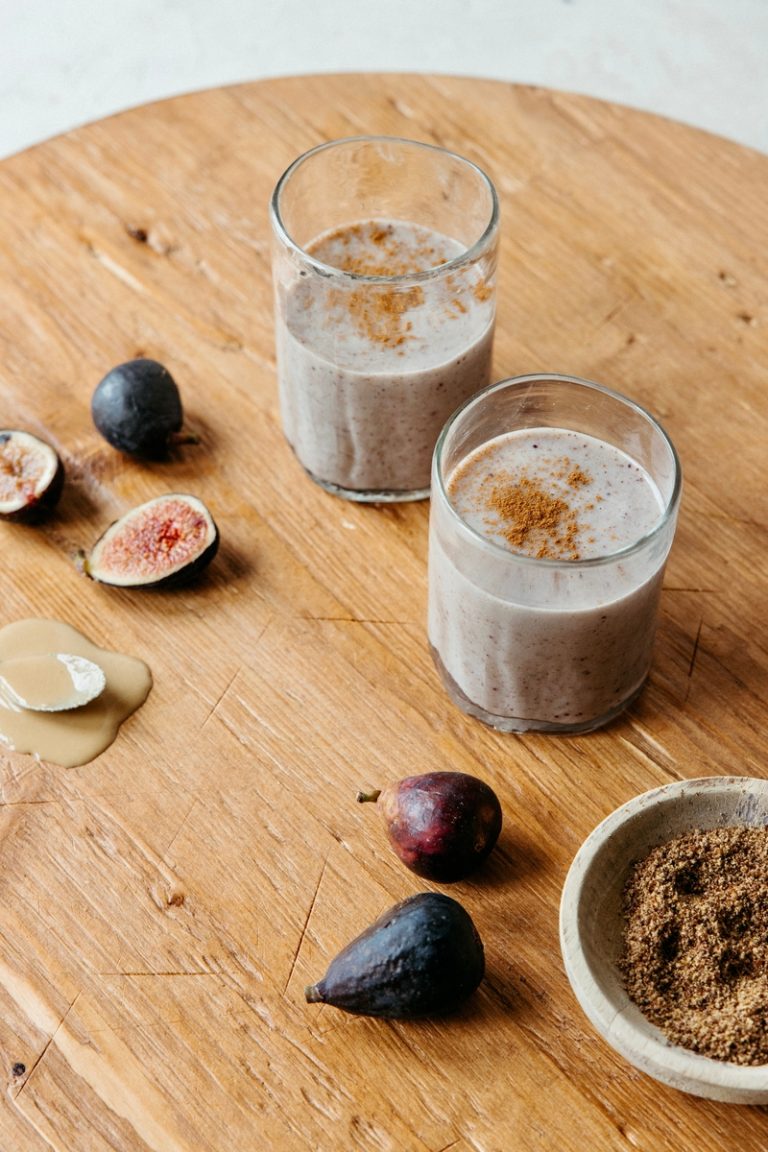 10 High-Fiber Breakfast Ideas
If you're tired of feeling sluggish and hungry just a few hours after breakfast, it's time to supercharge your mornings with a high-fiber breakfast. Below are 10 of our go-to meals that pack a fibrous punch.
1. Fig And Tahini Smoothie
This fig and tahini smoothie checks all the boxes: sweet, gingery, and satisfying. It's light yet filling, the perfect post-workout breakfast.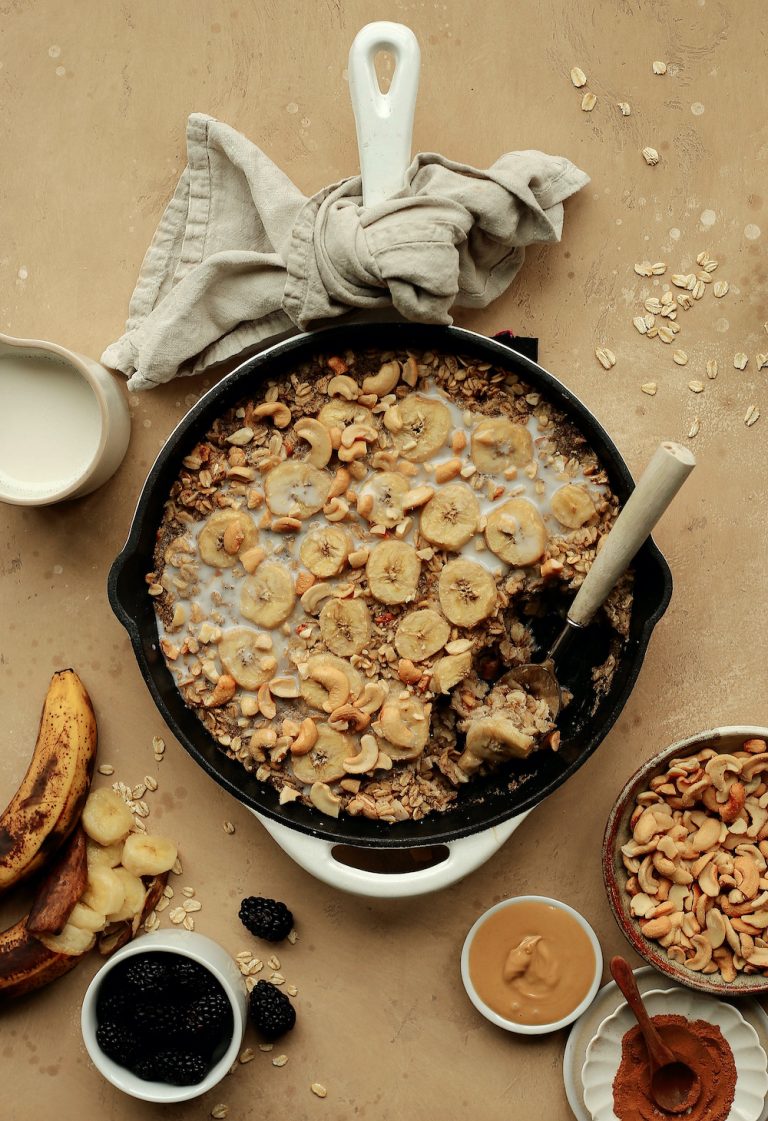 2. Banana Cashew Baked Oatmeal
Do your future self a favor and make this banana cashew baked oatmeal. Nothing beats the flavor combo of banana, peanut butter, cashew, and cinnamon. Best of all, the oats, fruit, and flax add a generous dose of fiber!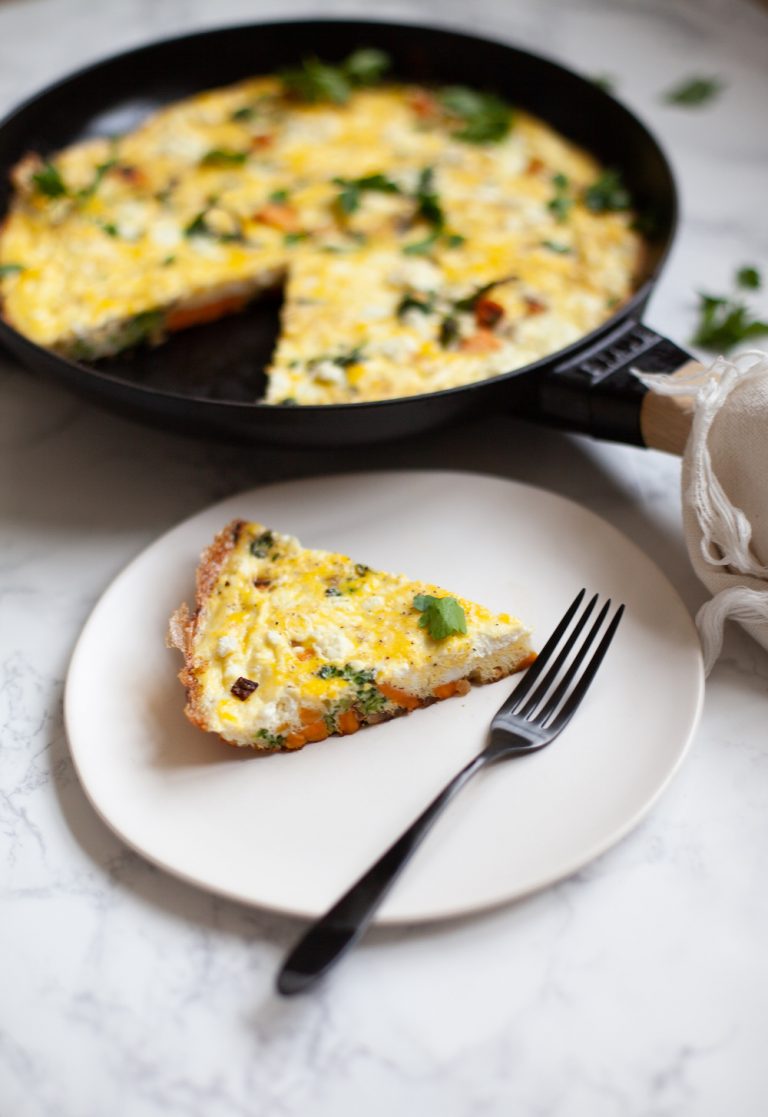 3. Vegetable Drawer Goat Cheese Frittata
Not sure what to do with your wilting veggies? Toss them into this protein-packed and fiber-rich goat cheese frittata. Getting your fiber in just got a little easier.
4. Chickpea Socca With Cherry Tomatoes
Calling all savory breakfast lovers, our chickpea socca with cherry tomatoes with a soft-boiled egg is divine. If you haven't tried socca, it's naturally gluten-free and incredibly easy to whip up. It's truly perfect any time of the day. For mornings, it's an amazing savory idea—similar to a frittata and just as satisfying.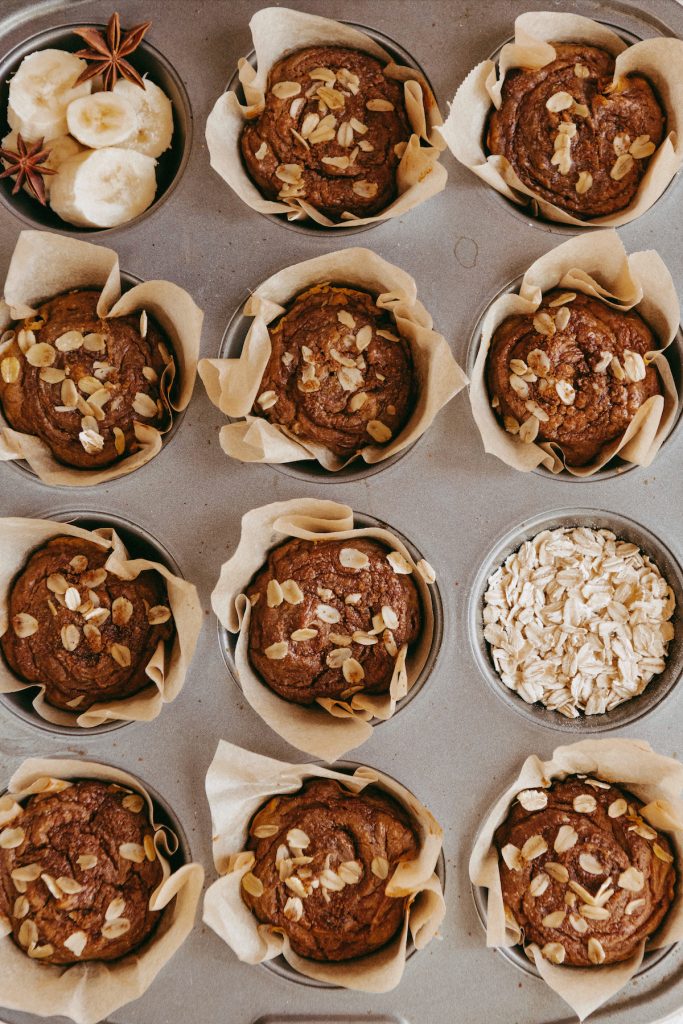 5. Pumpkin Muffins
No matter the season, these pumpkin muffins always hit the spot. In fact, we're known to meal prep a batch or two every month. The toughest part of this recipe? Patiently letting the muffins cool before diving in. They're made without gluten or dairy—but you'd never know.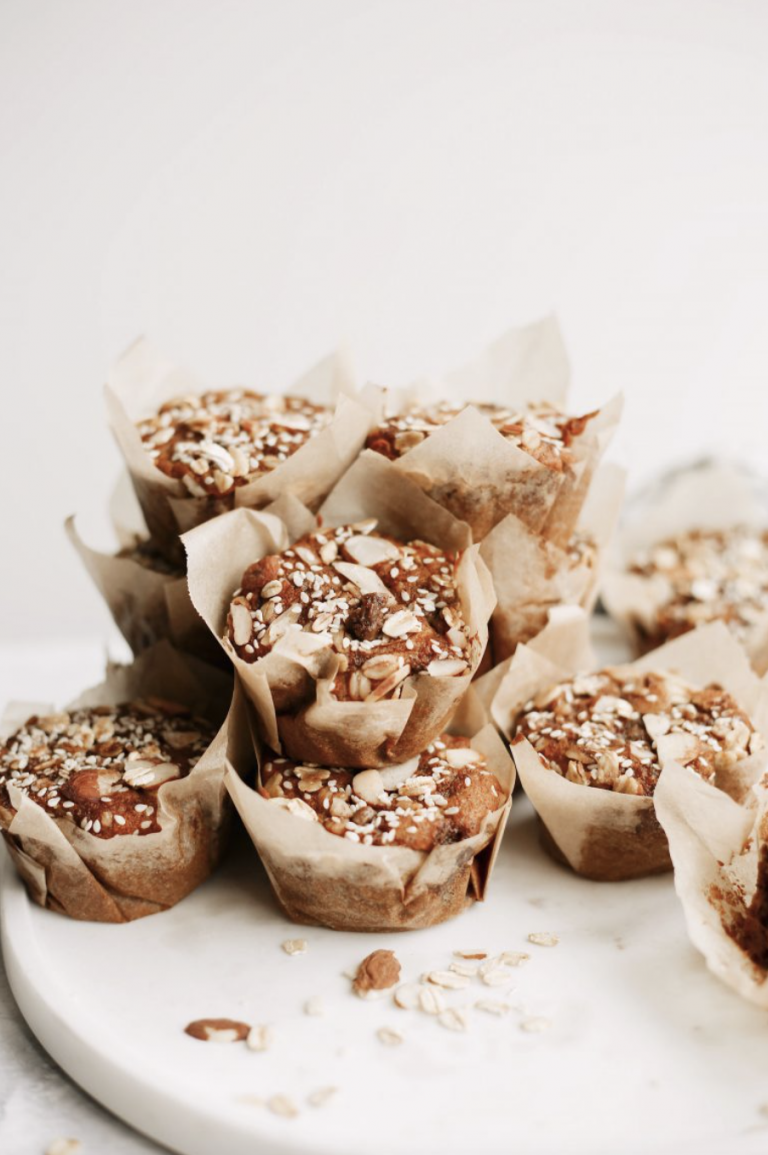 6. Vegan Banana Muffins
Speaking of muffins, let us introduce you to the best (yes, the best) vegan banana muffins. These muffins are out-of-this-world fluffy and moist—the perfect accompaniment to your cold-brew coffee. Packed with oats, almond flour, bananas, and tahini, they check fiber off your morning to-do list.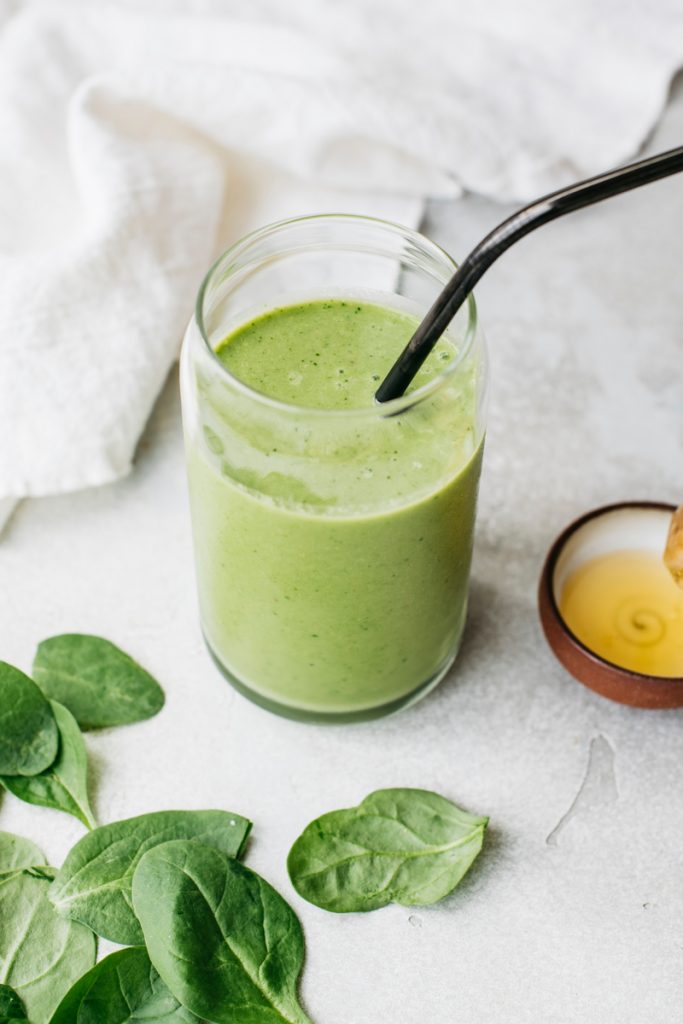 7. Healthy Green Smoothie
A healthy green smoothie that doesn't taste chalky, fibrous, or too earthy? Sign us up. This is the little black dress of breakfasts—a blood sugar stabilizer that takes minutes to prepare. To make it even more filling, toss in a scoop of your favorite vanilla protein powder.
8. Chai Spice Buckwheat Granola
Arguably the coziest start to your day, this chai spice buckwheat granola knows a thing or two about fiber. Instead of using rolled oats as the base, a chunk of the recipe calls for buckwheat groats. They're mild in flavor and when toasted, become extra crunchy. It's a gluten-free ancient grain with loads of fiber. Make a batch of this granola for busy weekday mornings.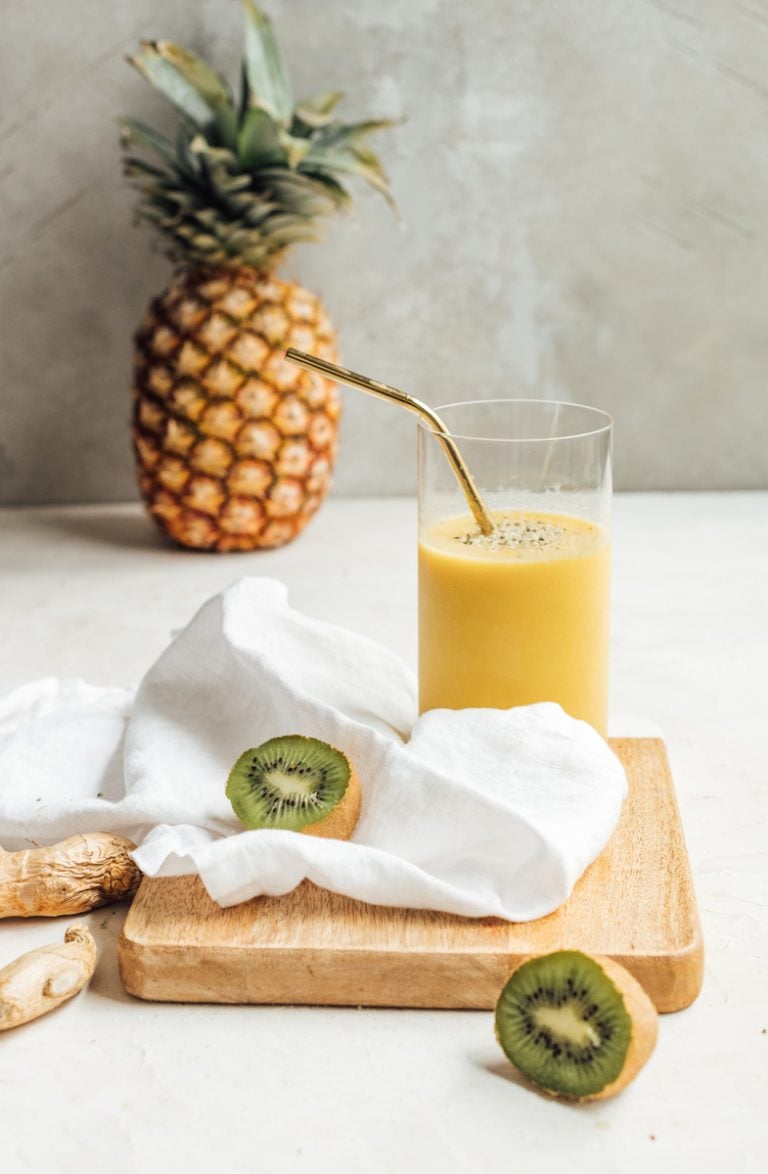 9. Tropical Turmeric Smoothie
We love infusing chilly fall mornings with a taste of the tropics. And this tropical turmeric smoothie fits the bill. It tastes like sunshine and it's loaded with fiber-filled fruit and flax.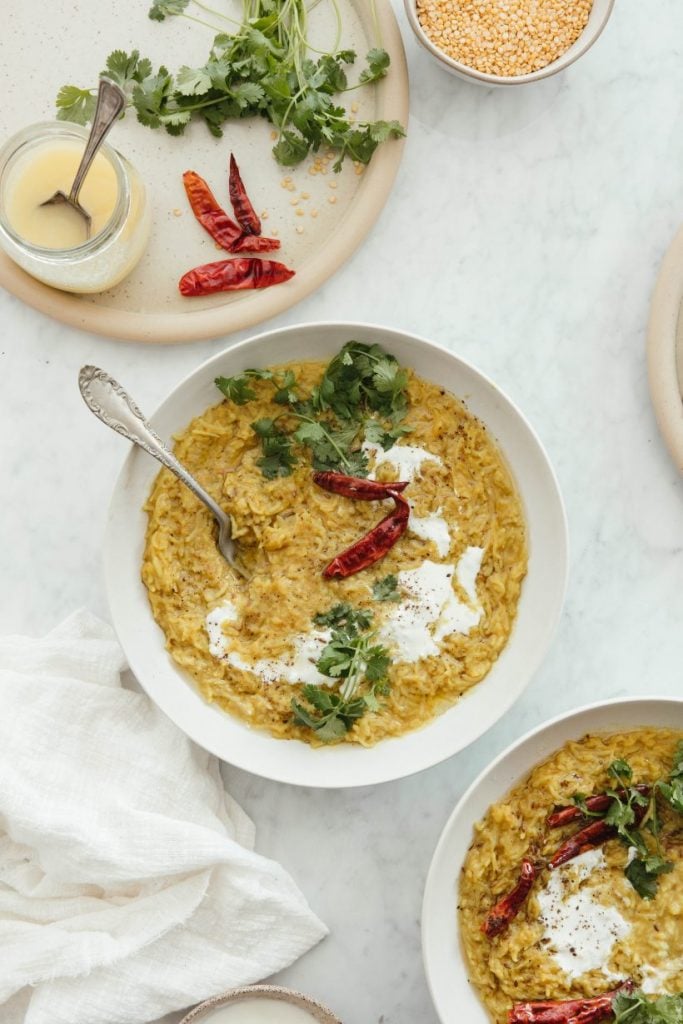 10. Kitchari
This easy kitchari recipe is a one-pot, weekday hero. Although it's often enjoyed at dinner, switch up your typical breakfast for a bowl of this goodness. Rich in mung beans and basmati rice, you'll start your day with an anti-inflammatory and fiber-rich punch.