I've had my fair share of throwing lime juice, agave, tequila, and triple sec into a shaker and playing bartender for a crowd. And while I love being the most popular person at any party, after an hour of making drinks to order, the novelty wears off. Personally, I think making individual cocktails for a party of more than two is typically inefficient and can quickly take the fun out of hosting. Thankfully, the answer to this dilemma is simple: batch cocktail recipes with plenty of servings to go around.
Featured image by Michelle Nash.
12 Batch Cocktails for Your Next Dinner Party
While having a bowl of punch or a pitcher of mixed drinks isn't appropriate for every occasion, sometimes it's the best way to make sure everyone can have something delicious to sip on without much effort. These batch cocktail recipes contain a variety of different liquors, mixers, and fresh ingredients, so there's always something that everyone will enjoy.
Maple Bourbon Punch
Why We Love It: A little bit of sweetness never hurt anyone. This combination of honey and maple extract brings out the warm, spiced flavors of the bourbon. I love to whip up this batch punch during the fall months—but I'd still drink these flavors year-round.
Hero Ingredient: Maple extract really ties this cocktail together.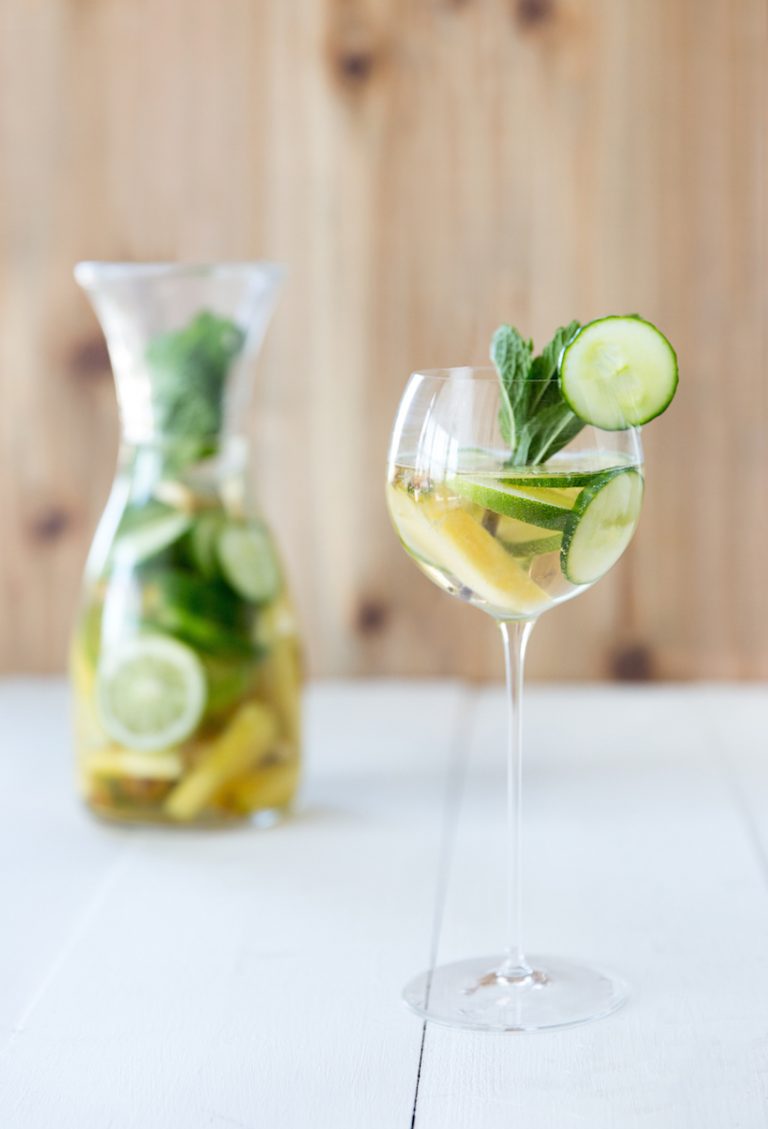 Cucumber Ginger Sangria
Why We Love It: This sangria brings all the summer vibes with fresh pineapple, limes, and delicious cucumber vodka. Simply combine all of your ingredients into a pitcher of your choice and top each glass with a bit of ginger ale and remaining cucumber slices to taste. This is one recipe to have on repeat in this summer heat.
Hero Ingredient: Ginger ale in my cocktail? Say less.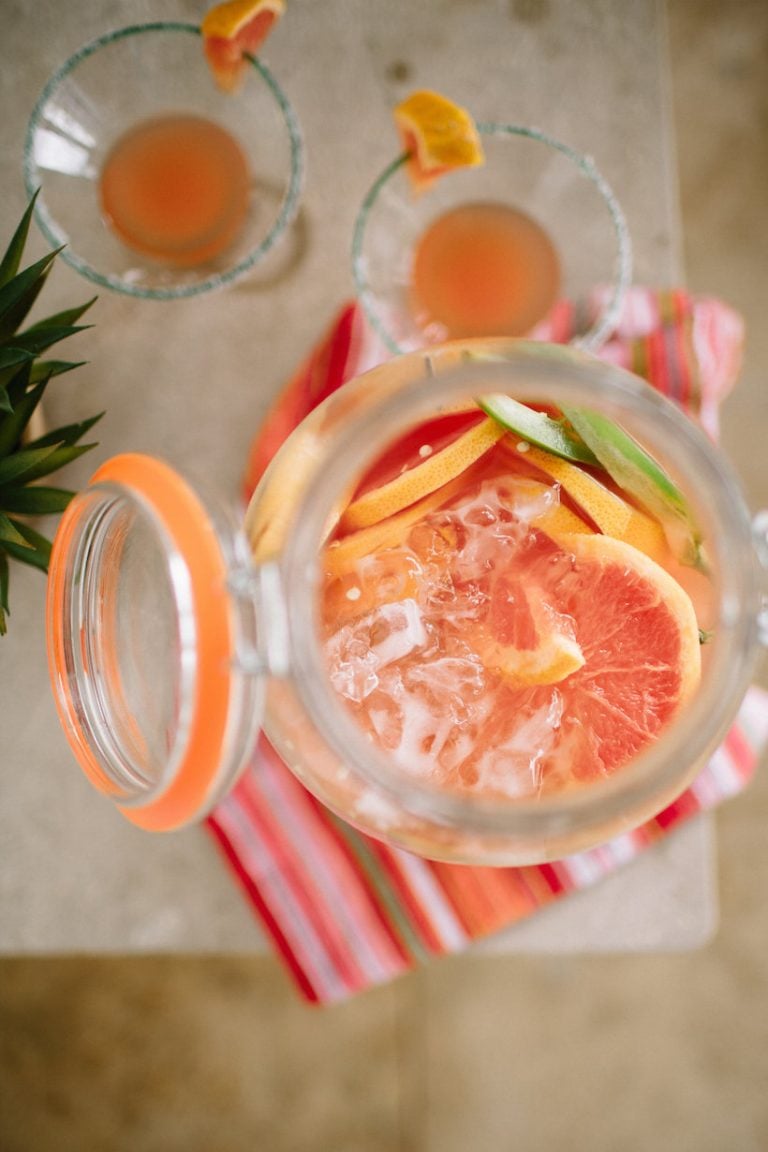 Grapefruit Jalapeño Margarita
Why We Love It: It can be hard to master a batch margarita, but we might have nailed it with this grapefruit jalepeño variation. While I love grapefruit juice, the stunner of this recipe is really the jalepeño. Simply slicing your pepper and letting them sit overnight in your mixture infuses the drink with the perfect amount of kick.
Hero Ingredient: Fresh squeezed grapefruit juice is a suggestion we highly recommend.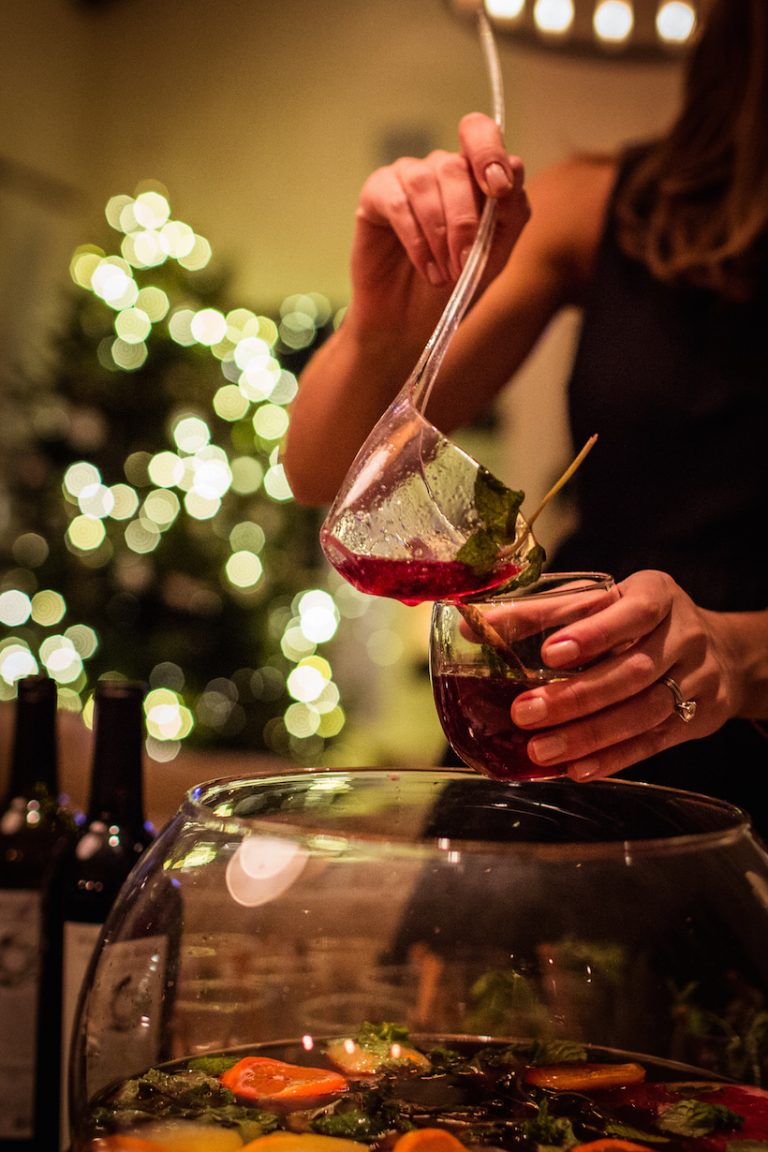 Camille's Pomegranate Punch
Why We Love It: Pomegranate is a fruit I love to enjoy whenever I can, but it evokes a comfy-coziness that's perfect for the colder months. With champagne and mandarin vodka, your pomegranate juice won't be overwhelmingly concentrated. Garnish with whatever fruits you'd like to make this punch picture-perfect.
Hero Ingredient: Cinnamon sticks add a bit of warm spiciness to this punch mixture.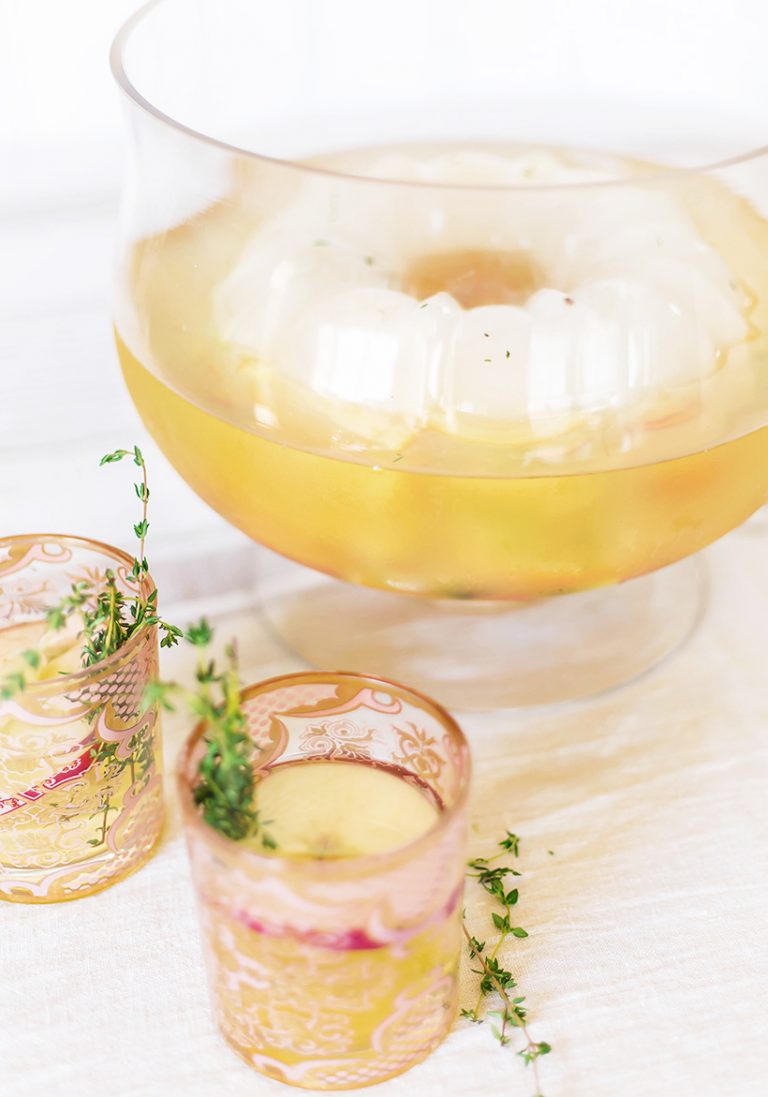 Apple Brandy Harvest Punch
Why We Love It: This harvest punch is exactly what I've been looking for during the transition from summer to fall. The apple brandy boasts flavors that remind me of an autumn harvest, while apple and orange slices brighten up your punch bowl.
Hero Ingredient: A dash of maple syrup is a great fall-flavored sweetener.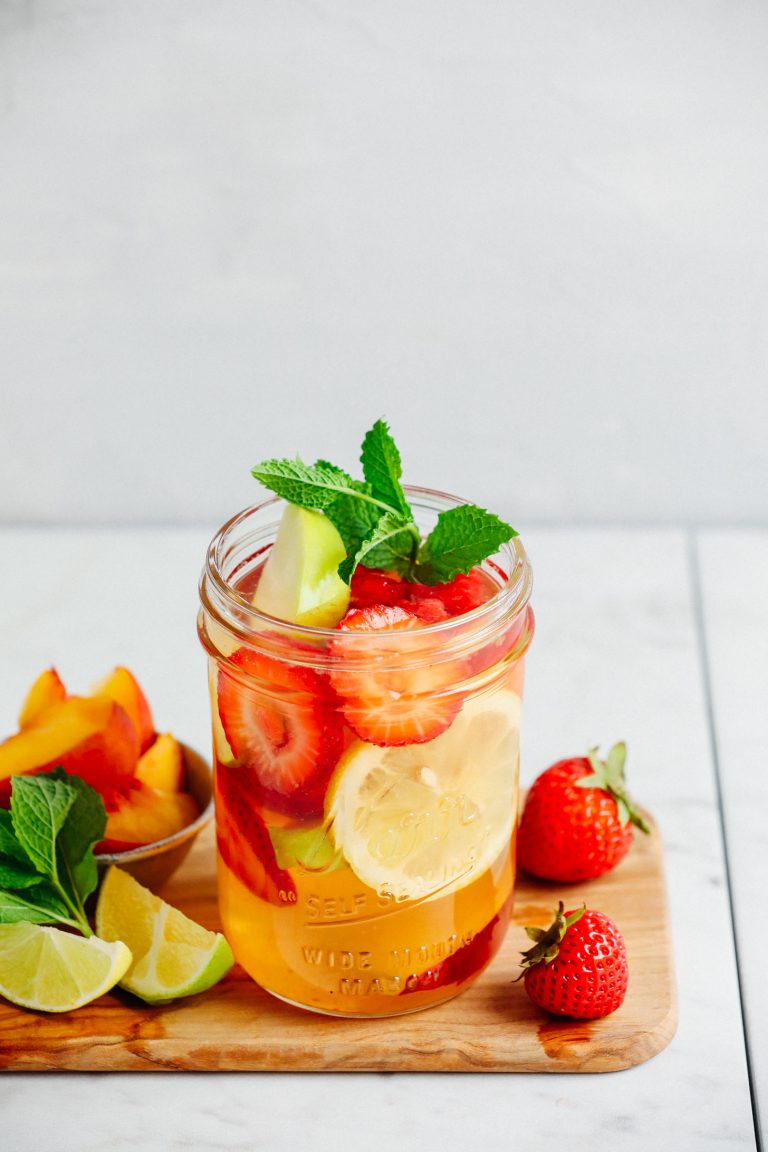 Easy Traditional White Sangria from Minimalist Baker
Why We Love It: When it comes to batch cocktails, sangria is the first drink that comes to mind. It's light, fresh, and plenty boozy. The best part about a traditional sangria is throwing in whatever fruits are in season that will blend well with your mixture. This recipe can also be made 24 hours in advance which can be a big time-saver for hosting.
Hero Ingredient: I love to serve sangria over frozen fruit for added flavor and aesthetics.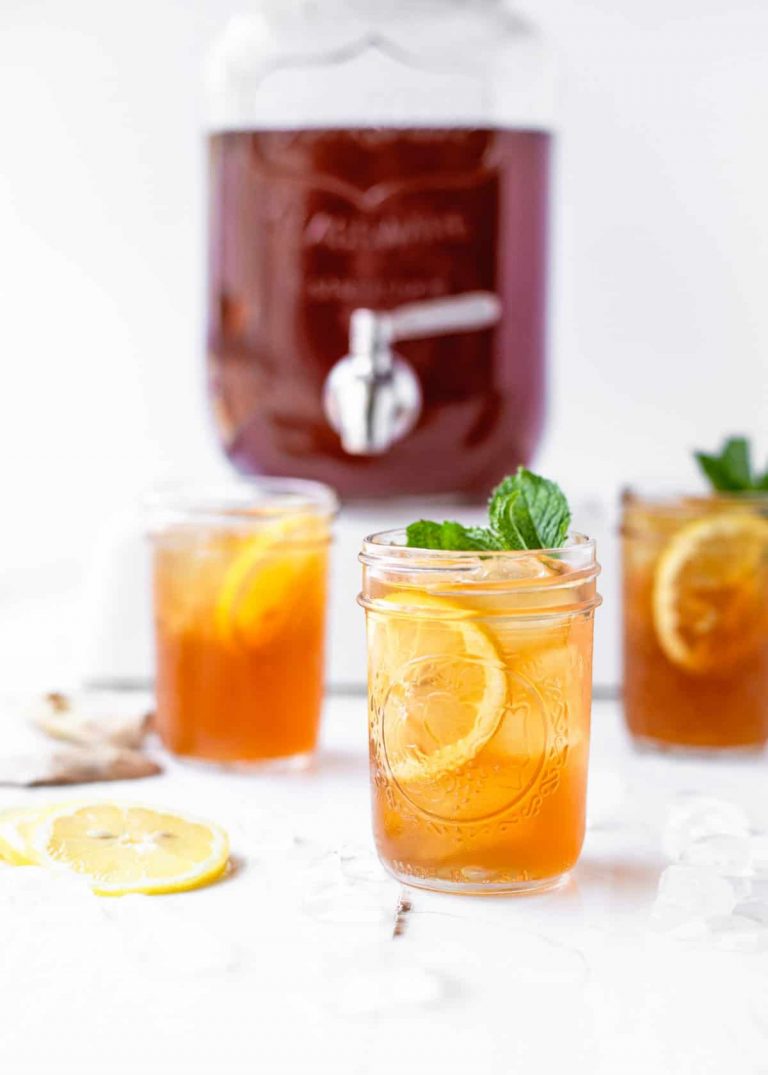 Bourbon Sweet Tea Cocktail from Inquiring Chef
Why We Love It: Sweet tea beverages aren't uncommon here in Texas, but making them into a good cocktail requires some essential steps. Freshly brewing your tea of choice is a must. Then, simmer white sugar, ginger, and lemon juice for your simple syrup, and add your liquor to enjoy this simple summer drink.
Hero Ingredient: Don't skip the bitters—it adds a necessary dimension to your cocktail.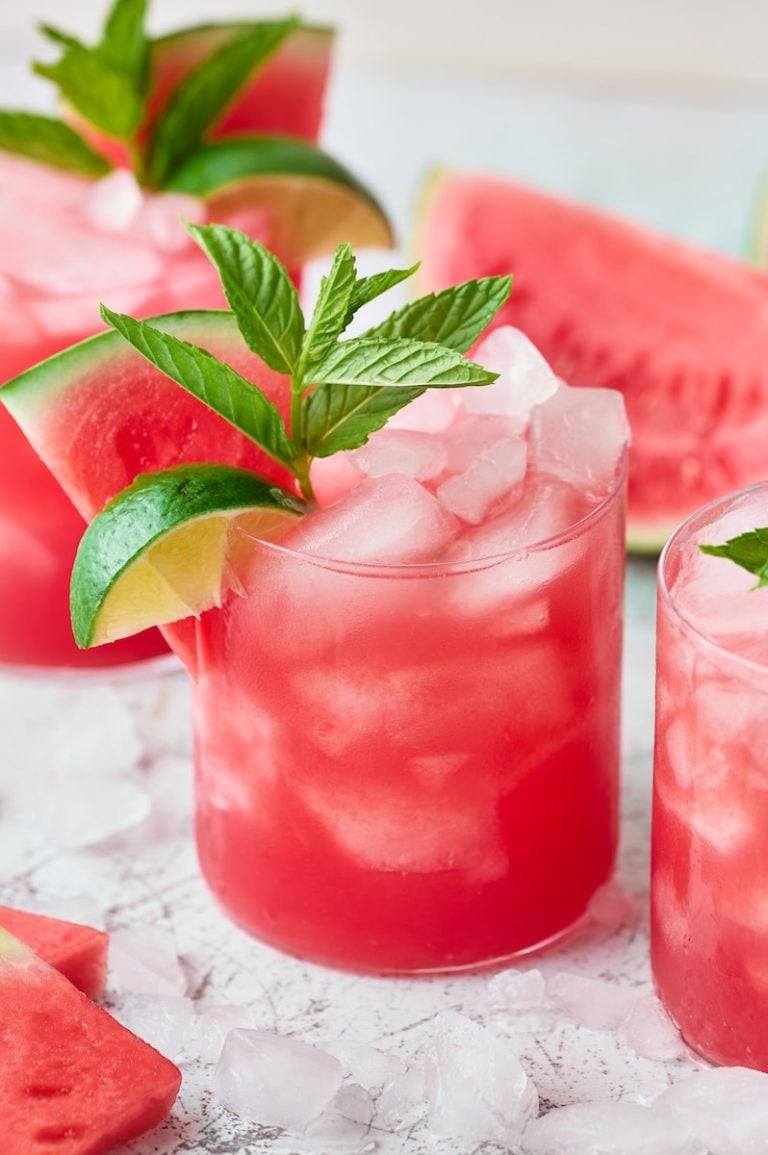 Big-Batch Watermelon Mojito Recipe from Baker by Nature
Why We Love It: Watermelon and summer are the ultimate seasonal duo. A good, homemade simple syrup makes all the difference in this cocktail and makes it easy to prep in advance. The rest is easy—watermelon juice and muddled mint combine with your simple syrup and rum for the best cocktail to beat the heat.
Hero Ingredient: Mint is one of my all-time favorite cocktail ingredients.
Hugo Spritz Cocktail Recipe from A Grateful Meal
Why We Love It: Move over Aperol—Hugo spritz is the new sipper of the summer. It's a bit sweeter than the former, and you'll still feel as if you're sipping in the Italian countryside. It's super easy to serve this drink in a large pitcher that will wow all of your guests with its appearance and deliciousness.
Hero Ingredient: St. Germain elderflower liqueur is our go-to for the best Hugo Spritz.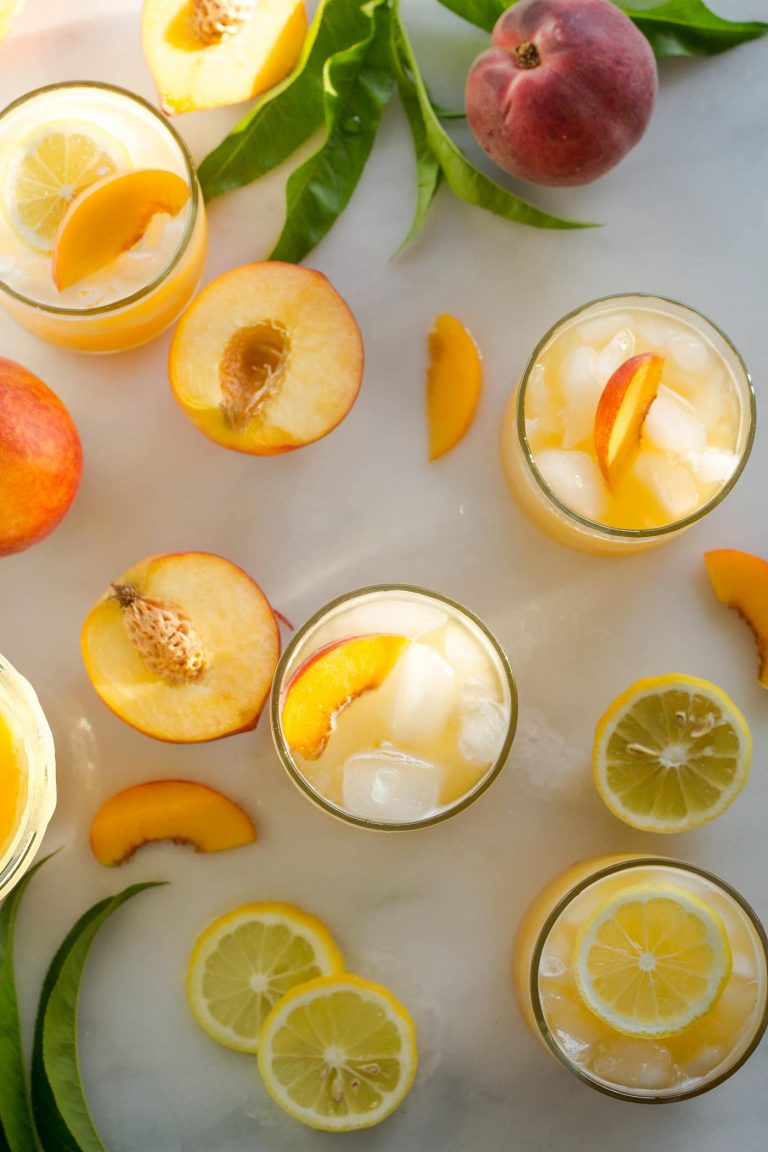 Spiked Iced Peach Green Tea from Le Petit Eats
Why We Love It: If black or Earl Grey isn't your cup of tea (pun intended), then this iced peach green tea may better suit your summer cocktail needs. The addition of peaches in just about anything during the summer is a must for me, and their flavor is a lovely complement to the more bitter-tasting green tea.
Hero Ingredient: A slice of lemon for your cup of tea? Yes, please.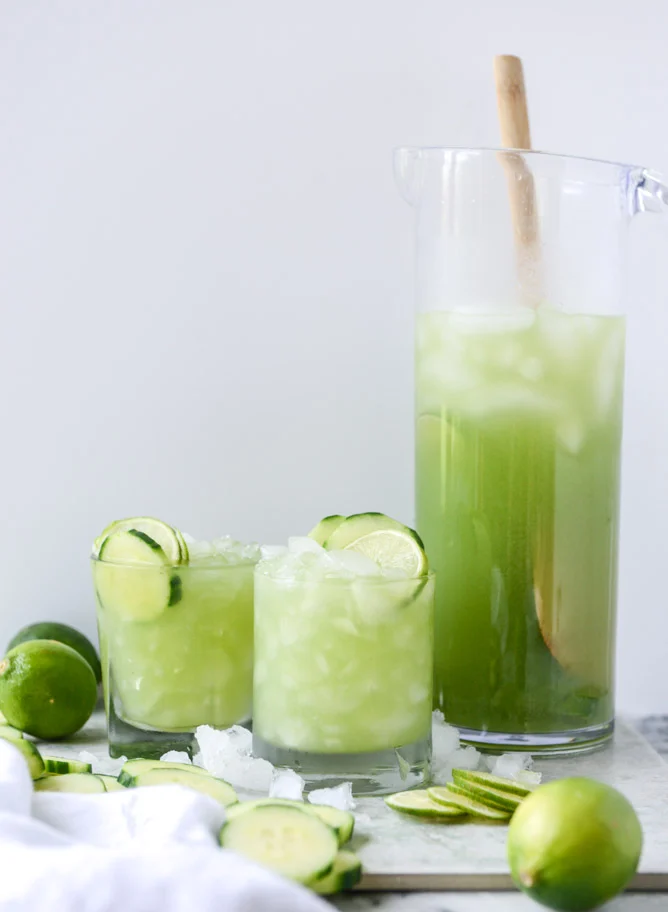 Cucumber Vodka Soda from How Sweet Eats
Why We Love It: This refreshing batch cocktail is an up-leveled version of your standard vodka soda order. If it was possible to have a healthy cocktail, this recipe would be it. Pull out your juicer if you have one, but if not—never fear. Simply puree seedless cucumbers and combine the juice with all of your ingredients. Serve over seltzer water for the most refreshing sip of your life.
Hero Ingredient: The cucumber juice is simply irresistible.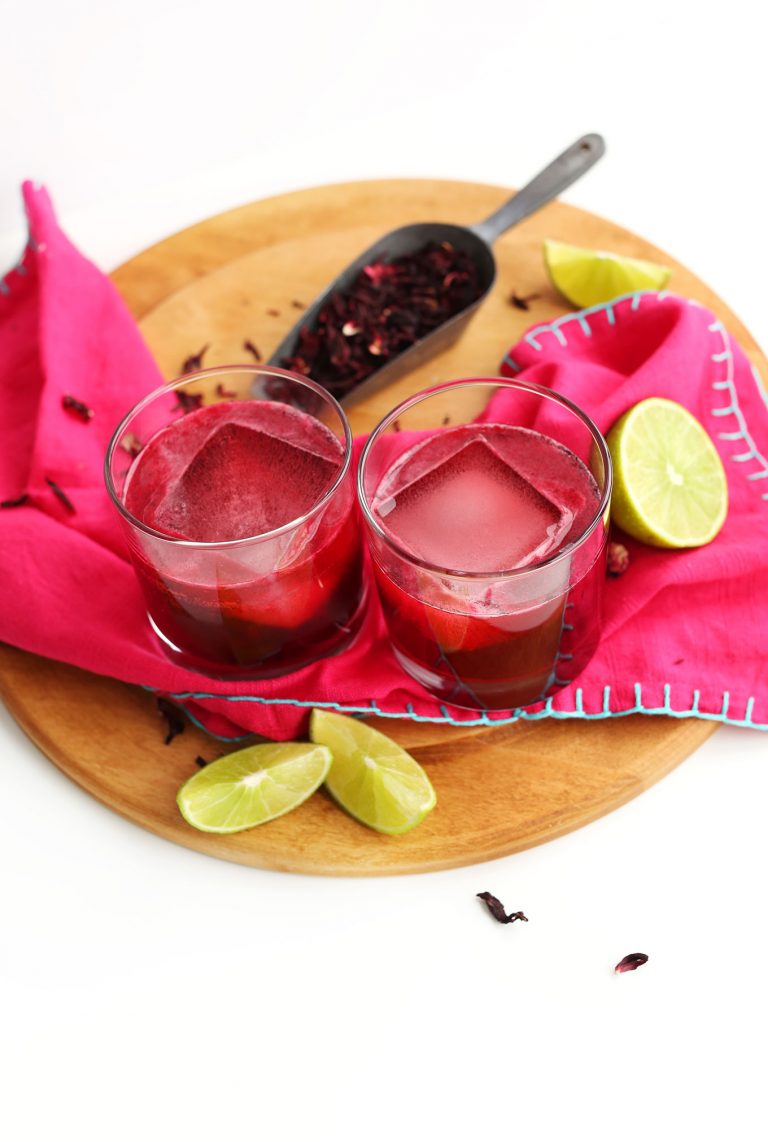 5-Ingredient Hibiscus Margaritas from Minimalist Baker
Why We Love It: Who can turn down a pink cocktail? This hibiscus margarita is tart, sweet, refreshing, and, best of all—only five ingredients! The hibiscus concentrate is a breeze to make, and the rest of the recipe follows that of a traditional margarita.
Hero Ingredient: This recipe wouldn't be the same without dried hibiscus flowers.