A PSA for all to know: nothing beats a girls' night. Sure, we love a good date night, and sometimes, a Friday evening alone is just what we need. But in this era where all the best things are preceded by "girl" (girl dinners, girl therapy, and the like), it comes as no surprise that we're dreaming up all the best girls' night ideas to celebrate our gals—and soak up their company as much as we can.
Our schedules are packed and it can seem like there's not enough time for the essentials, much less a little socializing with our favorite people. It's a reality for everyone, but I've found that instead of seeking balance throughout it all, I'm instead leaning into my priorities. Some weeks, that may look like getting to inbox zero and checking off my to-dos in advance. Others, I might be hitting my workouts daily and meal prepping all the healthy dishes.
But lately, after a few months of hanging out on DND, I'm ready to embrace the extroverted side of myself who's counting down to her next girls' night. Who's with me?
Featured image from our interview with Sophie Collins by Christie Graham.
15 Girls' Night Ideas That Celebrate Female Friendship
If you're reading this, it's likely that you also have an unbridled love of hosting. We've all caught the bug—and in our pursuit of living the Barefoot Contessa lifestyle, it's only natural that we'd want to fill our homes with our best girlfriends. And while sure, wine nights are all well and good, it also pays to get a little creative and think outside the box.
For girls' night ideas that'll surprise, delight, and strengthen the bond with your besties, read on. Ahead, we're sharing the best ways to spend a weekend evening celebrating all the joy your friendship brings.
1. Host a Book Club
With #BookTok transforming all of us into fantasy-obsessed bibliophiles, it's likely that you and your girlfriends are plowing through the same reads. Whether it's ACOTAR, Colleen Hoover, or any of Kirstin Hannah's oeuvre, you need mutual besties to gush over these books with. Pick a book, prep some questions, and get ready to dive deep. It's fun to also pull up some hot takes on TikTok to add fuel to your literary fire.
2. Crafting Night
Crafts are the best, but rarely do we make time to pour into making for the sake of fun. You can approach this in one of two ways. The first option is to all make the same craft—pull up a friendship bracelet, sweet ornaments for the holidays, or something festive for Halloween. (Pinterest, of course, is our go-to source of inspiration.) Alternatively, encourage everyone to bring their own project they're currently working on or want to start. That can look like scrapbooking, knitting, coloring—anything! Nothing beats getting your creative juices flowing, together.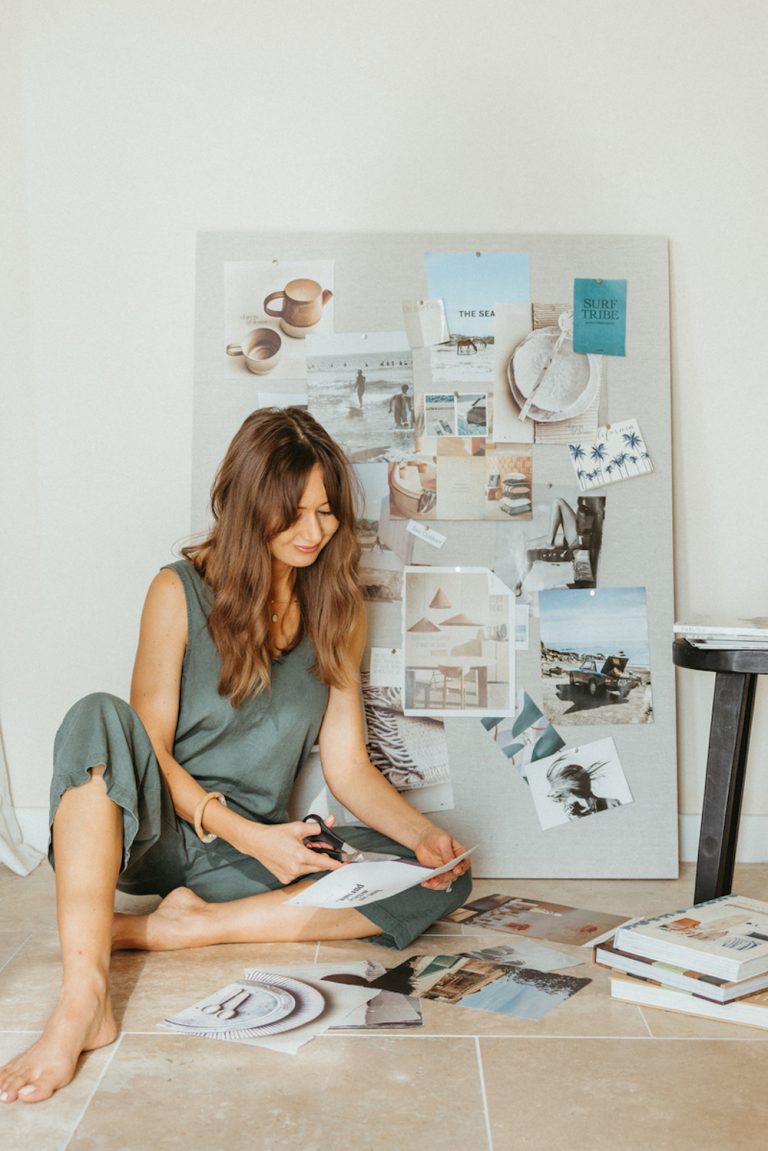 3. Make Vision Boards
Hands down, one of our favorite activities. Vision boards are a creative and inspiring way to manifest your dream life. It can be a powerful tool to take your life from Point A to Point B. And while doing it on your own can be wildly therapeutic, the energy of vision boarding with a group of your closest friends is unmatched. Have everyone bring poster paper and magazines to cut from, or do it digitally on your computers with Pinterest and Canva at the ready. For a comprehensive guide to vision boarding, consult our step-by-step post. (Psst… snacks and your favorite playlists are highly encouraged additions.)
4. Do a Yoga Class
If you're all craving a collective release at the end of the week, aim for a more low-key girls' night that's oriented toward relaxation. I love the idea of hiring a private yoga instructor to lead your group through a flow. Or, see if there are any certified yogis in your group who'd like to lead! You can let this tee up a chill spa night, complete with smoothies, face masks, nourishing salads, and all the high vibes.
5. Desserts-Only Party
It's Saturday night and all you want to do is satisfy your sweet tooth—with your girlfriends, of course. Have everyone sign up for a treat they'll be in charge of baking and bringing to the party. Chocolate, vanilla, fruit-laced delights—everything's fair game. Maybe pair with a marathon of The Great British Bake Off to send the theme home?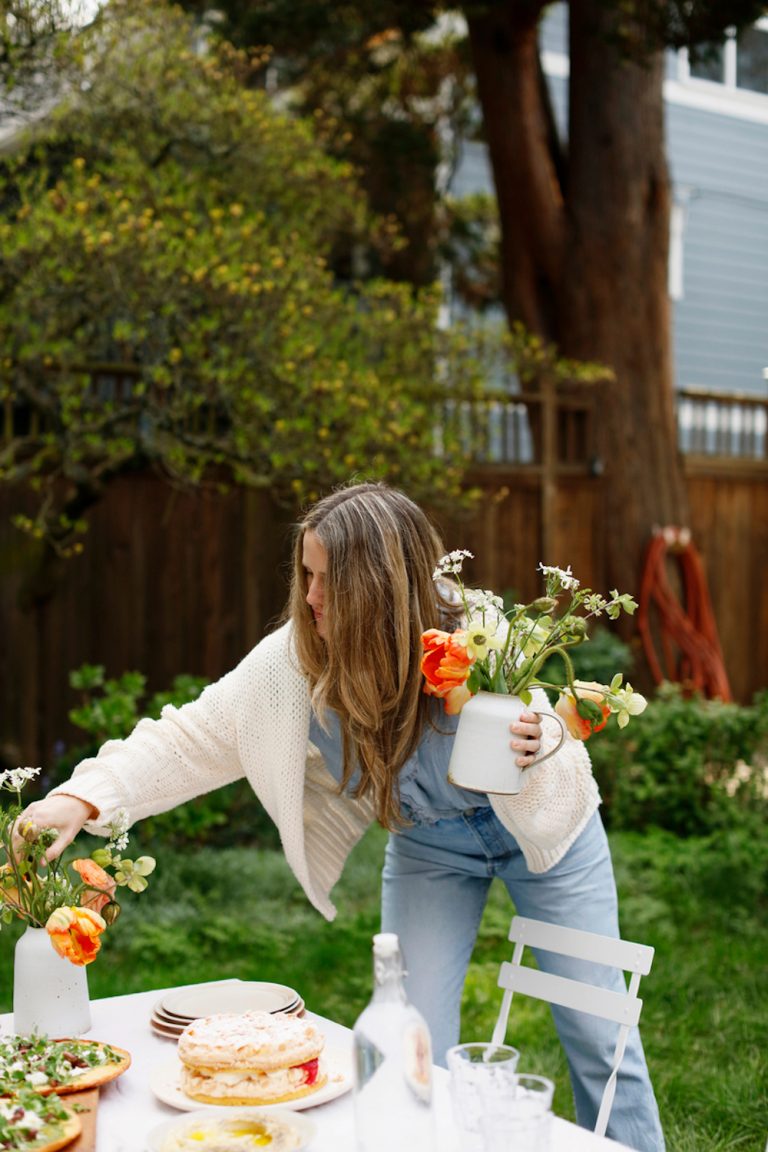 6. DIY Flower Arrangements
This is a great low-budget girls' night idea that'll send everyone home with something beautiful. Buy affordable vases from Michael's or The Dollar Store and pick up blooms from Trader Joe's. Set everyone up along a long table so they can pick and choose their favorite stems and arrange their custom bouquet. During the holiday season, give this girls' night idea a festive spin and make wreaths instead. It's the perfect way to gather with your friends during the Christmas season.
7. Closet Swap
If you're overdue for a closet clean out or new clothes aren't in your budget, arrange a clothing swap with friends. A week or so before the party, everyone can sort through their closets and pile up what they want to bring. At the party, arrange racks and displays so everyone can shop each other's clothes. It's a fun, sustainable way to Marie Kondo your space and go home with a few new favorites in tow.
8. Old-School Sleepover
There's nothing wrong with a classic slumber party—and honestly, this might be the perfect girls' night of all. It's nostalgic, cozy, and a low-effort way to gather with your friends (exactly what we need right now). Keep it casual and stream movies in the living room, piling up on the couch with a mountain of blankets like we did as teenagers. A chick flick is non-negotiable and popcorn is a must. Sometimes, it's the simplest girls' night ideas that help us form the tightest bonds.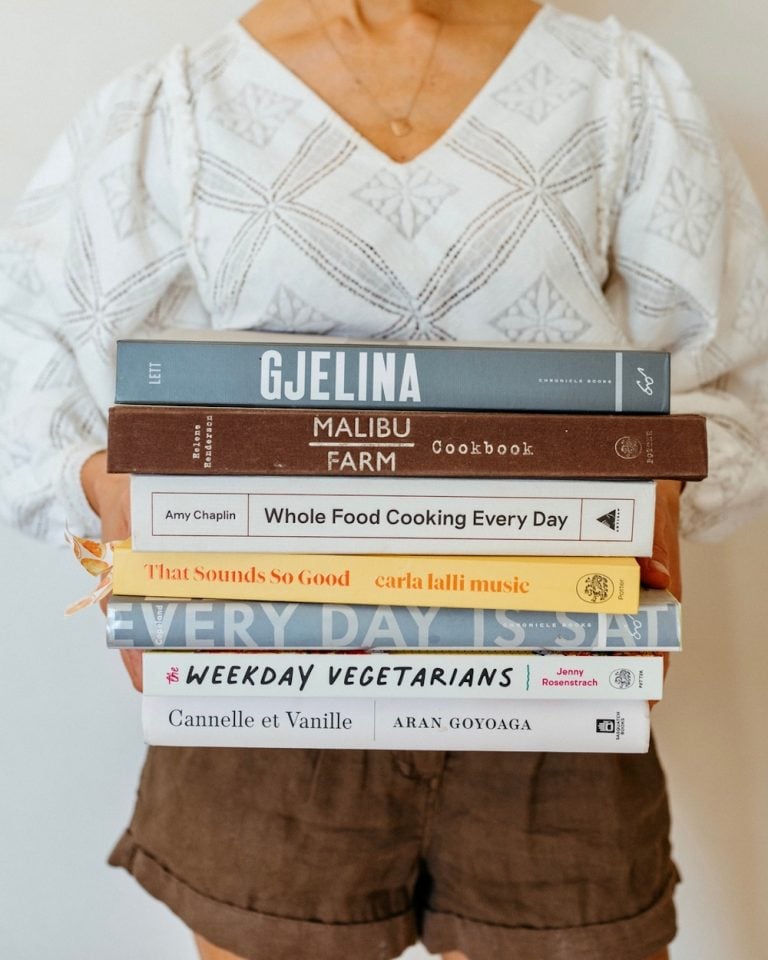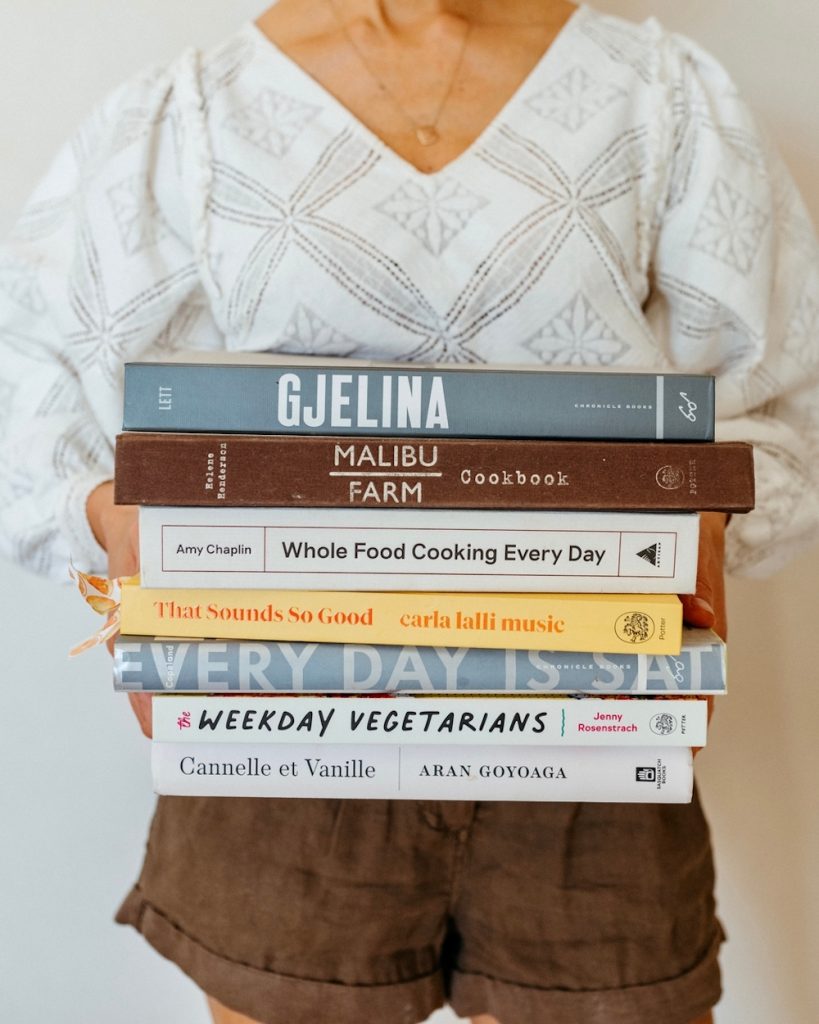 9. Cookbook Club
You love to cook, and you love to hang out with your friends—cookbook club is a no-brainer. Each month, select a new cookbook that you and your friends will each make a recipe from. On the night of that month's meeting, everyone will gather for a family-style party where they can show off their dishes and delight in the deliciousness together. For inspiration on cookbooks to get started with, see Camille's list of favorites.
10. Cheese Tasting
A tasting party is the perfect way to introduce yourself to new foods and flavors, as well as get into heated debates over which cheese is superior. I love centering a tasting night around cheese because 1) it's the ultimate crowd-pleaser and 2) there are endless varieties to try. (Just don't tell your dairy-free friends.) If you'd like, you can pair the cheeses with wine tastings to amp up this girls' night all the more.
11. Game Night
Game night is always a winner. Because if you're anything like us, you and your friends all have a competitive side waiting to come out. We compiled all of our favorite games into one list, so you don't have to look too far for inspiration. I also love games that help you learn more about yourself and your friends. Cards Against Humanity is always a hit and my friends and I have recently become obsessed with Girl Code—it's a fun way to skip the small talk and get straight to the hilarious deets.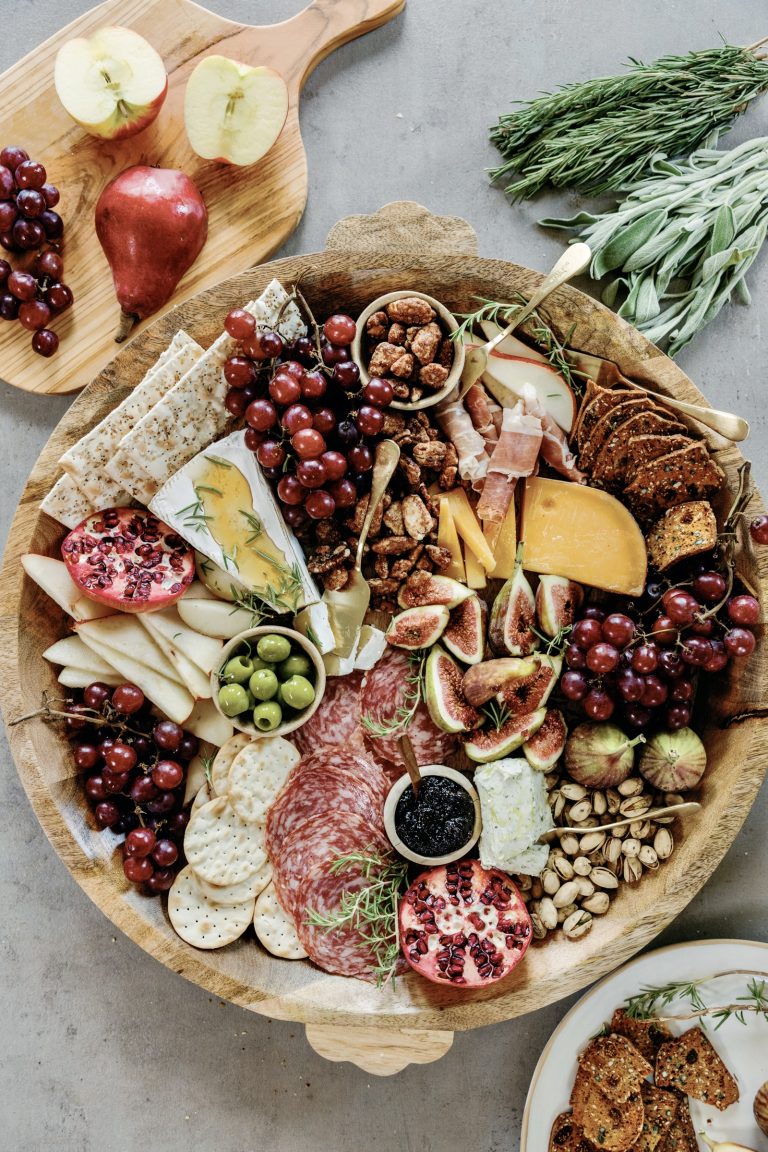 12. Bring a Board Party
It's no secret: food tastes better on a board. Cheese boards, charcuterie boards, cookie and candy boards, pizza boards—anything goes. Have everyone bring their favorite board and graze together. Pair with your favorite bottle of wine or non-alcoholic sipper and enjoy the snacks for dinner vibe.
13. Backyard Glamping
Camping, made luxurious. Crowdsource your group for tents, sleeping bags, and all the camping equipment you need for a night under the stars. Make it glamorous with an outdoor movie screening on a projector, air mattresses to sleep on, and plenty of your favorite faux fur blankets. Another way to elevate this girls' night? Wake up to pancakes, fresh granola, and hot coffee.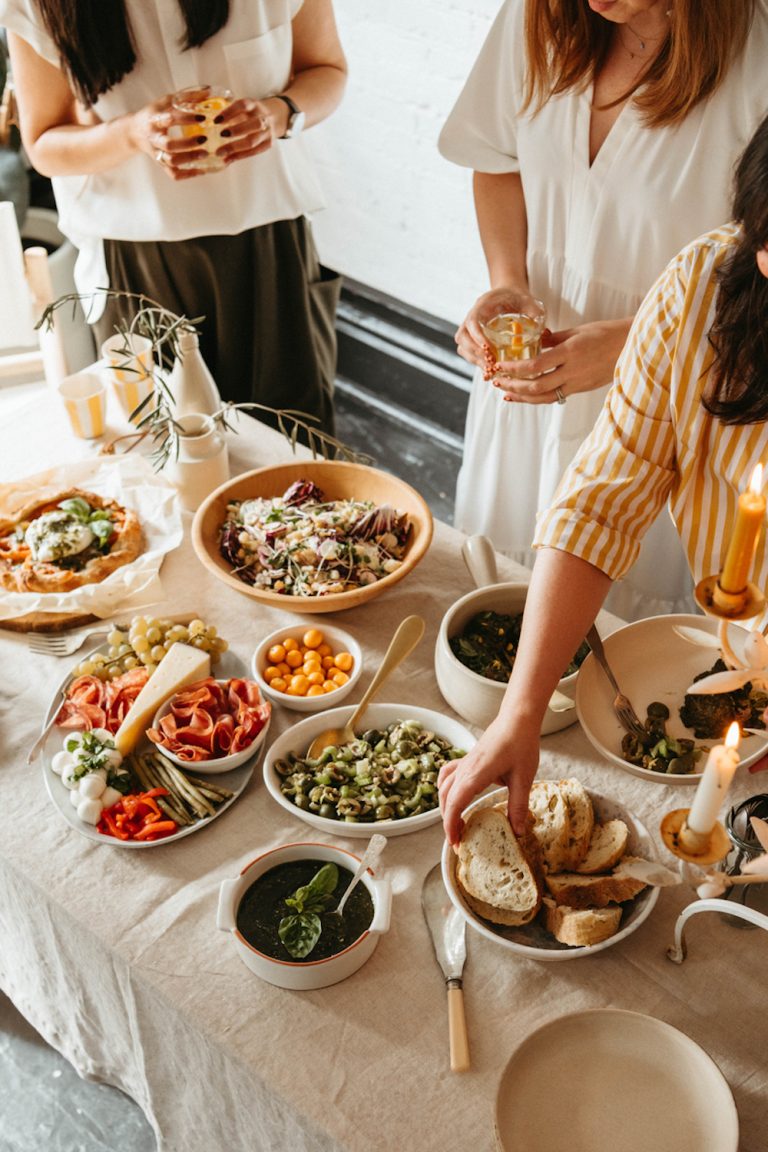 14. Potluck Party
This one is simple and for when all you really want is to gather with good friends and good food. You can center the meal around a theme (a culture, country, or era—I do love mid-century cooking) or simply have everyone bring the dish they're famous for. Food is such a wonderful way to connect with those you love and spark interesting conversations that might have otherwise gone unspoken. Full bellies, full hearts. As far as girls' night ideas go, this one's pretty perfect.
15. Breakfast Night (In Your PJs)
My happy place is at the breakfast table in my comfiest pajamas. And because that perfect scenario can take place any time of day, I encourage you to make it the theme of your next girls' night. Pjs, slippers, and robes are the dress code and have everyone bring and prepare components of an all-out morning meal. Mimosas, muffins, croissants, bacon, eggs, and the like. I hope I never see the day when breakfast for dinner gets old.