Growing up, we gathered with family over dinners served on paper plates with plastic utensils. Parties were casual and relaxed (plus, no one wanted to do the dishes). But on holidays, our dinner party table settings were complete with seasonal plates, napkins, and cutlery—and my grandmother always insisted on eating at the formal dining table. It felt special—and it was.
Now, when I host a small group of friends or family, I love to pull out the good plates. I'm one of those old-fashioned gals who actually registered for wedding china, but mine isn't gathering dust in a cabinet. It's right there next to our everyday dinner plates. Now, whenever I set the table with those cherished pieces, the whole experience feels elevated—and just as special as my grandma's table.
Featured image of Brian and Jessie De Lowe's magic hour dinner party by Michelle Nash.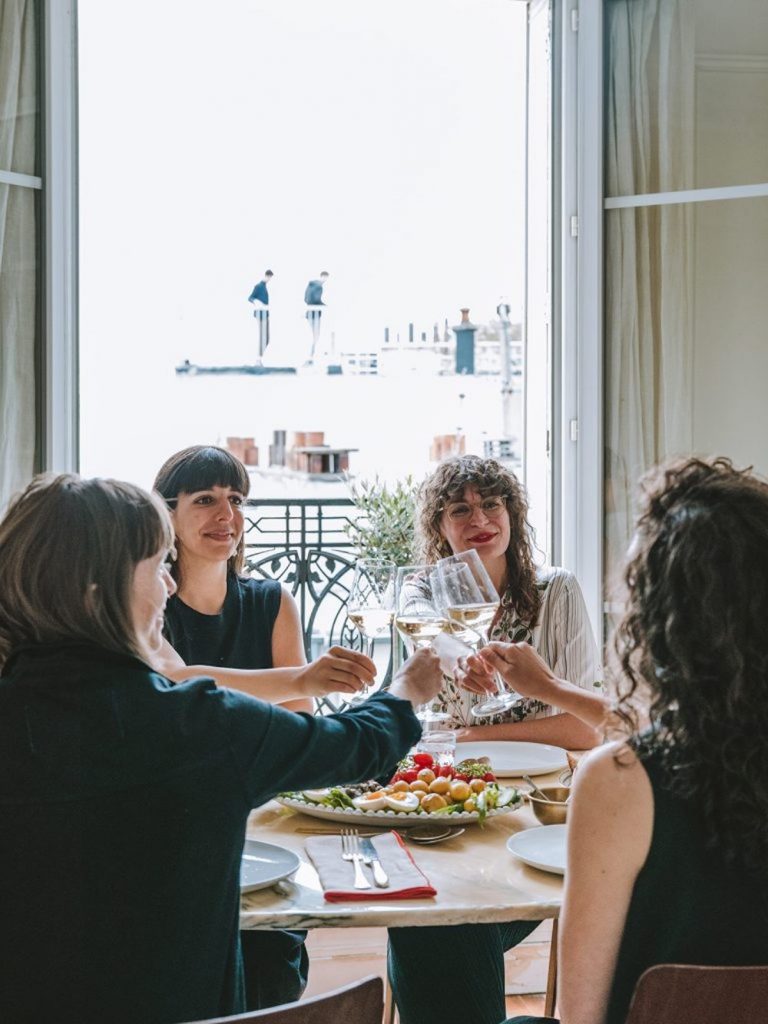 Image of Rebekah Peller's Parisian dinner party by Joann Pai
And sure, the menu is where a dinner party begins—but the table setting is where it shines. A table is a blank slate. It's an opportunity to get creative, bring in elements to complement the food, and truly delight your guests. Right about now you're either feeling inspired or stressed, but I've got good news either way: we're no strangers to dinner party table settings around here.
From Camille's own hosting expertise to the tips we've collected from tastemakers along the way, you're in the right place for a huge dose of dinner party inspiration. Gather 'round to spark your creativity (or just outright steal your favorite looks)—our best ideas are just ahead.
How do I set the table for a dinner party?
When it comes to dinner party table settings, you'll likely want to opt for either a basic table setting or a casual table setting, depending on the scope of the meal. The biggest difference between the two is that a casual table often calls for more dishes than basic to account for the menu (a soup bowl or salad plate, for example). If you need a refresher, here's exactly how to set the table, from basic gatherings all the way to formal affairs. But if you've got plates, flatware, and glasses, you've got a solid foundation for any dinner party. Now, let's head into the inspiration.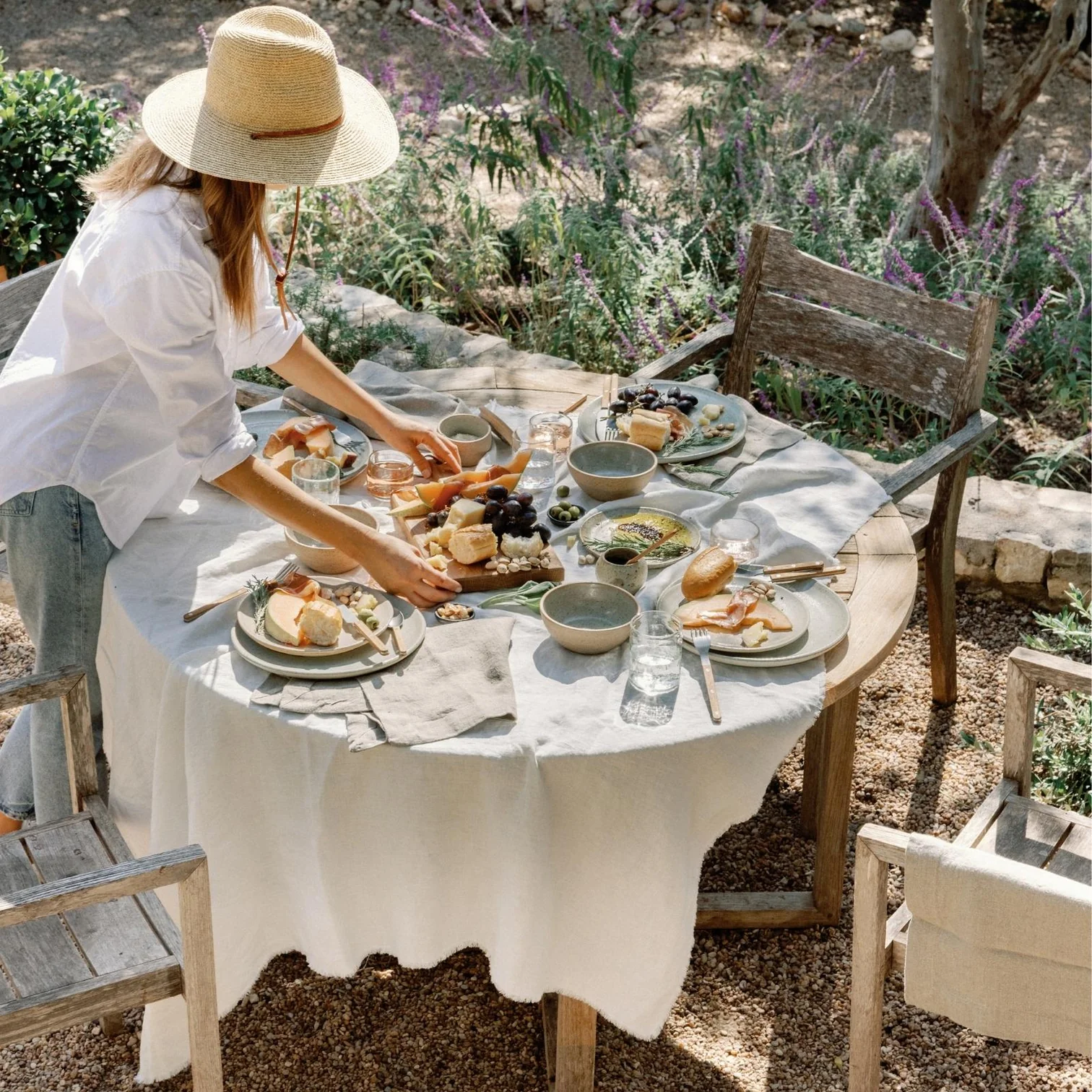 1. Use a Linen Table Throw
Keep it casual by opting for a square throw over a more traditional tablecloth. Linen is naturally a bit wrinkly (so skip the ironing) and you can even ruffle it up a bit for a table that's both rustic and stylish.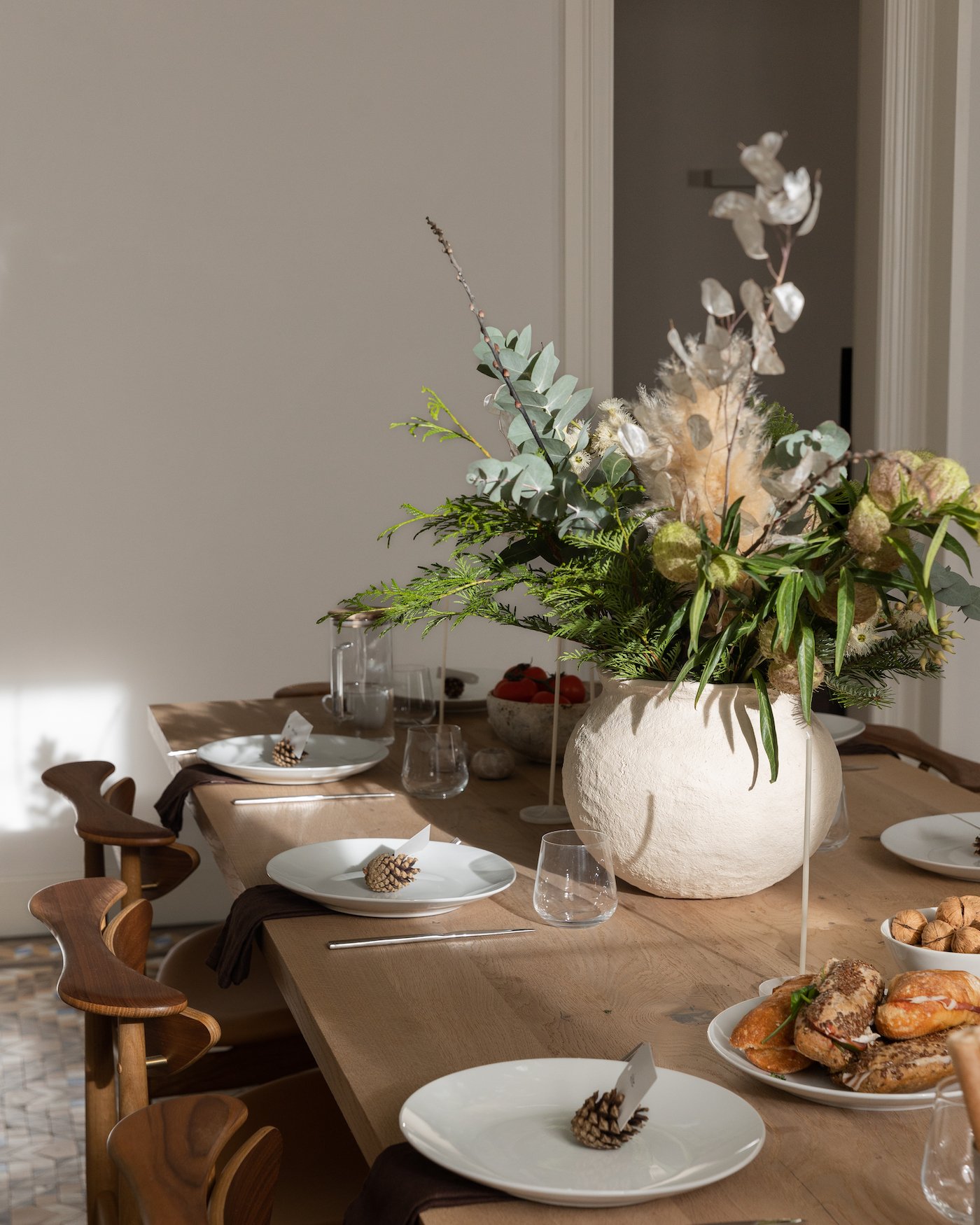 2. Put Out Place Cards
You don't have to be a world-class caligrapher to create a worthy place card. Even the simplest place cards can make guests feel special and considered. I've used the backside of an index card or even cut-up cardstock envelopes in a pinch
More inspiration: A Barcelona dinner party with Devon Liedtke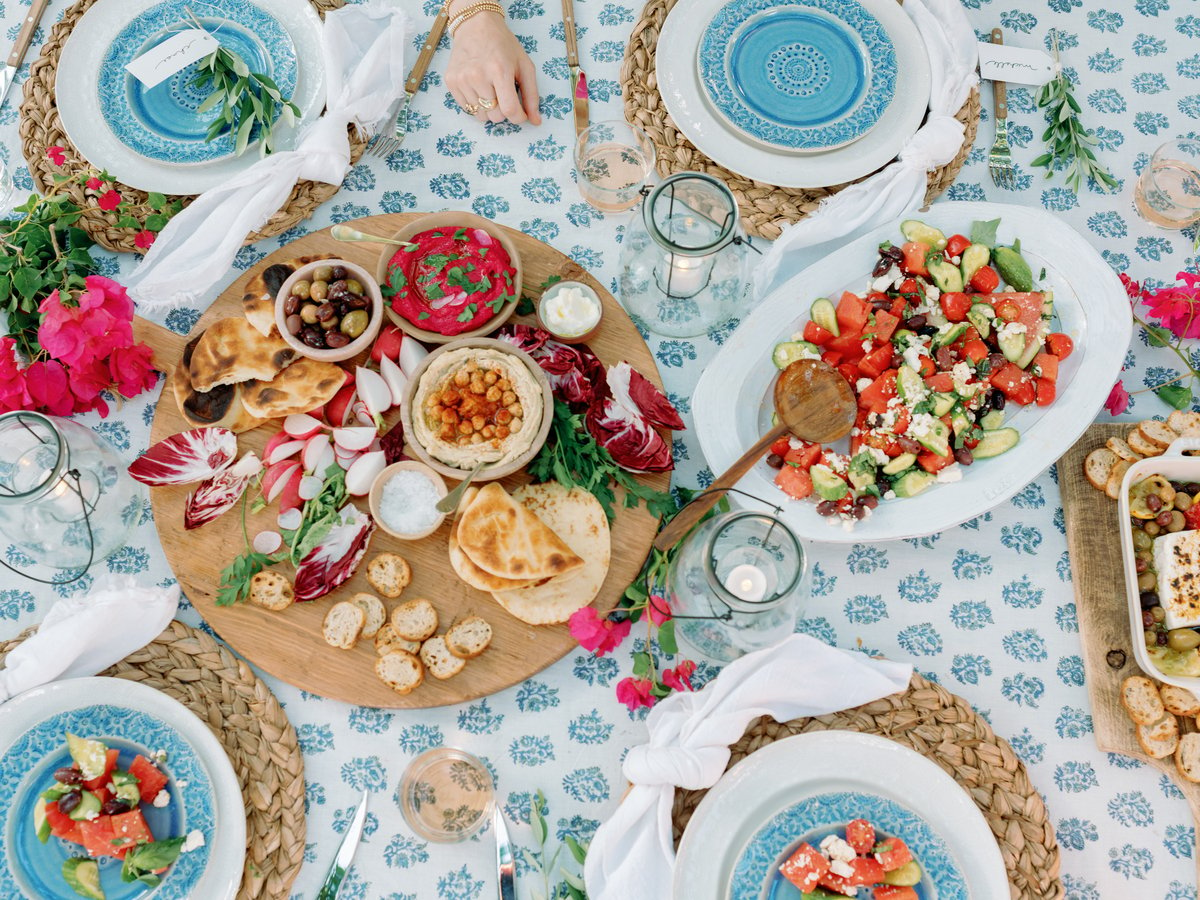 3. Light Candles
It doesn't get any simpler than this. Lighting candles is truly the easiest way to add instant ambiance. Dot the table runner with tea lights sitting in glasses or make a statement with tall candlesticks—you truly can't go wrong.
More inspiration: A Greek-inspired bridal shower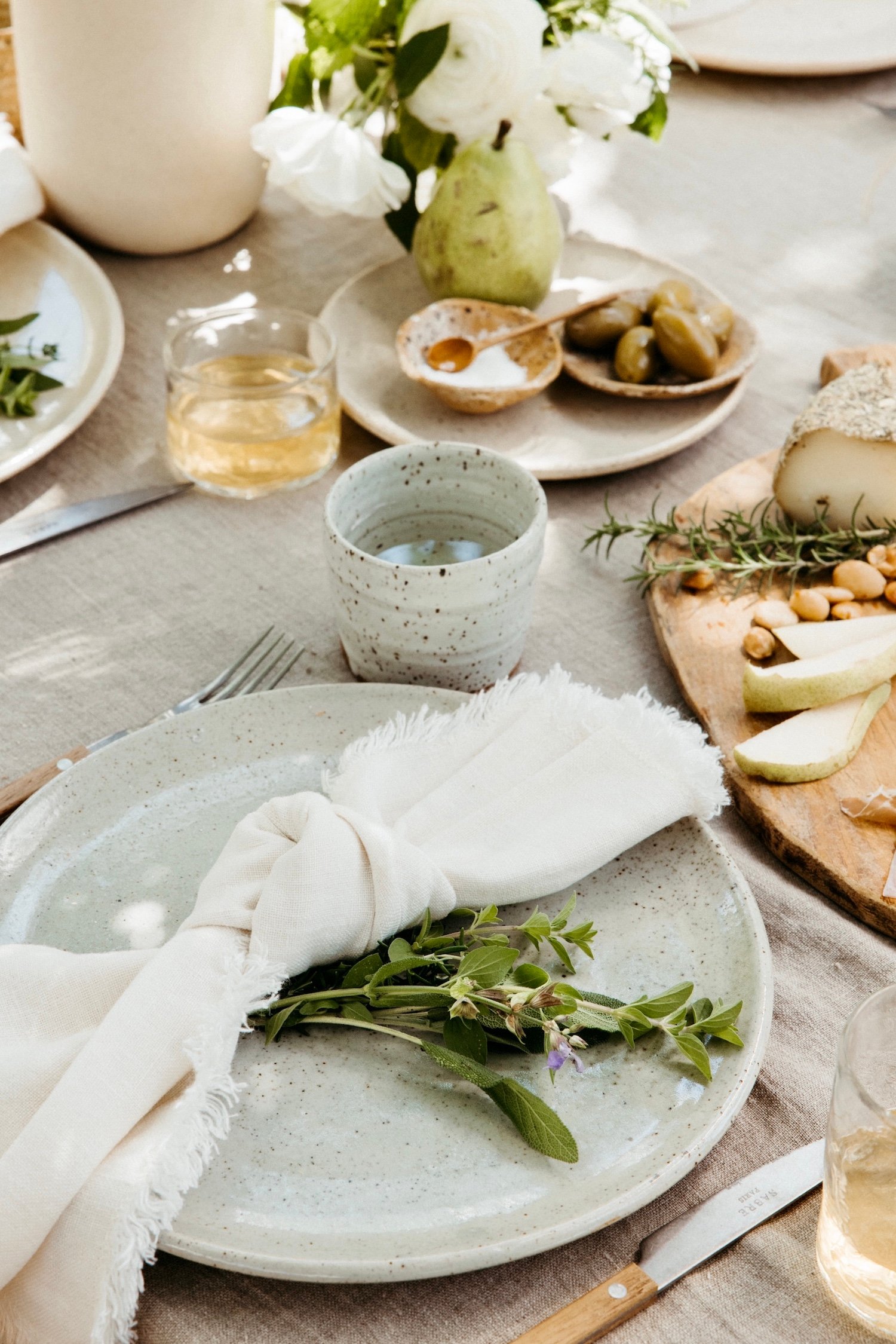 4. Knot Oversized Napkins
When in doubt, grab a large square napkin and knot it loosely at the center. Place the napkin either directly on the plate or arrange it around the upper edge if there's room on the table.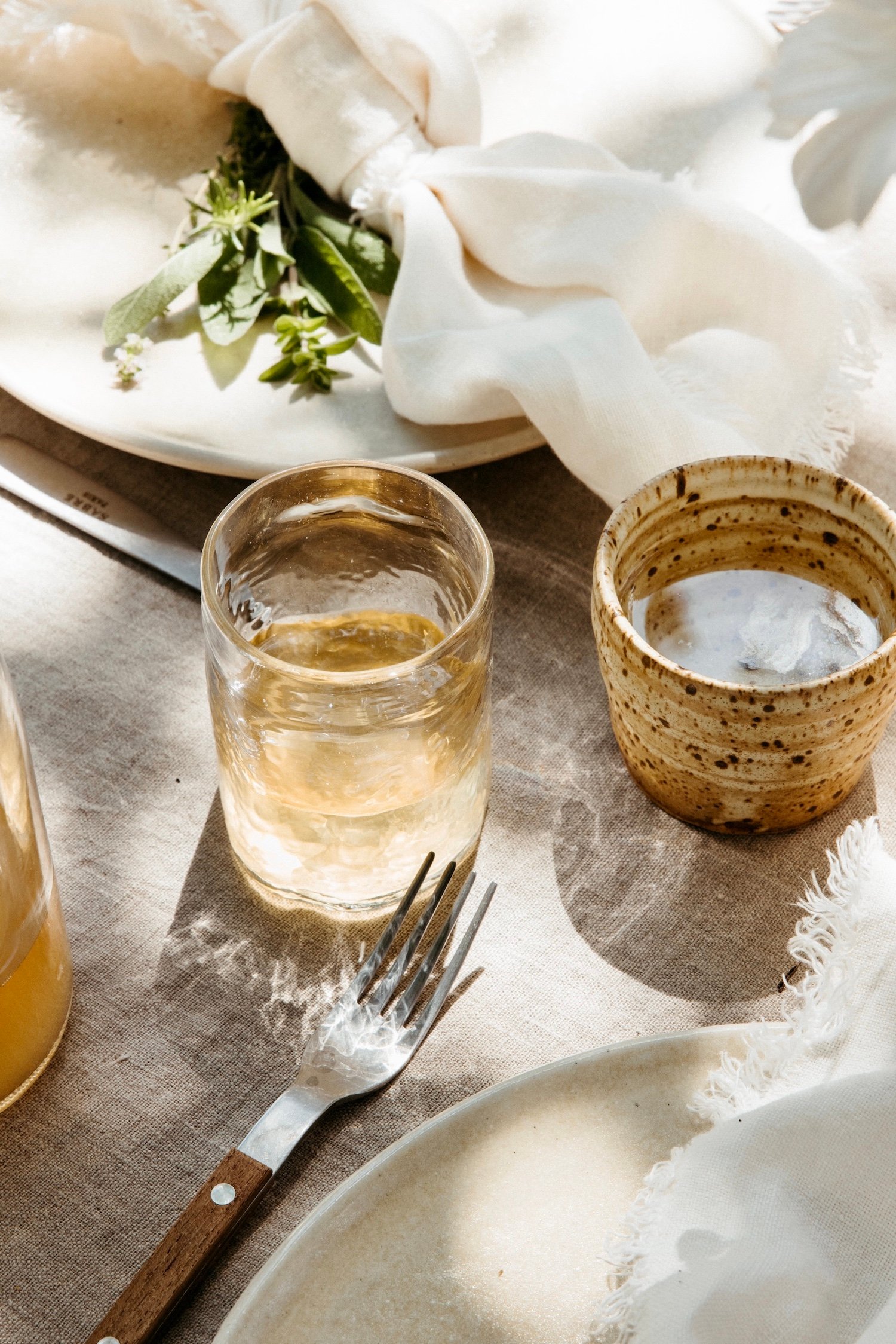 5. Choose Recycled Glassware
There's something so perfect about recycled glassware for a less formal event. Perfect for water or even as wine glasses. Recycled glasses are unique and special—and decidedly unfussy.
6. Forage for a Seasonal Centerpiece
If you've got a yard, you've got a centerpiece waiting for you. Snip wildflowers for a group of small vases or grab some branches for a centerpiece that's more elaborate. It's an easy way to ground your dinner party in the season and bring in those natural elements that pair so well with a lovely meal.
More inspiration: A backyard brunch with Chef Camilla Marcus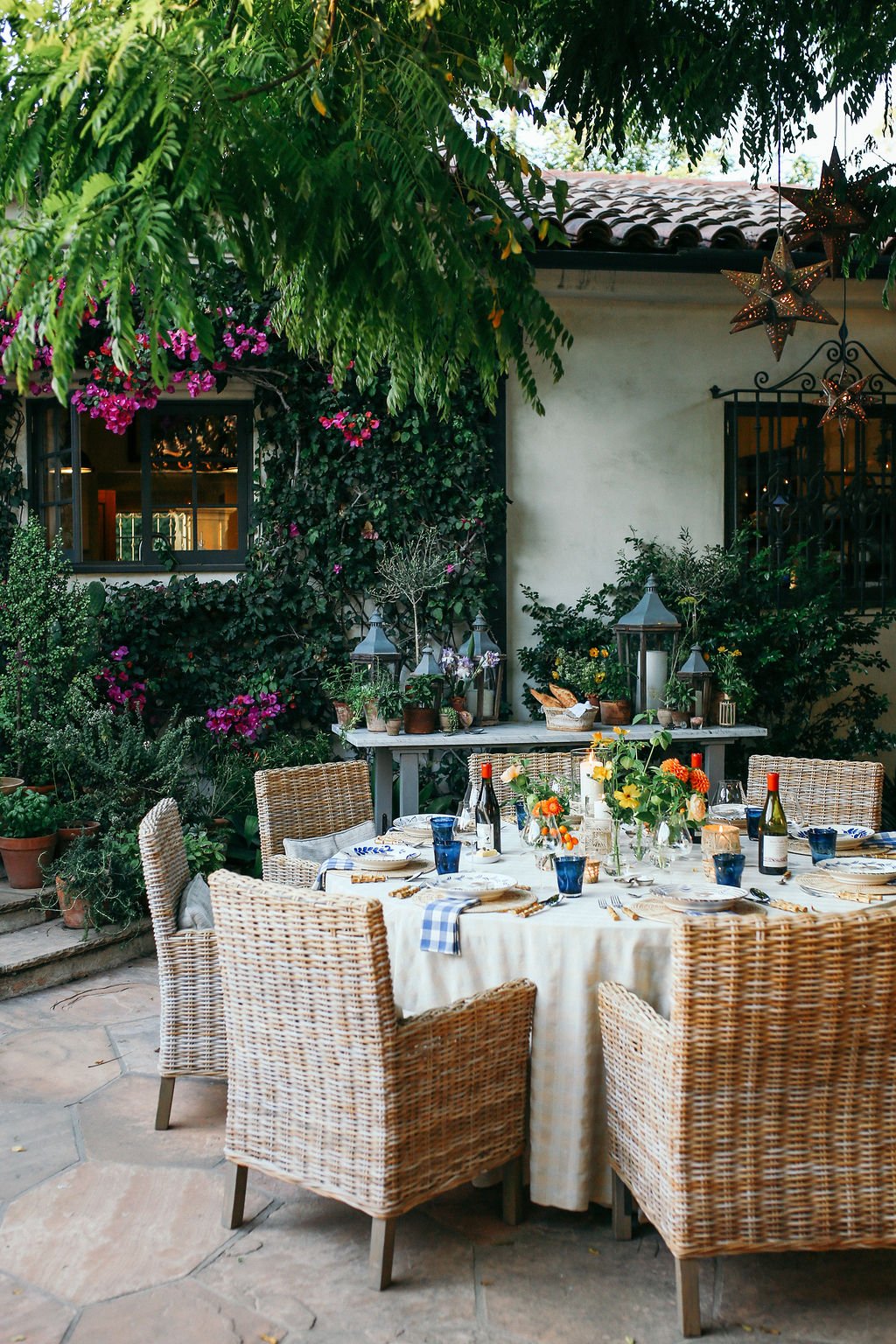 7. Take it Outside
When the weather is right, a dinner party al fresco is a near-perfect option. And take it from us, it doesn't have to be hard. Camille laid out all her tips to plan a stress-free outdoor party—décor included.
More inspiration: A Santa Barbara dinner party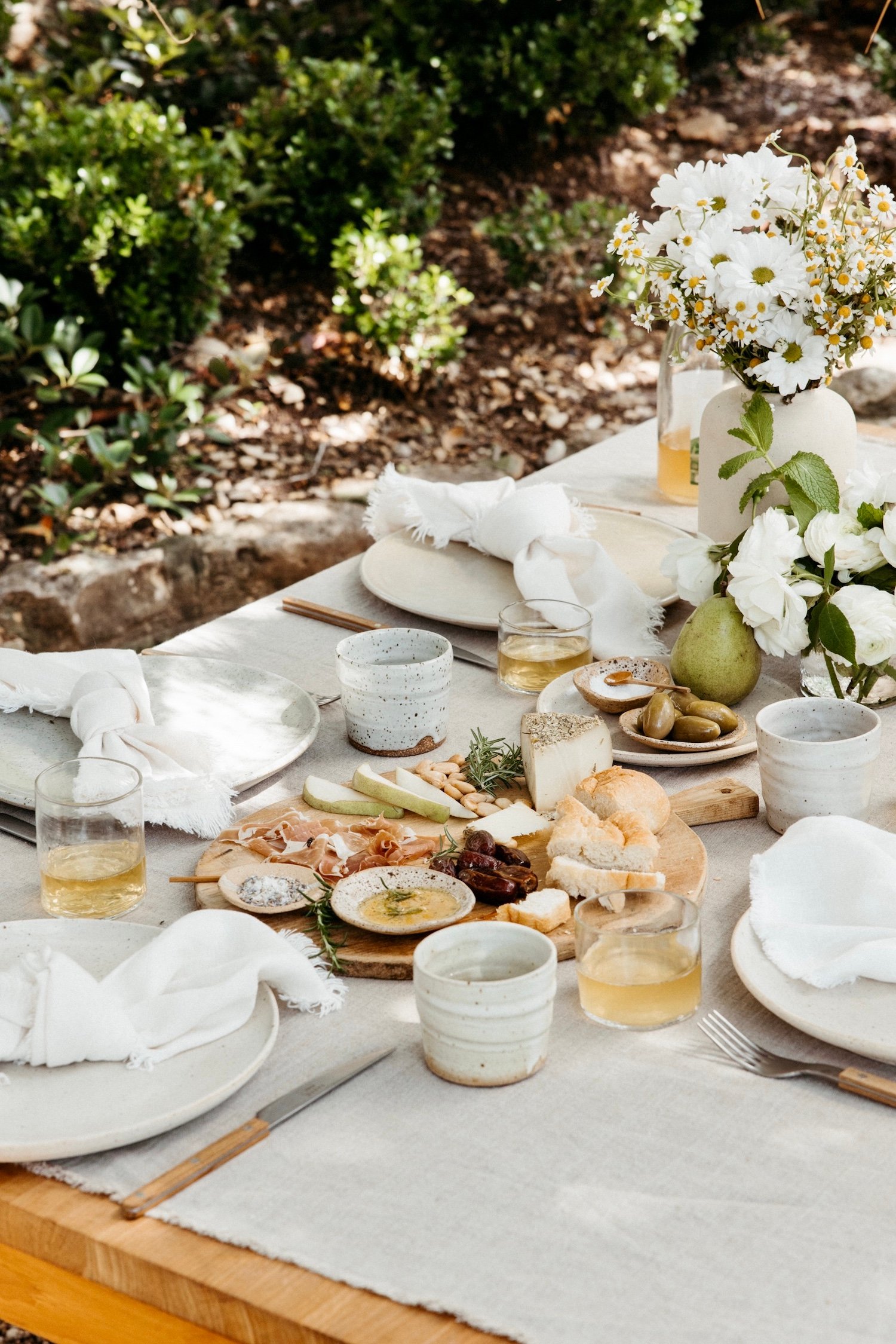 8. Let Food Be the Décor
If you're stuck on centerpiece ideas, let the food do the talking. No one will complain about a beautiful cheese board smack dab in the center of the table (and nothing to block their line of sight, at that).
More inspiration: A Beginner's Guide to Building a Charcuterie Board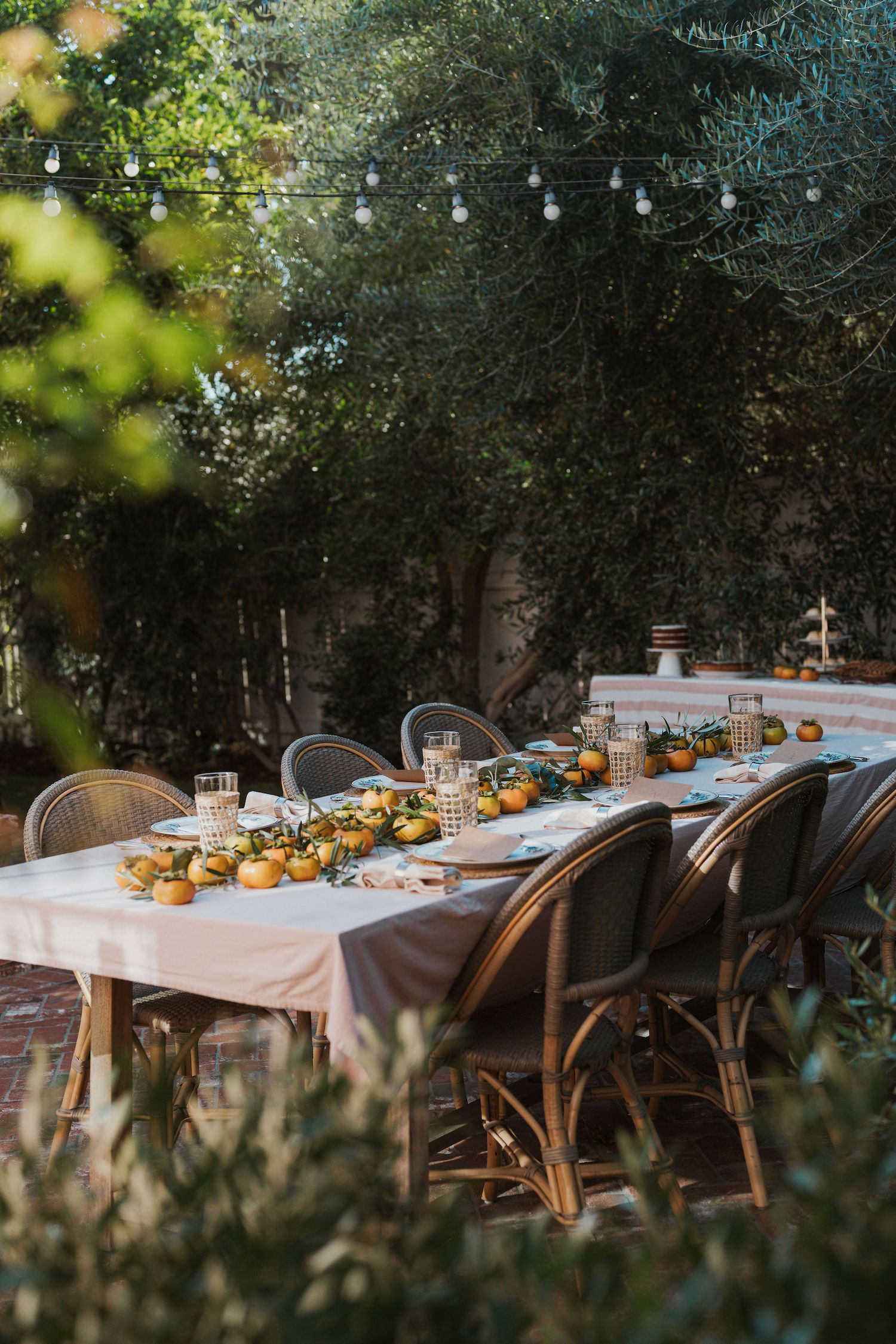 9. Use Fruit as a Centerpiece
Persimmons as a table runner? There's something genuinely striking when an item is repeated over and over again—it just works. Opt for seasonal fruit and either line it down the table, dot them throughout or fill a bowl or two.
More inspiration: Brunch with the co-founder and CEO of Sweet Laurel Bakery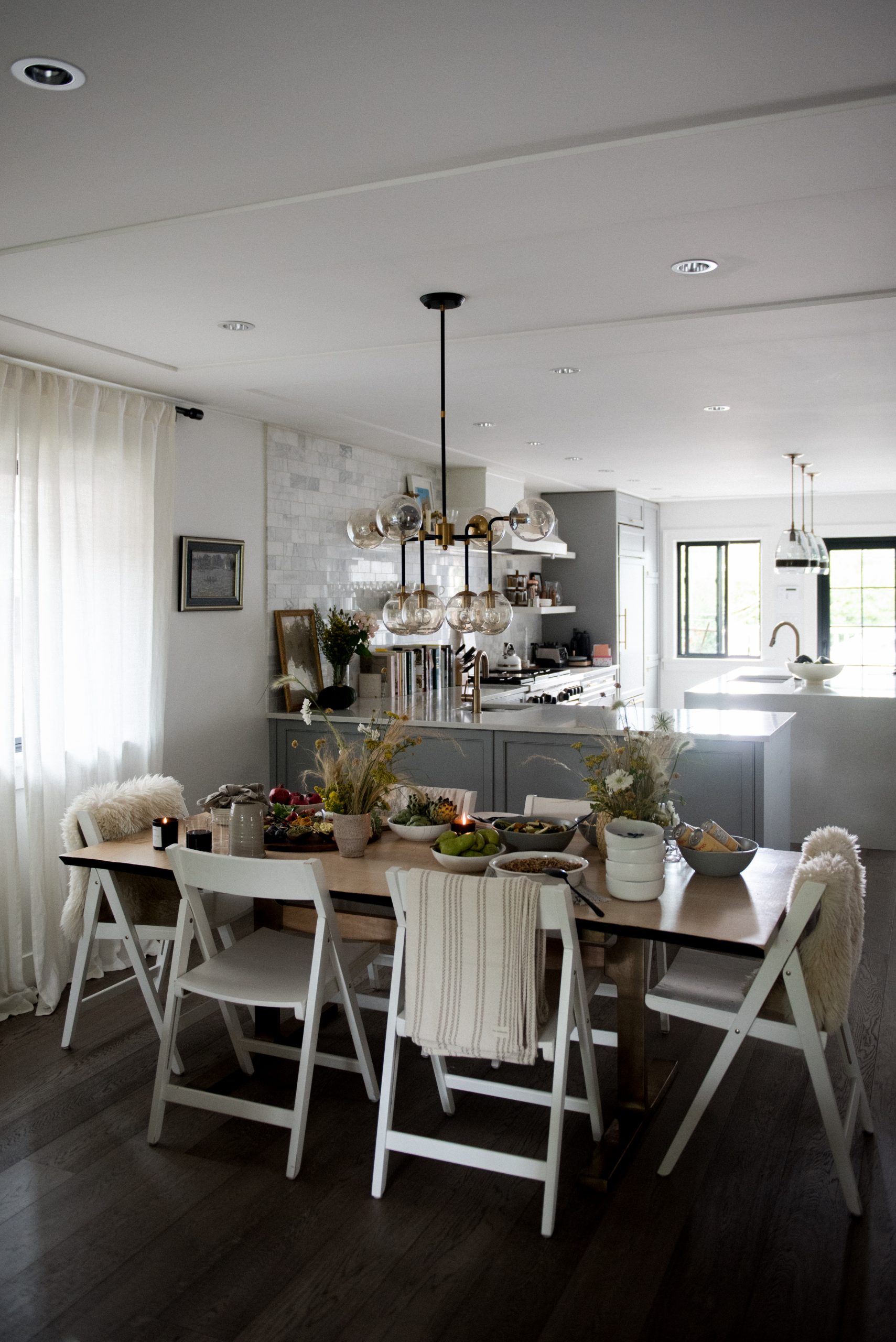 10. Add Cozy Throws or Blankets to the Chairs
Whether you suspect a draft or just want to up the cozy factor, drop some throws along the back of your guests' chairs or add a wool rug to the bench.
More inspiration: A cozy girls' gathering at home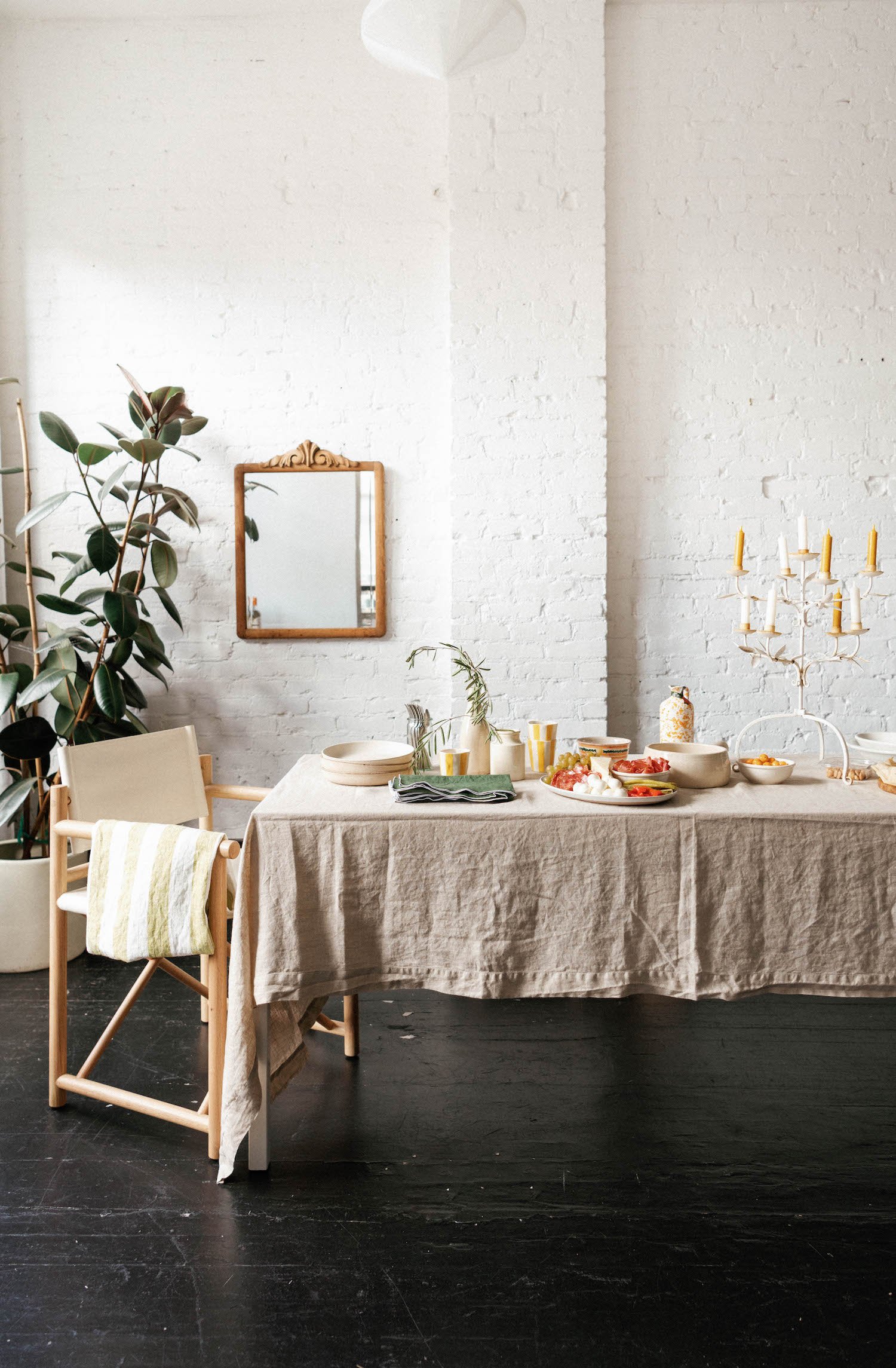 11. Make it a Chic Buffet
Truth be told, you don't always need a dinner party table setting to make it special. Stack the plates and lay out a drool-worthy buffet—it's décor in and of itself.
More inspiration: This delightful Italian dinner party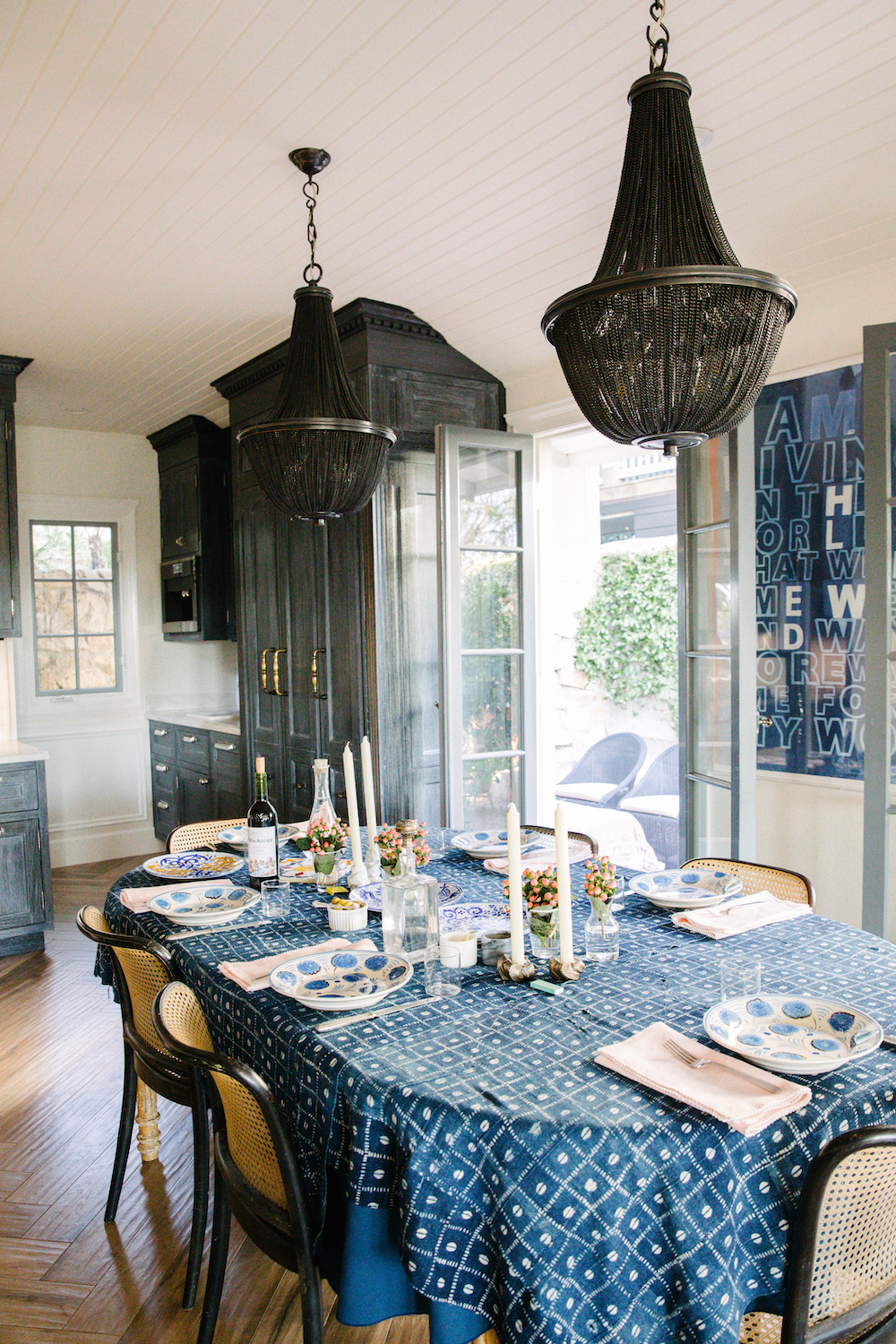 12. Decorate with Complementary Colors
It's a classic tip in the styling world for a reason. For a dinner party, we love choosing a main color and throwing in accents that complement from natural elements. Try it with oranges and limes on a blue linen throw or a pale green table topped with ripe strawberries or red peonies.
More inspiration: A Spain-inspired summer dinner party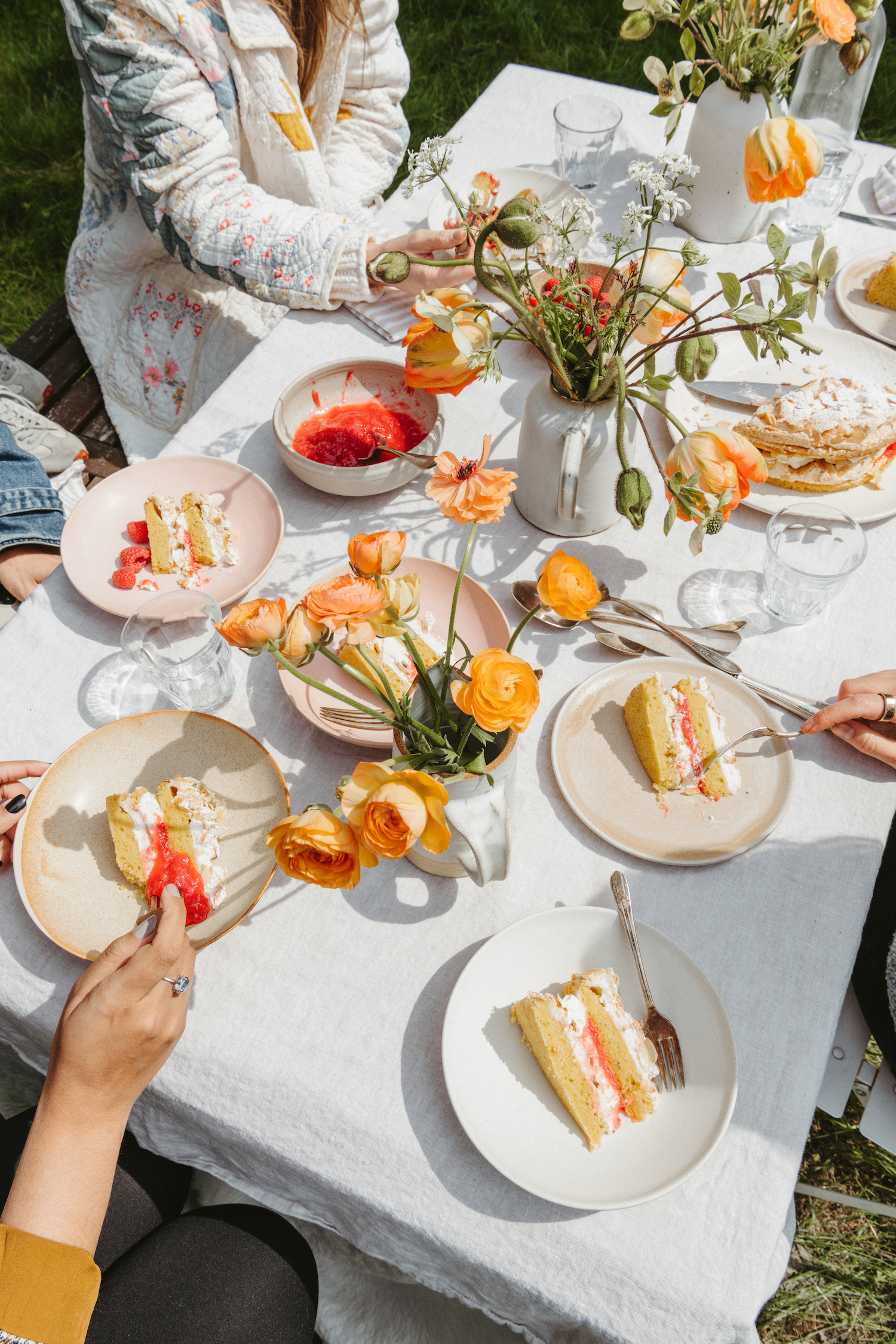 13. Match the Flowers to the Food
Delight your guests with an understated color theme. Choose foliage that pairs with the menu and get ready to snap all the photos.
More inspiration: An outdoor afternoon lunch with cookbook author, Aran Goyoaga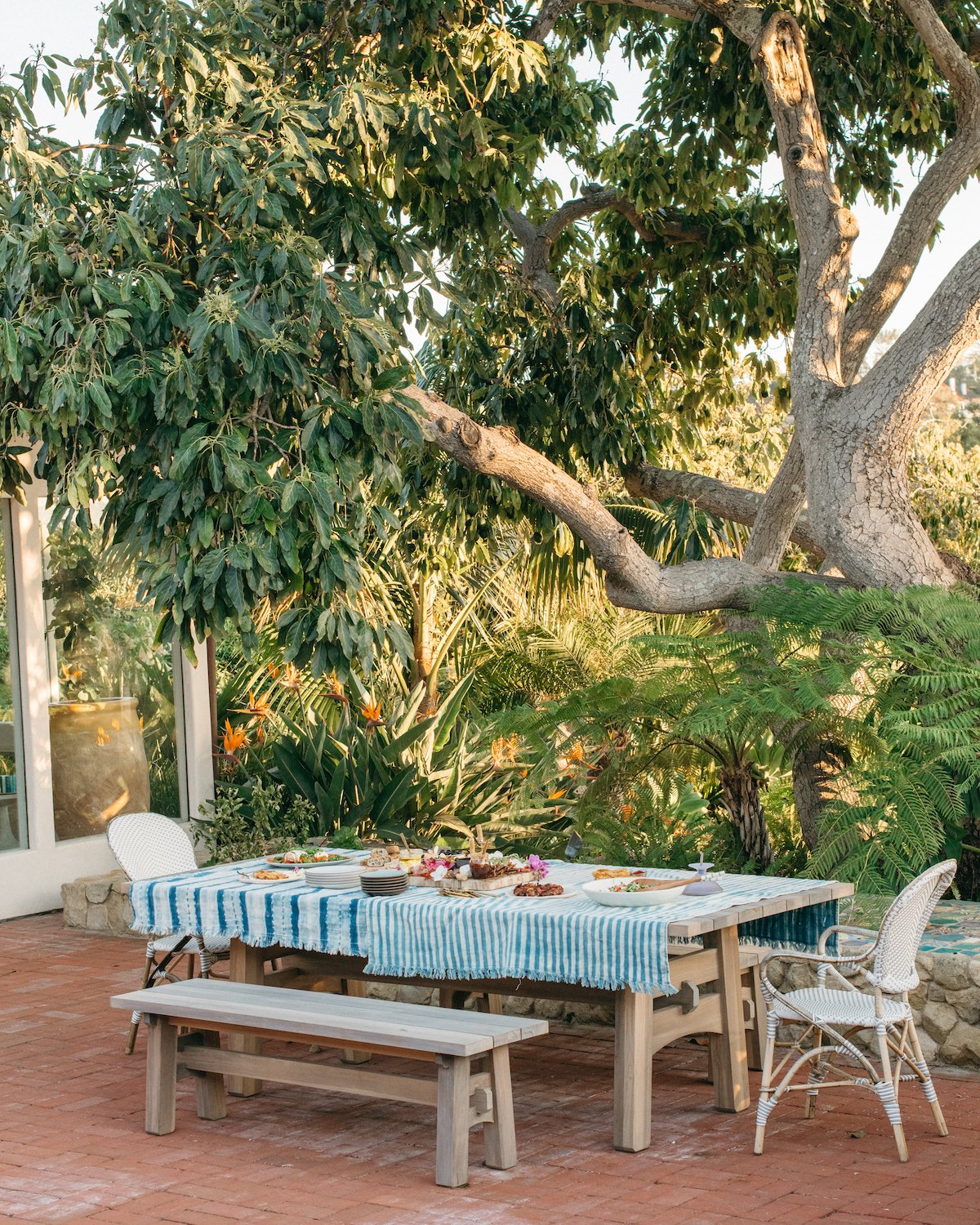 14. Mix and Match the Tablecloths
There really are no rules when it comes to styling the table for a dinner party. Grab more than one tablecloth if the length of the table is too long—you can even use sheets or light blankets.
More inspiration: A magic hour gathering in Santa Barbara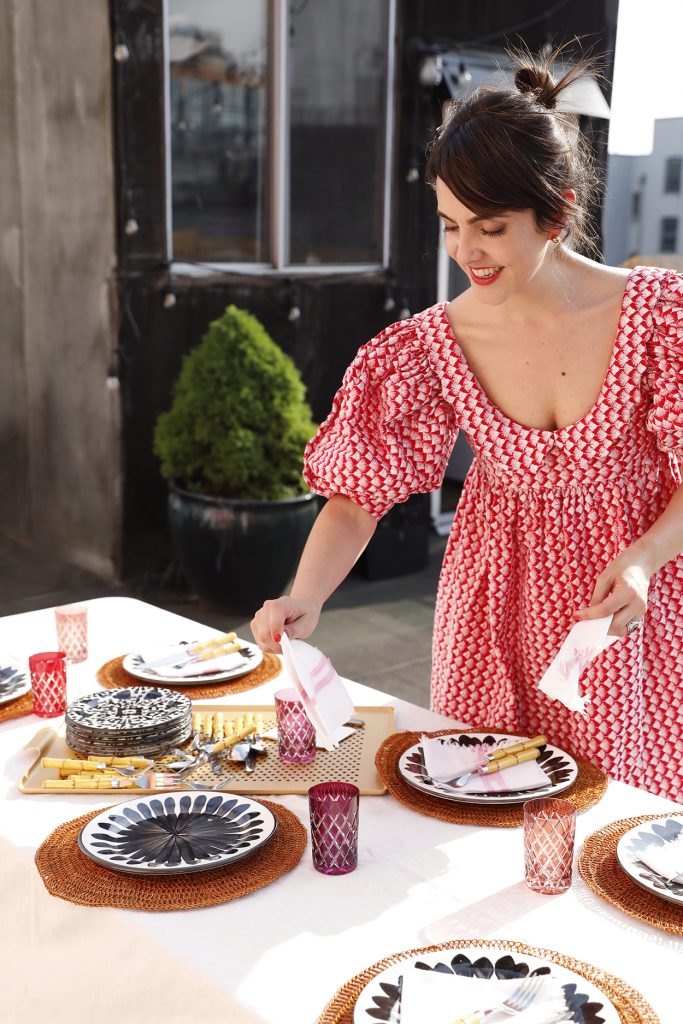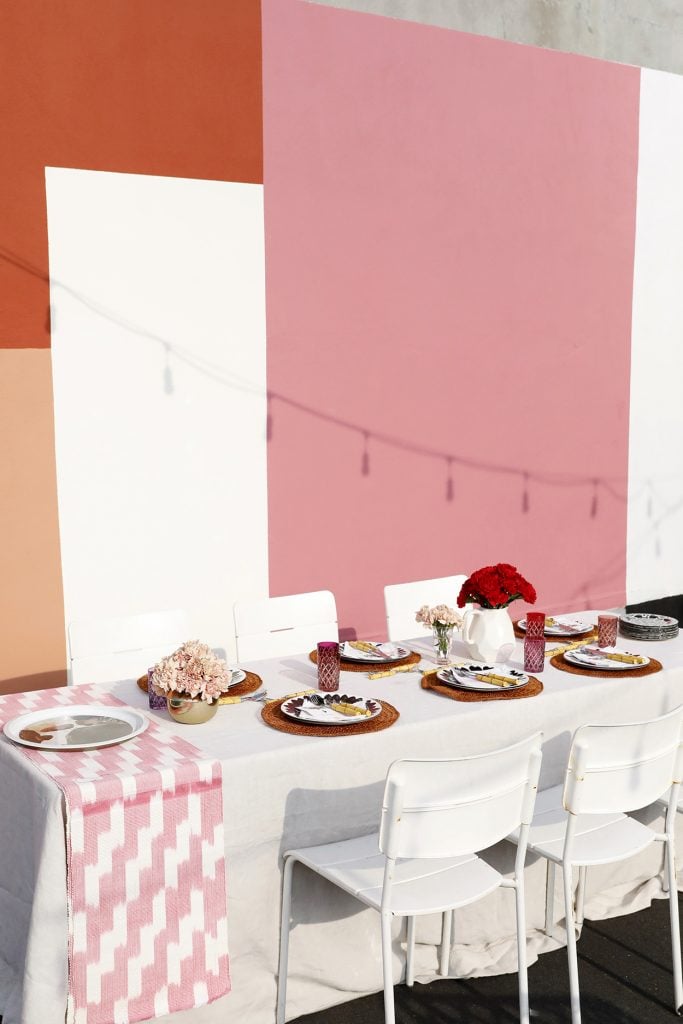 15. Embrace Your Surroundings
The first step in planning a dinner party is the where. Maybe there's a rooftop available or a patio, backyard, or cute tucked-away alley. Think outside the dining room!
More inspiration: An NYC rooftop dinner party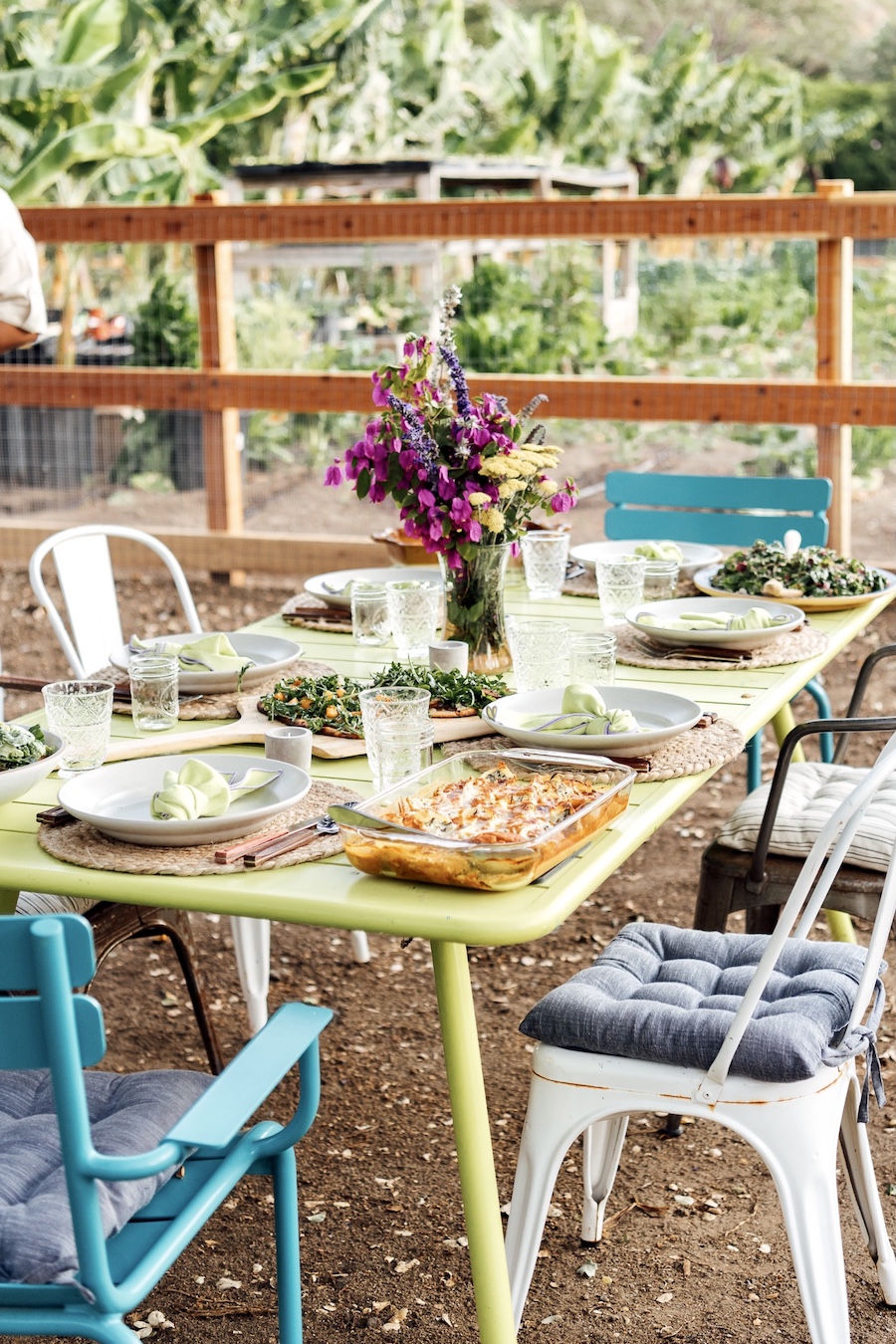 16. Play With Color
We're known neutral lovers around here, but even we know that a little color can be downright fun. Up the playful vibes with mismatched furniture and bright tabletop pieces.
More inspiration: An Italian-themed dinner party, at a farm in Malibu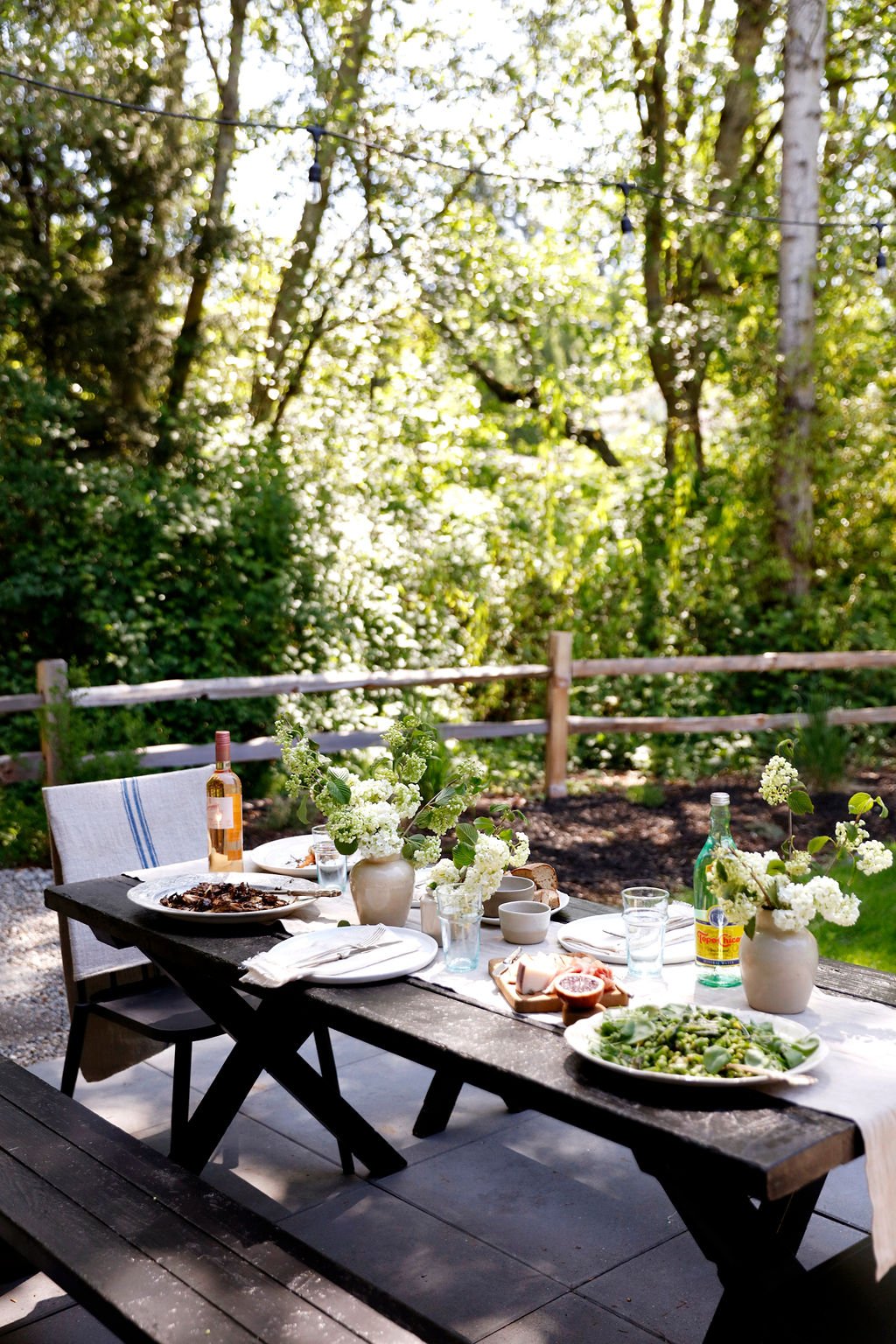 17. Use a Picnic Table
The humble picnic table can do a lot of things if styled well. Pop in a few pillows or blankets for texture and fill vessels with fresh blooms for the perfect mix of rustic and modern.
Now that the table is styled, time to plan the menu. Here are some recipes to feed a crowd for your next dinner party. Happy hosting!