Of course, we go to parties to see our friends, but let's be real: We're also pragmatic play there for the apps. Snacks are a highlight of any gathering, especially when they can be enjoyed by everyone. But in today's world, there's a pretty good chance that you have at least one friend who doesn't vibe with grains or another who's strictly plant-based. When hosting, it can be tough to keep up with your guests' dietary preferences, which is why we've rounded up the best gluten-free dairy-free appetizers to share with friends and family.
A grazing table is a perfect opportunity to mix and match a variety of different cuisines, flavors, and textures so people can personalize their plates however they please. While there can be so many options to choose from when it comes to starters, I have a fool-proof list of favorites I return to time and again that are safe for most types of eaters. The best appetizers are easy to prepare, taste great at room temperature, and are just as nourishing as they are delish.
Most of the recipes in this list only require a few ingredients, can be prepared in 20 minutes or less, and are all gluten and dairy-free, so they're a safe bet for whoever comes your way. Scroll on for our list of the best gluten-free, dairy-free appetizers for your next party.
Featured image by Suruchi Avasthi.
Salads and Platters
White Bean & Raddichio Salad
Why We Love It: Sure, the garnish of Parmigiano Reggiano might take this app out of the dairy-free category, but one of our favorite things about salads (other than the fact that they make it super easy to get your greens) is that they're entirely customizable. This salad balances a slightly bitter bite with a creamy texture. It's proof that you should always ask more of your salad.
Hero Ingredient: Raddichio is the most underrated leaf vegetable in the game. Not only does it give this salad gorgeous color, but it makes it feel substantial while still, you know, being a salad.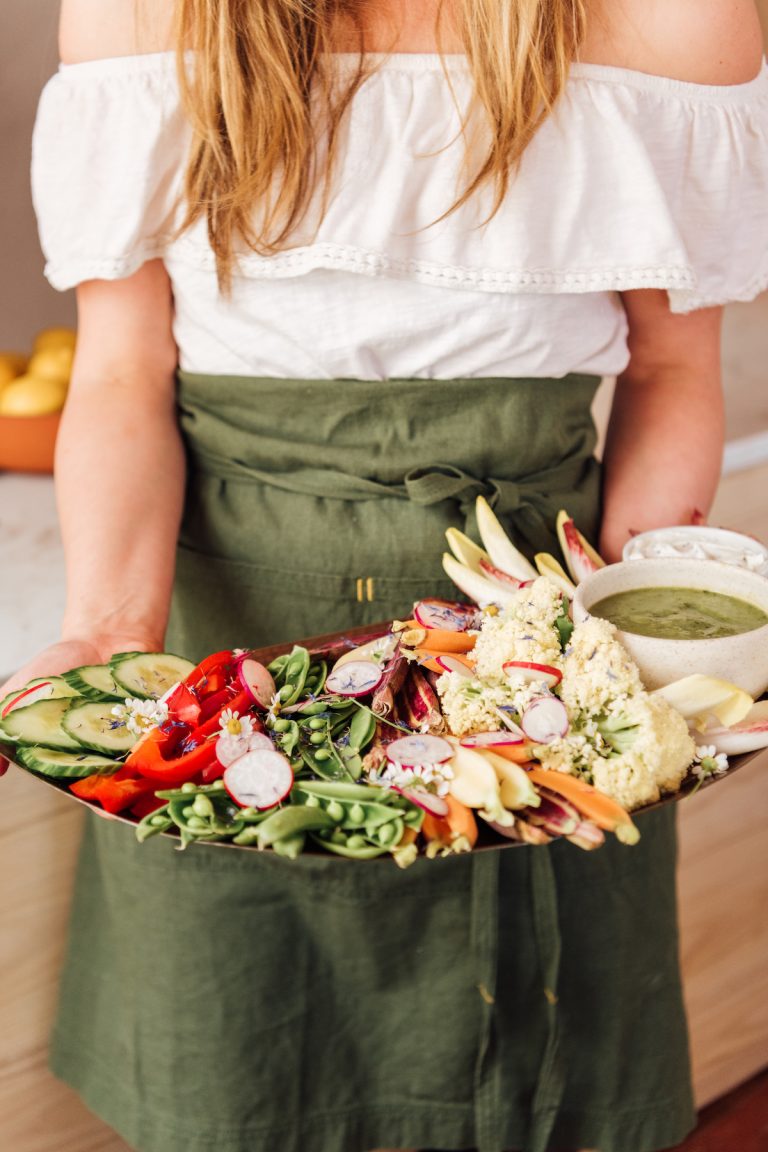 Spring Crudité with Green Goddess Dressing
Why We Love It: If you're craving color, fresh flavor, and veggies, this spring crudité platter delivers on all counts. You're welcome to serve the vibrant, verdant green goddess dressing with any mix of raw and/or roasted veggies of your choosing. Need a little guidance? The more your platter mimics the rainbow, the better.
Hero Ingredient: To make this recipe dairy-free, we swap in plant-based yogurt in lieu of whole milk Greek yogurt. We love Cocojune, which gives a slight edge of coconut that's nice with the lemon's acidity and herby additions. Or, you can try CocoYo that's wonderfully rich and a good source of probiotics.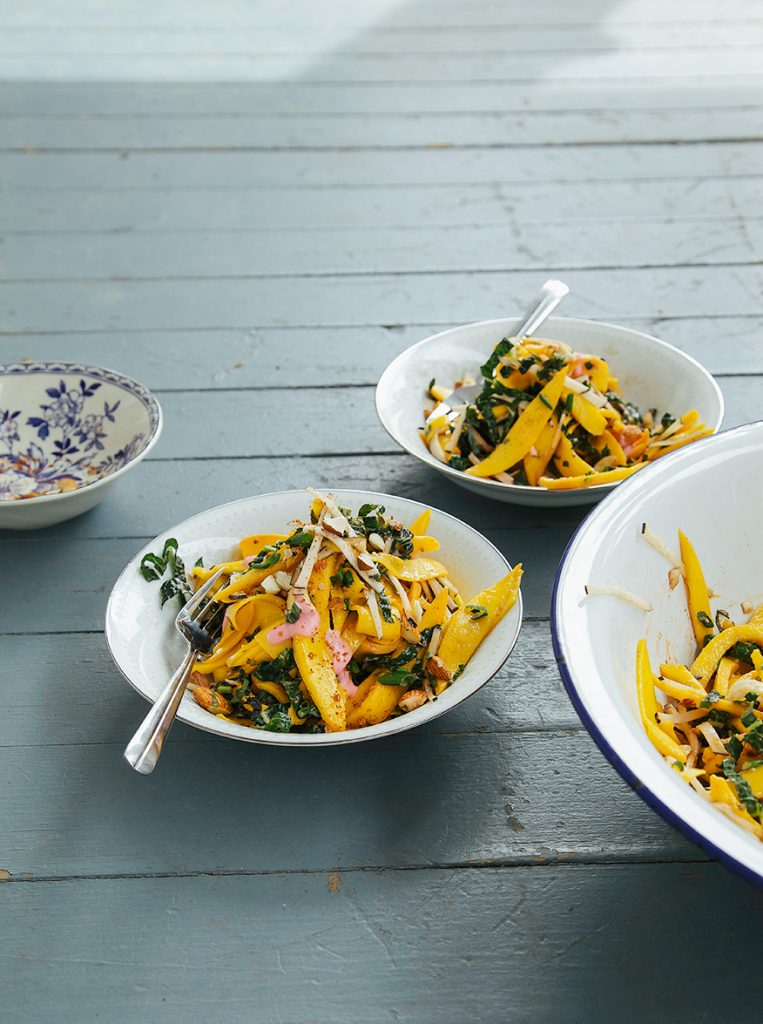 Mango Salad With Rhubarb Ginger Dressing and Chili Almonds From The First Mess
Why We Love It: Mangoes are an ingredient I always like to throw into any salad-type dish. While some might think the fruit operates best in desserts and sweet dishes, we'd argue that they deserve their place in veggie-forward apps. Case in point, this stunner of a salad. The colors are bright and the entire dish delivers a whole lot of flavor.
Hero Ingredient: Chili almonds? Chili almonds. Pro tip: Double your batch so you have enough for spontaneous snacking.
Dips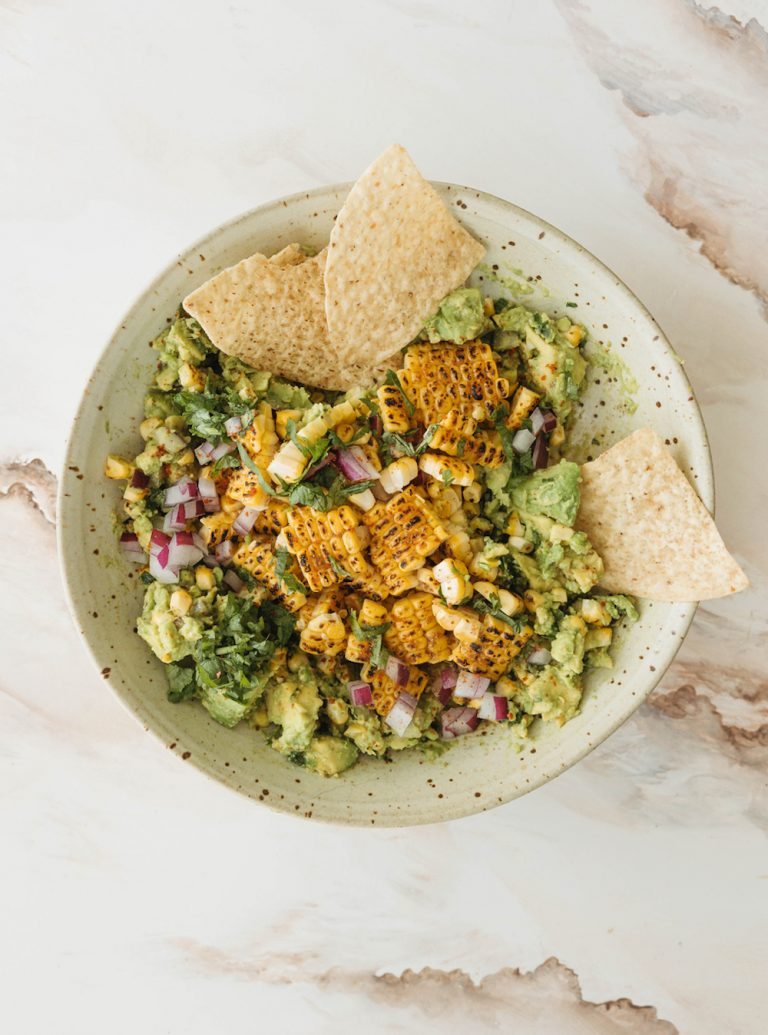 Bhutta Street Corn Guacamole
Why We Love It: There's always room for guacamole on the menu—particularly one that brings a whole host of flavor to our favorite classic app. Healthy fat-filled avocados, roasted corn, fresh cilantro, lime juice, and a blend of just-hot-enough spices. What's not to love?
Hero Ingredient: The corn in this recipe adds a delicious heft to the texture and a satisfying charred flavor to this crowd-pleasing dish.
Carrot Turmeric Hummus
Why We Love It: While you can (and should!) feel good about snacking on any and all bites you put on your plate, this is one that'll send your serotonin skyrocketing—especially when served with an array of colorful veggies. This hummus is also bean-free, so it's a safe bet for anyone who might be sensitive to legumes, too.
Hero Ingredient: Turmeric does double duty, giving this dip both vibrant color and warming spice.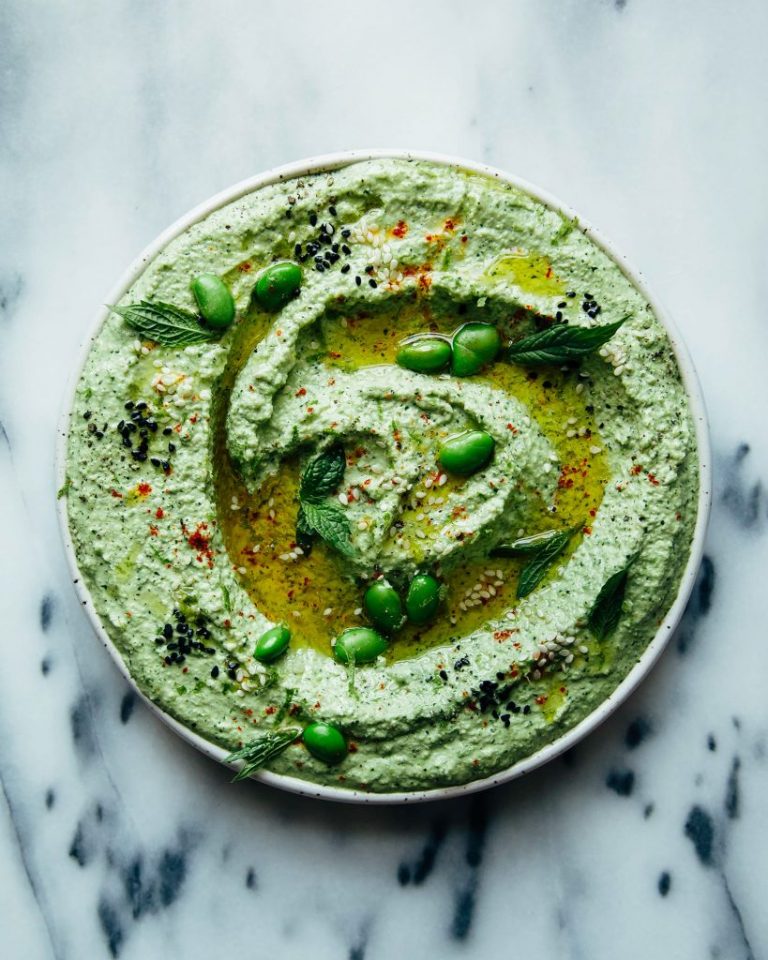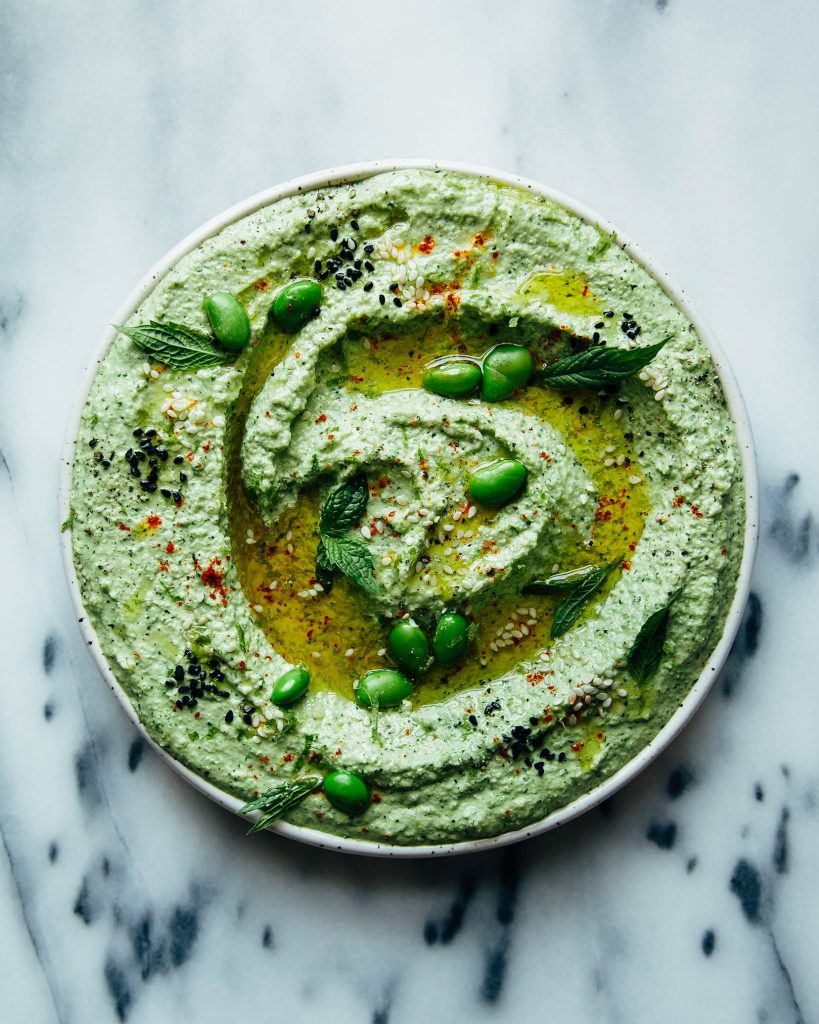 Edamame Dip With Mint, Jalapeño, and Lime From The First Mess
Why We Love It: Is it enough to call a recipe one of the best gluten-free, dairy-free appetizers based on visuals alone? Well, the good news is that this dip is aesthetically pleasing while also satisfying all your gustatory needs. Sweet? Savory? Spicy? Check, check, and check.
Hero Ingredient: Edamame is surprisingly buttery, and its sweet/nutty pairing is unmatched.
5-Minute Vegan Cashew Queso From Minimalist Baker
Why We Love It: Delicious and creamy, this dairy-free queso might even win over your cheese-loving friends. It uses cashews, nutritional yeast, and hot water for the "cheesy" base, with a mix of delicious spices for some added flavor.
Hero Ingredient: I alluded to it above, but nutritional yeast deserves a spotlight all to its own. It's key to making any vegan dish super cheesy. Minus the cheese, of course.
Cheesy Vegan Spinach & Artichoke Dip From Minimalist Baker
Why We Love It: Let's be real—any gathering is really just another opportunity to make spinach and artichoke dip. Rich and creamy, this healthier take on a classic dish is sure to cure your comfort food cravings—minus any post-indulgence discomfort.
Hero Ingredient: Artichoke hearts give this vegan dip heft and body while supplying a briny bite that perfectly balances out the creaminess.
White Bean Dip From Love & Lemons
Why We Love It: This recipe requires just four ingredients that you likely already have on hand: cannellini beans, lemon, olive oil, and garlic. Does cooking get much easier than that?
Hero Ingredient: Your lemons are the MVP of this dish. Using both zest and juice lends this dip insanely good flavor.
Sweet Potato Black Bean Dip From Minimalist Baker
Why We Love It: This is not your average bean dip. Starring sweet potatoes, black beans, and avocado, this appetizer is basically a mash-up of all of my favorite flavors in one bowl.
Hero Ingredient: Minced jalapeño may be optional, but if it's that authentic kick you're after, I'd encourage you to go all in.
Protein
Baked Sesame Chicken Wings From The Defined Dish
Why We Love It: Sweet and savory, these baked sesame chicken wings are gluten and dairy-free… and they're packed with flavor. You'll find yourself coming back to this recipe again and again.
Hero Ingredient: You can thank the fish sauce for the aforementioned flavor. Trust me—it ties the spice and sweetness together beautifully.
Chorizo-Stuffed Bacon-Wrapped Dates From The Defined Dish
Why We Love It: You need this appetizer at your next party. We consistently make a batch of these chorizo-stuffed bacon-wrapped dates for large-scale gatherings, and they're always the MVPs of the night.
Hero Ingredient: I'm drooling equally over this recipe's chorizo and bacon callouts. But honestly, with the welcome spice it imparts, the chorizo wins out.
Smoked Salmon Carpaccio With Fried Capers and Herbs From The Defined Dish
Why We Love It: Salty yet refreshing, this smoked salmon carpaccio with crispy capers will transport you to Italy after just one bite. Elevate your next grazing table with this beautiful, nutrient-packed dish.
Hero Ingredient: Capers are the briny, salty, flavor-packed gems that'll make any savory recipe all the better.
Arrowroot Fried Chicken Nuggets From Megan Nash
Why We Love It: What is it about chicken nuggets that make them a necessity at every party? This chicken nugget recipe (created by my sister) is on the regular dinner rotation at our house, so trust me when I say these nuggets are simple, healthy, and hit the spot every time. Turns out, there's no breading required to get that crispy-on-the-outside, tender-on-the-inside texture that makes chicken nuggets such a hit.
Hero Ingredient: The secret to that crispy crust? The genius of arrowroot flour knows no bounds.
Vegetarian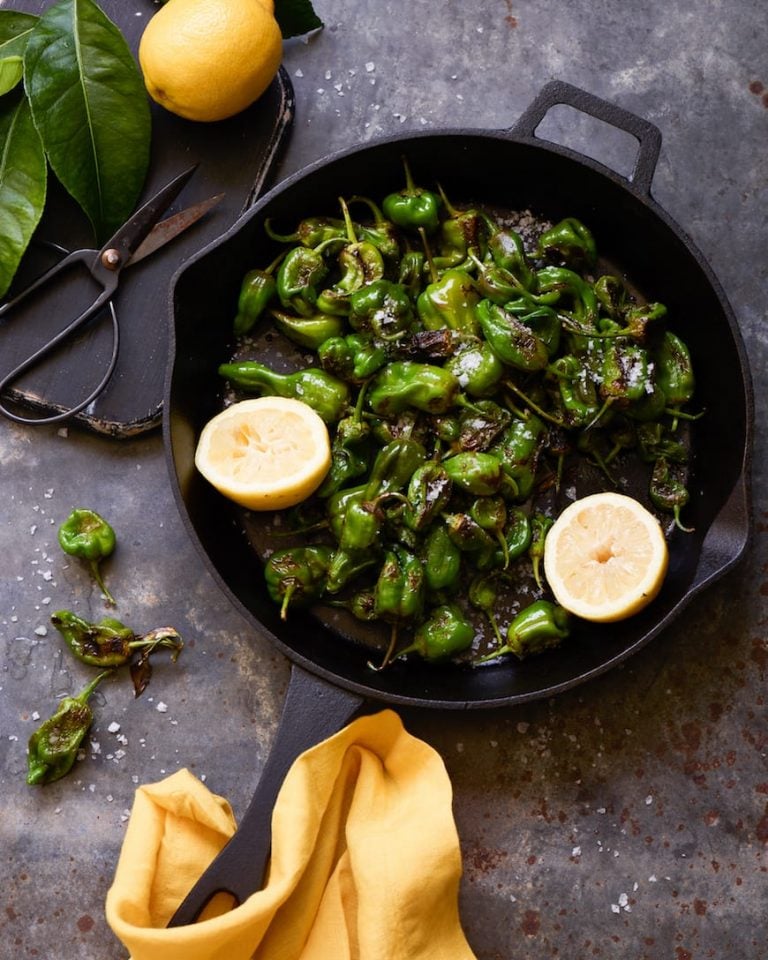 Blistered Padrón Peppers From What's Gaby Cooking
Why We Love It: Blistered peppers are one of those appetizers that are best kept simple. Just heat up some oil in a pan, sauté the whole batch, and you've got a restaurant-worthy appetizer ready to go in minutes.
Hero Ingredient: Out of all the gluten-free, dairy-free appetizers on this list, this has to be one of my favorites. With so few ingredients in the mix, it has to be the Padrón peppers themselves. Their spice is subtly intense (it's possible!) and slightly sweet. If you've prepared a similar dish with shishito peppers, expect a relatively similar result.
Crispy Baked Buffalo Cauliflower Wings From Rachel Mansfield
Why We Love It: When I whipped up a batch of these cauliflower wings for a football-watching party, they were gone in seconds. (Don't worry, I guarantee they'll be a hit served for any and all occasions.) They're flavorful, easy to make, and best served with the yummy dipping sauce of your choice.
Hero Ingredient: This recipe is just another example of the universal truth: Cauliflower can really do it all.
Crispy Baked Sweet Potato Fries From Cookie & Kate
Why We Love It: You truly can't go wrong with sweet potato fries. If you have a knife and an oven, you're already well on your way to making this standout recipe. These are crispy oven fries, mastered—and it's a recipe that's always a go-to when my fry cravings hit.
Hero Ingredient: Cornstarch is key to getting your fries extra crispy.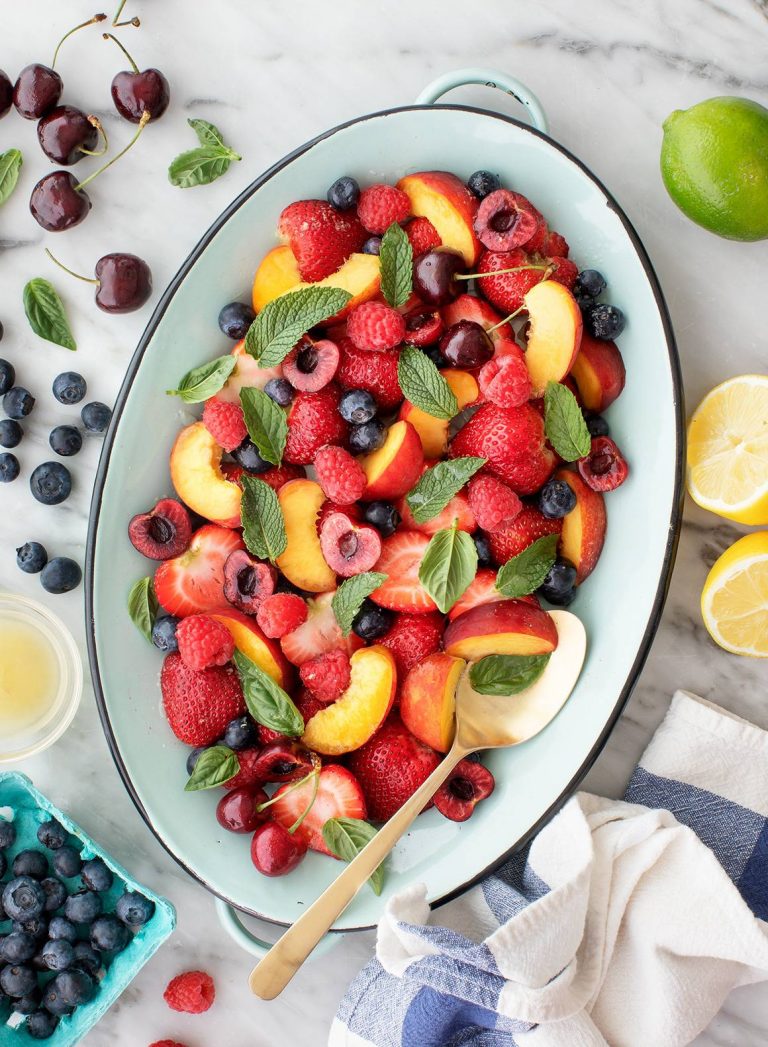 Summer Fruit Salad From Love & Lemons
Why We Love It: How gorgeous is this salad? Sometimes there's nothing better than all of your favorite seasonal fruits on a platter drizzled with a refreshing vinaigrette.
Hero Ingredient: Upon first glance, this is a simple, humble dish. But incorporating grated ginger into your dressing plays up its sweetness while also weaving in a little welcome spice.
Game Night Crispy Potato Bruschetta From Oh She Glows
Why We Love It: This crispy potato bruschetta is the gluten-free version of your favorite Italian starter. By swapping out the bread for equally delicious crispy potatoes, you've made this dish plant-based in a snap without sacrificing flavor.
Hero Ingredient: A marinade that leans on balsamic vinegar for a figgy, complex flavor is always a winner in my book.
Grilled Vegetable Platter From Damned Delicious
Why We Love It: Last but definitely not least, a grilled vegetable platter is a simple way to healthify your next feast. Just throw your favorite veggies on the grill or in a pan and wait until they're soft and slightly charred. You can't go wrong!
Hero Ingredient: When it comes to a vinaigrette whose purpose is to coat your favorite veggies with plenty of herby, charred flavor, good, fruity olive oil is key.
This post was originally published on June 25, 2021, and has since been updated.