Thanksgiving is my favorite holiday. Whenever the conversation arises, others offer up Christmas, Valentine's Day, and even Halloween. But with the coziness, theme of gratitude, and opportunity to gather with my favorite people (not to mention eat all of my favorite foods), Thanksgiving always wins out. And of course, the majority of hosts dedicate their time and attention to the dishes themselves. But the power of Thanksgiving table setting ideas is that they serve to create an atmosphere and an environment that welcomes your guests with grace and warmth. I'd argue that's something to spend a little time considering.
Thanksgiving tablescapes can go in infinite directions. But we prefer to align our approach with the season and spirit—taking inspiration from nature and setting a table that's elegant, organic, and understated. With this guidance, there are plenty of ways to make it your own.
20 Thanksgiving Table Setting Ideas
Whether you opt for a Thanksgiving dinner or lunch (or sometime in between—the holiday throws out all convention when it comes to our mealtime), these Thanksgiving table setting ideas are a true celebration of the year's most anticipated feast. We looked back in the archives to pull inspiration from our favorite tables over the years. From modern monochromatic to organic and earthy, scroll through our favorite Thanksgiving table setting ideas that we can't wait to weave into our holiday decor planning. Trust us, your turkey will be in good company.
Psst… for more guidance on table setting etiquette, consult our guide to basic, casual, and formal table settings.
Every product is curated with care by our editors and we'll always give an honest opinion, whether gifted or purchased ourselves. If you buy something through our links, we may earn a small commission at no cost to you.
Use Dried Flowers
There's no need to face the crowds on Thanksgiving morning to pick up a fresh arrangement. Dried flowers are having their moment, and we love the sustainable approach to creating a beautiful tablescape. Dried grasses, amaranth, and even hydrangeas lend a gorgeous visual texture to the table. Arrange in an earthenware, ceramic vase and pair your flowers with neutral linens. You won't believe the impact this simple touch adds to your Thanksgiving feast.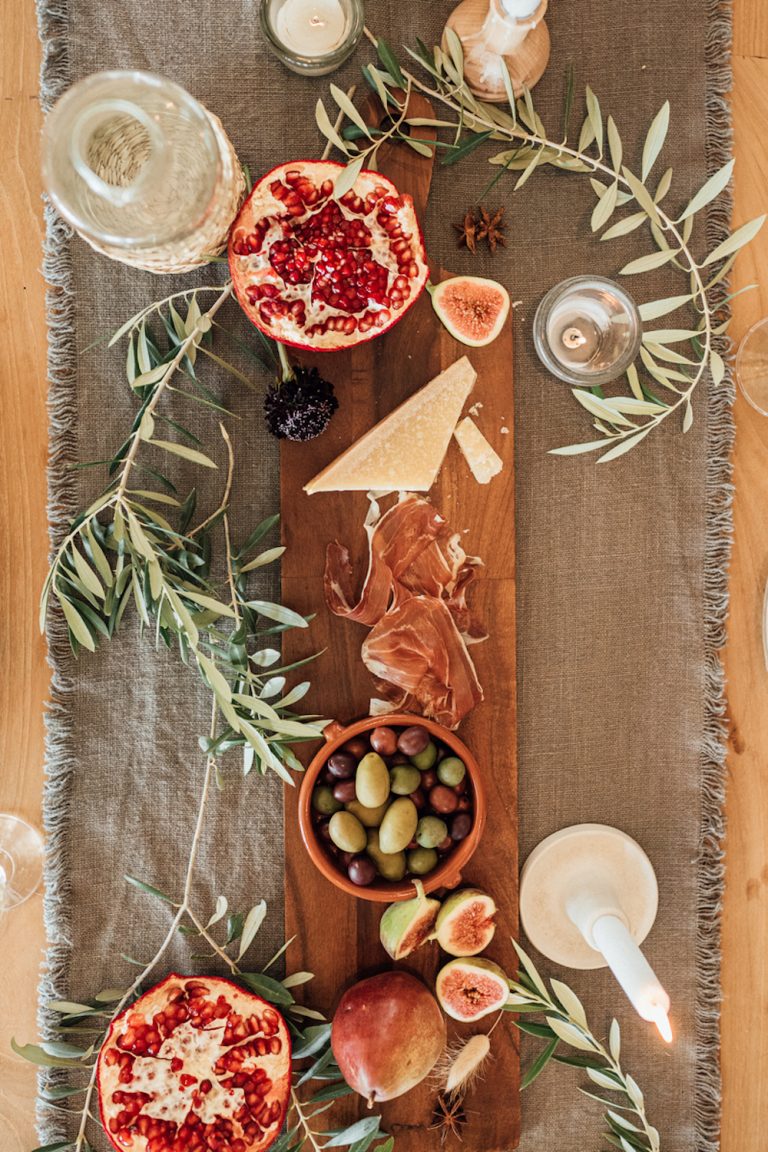 Add a Grazing Board for Edible Color
IYKYK: we're all about a good grazing board here. And while it serves as a perfectly good appetizer and pre-cursor to the main meal, it can also be a way to give your table an interactive quality. Split pomegranates, whole pears, and halved figs all look gorgeous layered on a board with olives, nuts, cheeses, and dried meats. While the holiday may be all about the turkey and pie, we're always here for the snacks.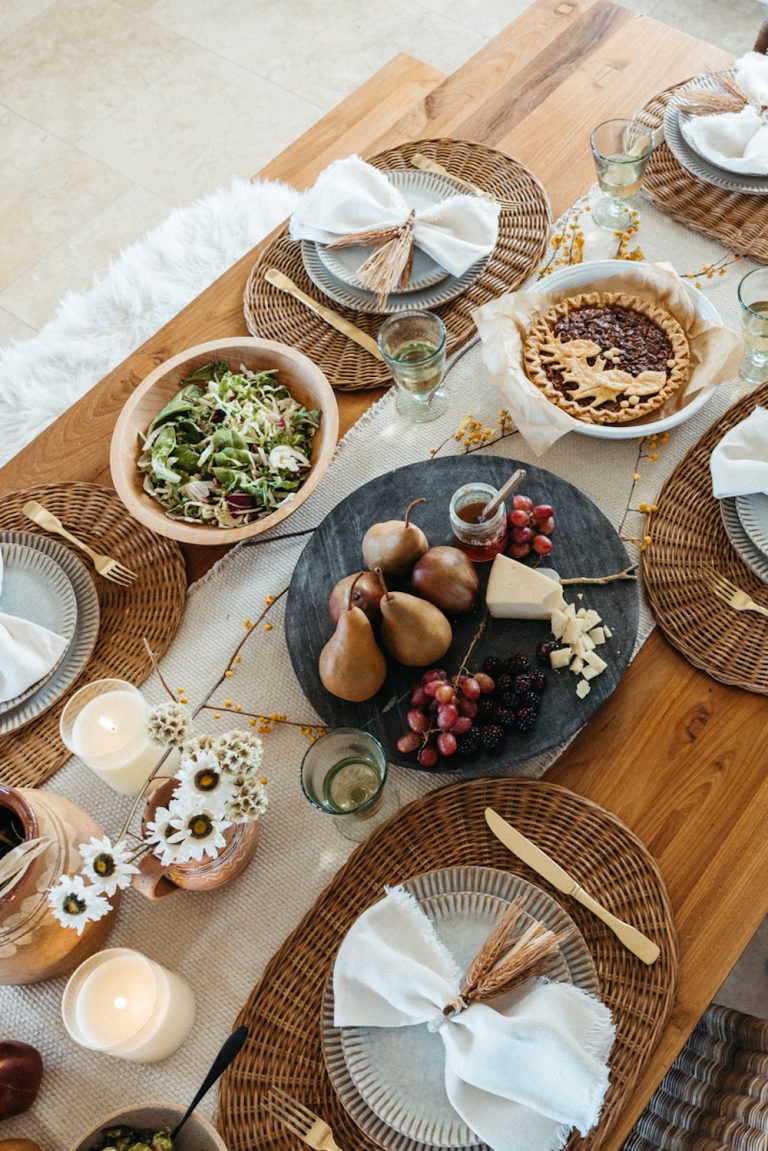 Use Branches in Creative Ways
We love the dramatic look of branches arranged in a tall vase. But if there's anything we've learned from the Barefoot Contessa (and we've learned a lot), it's to keep your table decor height at a minimum to ensure guests can see each other across the table. Instead, set a table runner down and place branches so that they run parallel to the length of your table. It creates a whimsical, woodland scene that feels straight out of a Thanksgiving fairytale.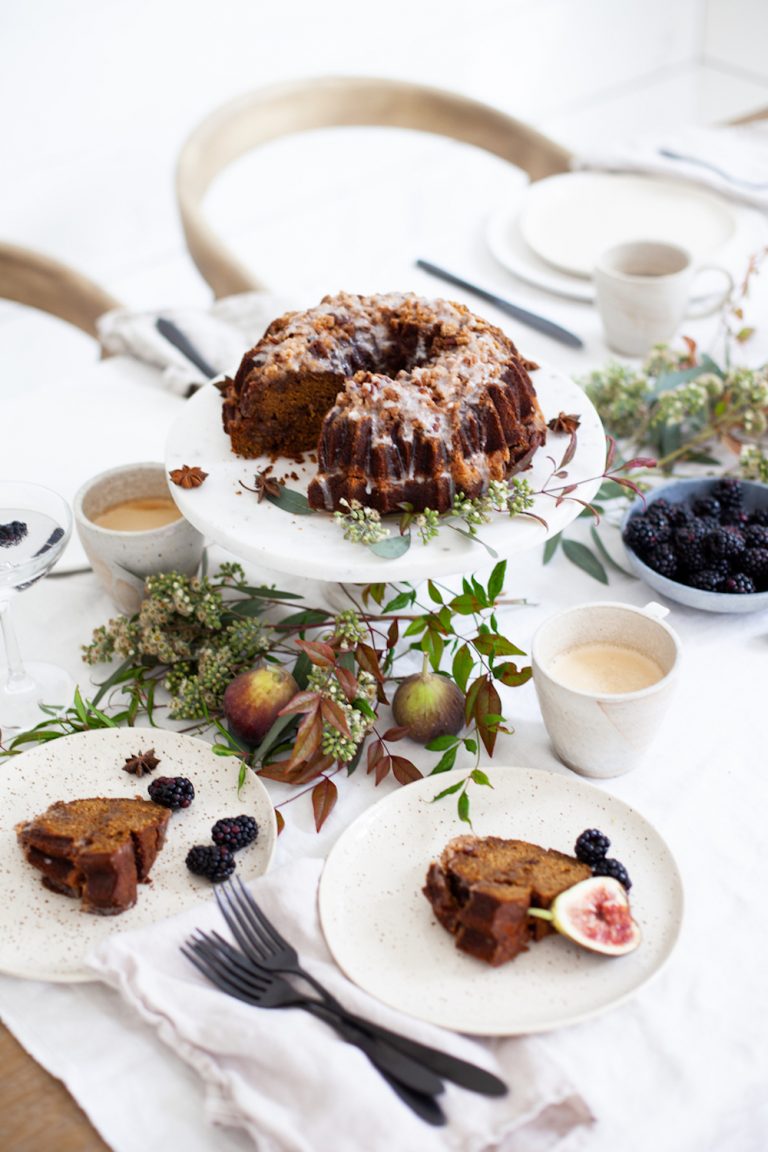 Go Monochrome
While we love the layered look of linens, plates, and flatware in different, but coordinating colors, there's something so dramatic about a Thanksgiving tablescape done in one tone. (Particularly when that color is white.) Here, the color palette serves to accent and emphasize the shades brought forward through the food and natural touches. If you really want your menu to stand out, opt for this look. Just be sure to garnish your mashed potatoes with a lot of parsley—you don't want them getting lost in the shuffle.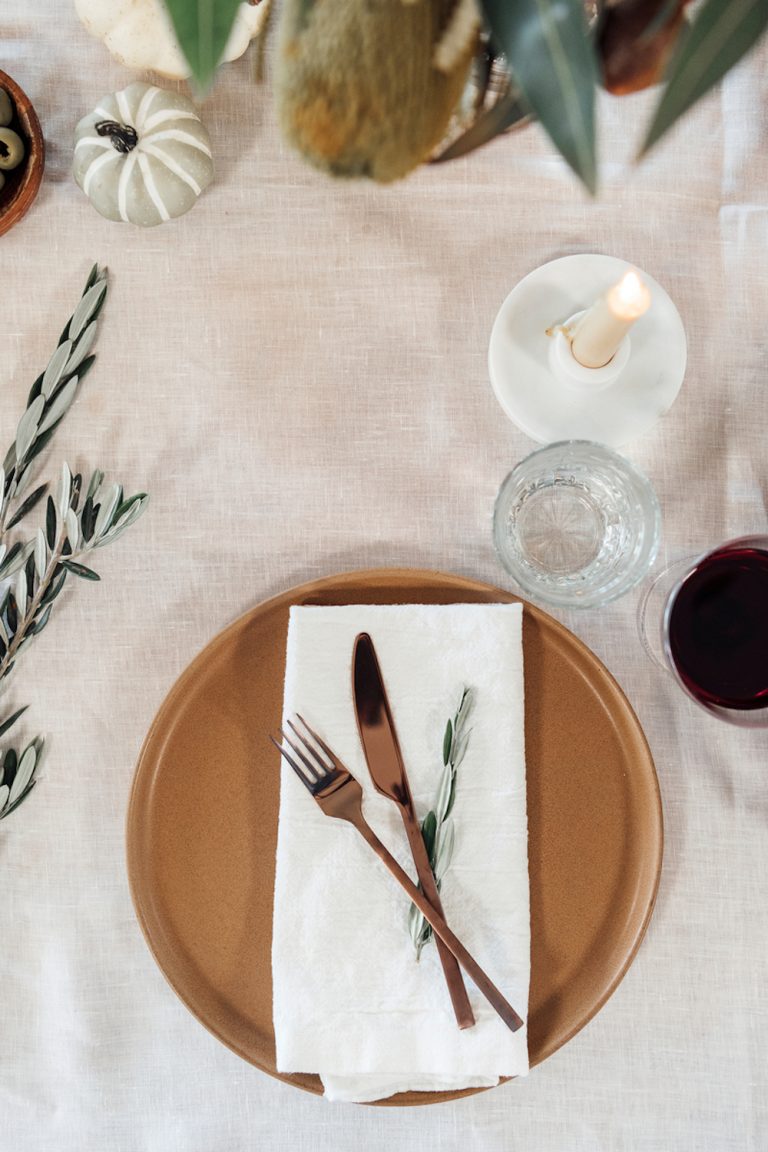 Match Accents of Copper
As far as materials go, copper is a natural choice this time of year. It echoes the darkened leaves and shorter days of the season. What's more, it pairs perfectly with green, serving as a strong, beautiful backdrop to the small sprig of olive branches giving depth to the simple napkin and flatware setting. It's simple Thanksgiving table decor at its finest. To take it a step further, try writing or typing out your Thanksgiving menu and slipping it between the napkin and flatware.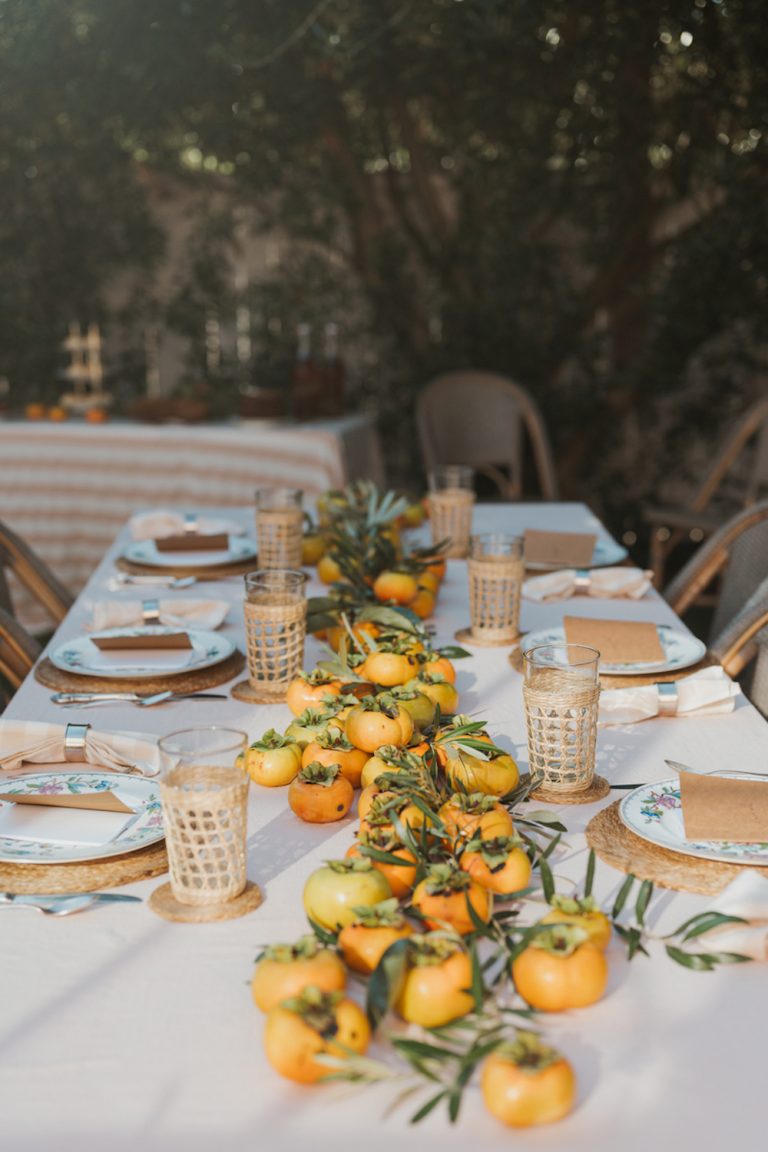 Use Fruit as a Centerpiece
Persimmons reach their ephemeral peak this time of year, and lining them down the center of your Thanksgiving table adds gorgeous pops of color. It's a design trick that's so easy to create. Just be sure to keep your table linens simple so they don't compete with your centerpiece. And if you can't find persimmons, seasonal fruits like pears, apples, pomegranates, or even mini pumpkins work beautifully as well.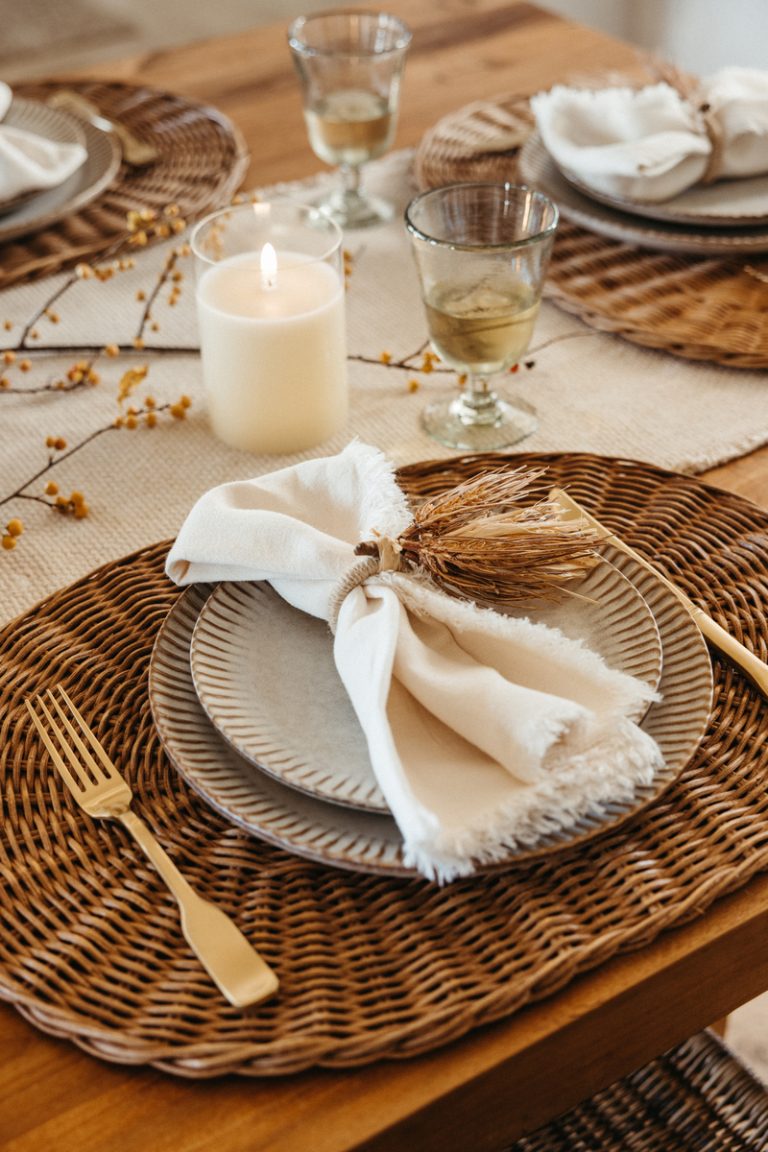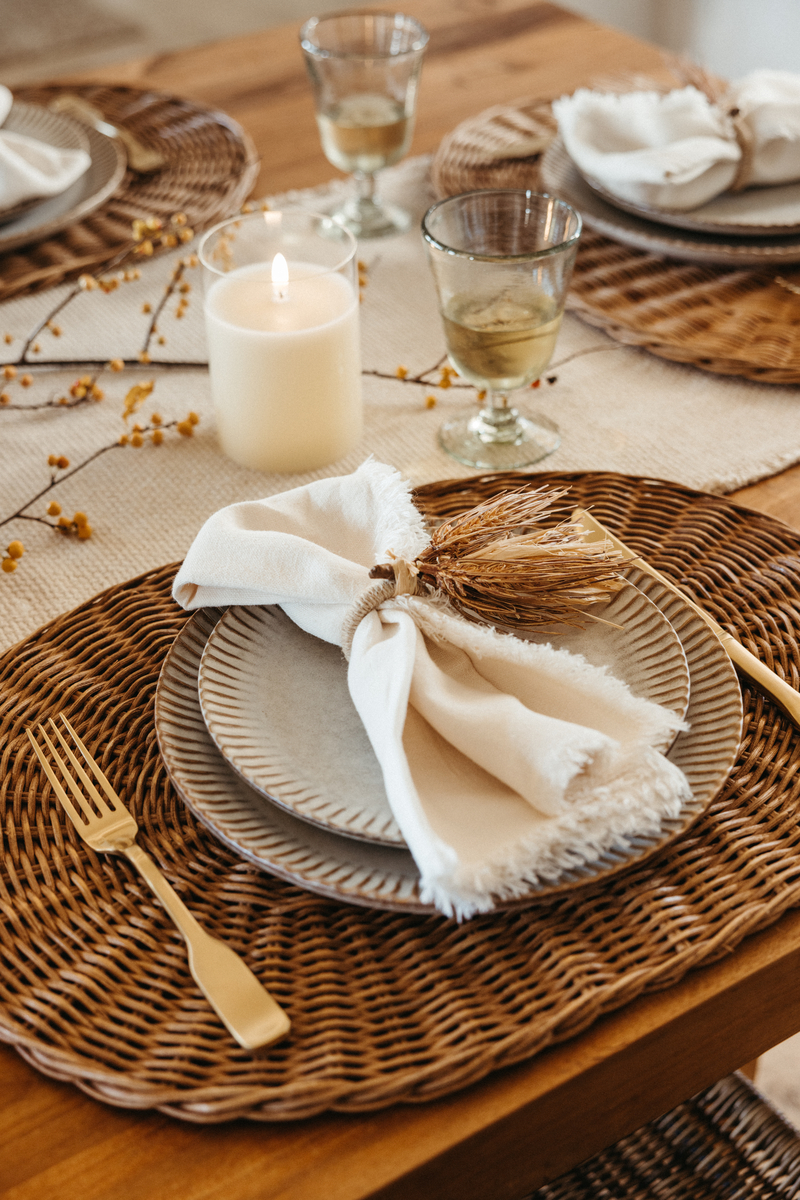 Add a Sprig of Something to Your Napkin Ring
Rosemary, olive, eucalyptus, or dried flowers are an easy way to dress up a plain napkin ring. Even if you're keeping your table decor streamlined and simple, add a little depth to your place setting with something from nature that ties the whole look together.
Serve a Buffet
When you're serving a crowd at Thanksgiving, you often have to do the challenging dance of making the food accessible, but also ensuring it doesn't take up too much space at the dining table. Rather than having everyone shuffle in and out of the kitchen, set up an additional table to serve as a buffet. This frees up space for your decor and puts your dishes within reach so guests won't have any trouble going up for seconds.
Keep Candles Low-Key
It's easy to overdo it on the candles. When you're tempted to illuminate a million tea lights, tapers, and pillar candles, take a step back and embrace a less-is-more approach. We like just a few taper candles at different heights to create enough variety and interest without competing with your guests' view or your table's precious real estate. Plus, little flickers of light are so much more elegant.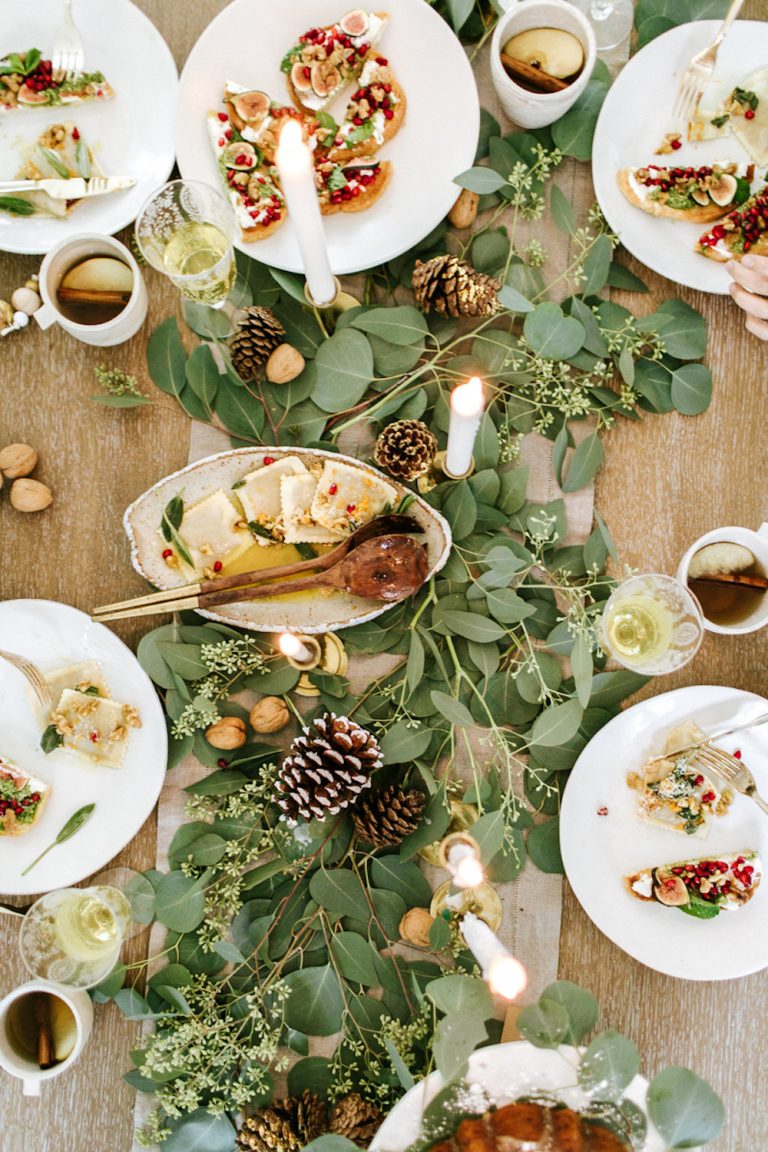 Go Maximalist With Greenery
Add height and color to a simple runner by arranging greenery all along the center of your table. Pick up a few bunches of eucalyptus from the grocery store (hi, Trader Joe's) and place them so that groupings of leaves extend out in alternating directions. It's such an easy, low-effort, high-reward trick.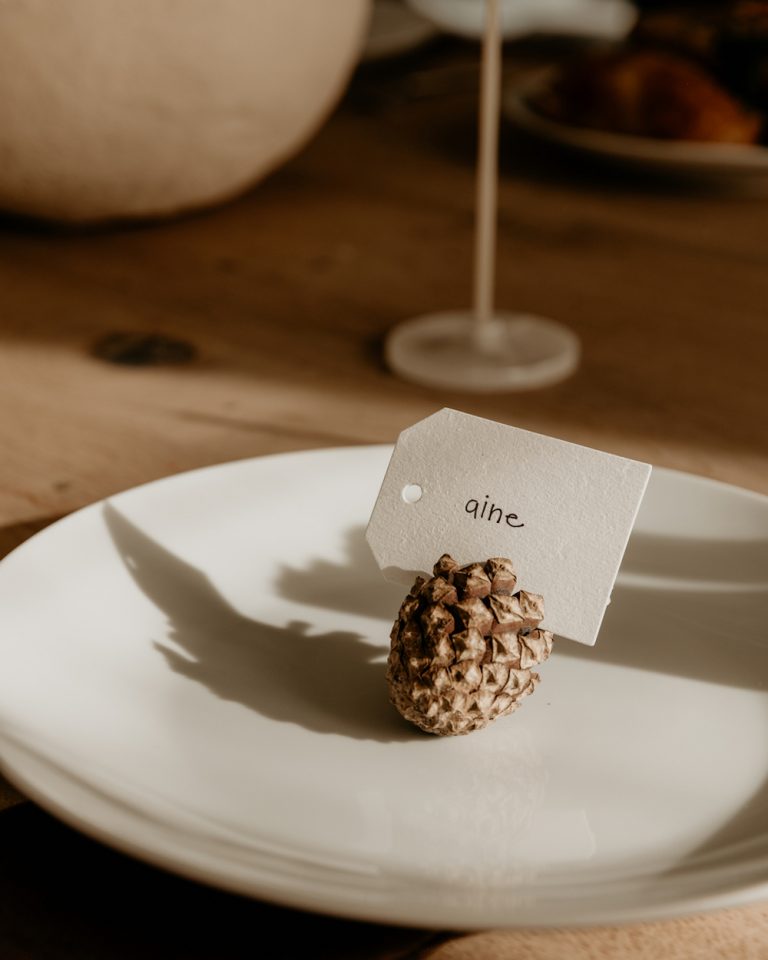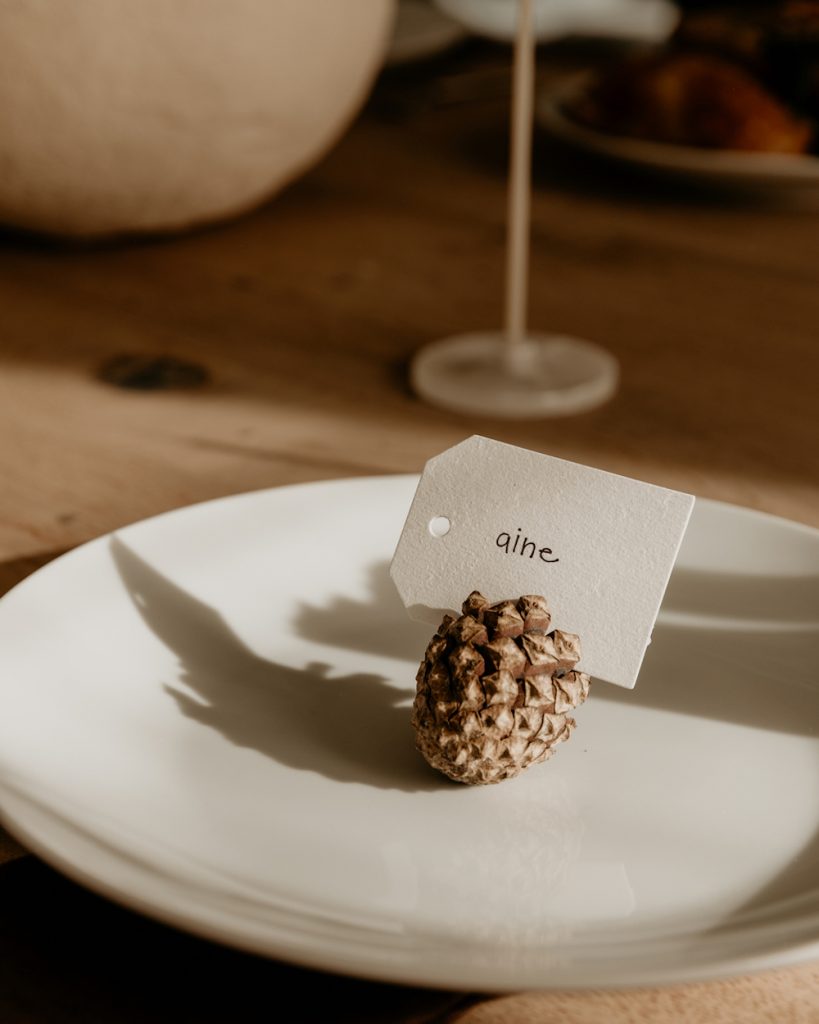 DIY Pinecone Place Cards
When we have the time, who doesn't love a good holiday craft? Spend an hour or so the weekend before Thanksgiving putting together these darling pinecone place cards. (With Gilmore Girls playing in the background and a mug of something warm nearby, this sounds like an ideal Saturday activity.) Purchase some cardstock, write your guests' names in simple lettering, and secure to a pinecone. You may need to go foraging or you can easily find bulk mini pinecones online. It's simple and stunning.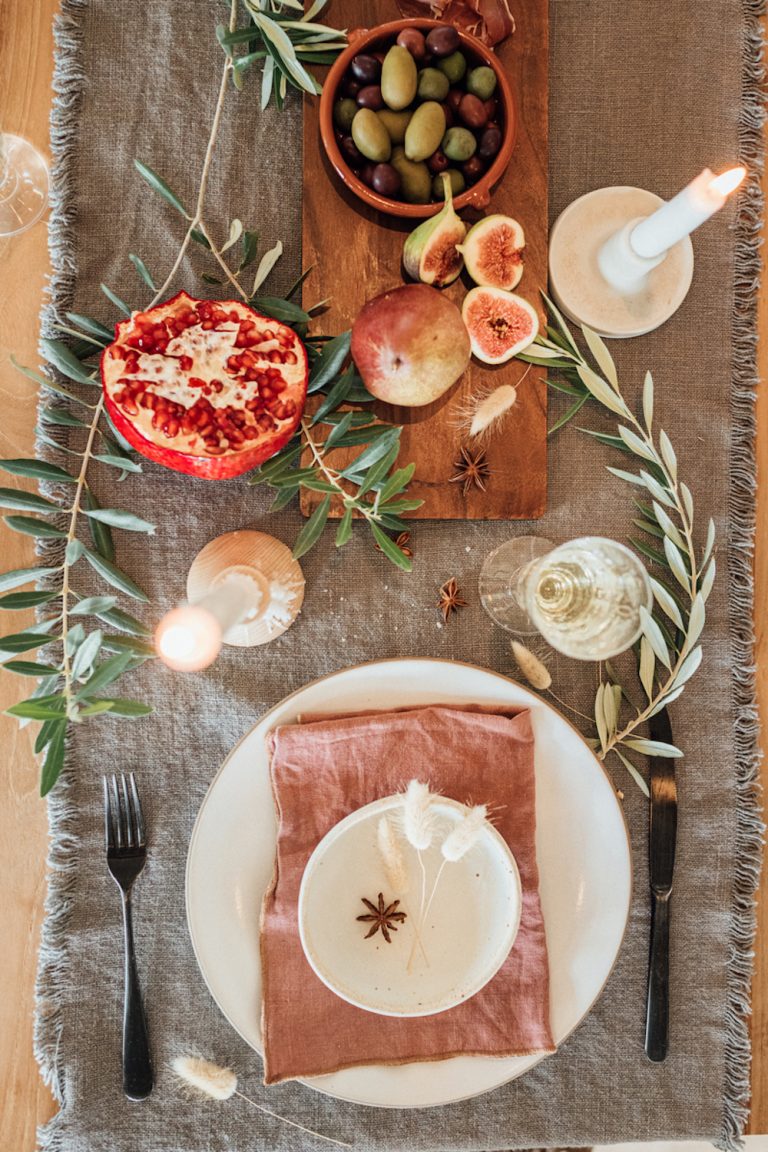 Incorporate Color in Unexpected Ways
When it comes to adding color to the Thanksgiving table, we like to leave the work to our accessories. Keep your larger pieces—dinnerware, tablecloth, etc.—largely neutral and look to the details for an opportunity to incorporate color. Linen napkins are an easy way to do this, as the look will still feel balanced and symmetrical if you keep the accent color the same at every setting.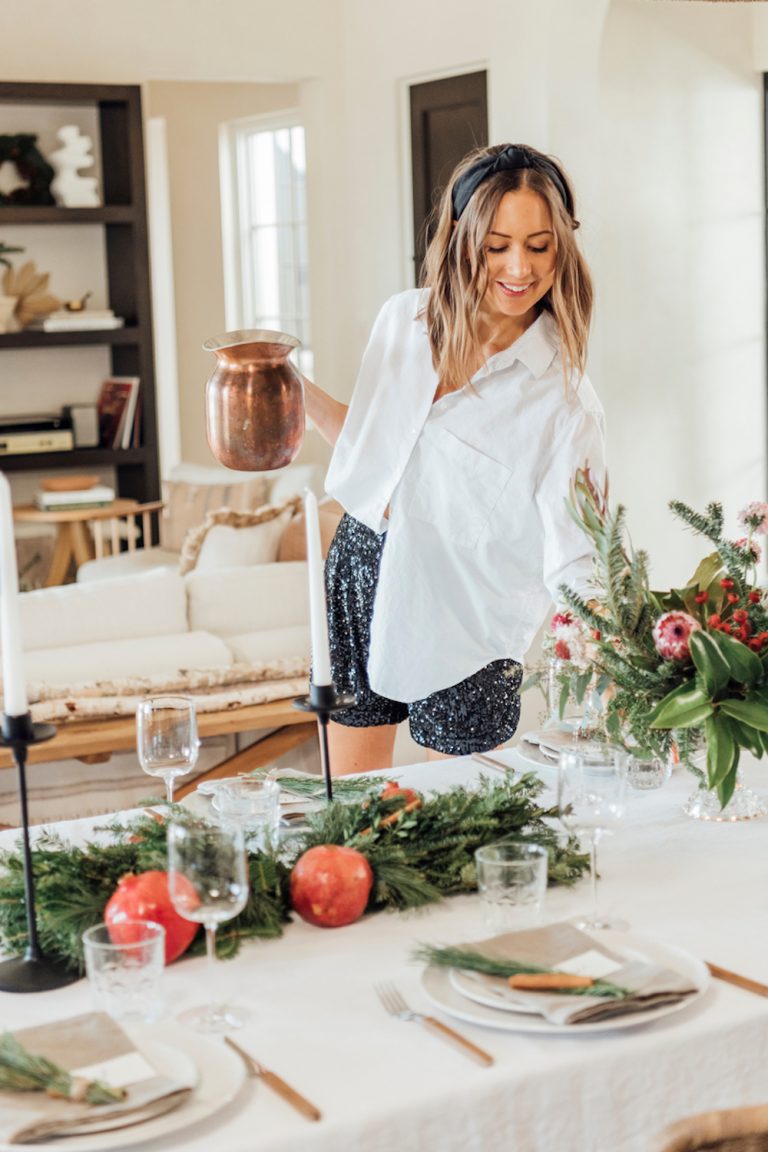 Create a Three-Color Palette
Pythagoras was right when he theorized three as a perfect number, symbolizing harmony and balance. And when it comes to your Thanksgiving table setting, going with three primary colors is the best way to ensure you don't go overboard. Here, the look leans feminine with an aesthetic of green, red, and white—echoing the transition from fall to winter. Run a pine garland down the middle of your table and dot it with pomegranates. A white linen tablecloth and cream napkins are a gorgeous way to complete the look.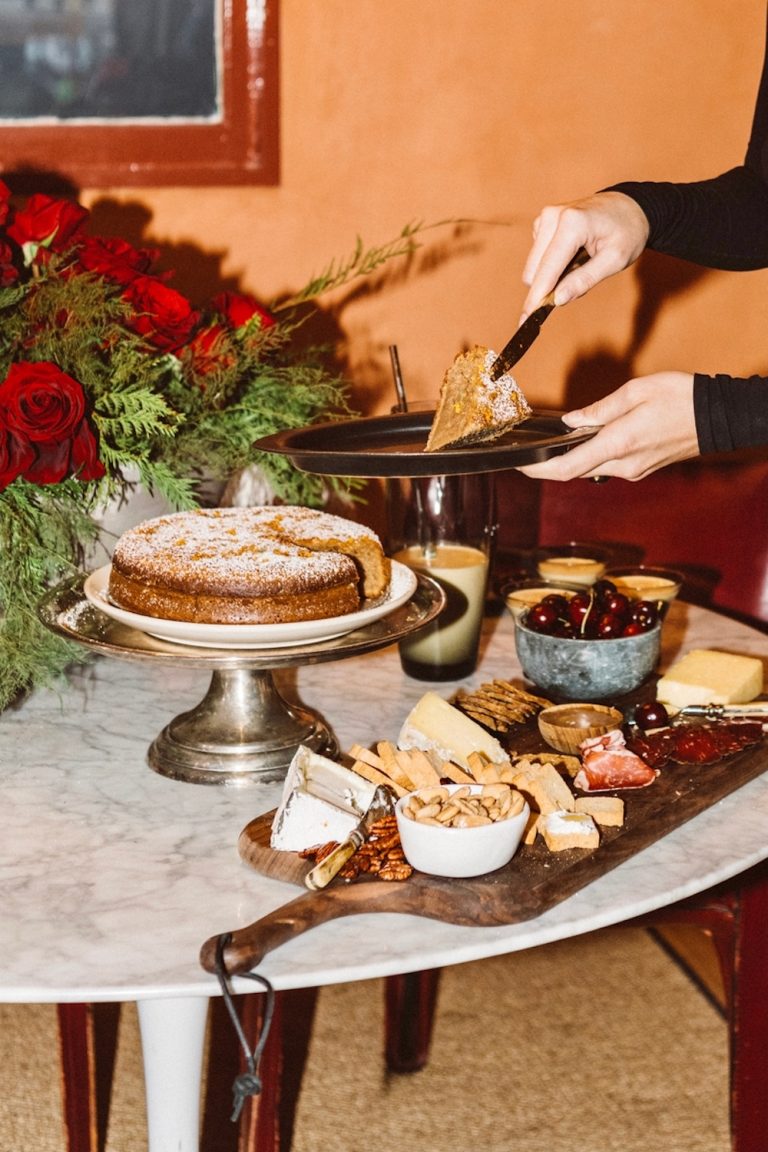 Establish a Sweets and Bites Table
For many people, this holiday is all about the pie—and as a result, you oftentimes have far too many desserts than vacancies on your table. We like to set up a small dessert table with no more than an arrangement and perhaps a few tea lights for decor. Layer in vessels of different heights to keep the simple setting dynamic, but before you add anything more, remember: this is all about the sweets.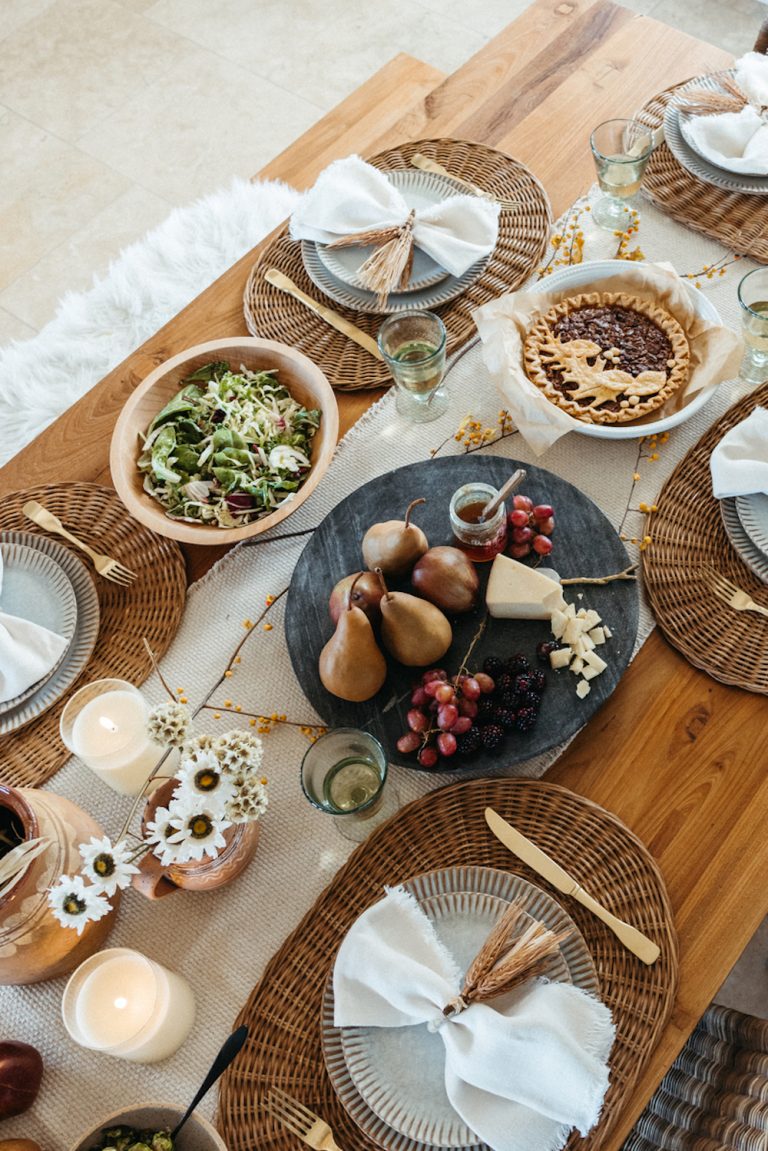 Echo the Fall Harvest
Set a reminder of what you're grateful for with edible, seasonal touches woven throughout your table. A minimalist cheese plate is a gorgeous—and tasty—representation of the harvest. You can even place a decorative bowl full of pears and apples for even greater impact. Add a few white pillar candles to the mix and bask in the glow. Fruits and foliage are an alliterative pairing we'll always be happy to let guide our design decisions.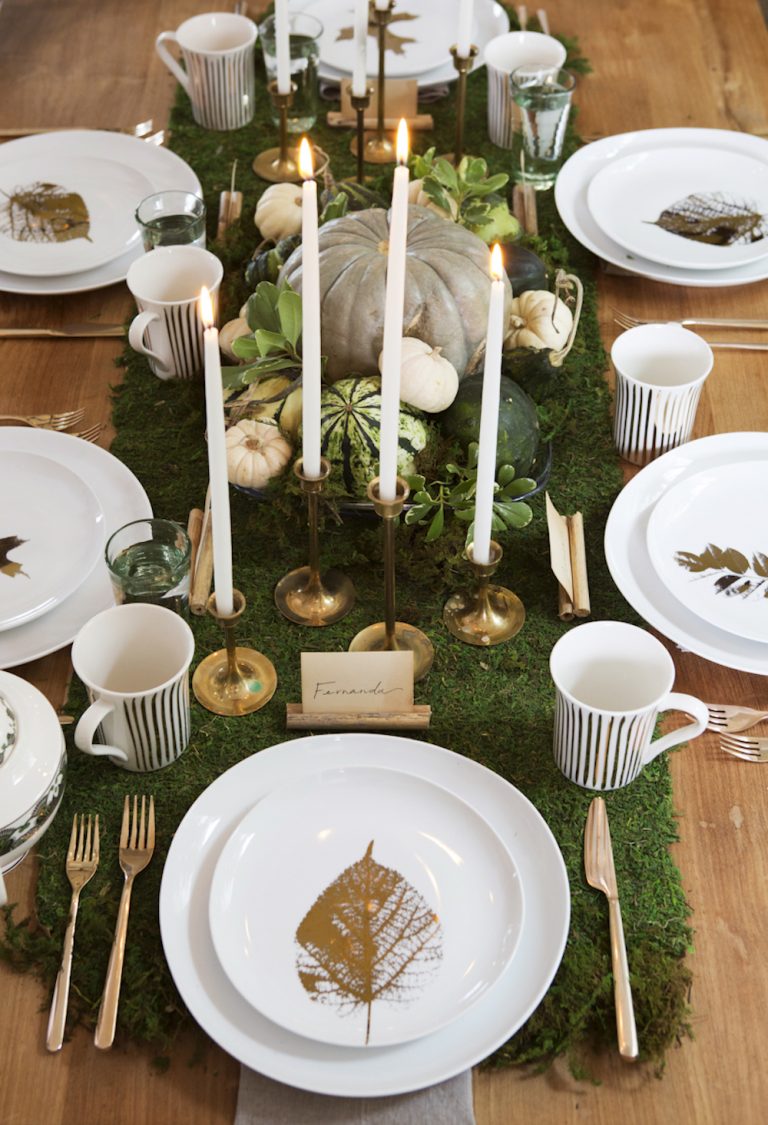 Ground Each Setting With Fall Leaves
Fallen leaves are in abundance, so set out on an autumnal adventure gathering the prettiest ones for your Thanksgiving table. Get step-by-step instructions on pressing and preserving leaves and enjoy the relaxing activity in the lead-up to all the holiday excitement. Once the leaves have dried, you can paint them for a vintage look and use a gold, silver, or white Sharpie to write your guests' names on each. I love completing this simple Thanksgiving table setting idea with an accent of gourds and pumpkins running along the table.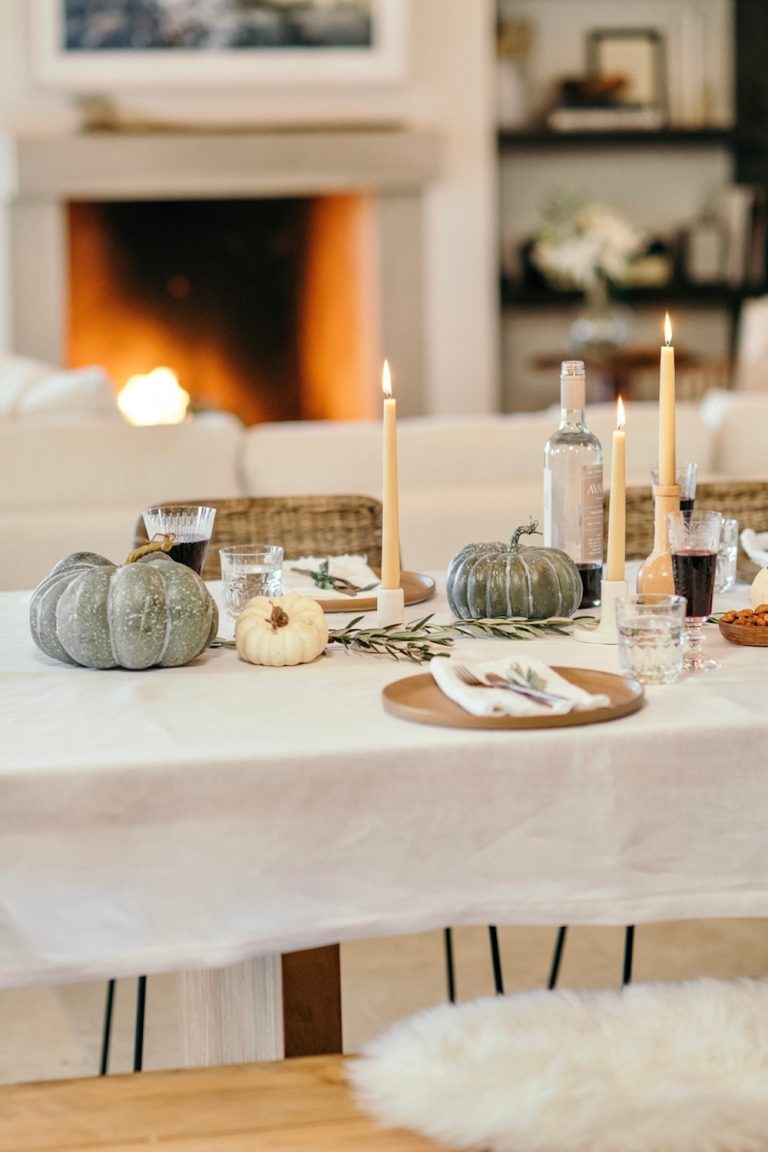 Streamline Your Pumpkins
Speaking of pumpkins, the tendency is often to go overboard with your harvest. Instead, we like to stick with two colors to ground the focus and simplify the table. Green and white pumpkins look so elegant paired together. Try adding a few mini pumpkins to the mix for a sweet autumnal touch.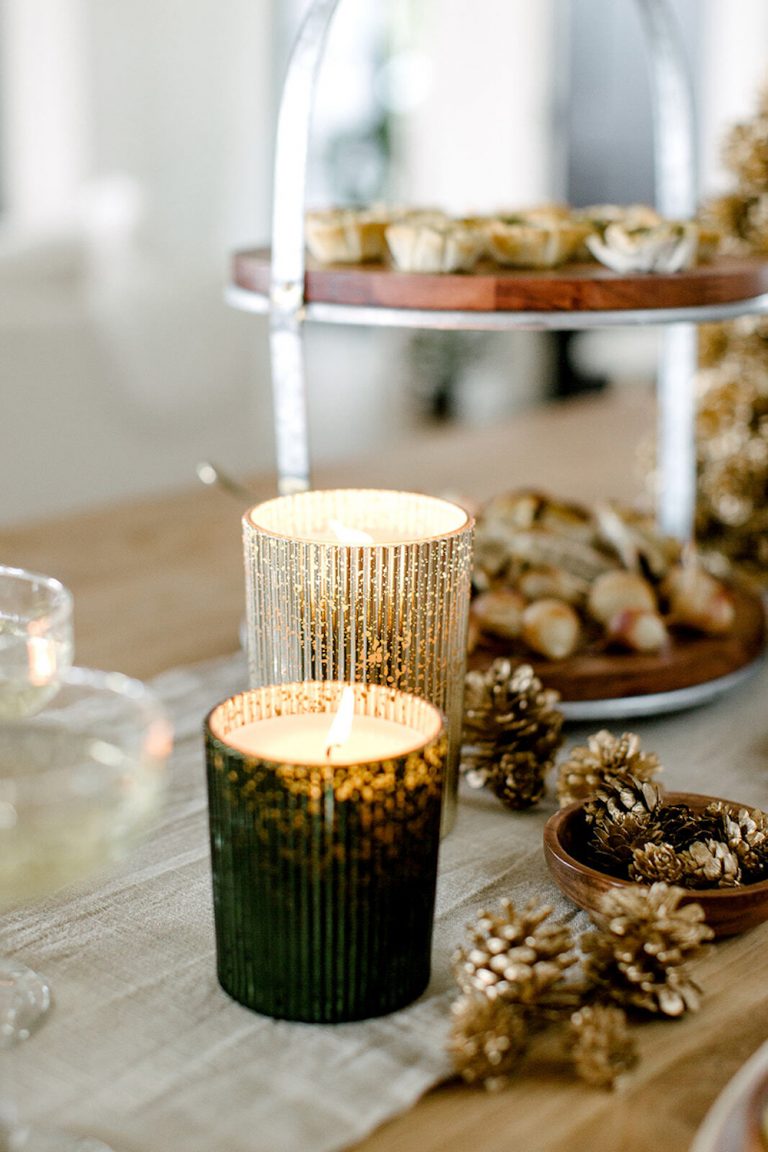 Go Glam With Gilded Touches
The December holiday season is all about the sparkle, and if you'd like to embrace the visual magic starting with Thanksgiving, there are a few easy ways to keep the look in check. You can spray mini pinecones with gold leaf spray paint. Or, if you don't have time for crafts, simply purchase a beautiful golden bundle of pinecones. We also like simple green and silver candles with a soft sparkle to their exterior to help illuminate your table.
dining room table
crafts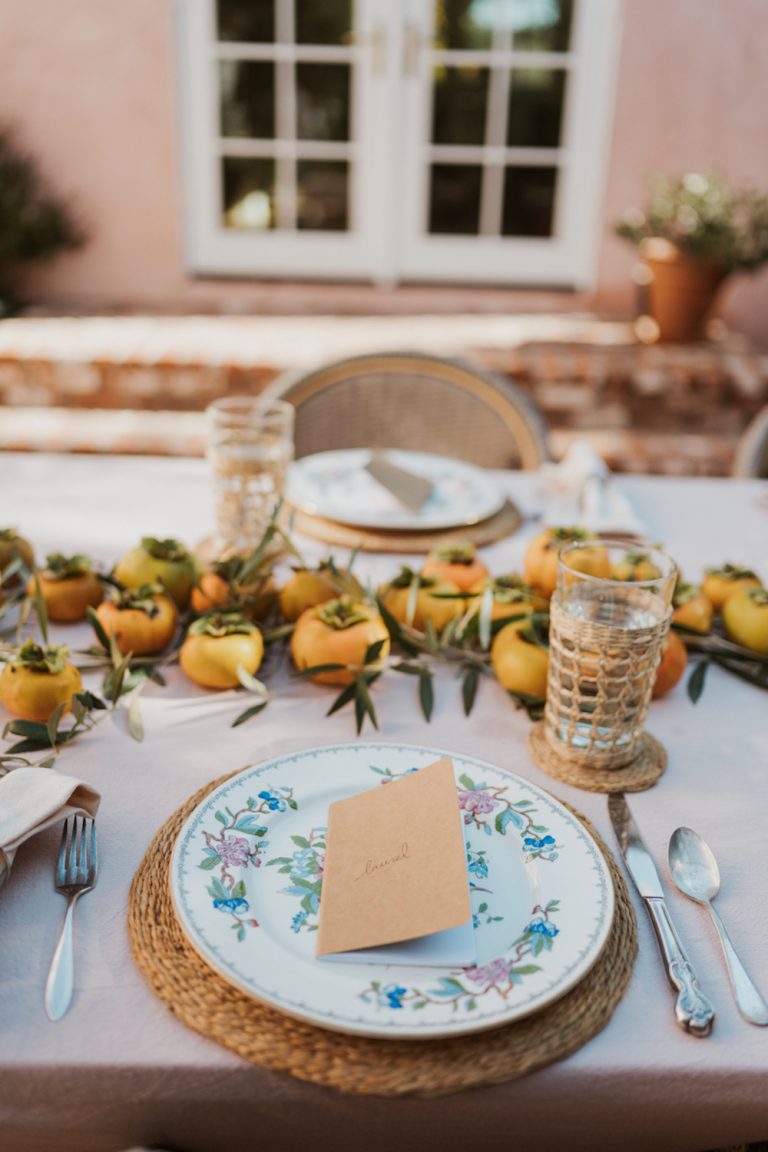 Add Whimsy With Vintage Plates
I love using vintage plates to merge different design aesthetics. Here, the colorful china is layered over wicker chargers to add a little charm and interest while still keeping the table setting cohesive. Mirror the vintage appeal with silver flatware to unite the look.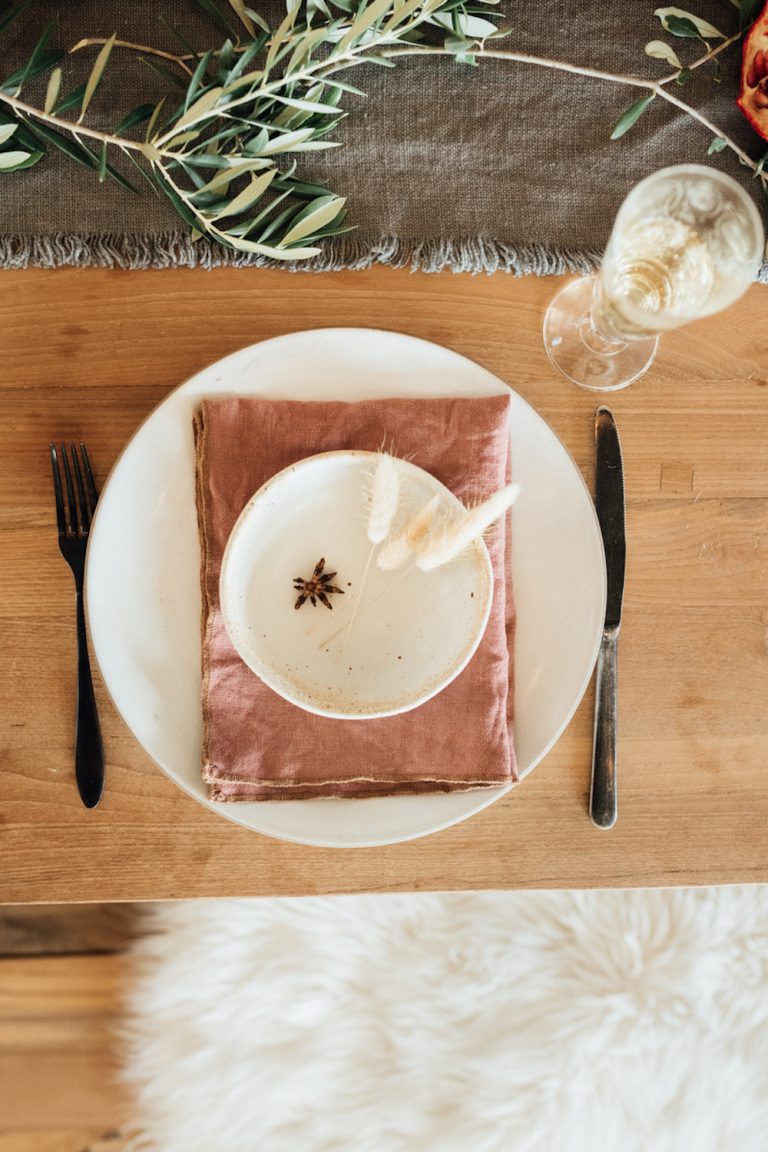 Don't Forget About Seating
No matter the aesthetic of your Thanksgiving table, coziness is always a consideration. To make your guests feel the most at home, drape faux sheepskin pelts over wood benches or chairs. Not only does it lend a little hygge to the vibe, but if your holiday meal is anything like ours, they'll be grateful for the extra comfort a few hours in.