My time in the kitchen is precious. In an effort to romanticize every area of my life, I remind myself that it's the little, repeated actions that are often our greatest opportunities for joy. Don't get me wrong—with everyday busyness and hectic schedules, prepping meals can easily fall to the end of our to-do lists. And you might be tempted to ask: who even has time for hosting?! But with the holidays fast approaching, we're all for making things a little easier on ourselves to gather with those we love. So today, we're sharing our all-time best cooking hacks. They're 100% foolproof and guaranteed to make cooking for a crowd—and hosting for the holidays—an absolute breeze.
We'll kick things off with the ultimate cooking hack: good, reliable cookware and tools you can use for years of memorable meals. We're obsessed with Target's new brand, Figmint—and it's the true hero of today's post. Every piece is designed to help you have more fun in the kitchen. (And it doesn't hurt that the collection makes for stunning social content—in case you want to show off your kitchen prowess.)
Watch All My Cooking Hacks in Action in the Video Below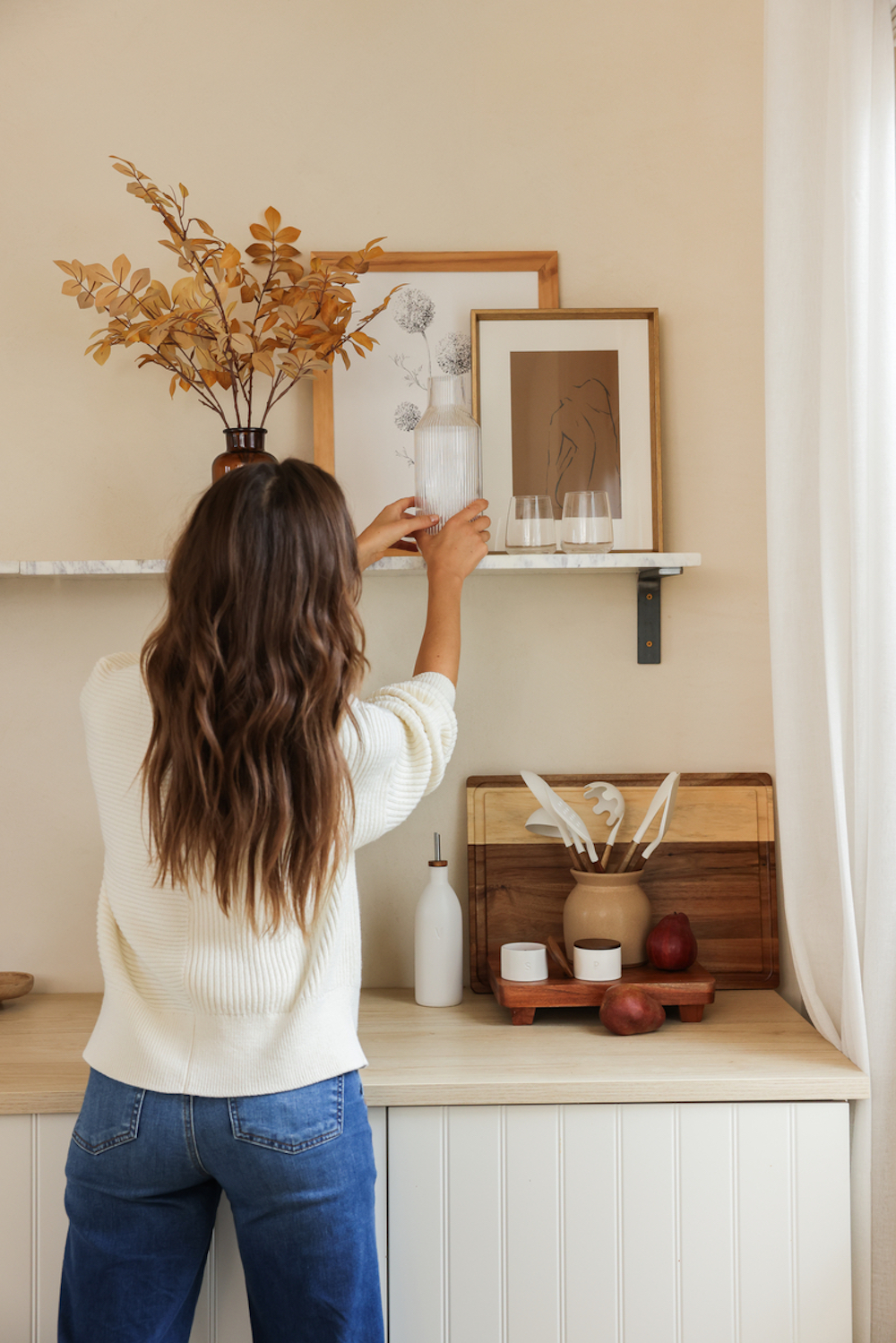 7 Cooking Hacks to Help You Have More Fun in the Kitchen
Ready to make meal prep a breeze? Our cooking hacks and kitchen secrets abound. When it comes to hosting (and even getting a weeknight meal on the table), we have all the inspiration you need to ensure your kitchen rituals spark joy.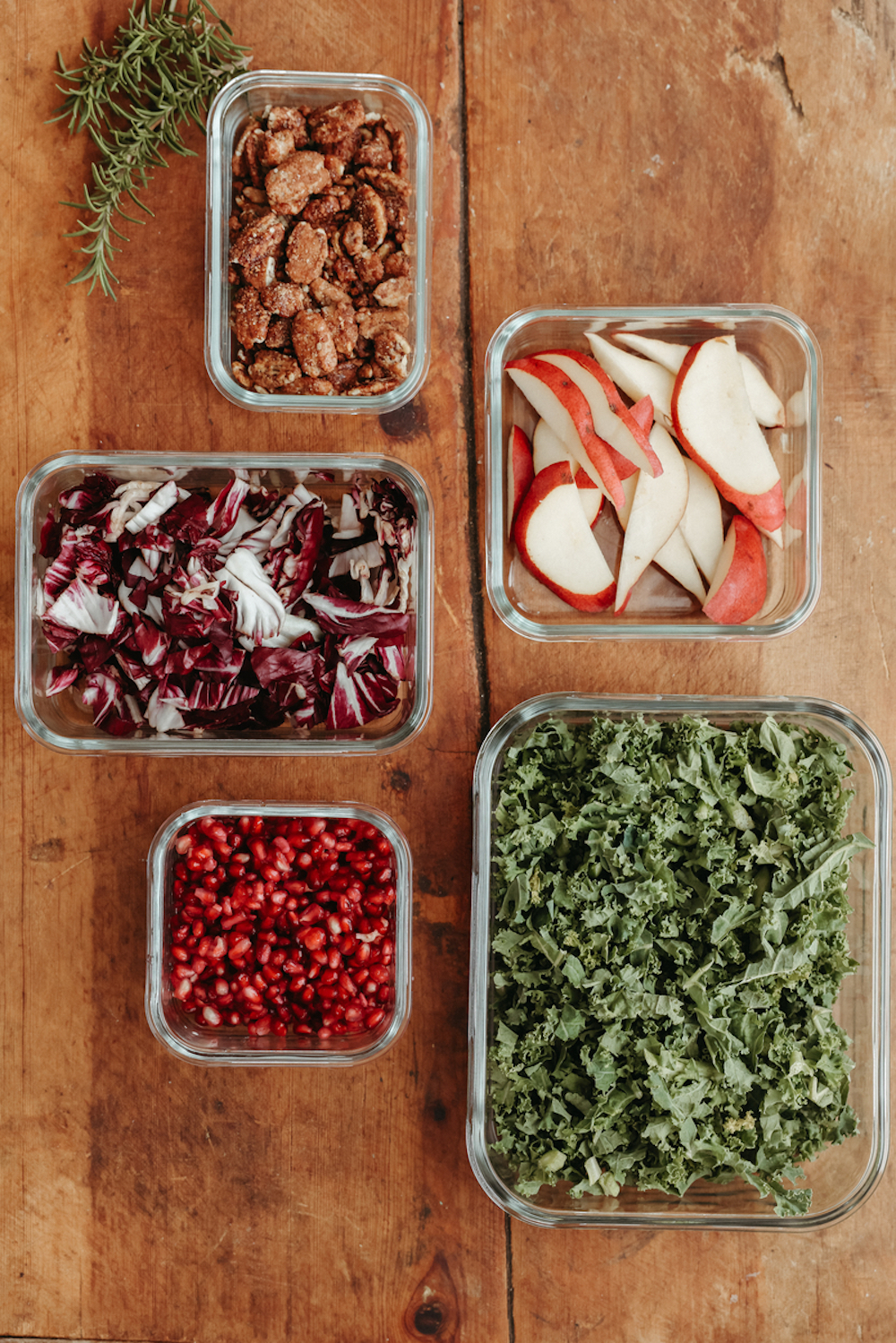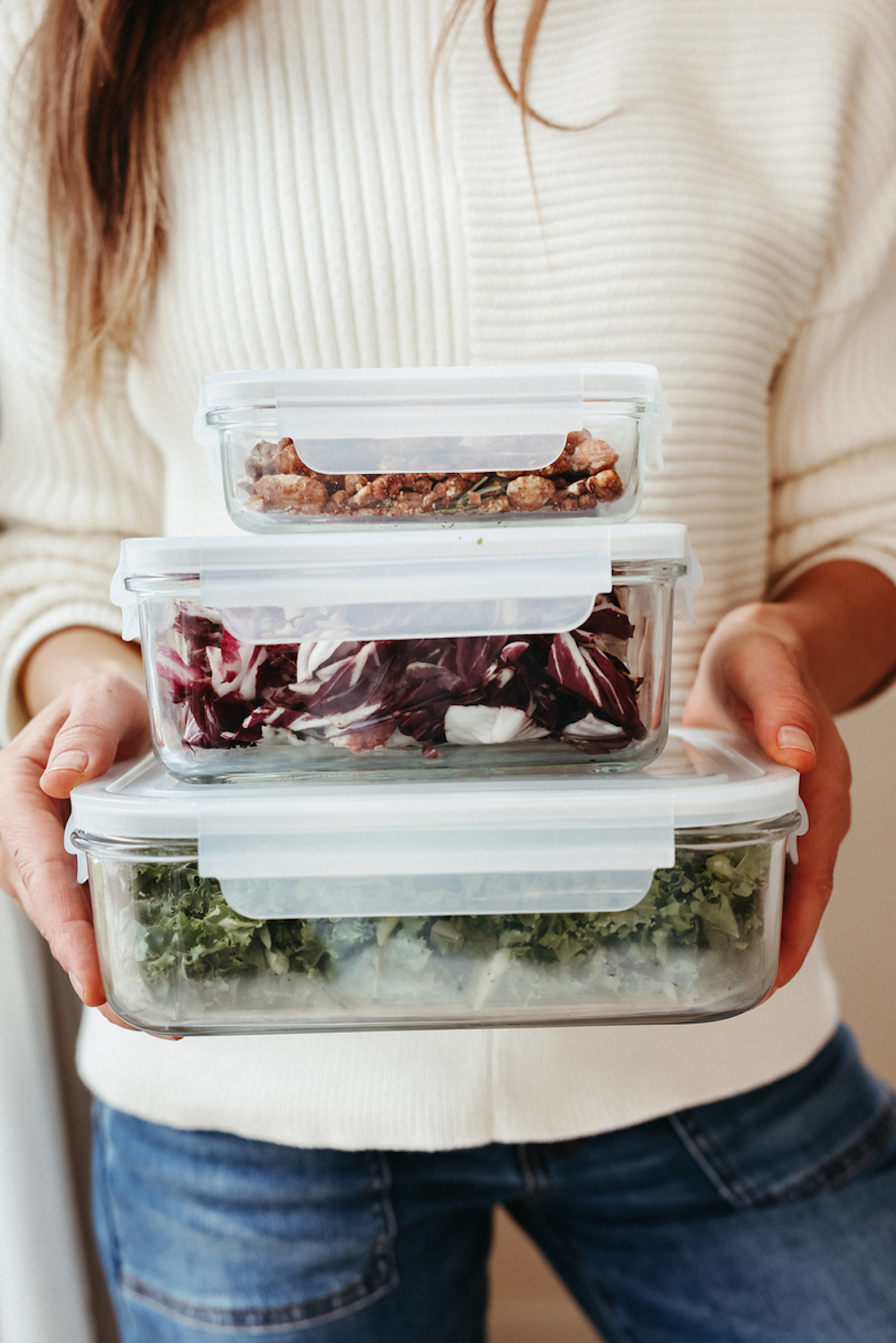 1. Meal Prep as Much as Possible
Meal prepping is perhaps the oldest cooking hack in the book. But hello… if ain't broke, don't fix it! Especially when you're hosting, try to do the majority of work in advance. To ensure you get to enjoy the party as well—and that you're not overwhelmed when guests arrive—identify the tasks that can be done ahead of time.
This is my favorite cooking hack from her catering days. In the days before your party, ask yourself, "What can I do now that will save time later?" This could look like:
Roasting veggies beforehand.
Composing a menu of dishes that can be made a day or two in advance. (Grain salads, soups, etc.)
Serving the meal as a buffet to streamline your table setup.
Opting for a store-bought dessert or making cookie dough to be baked as guests arrive.
Steal Camille's trick: In need of some recipe inspo? These are my favorite make-ahead dishes for hosting:
Holiday Jewels Chopped Kale Salad
Roast Chicken With Tomatoes, Lemons, & Cilantro Salsa Verde
Sweet & Spicy Braised Short Ribs
Easy Homemade Pizza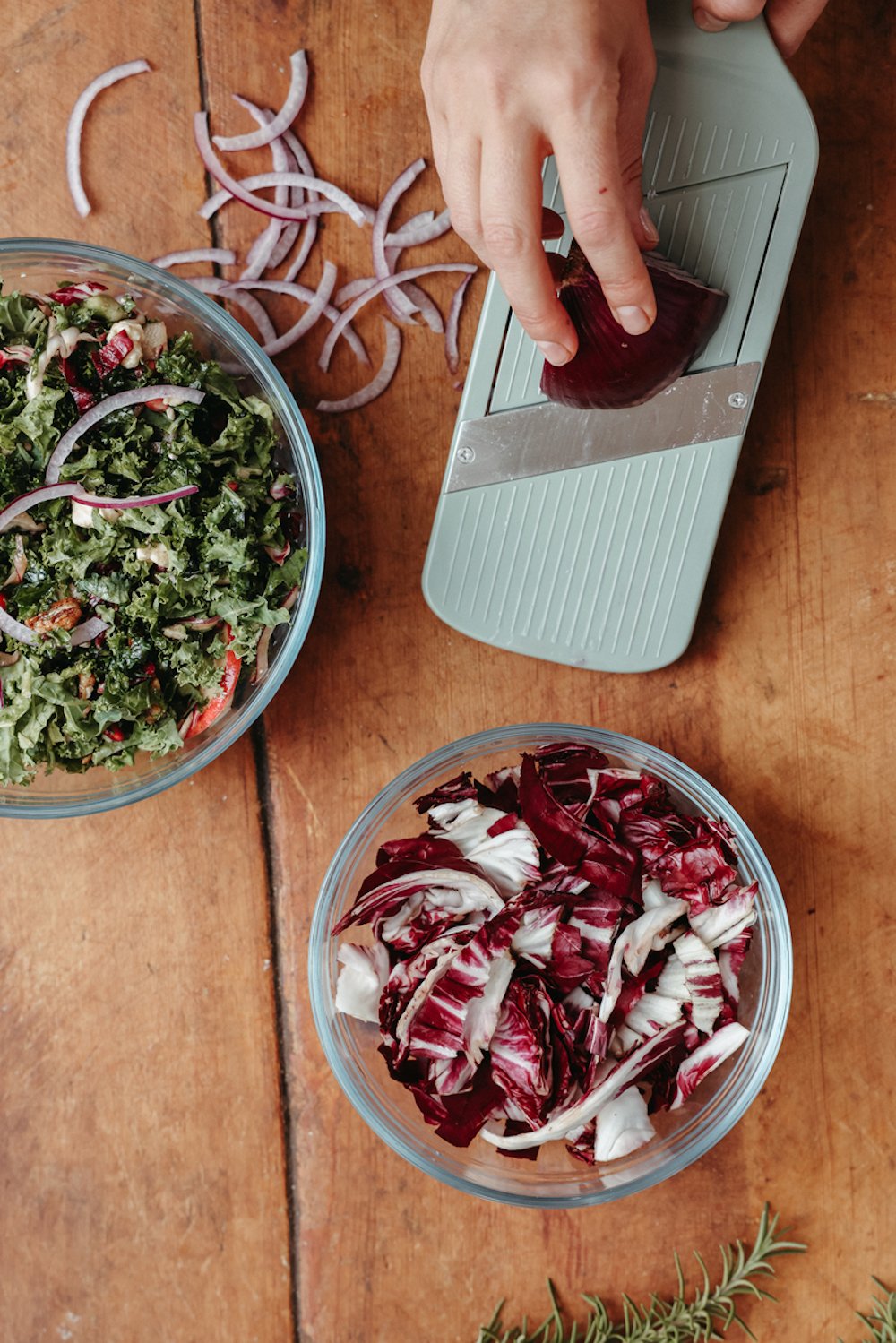 2. Work Smarter With a Mandoline
Raise your hand if chopping veggies is your least favorite kitchen task. It can take up so much time, but thankfully, there's an easy cooking hack to streamline the process. I'm partial to this handheld mandoline from Target. It not only makes chopping so much faster, but your veggies look elevated as well. Think: thin cucumber slices for salads, apples for your best-ever crisp, and even sweet potato chips for an aesthetic appetizer.
Steal Camille's trick: Simply adjust the thickness to suit whatever you're slicing. The mandoline's food guide helps keep your fingers away from the blade (so key). I'm tempted to say this might be one of my favorite kitchen tools—everyone needs it in the cooking arsenal.
3. Place a Towel Under Your Cutting Board
I'm terrified to think of all the close calls I've had with my cutting board slipping around. Yikes. Ready for a mind-blowing cooking hack? Simply wet a dishtowel and slide it under your cutting board. Everything stays where it should and you can proceed with your worry-free chopping. Keep this cooking hack in your back pocket for future, mind-at-ease use.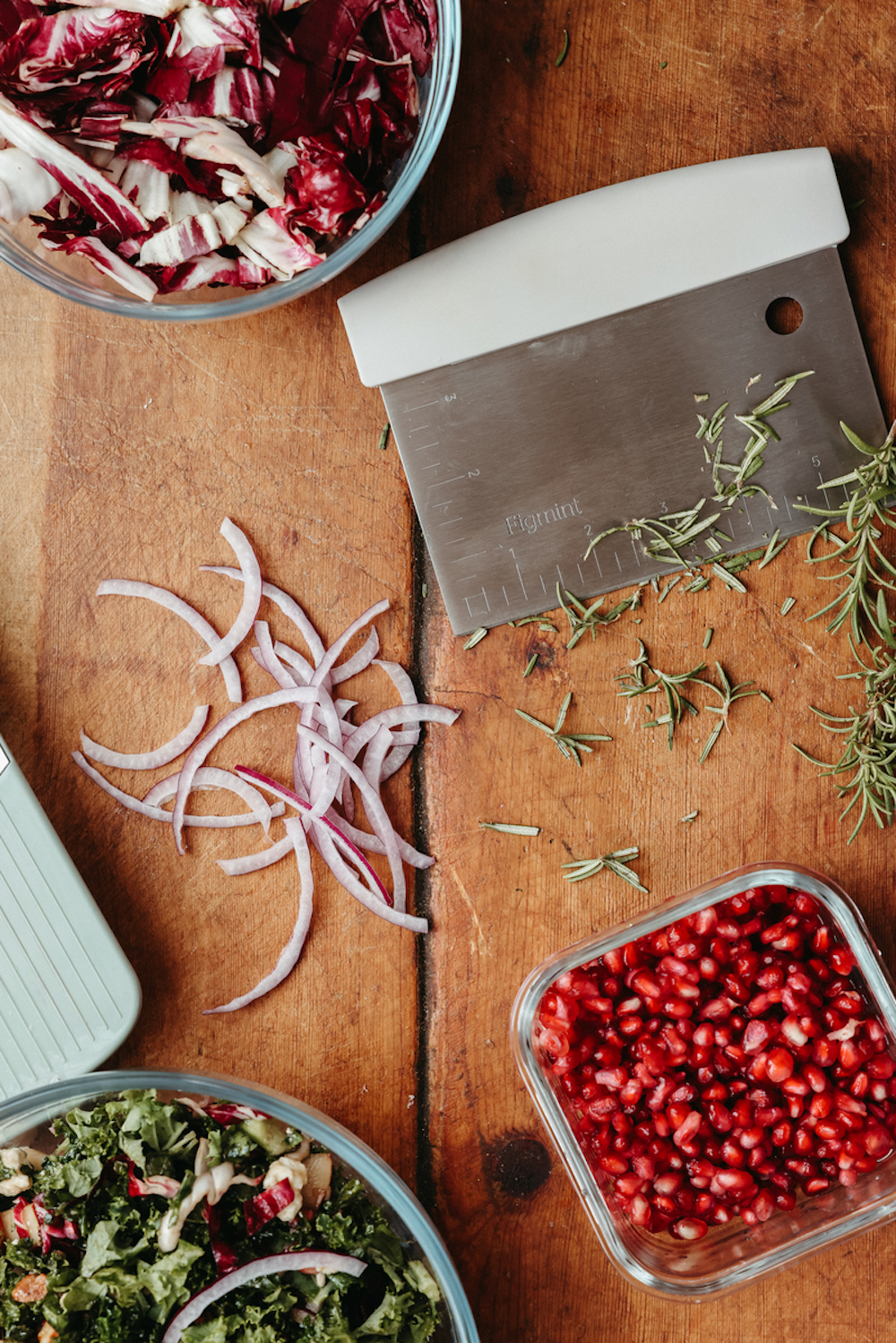 I'm always shocked to hear how few people own a multi-purpose scraper. (If that's you, add to cart immediately.) Chefs love them because they make so many tasks easier and faster. You can level off ingredients in measuring cups and spoons, slice bread, remove scraps from your cutting board, etc. The list is honestly endless.
Steal Camille's trick: My favorite use is to quickly chop up my fresh herbs and slide them right into the bowl. This would also make the perfect gift for the hostess or kitchen enthusiast in your life.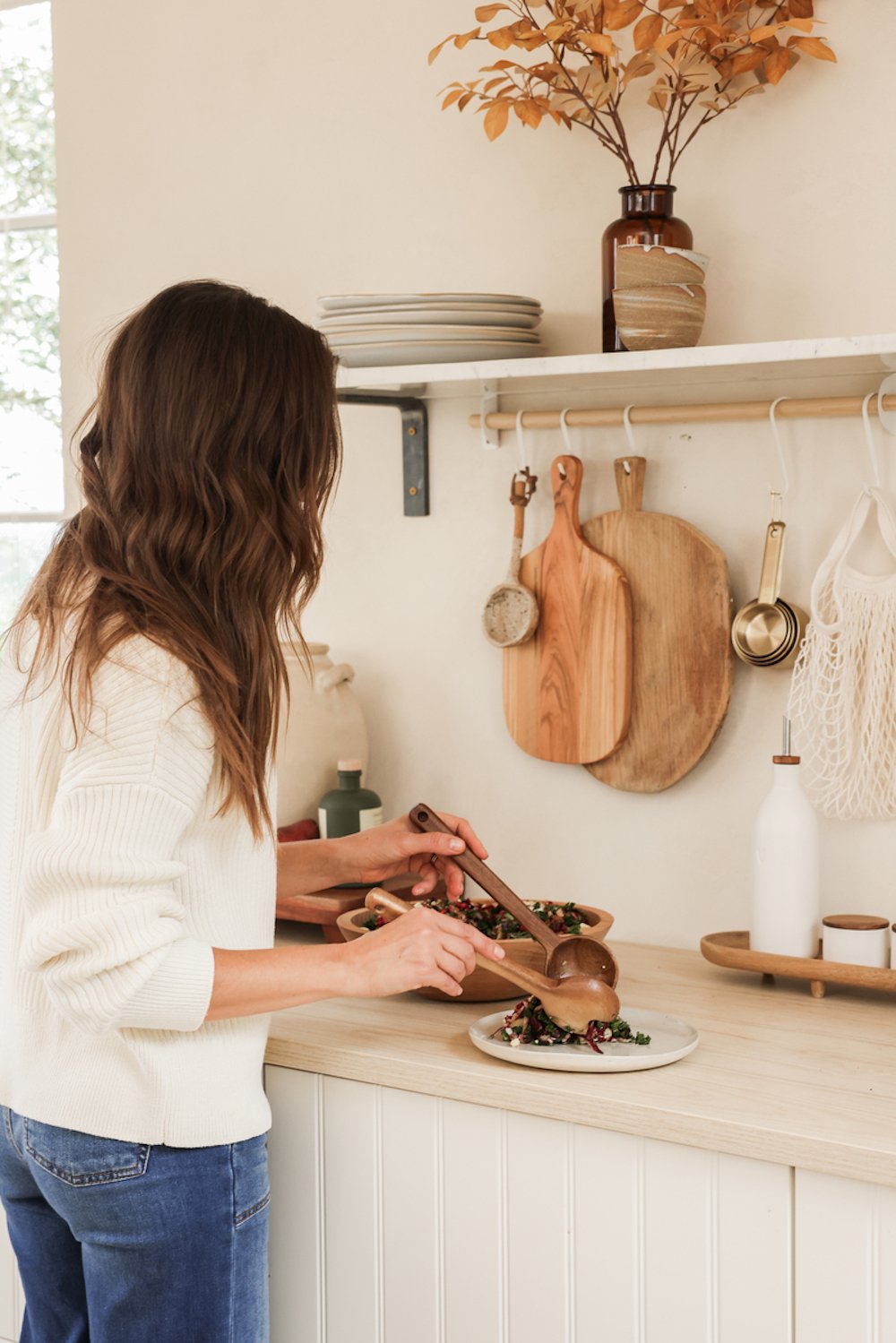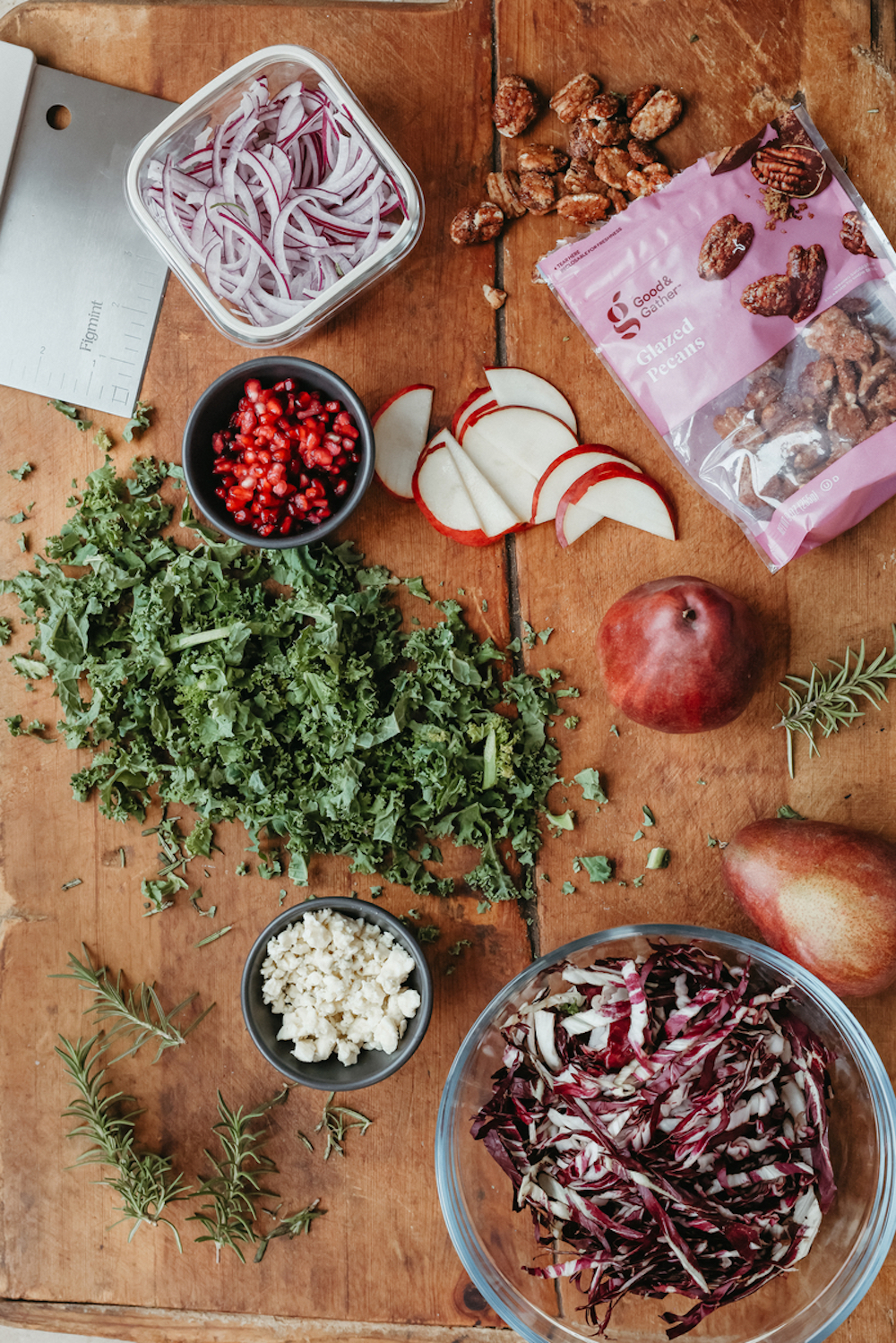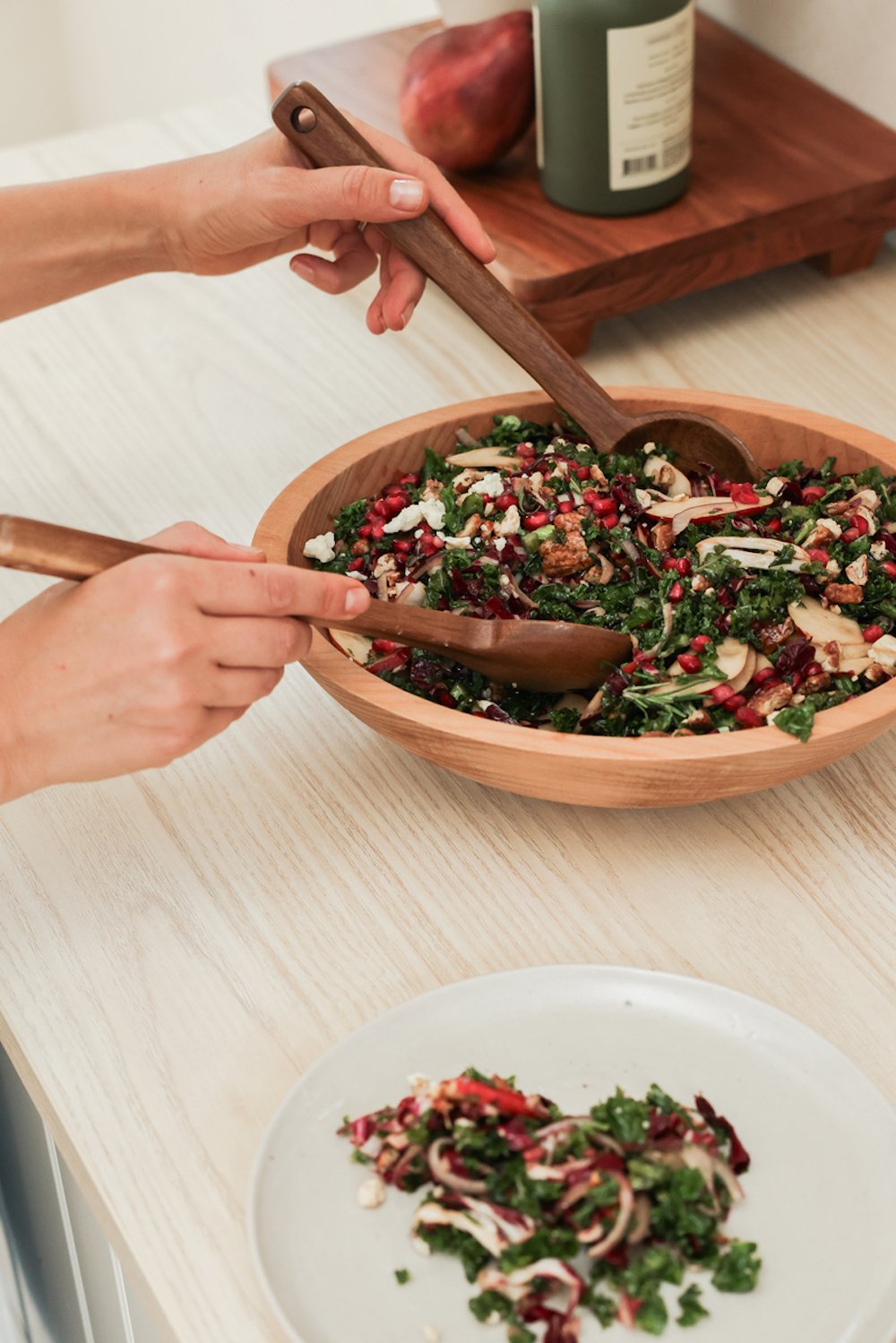 5. Say Yes to Mise en Place
This is another cooking hack I love stealing from professionals. "Mise en place" simply means arranging your ingredients—often prepped, measured, and portioned out—to streamline the cooking process itself. It's another opportunity to do some work in advance. That way, you can simply grab and go when the time comes to put it all together.
Steal Camille's trick: One thing I love to do is measure out all my ingredients before I start cooking. Then, I corral the ingredients for each recipe I'm making on sheet pans to help me stay organized and keep my mise en place for each dish separated.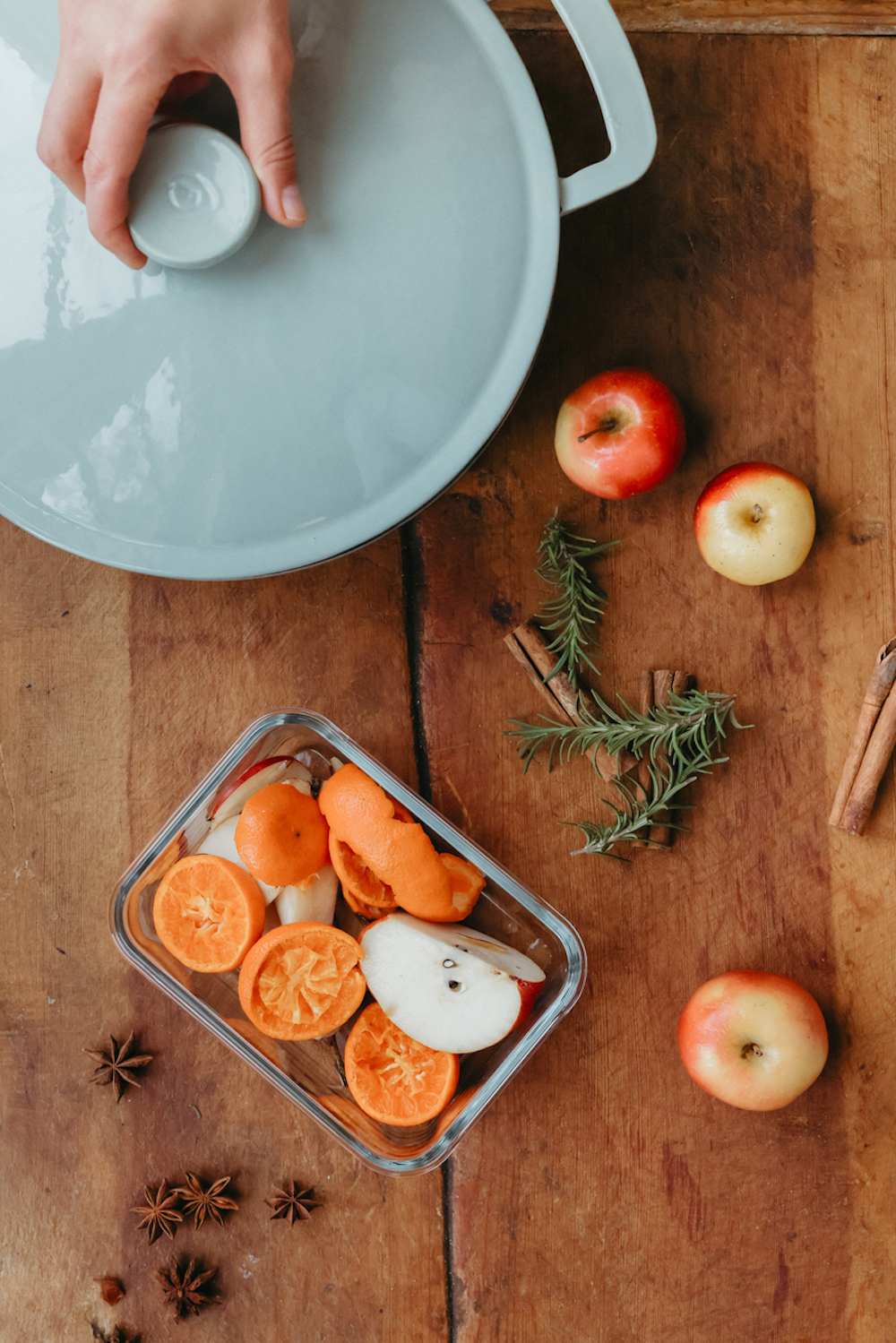 6. Turn Your Scraps Into Scents
I used to bemoan the difficulty of composting in the city. That was until I caught wind of an amazing up-cycling cooking hack. When you're baking something sweet this holiday season, save your scraps. Making pie? Save your apple cores. Orange pound cake? Stash your citrus peels. When you have enough gathered up, it's time to make a simmer pot. And trust me: even the coziness of your favorite candle can't compare.
Steal Camille's trick: When I'm hosting, I love to make my house smell amazing. Instead of tossing my apple cores and orange peels, I simmer them in hot water with cinnamon sticks and spices. The entire house instantly smells like fall. This is perfect for holidays or any type of cozy get-togethers.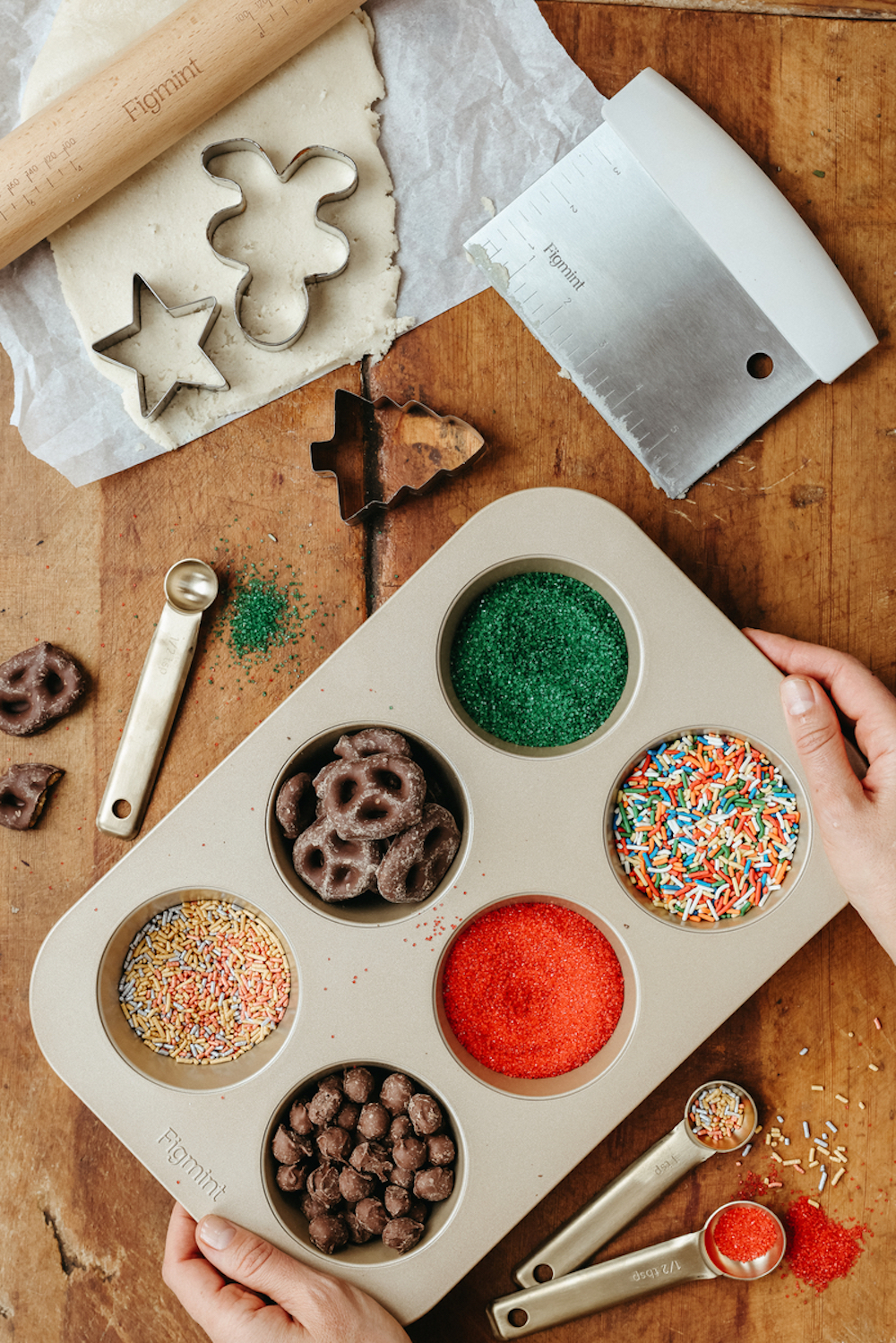 7. Streamline Your Holiday Cookie Decorating
IYKYK: Nothing beats the excitement of whipping up your tried-and-true holiday cookies. When it comes to leaning into the season, there's truly nothing better than putting on your cozy clothes (slippers, a fave sweater, and the comfiest sweats) and going to town. But we get it… when you're whipping up dozens of cookies, a mess seems inevitable. Thankfully, muffin tins make it easy to keep all your toppings straight.
Steal Camille's trick: For sprinkles, sparkling sugar, candies, and more, I love using a muffin tin to make quick work of clean-up. Simply portion out your decorations into each of the tins. Bonus: All the colors and hues will look so pretty corralled together.
You can shop the entire look on my Target storefront, where you'll find all of my favorite Target buys for every space.
This blog post is sponsored by Target and contains affiliate links. If you purchase through these links, we may earn a small commission at no additional cost to you. Your support helps us continue providing helpful content.