I've been thinking a lot lately about the cyclical nature of everything. Our daily rhythms and routines, our bodies and hormones, and of course, the shifts of the season that are particularly meaningful right now. And I'm feeling drawn to respond to these rhythms—to lean into these natural cycles and let them inform the way I cook, eat, and even how I invite others to gather. The shorter days and longer nights of Autumn call us to reconnect with our true selves, and deepen our connections with nature and each other.
To celebrate this time of changing colors and cozier vibes, I hosted a fall dinner party with a few brands that share my love for all things natural: Woven, Casa Zuma, SriMu, Martha Stoumen Wines, and Sweet Laurel. Read on for all the details (including the most delish sweet potato gnocchi recipe) and stay tuned for an exciting giveaway we'll be launching together soon – details to come via email!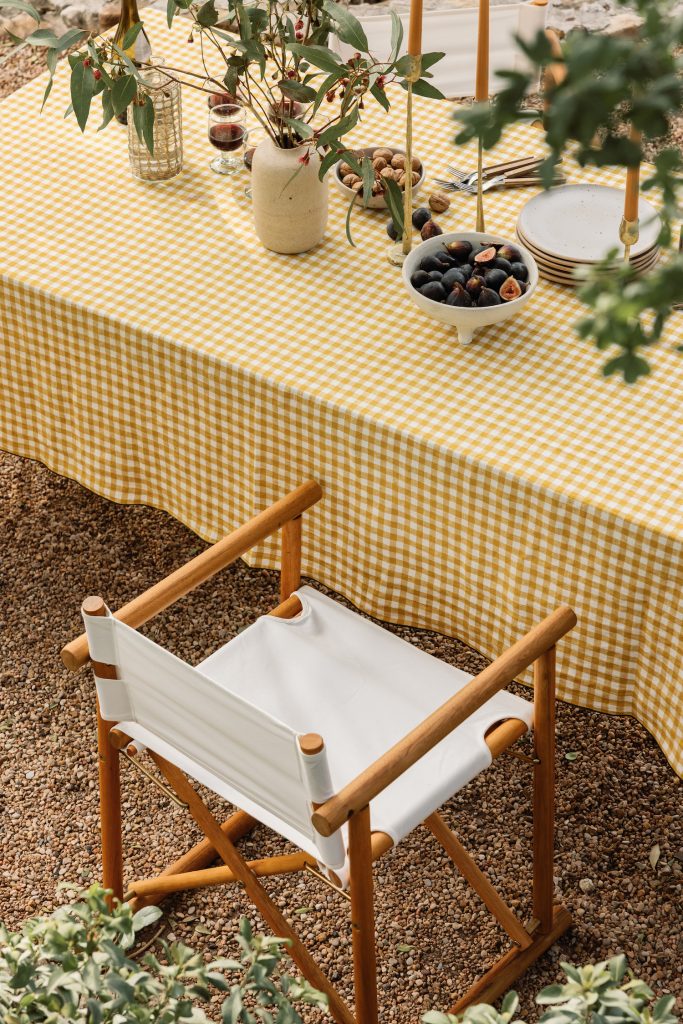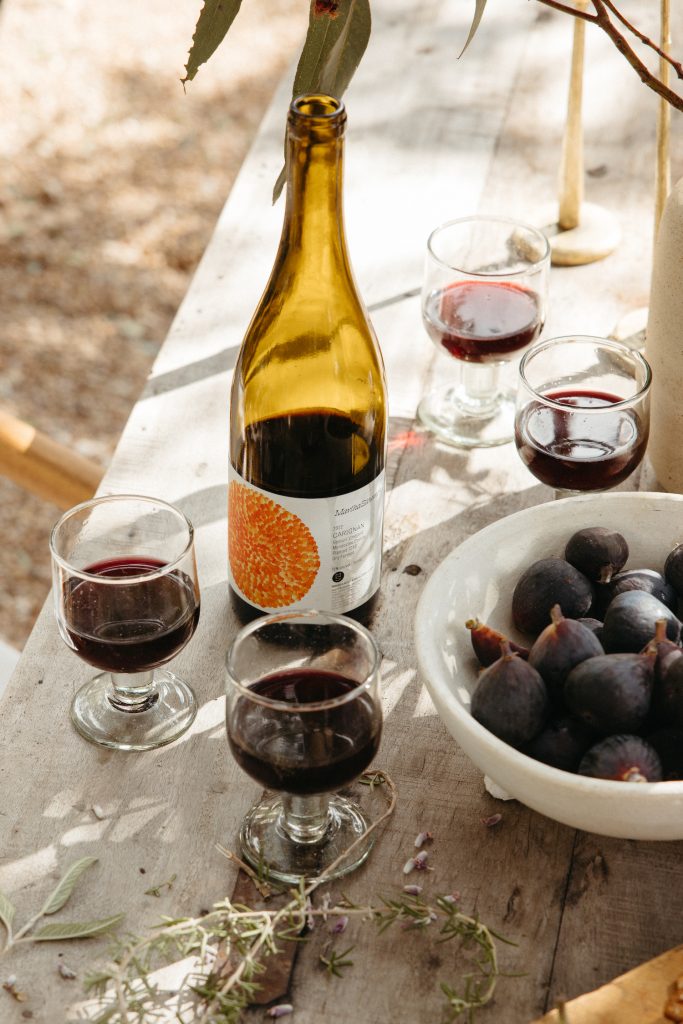 Intentional gatherings
One of my goals for the season is to bring intention to the way I bring people together, the products I surround myself with, and the brands I choose to bring into my home. Not only am I looking for a sense of alignment in style and values—I also simply want to buy fewer, better things.
One way we can be more intentional with our gatherings is by taking time to consider our purpose. When our goal is to cultivate community and connection, there's less pressure to make everything perfect, and we can focus on creating an environment that puts people at ease and encourages meaningful conversation among guests (I'm all for skipping the small talk!) So, as we head into the holiday season, it's the perfect time to focus on hosting in a way that makes guests feel connected and uplifted.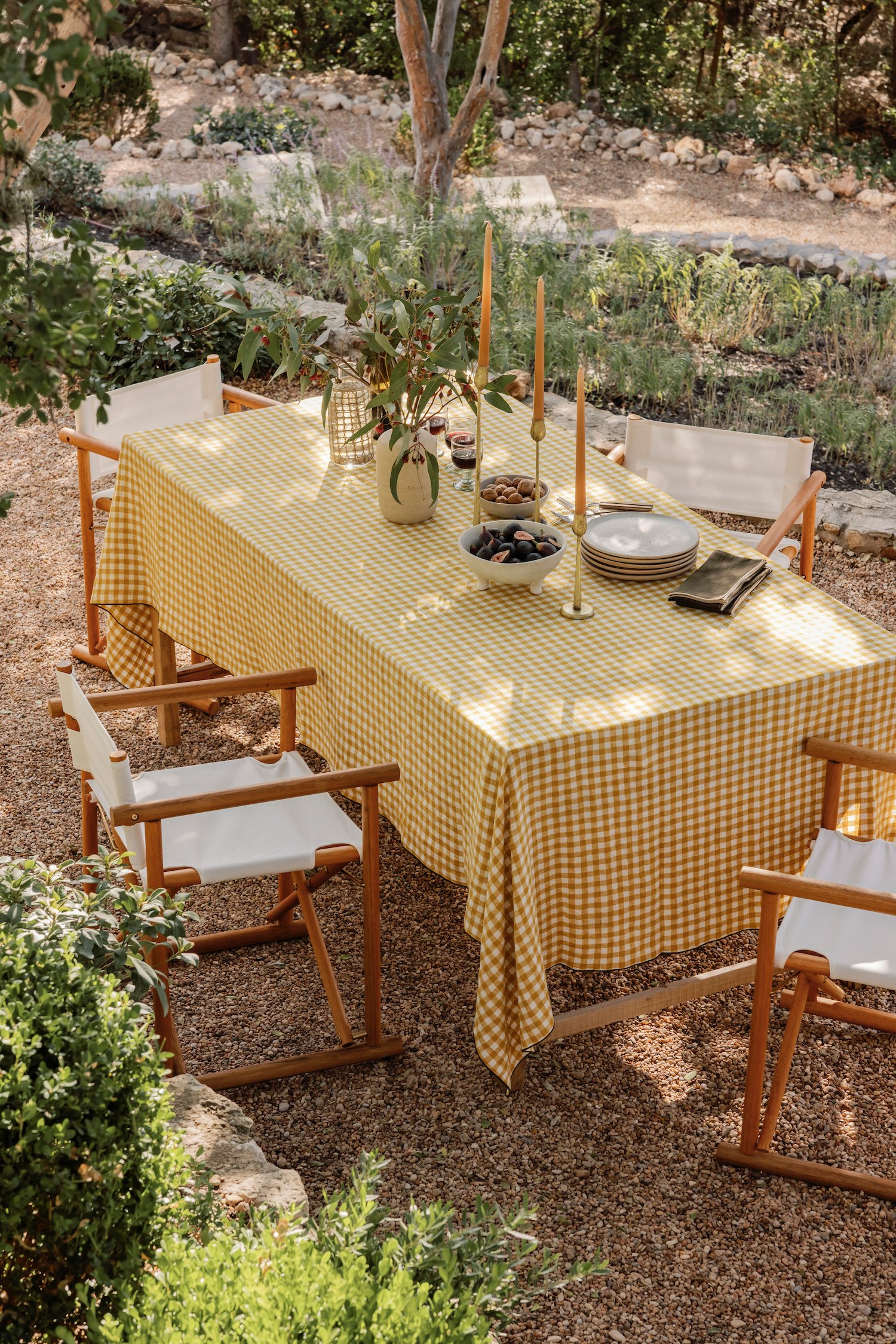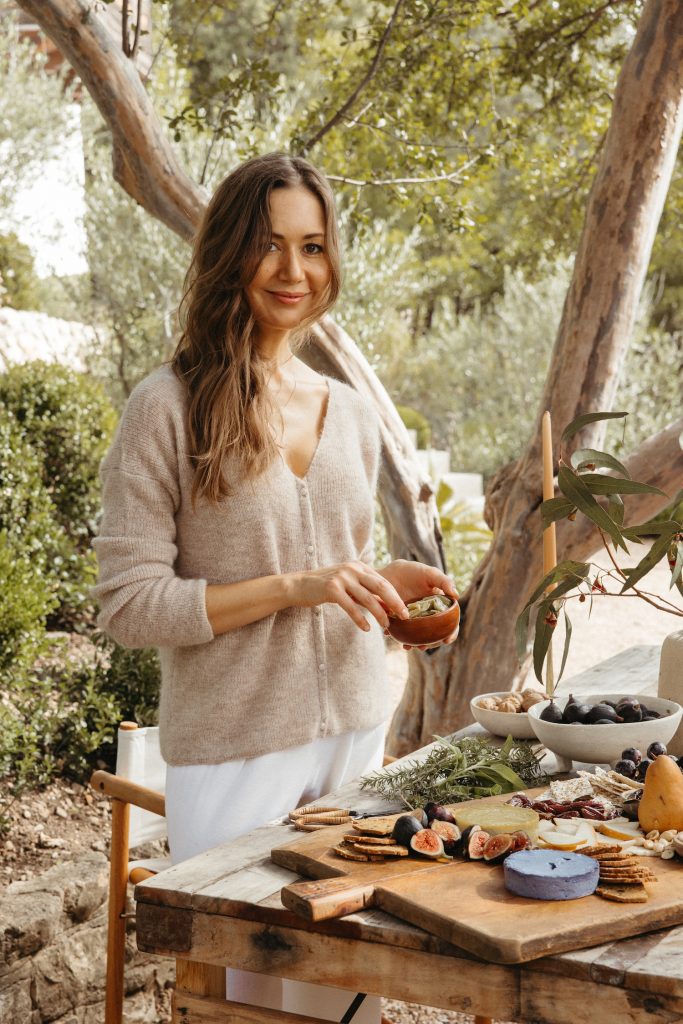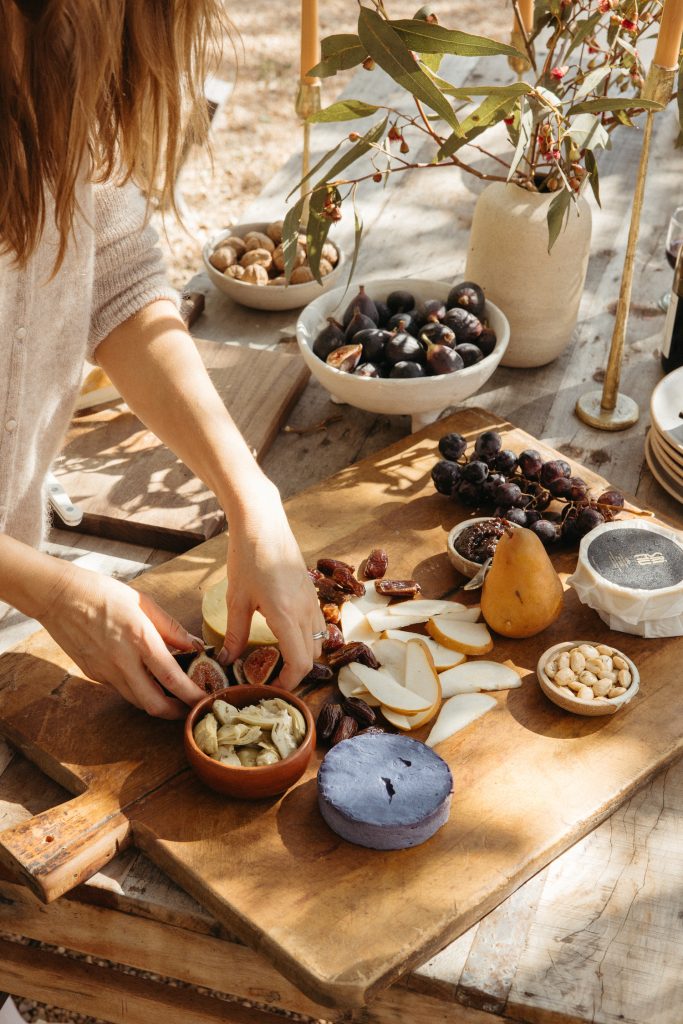 An Autumn Apéro
We kicked things off with a golden hour apéro in my backyard. I created the ultimate plant-based cheeseboard featuring SriMu Artisanal Not Cheese (if you haven't tried it, prepare to swoon—it satisfies every cheese craving without any dairy in site.)
I paired our cheeseboard with the most beautiful bottle of Venturi Carignan from Martha Stoumen, a Northern Cali natural winemaker that I adore both for their delicious wines and their unique approach to winemaking. I especially love the brand's recommendation for when to drink this wine:
The clock stands still, your phone is off for the evening, and you're lavishing in time outside of time.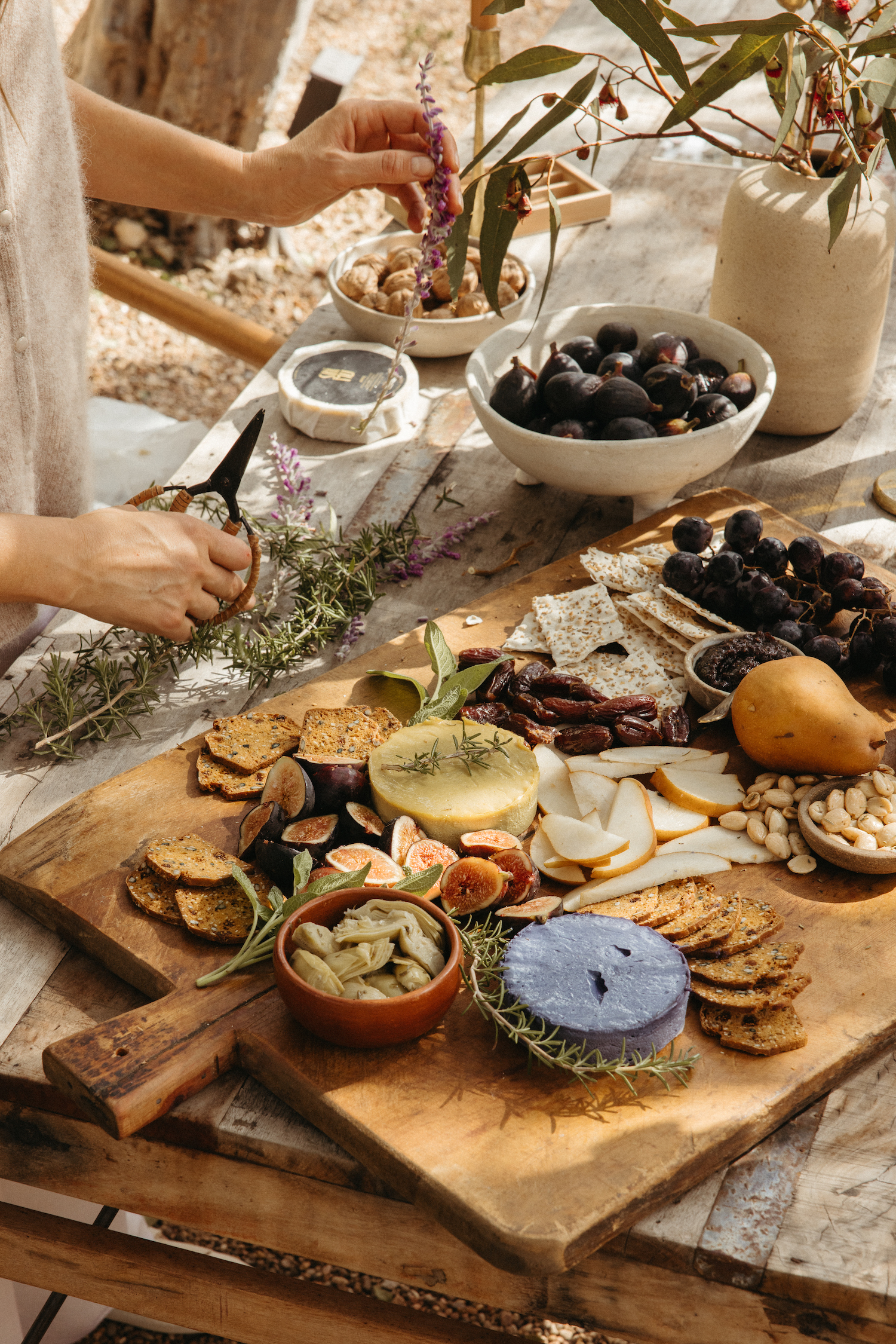 A Plant-Based Cheeseboard
In tune with our celebration of autumn's abundance, it felt fitting to create a plant-based cheeseboard featuring SriMu's beautiful NOT cheeses. The brand's vision is to nourish your body, honor animals, and transform Mother Earth, and each of the varieties are sooo delicious. Here's how my board came together:
1. Start With A Standout Cheese That Makes The Board Feel Special
For this board, I chose a combination of cheeses for a variety of flavor and texture: SriMu Gold Alchemy (which is inspired by smoked gouda), and SriMu Dolce Vita (inspired by gorgonzola.)
2. Use A Board That's Big Enough To Make It Abundant
Our Casa Zuma Large Vintage Wood Board is a personal favorite when constructing a large cheese board. It creates a stunning scene on your table and can hold an abundance of ingredients.
3. Include Something Sweet And Something Savory
The addition of fruit like pears, figs, and grapes is one way I love to make a board feel seasonal. To complement the cheeses, a jam or honey is also a sweet addition to any board. As for the savory element, salted nuts, olives, and marinated artichokes can help fill in the gaps and make your cheese board feel abundant.
4. Elevate the Aesthetic With Herbs
Adding edible flowers or fresh herbs is a unique touch to any cheese board. Not only do these toppings add woodsy flavor and scent, they also elevate the visual composition of the board.
6. Offer Options for Bread and Crackers
I usually do sliced, toasted baguettes and a gluten-free seeded cracker to give people options. However, feel free to lay out whatever bread variety or crackers you desire to pull your board together and give people a vessel for their cheeses.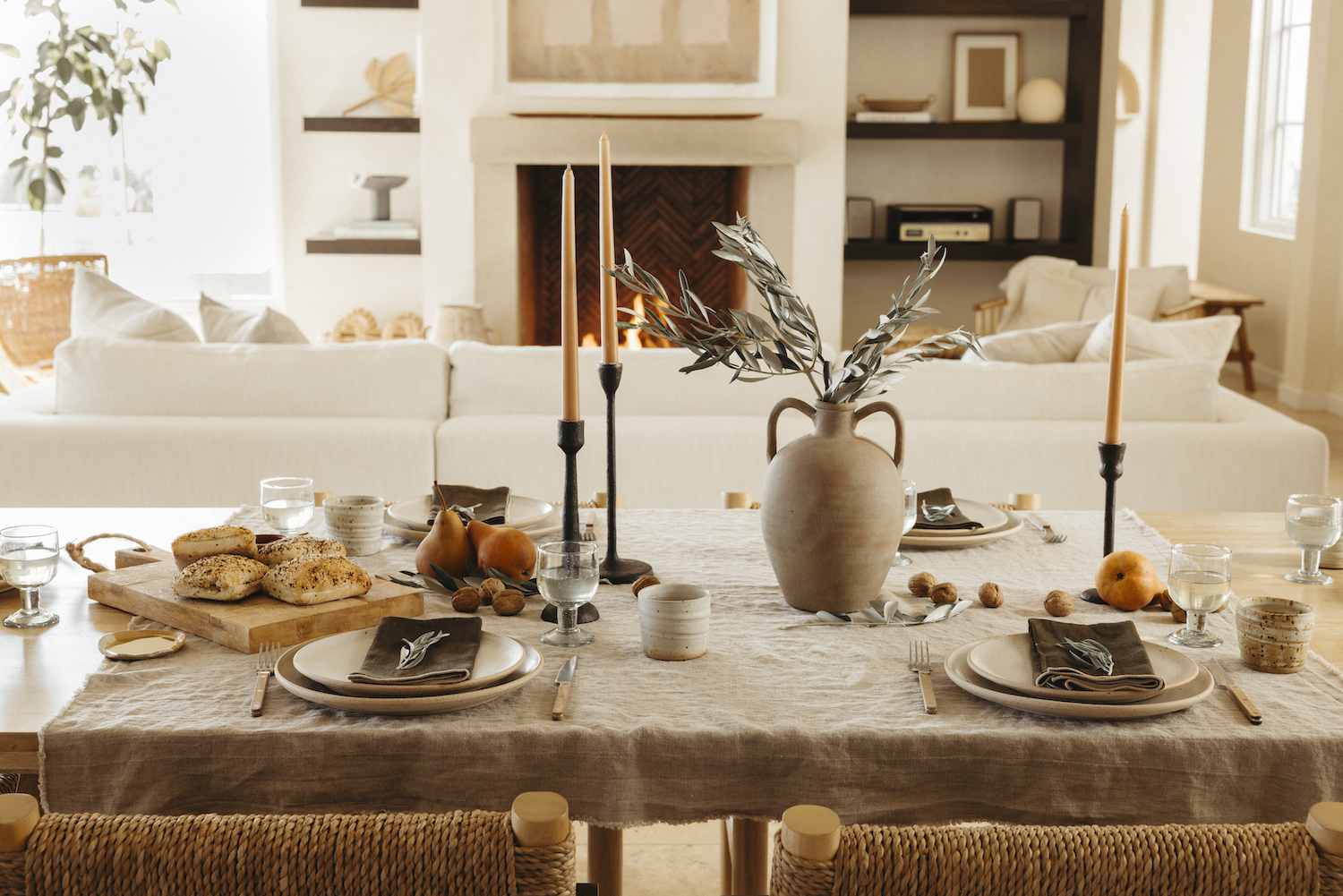 The Harvest Table
As most of you know, we launched our Casa Zuma x Woven collection of furniture last week, and our harvest gathering was the perfect opportunity to celebrate the collaboration between our brands—quite literally, since we gathered around the Kelmscott Farmhouse Dining Table and sat in the Hacienda Dining Chairs, both favorite pieces from the collection.
Our partnership with Woven has been a dream collaboration for me—it's a brand whose products I love and have in my home, and we couldn't be more aligned in our vision for what home should be. As they say so beautifully on their site, "Home is somewhere between a place and a feeling. Woven exists for our journeys towards home—crafting spaces that feel warm, natural, and uniquely you."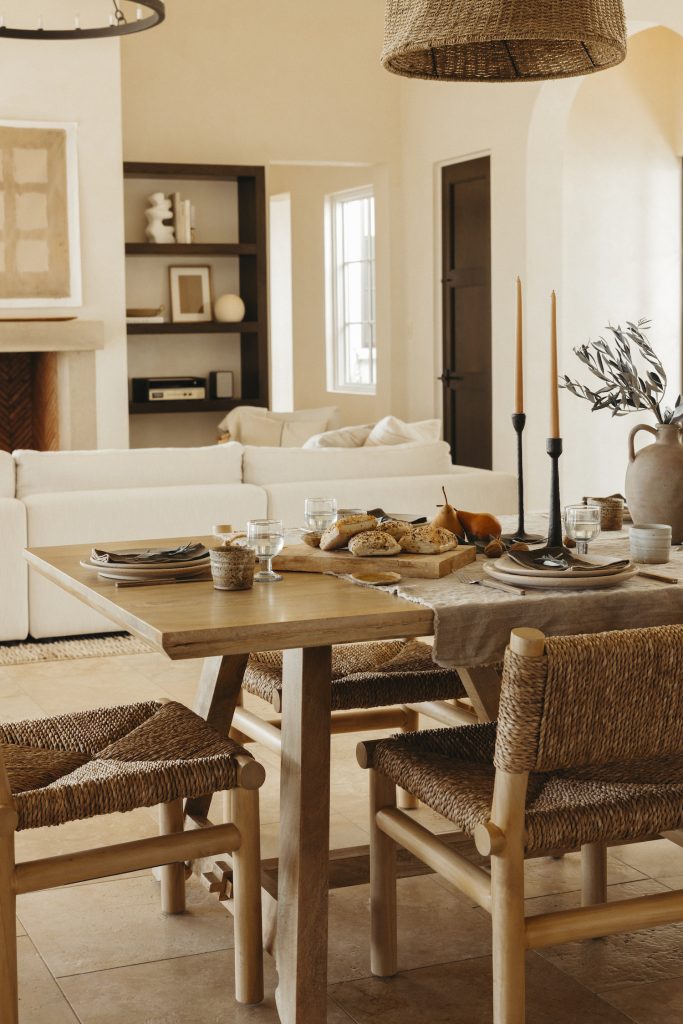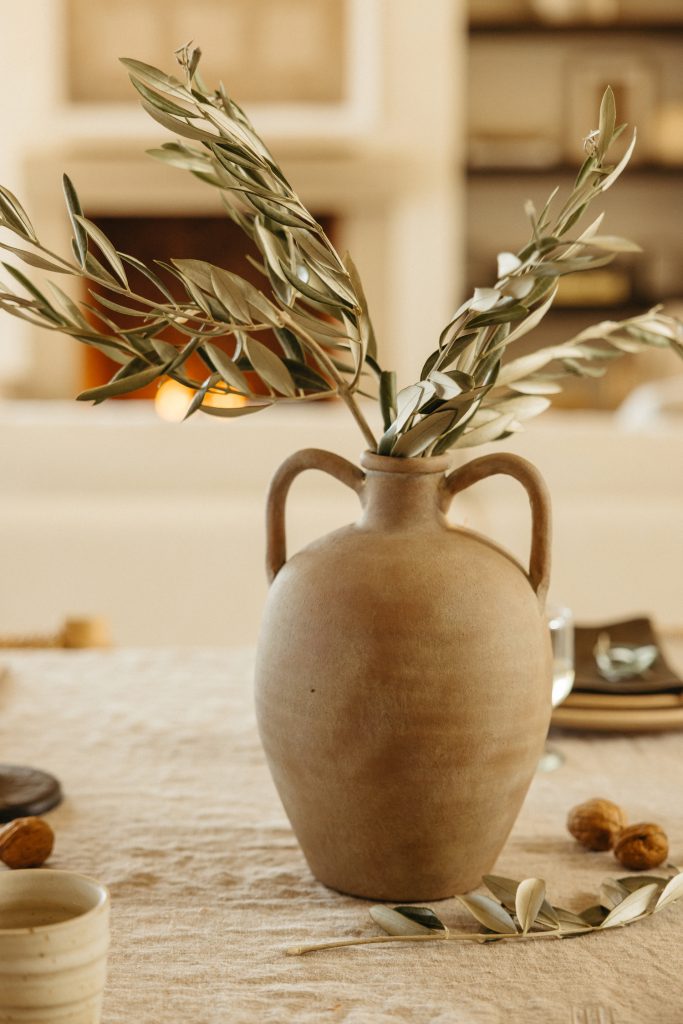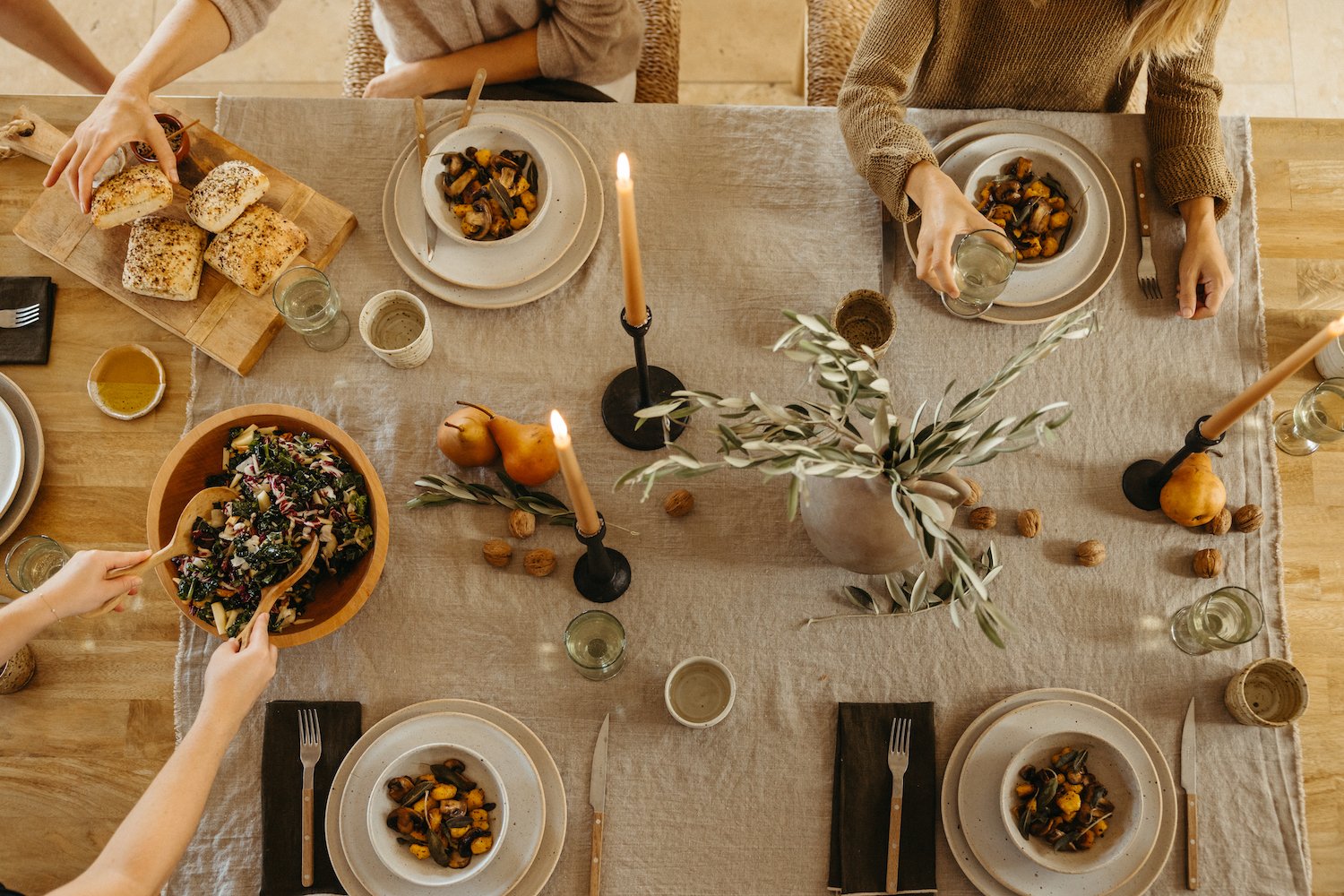 The coziest fall dinner recipe
For dinner, I made this Sweet Potato Gnocchi with Wild Mushrooms, Brown Butter, and Sage.  It really doesn't get cozier than this for a simple weeknight at home or a special occasion with friends. In the post, I share how to make this recipe using store-bought sweet potato gnocchi—and I'm also sharing how to make gnocchi from scratch so you can choose your own adventure based on how much time you have.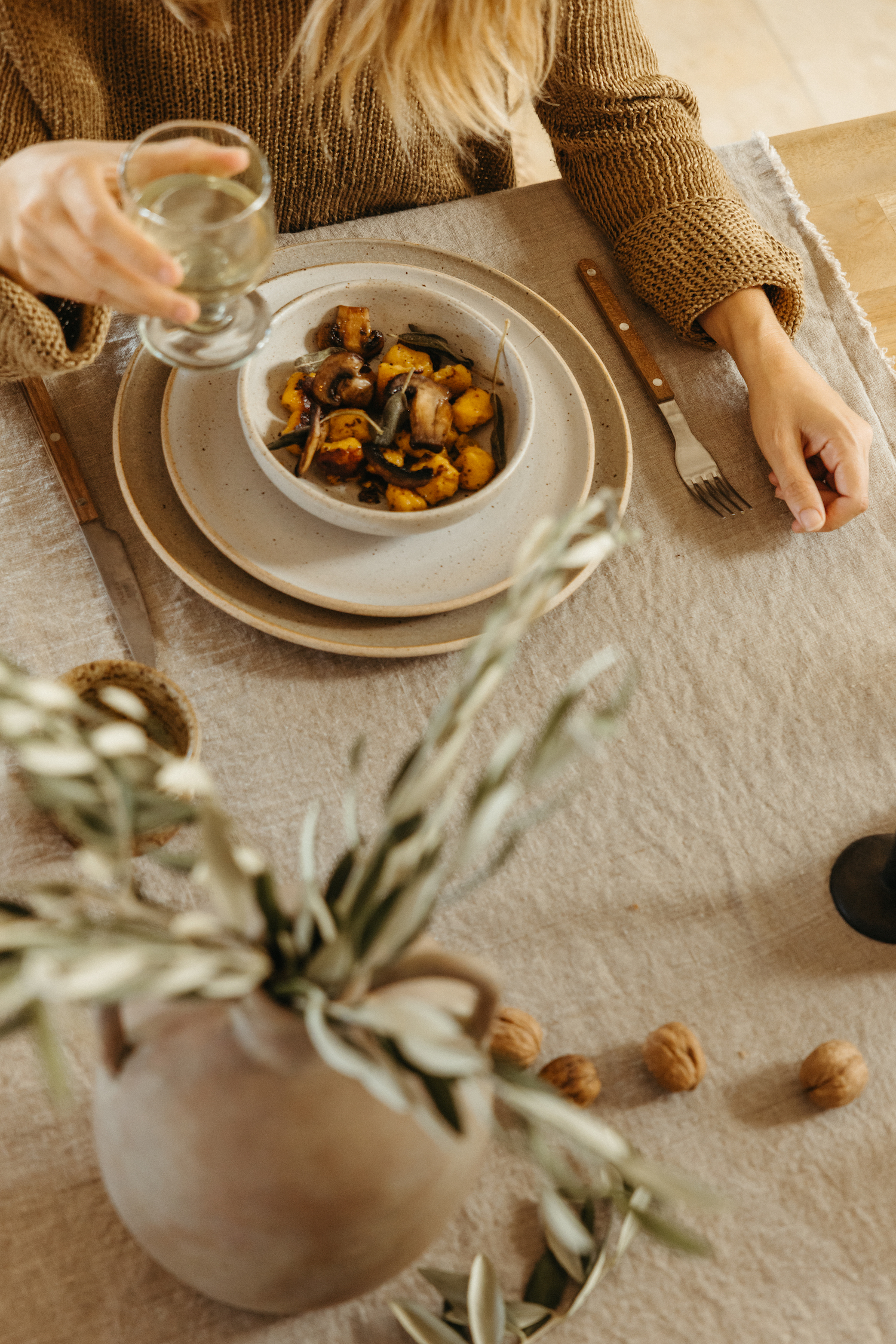 Our time around the table was the perfect way to usher in this seasonal shift. Fall is a season of gratitude and abundance, and these small gathering rituals feel especially nourishing right now.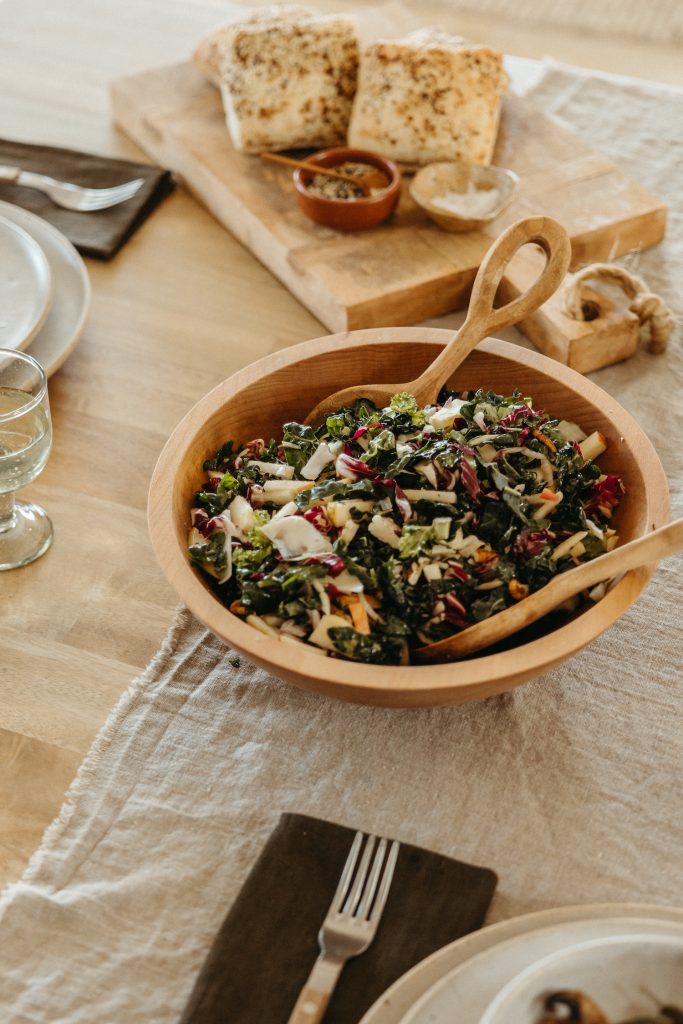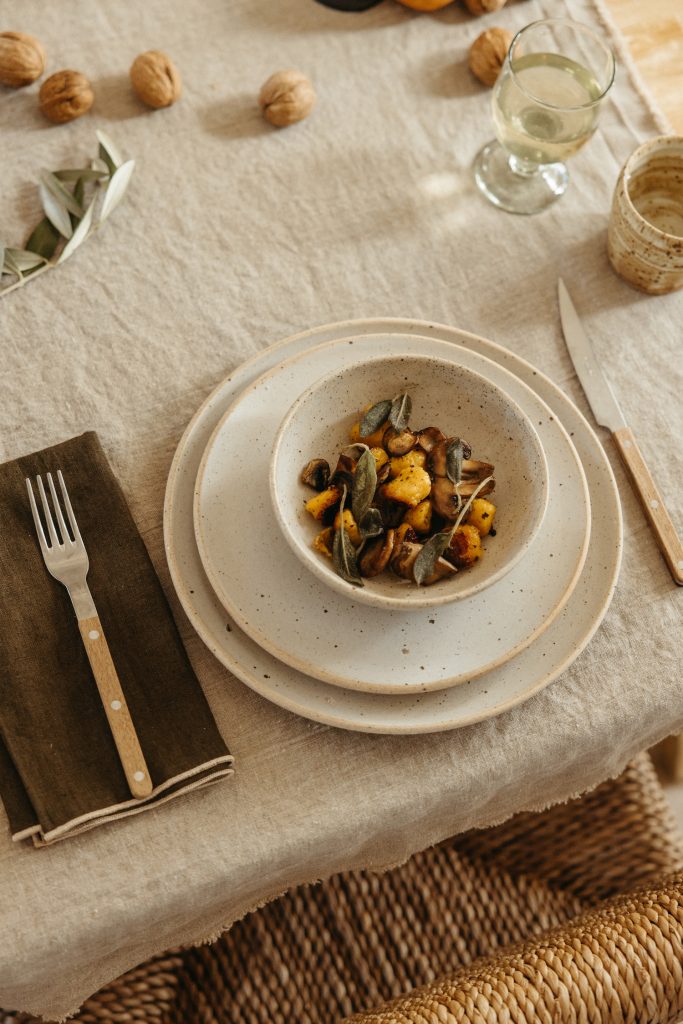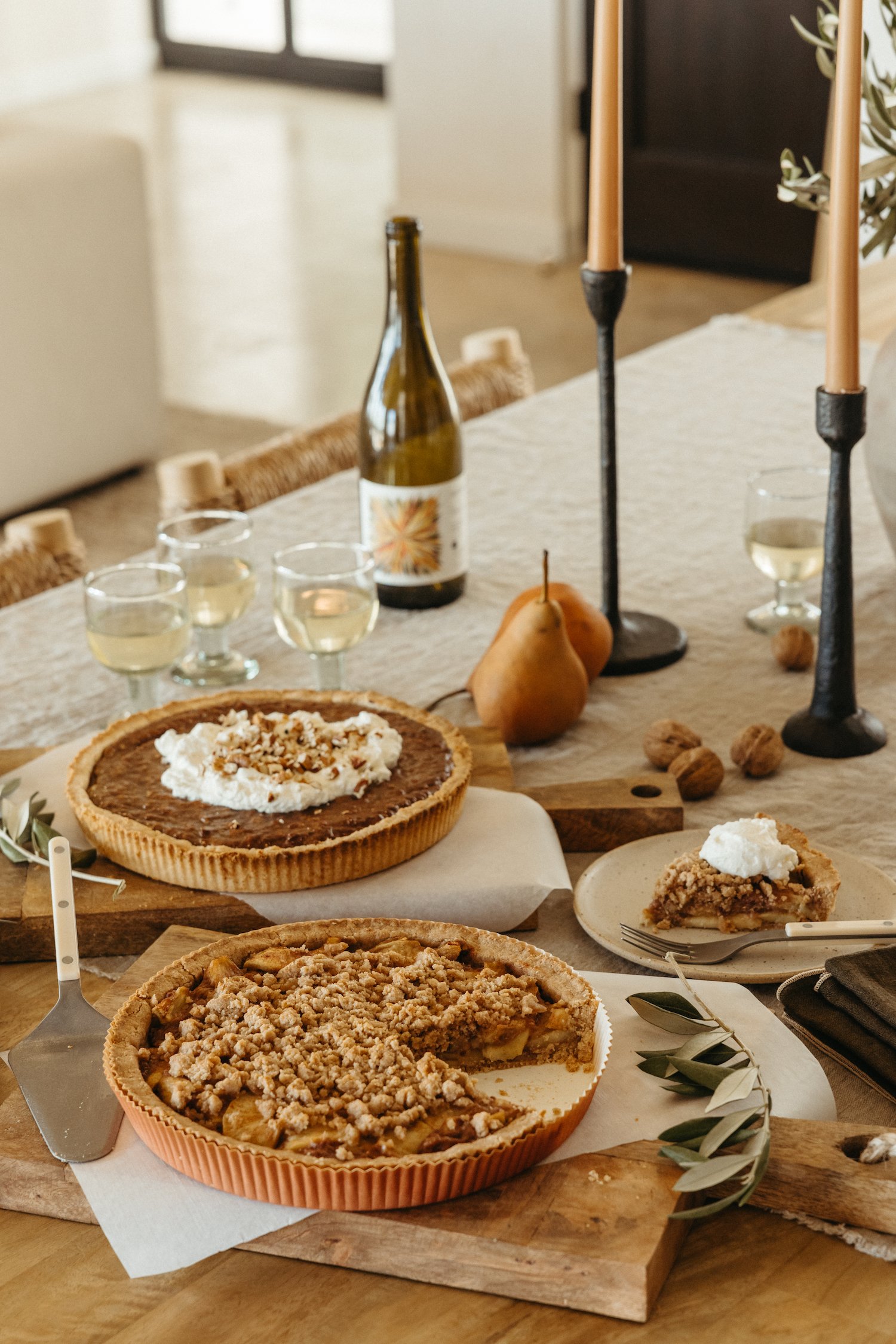 Simple, nourishing sweets
'Tis the season for pies, and no one does wholesome desserts with feel-good ingredients quite like my friends at Sweet Laurel Bakery (don't miss our interview with Laurel here.) For our gathering, we served Apple Crumb Pie and Pecan Pie, and none of us could choose a favorite. One thing I've noticed when I eat Sweet Laurel's treats is I never feel that sugar hangover afterwards. I actually feel good, thanks to their clean ingredients that are completely gluten-free, vegan, and paleo. Lucky for me, they ship nationwide.