Not that I'm complaining, but my summer's been brimming with travel. From coast to coast for work and play, there's been a lot to see and experience. One of the highlights? A long weekend in Minneapolis. I spent the few days reuniting with best friends, vibing at Eras, and eating at some of my favorite restaurants in the city. Before we put on our dancing boots, my Taylor Swift crew and I set up camp at Sanjusan, Minneapolis' amazing Japanese-Italian eatery. The spot seamlessly blends an omakase experience with some of the best pizza in the city. And while we indulged in all of that and more, it was the green salad with sesame dressing that we couldn't stop talking about.
Of course—inspired and pleasantly full—I left the meal dreaming of the moment I could recreate the salad at home. It was tangy and refreshing, sweet and savory, all with just the tiniest kick of heat in every crisp bite. The second we finished devouring the sharing bowl of salad, I knew: this green salad with sesame dressing was one I had to recreate.
But to be clear: salads are not usually one of my go-to meals. If I'm going to eat vegetables, I'd rather they complement other dishes than simply eat a large bowl of them on their own. However, when done right, a salad can satisfy every craving. Fresh greens, an addictive dressing, and toppings that take your salad from boring to an incredible bowl of flavor—when I dream of salad, this is what comes to mind. So trust me, you'll be making this green salad with sesame dressing all season long.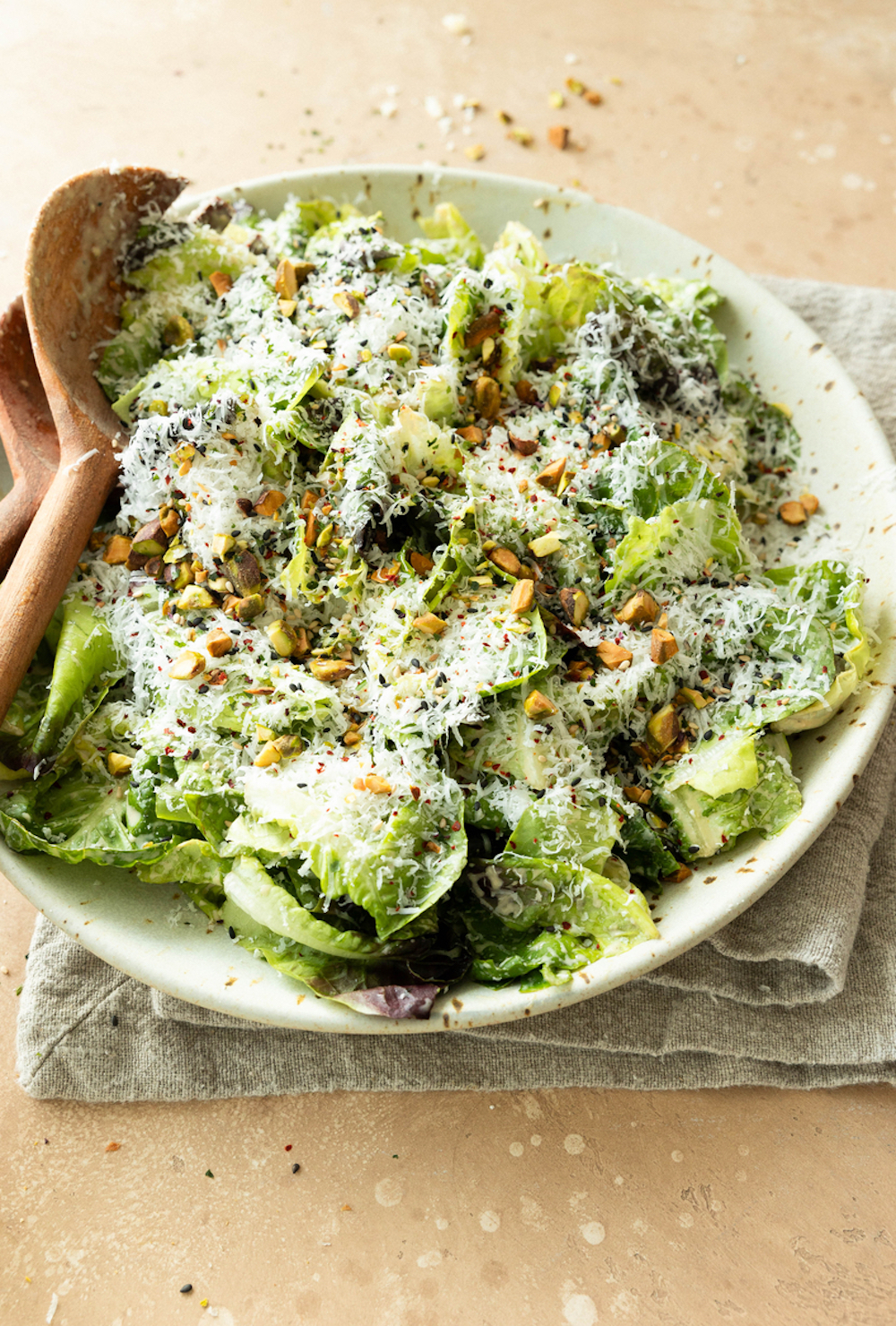 Ingredients for Green Salad With Sesame Dressing
Parmesan. Freshly grated, savory, and salty. Parmesan is the perfect topping for making this salad feel extra special. Be sure to use the good stuff.
Pistachios. Use roasted and salted if you can. Otherwise, take raw pistachios and toast until fragrant and crunchy in texture. These add a nice bite and a bit of textural contrast to the salad. If you don't have pistachios, feel free to use what you have on hand like sliced almonds, chopped pecans, or pumpkin seeds.
Furikake. If you've never used furikake, prepare to be addicted. It's a Japanese seasoning made of toasted sesame seeds, nori, and salt. (Depending on the blend you use, it may also include bonito flakes, chili flakes, miso powder, etc.) This savory topping brings everything in this salad together. If you can't find it, try crushing up seaweed sheets into flakes with toasted sesame seeds, salt, and a bit of sugar.
Tahini. The base of our salad dressing. Nutty and savory, tahini ties in perfectly with the sesame seeds.
Sherry or champagne vinegar. For an acidic bite, sherry vinegar rounds out the salad dressing and lifts all the flavors up with brightness. Use apple cider, champagne, or rice vinegar if you need to substitute.
Ginger. Freshly grated, ginger adds a subtle warmth and spice to the dressing.
Greens. Use the freshest and most crisp baby greens you can find.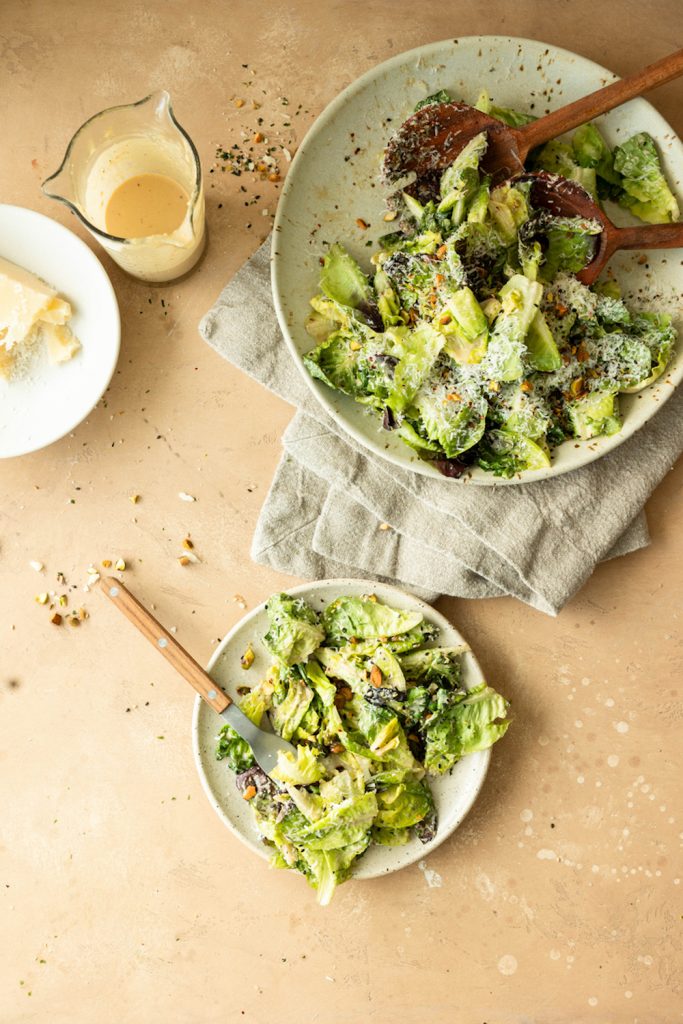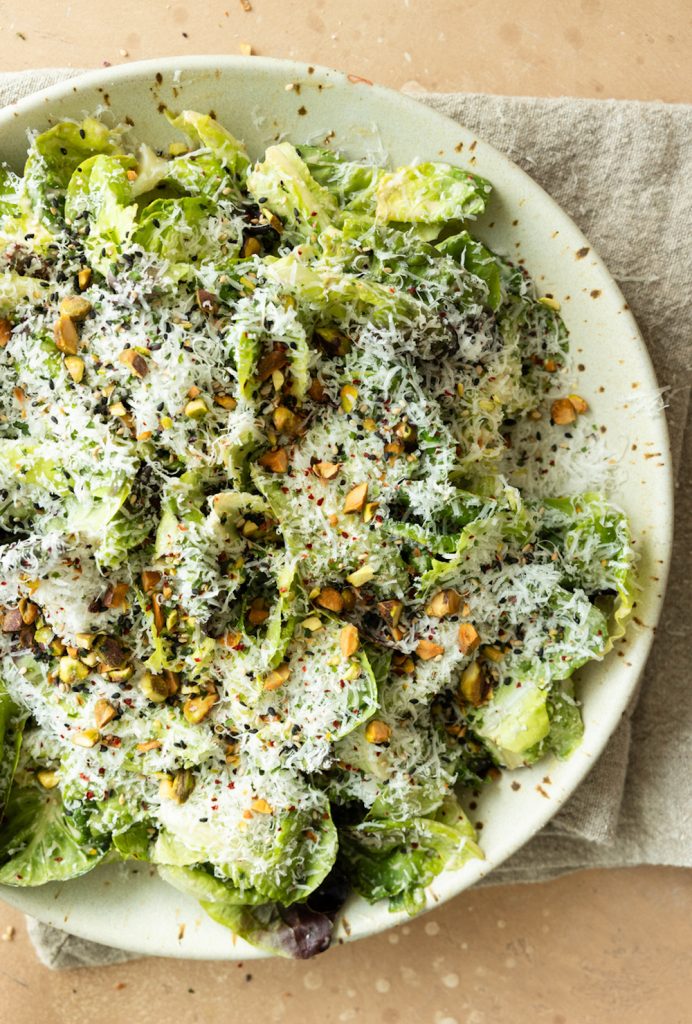 Tips for Serving
When it comes to making salads, I've learned a few tricks along the way to take everything to the next level.
Start with crisp greens. Confession: I don't own a salad spinner. That means that sometimes, I wash my greens only to end up with soft, wilted leaves. But I recently learned the towel trick for drying and storing greens and I'm hooked. Wash your greens and dry them by patting gently with a towel. On another large towel, lay them out in a single layer, then roll the towel up with the leaves inside. Store in the fridge until you're ready to use for dry and cold crisp leaves.
Salt generously and use a bigger bowl than you think you need. It's just a fact: salads often taste better in restaurants than when made at home. The secret? They toss everything in an extra-large bowl to ensure every leaf is evenly covered with dressing. And don't you dare skimp the salt. Vegetables taste more like themselves when you salt them, including lettuce greens. A final note: Add dressing to the bowl first and all around the edges to create an even coating.
Think about balance. From flavors to textures, the best salads are the result of ingredients that complement one another. Include something crunchy, soft, chewy, salty, sweet, and savory. You can use this formula with a wide variety of ingredients and flavors, but prioritizing balance means every bite of salad is the best bite of salad.
How to Make It a Meal
While I've certainly spent a few nights this summer standing over my kitchen island eating this salad straight out of a giant mixing bowl, it's also the perfect addition to any dinner table.
To bulk it up and make this green salad with sesame dressing a complete meal, add avocado, cucumbers, chicken, or fish.
Serve it alongside burgers or steak to balance out the richer flavors.
Add crunchy croutons or crispy onions for added texture.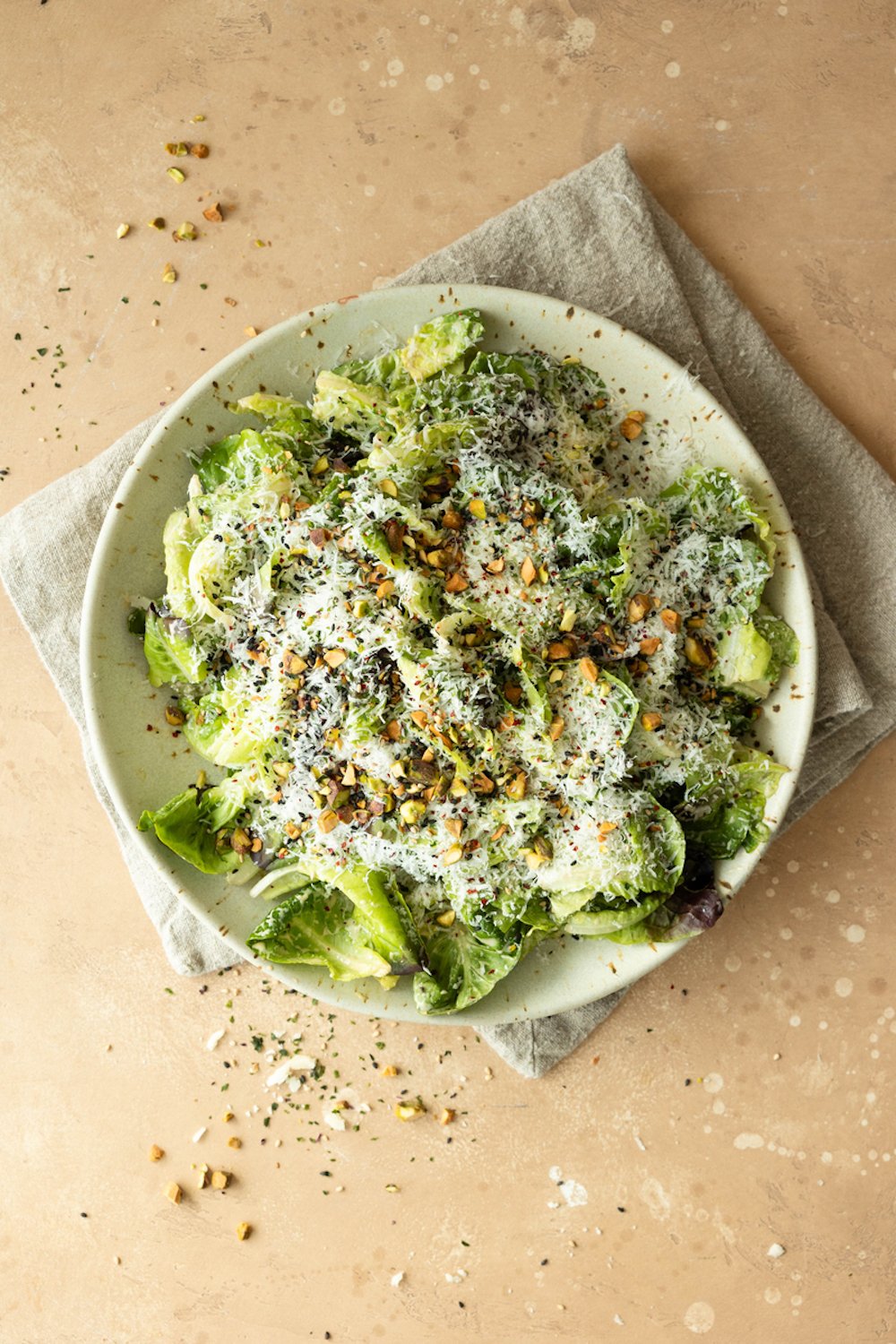 Print
Description
Fresh greens, an addictive dressing, and toppings galore. Trust: You'll be making this green salad with sesame dressing all season long.
---
For the dressing:
1

inch finely grated ginger

2

–

3

teaspoons honey

1 1/2 tablespoons

soy sauce

1/4

cup tahini

3 tablespoons

vinegar

Pinch of Aleppo pepper flakes, gochugaru, or red chili flakes

Salt to taste

1

–

2

tablespoons of water to thin
For the salad:
Freshly grated parmesan
Furikake

1/4

cup

roasted and salted pistachios

2

servings of baby greens
---
Prep the dressing. In a mixing bowl, add all of the ingredients and stir to combine until smooth. If the dressing is too thick, add a splash of water. Taste and adjust until flavors are balanced.
Serve the salad. Add greens to a large bowl and toss with dressing. Add to a serving bowl and top with parmesan, furikake, and pistachios. Serve immediately and enjoy!