The kitchen is first and foremost, a room of function. It's where we prepare our meals for the day, nourishing ourselves, family members, and anyone who stops by our homes. But of course, given the connective power of food, the kitchen is also a place for gathering. It's where guests linger with their wine glasses, eager to add a few finishing touches before dishes enter the dining room or help clean up as the party wanes. And given its importance, many of us also crave an aesthetic kitchen where form and function collides.
While design trends come and go, a kitchen that prioritizes timeless style and communicates a personal aesthetic is forever. That's why, when we rounded up our favorite aesthetic kitchens, those that clearly represented the homeowners' design values immediately caught our eye. Yes, light splashes through large, open windows, backsplashes take on every manner of creativity, and the countertops are the perfect foundation for a viral Instagram post. When it comes down to it though, an aesthetic kitchen has a certain je ne sais quoi that's hard to put into words. But when you see it, you know.
Ahead, discover our favorite aesthetic kitchens we've captured over the years. From small studios to eat-in kitchens fit for a family, the following kitchens are sure to inspire. Now, who's craving a remodel?
Featured image of Greg and Christy Billock's Los Angeles home by Virtually Here Studios.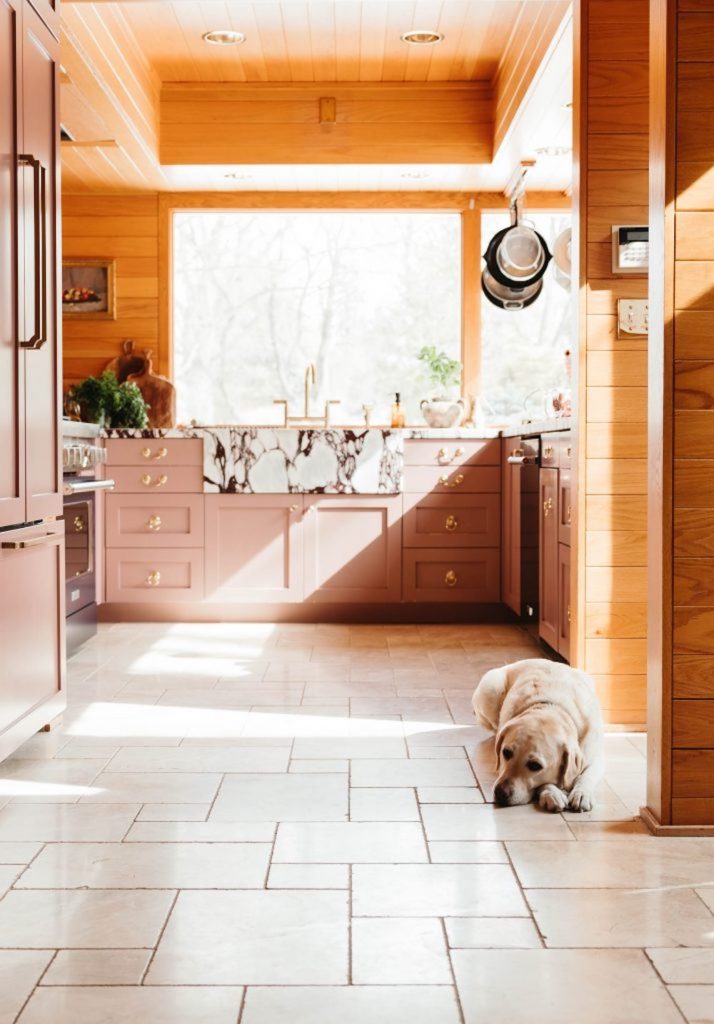 Images by Suruchi Avasthi
Kate Arends' Whimsical, Joy-Filled Kitchen
The creator behind the widely-loved design blog, Wit & Delight, Kate Arends is a home décor maven. A multi-hyphenate blogger, she covers everything from the home and fashion to travel and food. And of course, we look to her expertise for all of it. As exemplified by her whimsical, design-forward kitchen, Kate is an expert in matching color with pattern. She adds dimension to the space by playing with textures that almost appear simultaneously to clash but remain cohesive.
Our favorite part: The modern wood wall paneling that adds a retro appeal to the deep, blush colored cabinetry (which she painted with Farrow & Ball's Sulking Room Pink and Hague Blue). And of course, the Calcatta marble countertops.
Her style: Classic with a splash of whimsy.
Get the full tour.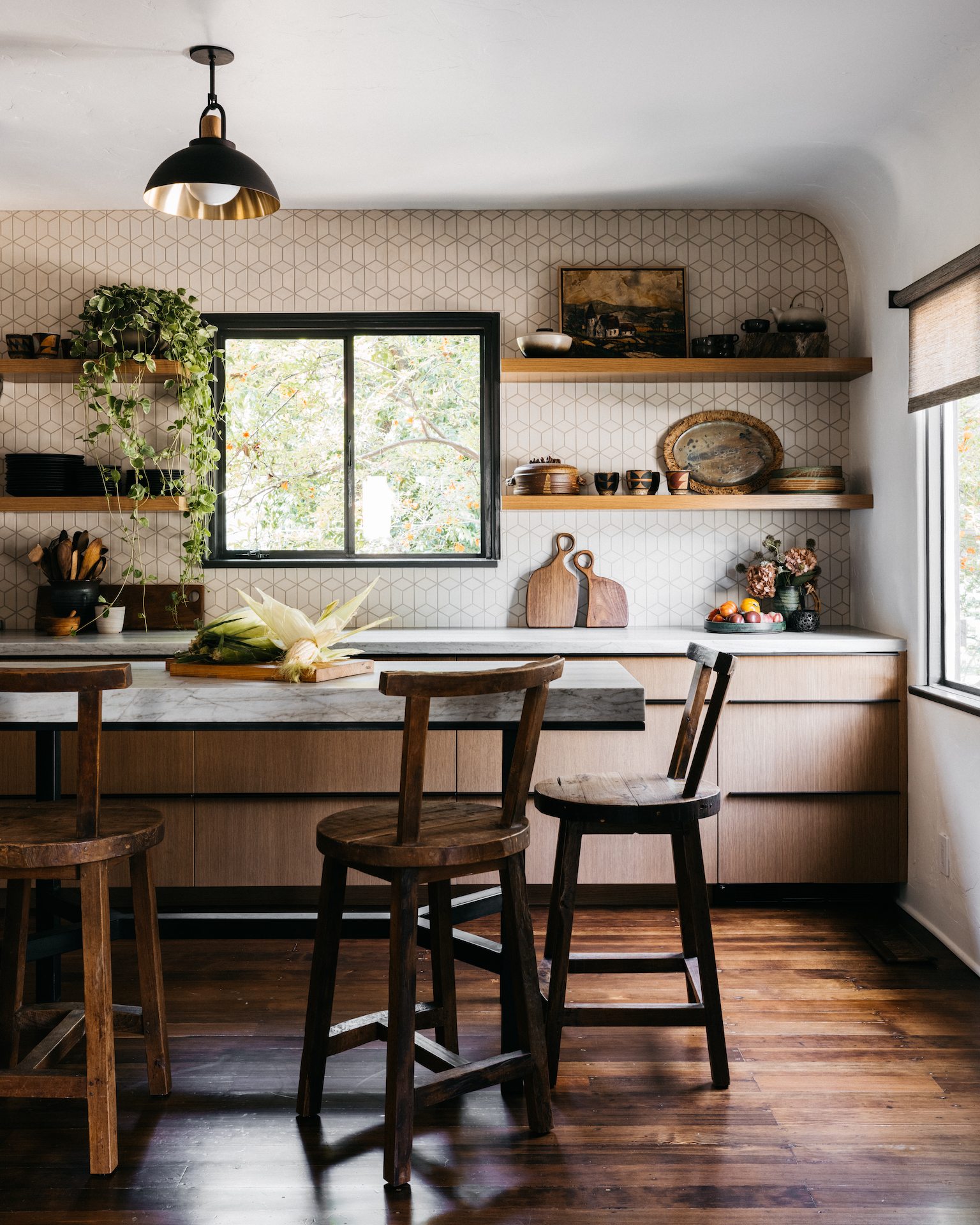 Image by Virtually Here Studios
Greg and Christy Billocks' Eclectic, Midcentury-Meets-Spanish Oasis
Designed by Kirsten Blazek, this Los Angeles 1930s three-bedroom house is a study in creating a calming, serene space while flooding the interior with natural light. It's old-school LA in a way that newer builds can't evoke—the vibe is eclectic and bohemian, all the while remaining livable for the family of four.
Our favorite part: The Heath ceramics backsplash. Known for handcrafted ceramic tableware and architectural tile, the brand was an obvious choice for adding an element of visual interest to the otherwise minimalist space. It's a gorgeous, grounding choice to complement the open shelving, greenery, and ceramics.
Kirsten's style: Color is hugely important to me when I design a space. I am always very conscious of creating a cohesive color story from room to room. The nuances in color are also fascinating to me and I put a lot of emphasis on finding exactly the right shade and saturation of each color that we are selecting.
Get the full tour.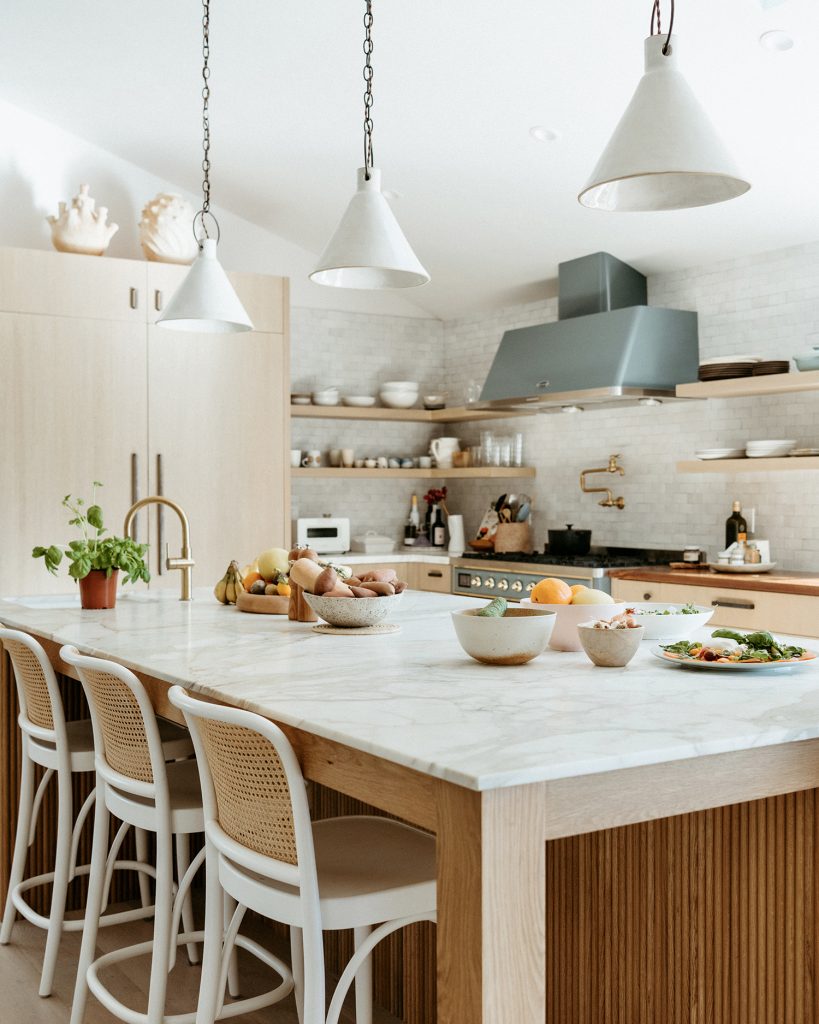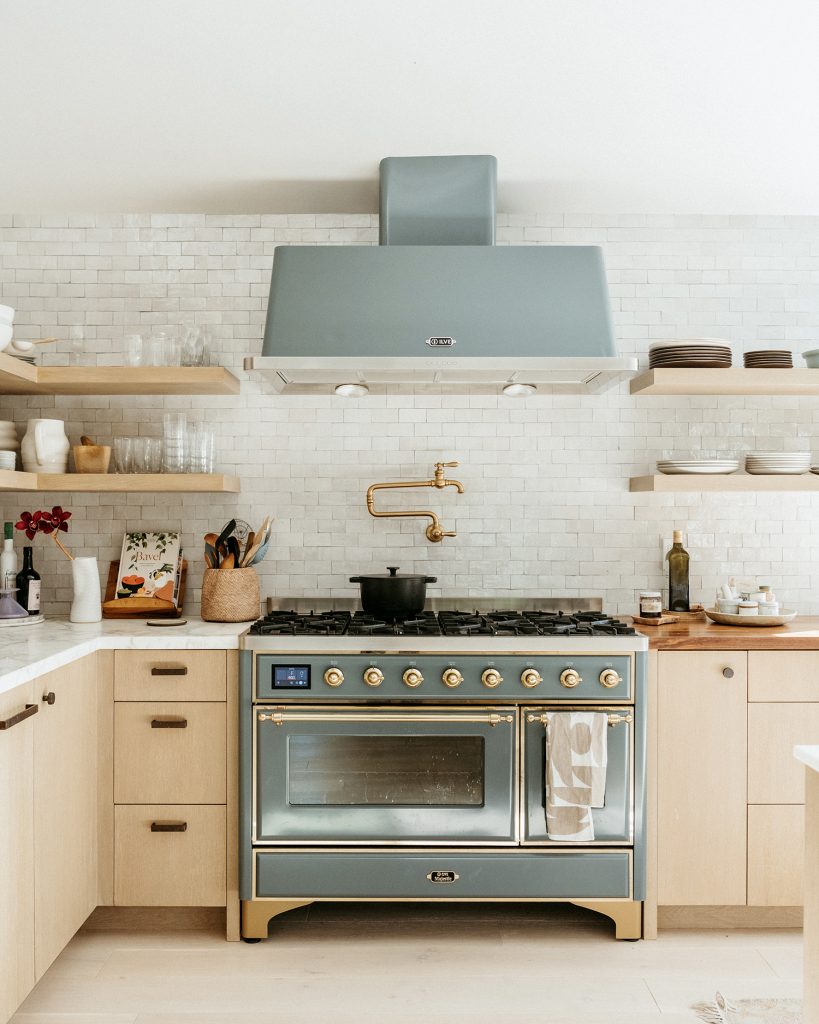 Images by Michelle Nash
Brian and Jessie De Lowe's Sun-Filled California Farmhouse
The sun-soaked, Cali vibes are abundant in Brian and Jessie De Lowe's Montecito ranch house. With a love of entertaining and gathering as a family, Brian and Jessie prioritized an easy-breezy aesthetic, communicated primarily in the open kitchen (and of course, the outdoor bar). While the formal dining table is often used for guests, the family convenes for meals at the kitchen island or in the blue-walled breakfast nook). It's all an example that a love of color can go hand-in-hand with an elevated aesthetic. And you never have to forgo comfort for style.
Our favorite part: The open, inviting kitchen features a sliding glass door, making for a seamless transition from indoors to the outside patio (and farther down, the lemon tree-filled backyard). Dreamy? Absolutely.
Their style: Open, calming, and happy.
Get the full tour.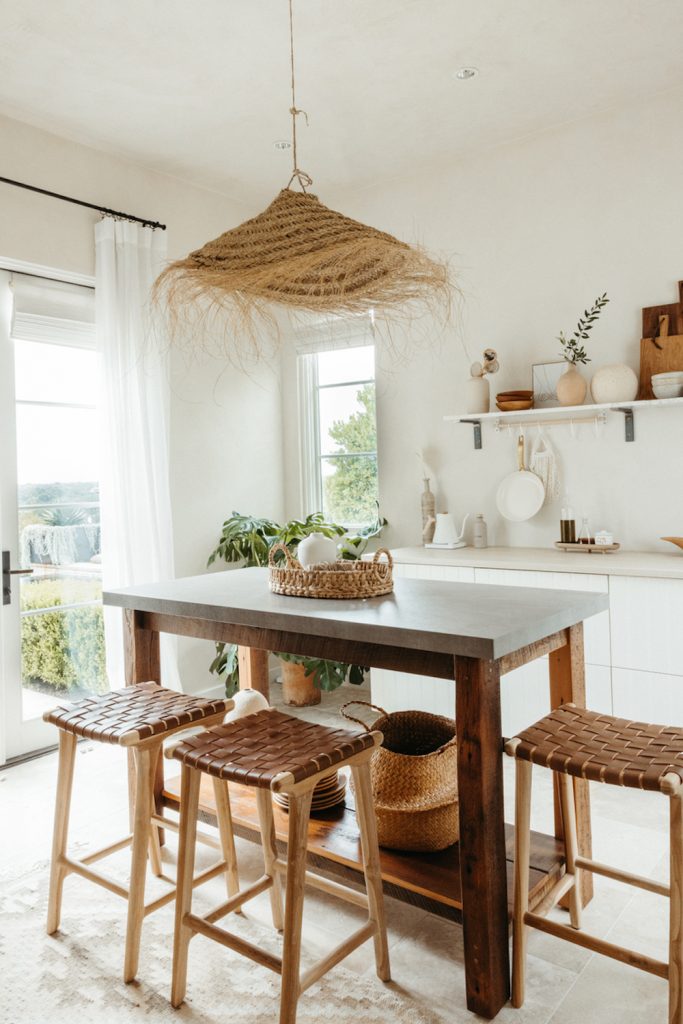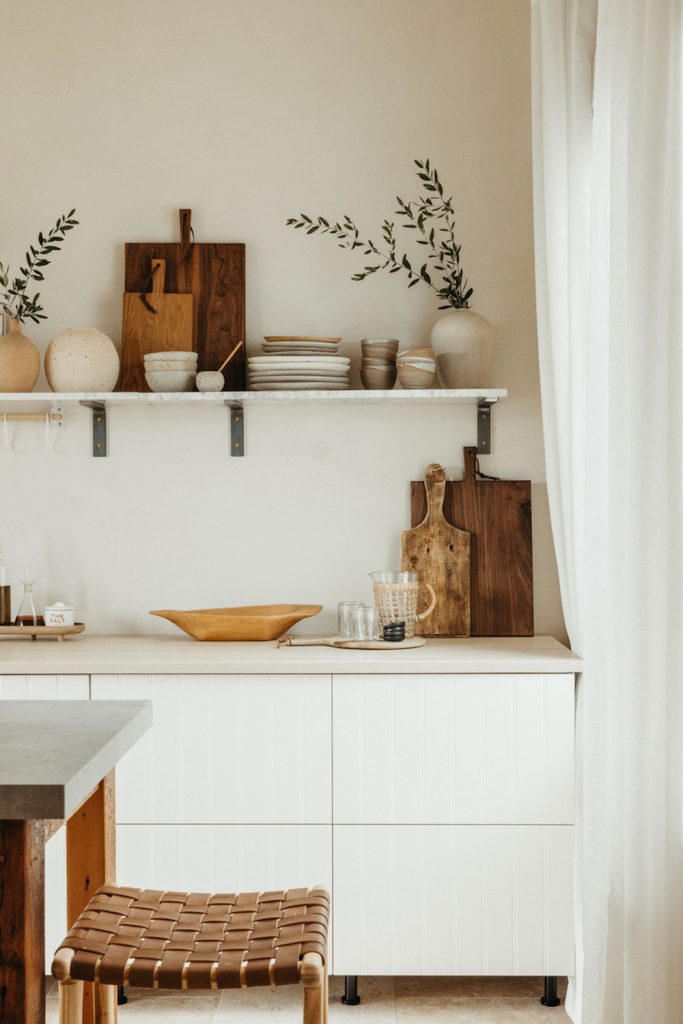 Images by Michelle Nash
Camille's Light-Filled Studio Kitchen
What began as an offhand wouldn't-that-be-amazing suggestion turned into a full-blown, budget-friendly remodel. Having always loved the light that came into her guest room, Camille went all-in transforming the space into a studio kitchen. She had a few priorities for the project:
Serve as a prep space where the team would shoot recipe photos, videos, and content for Casa Zuma.
Layout had to maximize the natural light.
Provide a central workspace for collaboration.
All be done on a budget.
With all of this in mind, Camille prepared for the task. By finding pieces that bridged the gap between affordable and high-quality as well as maintaining a minimalist, organic feel to the space, Camille was able to complete the remodel at just over $2,800. (Proof that dreams can become reality!) The space hits the trifecta of capturing a rustic, vintage, and timeless aesthetic, with accents of reclaimed wood and woven materials strewn throughout.
Our favorite part: The central island/workbench is the perfect multi-functional piece that grounds the space both in form and function. Sourced through an Etsy shop called Whatman Barn Furniture, Camille was able to customize the build so the team had enough space to spread out on the countertop while also still being able to move throughout the kitchen with ease.
Her style: Earthy and modern, prioritizing neutral backdrops for Casa Zuma and Camille Styles shoots.
Get the full tour.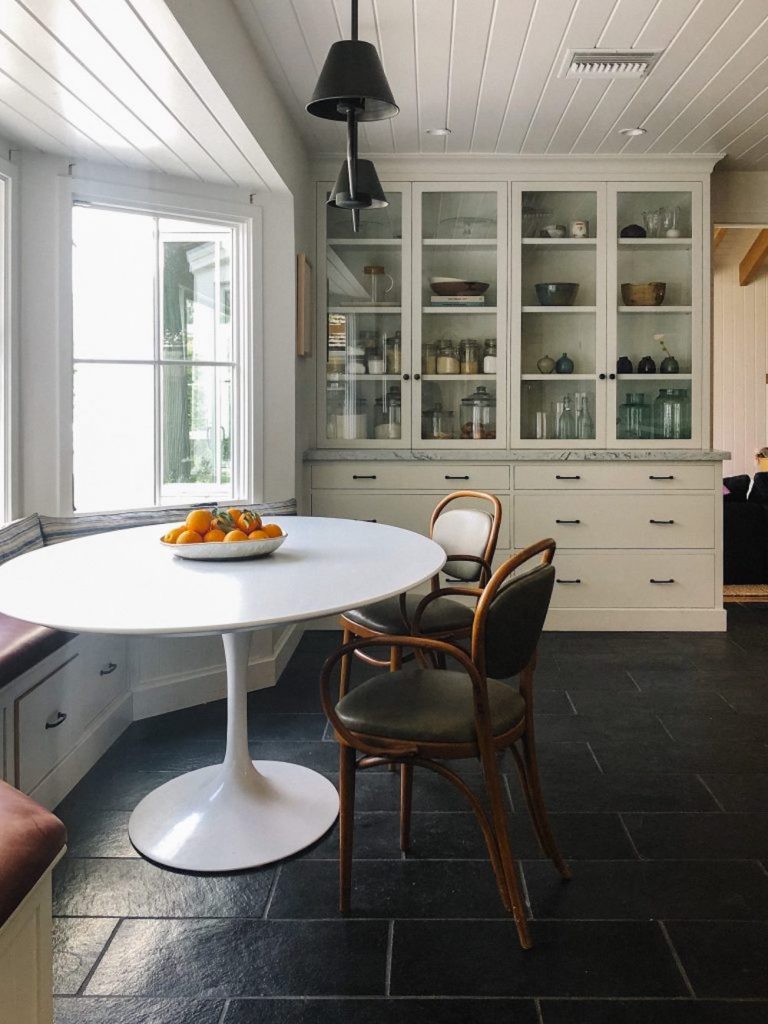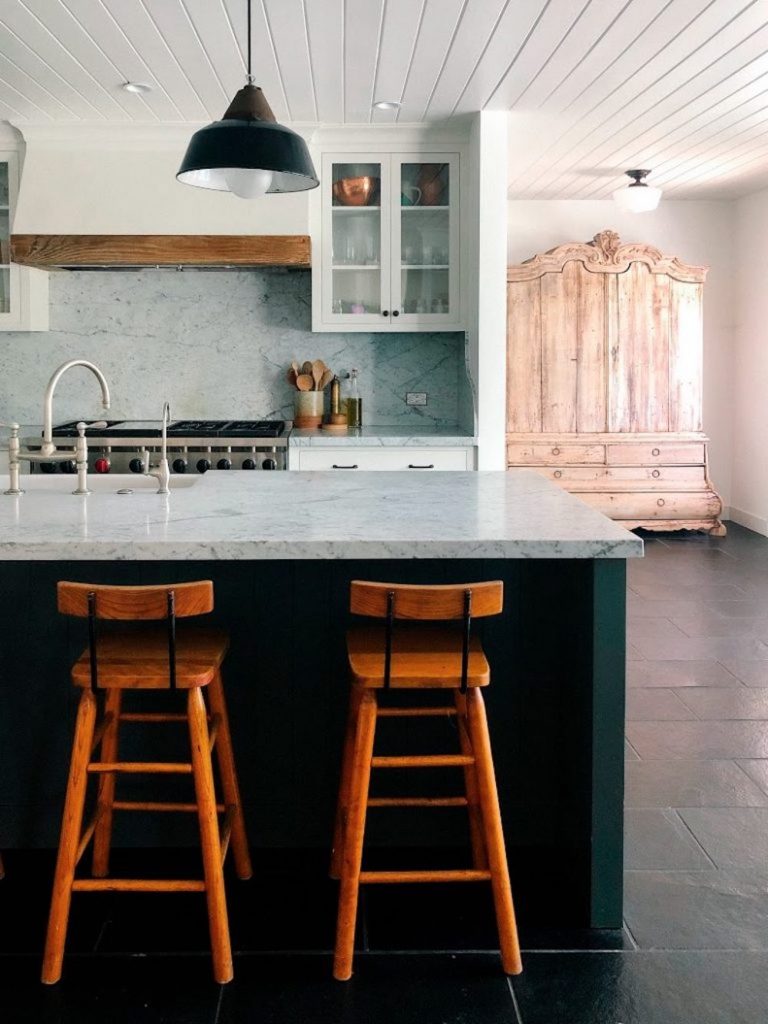 Images by Shade Degges
Sarah Solis' Wabi Sabi Kitchen
As one of the most sought-after designers, Sarah Solis' work is widely known, with projects spanning eclectic, traditional, and farmhouse aesthetics. In her own home, Sarah balances understated opposites, with warm and cool tones playing again rich fabrics and moody design. The kitchen itself pairs dark accents with rustic features, all the while allowing a cloud-like theme to span the entire design.
Our favorite part: The eat-in kitchen nook maximizes seating with a built-in banquette. It's smart and stylish, with a mixing of aesthetics (the mid-century tulip table blends seamlessly with the classic, colonial-era cabinetry) that nonetheless feels united in scope.
Her style: Variations of neutrals and natural wood are the foundation of my design work. This palette is very calming for me. It's serenity. 
Get the full tour.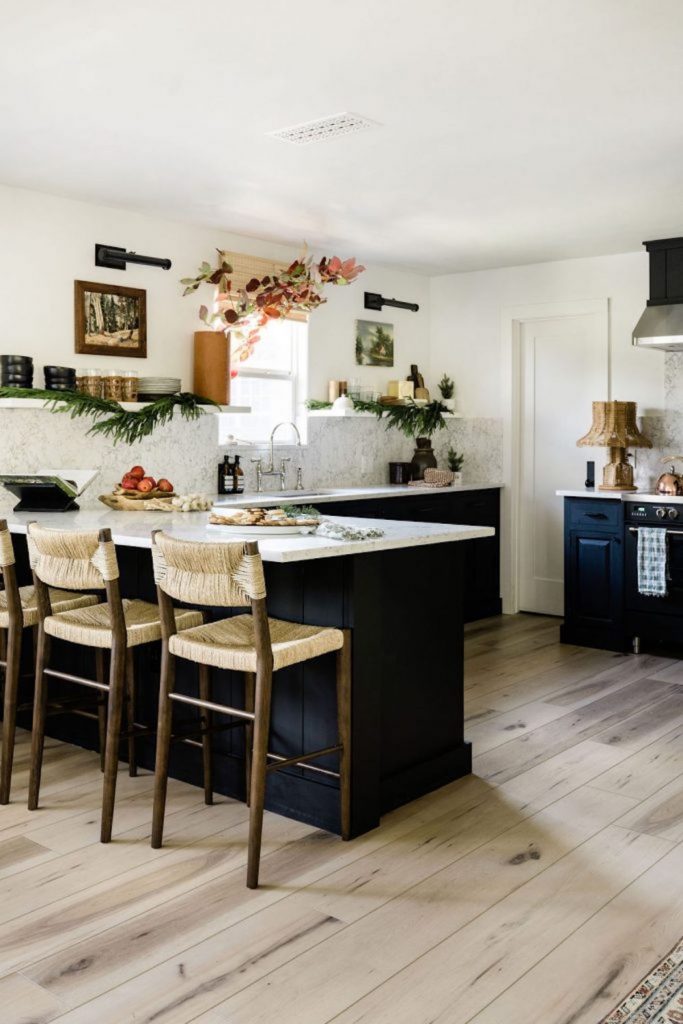 Images by Madeline Harper
Anastasia Casey's Nature-Inspired Kitchen
When Anastasia Casey invited us for a tour of her Nancy Meyers-esque kitchen, we were floored. It's gorgeous without feeling over the top (and like Meryl Streep would happily inhabit it as a film protagonist with gorgeous taste). Her East Texas home is full of character and charm while also appealing to many tastes. It's a true gem of a space customized with Casey's expert designer touches.
We visited Casey's home during the holidays last year, and loved her approach of timeless, nature-inspired design. Organic touches are strewn throughout the kitchen, with leaves and pine needle garlands serving as minimalist, yet festive accents. But the pieces that stay up all throughout the year are decidedly classic, with a luxe Italian range grounding the space while creating a monochromatic color story by prioritizing warm whites and grays.
Our favorite part: The custom floating shelves keep the look light and bright, allowing Casey to explore further opportunities for curation by displaying her gorgeous collection of dinnerware and serving pieces.
Her style: Unfussy, natural, and a little whimsical. I like things to be unusual, unexpected, and always inspired by nature.
Get the full tour.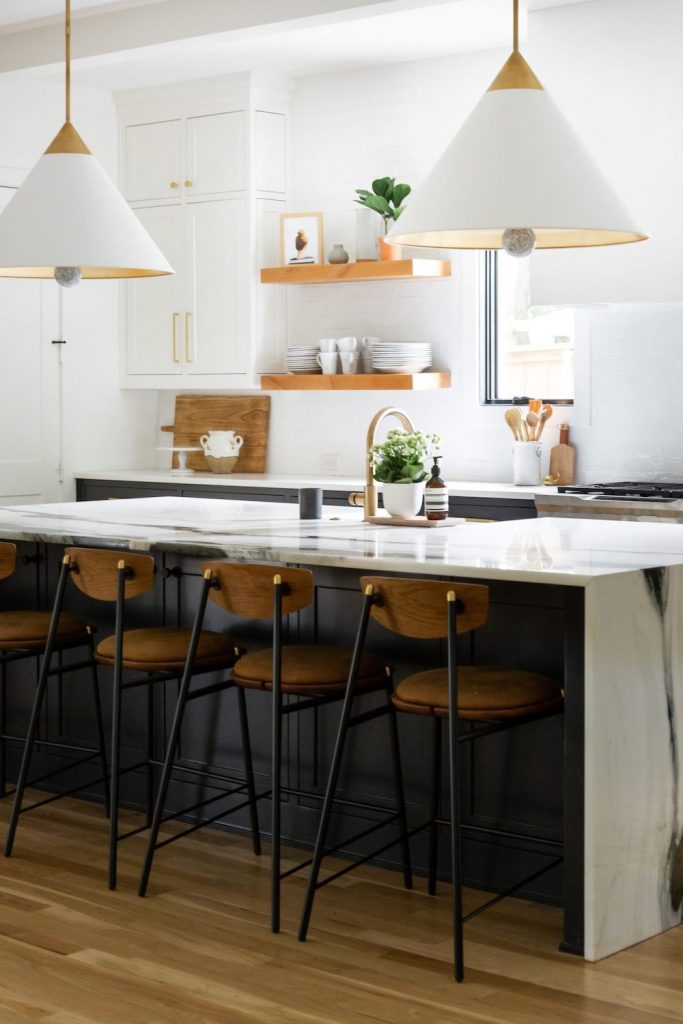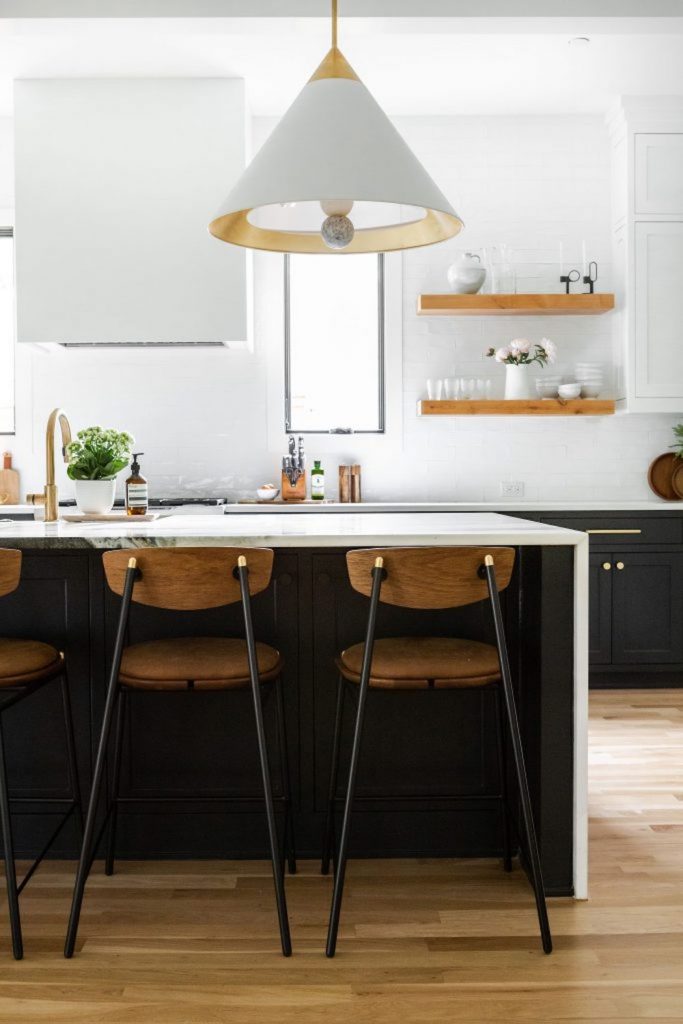 Images by Danielle Sabol
Ashley Robertson's Modern-Elegant Kitchen
Ashley Robertson exemplifies updated classic design. The creator behind The Teacher Diva fashion blog built her five-bedroom Dallas home in 2018 entirely from scratch. She worked with award-winning interior designer, Ginger Curtis of Urbanology Designs. The result is a home that's an extension of her personal style: modern, elegant, and with a touch of tasteful glamour.
With this in mind, the design duo succeeded at creating a kitchen that not only stands as a work of art (those pendants!) but that can hold up to the busy life of a family of four. What's more, as a content creator, Curtis was mindful that Robertson would be using the space to shoot for her blog and social media. To do so, they prioritized clean lines, light textures, and a layout that made the most of the natural light.
Our favorite part: Waterfall islands are everything right now, and we're obsessed with this elegant, contemporary take on the trend. It extends the eye width-wise, expanding the space's scale.
Her style: Traditional modern. Recognizable architectural features but with a fresh modern take. 
Get the full tour.