The best hosts have a few things in common. They find inspiration at every turn, don't sweat the small stuff, and invite everyone to the table. Elisa Marshall embodies these values inherent in creating a meaningful gathering—one that's grounded in connection and creativity. Alongside her husband, Elisa is the owner and co-founder of the New York City-based restaurant and café, Maman. Now a staple of the city's dining scene, Maman is synonymous with not only good, thoughtful food but also the comfort we should experience at each meal.
Each of Maman's locations across the east coast boast interiors that nod to the rustic elegance of French décor. Brick is left exposed, the seating is humble, and mismatched—but wonderfully coordinated vintage vessels hold slices of quiche and warm, flaky croissants. Verdant, flourishing arrangements dot every surface and even take-away coffee cups are adorned with Maman's signature floral touch. All of it is a nod to the beauty, focus on aesthetics, and emphasis on community that Elisa has brought to light.
And while other creatives aim for a distinct work-life balance, Elisa can't help but bring her eye for interiors, love of florals, and culinary prowess home. Whether it's a weekday evening with her husband and two young boys or a more formal Saturday night gathering, it's with a paradoxical ease and attention to every detail that Elisa weaves together the intimate experiences taking place in her NYC loft. And she does all of it—baking, entertaining, helming a business, being a mother and wife—happy to entertain whatever comes her way.
Maman Co-founder, Elisa Marshall, on What Makes a Memorable Gathering
What informs your approach to food?
Simple, good ingredients and beauty will be my first two approaches when it comes to food. I am a strong believer that less is more when it comes to recipes and if you find top-quality, pure ingredients it can really enhance and even simplify your dish. Something as simple as beautiful roasted vegetables with fresh herbs or crudités with some homemade dips are not only delicious but can be styled beautifully too! 
Presentation and the setting to me is equally as important. Everything tastes better when served on a pretty plate is my motto and beautiful presentation leads to a tastier meal. I love thinking outside of the box when it comes to food presentation and serving items in unconventional ways. Serving dessert in assorted vintage wine glasses, or crudités in individual champagne coupes—it allows me to be more creative working with what I have at home and adds a fun wow moment for your guests.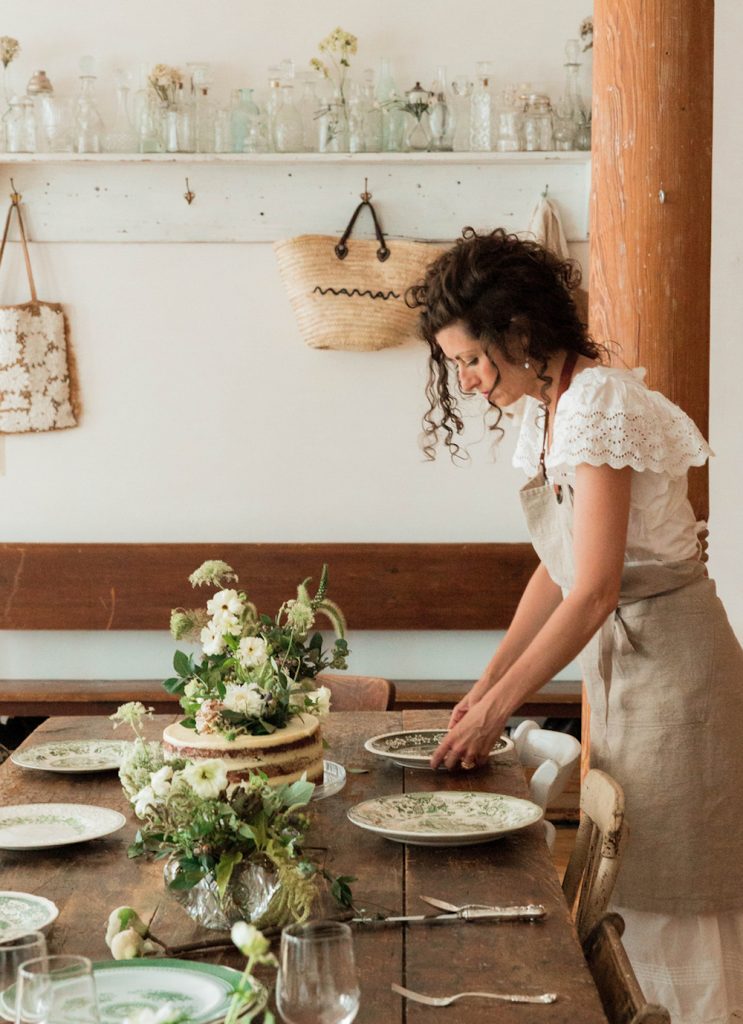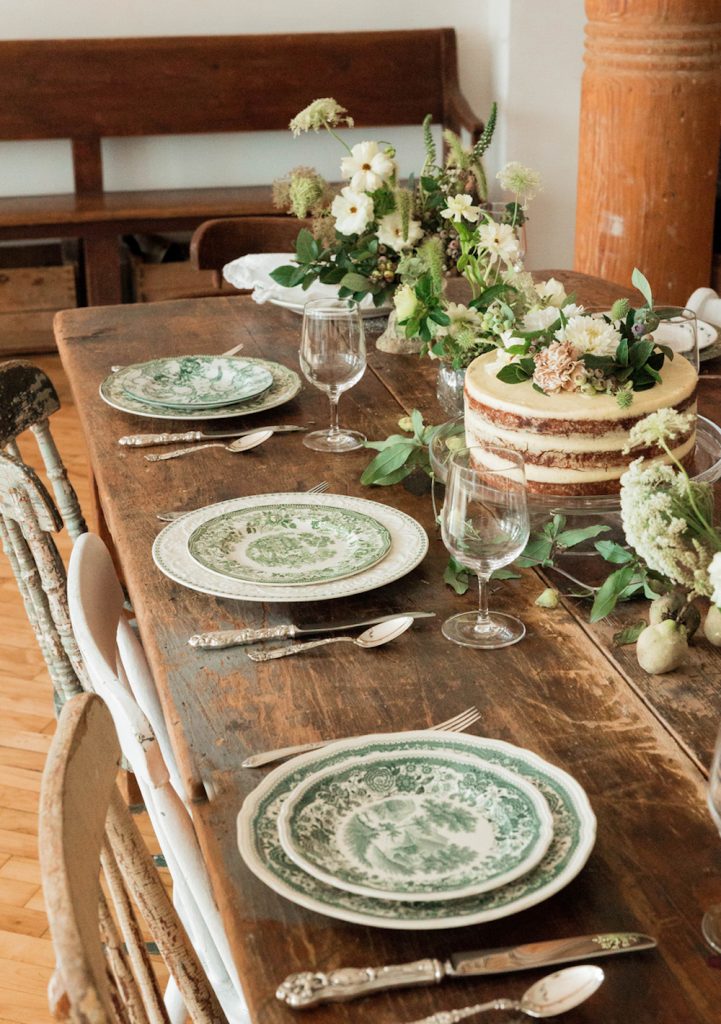 How did Maman come to be?
Before I opened Maman, I felt that I was doing a little bit of everything, but nothing wholeheartedly. I had a 9 to 5 job in PR and marketing, wedding planning on weekends and had a side hustle catering sweets along with interior decorating—all of which were things I loved and was so passionate about. When looking for a 'career' in my early 20s, nothing spoke to me as I wanted a job that encompassed everything I loved.
I wanted to create a world for myself where I could combine all my passions: food, baking, coffee, interior design, branding, events, friends, and family. There was really no job like this that I could find, so I knew I had to invent it.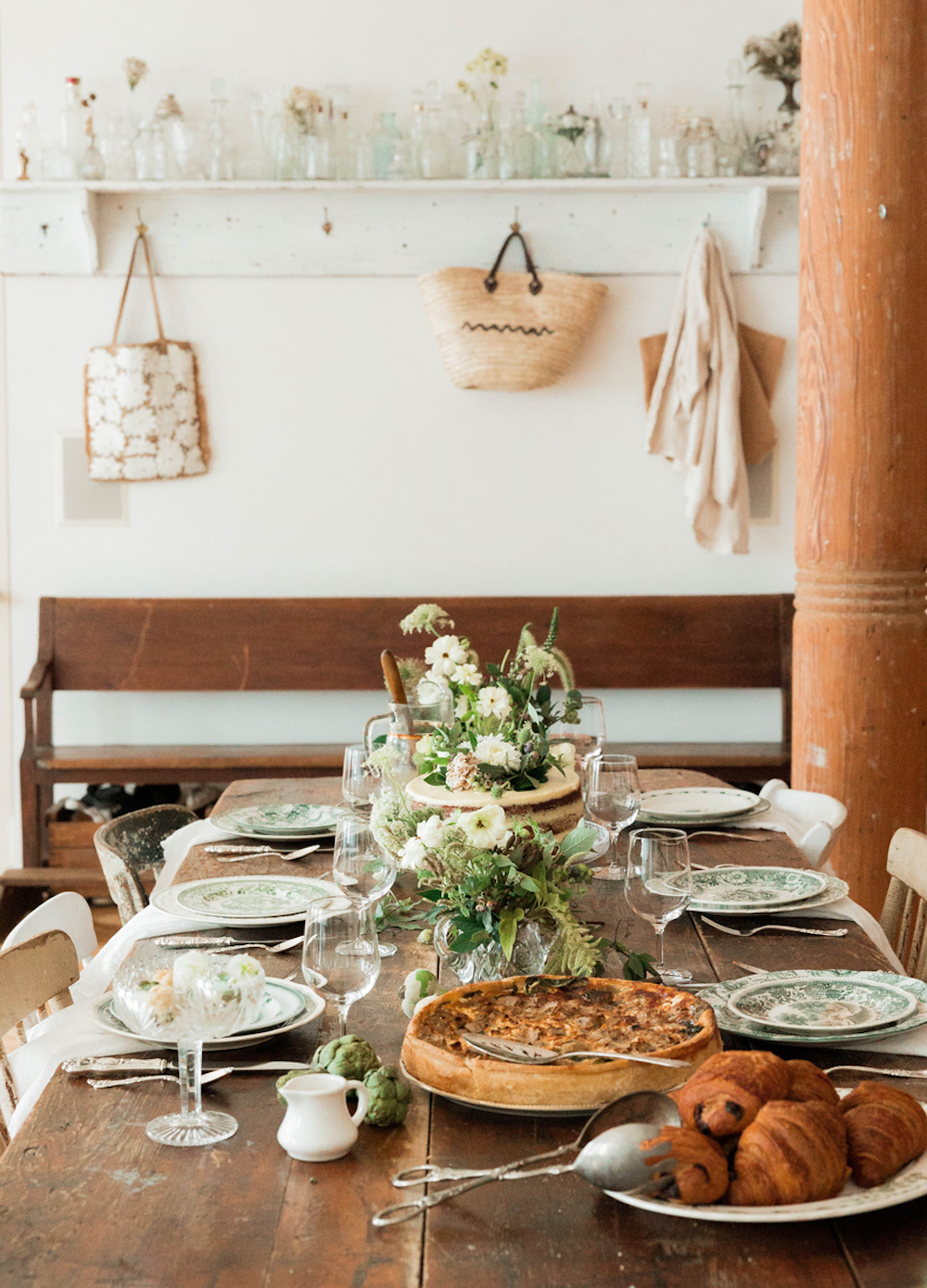 Tell us about your home. What's your favorite part of the space?
We are currently living in a beautiful artist's loft in Soho where we have ample space for entertaining. We were fortunate to find this spot during Covid, when it was a vacant commercial space in need of some love and TLC. After some light construction and putting up some walls for bedrooms to create a more comfortable environment for our two little boys (Yves, 3 and Rêve, 1), it became the perfect spot for our family and dog (Crumpet) to run around in, for out-of-town friends and family to come stay, and of course, the best place to entertain!
We love the open concept, and I couldn't imagine living in a space with walls ever again. We have had fun creating 'rooms' within the space creatively using furniture, all of which lends themselves to the ideal setup for entertaining. Upon arrival, you enter into a beautiful living room space, perfect for canapés and cocktails, followed by our dining room table, and then a fun lounge space complete with a vintage foosball table for after dinner playtime. Our industrial kitchen spans across the side wall of the home and we added in shelving and an island to make it more homey and a small dining nook for the kids as well. 
My favorite space in the home is our dining room complete with a beautiful china hutch to house some of my many entertaining pieces along with my vintage barnwood table—both of which were Facebook Marketplace finds. I also have a beautiful DIY light fixture above the table that was an old paper mache visual display from the Free People store around the corner they were getting rid of. I purchased some lighting hardware and paint and turned it into something really beautiful. It's one of my favorite details in our home. (And it cost me under $100.)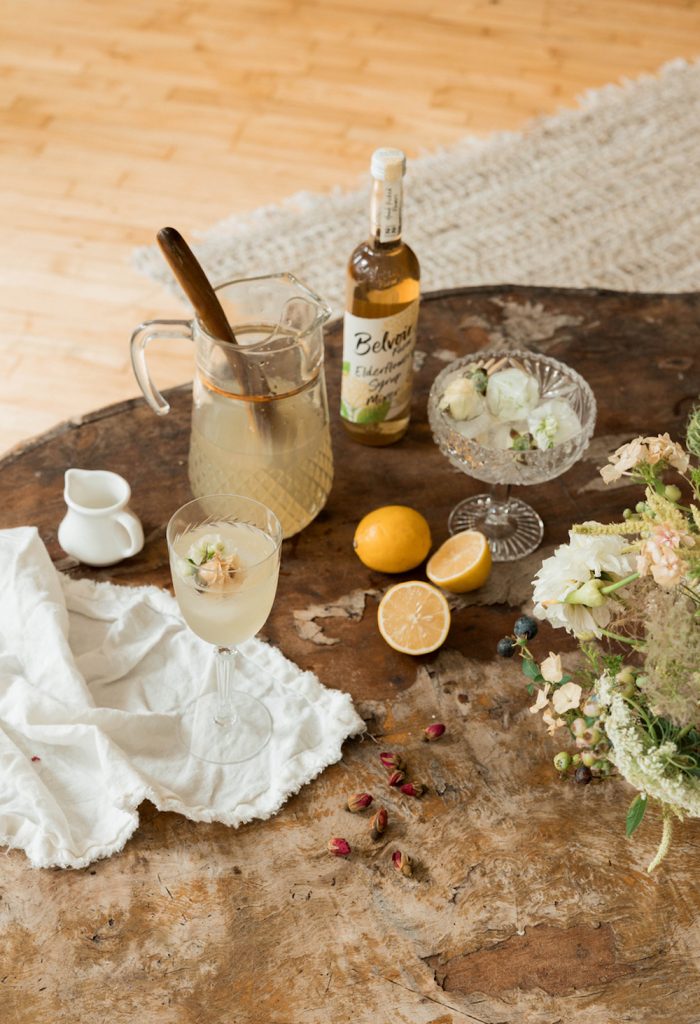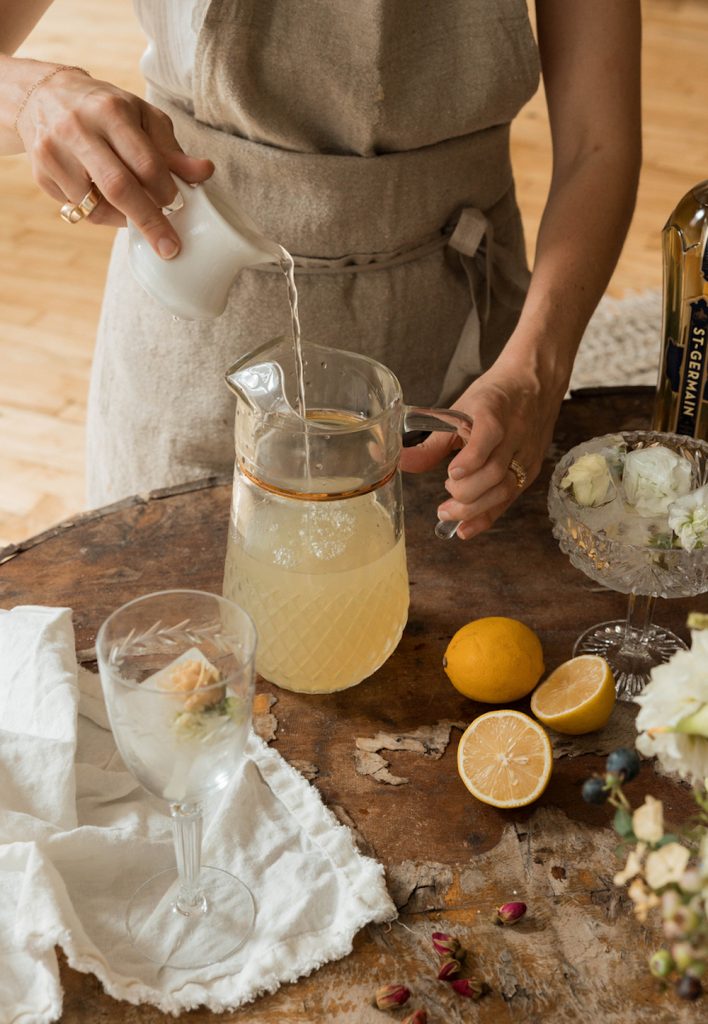 What does a great gathering look like for you?
The recipe is simple:  good food + good company + a beautiful setting.
Walk us through a typical day for you.
I am fortunate that no day is ever the same, so my routine is far from normal these days. But the one thing that I can (unfortunately) guarantee is my 5:30 a.m. wake up, thanks to my 1-year-old son Rêve. I created a little play nook in my bedroom so we can get a little extra time to relax, check emails, cruise Instagram and Pinterest before we start our day.
From there, it's typically looking after both kids, getting them prepped for the day and fed, followed by getting myself ready, if there is enough time. My work morning always starts with a coffee (large Americano with a splash of milk in a pretty cup of course) and will vary from store visits to emails or meetings in our office or sometimes working from home while juggling my two kids. There is never a dull moment and my day-to-day is far from routine.
During the evenings, I try to end my day as early as I can to ensure I am able to get home and spend quality time with my boys and husband (who is also my business partner, so much of our quality time spent together is also throughout the day). We always cook together as a family and will only order out or go out about once a month.
My son loves cooking and baking and has his own cooking channel on Instagram within our Maman account called 'Yves Saint Croissant', where he cooks through our cookbook. So, he has had a lot of practice and has better kitchen skills than many friends I know! Not only is this fun for him, but it entices him to eat better and be more adventurous when I get him involved in the preparation. Most nights I give him tasks that are age-appropriate like plucking the cilantro leaves, washing the vegetables etc. (Though, to be honest, some nights I give him an iPad and make the quickest thing I can find!)
Following dinner, we wrap up our day with bath time, story time, and bed time, which some days goes smoothly and others take hours! When lucky, my favorite pleasure is getting into bed early once they are asleep, enjoying a glass of red wine, and browsing Pinterest for fun ideas and inspiration or online shopping, of course!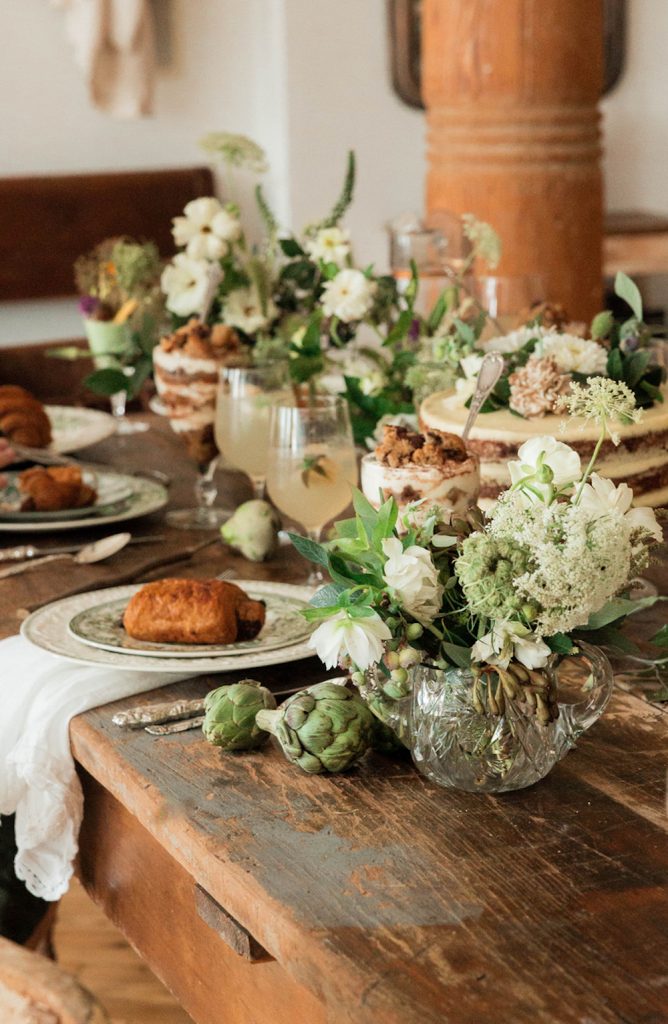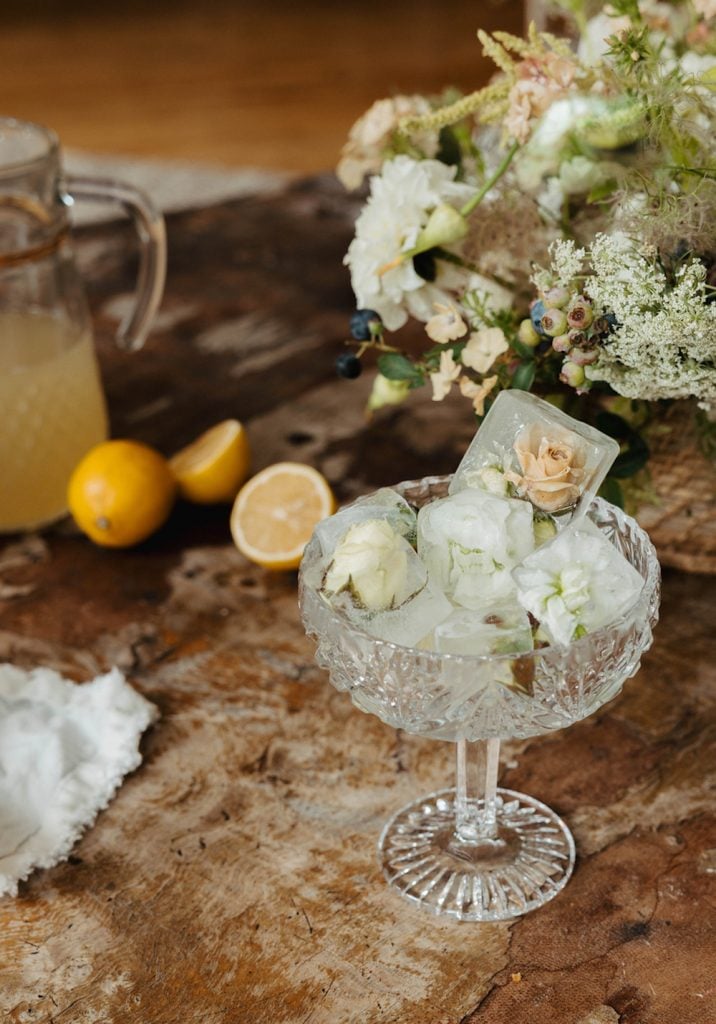 What are products you love for the table?
When it comes to the table, I love to keep my settings full of personality and creativity. Like the food, nothing is too contrived or uptight. I love pulling pieces from all over my home to work within my tablescape's color palette or theme and then add elements inspired by the season. Gorgeous food is a must-have, but when combined with beautiful florals and acquired eclectic treasures, it adds a new dimension of interest and can make any table Pinterest-worthy.
Vintage Dishware
We don't all have a 12-piece setting of perfectly-matched porcelain. The secret to making your table and dinnerware not look like it was pulled together from a garage sale (even if it was!) is to find a unified theme. 
When it comes to plates, stick with a uniform color/pattern. My favorite collection at home is mismatched green-and-white florals (a nice change from my blue and white world at Maman). I'm always looking for sage green and florals. From there, it will all fall into place for a beautiful table. If you are looking to start a vintage collection of your own, start with salad plates. Using your daily white table settings with a fun mix-and-match salad plate on top is a great way to add some visual interest. My go-to, secret place for table settings (where we also buy much of our beautiful settings at Maman) is Replacements. You can search by any theme and price point and have fun curating a collection of your own!   
With regard to glassware and silverware I use the same rules. My common theme with glassware is approximate size and etched florals, and I will pick up individual pieces that catch the eye.
These tips keep will keep your setting fun, playful, and not too contrived. And most importantly, if you are a vintage lover like myself, it always gives me reasons to shop and buy more things!
Olive Oil
Great finishings for food is always something I have on my table and will invest in. From salts to olive oils, these small pantry essentials can help enhance any dish. My current favorite is the Heritage Extra Virgin Olive Oil from Flamingo Estate. The peppery bright taste gives you a nice kick in the throat and it's versatile enough to use in cooking and as a finishing oil as well. Not to mention the beautiful bottle that blends in with any place setting.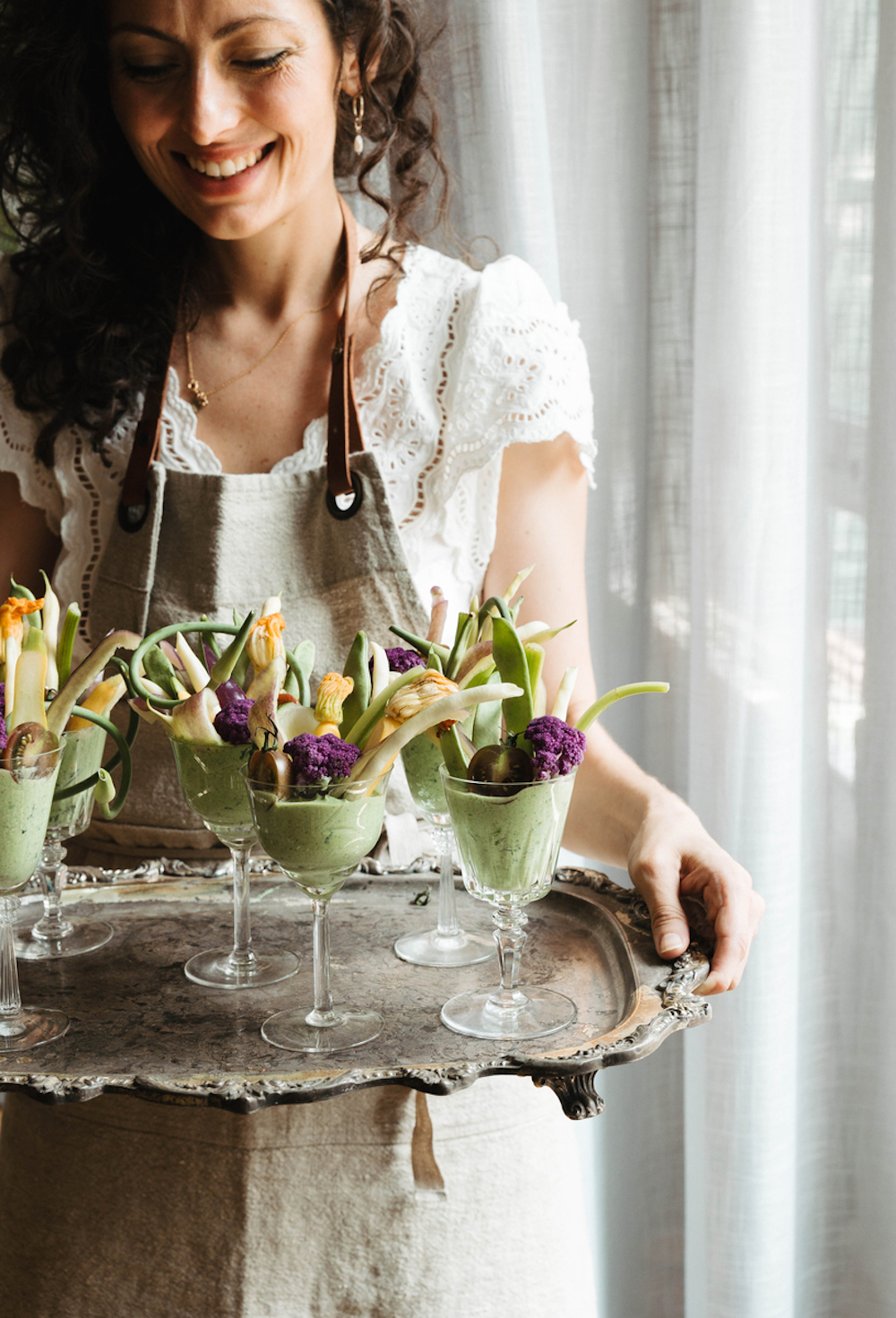 What's your must-have cooking tool? 
I am currently loving my Our Place pots and pans. They are the most versatile piece in my kitchen and perfect for boiling, sautéing, frying, steaming, and so much more. They're also really beautiful on the countertop or served directly on the table.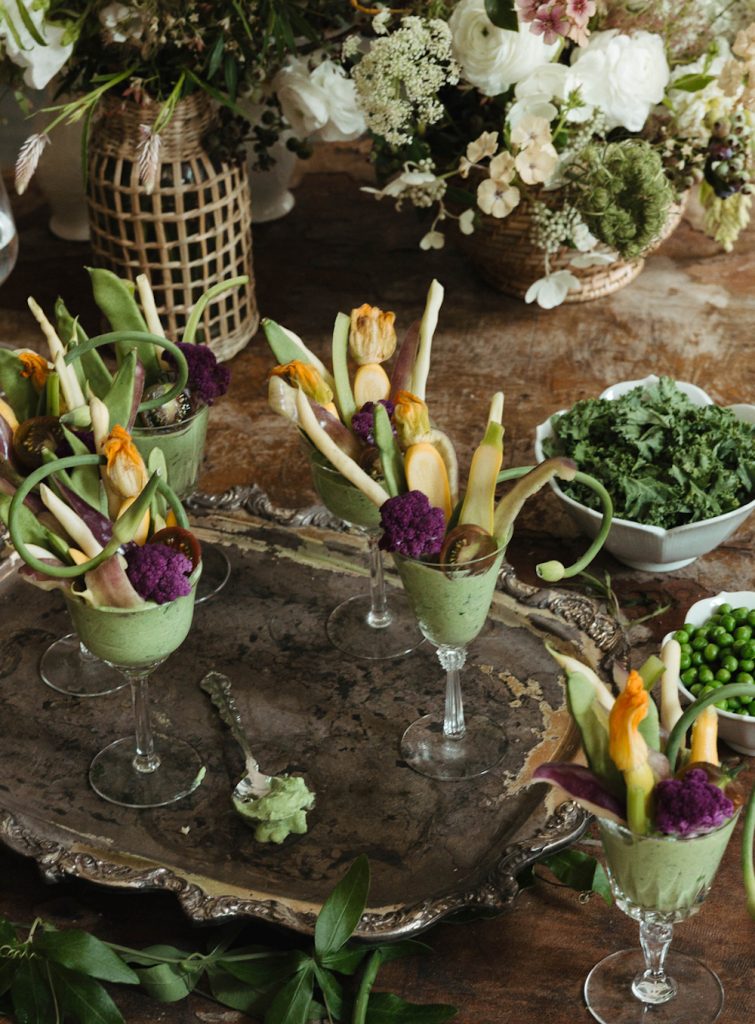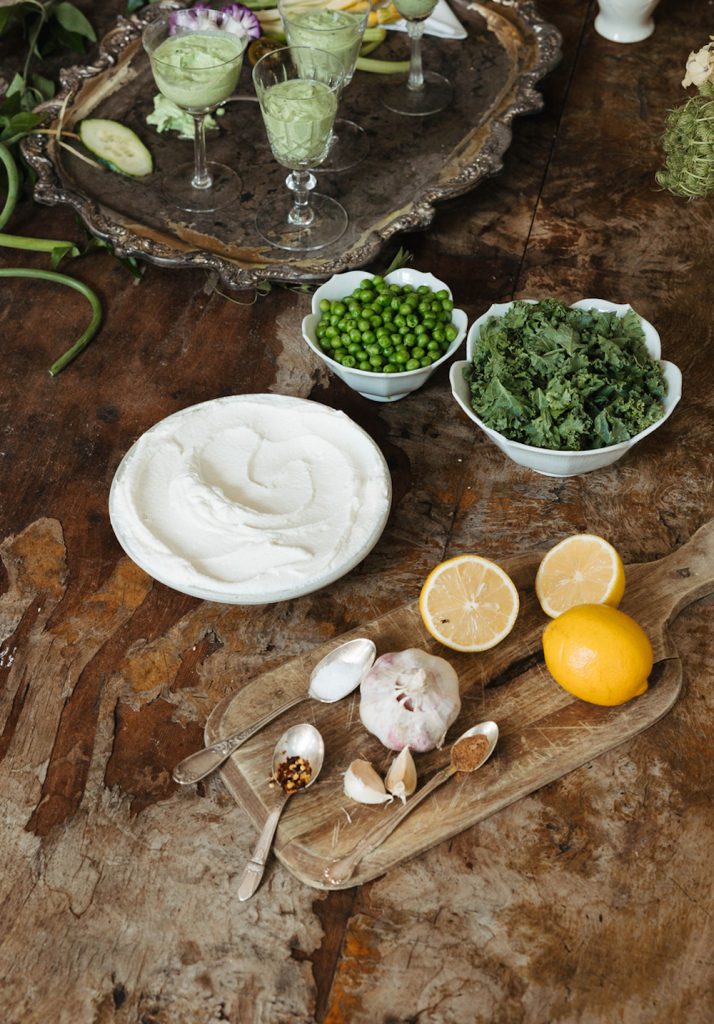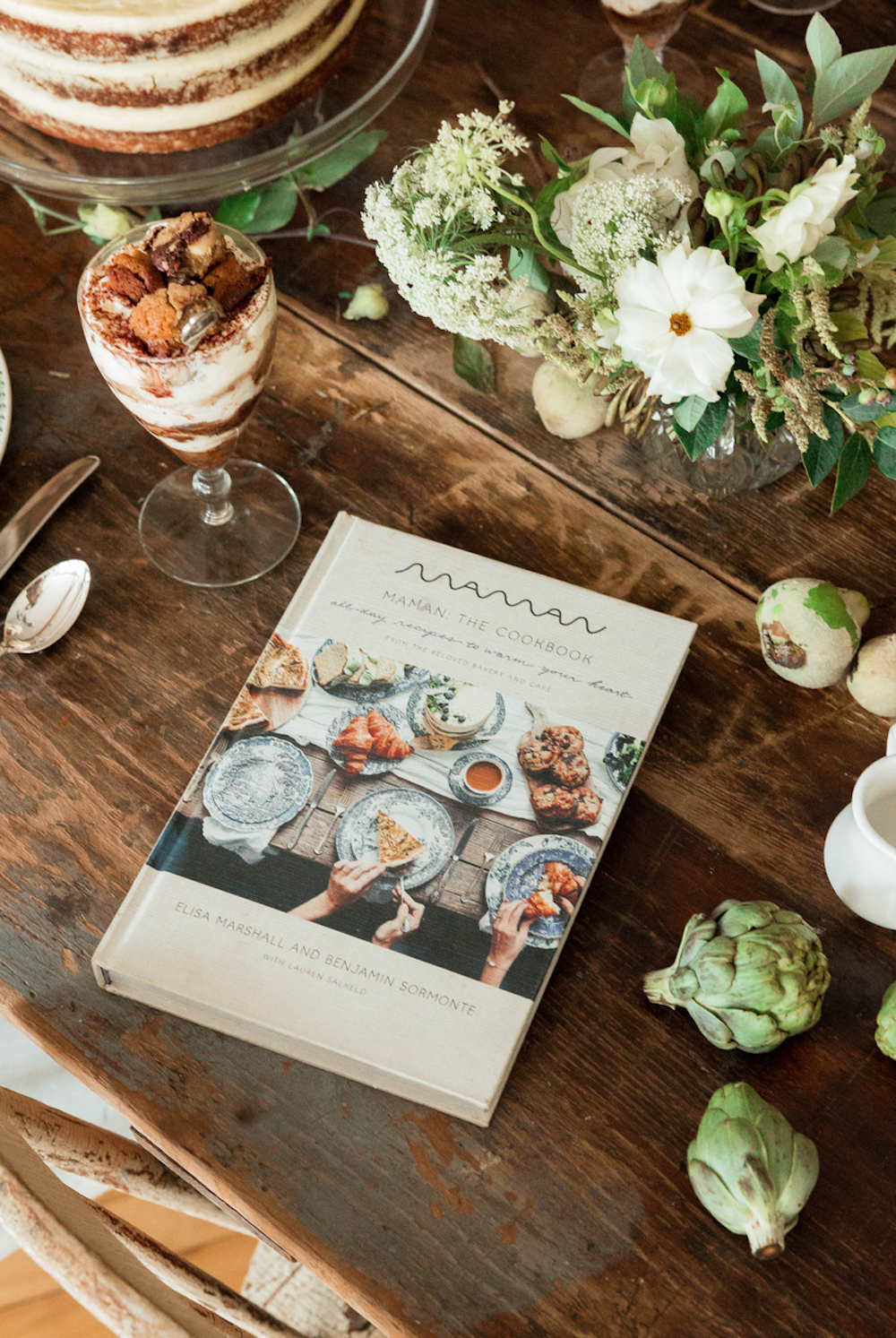 What are your favorite cookbooks?
(Selfishly) I love Maman: The Cookbook as it's a compilation of all my favorite recipes including some of my passed-on family recipes that I have been keeping for generations. It is approachable for beginners along with some more complex recipes for the kitchen savvy, and it offers over 100 recipes of delicious treats both savory and sweet to take you from breakfast to dessert.
My other favorite cookbook is The Yellow Table by my dear friend Anna Watson Carl. Everything in this book is so easy and approachable and includes some of my most delicious recipes and go-to weekday meals. (A must-try: salted butter pecan shortbreads.) She was a big inspiration when I started writing my book and mentored me through the process.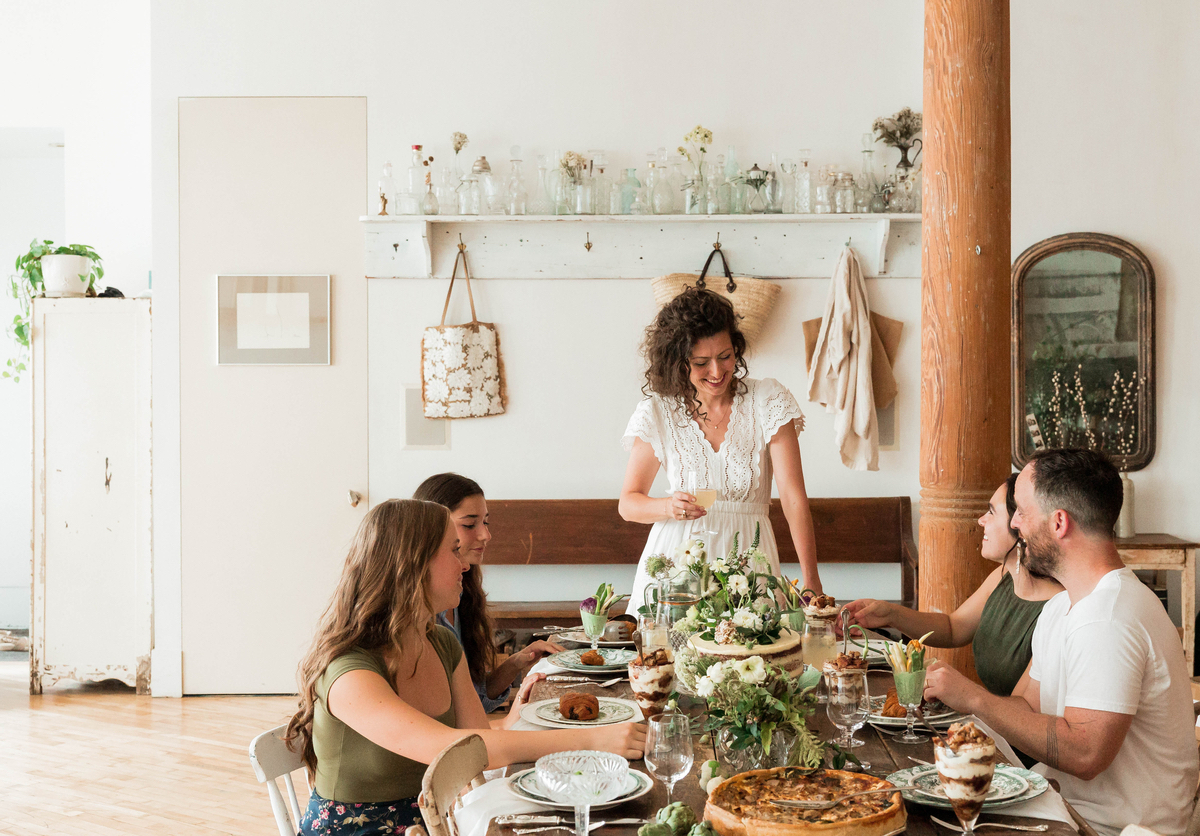 Tell us a few things we'll always find in your refrigerator.
Milk. My two baby boys are obsessed with it and are constantly going through jugs daily so you can always find that in our fridge. 
Fresh herbs. Always a staple in our home. Ideally potted, but otherwise you can find them in the fridge drawer. They are the easiest flavor enhancer to any dish.
Cheese. Having a French husband, our fridge is always filled with an assortment of cheeses. My children are also obsessed and it is the only foolproof food for my 1-year-old. Pasta and pizza are also weekday staples in our home, so it never goes to waste. I always love having extra on hand for unexpected guests to pull together a quick cheeseboard if needed.  
Berries. With a toddler and a baby, fresh berries are a staple in our home. I always try to pre-wash them and store in food storage containers in the fridge for quick access. 
Pickles. I am a huge fan of pickled anything and definitely have more of a salty/sour palate as opposed to sweet. These are my favorite cheats to enhance any dish. I love also using remaining dill pickle juice as opposed to vinegar to make my dressings and add picked onions to everything from eggs to avocado toast.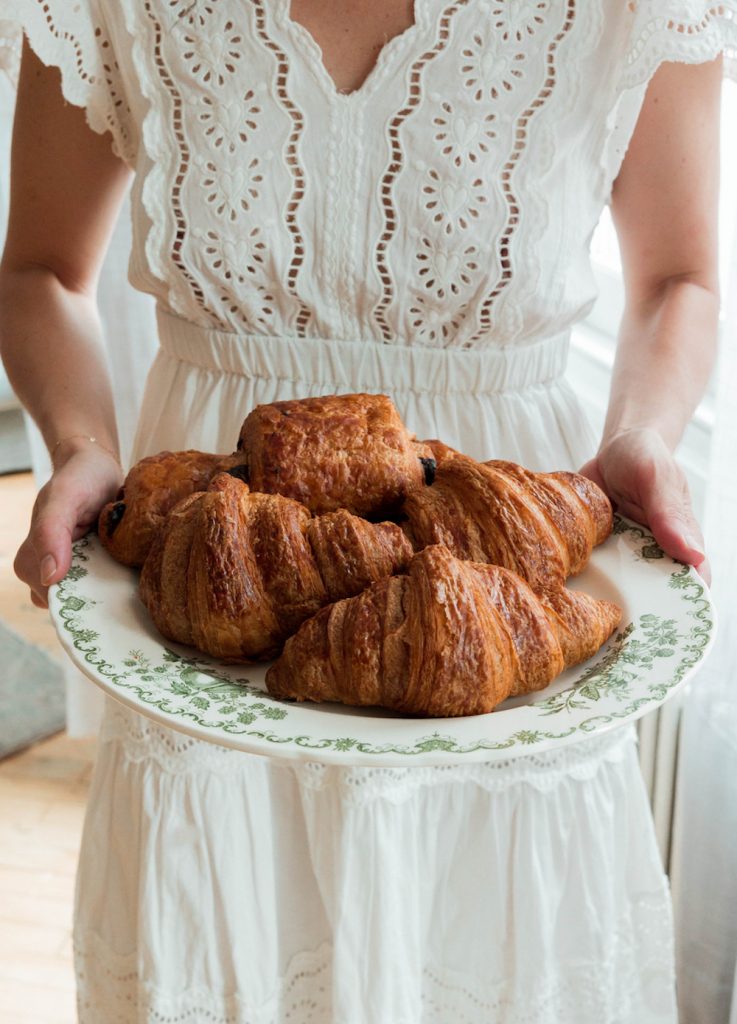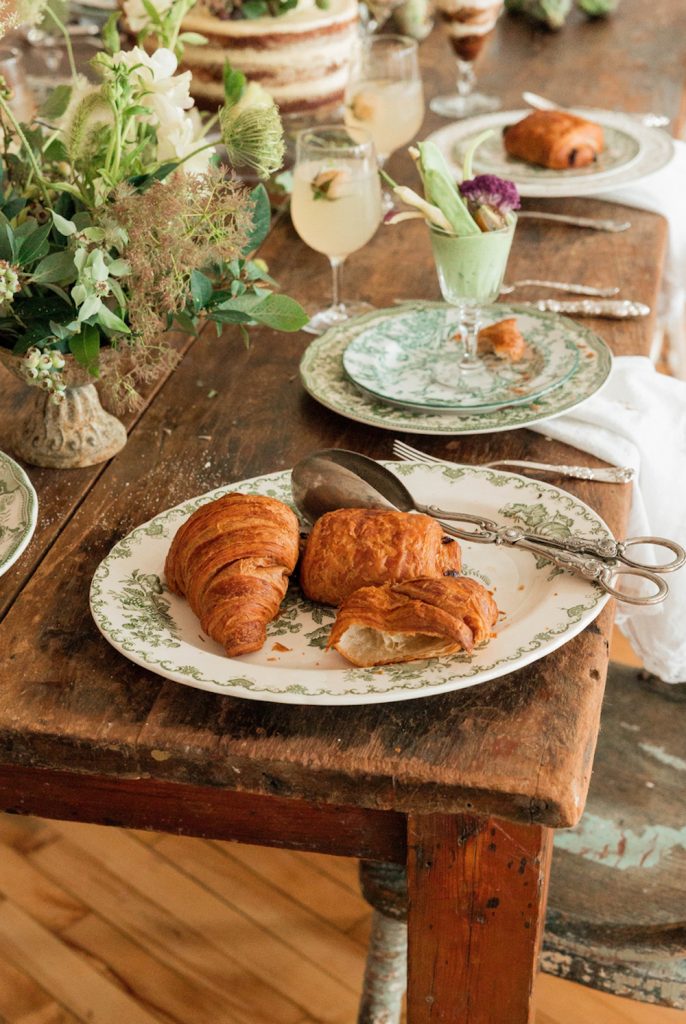 What scares you about entertaining?
Not being ready in time! I always spend far too much time setting the table, cooking, styling, and preparing the house—more often than not, looking like a hot mess when guests arrive! My new entertaining rule I'm trying to implement is to do as much as I can the day and night prior and making sure that I give myself ample time to get myself ready first. Your guests are much more understanding and willing to come in and assist you with putting the dressing on the salad and kitchen tasks in preparation for dinner as opposed to helping you get dressed and putting on your mascara!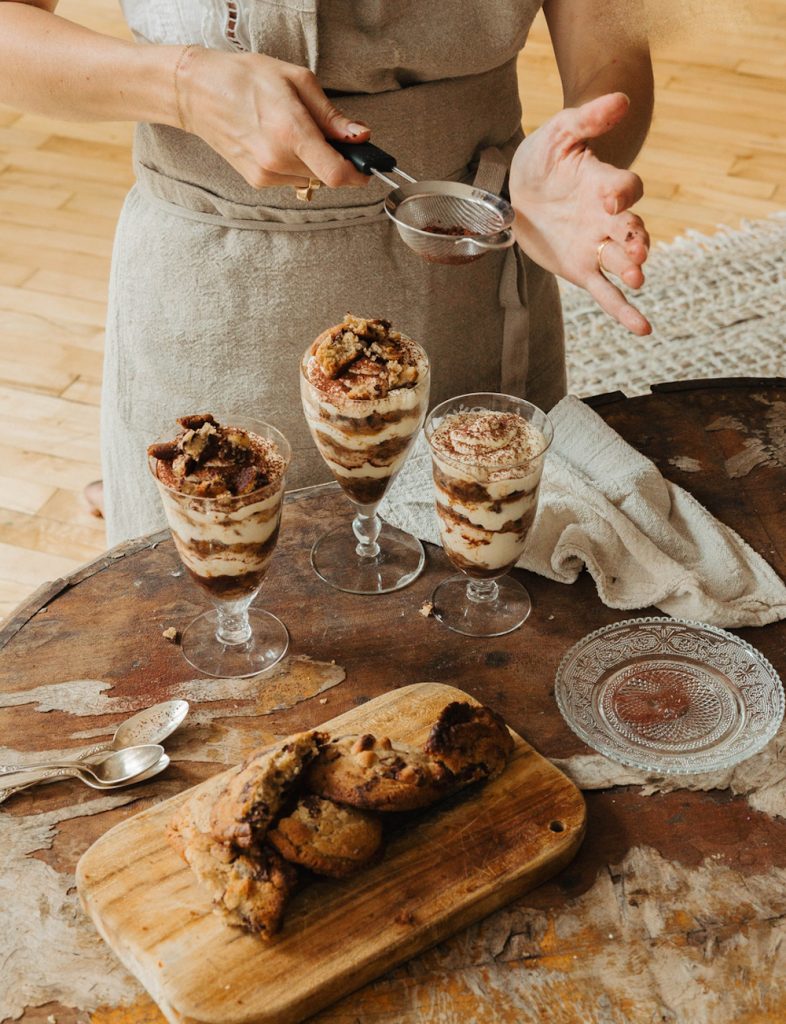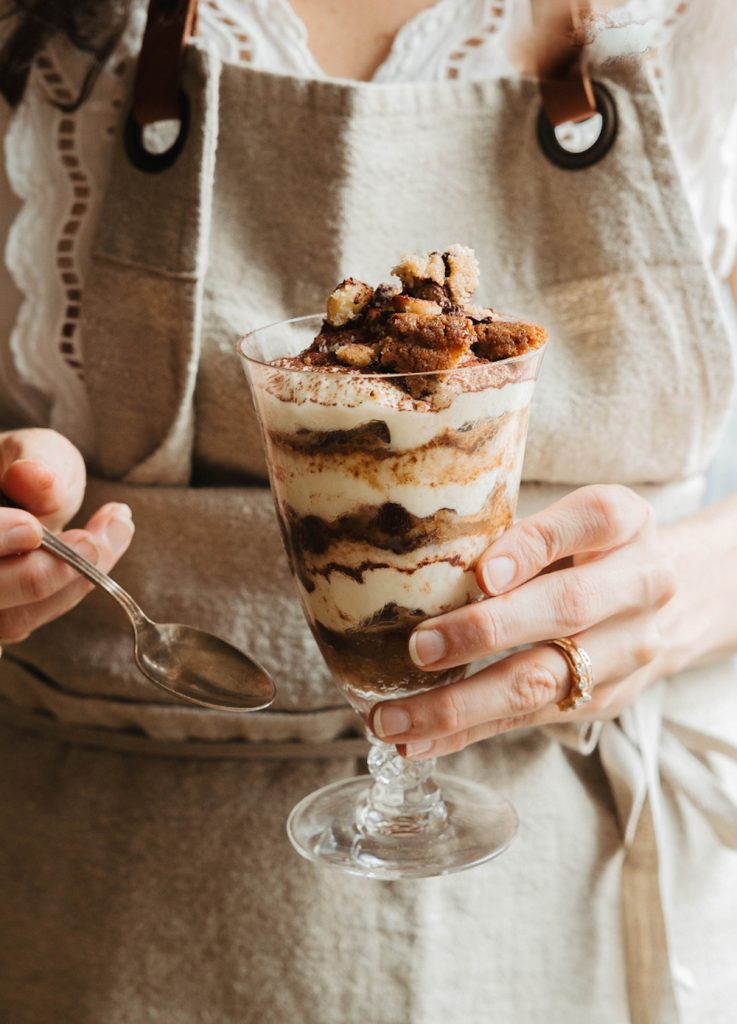 What are your signature dishes for gatherings?
As mentioned above, I always opt for dishes that I can prepare in advance or require little prep the day of to leave more time for the fun things like styling and setting. One of my favorites is our tiramisù, from Maman: The Cookbook.
This tiramisù is ideal for entertaining because it's super simple to prepare and is best made in advance—it actually tastes even better the next day. (If you have the willpower!) It's a fun twist on the classic recipe, where we swap the traditional ladyfingers for chunks of our signature nutty chocolate chip cookies. However, you can also use any homemade or store-bought chocolate chip cookies. (If they are particularly sweet, you may need to pull back on the sugar.) 
I love preparing these in beautiful stemware for that extra wow factor on the table and using clear glass as you can also see the layers!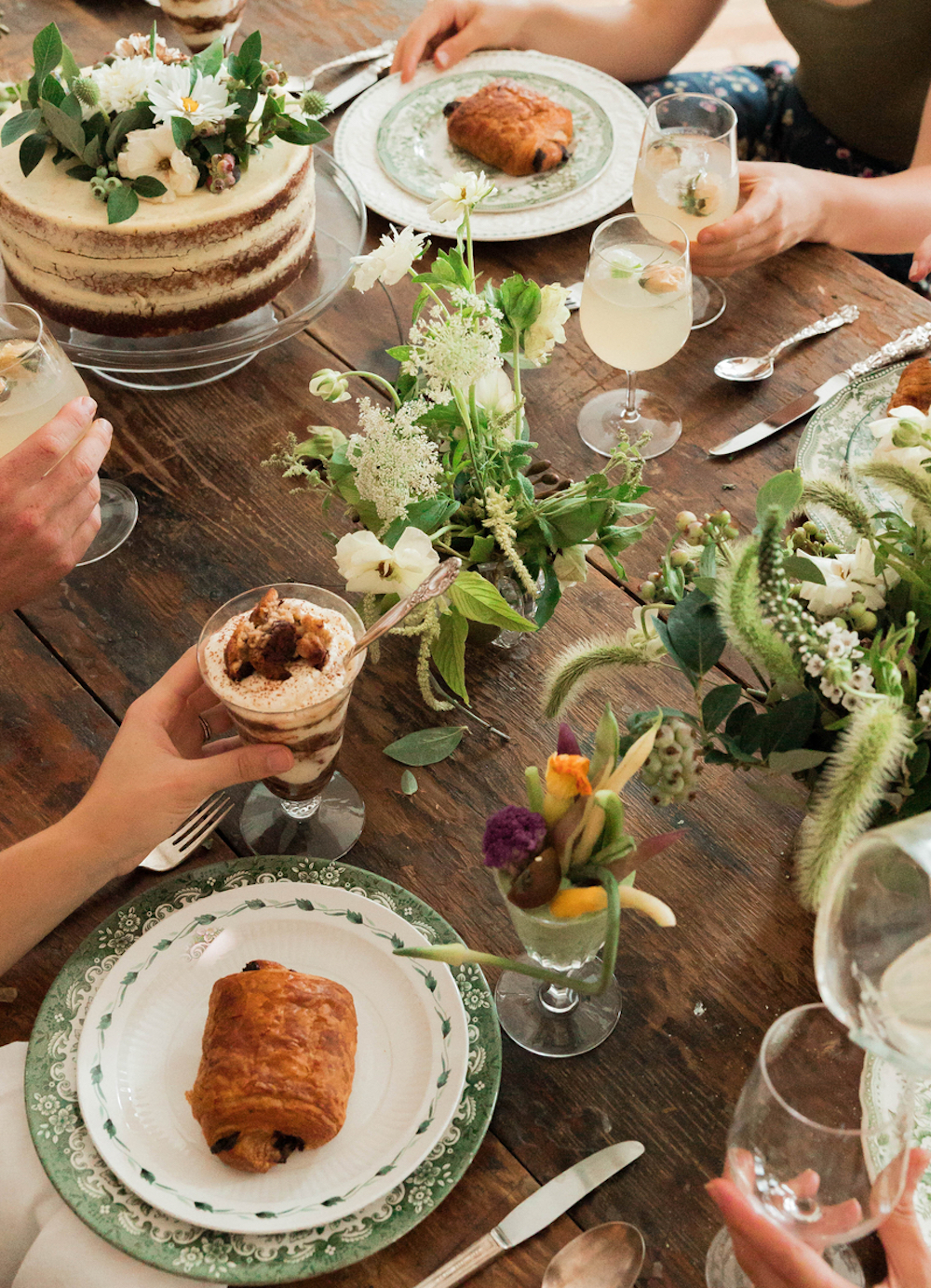 What advice would share with someone who wants to host a gathering on a budget?
Shop your home first. Who says teacups are just for tea? Cups and saucers can double as dessert or fruit bowls, while vintage glassware and teapots offer unexpected ways to serve hot soup. Many items you own likely have multiple uses, plus you get to bring life back to those rarely used, sometimes sentimental pieces. 
Florals can also become very costly. Instead of a classic bouquet or contrived centerpiece, a fun, impactful arrangement can start with things you have around your home. Maybe grandma's old teapot that has a broken lid, or those cute glass yogurt containers that are too painful to toss will be the perfect vessels for your flowers.
My favorite vases are my collection of assorted old glass bottles. I use them for simple seasonal stems. This creates height, dimension, and personality—and is much more cost-effective than buying bouquets. Oftentimes, plants and herbs can also make for great tabletop decor. They can be more cost-effective and can last much longer than fresh cuts. Having slim vases along the length of the table rather than a couple of large arrangements is also more practical if food is served family-style on the table.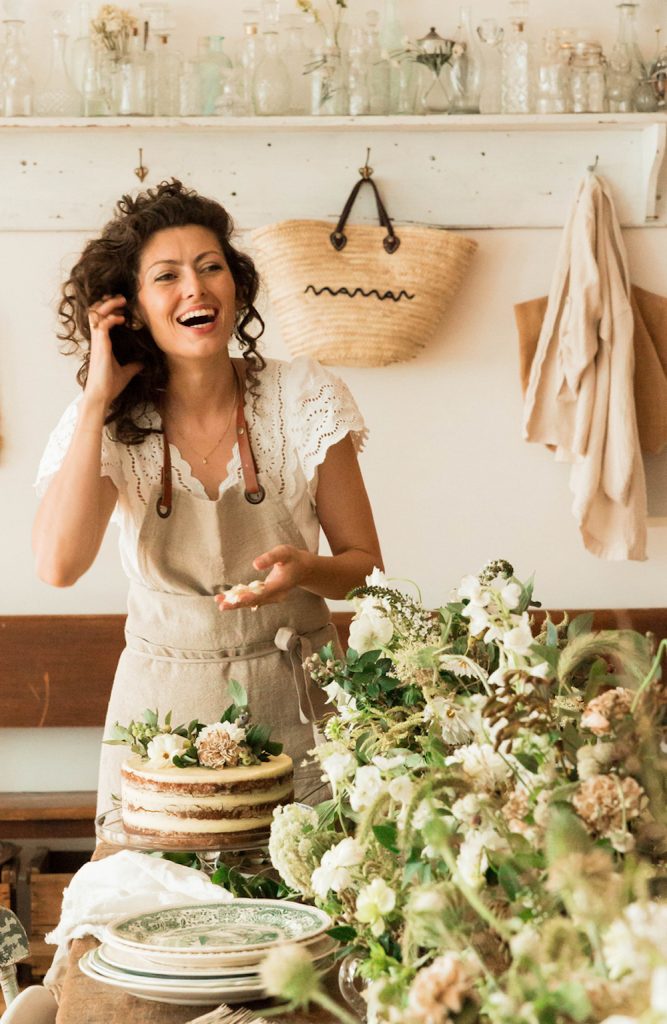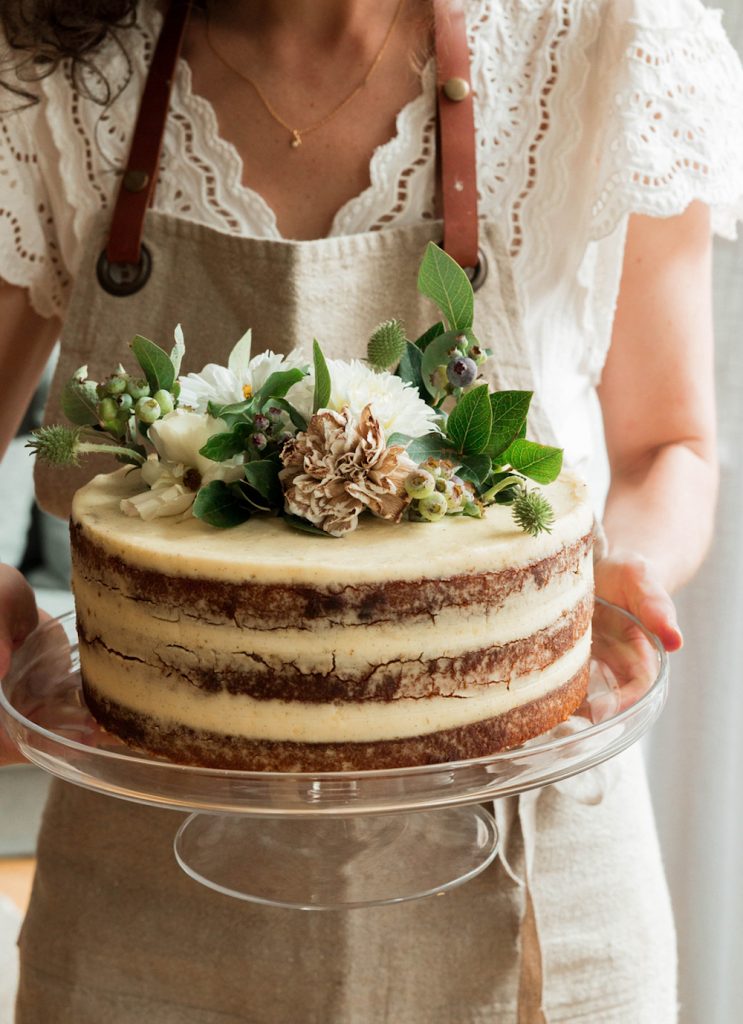 Favorite question to get to know someone?
"Tell me about your perfect day." In getting to know someone, I think knowing what they are passionate about can say a lot about them and it's a great way to kick off broader conversations. 
The perfect dinner party playlist includes:
Ray LaMontagne, Otis Redding, Michael Bublé, and Taylor Swift.
Go-to centerpiece solution:
While flowers and foliage are beautiful to look at, and I always ensure they are a focal point of my table, edible centerpieces can be are as much about making an impression as creating an interactive experience for your guests. Crudités, charcuterie, and cheese platters are staples of the French table and if you add mini tartines, sandwiches, or quiches, you can create fuller, more eye-catching spreads that are perfect for grazing.
For those with a sweet tooth, turn your desserts into a centerpiece. After hours spent in the kitchen, you should relish the beauty of the food you have prepared by setting it on the table to be admired. A beautiful cake adorned with some fresh florals can not only save on centerpiece costs, but can make a beautiful focal point. Some simple florals or berries arranged on or around any sweet treats will enhance them, quickly making them centerpiece-worthy.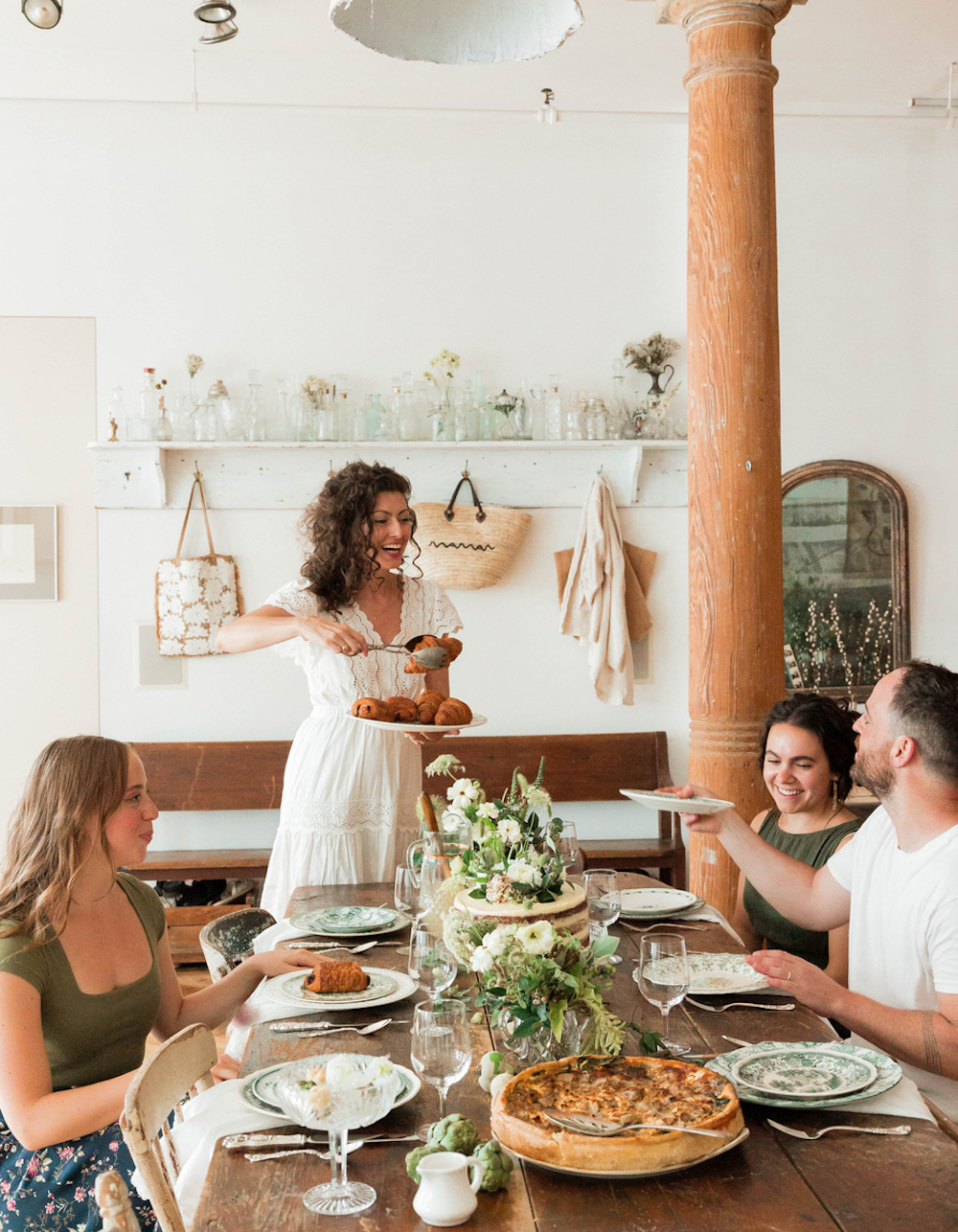 What is your no-stress party rule to live by? 
Throw out any rules you may have heard about table decor and place settings—unless you are hosting the royal family or your uptight grandmother, of course. Instead, have fun and use your imagination and get creative. Repurpose an old basket with a drinking glass to make a vase, mix and match your cutlery, and don't be afraid to think outside of the box when it comes to entertaining. Your friends are more likely to appreciate your home-cooked food and creative details rather than whether or not the water glasses are three inches above the knives and you have a perfectly-matched 8-piece dinner set.
Dream dinner guests?
Martha Stewart, Blake Lively, Taylor Swift, Paul Rudd, and Michael Bublé.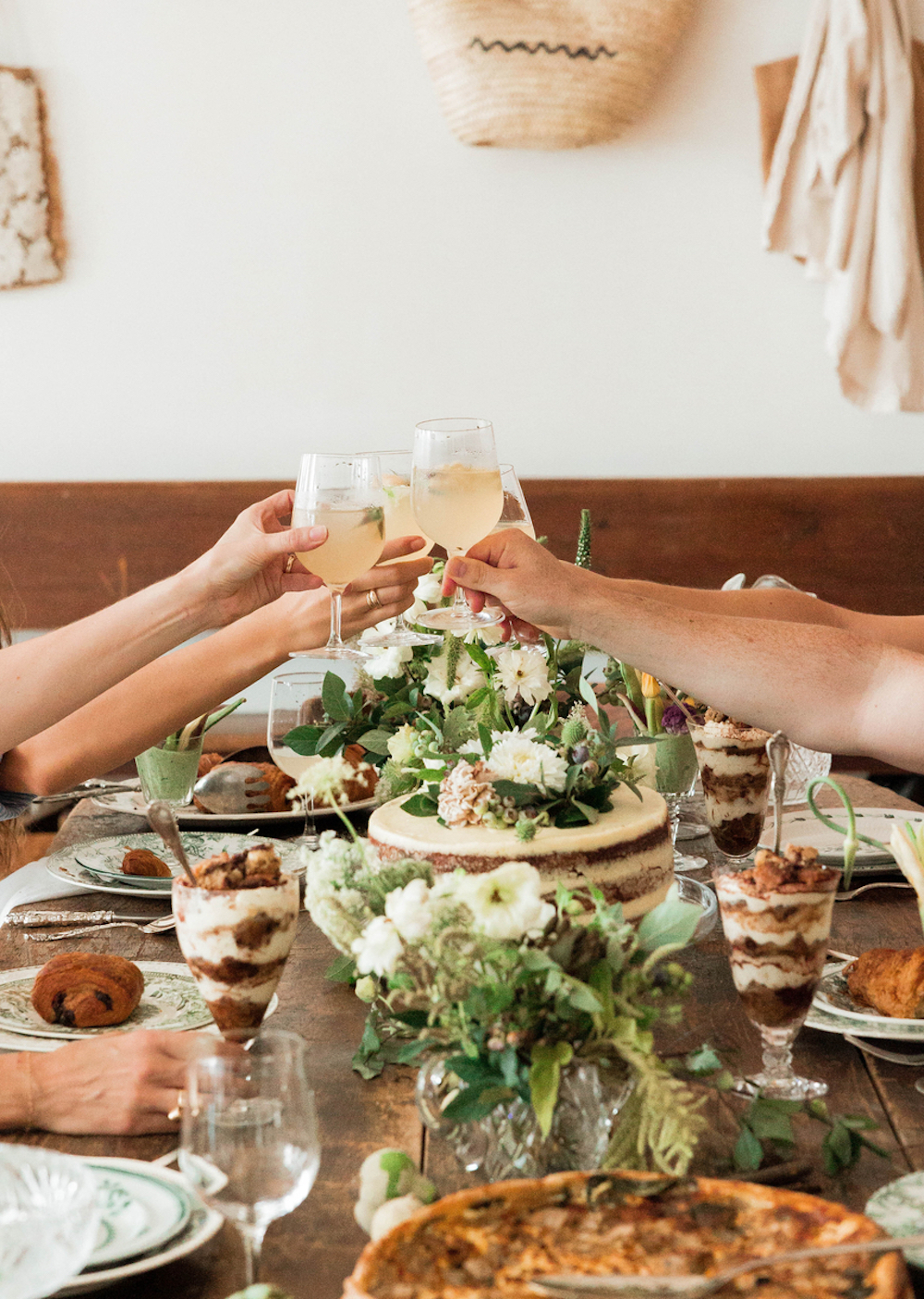 Fill in the blank:
A perfect meal should: be enjoyed in good company.  
It's not a dinner party without: wine!
Every cook should know how to: not take themselves too seriously.
Words I live by: "I am going to make everything around me beautiful, and that will be my life." — Elsie De Wolf