The day before the backyard lunch that we were set to photograph at Camilla Marcus' house in LA, the chef and founder still hadn't decided what to make. "I'll let you know after I go to the market," read her text, and though this type of down-to-the-minute planning might have made me slightly nervous with any other interview subject, I knew: Camilla had it covered.
This easygoing, highly-intuitive approach to cooking is what defines Camilla's food, along with her deep appreciation for seasonality and local farmers. And it forms the bedrock of west~bourne, the direct-to-consumer food brand she founded last year which makes "feel good provisions" inspired by California's bounty. Though I've known Camilla for a few years, this shoot would be my first chance to see and taste her cooking up close, and I couldn't wait to spend the afternoon in her sunshine-filled Los Angeles home surrounded by the spoils of her market run. And I was dying to find out where she'd landed on the menu.
Watch the video from our garden-to-table lunch with Camilla:
But first, a few things you should know. During the pandemic, Camilla and her family moved from New York City, where she owned a restaurant (also called West-bourne), to sunny Los Angeles where they bought and renovated a home, launched west~bourne as her sustainable food brand, and gave birth to their third child. It's been a busy couple years, but Camilla's passion for her newest labor of love is evident, and her dedication to making an impact is real. About the company, she said:
west~bourne is on a mission to empower us all to cure the climate crisis through food. We know what works—regenerative farming can have one of the largest impacts on climate change, and the land revolution in our country is already under way with 500 million acres moving towards regenerative practices.
It's a passion that Camilla brings to everything she does, and I'm continually inspired by the way she lives boldly and authentically. Scroll on for my interview with Camilla, scenes from our lunch in the garden, and all the recipes for the delicious spring menu she prepared for us.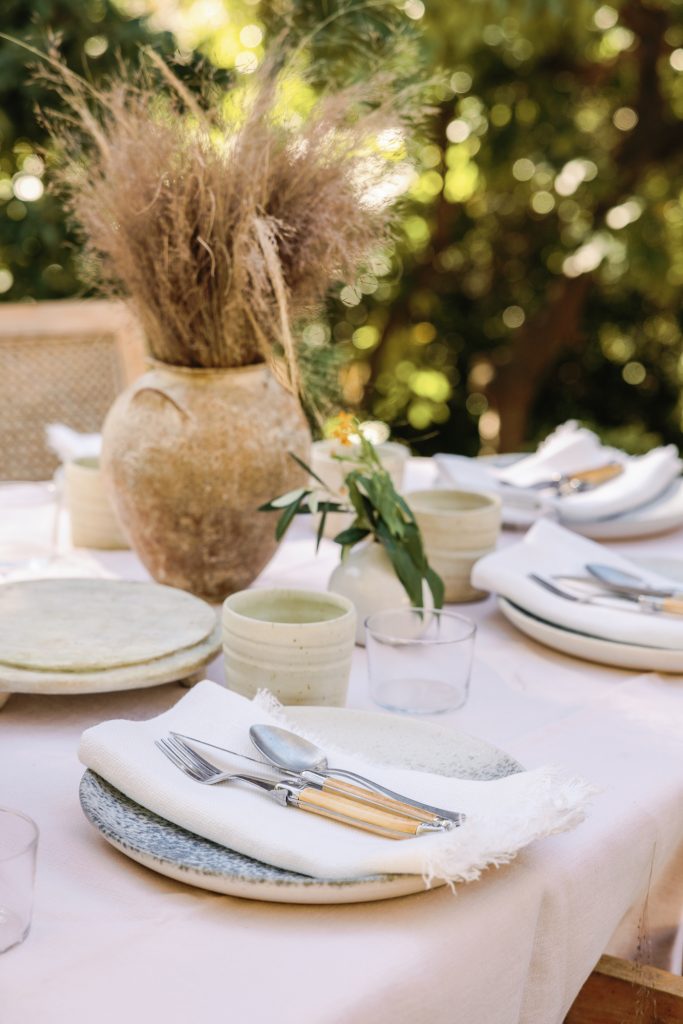 About her west coast life and home
How did you find your home? Did you renovate?
Our home is so special to us—the first we've ever really had.  Until this point, we've rented and moved just about every two years since being together over the last two decades.  We had a friend who lived on the block that mentioned he heard his neighbors might be moving out of their old ranch style on a large lot. We went immediately to visit, and it turned out that the owner was a friend of dear friends of ours from New York. 
I was nine months pregnant and on the brink of having my daughter, and though it felt like an overwhelming process to buy our first house and prepare to renovate it, everything fell into place so naturally. I believe in signs and that the universe activates when we are ready.  So, it was kismet from the start. 
We did quite a lot to the house.  It had beautiful bones, and we wanted to bring it back to honor its 1951 mid century modern roots. The house wraps around nature, so it's all about bringing the outdoors in and having a very meditative vibe throughout.  My favorite part is our garden and chicken coop.  We spend a tremendous amount of time as a family out there, talking to our ladies, teaching our kids about growing our own food, and harvesting our amazing bounty for our meals.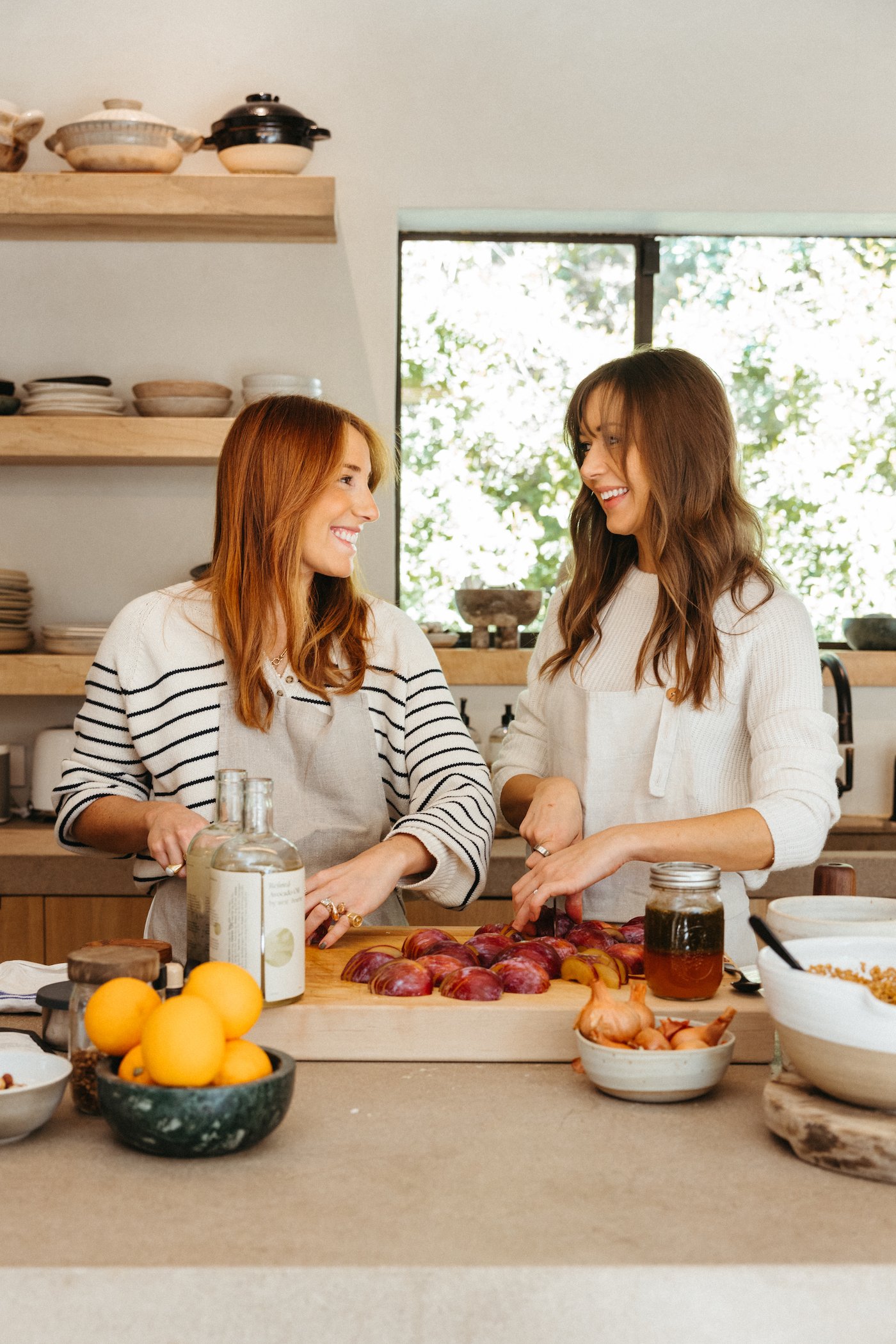 What does a typical day look like at home?
Every day is a new one—there's definitely no 'typical' in my life.  I live blended not balanced. 
I wake up around 7:30am and have some cuddles with our dog first.  Then I brush my teeth, and we go to wake up our kids.  The mornings are sacred time for us as a family.  We have a milk and cuddle party, and they all help each other get changed and ready to make breakfast together.  My son especially loves to cook, so usually my two older kids will help me with breakfast while my husband makes coffee for us.  
I only drink one cup a day, so it's a core ritual to make coffee on our beloved La Marzocco machine, usually with a splash of Rainbo 11:11 extract for an extra brain boost.
We sit down together to talk about the day, set some intentions, and to make sure everyone knows where we all will be.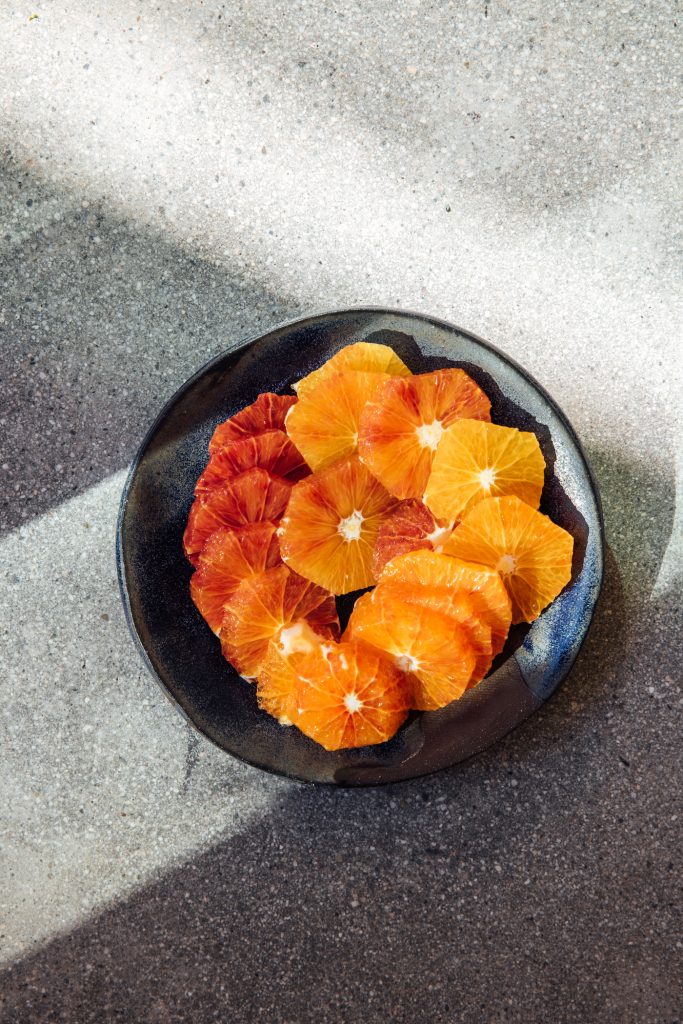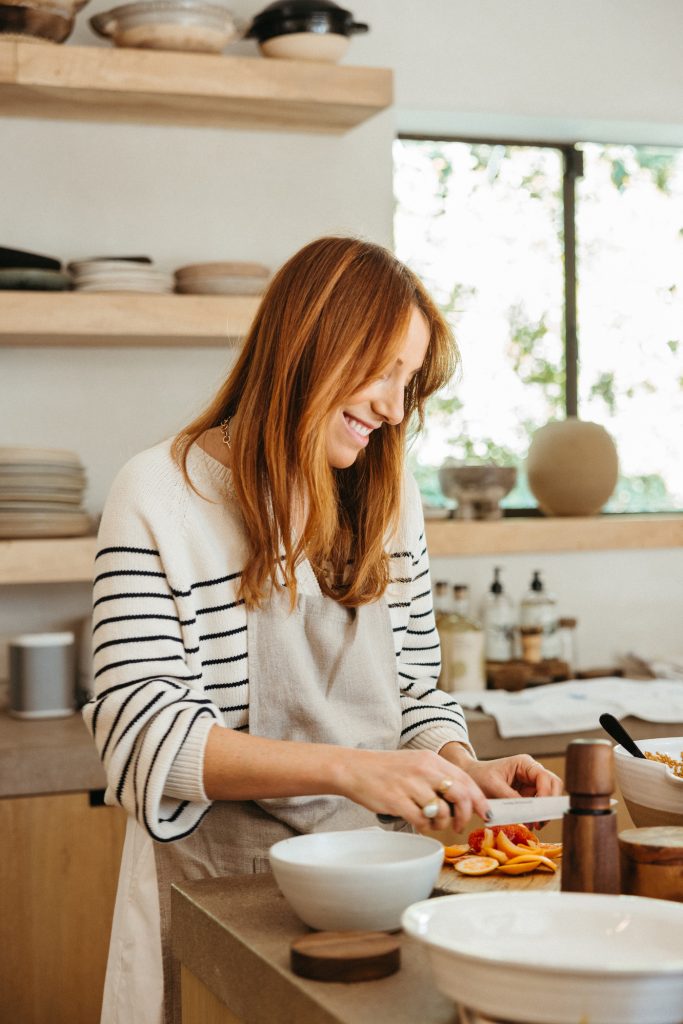 Camilla's approach to hosting and gatherings
What does a great gathering look like to you?
Quality time is my love language, so it's sacred to me to find ways to forge connection and community.  I love to bring guests into the gathering, whether that's bringing a dish, helping with a playlist, or sharing their favorite local produce with someone else. I also always strive for an element of surprise, bringing together people who don't know one another, providing space to feature someone's talents, doing a shared activity to learn a new skill, or even introducing a new product or food. 
Curiosity can open our minds and lead to a more meaningful exchange of ideas and intentions. 
Pink Radicchio Salad with Blood Oranges and Hazelnuts
Einkorn Salad with Charred Squash
Pluot Galette with Creme Fraiche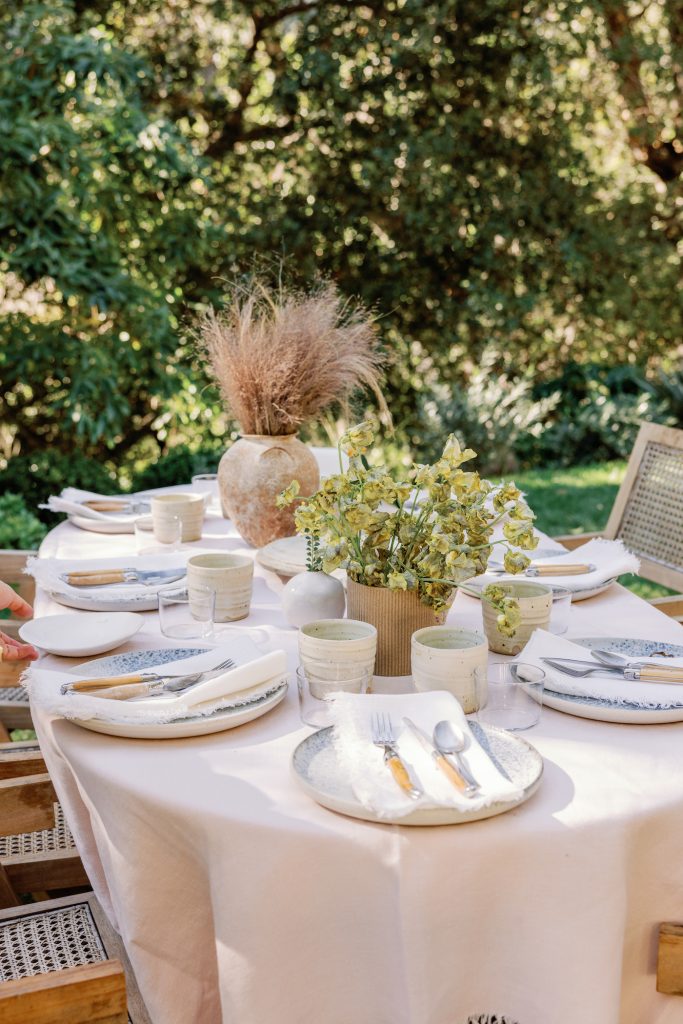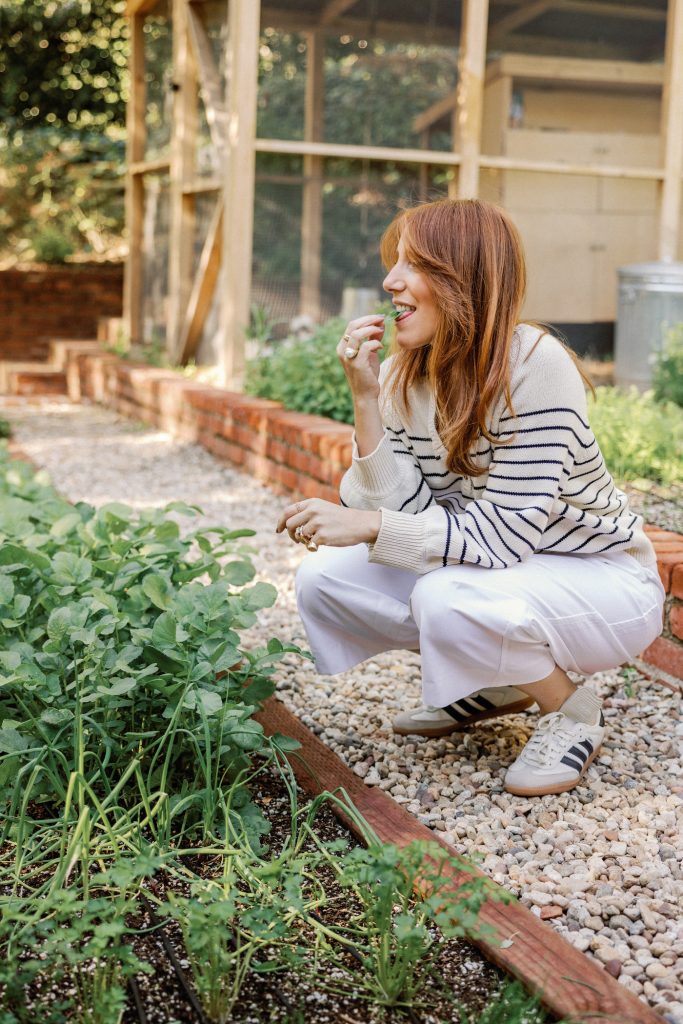 What scares you about entertaining?
Nothing. Truly, it's in my soul to bring people together and craft unique experiences. I love every aspect of it, and even welcome the unpredictability and logistics that go along with it.
What are your signature dishes for gatherings?
I actually love to cook something new every time if I can, and I often have never made exactly what I serve before.  I think I love the thrill of a challenge and discovery that makes the experience of cooking for me come alive and where I learn the most.  It adds more pressure to execution, but playing jazz in the kitchen if you will for me infuses vibrancy and surprise that just can't be scripted and a soul that I think you can taste even if you can't put your finger quite on it.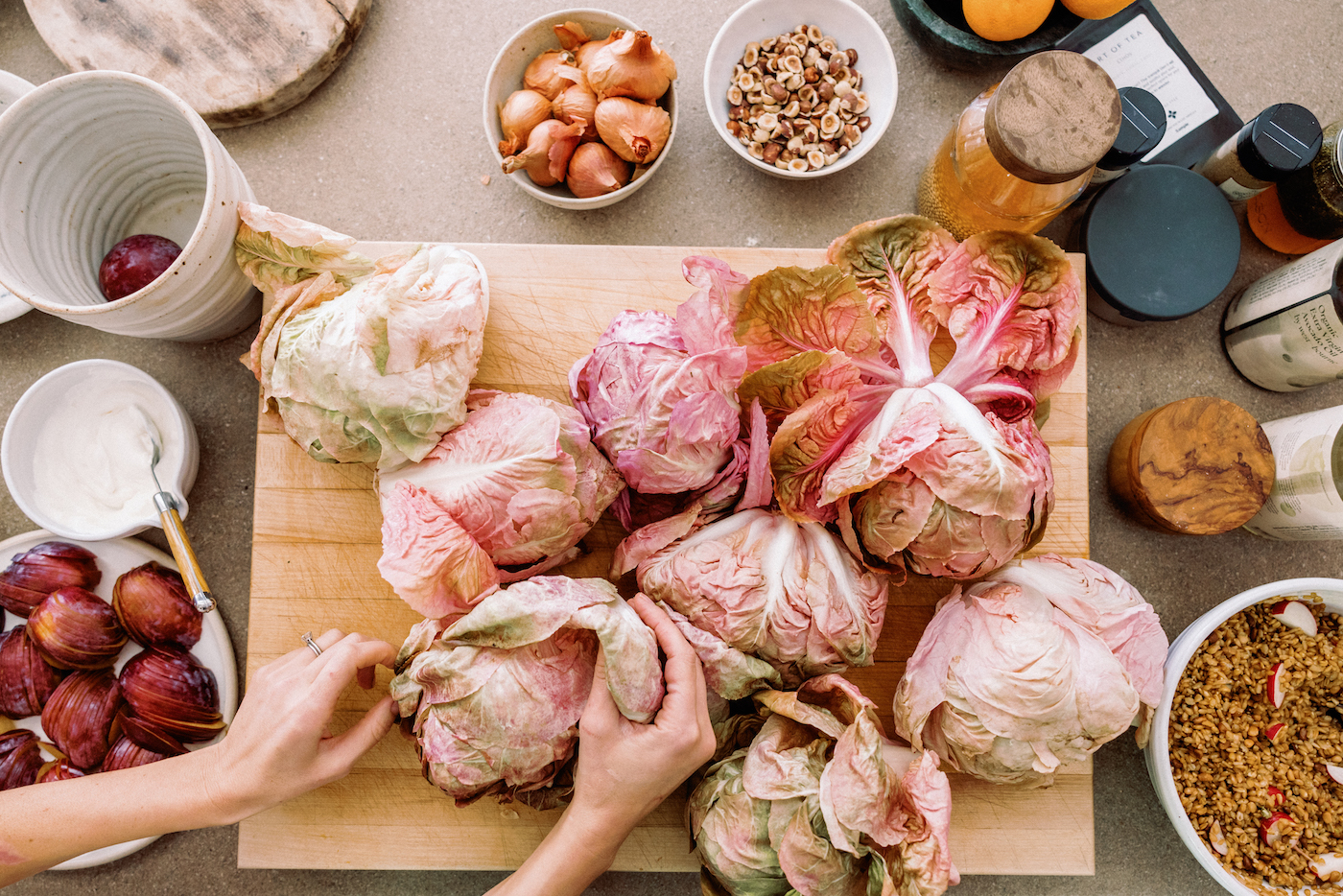 Get the recipe for Camilla's Pink Radicchio Salad with Blood Oranges and Hazelnuts.
How do you approach creating a guest list?
I have an eclectic group of friends and always like to mash groups up, plus throw in some visitors from out of town and total strangers.  I am the queen of the cold call and am never shy to reach out to someone who I have admired or am inspired by and invite them over to a gathering.
What are your tips for making guests feel at ease?
If the host is at ease, guests will be too.  I also feel it's important to integrate guests into the experience, even in a small way.  It's easy to be relaxed when you are part of the creation too.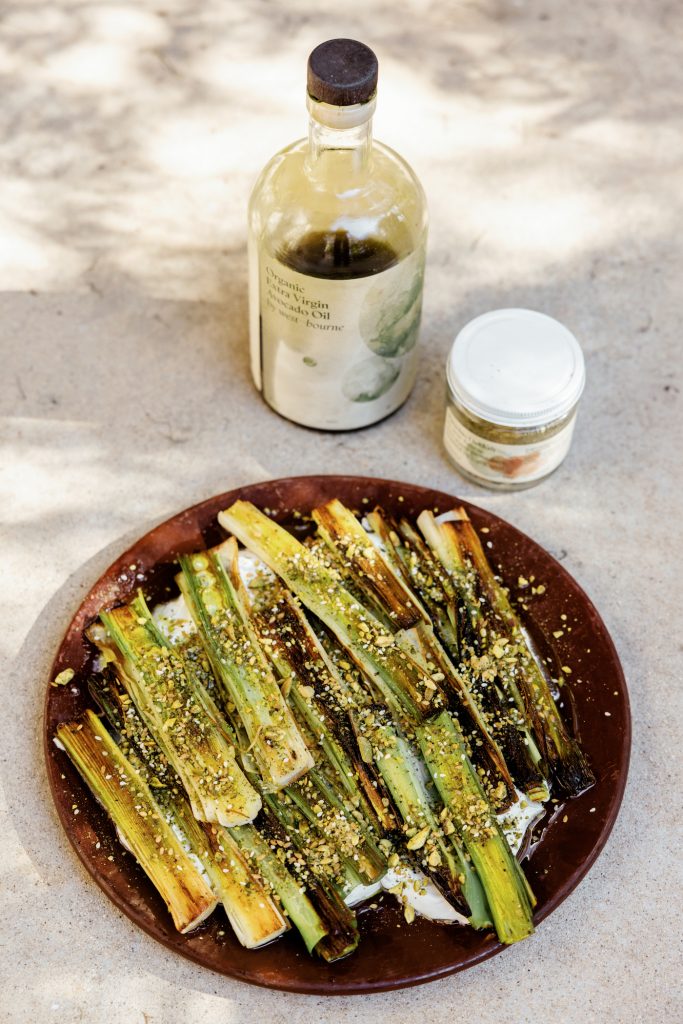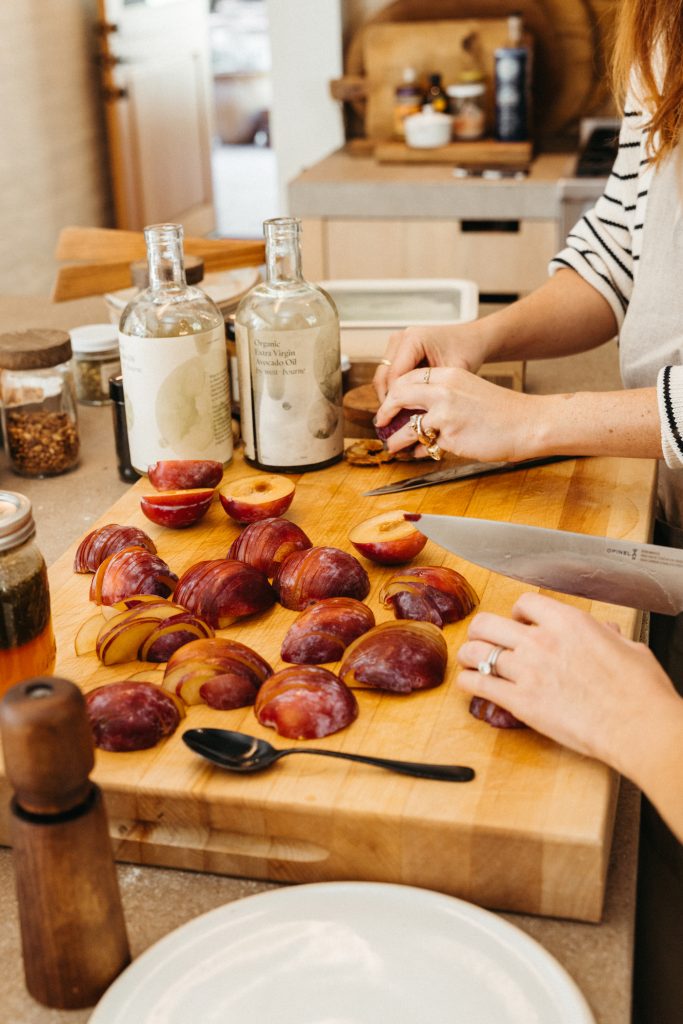 Favorite conversation starter or question to get to know someone?
What's on your travel bucket list?
The perfect dinner party playlist includes:
A track from each guest.  That always gets the music going on an unexpected journey.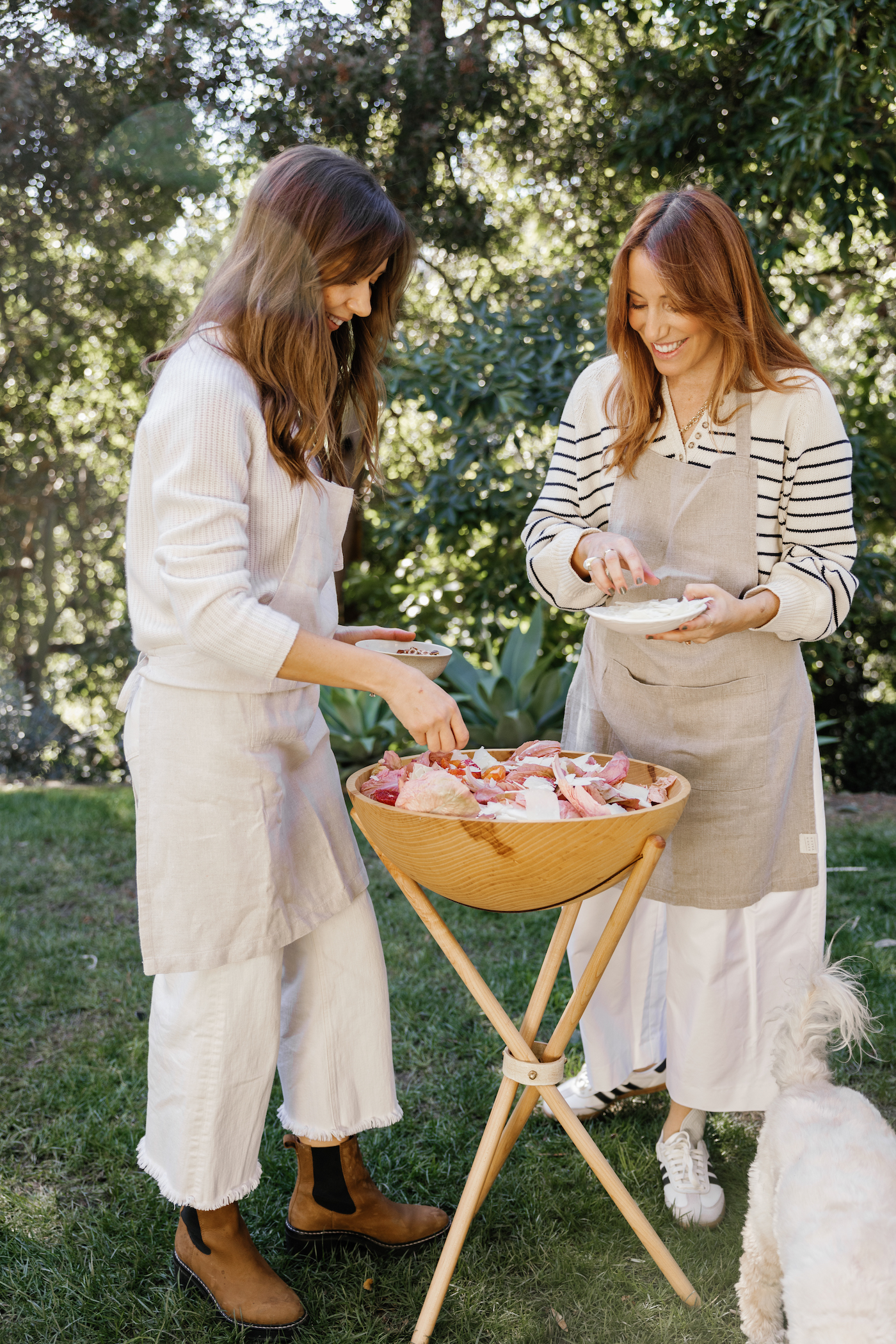 What are some products you love for the table?
Textiles:
Ceramics:
KH Wurtz
Mondays in Brooklyn
Robert Siegel Ceramics
Vases, cutting boards, and stone platforms from Olive Ateliers
Vintage candleholders (I prefer a mix and match)
Vintage flatware, or second hand Jean Dubost Laguiole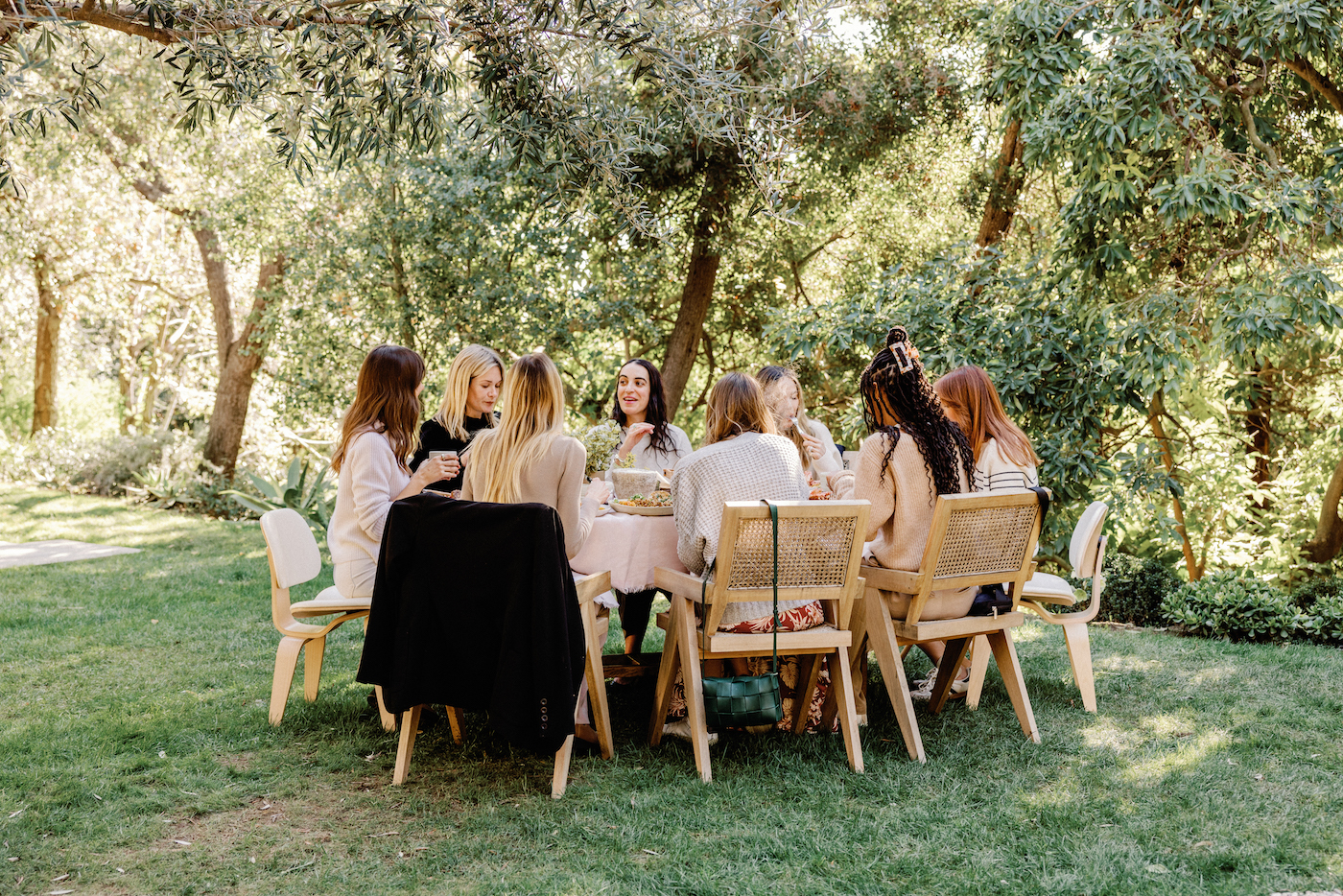 Go-to centerpiece solution:
I love bringing together pieces from around the house – jars, vessels, cups and objects – mixed in with fresh produce and foraged foliage.  It's a mindful way to bring a unique look, welcoming imperfection and inviting nature to the table. 
What is your no-stress party rule to live by? 
The vibe of any event emanates from the host.  If you're having fun and relaxed, so will everyone else.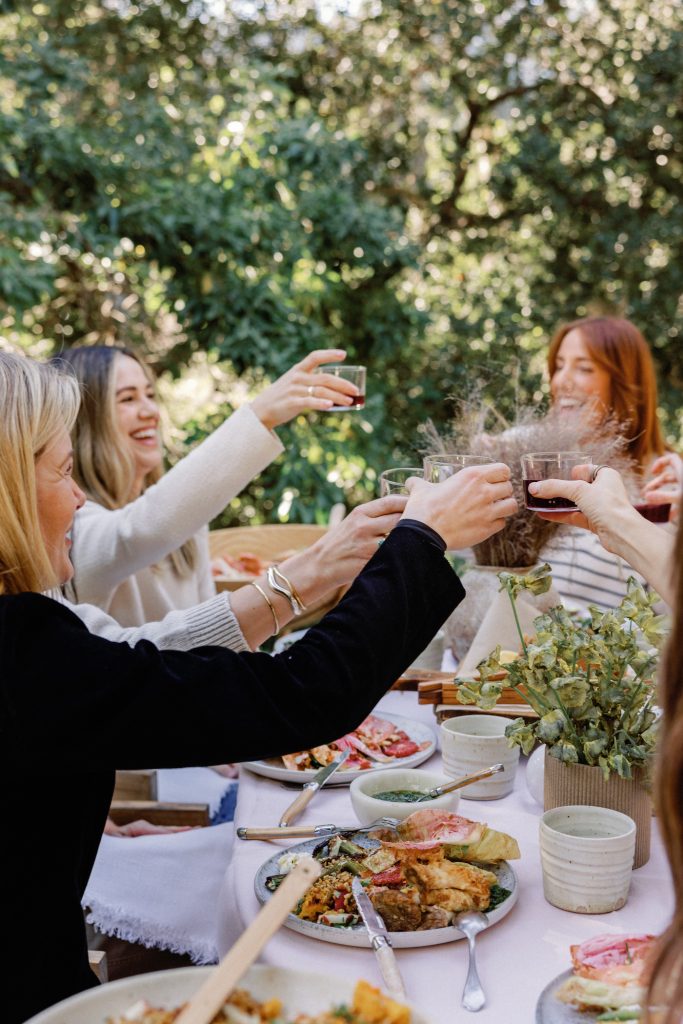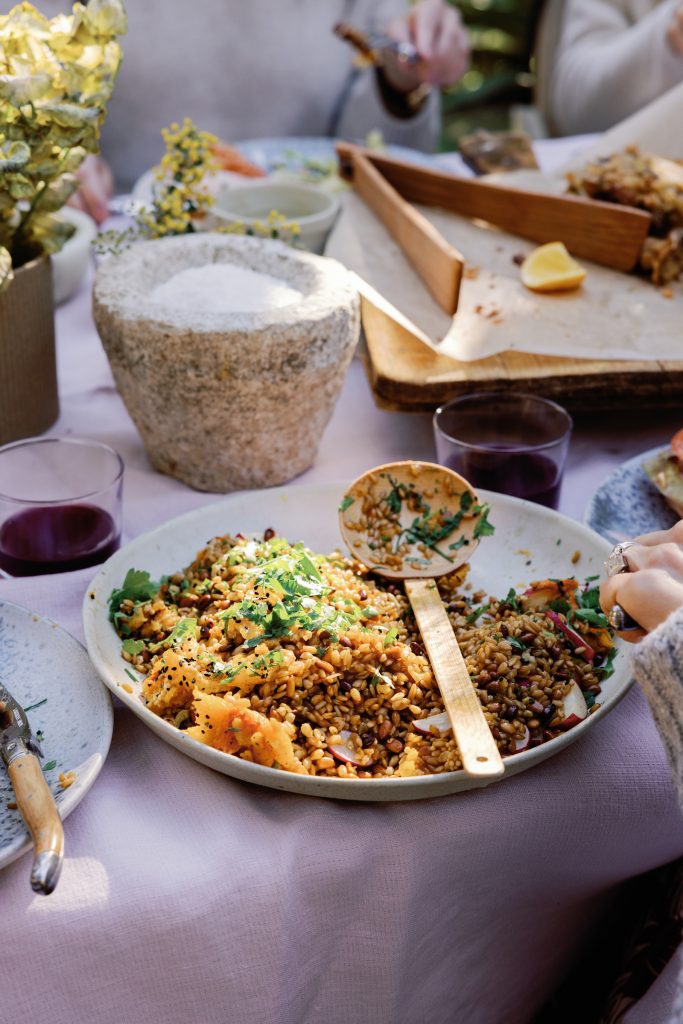 Get the recipe for this Einkorn Salad with Charred Squash.
Dream dinner guests?
Ruth Bader Ginsburg
Ina Garten
Albert Einstein
Otis Redding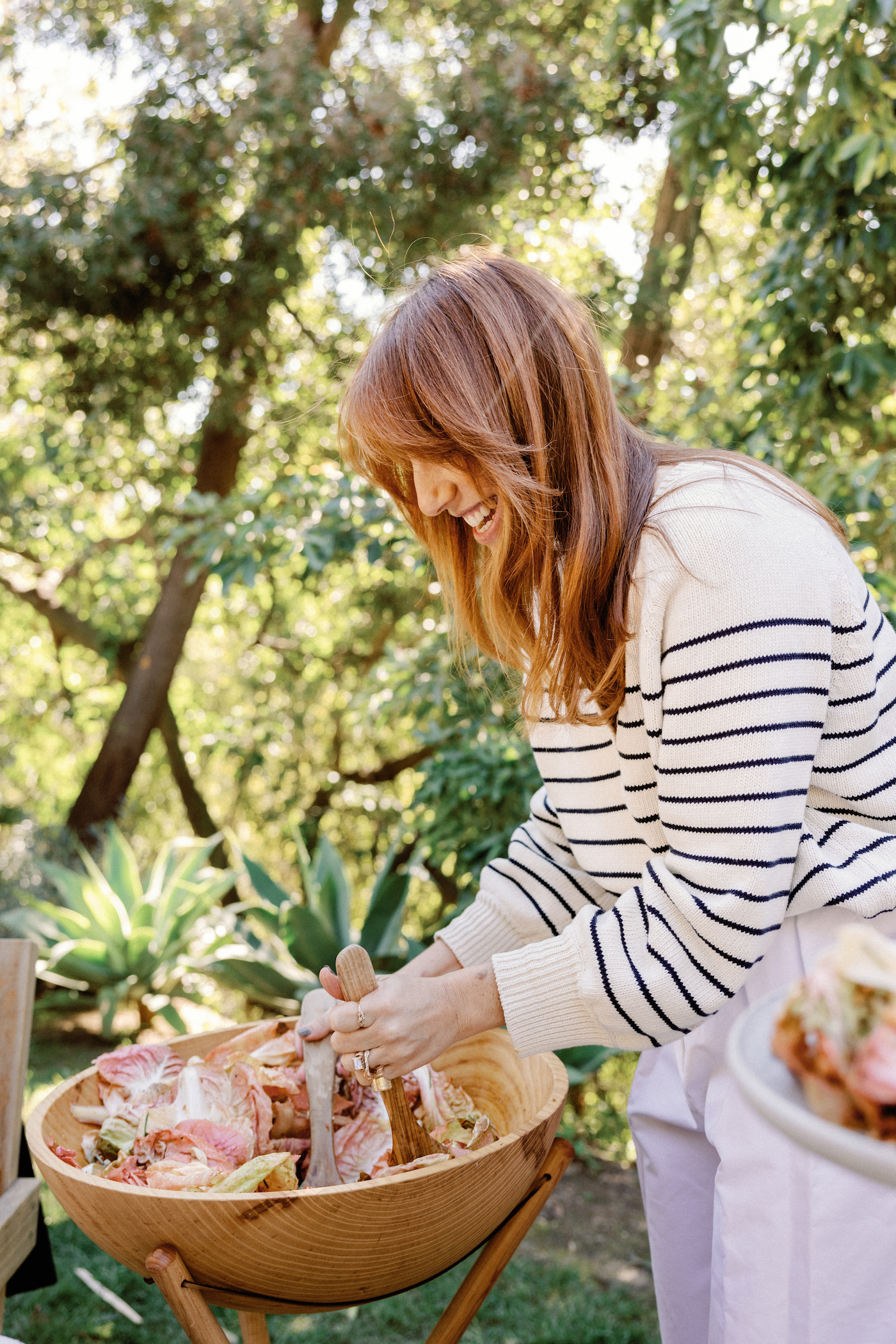 On seasonal cooking
What informs your approach to food?
For me it's all about cooking holistically to nourish yourself and our planet. What's good for our soil is always better for our health.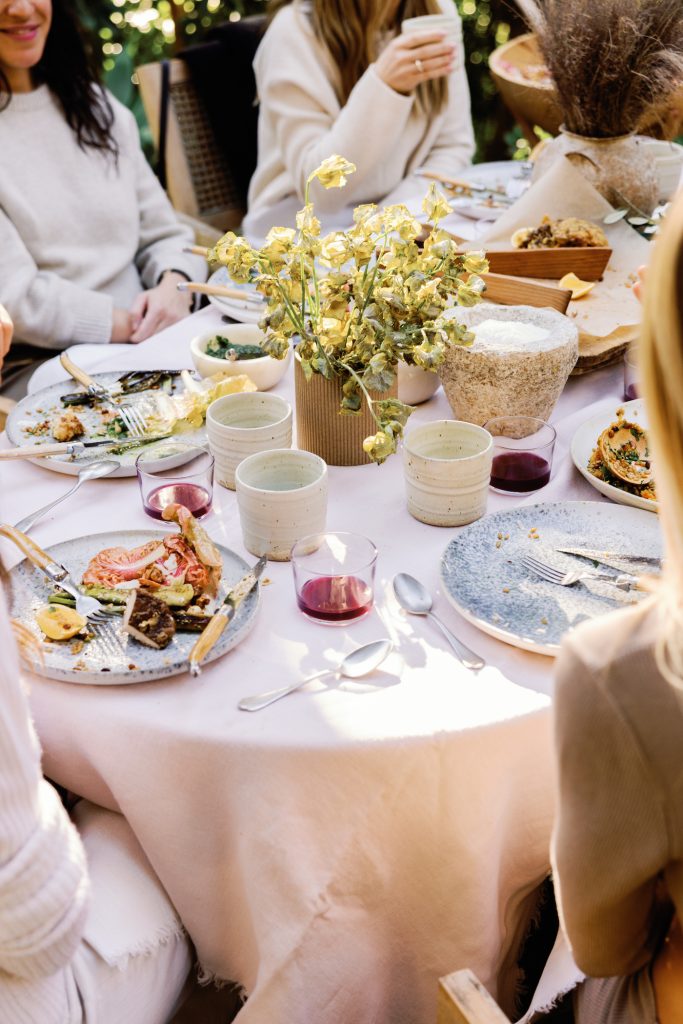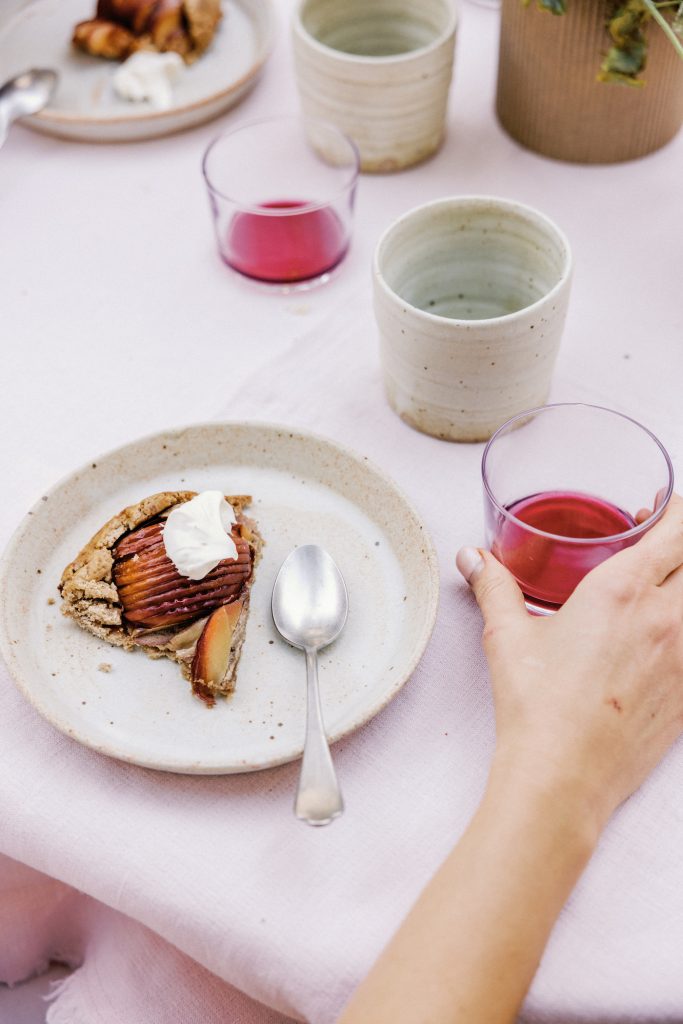 Get the recipe for the Pluot Galette with Creme Fraiche.
What's your must-have cooking tool and why?
A mandolin is such an easy and inexpensive way to elevate your cooking and plating.  Having a shaved element always evokes restaurant quality and creates something different for your dish.
Tell us a few things we'll always find in your refrigerator? 
We always have preserved lemons, pickled shallots, cholulah, fermented hot sauce, roasted sesame dressing, white miso, white moustache yogurt, zab's hot mustard, parmesan, creme fraiche, ghia, kimchi, overnight oats, fresh eggs from our chickens.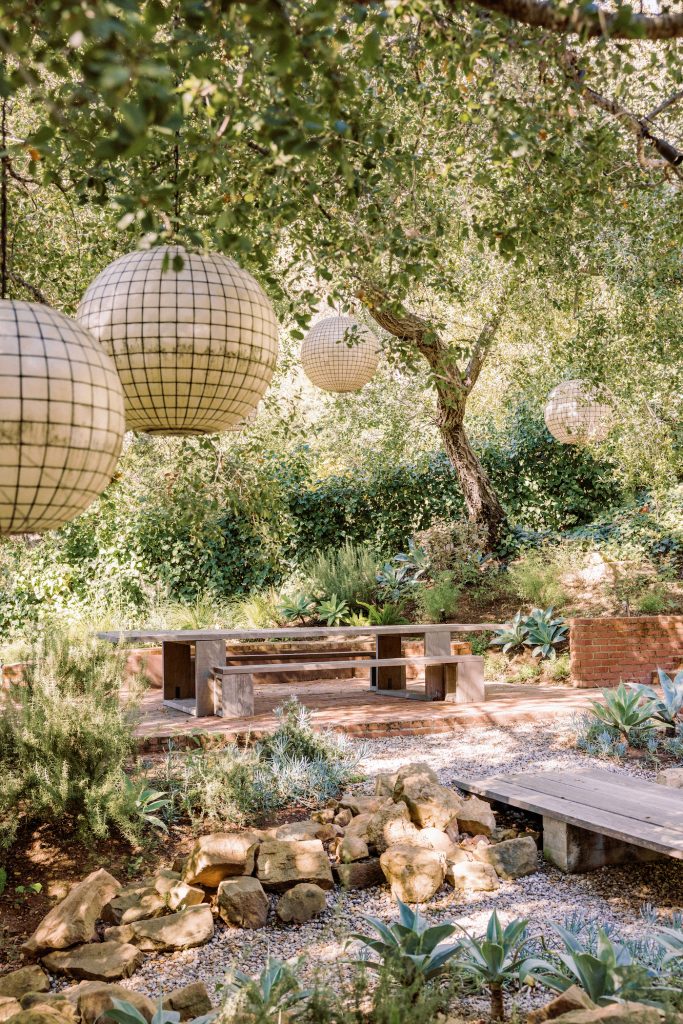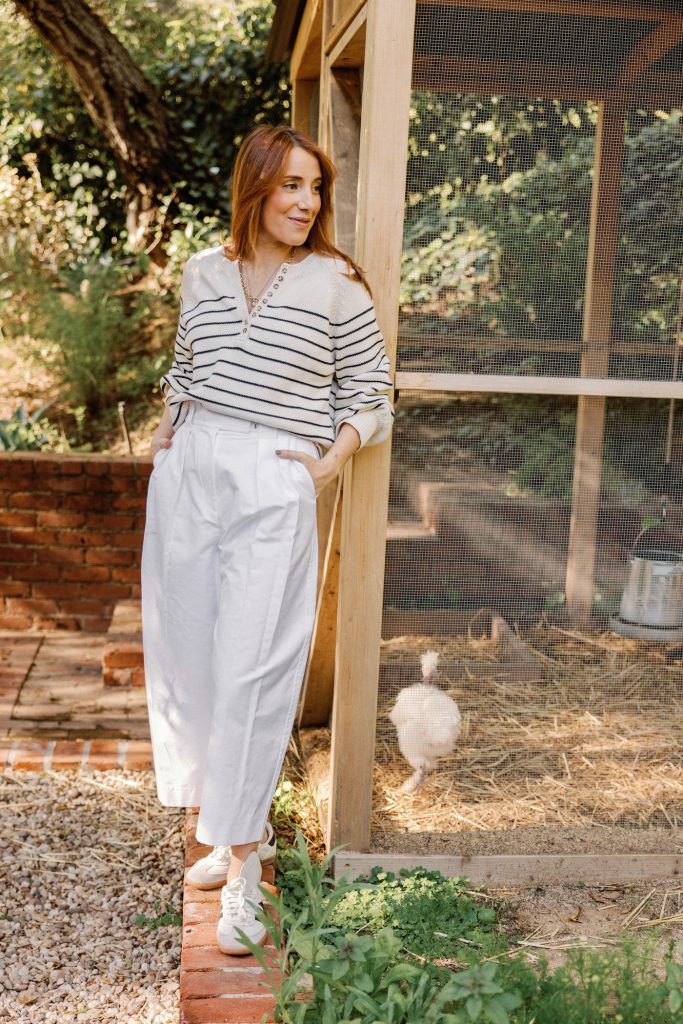 Fill in the blank:
A perfect meal should … nourish.
It's not a dinner party without … interested people.
Every cook should know how to … join the meal with joy.