There's a certain art that exists in collaboration. It's a careful, but free-falling dance between extending your own perspective while also embracing the creative acumen of others. Collaboration is proof that anything beautiful and note-worthy can't exist in a vacuum. Instead, it's a testament to our most basic understanding of creativity: the use of imagination, in conjunction with external inspiration, to create something that didn't exist before. And while we use concrete representations of art—books, music, objects, and the like—to understand this, it's in thoughtful, cohesively curated gatherings that this partnership of talent and expertise most clearly comes to life.
That sort of humble and curious collaboration was on display last month, when Heidi Baker, founder of sustainable womenswear brand, OZMA, gathered friends and family for an al fresco backyard celebration at her Los Angeles home. The entire evening was grounded in Baker's organic, wabi sabi ethos, with the surrounding oasis serving as a haven for the like-minded community of creatives from near and far.
And while many of us host and gather simply for the joy of sharing good company, conversation, and food, there was also a through-line of intention woven into the evening Heidi crafted. Just as her designs balance refinement with an understated sort of elegance, all components of the gathering drew upon a new understanding of luxury that's steeped in simplicity and imperfection.
Heidi Baker on the Art of Gathering
As we spoke with Heidi Baker about where the creative stimulus for her brand and lifestyle comes from, it's evident that she lives every day open to the learnings and guidance all around her. From her favorite cookbooks to "recipes" she's garnered from friends over the years, every day, Heidi puts herself in the path of inspiration—ready and willing to learn from what comes.
Ahead, our conversation dives into the happenstance details that connected Heidi and her partner with their gorgeous home, her go-to dishes to serve for any gathering, and how she's living each day with an effortless sort of ease that nonetheless feels special, treasured, and entirely her own.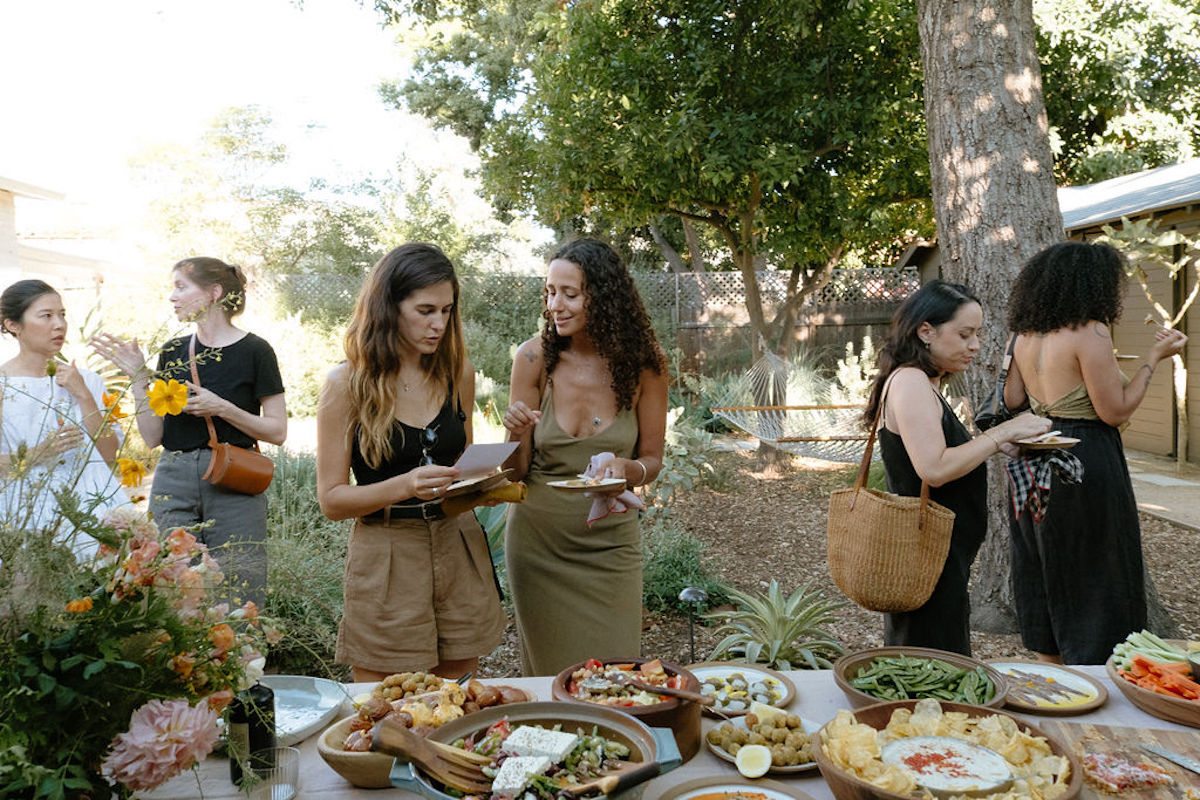 I was lucky enough that my friend [LA-based chef, recipe developer, and food stylist] Chloe did the cooking at this gathering for us.
Her gorgeous menu was:
boquerones in vinegar over romesco 
anchovies with citrus
blistered snap peas & black salt 
gildas
potatoes with aoili + chives 
chickpeas with tomatoes, basil aioli + sherry vinegar
fried olives stuffed with herbed ricotta
greek salad
tomato galette 
smoked trout dip with trout roe + chips 
assortment of tinned fish 
mojo dip with crudités
ajo blanco dip with crudités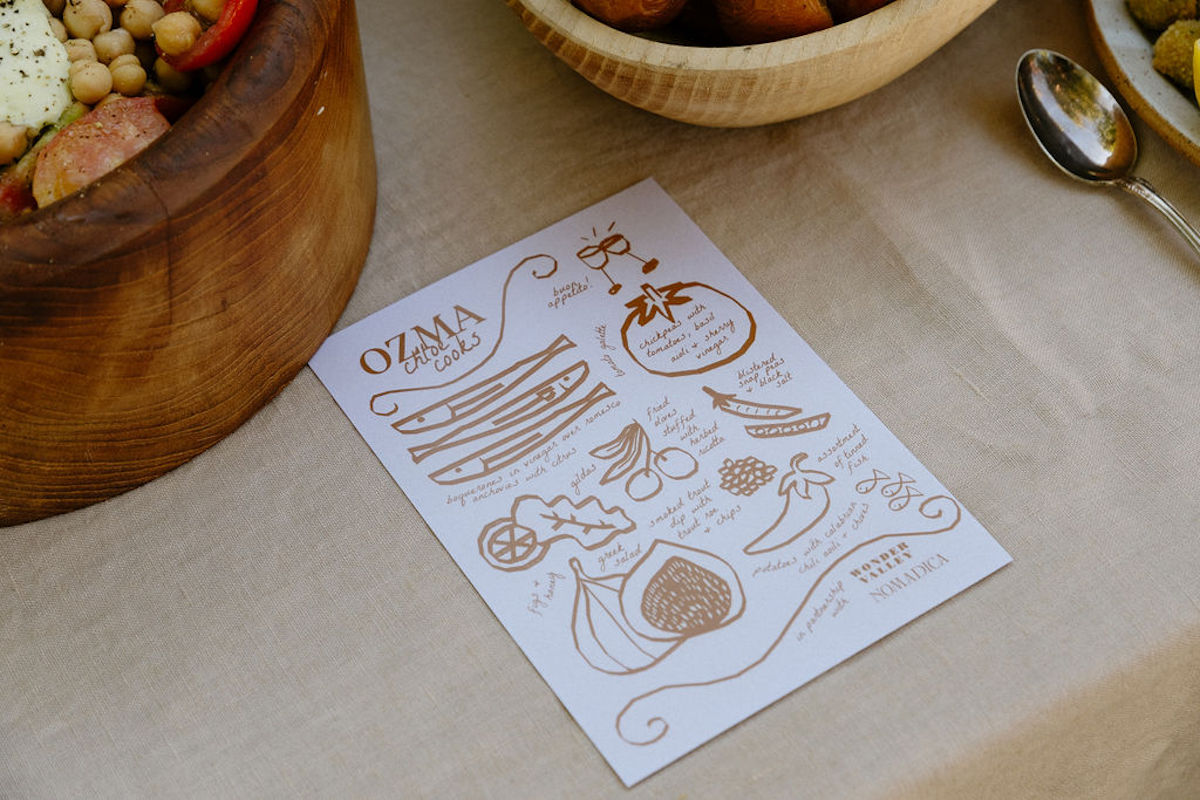 How did you learn to cook?
By doing a lot of eating and a lot of experimenting in my own kitchen. When I lived in San Francisco, I saw for the first time that cooking incredible food can be simple and fun. I had friends who were in the industry there, who I watched whip up the most incredible, but uncomplicated meals by heart. We used to have epic potluck parties, so I found recipes that weren't too daunting and pushed myself slowly outside of my comfort zone.
The more I cooked, the more I trusted myself to only use recipes as a general guideline for a dish and let myself play around with my own ideas or substitutions. I got confident in intuitively knowing how to make great-tasting food. I'm still learning and playing and I love it.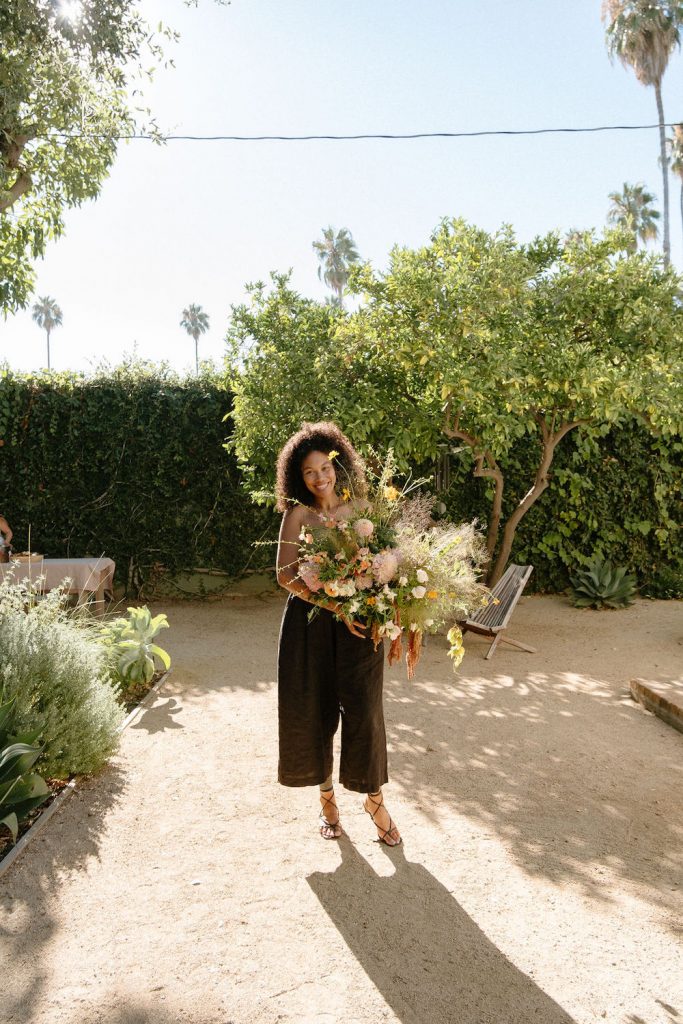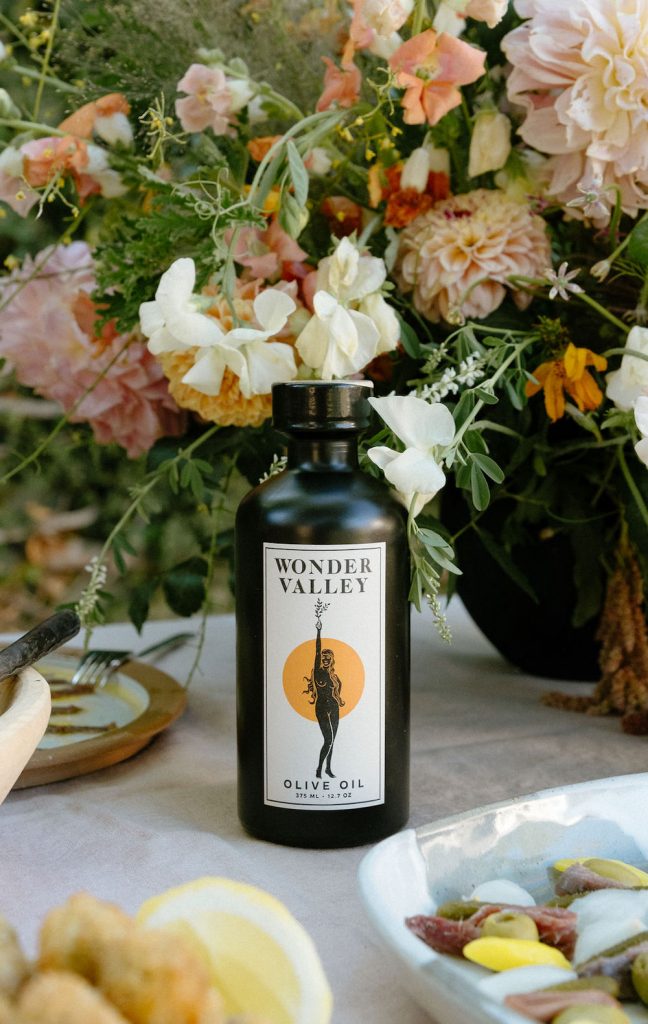 Florals by: Offerings
What informs your approach to food?
Simplicity and ease. I stick to things that require a short list of simple, whole ingredients.
How did OZMA come to be?
I started OZMA with my good friend, Mariah, in 2015. I'd worked for a few companies as a designer and I struggled to find much purpose in creating endless seasons of product for large brands. I wanted a feeling of excitement and creativity again, so I asked Mariah if she wanted to start a project with me. The idea was to create well-made clothing that traveled well and grew more beautiful with age.
She and I were both avid travelers and, aside from our vintage, we were missing the quality-driven, unique but non-precious or overly-designed pieces that we could truly live in. OZMA has evolved in style quite a bit since 2015, and soon after, Mariah went to pursue other projects and adventures. But that original inspiration still stands. OZMA is a name that we felt perfectly personified our woman: confident and free.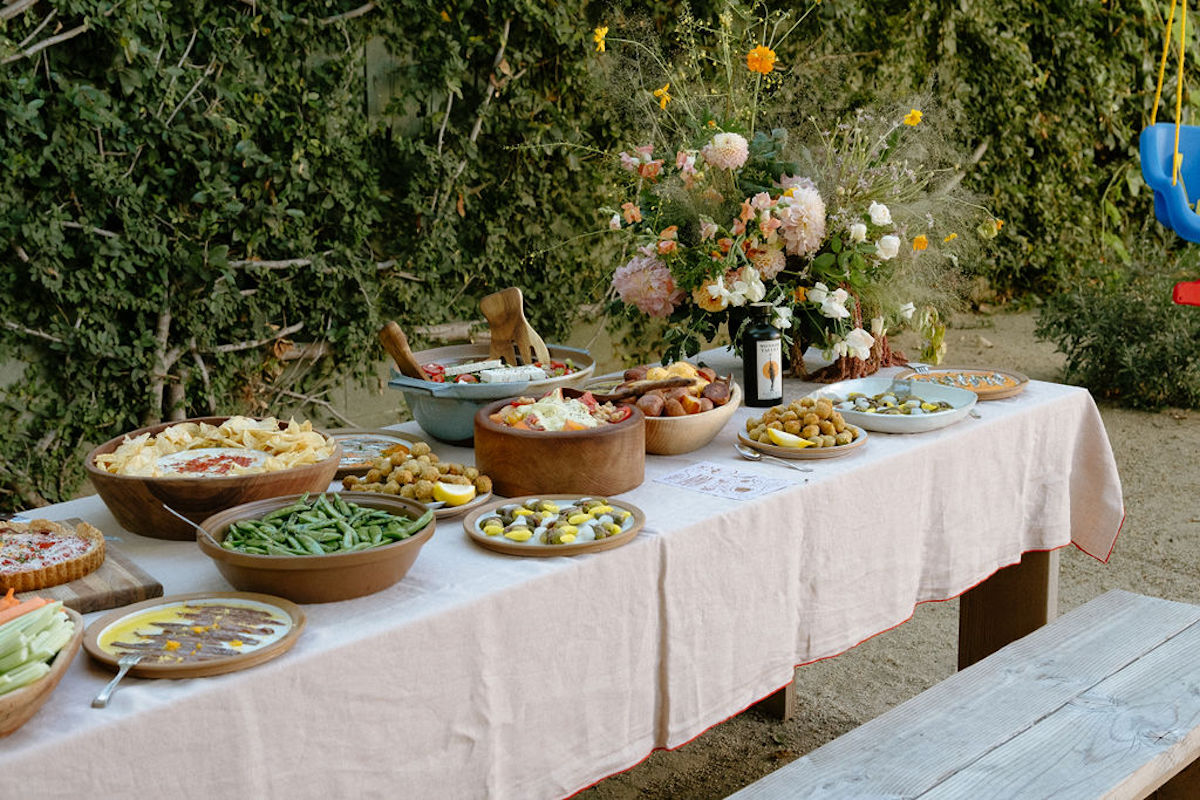 Tablecloths and napkins by: Madre Linen
Tell us about your home. What's your favorite part of the space?
I live in a 1920s cottage in Eagle Rock, Los Angeles. We bought our house in late 2019, after unexpectedly needing to move out of the place we were renting. After a few months of a semi-desperate and disheartening search for a home, on a whim my partner, Dustin and I stopped by the open house on the way to the airport. We walked through the house together and in the backyard looked at each other and excitedly confessed that we thought it had potential. We put in our bid that day, me sending off our 'please let us make a home here' letter, just as the airplane was about to take off.
Outdoor space is really important to us, and this house is on a pretty big lot for Los Angeles. The backyard was a mess, with brick pathways that didn't make sense, a creepy structure made of sheet metal, a tear-down garage with no door, and even a homemade concrete water feature.
Getting the backyard to be the inviting space we imagined has been our only major house project so far, and has definitely become my favorite part of our home. We were lucky to have had our friend Nicole at NKLA do the landscaping for us, and family help fix up the garage to a home studio and working storage. There's a lot of love in the space as well.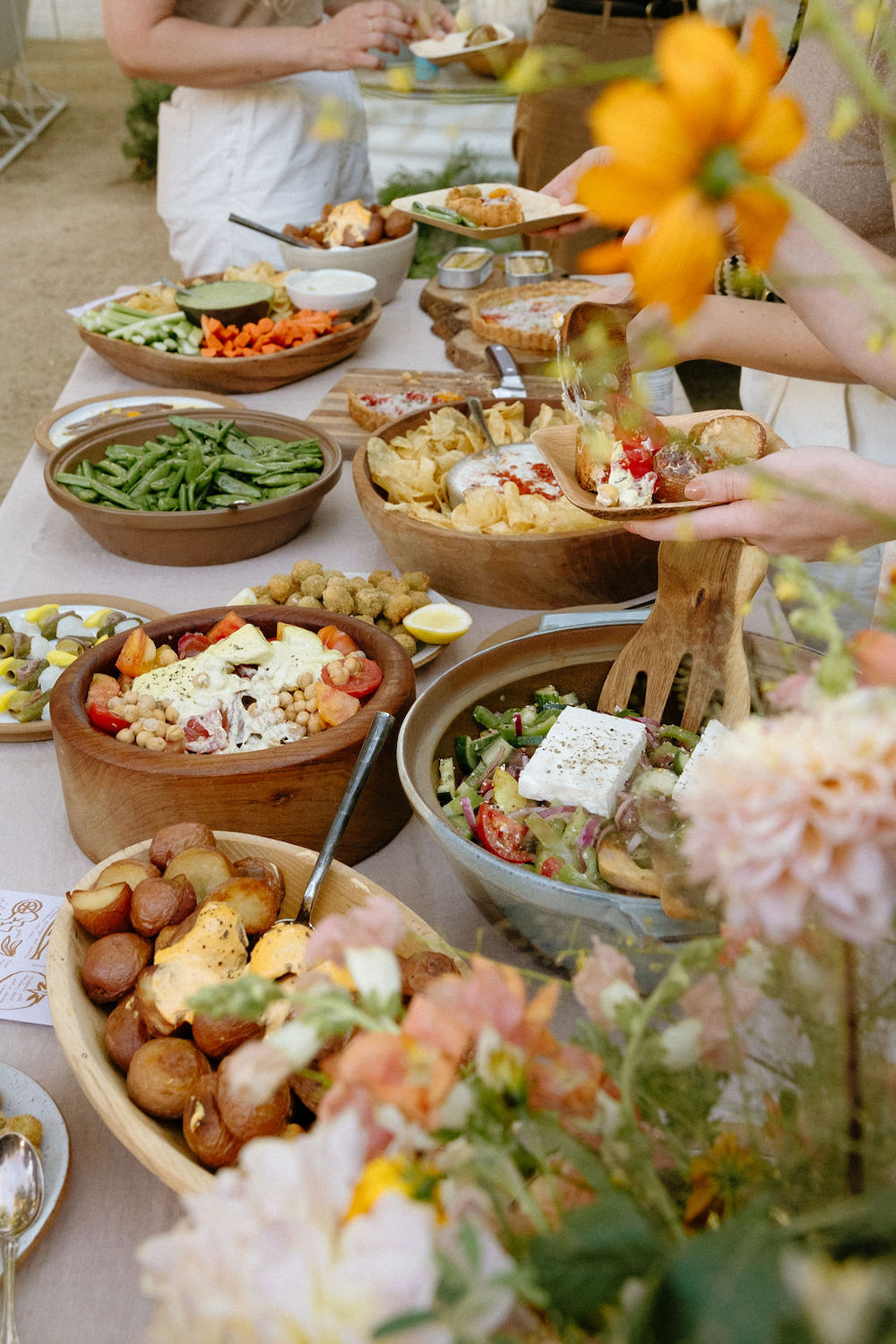 What does a great gathering look like for you?
People I love smiling and having fun. A great gathering is about just relaxing and enjoying each other's company. A good spread, great music, fun friends, and lots of laughs.
Wine by: Nomadica 
Walk us through a typical day for you.
I have a tiny human alarm clock, my 8-month-old son River, who wakes me up every day at 6 or 6:30 a.m. Each morning after feeding him, I take River, my coffee, and my dog Blue for a walk to our neighborhood park. For breakfast, I have a green smoothie or some yogurt with berries and granola/almonds/coconut… or some mixture of crunchy things.
I work at home often, so my getting properly dressed for the day sometimes happens at 9 a.m., sometimes at noon. I always go for comfort—99% of the time it's OZMA and/or vintage. Right now, I'm rotating between our Juno Pant and Field Pant, plus a bodysuit or one of our raw silk t-shirts.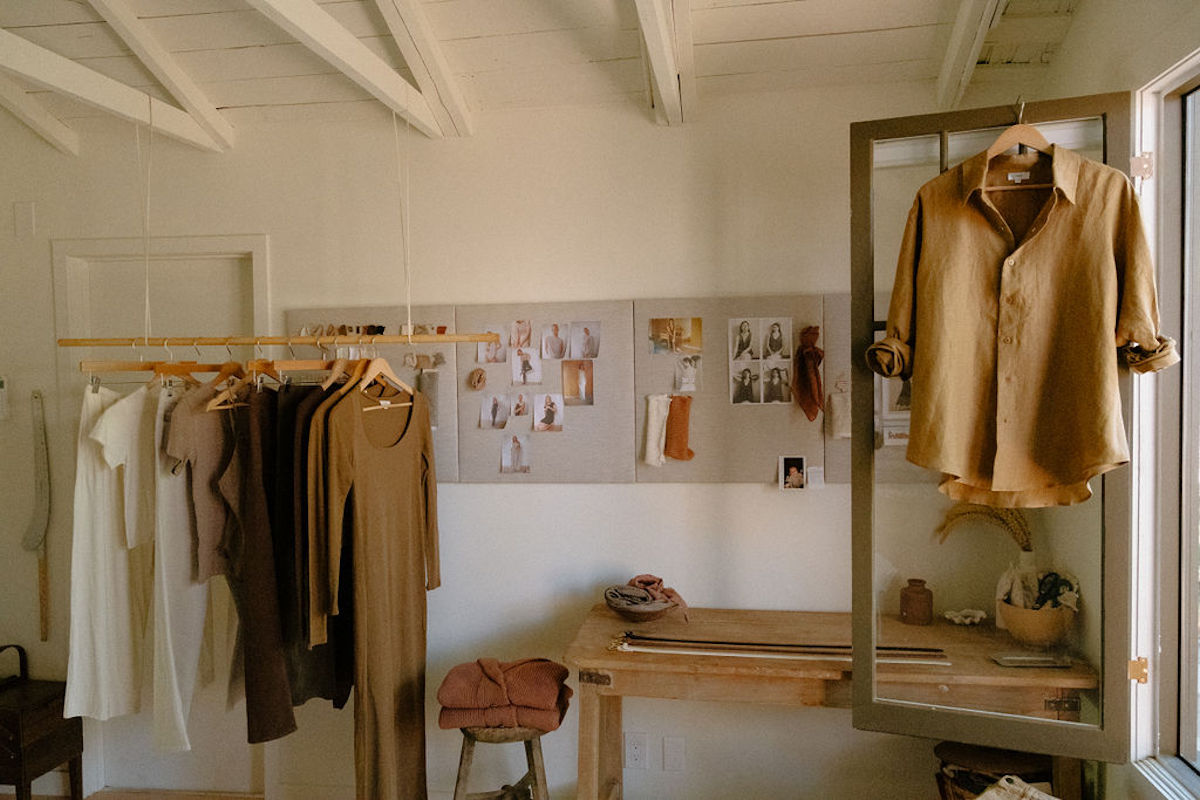 Depending on whether I'm at my home studio or our studio in Frogtown and what time in the season we're at, each work day can be super different. Last week, I worked on coordinating our winter shoot in Tofino, organizing a photoshoot happening this week in Biarritz for this coming summer, and choosing yarn for next fall's sweaters. We're planning our journals and events for fall at the moment now too, so I checked in on how those are moving along.
I keep my work day as short as possible so that I can spend time with River. Life is very simple and sweet at the moment with him. We play at home in the afternoons and walk Blue again at night, then make dinner as a family and go to bed very early.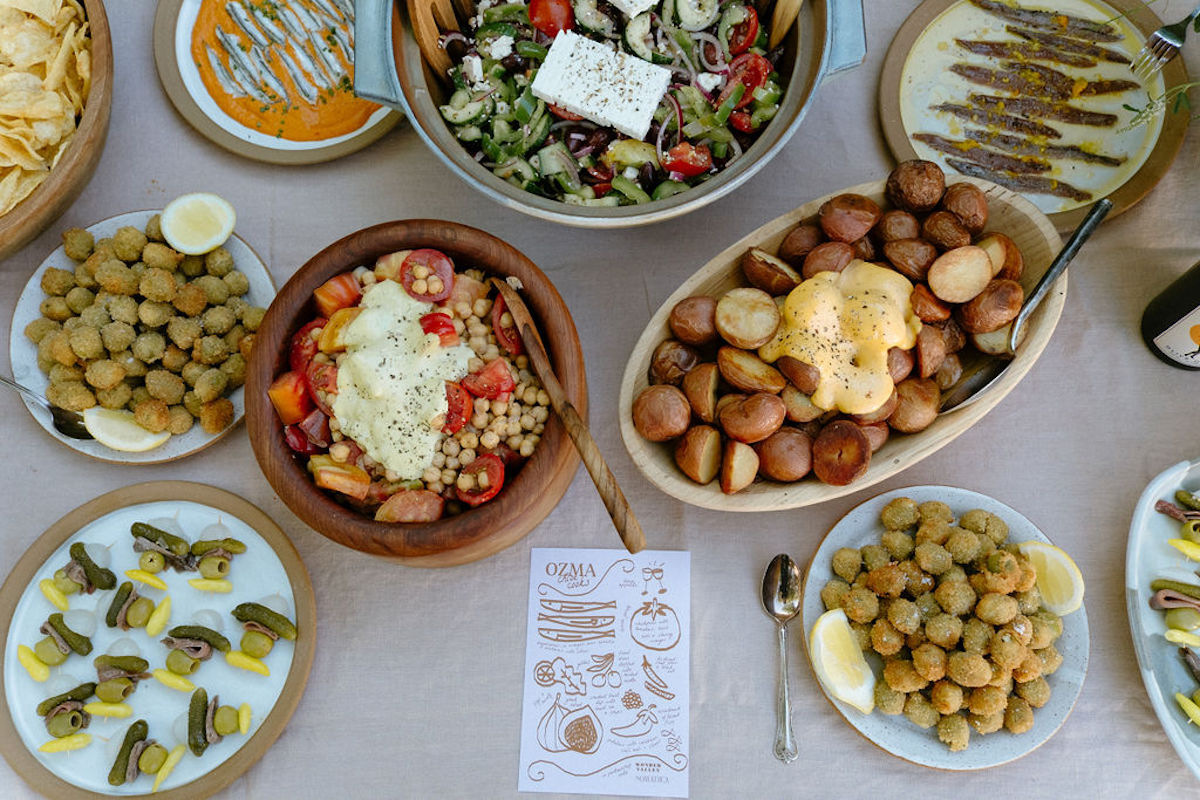 What products do you love for the table?
Ribete Mug by Perla Valtierra
Beautifully made with a unique and playful squiggle handle. Looks cute on my kitchen shelf and makes my morning coffee feel extra special.
Duralex Picardie Glass
Classic short tumblers that are great for everything. I use mine for water, wine, and ice cream. They are super durable and stacking, which I love in particular for hosting. I can bring 10 glasses out to guests in one hand and at the end of the night they are so simple to clean up. 
Mismatched Vintage China
The majority of my tableware is a lifelong collection of random things gifted and thrifted. My all-time favorite dishes are the one-off pieces of china that I thrifted years ago when I lived in San Francisco. They're now half-cracked and chipped, but I still love them the most. 
What's your must-have cooking tool?
My Wüsthof chef's knife. Because it's simply too frustrating to cook without a really good sharp knife.
What are your favorite cookbooks?
Jerusalem by Yotam Ottolenghi. You can almost taste the images on each page. Everything in this book has such big, beautiful flavors. 
Tender by Nigel Slater. Great for finding comfort food for colder months and organized by vegetables, which is fun if I have something specific in mind from the market or in my garden.
The Chez Panisse Menu Cookbook by Alice Waters. Her recipes feel like short lessons in cooking which I really love. But most of all, I appreciate Alice Waters's approach to food in its emphasis on simplicity and local, quality, ingredients. 
Tell us a few things we'll always find in your refrigerator.
Yogurt, flat-leaf parsley, lots of berries, aged Gouda, a half-empty bottle of Gamay.
What scares you about entertaining?
I'm cautious about being too busy cooking that I won't get to actually enjoy my own party. It's happened to me in the past where I didn't prep ahead of time or made a complicated meal and then I ran around the whole time stressed and didn't really enjoy my guests. So now I'm hyper aware of the possibility and make sure I avoid making that mistake again!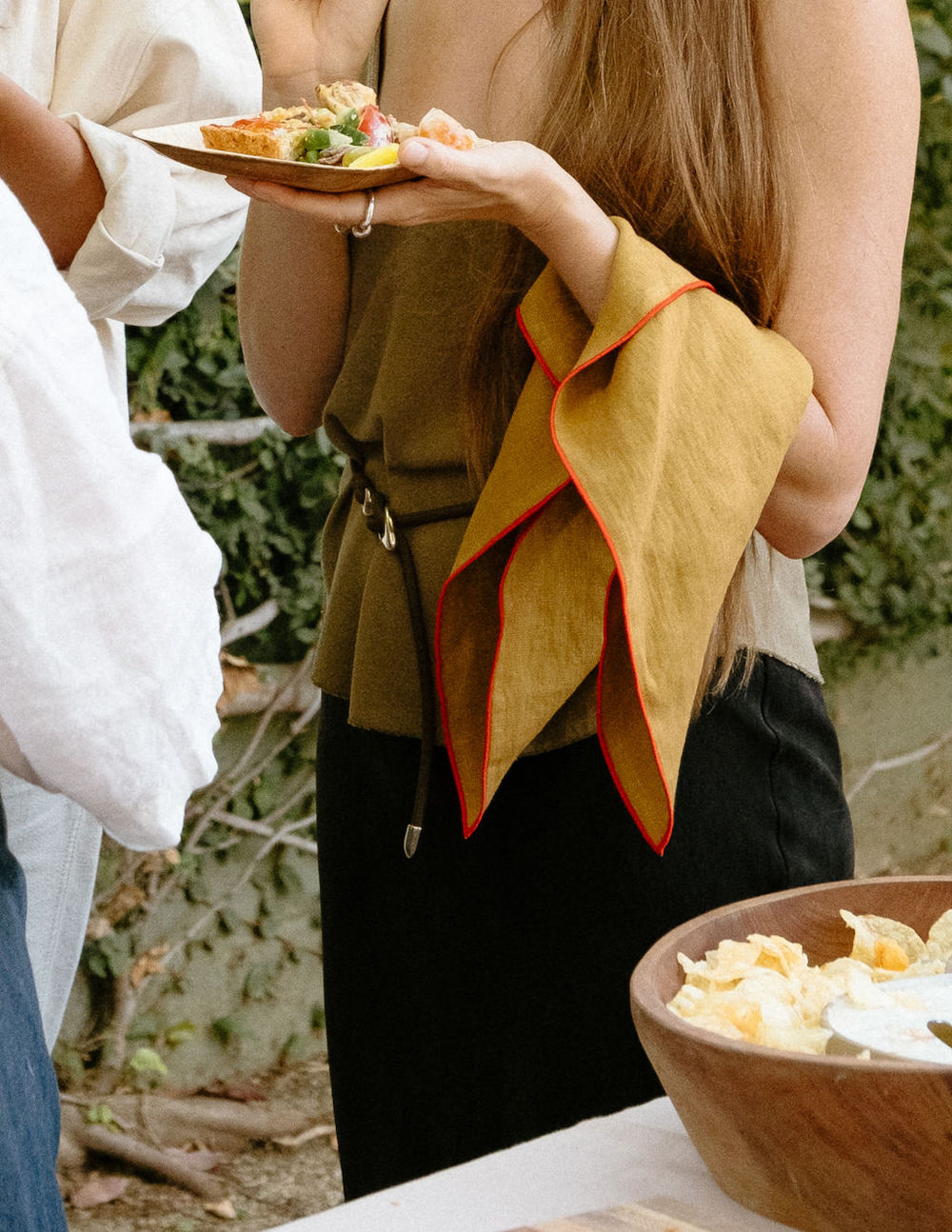 Your signature dishes for gatherings?
I'm not sure that I have a signature per se, as I go through phases of what I'm liking to cook, but a few of my current go-tos are:
Dandelion green salad with radicchio, parsley, shaved parm, and a dressing of EVOO + either anchovy or preserved lemon. Finished with a dash of chili flakes, pepper, and Maldon [salt[. My friend Helen made it for me once and I don't know if I make it the same, but in my head, it's her salad. It makes a great simple meal with just rice and grilled meat. It's become my go-to salad for sure.
Kofta kebabs with a Mediterranean spread of tzatziki, babaganoush or hummus, muhammara, homemade flatbread with za'atar, tomato, cucumber, and herb salad—or some variation of dippable and fresh things. This takes a little bit of prep, but it's fun to do and most of the dishes are really easy to serve at room temp or pulled out of the fridge at the last minute.
Salmon and Mushroom Donabe with rice. This I reserve for a smaller group of girlfriends usually because only so much can fit into one donabe, but it's really tasty and feels special.
Your go-to weeknight meal to eat at home?
Broiled salmon with yuzu kosho, brown rice, and sauteed kale with mirin and soy. Other than the rice, it's incredibly fast, and fool-proof.
What advice would you share with someone who wants to host a gathering on a budget?
Host a potluck or delegate dishes for your friends to bring! Potlucks are super fun and everyone feels involved.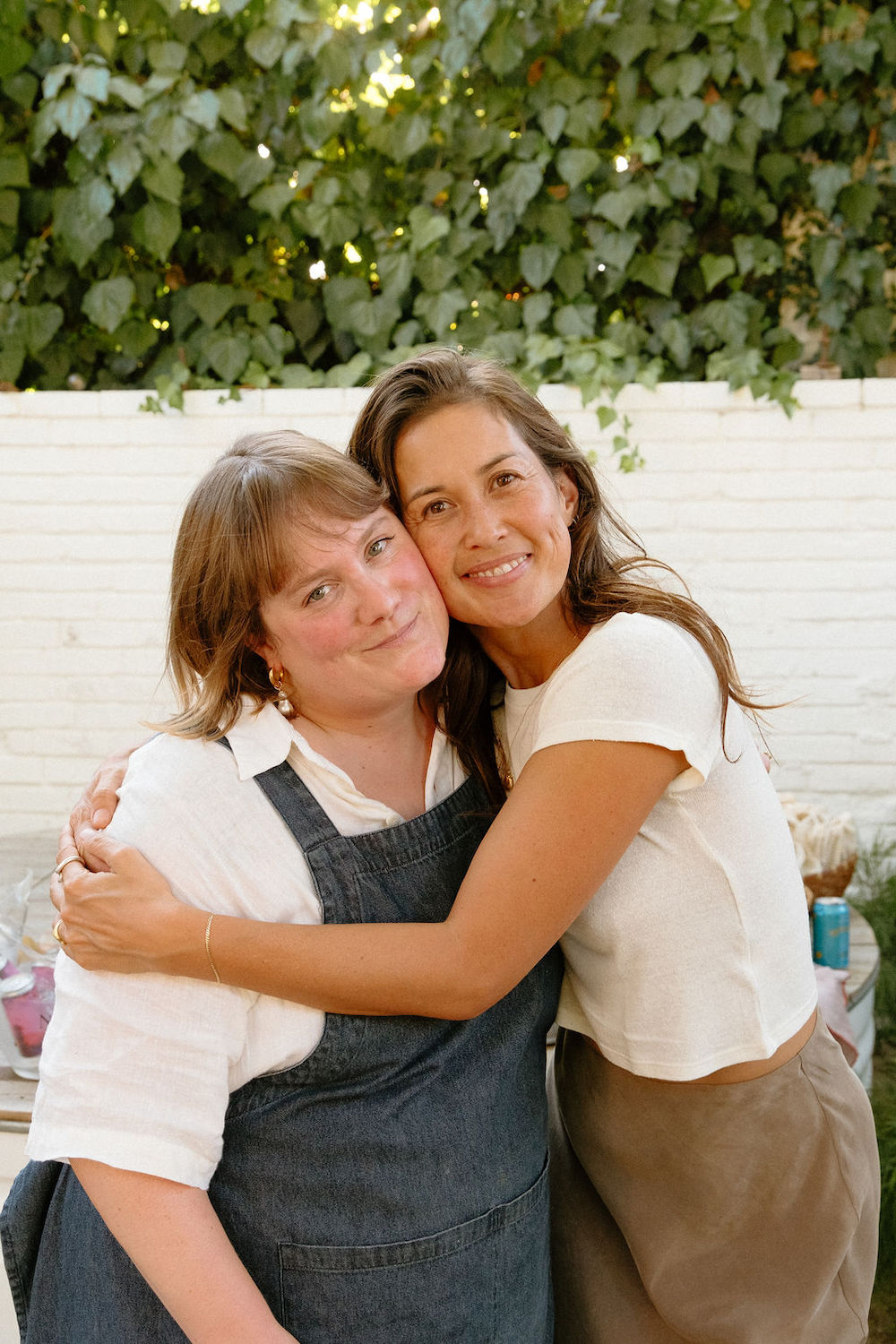 The perfect dinner party playlist includes:
Something jazzy, something folky, something Brazilian.
Go-to centerpiece solution:
Cut stems and branches from my yard.
What is your no-stress party rule to live by? 
Never make a complicated meal or a first-time recipe for a dinner party.
Dream dinner guests?
All of my closest girlfriends who live far away.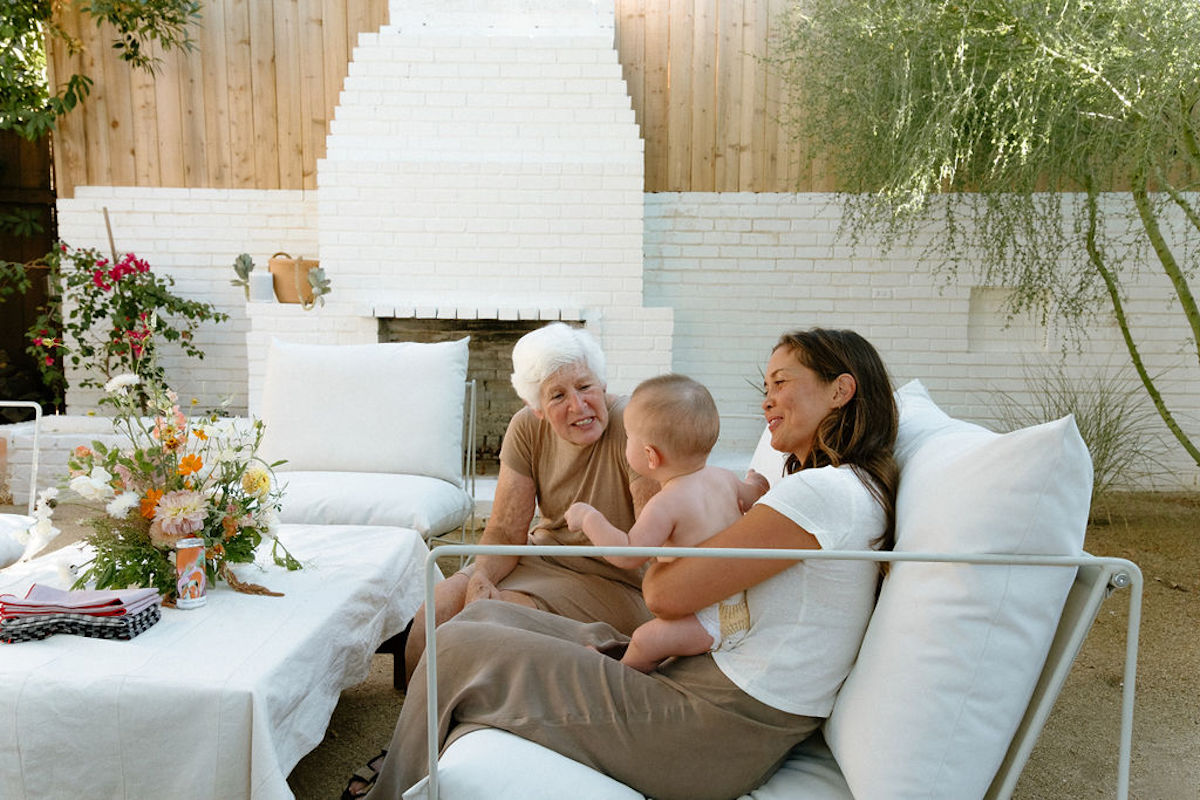 Fill in the blank:
A perfect meal should: be enjoyed and never rushed.
It's not a dinner party without: cheese.
Every cook should know how to: improvise.