While I'm ready to make the swap from sundresses to sweaters and lemon bars to pumpkin bread, September's temperatures seem to disagree. It's that funny, in-between time of the year when we're all craving the coziness of chilly weather but the days seem to be hanging onto near-triple digit temps. As far as I'm concerned, the day after Labor Day marks the official end of summer, and yet it's the hottest it's been all year. (Which is seriously squandering my cozy season plans.) Iced pumpkin spice latte? No, thanks. So, with both my fall cravings and the temperatures at a high, I've needed a few summer-to-fall recipes that will ease me into the new season, one day at a time.
Featured image by Michelle Nash.
23 Summer to Fall Recipes for a Seamless Seasonal Transition
From lasagna to tortilla soup, these have been my go-to recipes for slowly introducing fall foods back into my kitchen. (Without overheating at the same time.) Breakfast, lunch, dinner, and even a few sweet treats thrown into the mix—these are my favorite simple and delicious, transitional summer-to-fall recipes. 
Breakfast
Spiced Peach and Pecan Baked Oatmeal
Why We Love It: When it comes to summer-to-fall recipes, one of the keys is incorporating fresh ingredients that span the seasons. Case in point, this baked oatmeal. It pairs peaches and pecans for a spicy and sweet blend of summer-to-fall goodness. Hot tip: swap in your favorite fruits all throughout the year. That way, you can enjoy this baked oatmeal anytime you'd like.
Hero Ingredient: Maple syrup is the quintessential fall sweetener.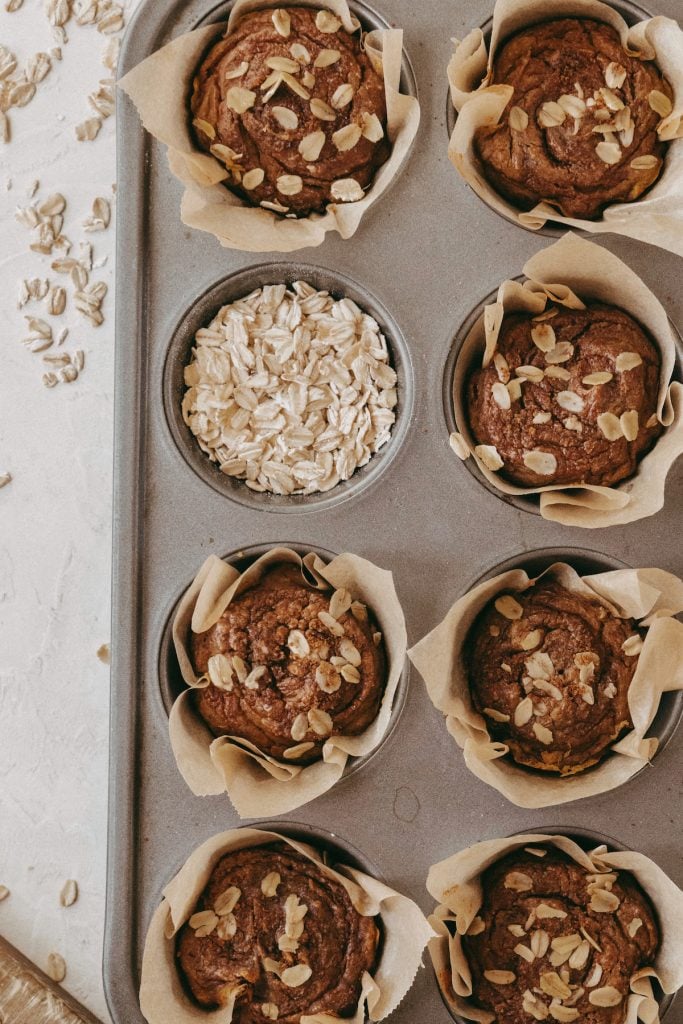 Banana Pumpkin Muffins
Why We Love It: I know you're feeling it too: we're all craving pumpkin-everything right now. But because pumpkin pie is more fit for October, I'm still looking to work the ingredient into my daily meals without going overboard. Enter: banana pumpkin muffins. These healthier-than-they-taste morning treats are gluten-free and dairy-free, letting everyone enjoy their deliciousness. If you want to go sweeter, fold in a handful of chocolate chips. It's almost like dessert for breakfast. Almost.
Hero Ingredient: A half-cup of pumpkin puree not only makes these muffins taste like fall, but they lend both a touch of sweetness and a moist crumb to these addicting treats.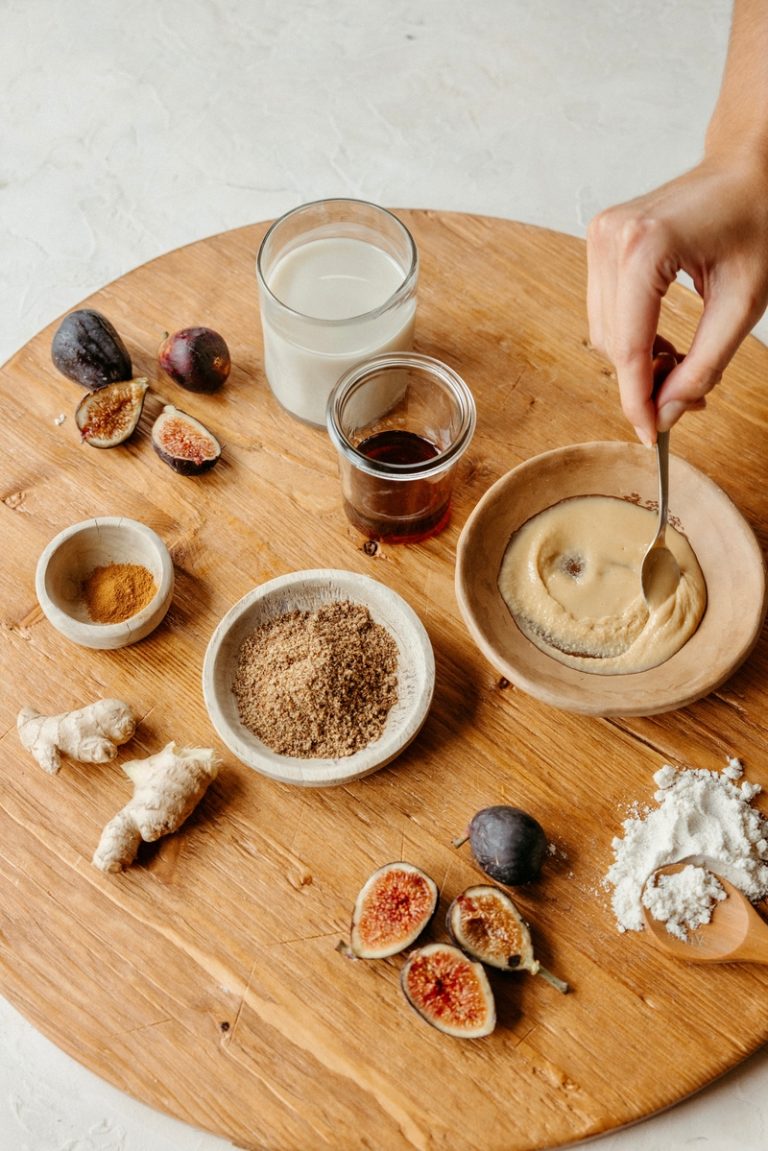 Get Figgy With It Smoothie
Why We Love It: In case you haven't heard, smoothies aren't just for spring and summer. Simply omit the ice and opt for a few warming ingredients. Figs, cinnamon, ginger, and maple syrup help take this refreshing sipper straight into the fall. Trust, you'll be enjoying it all season long.
Hero Ingredient: Tahini is a tasty, nut-free peanut or almond butter alternative. Healthy fats, creamy texture. Perfection.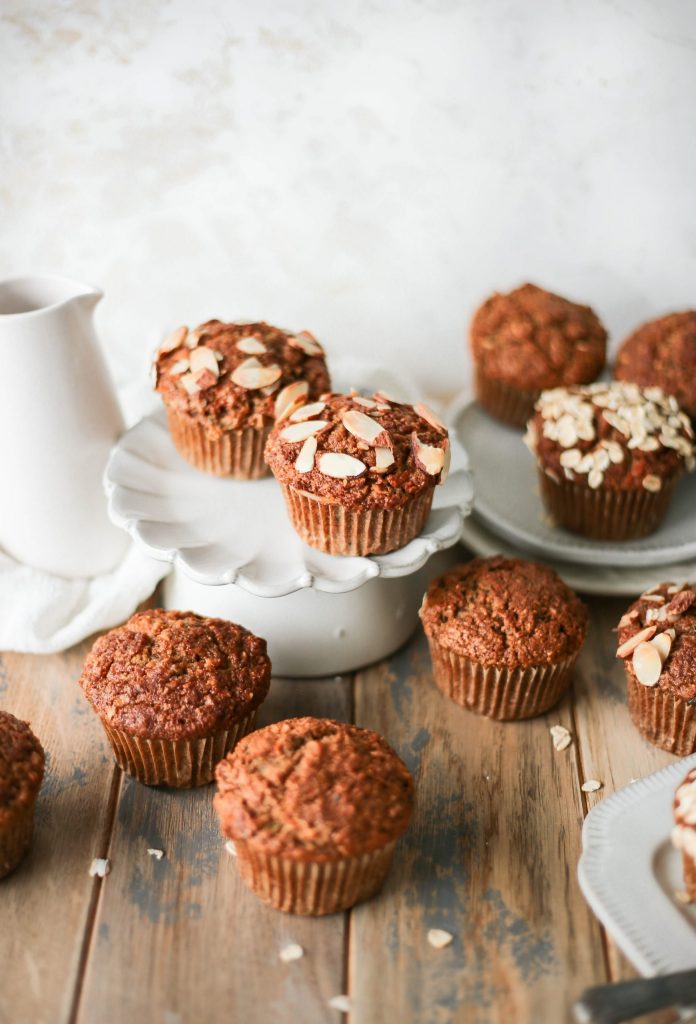 One Bowl Morning Glory Muffins
Why We Love It: When we posted this recipe for morning glory muffins a couple of years back, we weren't surprised when it basically broke the internet. After several rounds of recipe testing (and input from all of our editors), it was confirmed: these might just be the best breakfast ever. What makes them so good? Easy. A trifecta of we ingredients—maple syrup, applesauce, and olive oil—make these perfectly sweet and moist. Without, of course, weighing them down with refined sugar.
Hero Ingredient: 3 whole cups of grated fruit and veg? Like I said, a perfect, healthy-ish morning treat.
Lunch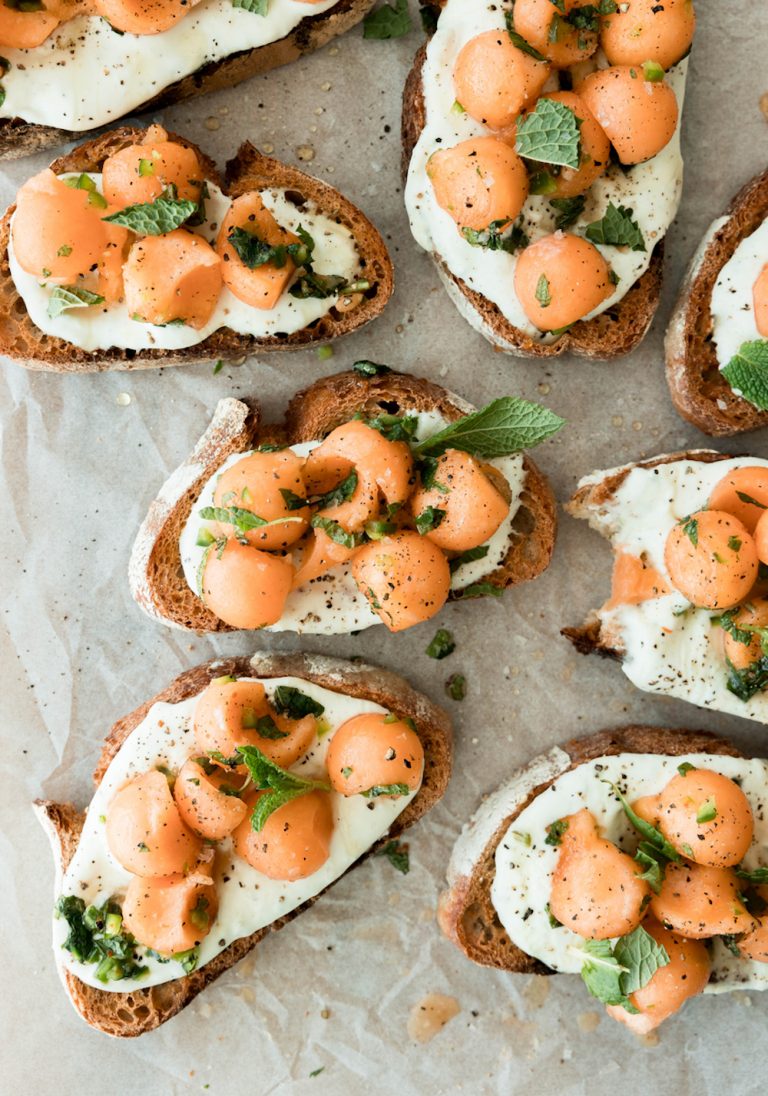 Spicy Melon Ricotta Toast
Why We Love It: Our love of toast cannot be stopped. From tomatoes to grated carrots and hummus—we've topped it with just about everything. This spicy, melon-topped toast might just be our favorite way to take the girl dinner trend into fall. It combines crunchy, crisp, and creamy textures to keep your mouth engaged with every bite. And that color? Stunning.
Hero Ingredient: We're calling it: ricotta is the new cottage cheese.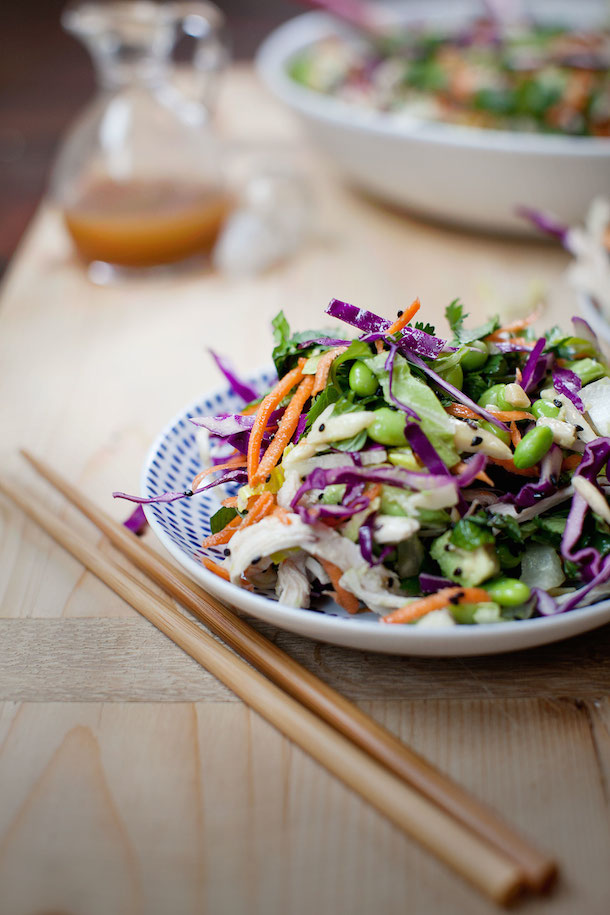 Asian Sesame Chicken Salad
Why We Love It: Some of the easiest summer-to-fall recipes to swap out are salads. I'm saying goodbye to caprese and saying to this Asian sesame chicken salad. It's bright enough to be a summer dish but hearty enough for fall. And if you're also upgrading your fall meal prep, consider adding this recipe to your routine. Plus, you'll want to drizzle this three-ingredient dressing over just about everything.  
Hero Ingredient: Edamame over everything.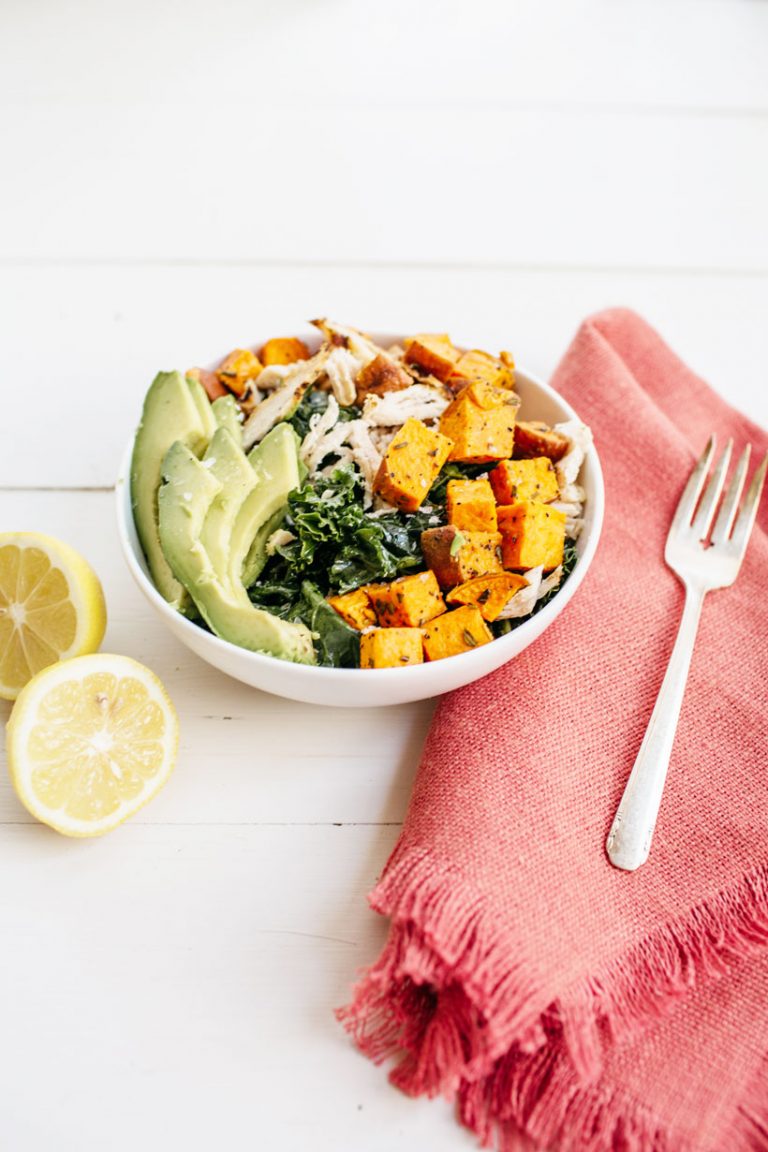 Green & Protein Power Bowl
Why We Love It: I tend to find a way to incorporate sweet potatoes into all of my fall meals, and this power bowl is the perfect transitional way to do that. It's a Fresa's copycat meal, and whipping this up for dinner gives me a cozy taste of home every time. 
Hero Ingredient: Always avocado.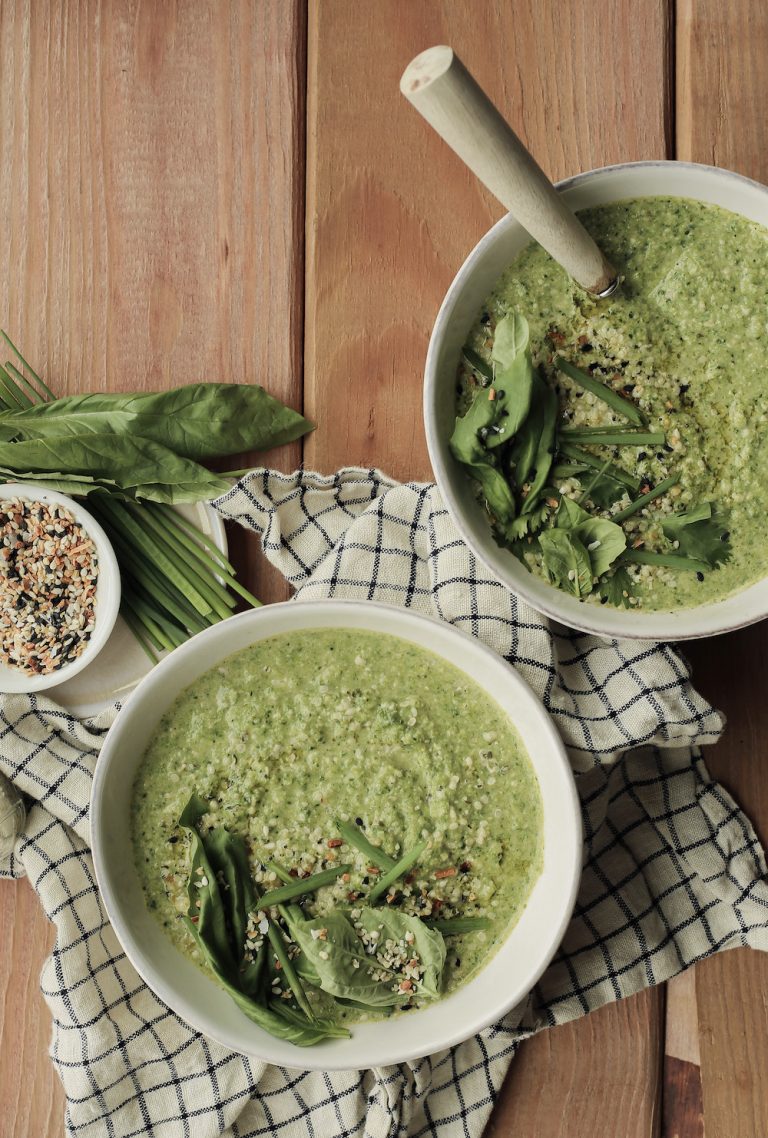 Big Green Immunity-Boosting Vegetable Soup
Why We Love It: Yes, I love fall for the cozy vibes, but I also love it for helping me get back on track. I tend to overindulge in the summer, and my body seems to have a natural alarm clock to get back into a routine when fall hits. Hence, summer-to-fall recipes like this immunity-boosting soup become kitchen staples. It's full of green veggies and herbs that are still fresh from summer, while helping your body fight off fall allergies and colds. What more could you ask for?
Hero Ingredient: Cashews bring the creaminess, without the cream. Can I get a heck yes?
Dinner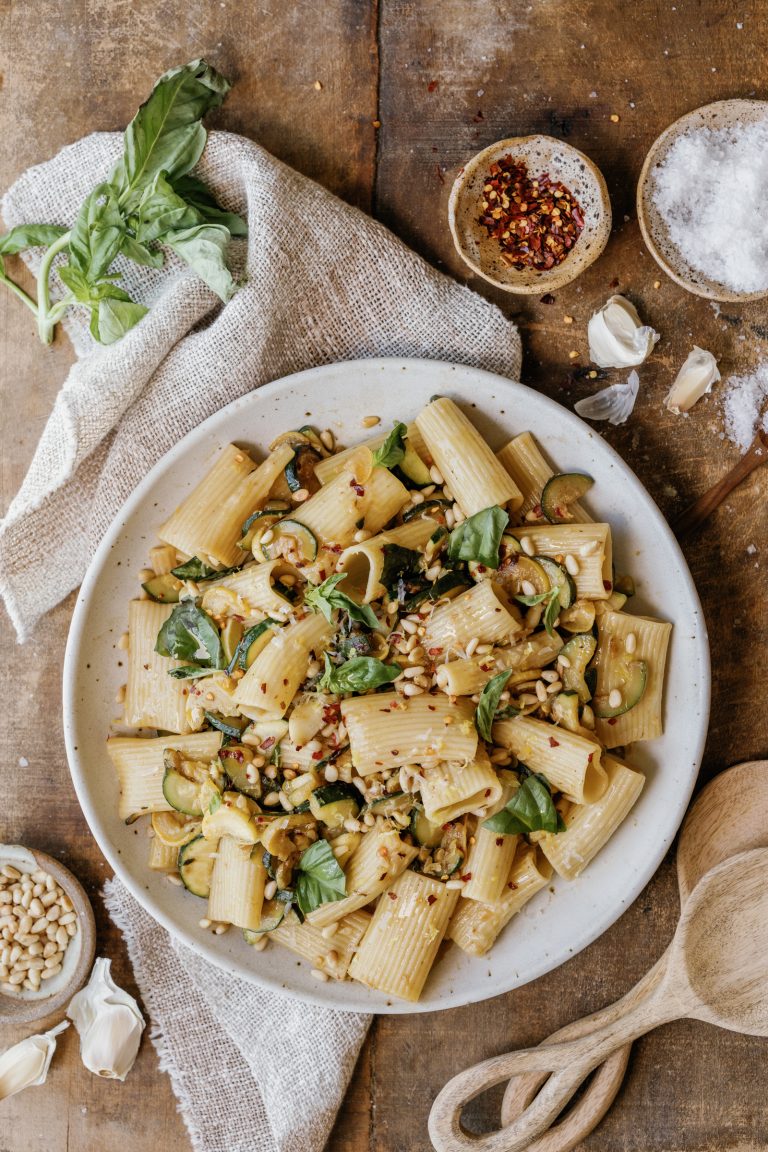 Simple Zucchini Pasta
Why We Love It: I can't be the only one with a bumper crop of zucchini taking up precious real estate in my fridge. And because I made all the zucchini bread in August, I'm ready for something savory. When Camille dropped this easy weeknight pasta recipe (that's impressive enough for a weekend dinner party), I knew I'd found the answer. It comes with a short ingredient list and combines comforting and vibrant flavors. Serious: what's not to love?
Hero Ingredient: I'm making the most of my zucchini while it's still fresh.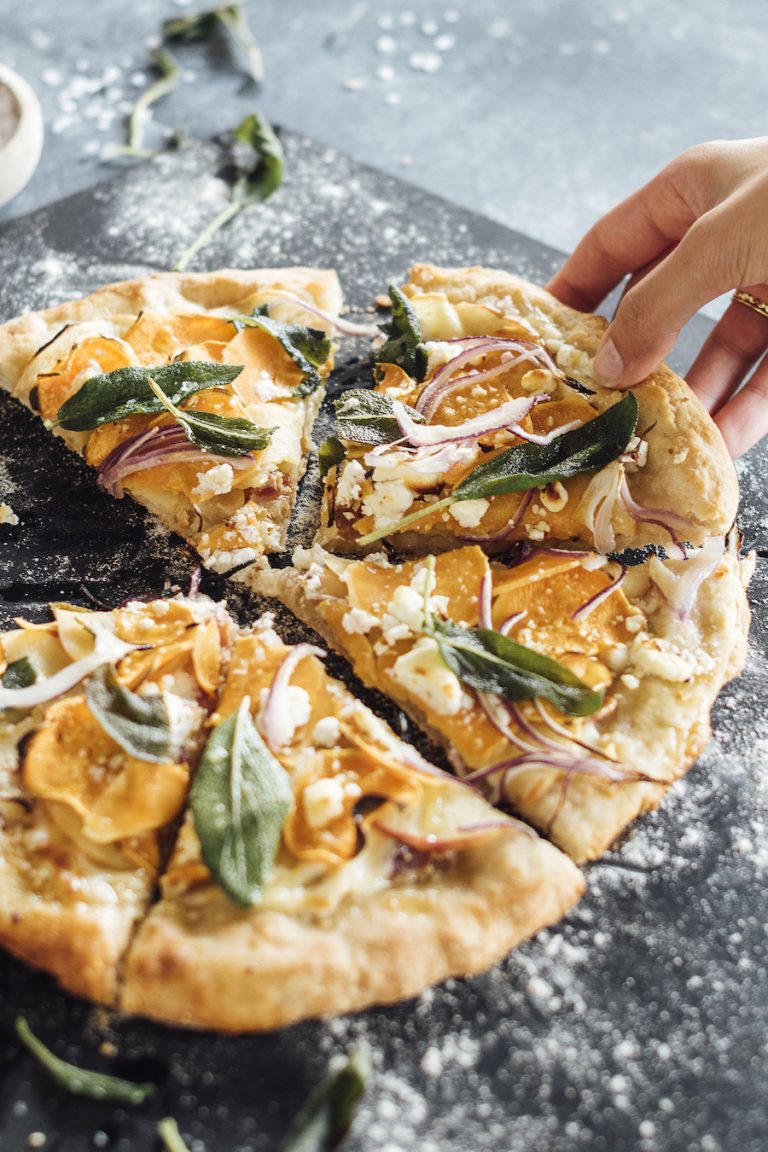 Bacon, Apple, & Sweet Potato Pizza
Why We Love It: Thankfully, pizza is a year-round delight. But I love making it feel like a seasonal dish with my topping choices. This particular combo is one of my favorites to ever come out of Camille's kitchen and shows off fall flavors in a non-traditional way. Whether you make the dough from scratch or pile the toppings on a store-bought crust, you'll be dreaming about this pizza long after the last slice is gone. 
Hero Ingredient: You haven't lived until you've tried fried sage on pizza.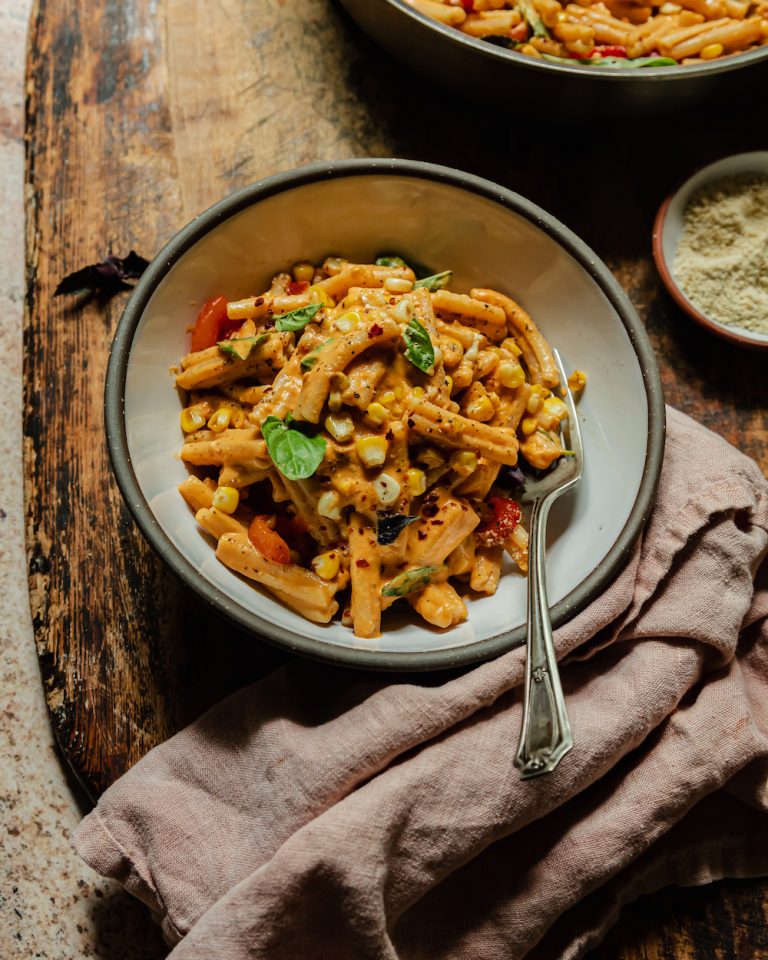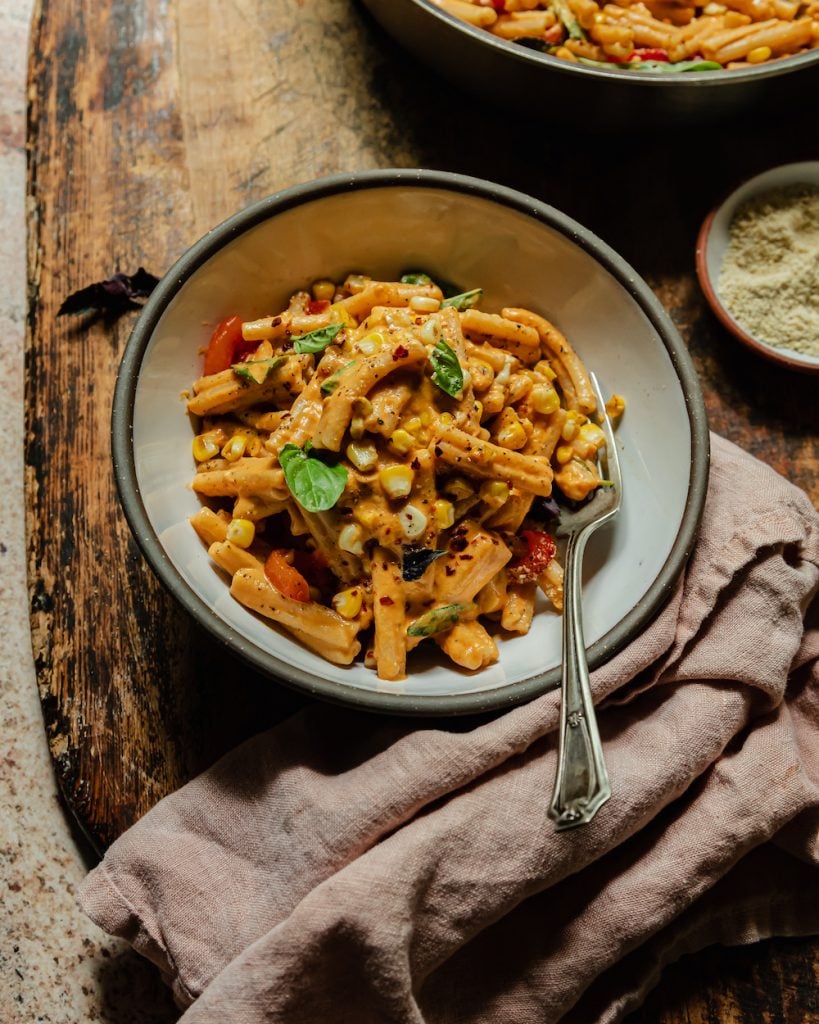 Vegan Red Pepper Pasta with Charred Corn & Basil
Why We Love It: This plant-based recipe comes to us courtesy of Laura Wright, the brilliant vegan recipe creator behind one of our favorite cooking blogs, The First Mess. Like zucchini, corn is abundant this time of year, and we love pairing it with basil for fresh, bright flavor. This pasta is colorful and packs in all the good stuff. A summer-ish salad in pasta form? We're obsessed.
Hero Ingredient: A little bit of light miso goes a long way in creating delicious, umami flavor.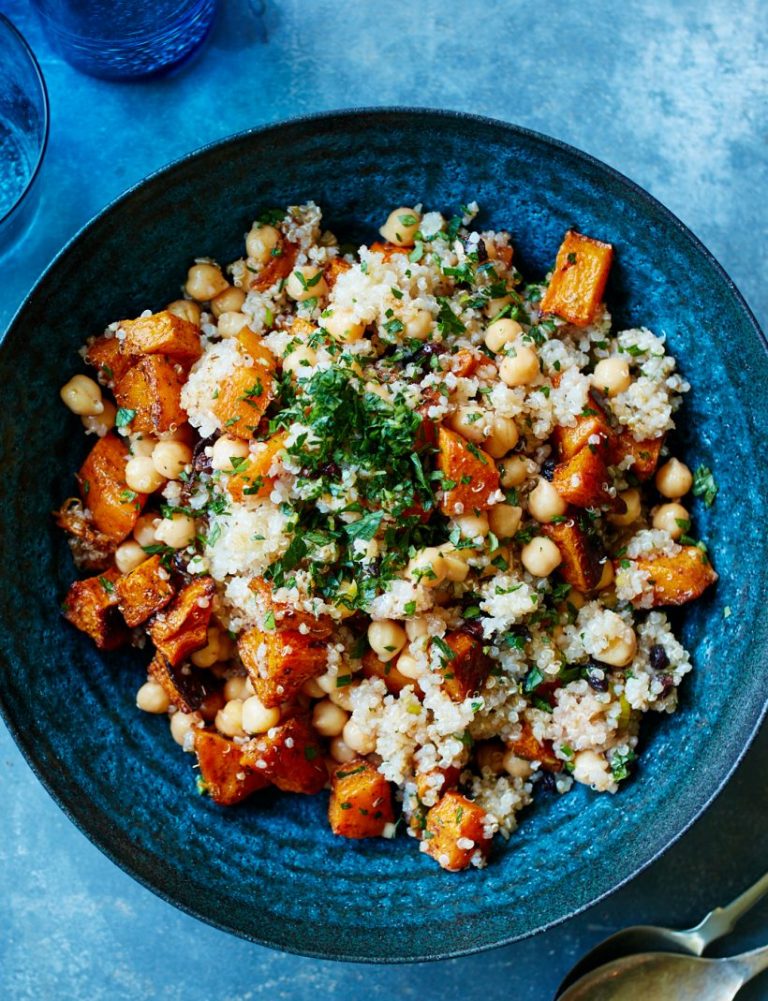 Crispy Roasted Butternut Squash and Quinoa with Currant Vinaigrette
Why We Love It: This recipe is from Daphne Oz's new cookbook, Eat Your Heart Out. I can confidently say that once you try it, it will become a permanent staple in your summer to fall recipes repertoire. It's light enough to enjoy while it's still hot out, but stars another one of my favorite fall foods: butternut squash. Even if you don't make this recipe as a whole, Daphne's tips for making fluffy quinoa and the crispiest butternut squash is worth bookmarking.   
Hero Ingredient: Better be the butternut squash.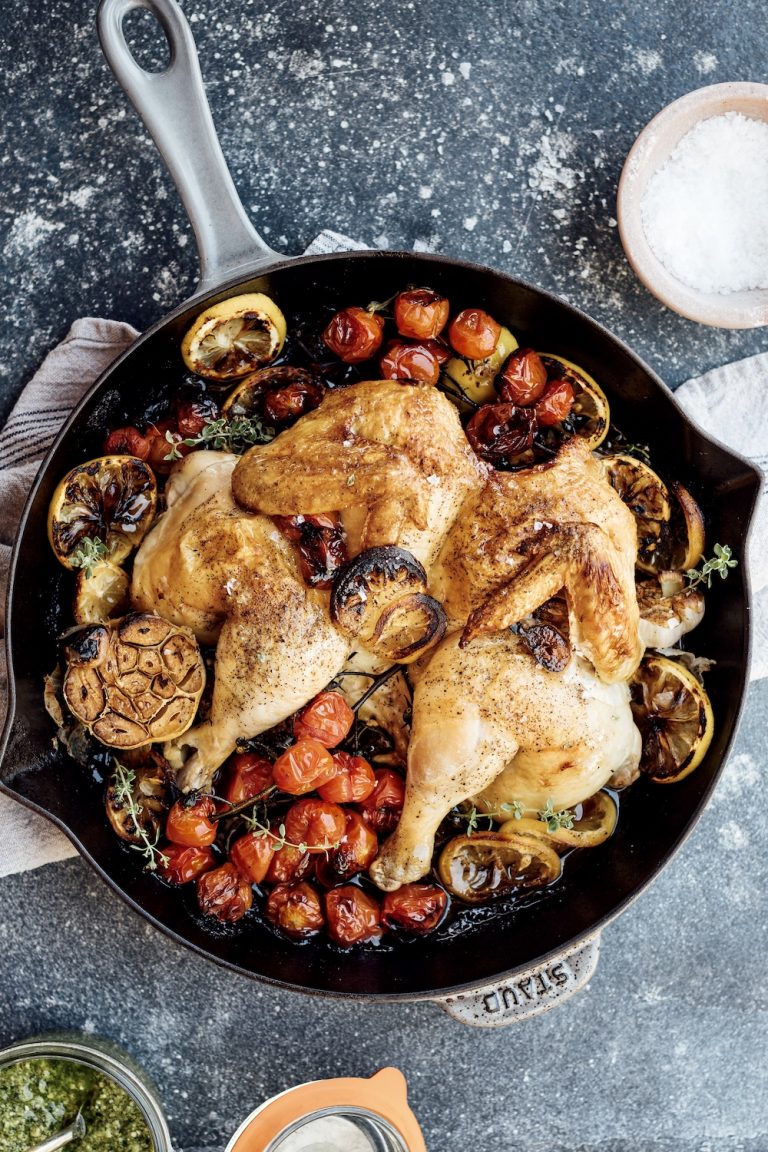 The Best Roast Chicken With Tomatoes, Lemons, & Cilantro Salsa Verde
Why We Love It: There's something about a roast chicken in the oven that just screams fall. Whether it be the warmth from the oven or the mouthwatering smells, it always makes me think of coming home from school as a kid. This recipe is not only my favorite way to roast chicken in general, but the tomatoes, lemons, and salsa verde give it just enough brightness to make it perfect for this list of summer-to-fall recipes.
Hero Ingredient: This recipe is hands down the best way to use up your tomatoes before they go out of season.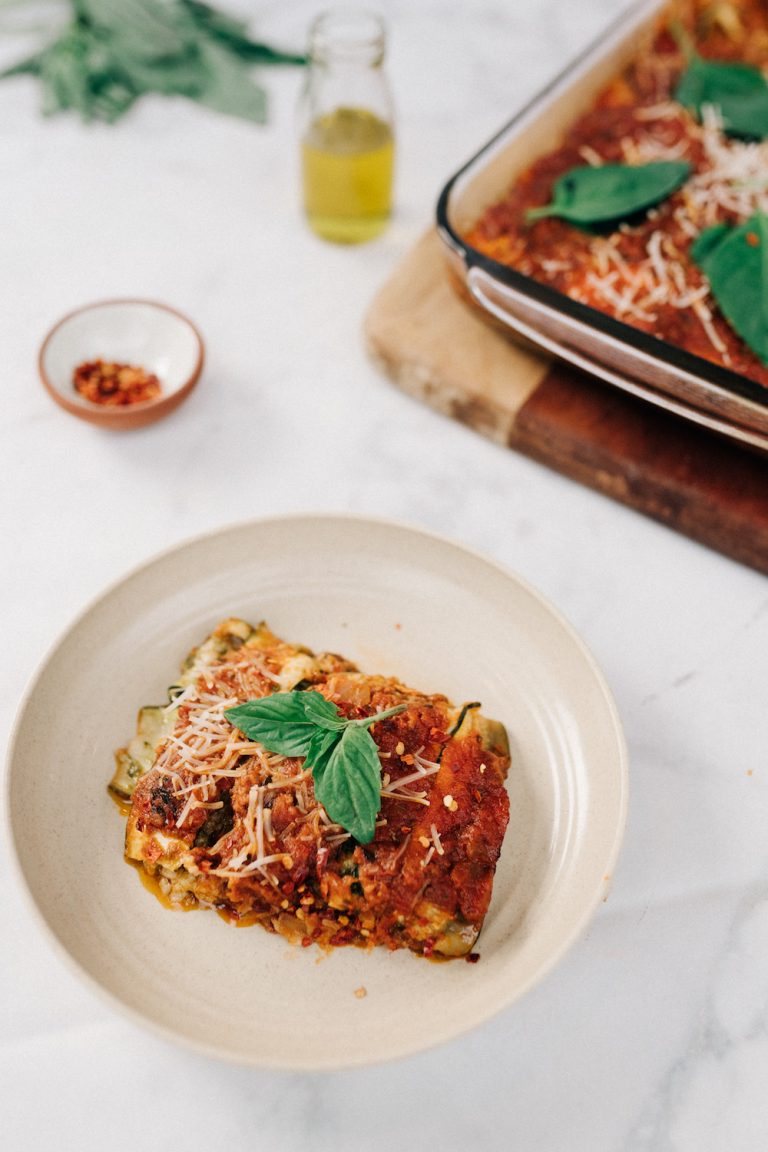 Zucchini Lasagna With Dairy-Free Mozzarella
Why We Love It: Lasagna is one of my ultimate comfort foods. It's warm, hearty, and pairs perfectly with a glass of red wine on a cool night. This version has all of the feels of traditional lasagna, with none of the gluten or dairy. So, whether you're dealing with food allergies or just looking for a healthy meal to get you back on track, I urge you to make a big, cozy serving of this zucchini lasagna. You'll thank us later. 
Hero Ingredient: The summer zucchini with a fall flare.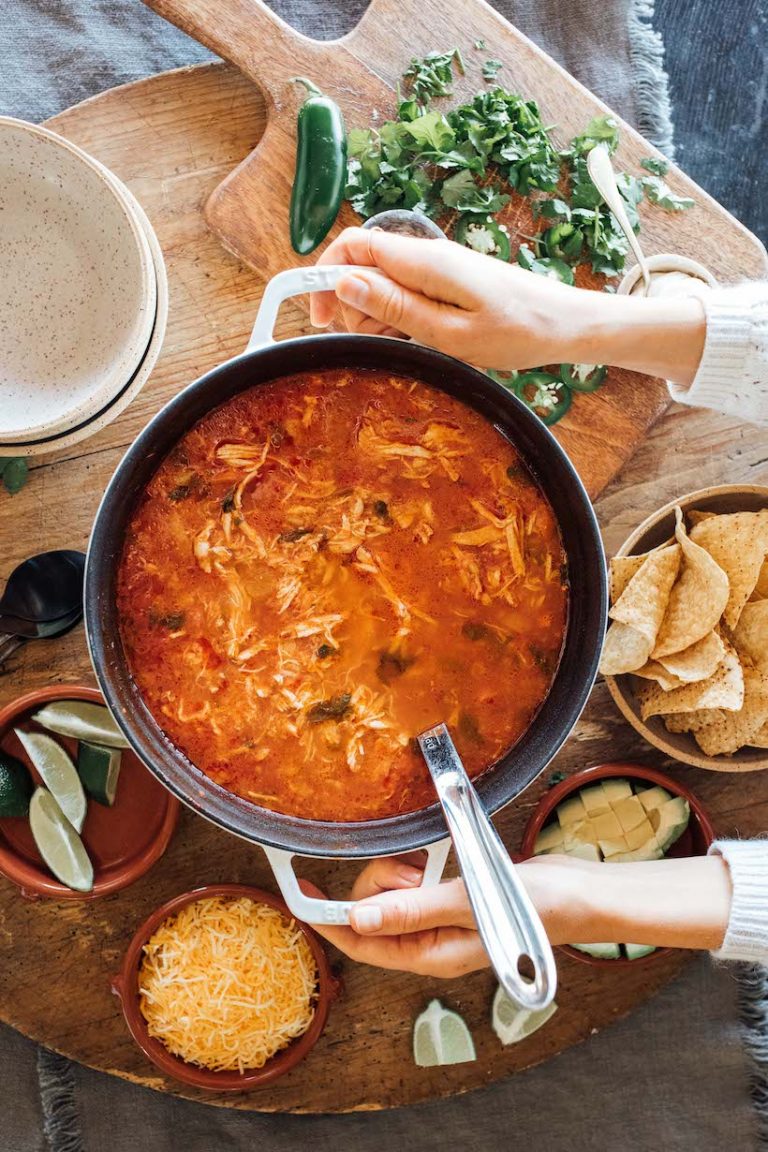 Easy Mexican Chicken Tortilla Soup
Why We Love It: Camille mentioned that she brings this soup to friends and family in need, and I'm starting to think that it has magical powers. Whenever I'm craving any sort of comfort, whether it be because I'm sick, exhausted, or missing home, a big batch of this soup seems to do the trick. However, while it's ultra-comforting, it is still full of summer produce and tangy flavors that make it perfect for the limbo between seasons. 
Hero Ingredient: The corn tortilla strips are undeniably my favorite part.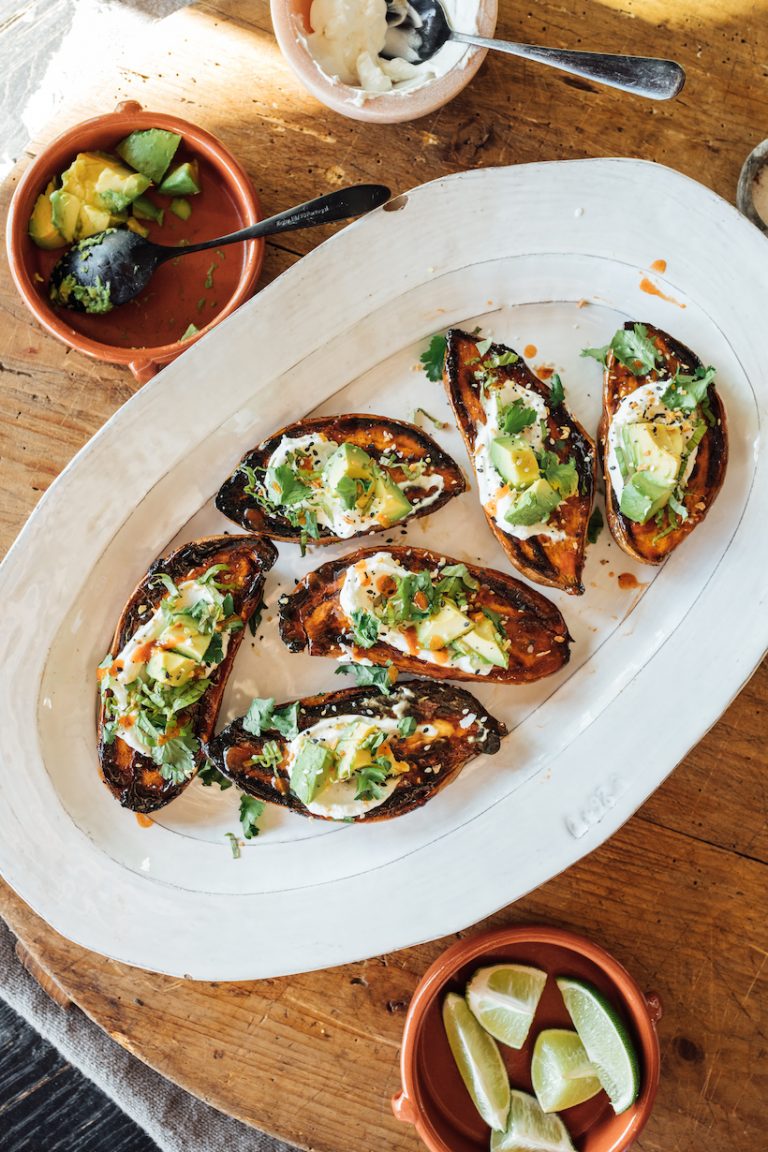 Crispy Roasted Sweet Potatoes with Yogurt, Herbs, and Everything Spice
Why We Love It: Can you tell I'm hyped up about sweet potato season? I definitely enjoy sweet potato fries all summer, but am so excited for summer-to-fall recipes that make sweet potatoes the star. This recipe is a part of my fall meal rotation that I'll never get tired of, because I pile on different toppings each and every time. I love the yogurt and herb toppings shown here, but my new go-to has been adding black beans and avocado.
Hero Ingredient: I'm sweet on sweet potatoes.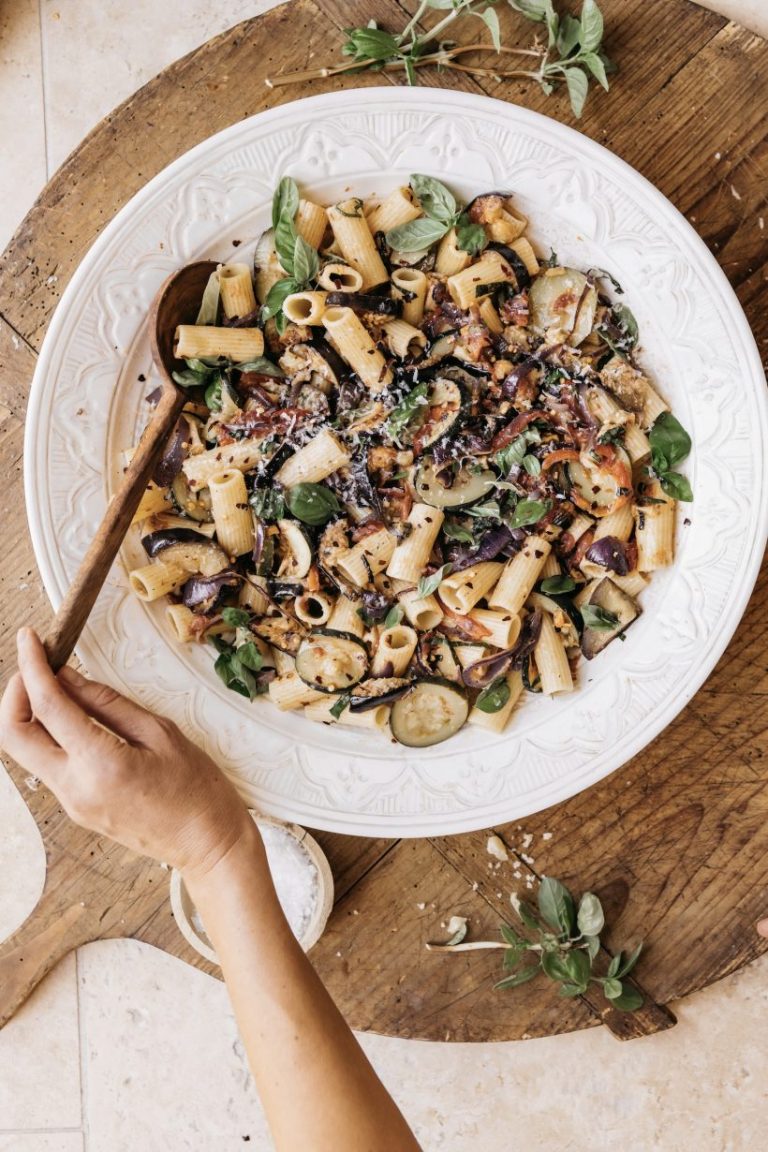 Ratatouille-Style Roasted Vegetable Pasta
Why We Love It: This pasta is another one of the summer-to-fall recipes that utilizes summer produce but in a warm, fall way. It's full of the best of late-summer veggies (eggplant, zucchini, bell peppers), but the almost stew-like consistency of the dish couldn't be cozier. Pasta is my favorite food all year round, and I can't wait to add this to my fall rotation. 
Hero Ingredient: Egging on the eggplant.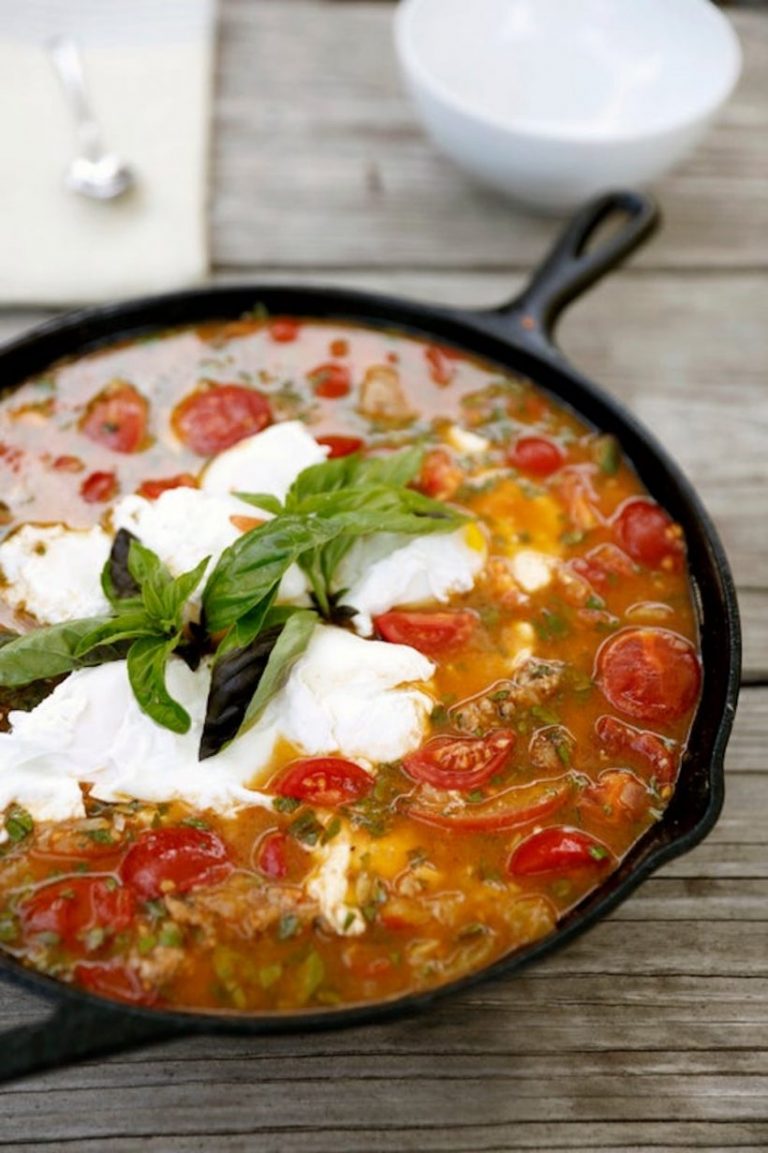 Rustic Skillet Tomato Soup
Why We Love It: This tomato soup is like a hug in a bowl. AKA exactly what I'm craving this time of year. It's a great transitional recipe because the tomatoes will still be fresh and ripe from summer, but the warmth from the soup is perfect for the start of fall. Pair with a grilled cheese and you have yourself the perfect cozy night in. 
Hero Ingredient: Tomato, to-mato.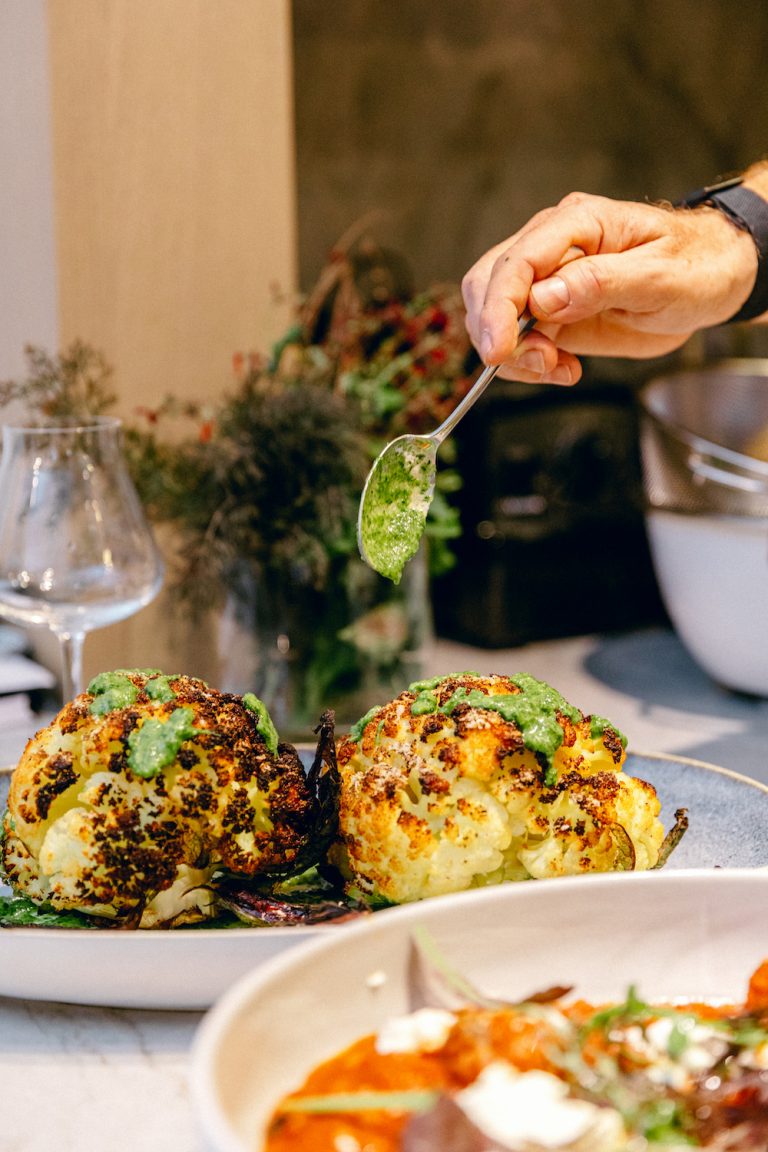 Whole Roasted Cauliflower with Salsa Verde
Why We Love It: Fall is a great time to restart those Meatless Mondays that you abandoned back in May. This roasted cauliflower is a great option for a side or a main dish, depending on how many you are serving. It's also a solid transitional recipe because September kicks off cauliflower season, while the salsa verde keeps the dish bright and summery.
Hero Ingredient: Cauliflower power. 
Dessert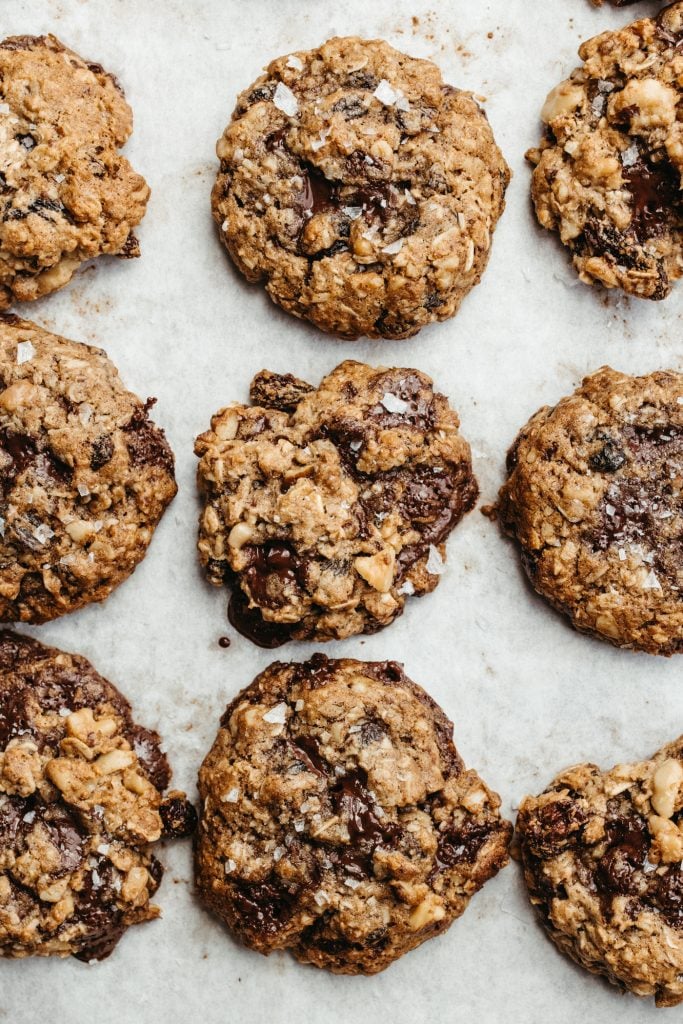 Healthy Oatmeal Cookies with Coconut, Raisins, and Dark Chocolate
Why We Love It: This time of year sees me phasing out my ice cream obsession for cozy, autumnal treats. While you can arguably enjoy these oatmeal cookies all throughout the year (and trust me, I do), they remind me of the sweet after-school snacks my mom would have waiting for me. Nothing makes me crave a cookie like nostalgia.
Hero Ingredient: I love a little crunch in my cookie, and nothing delivers quite like walnuts.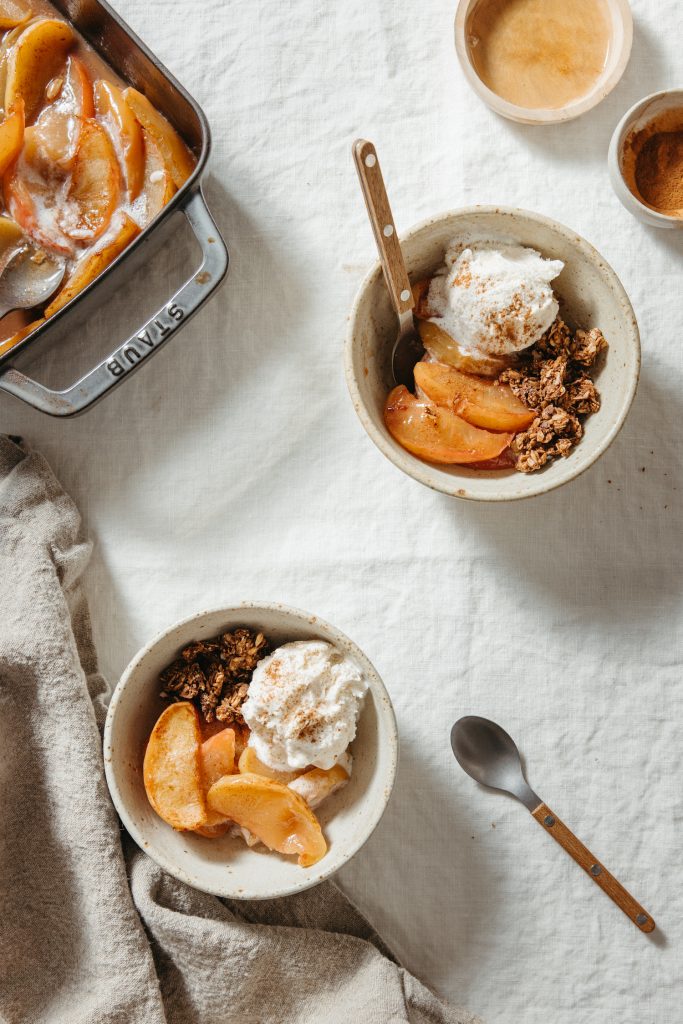 Easy Cinnamon Baked Apples
Why We Love It: While we're all quick to skip over apple season and head straight into pumpkin mania, it's time we give the fruit its due. The goal of this recipe is to bring out the apples' natural sweetness. It achieves this by baking the fruit with a mix of lemon, a little sugar, honey, cinnamon, and a touch of butter. With under 10 ingredients, it's the perfect weeknight dessert.
Hero Ingredient: Apples all the way.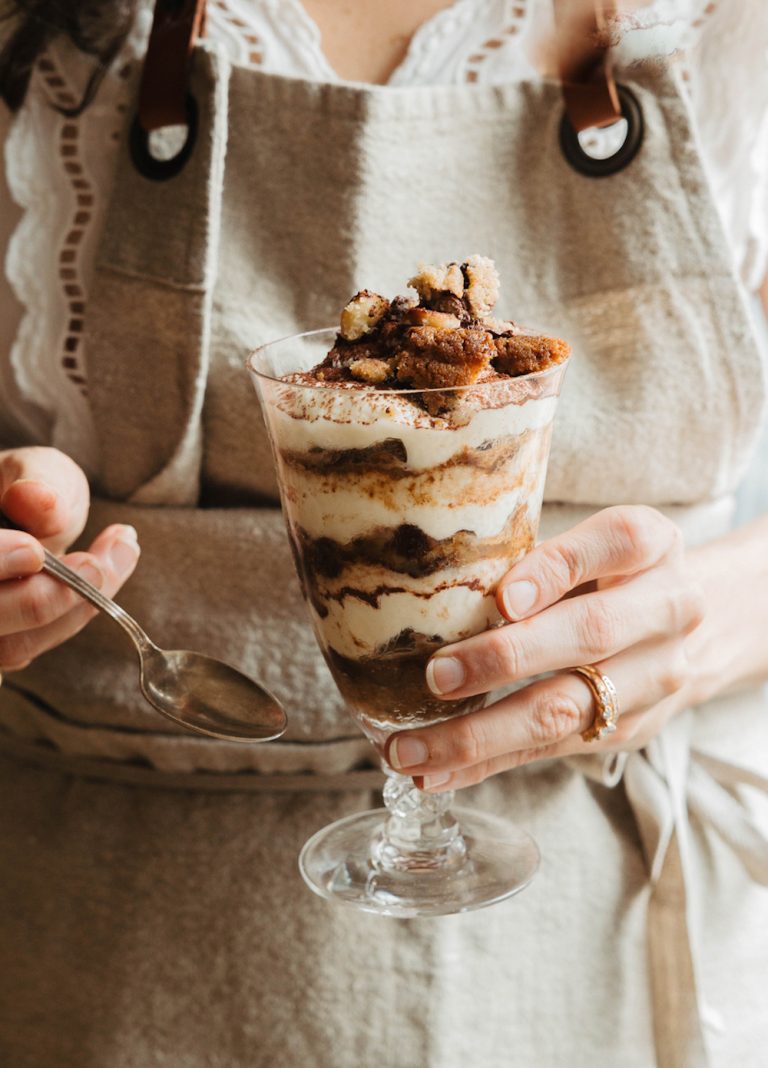 Maman's Cookie Tiramisù
Why We Love It: You've never seen tiramisù like this. While it's impossible to ever pass up the Italian classic, the famed café, Maman, steps things up by swapping out the ladyfingers with espresso-soaked cookies. This might just be my favorite pairing of desserts ever.
Hero Ingredient: While this tiramisù takes liberties with the traditional recipe, mascarpone is non-negotiable. It adds the perfect tang to offset the other layers of sweetness.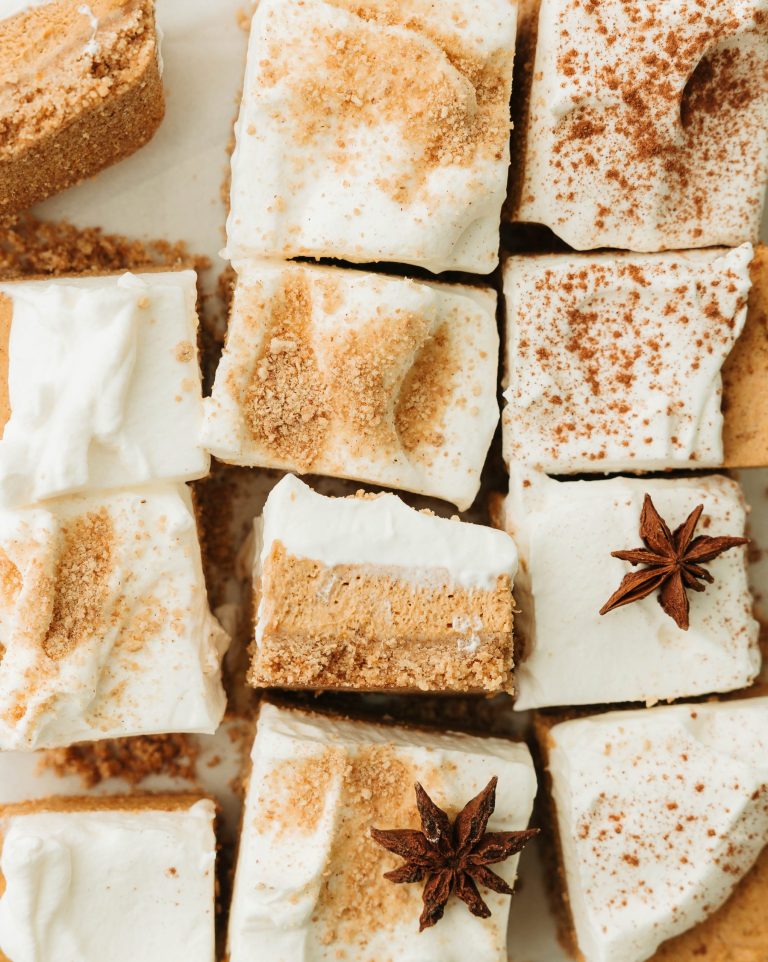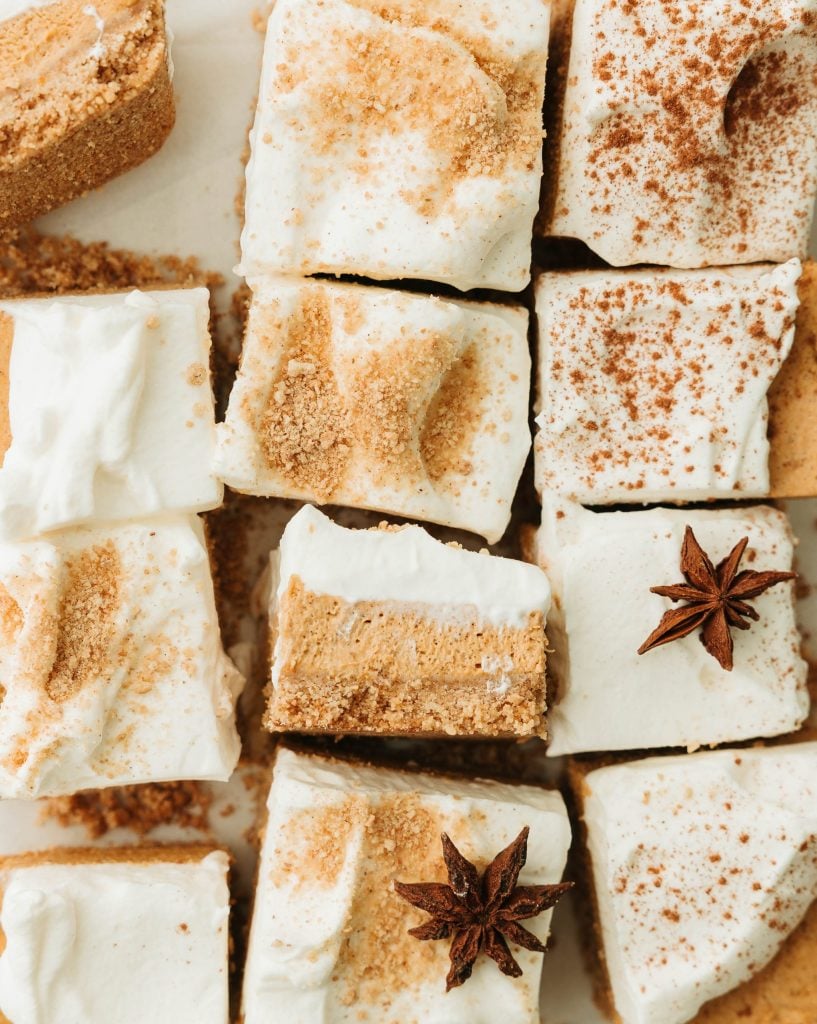 No-Bake Pumpkin Pie Bars
Why We Love It: Who doesn't love a no-bake dessert? Because there's still time until pumpkin pie season gets underway, this seemed like the perfect recipe to get our early-fall fix. Because it doesn't require the oven, these bars blend well with September's warmer temps. But with ingredients like pumpkin, pumpkin pie spice, and graham crackers, it's just enough to satisfy our craving.
Hero Ingredient: You can bet I'll be doubling up on the pumpkin butter recipe. It's the perfect accompaniment to my morning toast.
This post was originally published on September 11, 2022, and has since been updated.