Wallpaper has always held design currency. In my years covering aesthetics and poring over people's houses in architectural magazines, I've found the homes with the most regal touches and confidence to have modern wallpaper finishes. This décor staple has deep roots.
It also has transformative power. When I reached out to corral wallpaper insights and expertise, I was surprised by designers' eagerness to share how they're incorporating modern wallpaper into their current projects—from bedrooms to billiards rooms to kids' rooms and beyond. Their following forecasts, tips, and predictions prove: Wallpaper continues to reign.
Featured image by Ryann Ford; design by Sara Malek Barney of BANND/DESIGN.
Image by Ryann Ford; design by Sara Malek Barney of BANND/DESIGN.
12 Designer Tips for Decorating With Modern Wallpaper
Every product is curated with care by our editors and we'll always give an honest opinion, whether gifted or purchased ourselves. If you buy something through our links, we may earn a small commission at no cost to you.
#1: Look to Large-Scale Natural Landscapes
"These patterns really allow our clients to feel surrounded by nature even when inside," shares Jennifer Morrison of Morrison Design House. "Natural landscape wallpaper also stays a bit more timeless rather than bright graphics or patterns that might fall in and out of style."
#2: Seek Quality
"Nothing beats handcrafted wallpaper," says Hayley English of Hayley English Interiors.  "Think block printing or roller methods. The texture is breathtaking in person."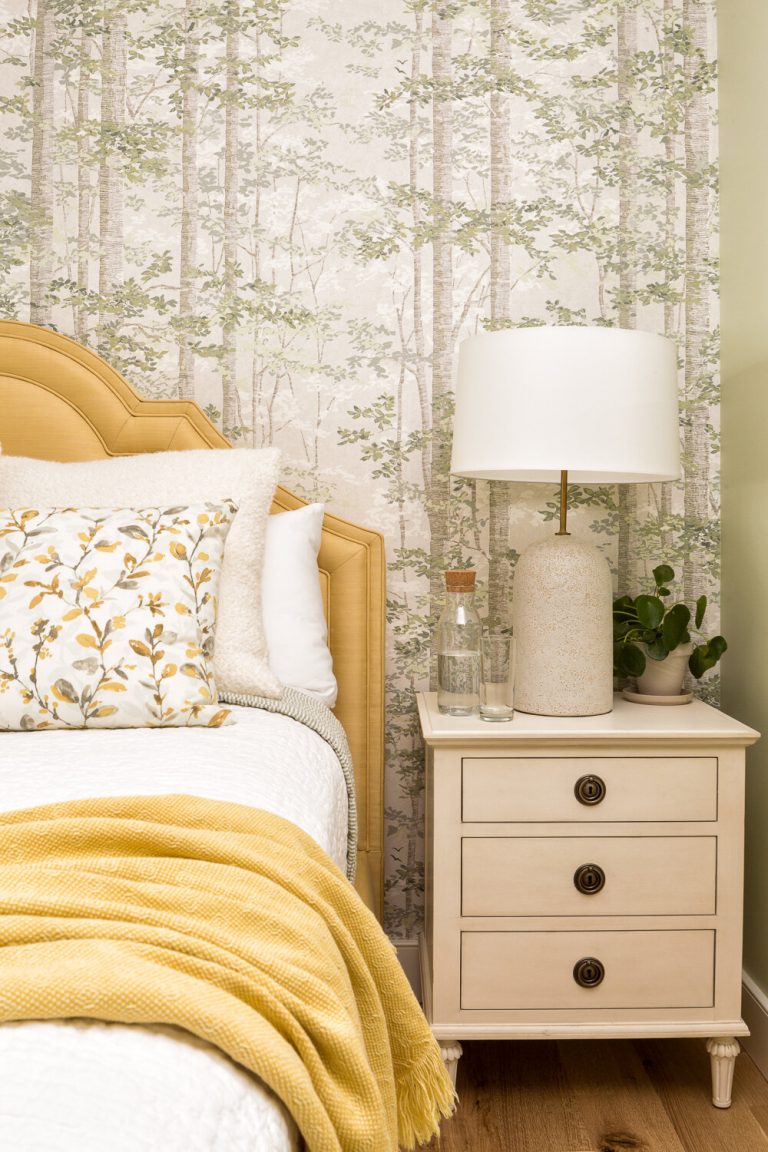 Image courtesy of Jennifer Morrison of Morrison Design House.
#3: Consider Guests' Enjoyment
"Traditionally, public spaces in a home include those that are enjoyed not only by homeowners but also by family and friends, while private spaces, such as the office, are rarely seen by others," explains English. "If you're willing to splurge on wallpaper, we suggest installing it in a public space of your home."
#4: Go for Fun
"We are using textured wallpaper and abstract and floral designs that bring a fun element to a space," shares Sara Malek Barney of BANDD/DESIGN. "To incorporate these looks at home, start by selecting a room that could use a visual lift or a new focal point. Consider the existing color scheme and furnishings in the space to choose a wallpaper that complements the overall aesthetic."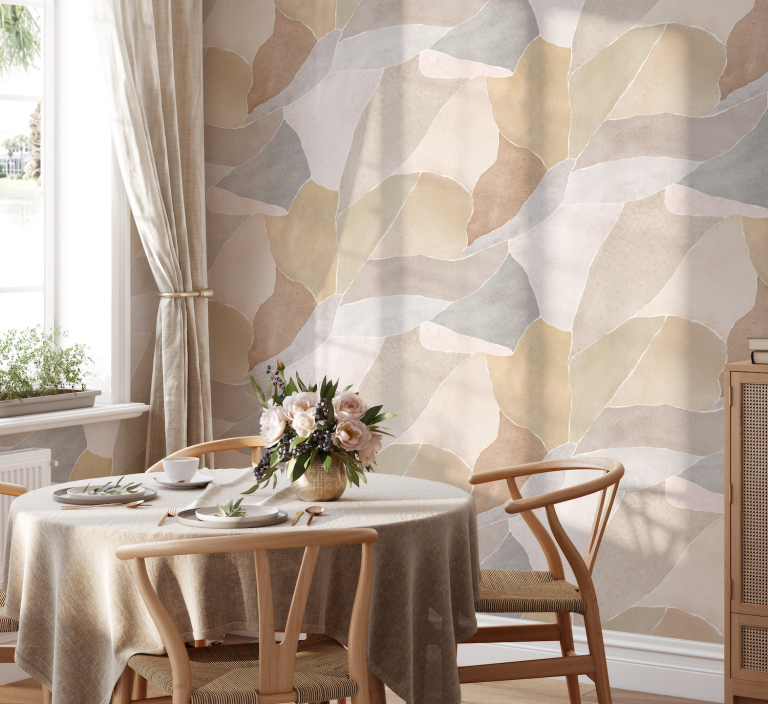 Image courtesy of Color Kind Studio.
#5: Wallpaper the Kids' Rooms
In children's spaces, I love incorporating a mural via the ceiling or a wall to add a unique eye-catching moment," says Jasmine Crockett, founder of JoyMeetsHome. "I love a mix of textured wallpapers and murals."
#6: Create a Statement Wall
"If budget is a concern and the architecture feels right, one wall of wallpaper surrounded by a coordinating paint color can sometimes be just as effective," suggests Morrison.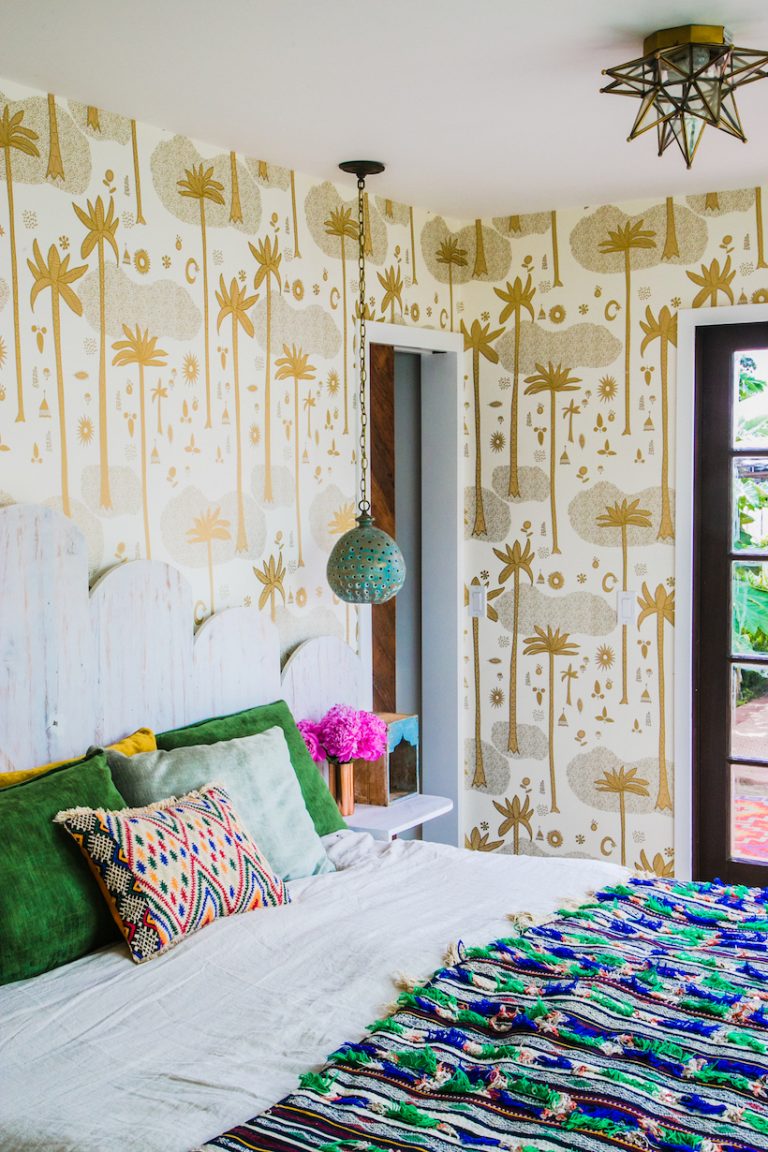 Image of Justina Blakeney's LA home.
#7: Go Geometric
"We are currently partial to using wallpapers with subtle geometric patterns," says Cameron Johnson, founder & CEO of Nickson Living. "Subtle geometric patterns softly say 'hi' to their observers versus scream 'look at me.' The wallpapers often have solid colored backdrops with textured feels that allow them to be used in any room."
"Wallpaper can instantly transform a space and add depth, texture, and personality." — Sara Malek Barney of BANDD/DESIGN
#8: Lean Into Moody and Textured
"I am currently working on a billiards room and am loving textured wallpapers," shares Abby Gruman of Abby Leigh Designs. "Velvet and lacquer! Dark and moody is the vibe of this space."
#9: Don't Shy From Maximalism
"We can't help but lean into moody maximalist-inspired prints," says Katie Browning in tandem with Heather Lucas, both of Lucas Browning Designs. "This dramatic look is perfect specifically for powder rooms by instantly elevating the tone of the space and allowing you to make a bold choice in a small space."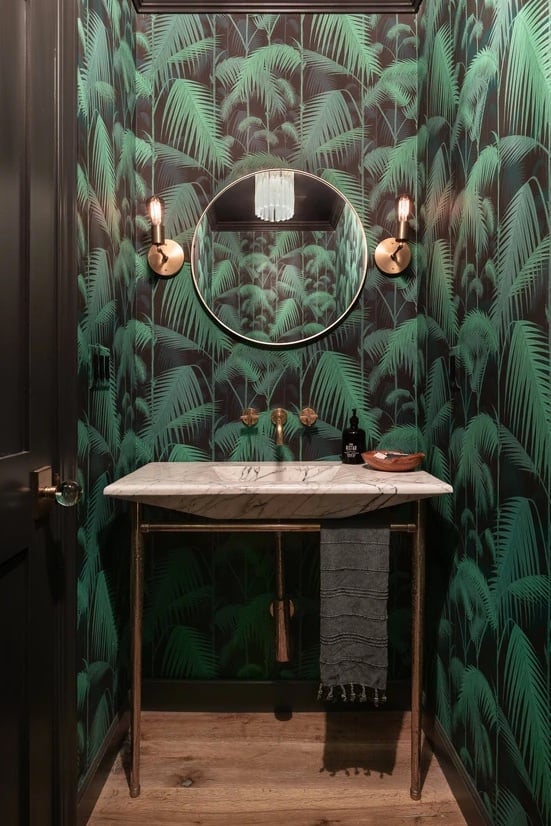 Image courtesy of Lucas Browning Designs.
#10: Give Love to Windowless Walls
"Wallpaper can be great in rooms with large walls that do not have openings or windows—such as the bed wall in a bedroom, the couch wall in a living room, the only wall in a dining room, or one side of a hallway," adds Johnson. "These walls are typically hard to carry with a single piece of artwork and make great candidates for wallpaper."
#11: Non-Committal? Go for Stickers
"A lot of companies make peel-and-stick wallpapers. If the budget is tight, you can use these and get the same look," says Gruman. "Decals are also great for children's rooms."
#12: Just Play!
"I encourage anyone interested in wallpaper to just play!" exclaims Jill Elliott of Color Kind Studio. "Order swatches of your favorite patterns and live with them in your space for a bit […] It's such a great way to set the tone for the home!"
Ready to switch up your space? Camille shares her biggest design mistakes—and how she fixed them along the way.