I'm relishing the Autumn feels right now—even though the leaves aren't really turning in Austin, there's just enough crisp in the air to have me burning spicy candles and wearing my beanie every chance I get. And you guys know that my favorite place to celebrate the season is in my cooking. The cozy flavors of fall were certainly my inspo when I threw together this farro squash salad— a symphony of seasonal favorites that satisfies cravings for something hearty yet healthy. So, let's dive into fall cooking (and Thanksgiving menu planning!) with a recipe that's as vibrant and colorful as the season itself.
A Satisfying Fall Salad
This dish is a celebration of texture, taste, and nourishment. And unlike many leafy green salads, it's a truly filling one dish meal, whether you keep it vegetarian or add some additional protein to the mix (more ideas on that below.) Out of all the beautiful fall produce at the market this time of year, I get the most excited about the different varieties of winter squash to choose from. Honeynut, acorn, butternut, and kabocha—I love them all. (So much so that we just shared the ultimate guide on how to cook winter squash.) This one uses Delicata Squash (one of my faves) combined with nutty farro, creamy goat cheese, crunchy pecans, and more for an incredible combination of flavor and texture.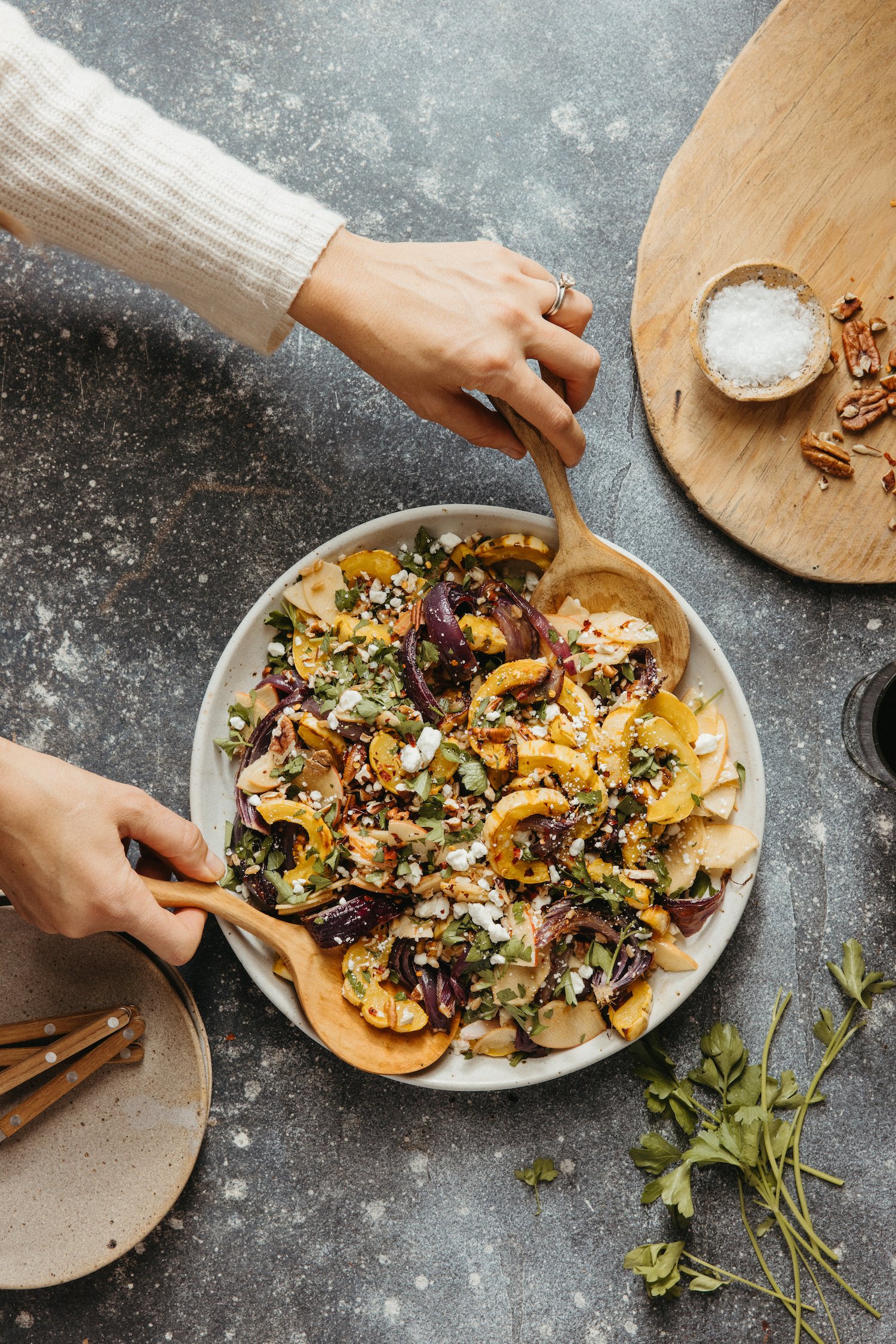 Ingredients in Delicata Squash Farro Salad
This is a salad that's bursting with seasonal, fresh, wholesome ingredients:
Cooked farro
Delicata squash
Red Onion
Apple
Crumbled goat cheese
Toasted pecans
Olive oil
Balsamic Vinegar
Honey
Mustard
Salt and Pepper
Fresh Herbs
The harmony of sweet roasted squash, tangy goat cheese, and crunchy pecans, all brought together with the nutty taste of farro, creates a salad that's as delicious as it is healthy.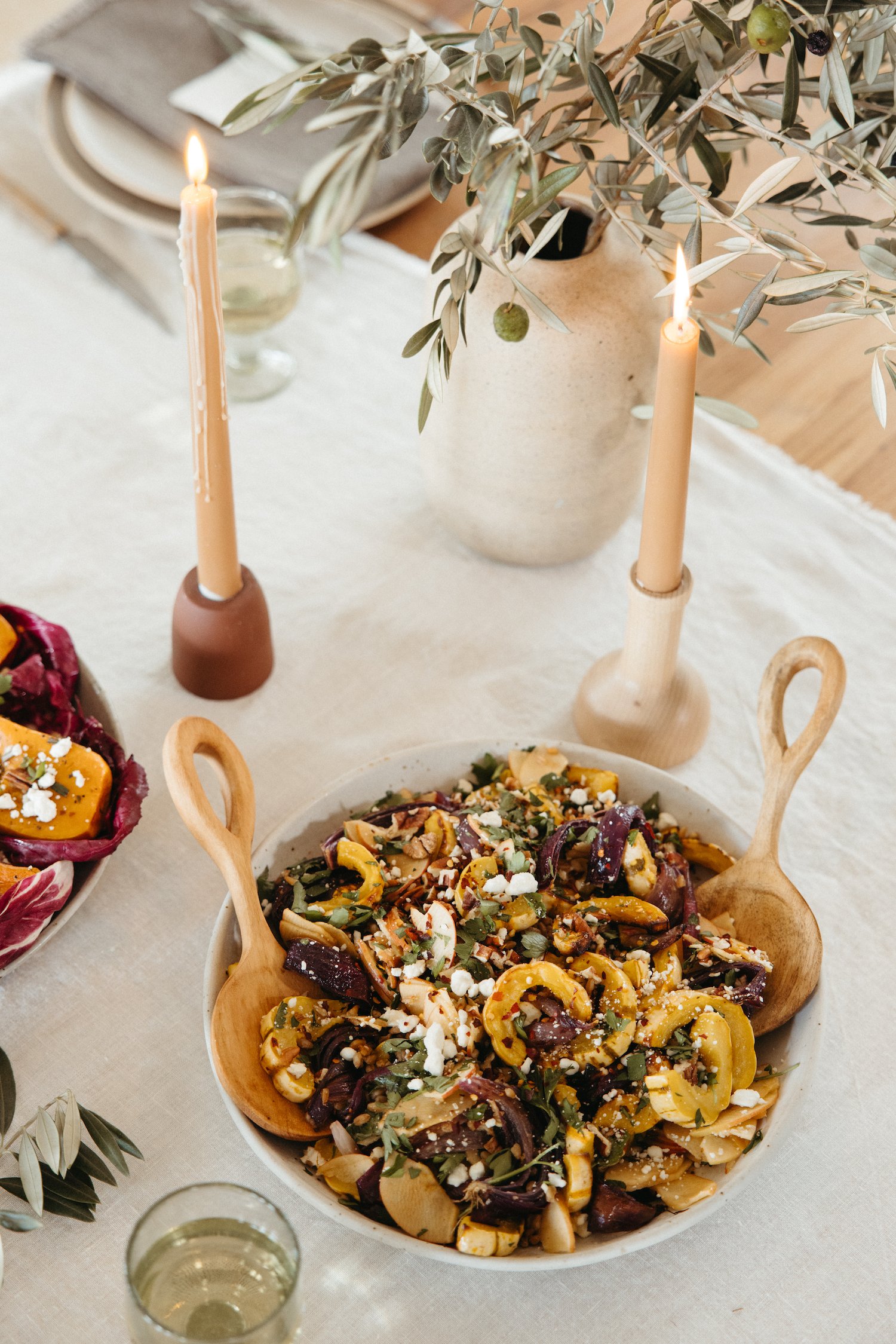 How to Make This Fall Salad
Creating this farro squash salad is easy when you've got fresh fall produce as your inspiration. These ingredients don't require much more than a simple roast in the oven to bring out all their natural sweetness. Follow just a few simple steps to build your salad (and feel free to add, omit, or freestyle! Salads are canvases that ripe for adaptation.)
Roast the Squash
Toss the sliced squash with olive oil, salt, and pepper, then roast until tender and caramelized.
Cook the Farro
Bring a pot of salted water to a boil, add the farro, and cook until tender yet chewy, about 30 minutes. Drain and cool.
Toast the Pecans
Spread out the pecans on a baking sheet, and cook in a 350 degree oven for about 7 minutes, until they smell toasty.
Prepare the Dressing
Whisk together olive oil, balsamic vinegar, honey, mustard, salt, and pepper to create a dressing that's so versatile and absolutely addictive.
Assemble the Salad
In a large bowl, mix the farro with the roasted squash and red onions. Add the apples, drizzle the dressing, and toss to combine. Top with goat cheese, pecans, fresh herbs, salt, & pepper. Eat!and toss gently to combine.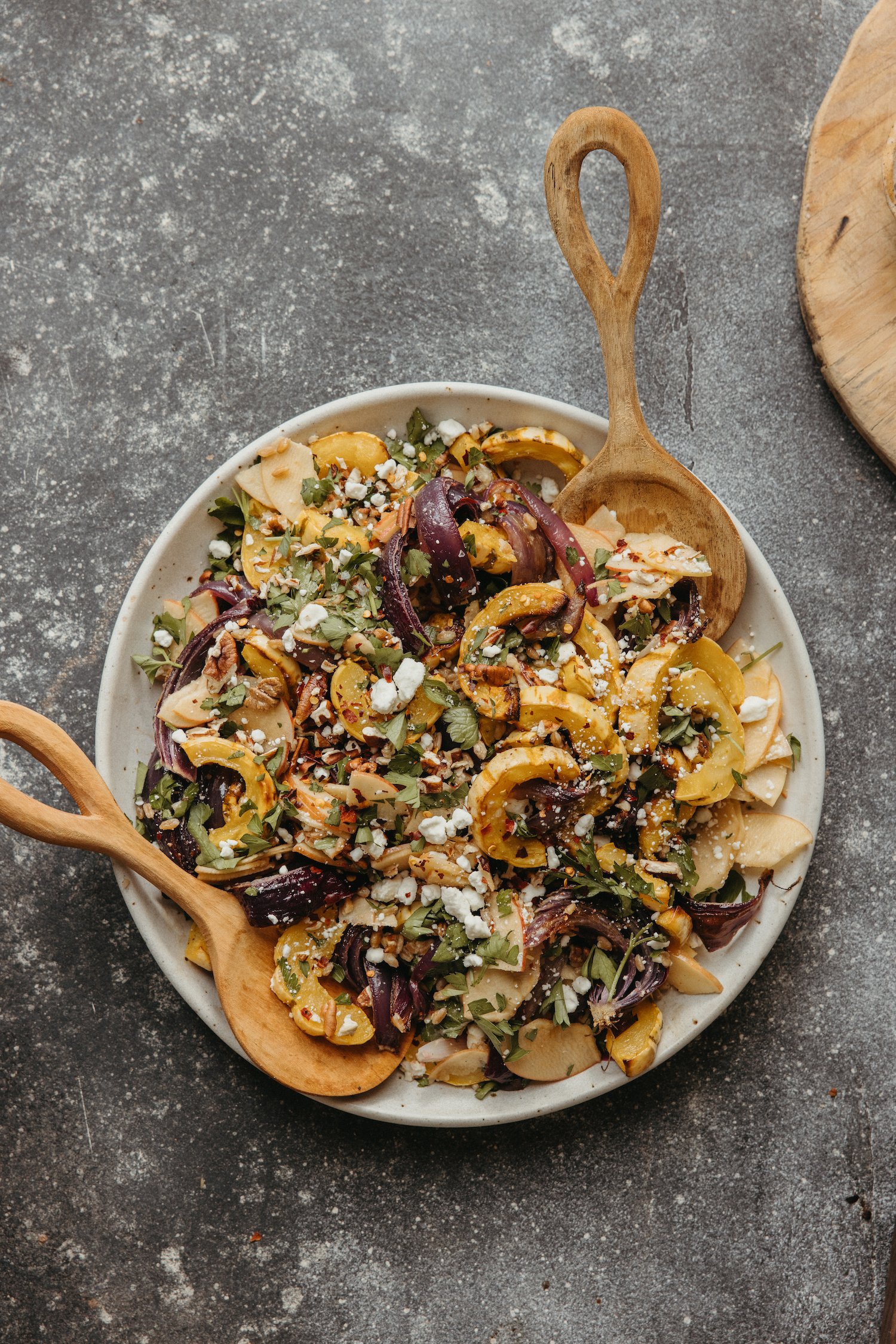 Serve and Savor
Serve this luscious farro squash salad on its own as a main dish, or pair it with leftover roast chicken or a piece of broiled salmon for added protein. It's ideal for a quiet night in, and it's also an absolutely perfect side dish on the Thanksgiving table. This salad proves how delicious and satisfying seasonally-based eating can be. It tastes like wellness in the best way possible, and you will absolutely fall in love with this squash and farro salad.
Other fall salads you'll love:
Apple Walnut Salad
Putting apples in a salad is one of the easiest ways to get to my heart. Throw in some walnuts and dried cranberries and it's game over.
Sweet Potato & Caramelized Date Salad
This recipe has everything I crave in a salad: something creamy, something crunchy, something unexpectedly sweet, and something tangy.
Shredded Kale & Cranberry Salad with Tofu
Massaging the kale is key here, and the crispy tofu just gives it all a crunchy, satisfying, and delicious texture.
***
Scroll on for the recipe…
Print
1

cup

uncooked farro

1

delicata squash, halved, seeds removed, and sliced into

3/4

" thick half-moons

1

small red onion, sliced

1

large apple, mandolined or thinly sliced

4

oz

goat cheese, crumbled

1/2

cup

pecans
Olive oil (for roasting and dressing)

2 tablespoons

balsamic vinegar

1 tablespoon

honey

1 teaspoon

Dijon mustard
Salt and pepper, to taste
Fresh herbs like cilantro, parsley, or basil (optional, for garnish)
---
Roast the Squash:

Preheat the oven to 400°F. On a parchment or foil-lined baking sheet, toss the squash with a drizzle of olive oil, salt, and pepper until well coated.
Spread out in a single layer. Roast for 25-30 minutes, or until the squash is tender and edges are caramelized. Remove from oven and set aside to cool.

Cook the Farro:

Rinse under cold water to remove any excess starch. Bring a medium pot of salted water to a boil.
Add the farro to the boiling water and cook for about 30 minutes, or until it is tender but still chewy. Drain the farro and let it cool for a few minutes.

Toast the Pecans: Spread out the pecans on a baking sheet, then pop in your oven for about 5 minutes until they start to smell toasty. Remove and let cool.

Prepare the Dressing:

In a small bowl, combine 2 tablespoons of olive oil, balsamic vinegar, honey, and Dijon mustard. Whisk together until the dressing is well combined and emulsified, then season with salt and pepper to toast.

Assemble the Salad:

In a large bowl, combine the cooled farro with the roasted squash and sliced red onion.
Add the apple to the bowl, then drizzle dressing over top and gently mix.
Add the crumbled goat cheese, toasted pecans, and fresh herbs on top.
Serve in your favorite wood salad bowl in the center of the table!
Notes
To add more protein to this salad, add shredded roast chicken or a piece of broiled salmon.
You can make the salad up to a day in advance—add dressing just before serving.
Prep Time:

20

Cook Time:

30

Category:

salad
Keywords: squash farro salad, thanksgiving salads, thanksgiving sides, grain salad