The dining table sits at the heart of every home. Family-favorite dishes blend seamlessly with the evening's conversation, and the tablescape—however you choose to set it—is the foundation upon which all of these flavors, stories, and connections unfold. Of course, the best dinnerware sets are a crucial piece of the puzzle. They mix function with craftsmanship and aesthetic appeal, helping your well-loved recipes shine.
With so much riding on this element of the table, it's important to select a dinnerware set you'll be excited to use for years to come. Whether you're a hosting maven or save your gatherings for special occasions, you'll find a set fit for your lifestyle and entertaining approach. From classic and clean to contemporary charm, there are options for everyone. Ahead, discover the best dinnerware sets for every style and occasion.
Featured image by Michelle Nash.
Every product is curated with care by our editors and we'll always give an honest opinion, whether gifted or purchased ourselves. If you buy something through our links, we may earn a small commission at no cost to you.
Why We Love It: You have all you need with this style-inclined, five-piece set. With the brand's signature Breakfast Bowl, Everyday Bowl, Cake Plate, Side Plate, and Dinner Plate, no element is missing. While decidedly chic, the set is far from fussy. Instead, the look blends rustic elegance with a well-worn appeal. Handmade in Asheville, North Carolina, you can expect unique character and a one-of-a-kind look in each piece.
Set Includes: Breakfast Bowl, Everyday Bowl, Cake Plate, Side Plate, and Dinner Plate
Care: Dishwasher and microwave safe
Color options: Black Mountain, Blue Ridge, Eggshell, Panna Cotta, Morel, Amaro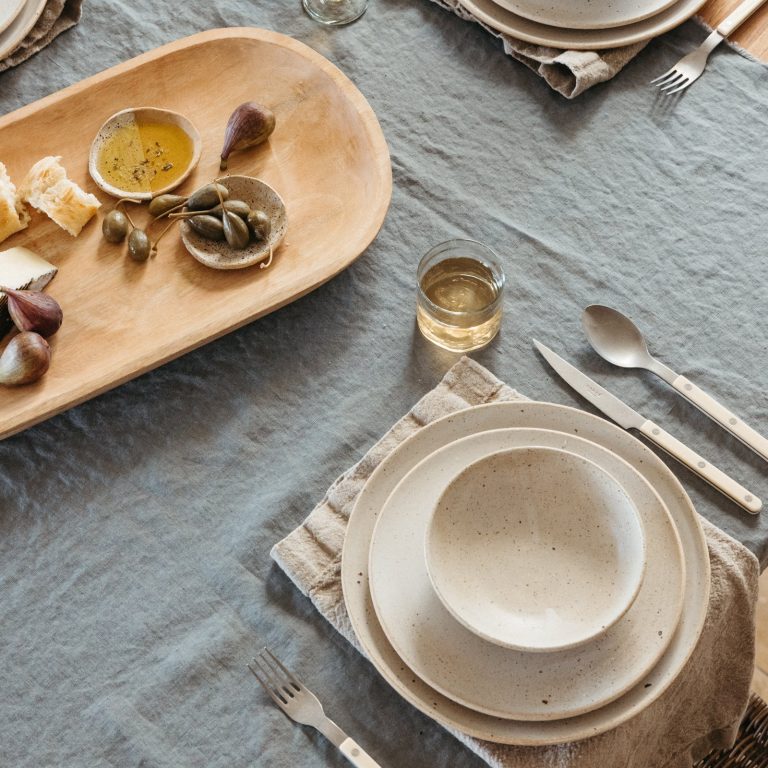 Why We Love It: Some dinnerware sets are finicky and overly formal. Instead, this set, with its kiln-fired build and earthy palette, bridges the gap between special occasion and everyday use. With its wabi-sabi design and perfectly imperfect charm, it's our go-to for weeknight dinners as well as gatherings (where the set is sure to garner plenty of compliments). Handmade in Mexico with one-of-a-kind charm, this set, as reiterated by the name, will quickly become a household essential.
Set Includes: Dinner Plate, Salad Plate, and Pasta Bowl
Care: Dishwasher safe
Color options: Matte speckled white glaze
Why We Love It: When you're looking for an outdoor dinnerware set, the first thought is durability. Of course, you want something to stand up to the elements as well as the transfer from the kitchen to the outdoor dining table. But oftentimes, when it comes to dinnerware sets that stand up to the test, they fall short on style. Thankfully, West Elm delivers a true unicorn dinnerware collection with this affordable, high-style set. This modern take on melamine features rimmed plates to keep any potential spill contained. What's more, with a variety of colors to choose from, you're welcome to coordinate a bright, summery mix of hues that'll infuse any picnic with joy. Bonus: Right now, the set's on sale.
Set Includes: Set of 16 includes four of each: Dinner Plate, Salad Plate, Pasta Bowl, and Cereal Bowl
Care: Dishwasher safe
Color options: Stone White, Silver Pine, Pink Grapefruit, Turquoise
Why We Love It: Enamelware evokes a certain vintage charm that's easy to weave into any aesthetic. The colored rims and white surface are crisp and clean, letting you set a streamlined table or serving as the foundation for a more maximalist interpretation. If you'd like to take the latter route, I love the Americana feel of pairing this set with a checkered tablecloth and a scattering of bud vases filled with ranunculus. And while other enamelware sets can scratch easily, these plates, bowls, and mugs are virtually scratch-proof, letting them stay in pristine condition for years to come.
Set Includes: Set of 16 includes four of each: Dinner Plates, Salad Plates, Cereal Bowls, and Mugs
Care: Dishwasher and oven safe
Color options: Blue, Black, Gray, Red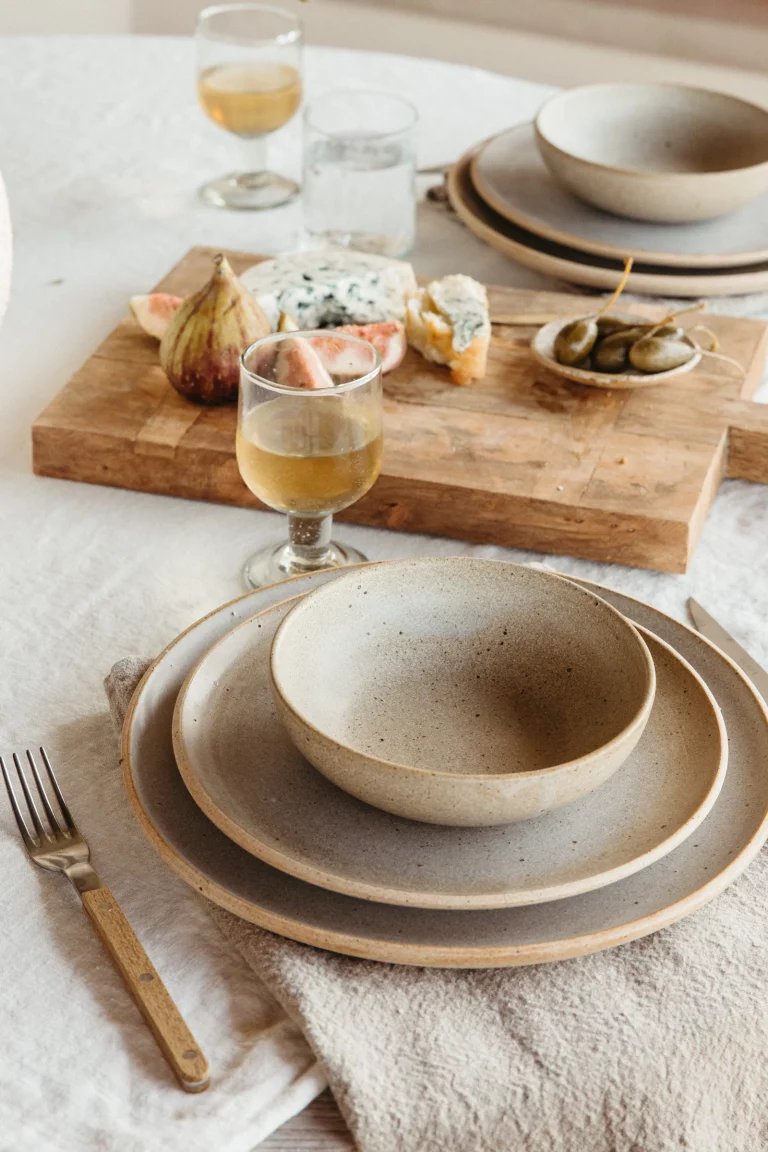 Why We Love It: For those who dream of a dinnerware set that does it all, we've found your answer. This three-piece set is a conversation starter in and of itself. (And paired with party-ready recipes, it's perfection.) If romanticizing your routines is top of mind, simply enjoy your morning avocado toast or a lunchtime grain bowl in one of these pieces. With their handmade beauty and one-of-a-kind appeal, each element is sure to spark joy, no matter what's on the menu.
Set Includes: Dinner Plate, Salad Plate, and Pasta Bowl
Care: Dishwasher safe
Color options: Glazed in variegated tones of grey with amber accents
Why We Love It: When you're entertaining larger groups, it's important to have backup dinnerware available at your fingertips. This affordable, 12-piece set gives you plenty of bang for your buck. And where other cheaper options lack quality material and build, these pieces boast a smooth texture and modern, rimmed shape that feel far more expensive than their accessible price point. A word to the wise: stock up—these plates are every hostess' secret weapon.
Set Includes: Includes four of each: dinner plates, salad plates, and bowls
Care: Dishwasher and microwave safe
Color options: White