They say that the best bagel in New York City is the bagel closest to you. When it comes to finding the best breakfast tacos in Austin, the same rule applies. We are absolutely spoiled for breakfast tacos in this city. Masa is in abundance, eggs are whisked to perfection, and the potatoes are crisped in bacon fat (if you're lucky). Not to mention, the SALSAS.
Here, breakfast tacos are a spiritual experience. An assortment of hot, delicious ingredients tucked inside a homemade tortilla, then wrapped tightly in foil and delivered in a brown paper bag—one filled with fresh, mini salsas and napkins and riddled with oil stains. Pair it with a cup of black coffee from one of Austin's finest cafés and you'll truly encounter heaven on earth. THIS is breakfast in Texas.
How We Tested the Best Breakfast Tacos
But if you're pressing us to reveal the BEST tacos? Well, our local Austin team certainly has our favorites. Yet, when it comes to breakfast tacos, there's always the feeling that a new stand-out is just waiting to be found. And unlike the buzzy (yet delicious) restaurants that call Austin home, you're less likely to find your newest taco obsession from a hip Instagram page. No, this is an old-school word-of-mouth situation. Tacos belong to their most immediate communities. They're sacred and yet, ask an Austinite their favorite spot and you'll experience no gatekeeping. In seconds you'll know exactly where to go—and likely, what to order.
Which is why we turned to our local readers and posed the simple question: "Best breakfast tacos in Austin?" The responses came swift and steady.
"Taqueria Jessica on Mc Niel. Piping hot every time and the potatoes are *sparkle emoji*"
"Granny's—super small, fresh, but always delish and fast! Super sweet staff, too."
"Migas poblanos taco from Veracruz…with their green sauce *green heart emoji*"
Several of you named our old standbys. However, there were some new ones in the mix, as well. For the sake of research, we did our due diligence by picking up an assortment of tacos from new-to-us spots on the East Side, North Austin, and everywhere in between. Our team tasted for four distinct categories: freshness of ingredients, complexity in flavors, chewiness of the tortillas, and that extra "something" that's hard to define—but just happens to be the very thing that makes a breakfast taco so dang good. If you see them on the list below, they passed our marks with flying colors. And so, without further ado:
The Best Breakfast Tacos in Austin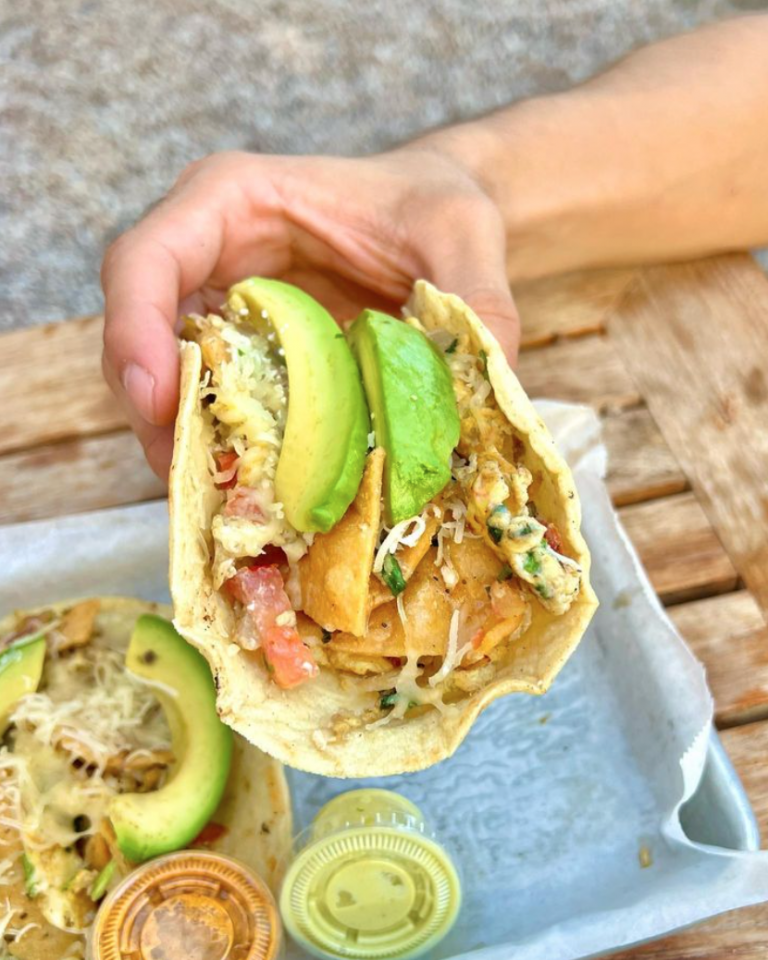 Best Overall: Veracruz
Veracruz stands undefeated when it comes to authentic Mexican food. The homemade corn tortillas are worth a visit in and of themselves. Plus, the menu boasts a deliciously fresh juice and smoothie bar. Over a dozen readers recommended the Migas Taco and we agree—this could be the very best breakfast taco in Texas. If you're unfamiliar with migas, it's typically a breakfast dish that combines tortillas, eggs, and vegetables. At Veracruz, the corn chips retain their crunchy texture as they're mixed in with the freshest veggies, eggs, and cheese. And it's all wrapped in a hot, sturdy corn tortilla—a generous portion size, to boot.
Reader Recos:
"Migas Taco—the ingredients always taste so fresh!"
"Migas Poblanos Taco and a Good Morning Juice"
"La Reina from Veracruz"
"The salsa is out of this world!"
Best Feel-Good Taco: Picnik
Hold on to your yoga mats, because Picnik is here to prove that breakfast tacos can be delicious and nutritious. Picnik accommodates many diets and lifestyles (paleo and gluten-free folks will rejoice) and the thoughtfully sourced ingredients taste as good as you'll feel.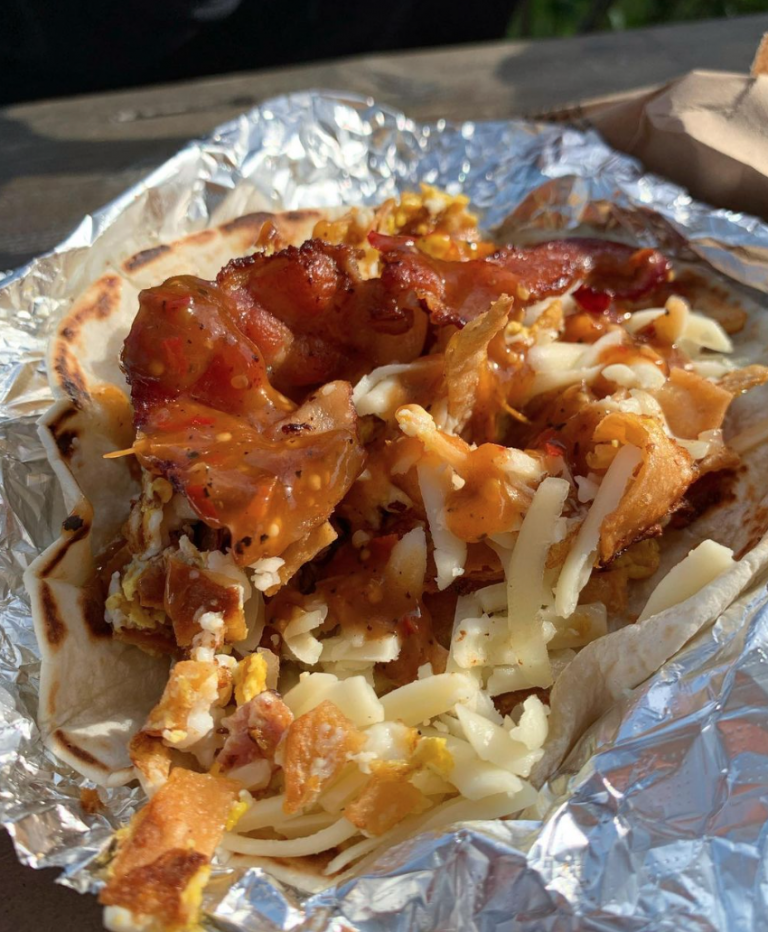 Image courtesy of Tanya Sashi
Best All-Day Breakfast Tacos: El Tacorrido
Not every taqueria in Austin serves breakfast tacos all day, so when you need a bacon, egg, and nopales at three o'clock on a Saturday, head to El Tacorrido. Our small team was surprised and delighted to find that three of us named El Tacorrido as a favorite, myself included. I even hired El Tacorrido to cater my wedding rehearsal dinner… that's how good they are.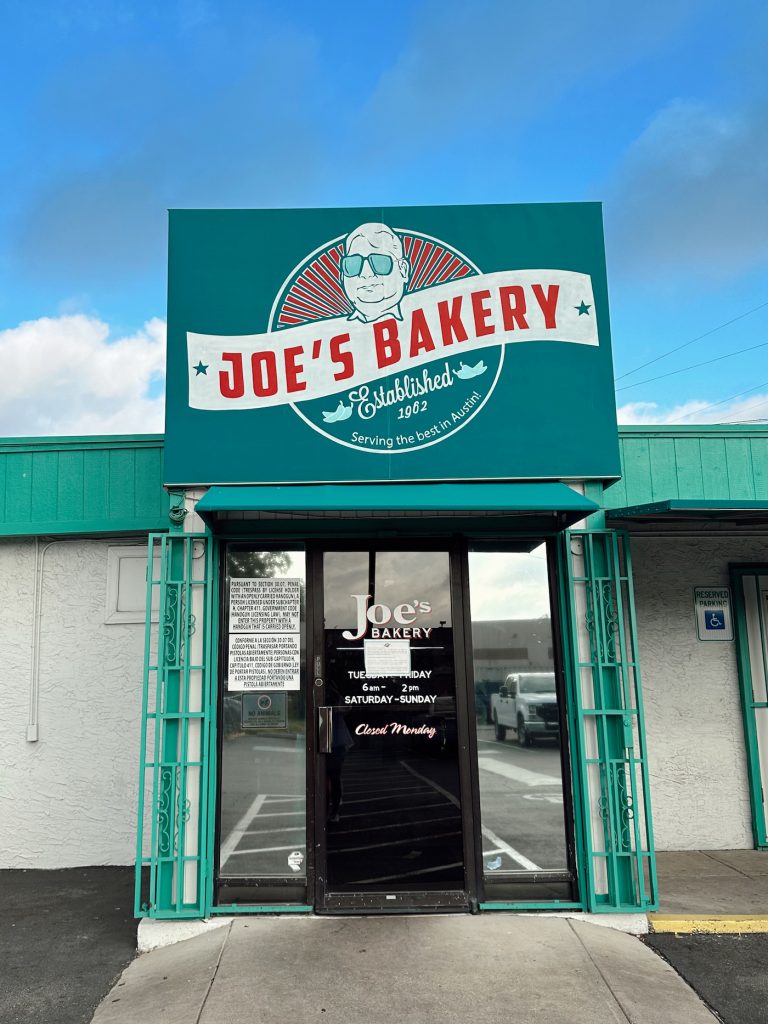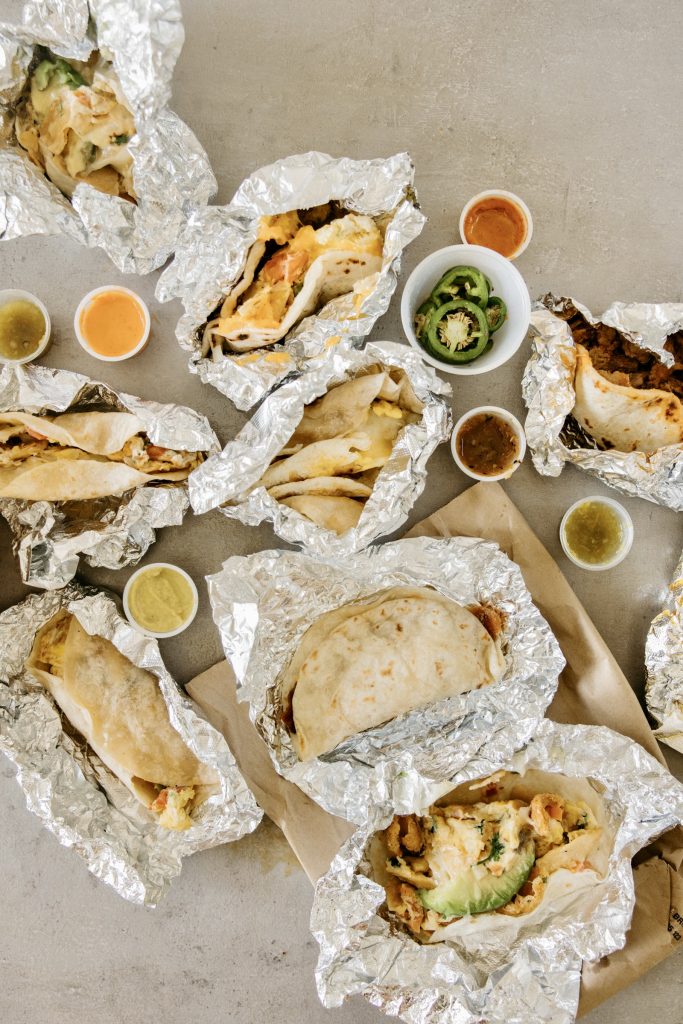 Best For When You're Really Hungry: Joe's Bakery
Family-owned and serving Austin for over 75 years, this East Austin institution won't leave you wanting more—until the next morning, that is. Dine in or order out, either way, you'll be filled to the brim with perfectly overstuffed tacos.
Reader Recos:
"It's the homemade tortilla for me!"
"Best bacon, egg, and cheese hands down!"
"Migas! They're big and not overpriced!"
Price: $
2305 E 7th St, Austin, TX 78702 | 512-472-0017 | website | Instagram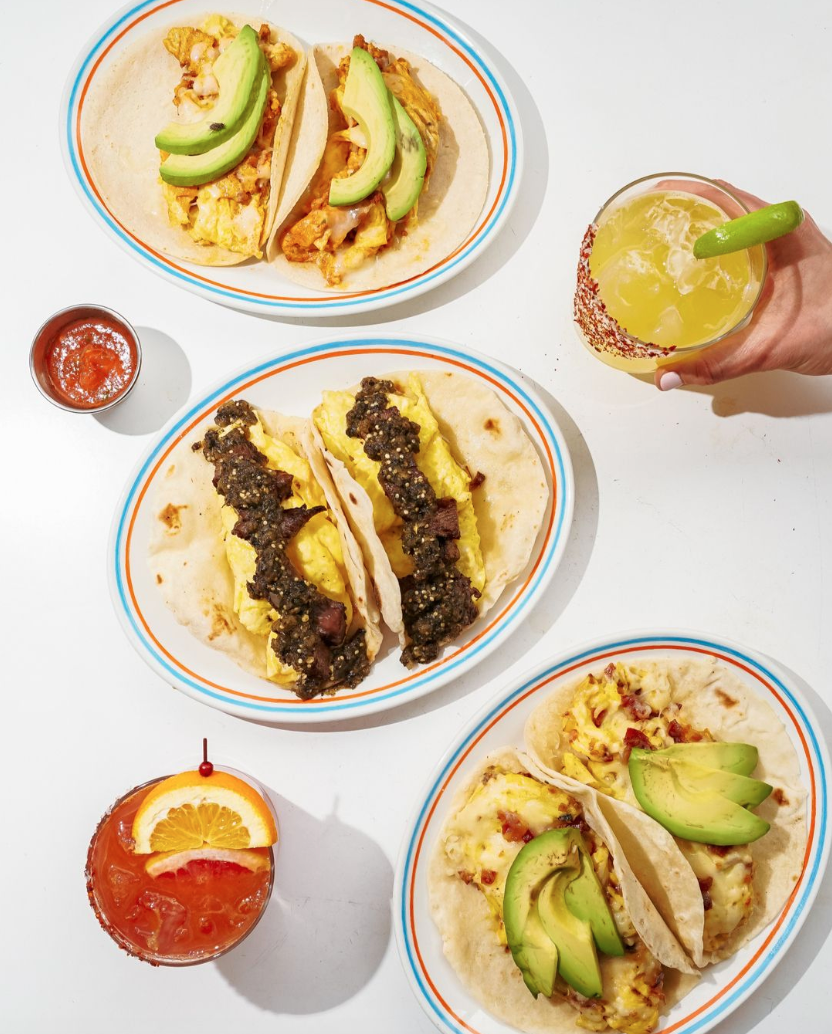 Image courtesy of Joann's Fine Foods
Best Lazy Sunday Vibes: Joann's Fine Foods
If your ideal weekend brunch includes people-watching and breakfast tacos, head to Joann's on South Congress to get your fill. The tacos—and the people—won't disappoint.
Price: $$
1224 S Congress Ave, Austin, TX 78704 | 512-358-6054 | website | Instagram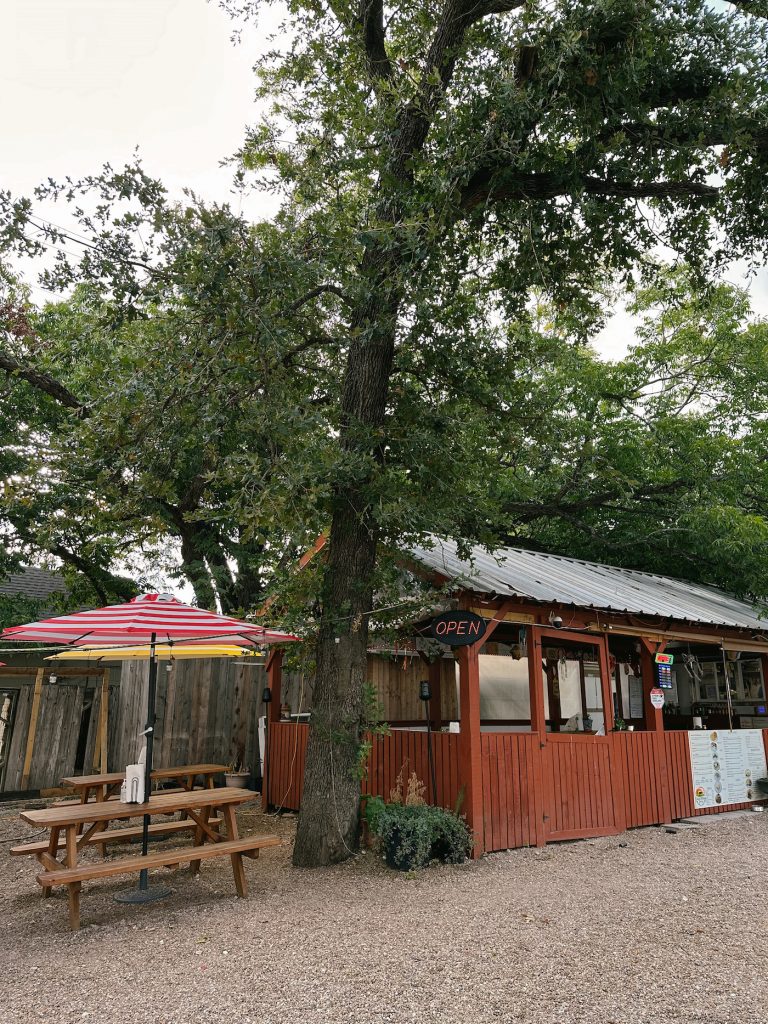 This family-run food truck was recommended by a reader and a happy find for this North Austin girlie. The tacos hit all the right notes during our taste test and I'm already a repeat customer. This was a stand-out in our taste test for the perfectly thin tortillas and fresh, flavorflu ingredients. Side note: they serve authentic birria on the weekends and I hear it's the place to be.
Price: $
7221 McNeil Dr. Austin, TX 78729 | 737-202-4312 | website | Instagram
Best Twist on Tradition: Fresa's Chicken al Carbon
Fresa's takes tradition and gives it a cheeky twist. Expect a mix of the usual suspects (eggs, bacon) and modern favorites (baby kale, black bean purée)—all delicious and served daily from 8 to 11 a.m.
Reader Recos:
"So many options! Delicious! Best salsa!"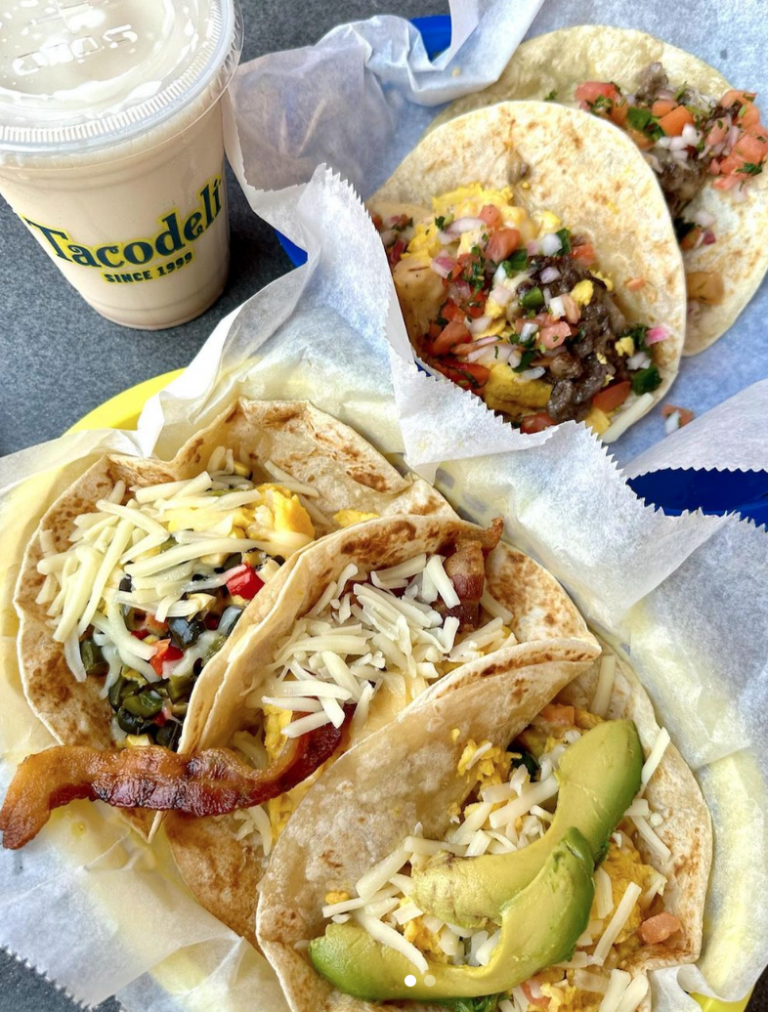 Image courtesy of Mylk Collective
Best Classically Austin: Taco Deli
For many, Taco Deli is the flavor of Austin. If you grab a taco from a coffee shop or the farmers market, expect it to be from Taco Deli. And with modern classics like the Otto and the Jess Special, it's no wonder our collective city has stood up to agree: you simply cannot go wrong with Taco Deli.
Reader Recos:
"Papas, egg, and cheese with red salsa!"
"Jess Special and Otto!"
"The Otto."
"Papas, bean, and cheese on corn. Perfection *star emoji*"
"It's all about their papas."
"Freakin' vegan on a corn tortilla. I'm not even vegan, it's just delicious!"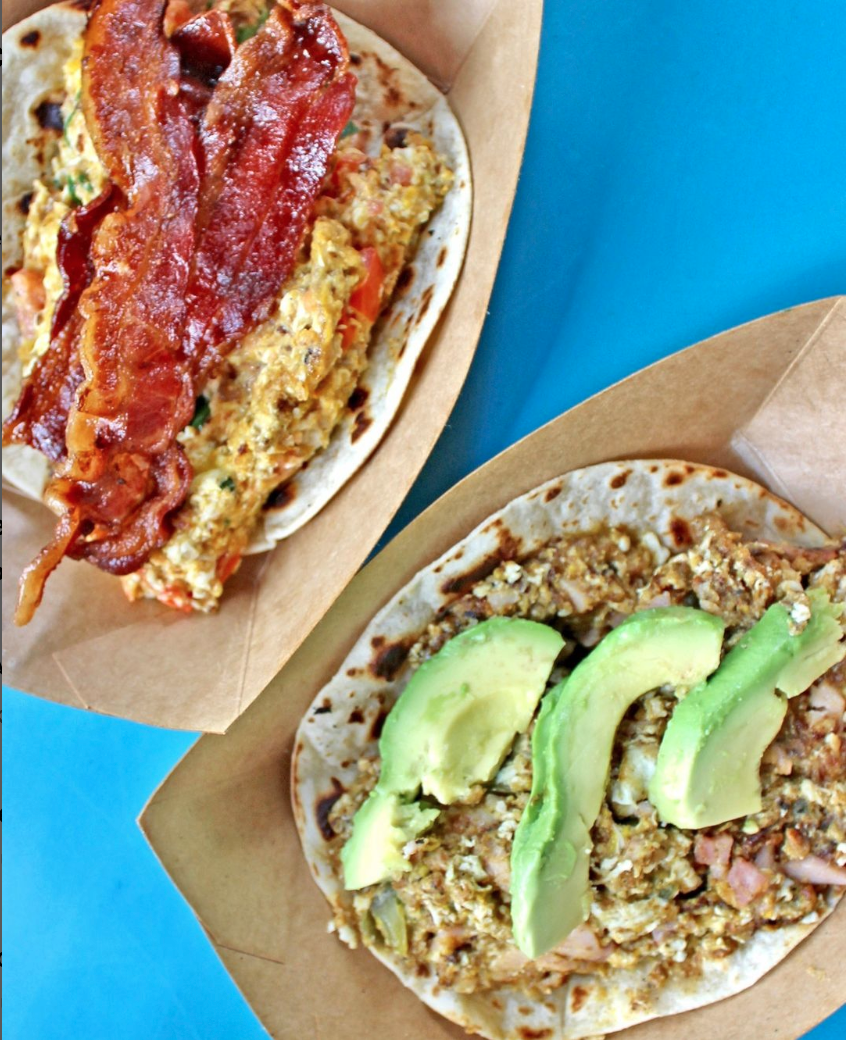 Image courtesy of Social By J Stewart
Best Under-The-Radar: Texas Honey Ham
IYKYK. And if you don't, now you do. Texas Honey Ham boasts some of the most fiercely loyal fans when it comes to breakfast tacos. And with tacos like The Dragon on the menu (sausage, bacon, frijoles, cheese, habanero ranchero sauce) it all begins to make sense.
Reader Recos:
"Any combo. It's not wildly known because it's in Westlake!"
"It's actually legit."
"Tortillas are so fresh & ingredients (esp the 'lil queso) are top notch *100 emoji*"
Price: $
3736 Bee Cave Rd, Suite 6 Austin, TX, 78746 | 512-330-9888 | website | Instagram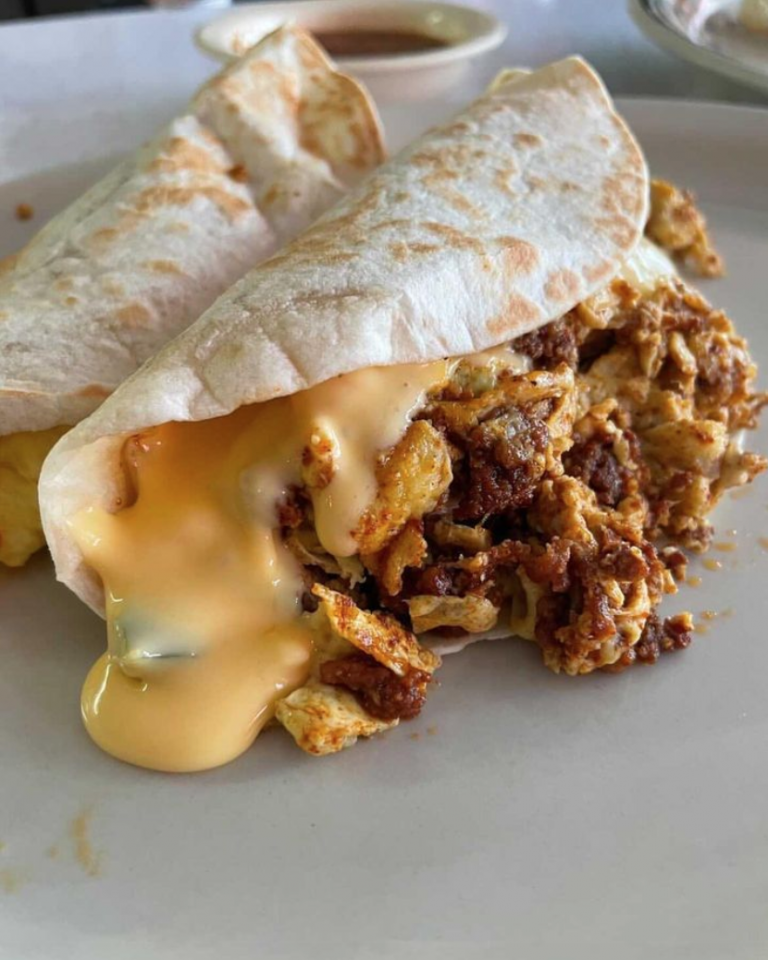 Image courtesy of Taylor Hannan
Best Austin Institution: Cicso's
Cisco's claims to be Austin's oldest Tex-Mex restaurant—a historic landmark that is a delight to see on a street like E 6th, where new establishments arise by the day. Stop by the diner counter then head to the back for a frozen-in-time, 50s dining room experience. (And, not taco related but—treat yourself to an order of biscuits.)
Price: $
1511 E 6th St, Austin, TX 78702 | 512-478-2420 | website | Instagram
Best Family Recipe: Granny's Taco Truck
Granny's Tacos—where everything is from scratch and the portions don't hold back. We noticed a good amount of veggies packed in each taco during our taste test, along with a sweetness to the tortilla that stood out from the crowd. Speaking of crowd, the line will be long but you can now order ahead at the Cesar Chavez location.
Reader Recos:
"Great portion size for price. Migas taco is my fav. Nice people!"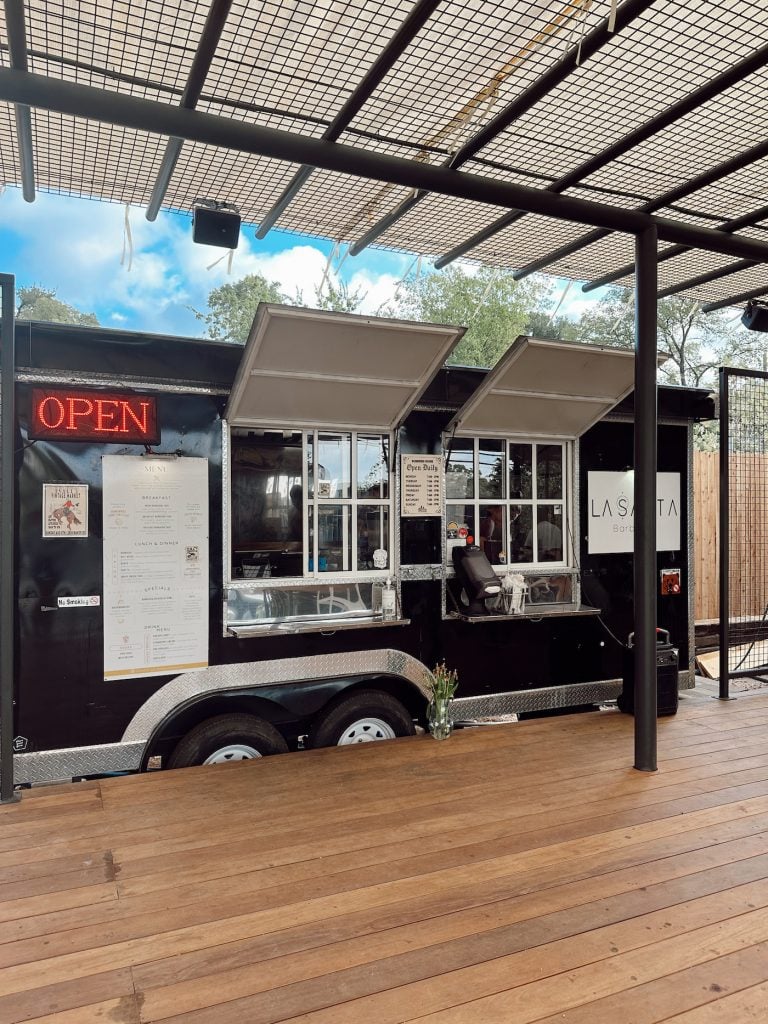 Best Buzzy Food Truck: La Santa Barbacha
If you're after great breakfast tacos AND aesthetics, you need to head to La Santa. From our taste test, we could tell that the ingredients were high-quality and the meat was superb. Barbacoa is the main star here, so don't expect the typical bacon, egg, and cheese. Honestly, you won't miss 'em—these tacos are something to savor.
Final Word
Breakfast tacos will always and forever be the taste of Austin. Whether you hit up all the spots on our list or saddle on over to the nearest taco truck, Austinites know: a morning with breakfast tacos will always surpass a morning without.