We spent the month of July at our beach house in Malibu, and it was exactly the slow-paced summer I'd been craving. Whenever I'm at the beach, I can feel a reset of my entire system. Our family's schedule is cleared of most commitments, so the time allows us to downshift into a more relaxed state of mind. When we're in Malibu, my favorite time of day is just before sunset, when everything's dipped in golden light and you can find us gathered around the grill prepping ingredients from the farm stand, cold drink in hand. And this summer, our MVPs were these grilled shrimp tacos with grapefruit-avocado salsa, also know as the best shrimp tacos on the planet. Call us obsessed.
This post is sponsored by Wild Basin Hard Seltzer. Content for 21+.  Please drink responsibly.
Now that we're back in Austin, I'm determined to bring some of that relaxed spirit home with me, even though I'm juggling the realities of a busy work schedule combined with carpooling our kids from one activity to another. For me, the best way to keep that summer spirit alive is to cook (and eat!) as many meals outside as possible. Which makes Wild Basin Hard Seltzer the perfect partner for today's post, since they're all about getting outside this summer to create truly memorable food and drink pairings with people we love. Read on for these shrimp tacos, and the Wild Basin Hard Selzter Grapefruit I'm drinking with them.
Ingredients you'll need for these grilled shrimp tacos
This is a short and sweet ingredient list—which I consider to be a baseline requirement for any great summer recipe. Here's what to grab at the grocery:
Limes
Grapefruit
Honey
Garlic
Chili Powder
Mayo
Shrimp (peeled and deveined)
Cabbage
Corn Tortillas
Avocados
Cilantro
Jalapeños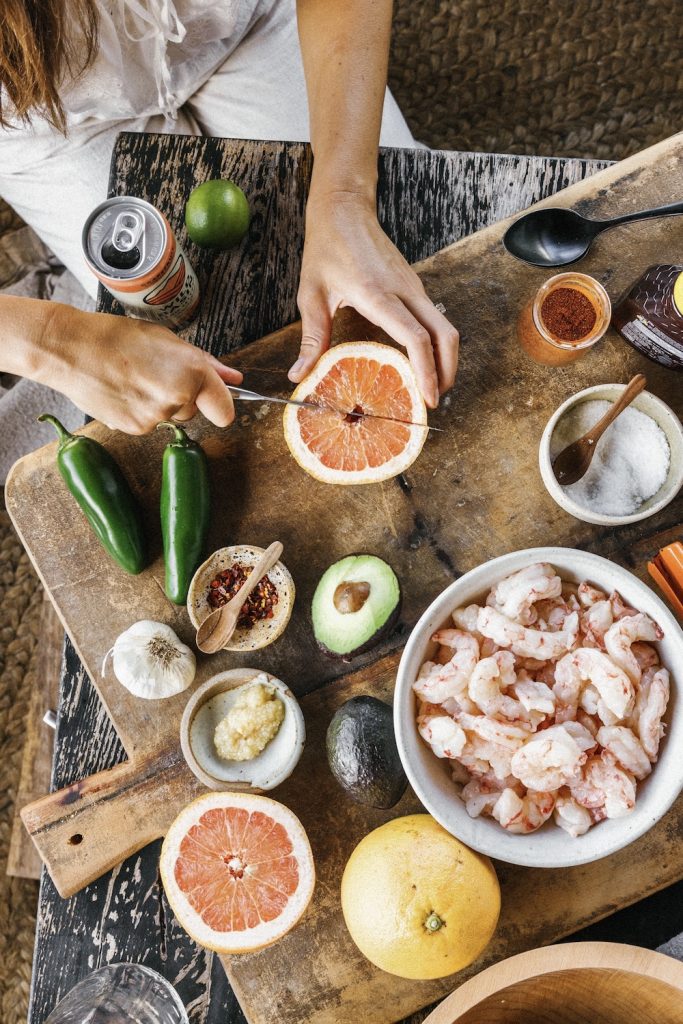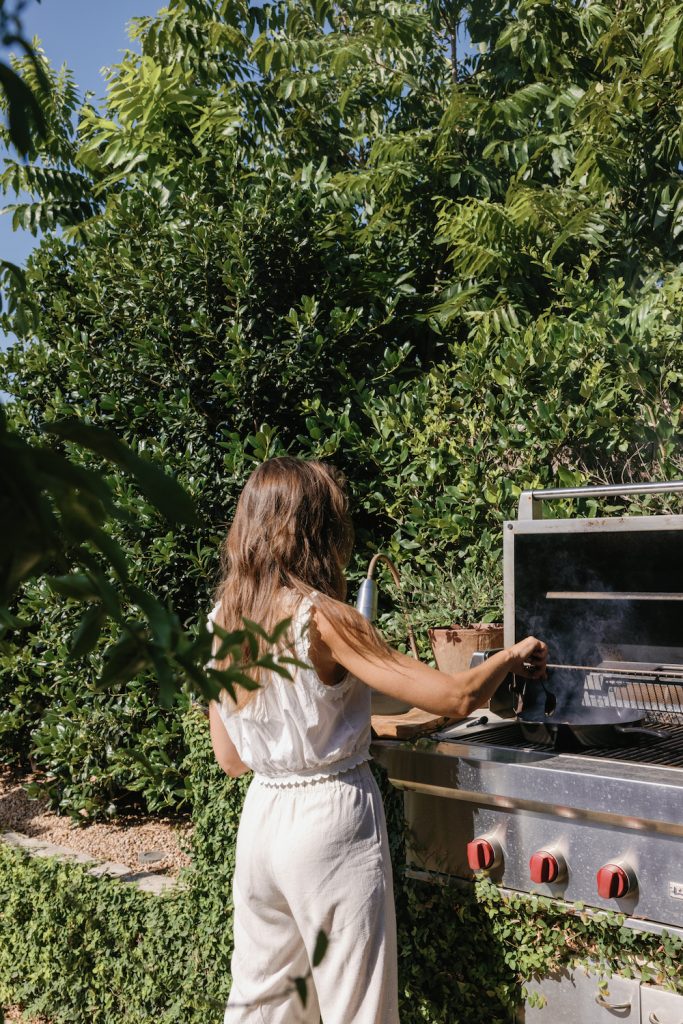 How to make the best shrimp taco recipe
Marinate the shrimp
The key to keeping this simple is that pretty much all of our ingredients play double-duty. The marinade is also used as the base for the creamy sauce, and the grapefruit salsa uses several of the ingredients in the marinade, because again—I like a short grocery list.
To make the marinade, you'll whisk together the zest and juice from your citrus with honey, garlic, chili powder and olive oil. Then you place the shrimp in a bowl and pour half the marinade over it. You only want this shrimp to marinate for 30 minutes to an hour at most—longer than that, and you'll risk starting to "cook" the shrimp in the citrus (we're not making ceviche here).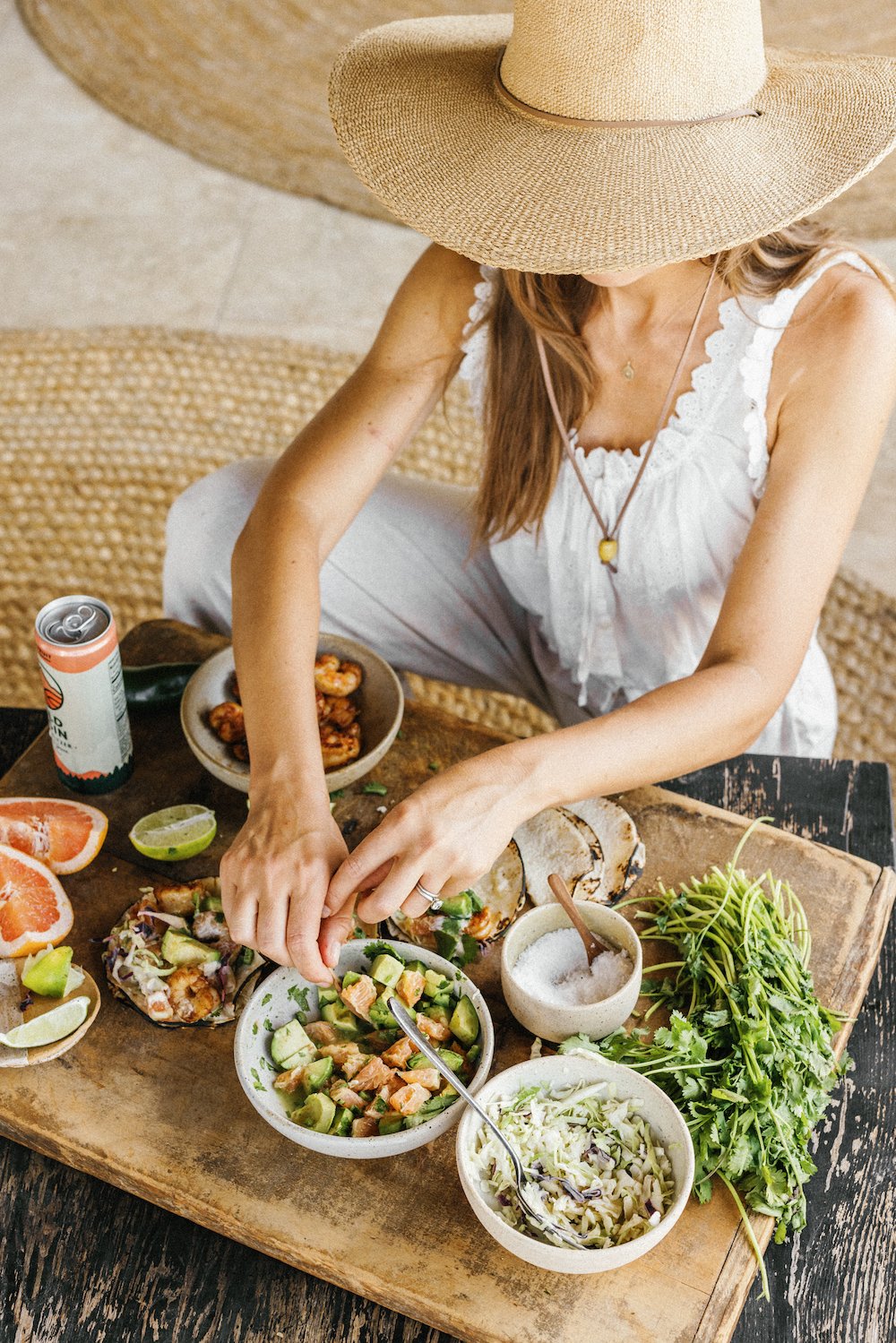 Make the quick crema
Let's talk more about this sauce, because it plays a major role in making this shrimp taco recipe the best. All you need for the creamy sauce is your reserved marinade that gets combined with either mayo or sour cream. You're going to toss a bit of it with our shredded cabbage for a 5-second slaw, then you'll reserve the rest to drizzle over the top of the finished tacos.
Grapefruit salsa meets grapefruit seltzer
This grapefruit salsa was inspired by the zesty flavors in the Wild Basin Hard Seltzer Grapefruit I paired with these tacos. It's refreshing and light—exactly the kind of drink I want to sip poolside with friends. You can taste the difference of the real grapefruit juice, and when I want to slow down and relax, it's nice to skip the hand squeezer and just open up a can.
I also made grapefruit the star ingredient in this addictive grapefruit salsa. It's an incredibly easy salsa that really elevates these tacos; simply toss together chunks of avocado and grapefruit, then add cilantro and adjust the jalapeño to add as much heat as you like. Double the recipe and set out some for pre-dinner tortilla chips for dipping.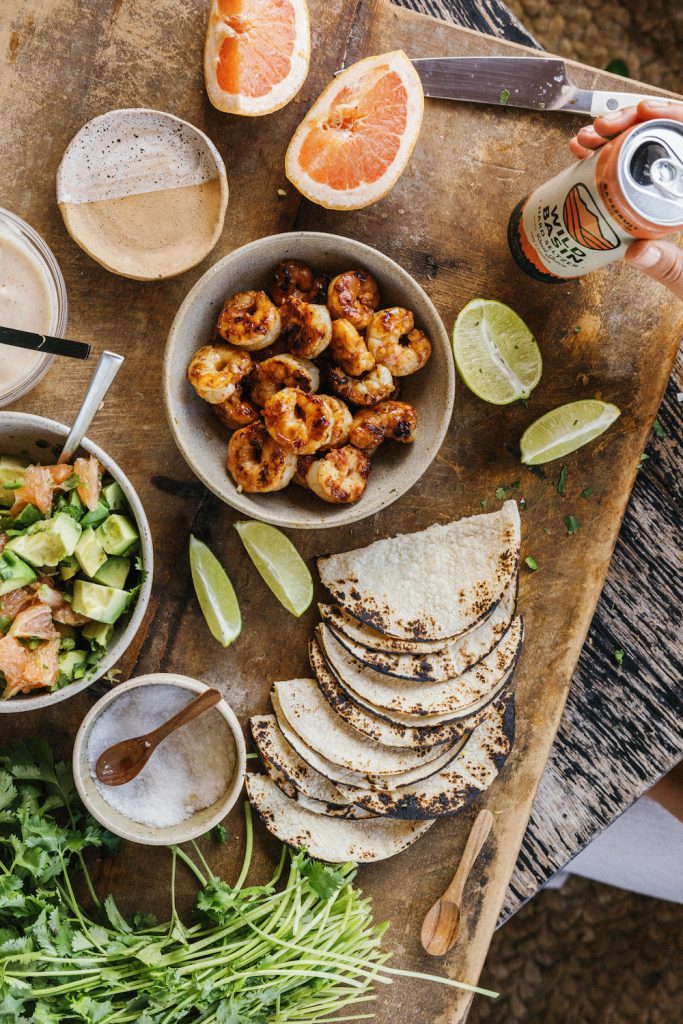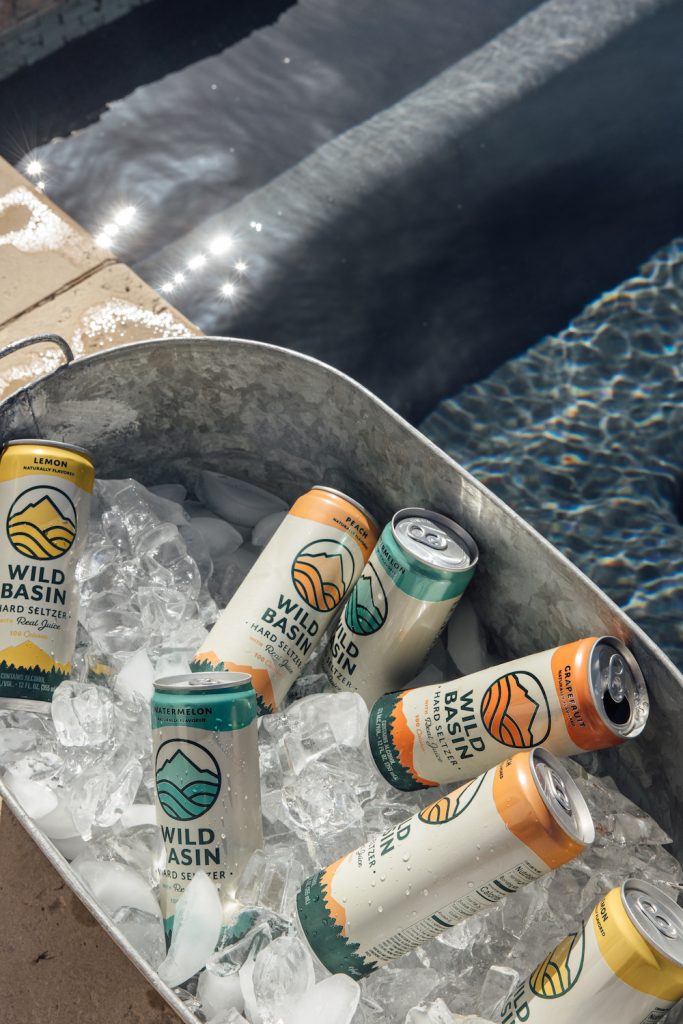 How to cook shrimp for tacos
Trust me on this: the key to the most delicious shrimp is getting that char, which means that a quick cooking method is the way to go. I like to cook shrimp on high heat in a cast-iron skillet set over the grill grates—it allows you to get that quick sear, while also ensuring that your shrimp don't fall through the grates.
Once you've placed the shrimp into the pan and heard that sizzle, resist the temptation to move or flip the shrimp until the first side is nice and caramelized.
Put your tacos together
To assemble these shrimp tacos, you're going to top a charred corn tortilla with some of your cabbage slaw, grapefruit salsa, and then the grilled shrimp. Garnish with cilantro and a drizzle of crema, and serve with lime wedges. The best shrimp tacos you've ever had (that also happen to be ridiculously easy—I won't tell if you don't.)
Tips for shrimp taco success
Change up the toppings
If you want to skip the salsa, just add slices of creamy avocado, bits of fresh cilantro and a few squeezes of fresh lime. Pico de gallo is always welcome!
Switch up the protein
You could definitely turn these into fish tacos, using the same marinade, sauce and salsa. Cod or halibut filets work great for this recipe.
Make it easy
I rely on a few key shortcuts when I make this shrimp taco recipe:
Use a bag of pre-shredded cabbage
Buy raw shrimp that's already peeled and deveined
Char the corn tortillas right on the grill, so you can keep all the cooking outdoors (with minimal clean-up!)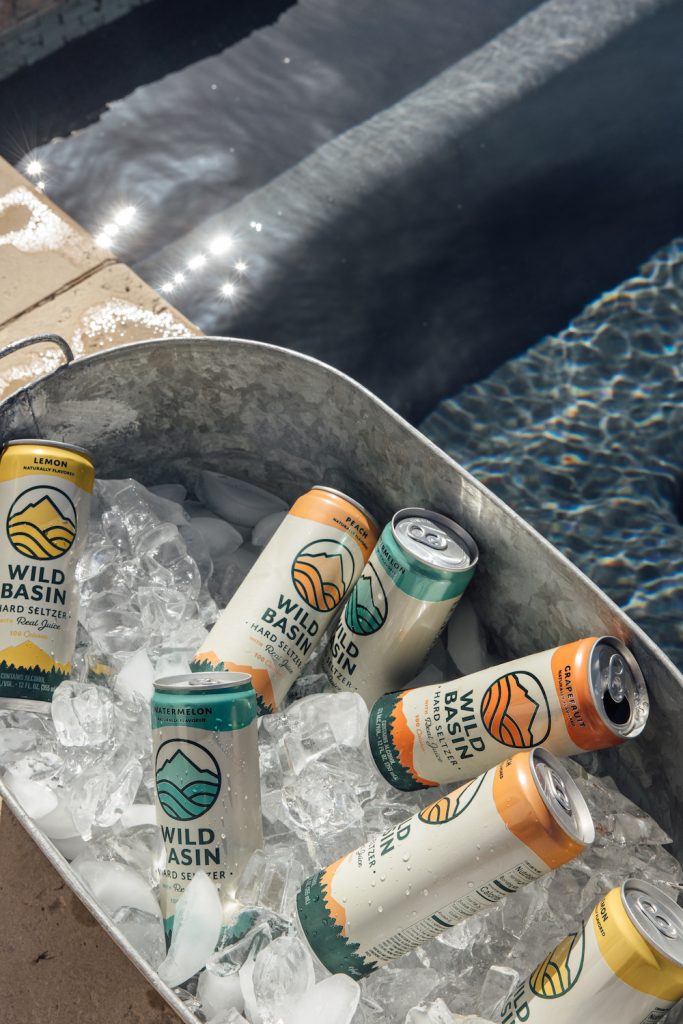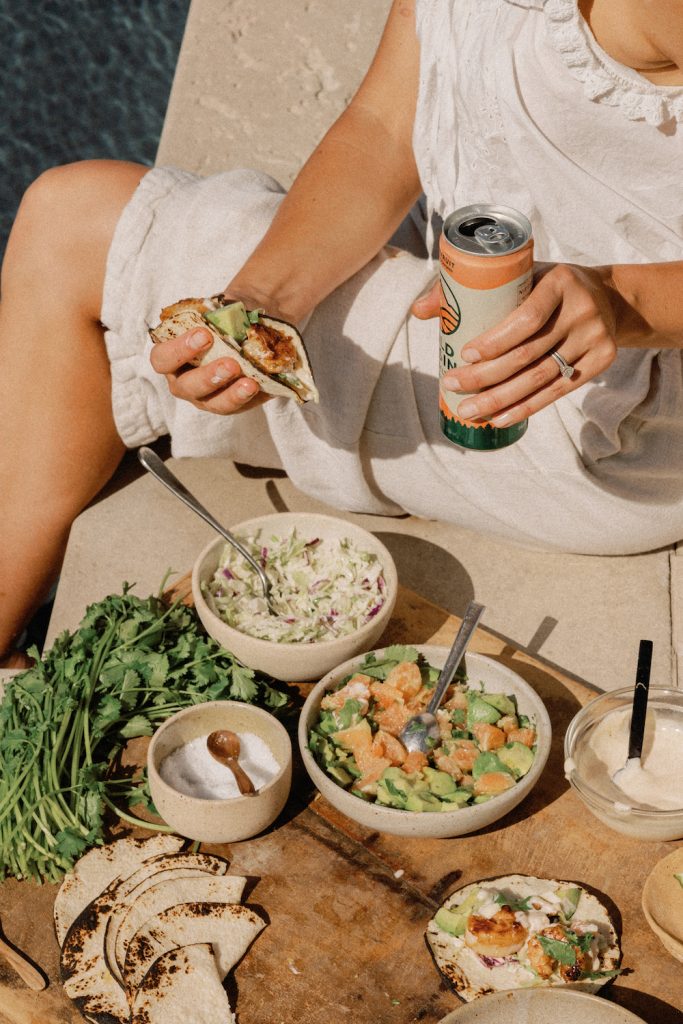 What to drink with grilled shrimp tacos
Let's talk about what makes Wild Basin Hard Seltzer Grapefruit the perfect backyard sipper on a hot summer day. First, it has a 5% ABV, which is exactly the light and refreshing drink I like to enjoy poolside. Plus, it's all-natural and made with real fruit juice, a difference you can really taste. If you need me, you can find me in the backyard devouring this pairing for the rest of the summer. Read on for the recipe, and find Wild Basin near you.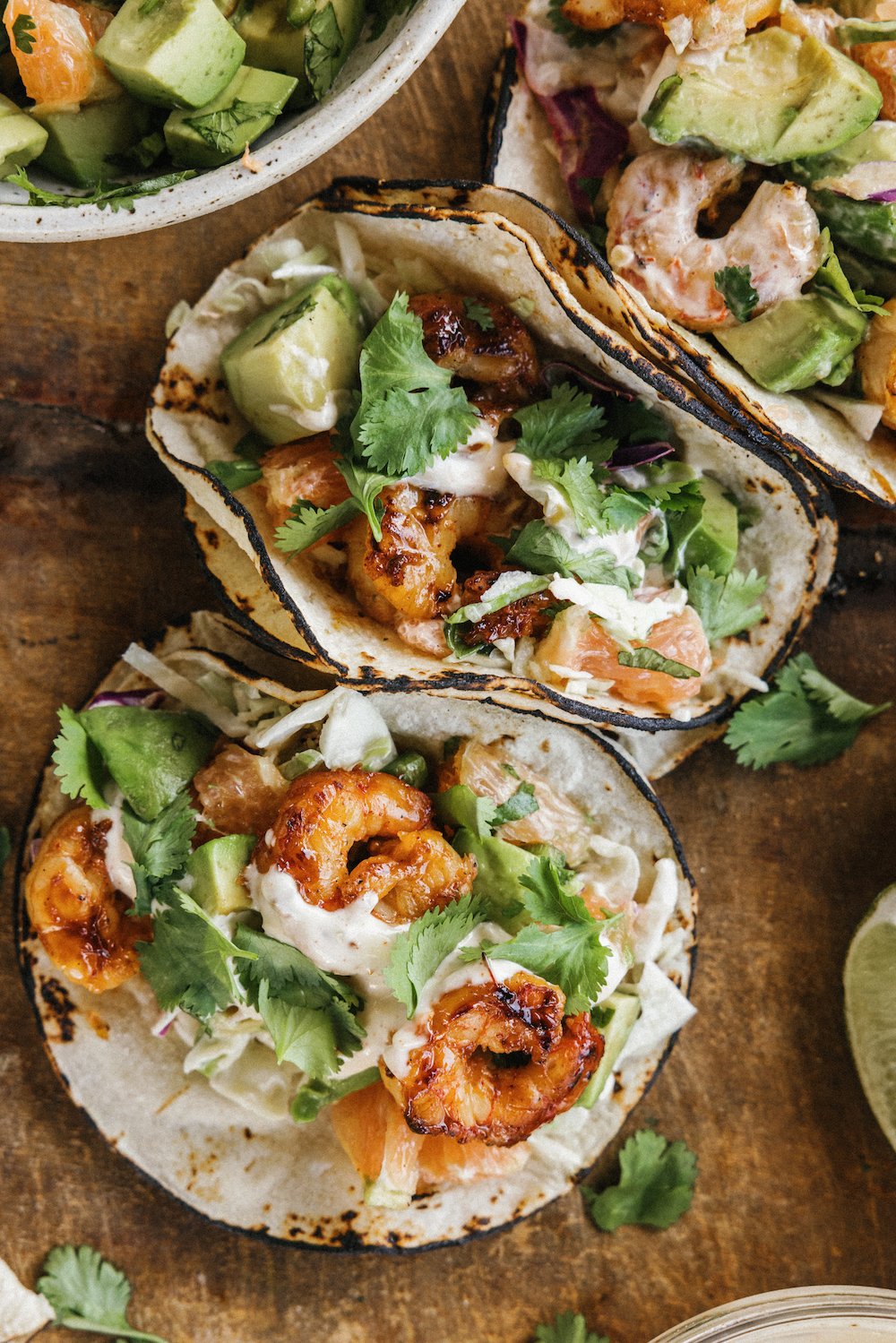 Print
Description
These shrimp tacos are quite simply the best. With a citrus-honey marinade and zesty grapefruit salsa, it's a quick summer dinner that's prepared almost entirely on the grill—and perfect for entertaining.
---
Zest of 1 lime and 1 grapefruit

1/4 cup lime juice

1/4 cup grapefruit juice

1/2 cup honey

3 cloves garlic, peeled and minced

1 tablespoon chili powder

1 tablespoon olive oil, plus more for pan

1/4 cup mayo or sour cream

Kosher salt and freshly ground black pepper

1 1/2 pounds large or jumbo shrimp, peeled, deveined

2 cups shredded green cabbage

Corn tortillas, charred over grill

For serving: cilantro leaves and lime wedges
For the grapefruit salsa:
1 grapefruit, peel and pith removed, and cut into segments

1 avocado, cut into chunks

1/4 cup chopped cilantro

1 jalapeño, seeds and ribs removed, chopped

Kosher salt, to taste
---
Make the marinade: whisk together zest, juice, honey, garlic, chili powder, and olive oil. 

Place shrimp in a bowl, then pour half the marinade over it. Cover and refrigerate for 30 minutes.

Meanwhile, mix ¼ cup of the reserved marinade with ¼ cup of mayo or sour cream. This is your quick & creamy sauce. Refrigerate until ready to serve.

Make the grapefruit salsa: gently toss all ingredients in a bowl. Refrigerate until ready to serve.

Preheat grill to medium heat (375 degrees), and place a cast-iron skillet directly on the grates to preheat.

Drizzle olive oil on the bottom of the skillet, then place shrimp in the skillet and cook for 2 minutes. Baste the shrimp with the reserved marinade, then turn and cook for another two minutes, until opaque.

Remove from grill.

Toss the shredded cabbage with a couple tablespoons of the creamy sauce, and a pinch of salt and pepper. Set aside.

Assemble tacos: top a charred corn tortilla with slaw, salsa, and then shrimp. Garnish with cilantro and a drizzle of sauce, and serve with lime wedges. Eat!
Prep Time:

45 minutes

Cook Time:

5 minutes

Method:

Grilling
Keywords: Best shrimp taco recipe