Hosting, while delightful, comes with a range of challenges. It's a major feat to time everything perfectly, ensure your guests are taken care of, and have fun yourself. One solution that's particularly perfect this time of year? Crockpot recipes for a crowd. There are so many redeeming qualities about the OG crockpot. Like comforting soups, crockpot recipes follow the classic "put everything in a pot and wait until the flavors meld" method that's the salve to a stressful week. What's more, you can prep these recipes in advance and finish them off when it's time to serve.
Some of my favorite childhood memories involve coming home from school and immediately being welcomed by the comforting scent of a slow-cooked meal. To me, that was the sign of an outstanding family dinner to come. Though my mom was out of the house on those days, the humble ingredients in that crockpot worked their magic to welcome us all with a nourishing meal we could enjoy together. And the best part? We could eat dinner at the drop of a hat.
Featured image by Michelle Nash.
25 Crockpot Recipes for a Crowd
That said, crockpot recipes get a bad rap. Perhaps it's because they seem too easy to possibly be good? Or some other reason I just can't think of because they are objectively amazing. As I said before, crockpot recipes are pretty much effortless. The crockpot is the easy, hands-off cooking vessel created to make our lives easier. Anyway, I should highlight the fact that even though they're uninvolved, they don't skimp on any flavor or impressive qualities. There's nothing to be ashamed of when using the humble crockpot at your next gathering.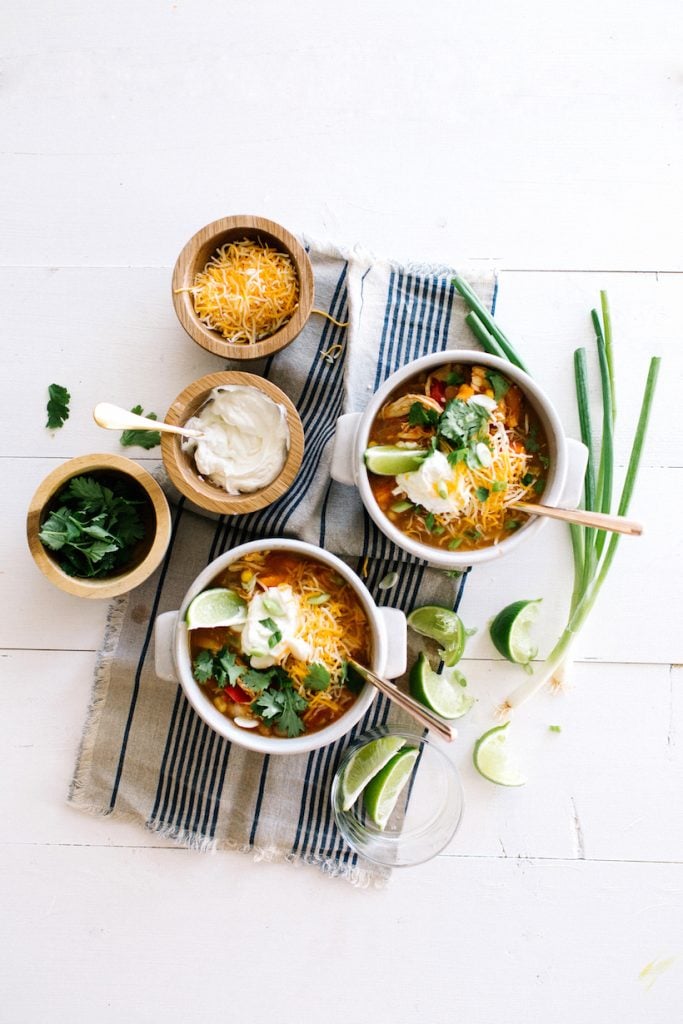 Slow-Cooker Chicken & White Bean Chili
Why We Love It: This tasty chili cooks for a smooth eight hours and serves a whopping eight guests when it's done. It's full of warming, substantial ingredients that are the culinary equivalent of cozying up in your favorite blanket. Each spoonful brings savory perfection with spices like cumin, chili powder, and chopped green chiles flavoring everything beautifully.
Hero Ingredient: I love serving soups at a gathering because it gives your guests a chance to be involved. Set out a selection of toppings and watch as everyone crafts something different that's exactly to their liking. It's a fun way to get creative and relieve some of the stress that comes with hosting.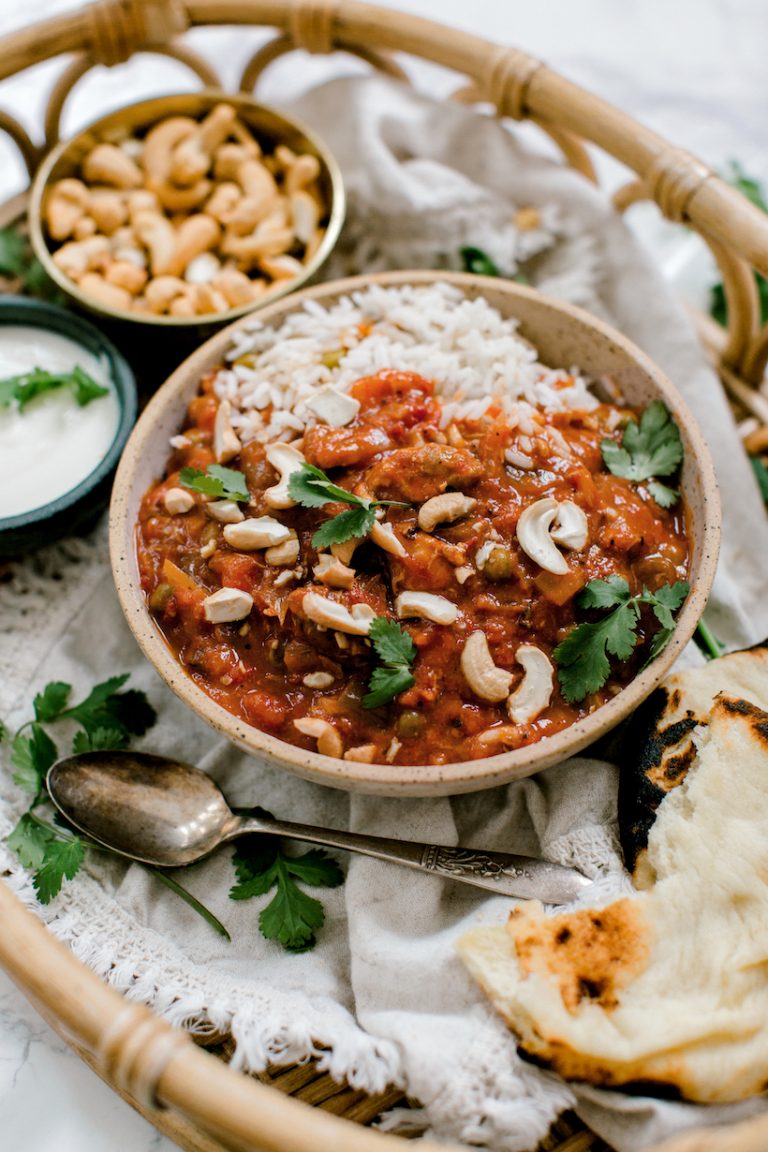 Slow-Cooker Chicken Tikka Masala
Why We Love It: It can be hard to recreate good Indian food at home, but this recipe proves that it is in fact possible. (And delightfully easy!) It comes to life by combining chicken, crushed tomatoes, coconut milk, and a whole slew of spices together in the crockpot, then cooking on low for eight hours or high for four hours. Depending on when you get everything in the pot, you can adjust to your schedule. Easy, breezy, delicious.
Hero Ingredient: Serve with rice, cauliflower rice, fresh naan, or all of the above to finish this dish off. Having a starch of some kind to soak up the extra sauce is really nice.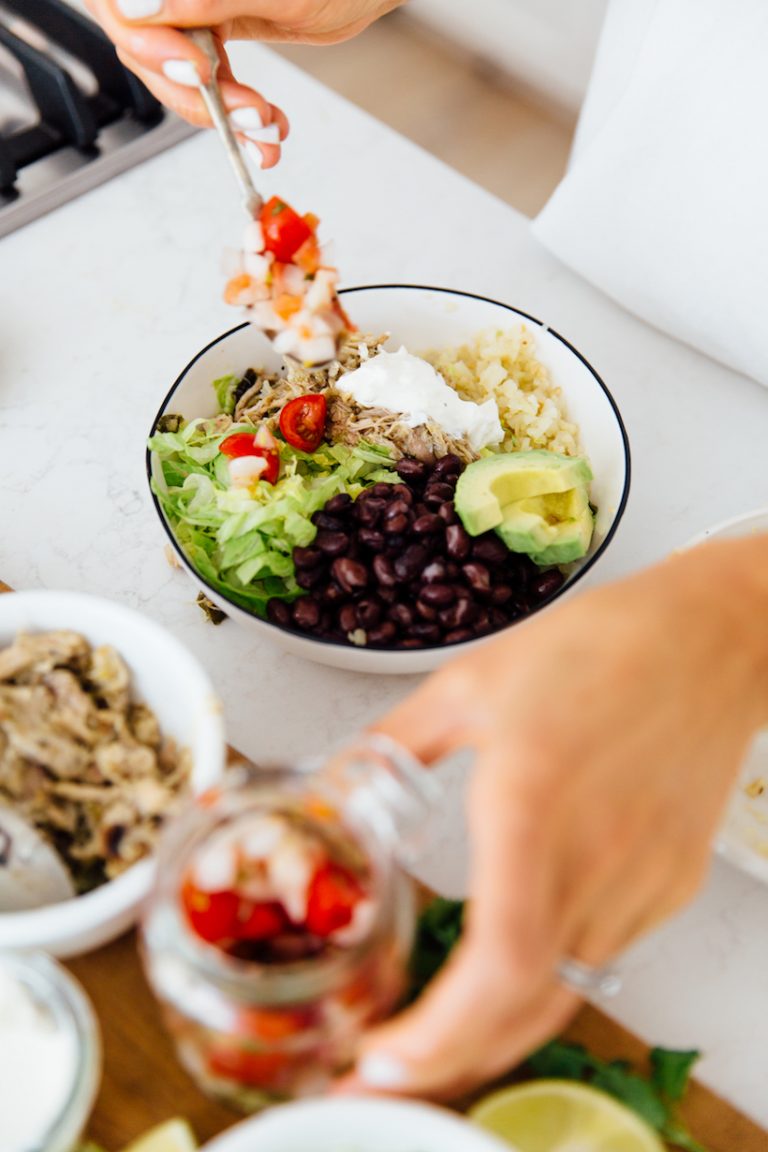 Slow Cooker Chicken Burrito Bowls
Why We Love It: These burrito bowls bring all the Mexican food vibes to the party, and they give guests the opportunity to build their own. The chicken is cooked in the slow cooker for eight hours with enchilada sauce, chopped onions, and poblanos until tender and juicy. Then, the fun part! Set out some combination of your favorite burrito bowl toppings and let guests build their own adventure. It's a great way to spark conversation and ensure everyone's getting what they like.
Hero Ingredient: For your toppings bar, think black beans, rice, shredded lettuce, pico, avocado, cheese, sour cream, cilantro, or any other ingredients you can conjure up. The key is always in the toppings.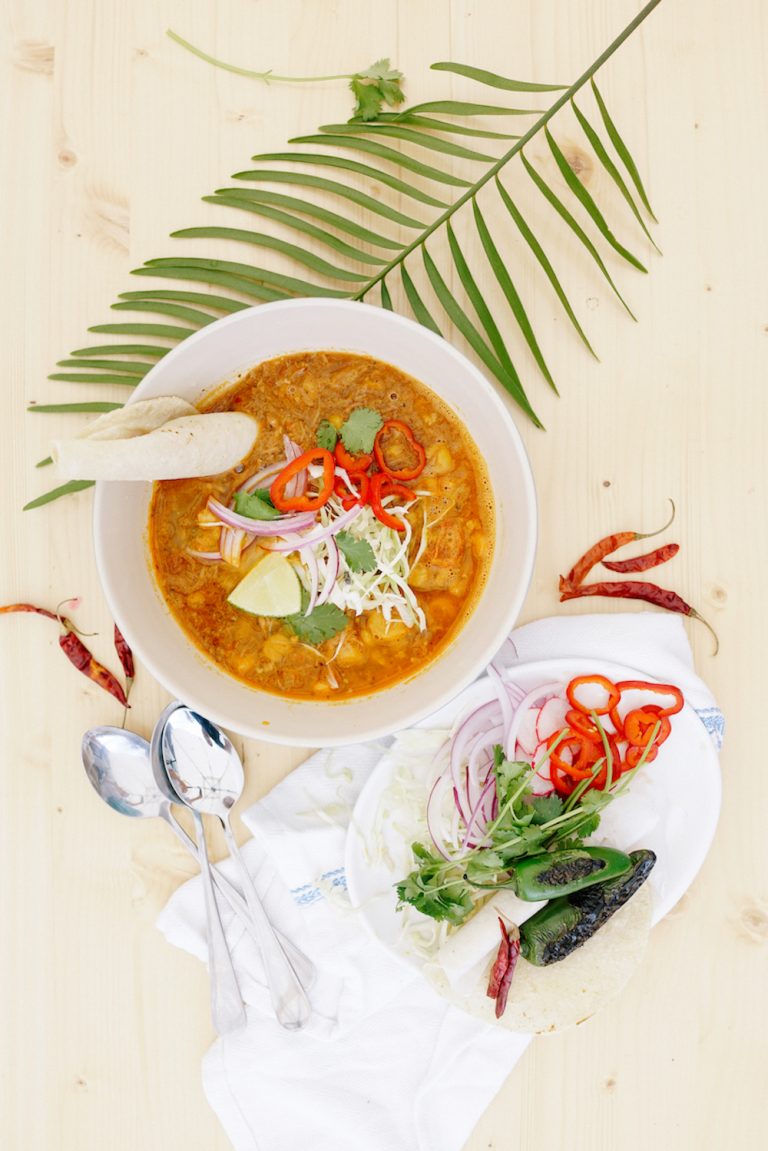 Pozole
Why We Love It: A good bowl of soup always hits the spot, and I (like many) happen to love pozole year-round. Camille picked up this slow cooker recipe on a trip to South Carolina, and we've been changed since. It's full of veggies, super tender pork, and all of those Mexican flavors that I never tire of.
Hero Ingredient: The red (mildly) hot chile peppers.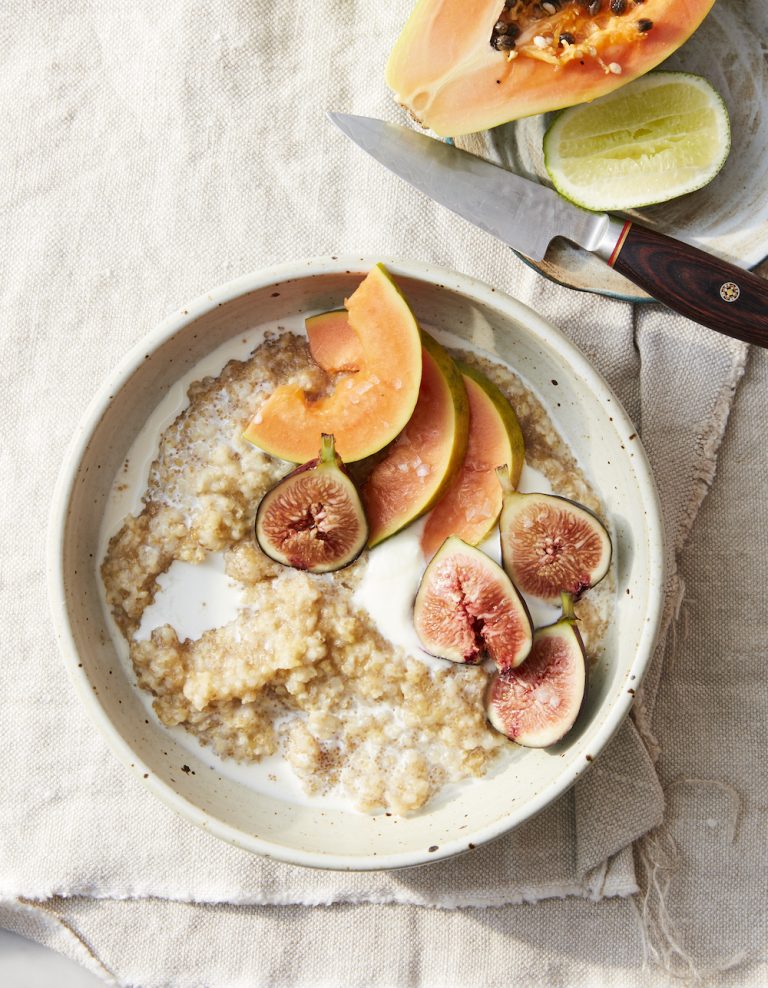 Sarah Copeland's Millet and Amaranth Porridge with Figs and Papaya
Why We Love It: Invite friends over for brunch and wow them with this dreamy porridge recipe. Porridge goes beyond your classic oatmeal in that it's layered with texture-rich grains that make the whole concoction that much more nourishing. All you have to do is combine water, millet, amaranth, and milk in the crockpot and simmer away for four hours.
Hero Ingredient: A heavy pinch of flaky salt over top of these bowls is absolutely essential.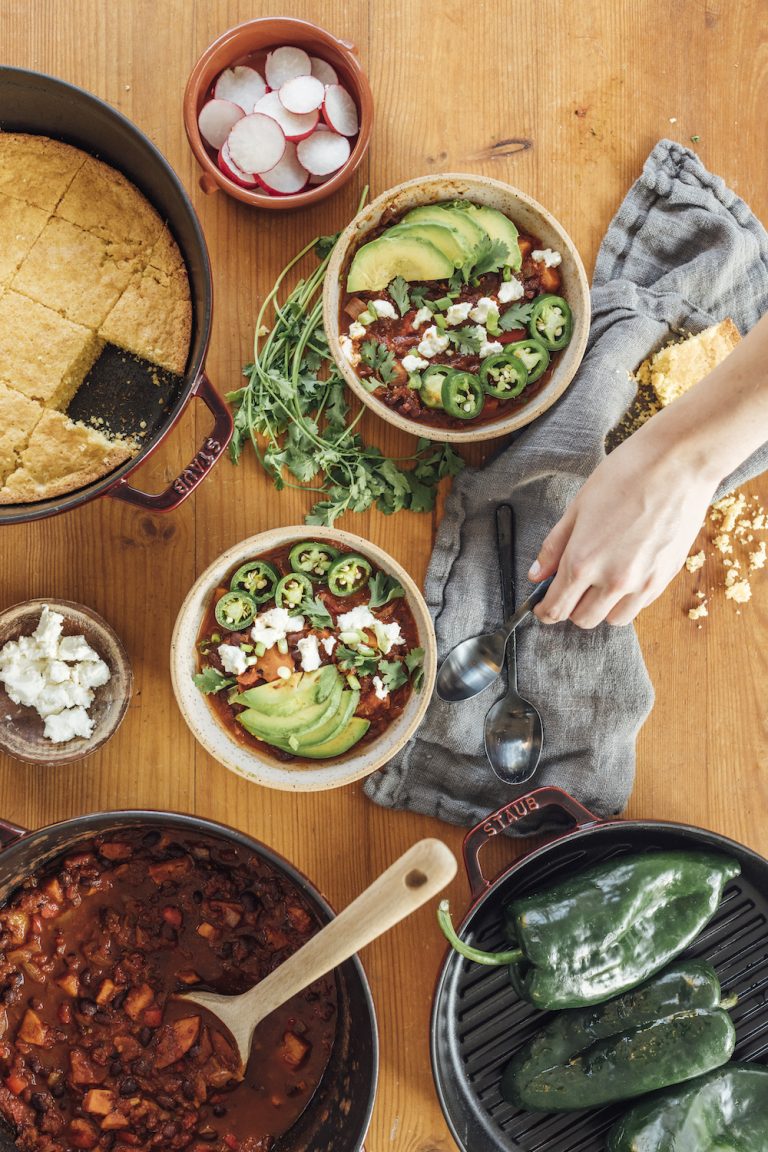 Vegetarian Black Bean & Sweet Potato Chili
Why We Love It: Full of complex carbs, fiber, and plant-based protein, this vegetarian chili is both nourishing and flavorful. To make it in the crockpot, follow the recipe's steps just as you would in a dutch oven and cook on low. The secret to success? Honey, orange zest/juice, cumin, chili powder, and tomato paste. These flavor components team up to craft a broth so delicious you'll be coming back for more. Don't say I didn't warn you.
Hero Ingredient: Hero method: This chili can be made the night before and refrigerated until you're ready to serve. When the time comes, simply reheat and enjoy!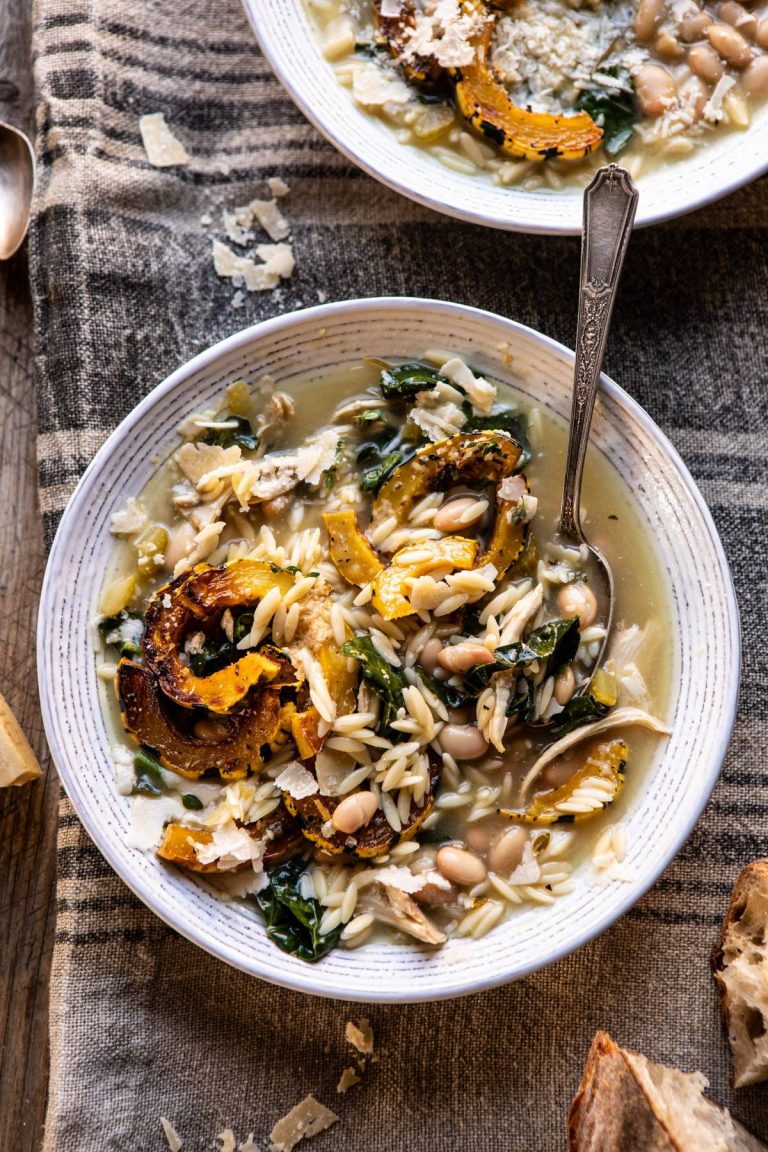 Crockpot Parmesan White Bean Chicken Soup with Roasted Delicata Squash from half baked harvest
Why We Love It: Creamy white beans and comforting delicata squash combine with orzo, kale, and copious amounts of parmesan cheese to create a hug in a bowl. All the cozy vibes come together in this hearty soup that defines crockpot recipes for a crowd. It's relatively healthy as it's loaded with chicken and vegetables, so you can feel good about eating it, too.
Hero Ingredient: Rich parmesan and earthy sage tie all of this dish's ingredients together.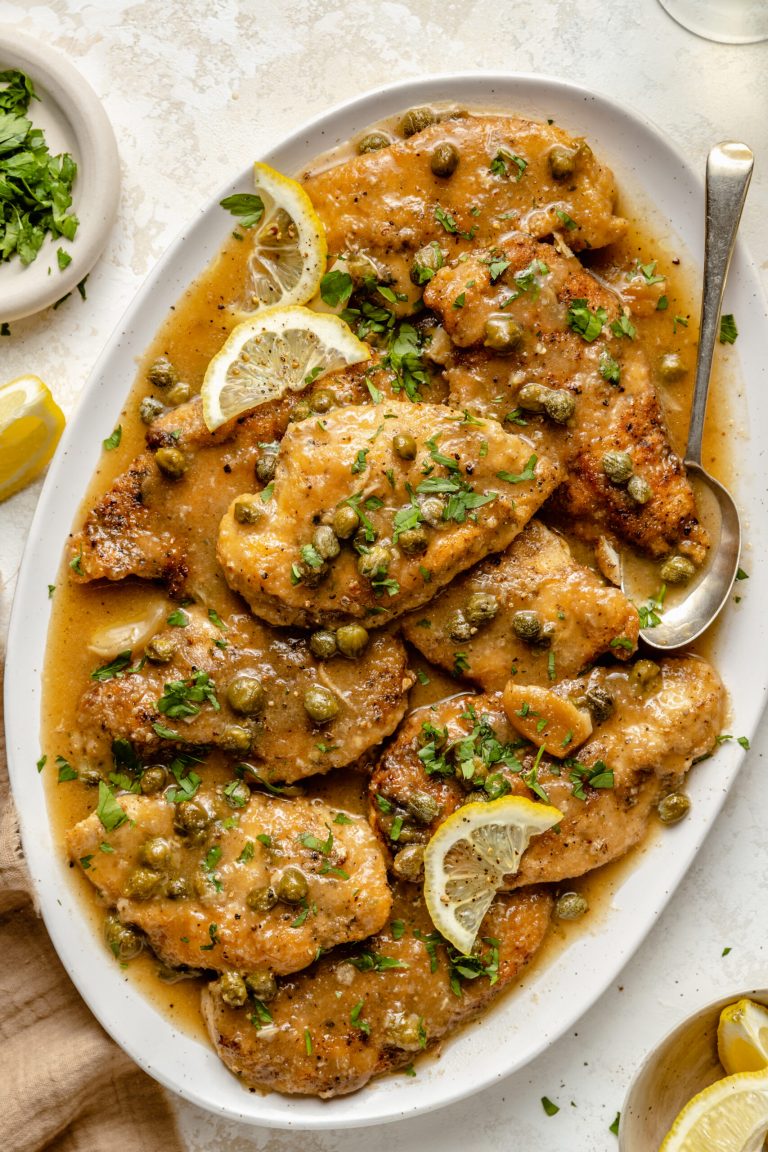 crockpot chicken piccata from the defined dish
Why We Love It: This one is a little more involved than the other crockpot recipes for a crowd, but if you have the time, I highly recommend it. You'll prep that chicken like your typical chicken piccata by pan-frying it until it's GBD, then add garlic, butter, capers, and lemon juice to the crockpot. That combination yields the most delicious gravy that you'll want to drink. Not even joking.
Hero Ingredient: I've said it before and I'll say it again: capers are unbeatable. The salty, briny punch elevates any dish.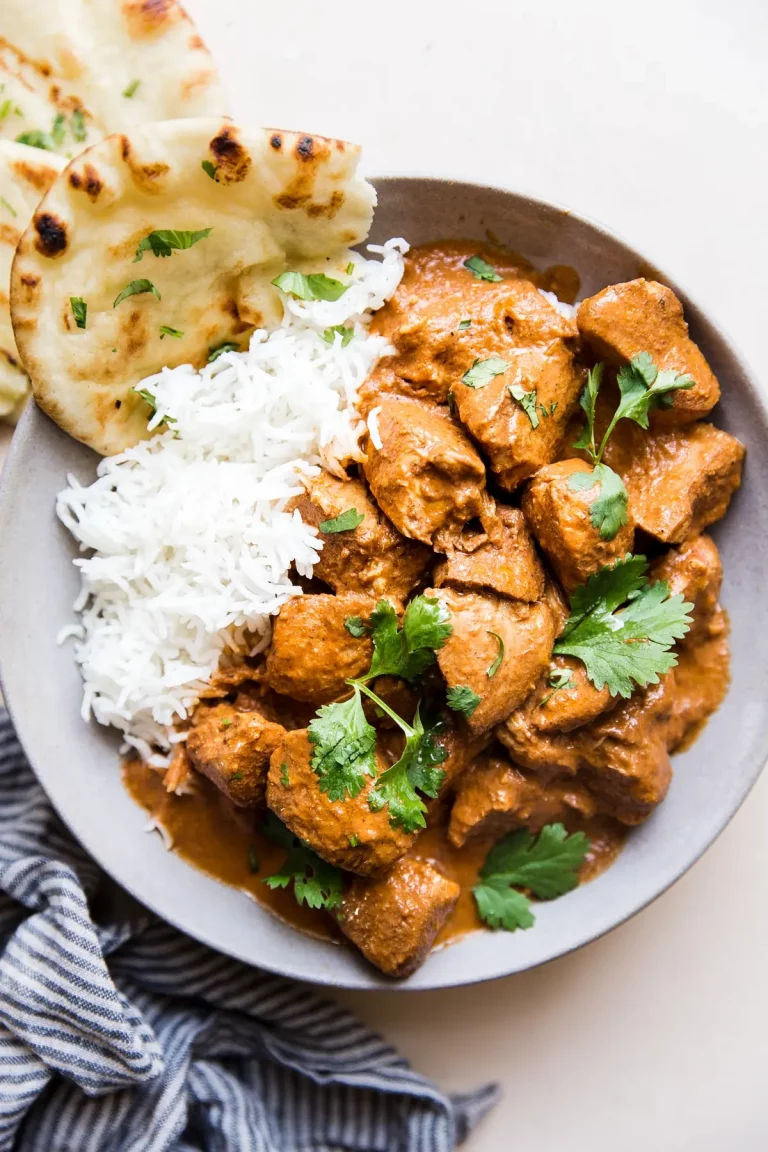 slow cooker butter chicken from modern proper
Why We Love It: Another crockpot take on Indian food, this butter chicken is the comforting meal your next gathering needs. The chicken simmers away in a tomato cream sauce that's spiked with all kinds of warming Indian spices until it's 100% droolworthy. Serve this over a little rice, cauliflower rice, or alongside fresh naan for a meal your guests won't forget.
Hero Ingredient: Freshly grated ginger is crucial. It brings a spicy kick to the sauce that you can't miss.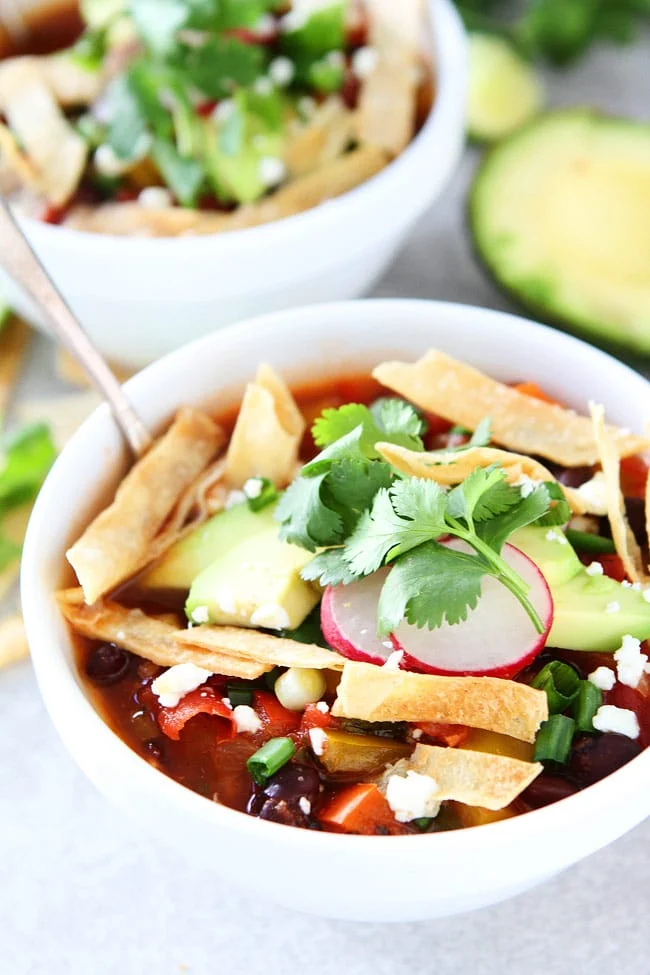 Slow Cooker Black Bean Tortilla Soup from two peas & their pod
Why We Love It: If this cold weather wave is giving you the blues, look no further than this black bean tortilla soup for the cure. It couldn't be easier to throw together with canned black beans, fire-roasted tomatoes, and just a few veggies building the soupy base. From there, top with lots of crispy tortilla strips, fresh cilantro, avocado slices, shredded cheese, and anything else you're craving. This one is a familiar favorite that everyone will love.
Hero Ingredient: Bonus: it's vegetarian!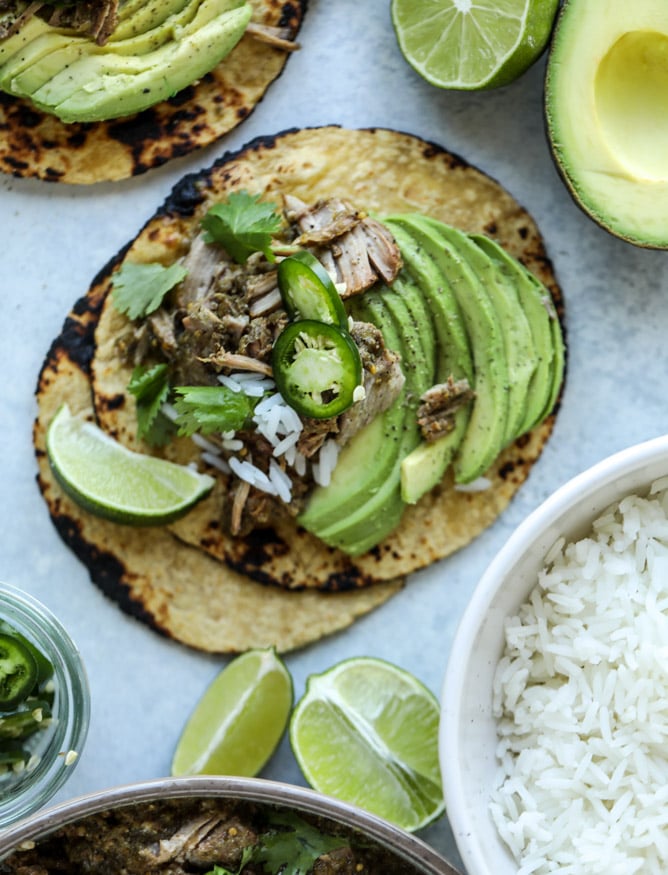 Slow cooker pork chili verde from how sweet eats
Why We Love It: A little bit spicy and a lotta bit delectable, this chili verde pork is to die for. Since this recipe uses a homemade chili verde, you can prep ahead of time to make your party planning that much easier. Once you've blended the salsa, you'll sear the pork, pour the salsa over, and simmer away for eight hours. When time is up, I suggest serving your pork in taco form (because you can never—I mean never—go wrong with tacos).
Hero Ingredient: The chiles in question are Anaheim chiles, poblano peppers, and jalapeños. Depending on your spice preference, you can customize the heat by removing or leaving the seeds intact.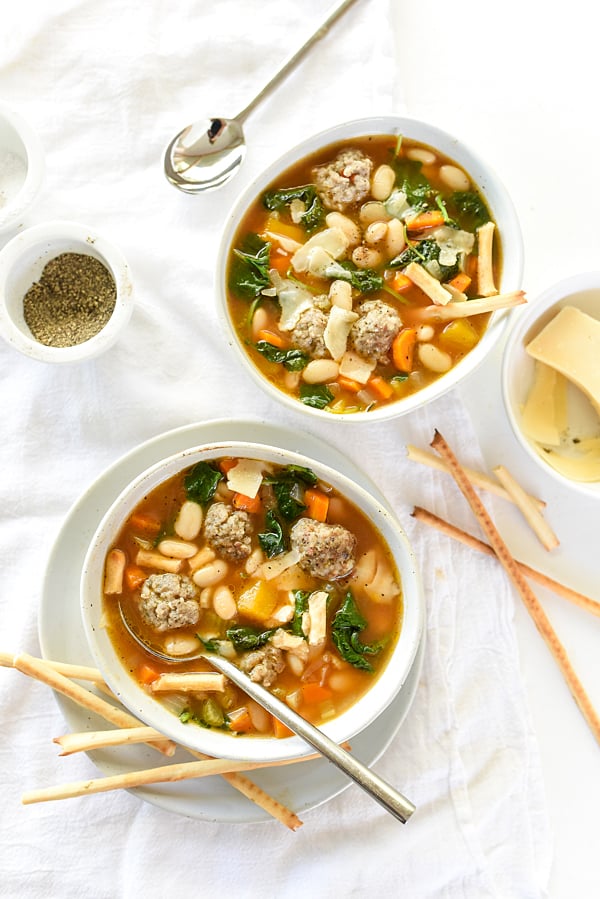 slow Cooker Tuscan White Bean Soup with Sausage from foodie Crush
Why We Love It: Tuscan white bean soup is another familiar classic that you can't go wrong with. Creamy white beans, butternut squash, kale, Italian sausage, carrots, and parmesan are some of the key ingredients that make this soup so inviting. You'll start by cooking the dried beans with the veggies for about eight hours, then adding the sausage meatballs and simmering for another half hour. After that, spoon up big bowls of your soup and enjoy!
Hero Ingredient: The shredded parmesan over top is truly magical.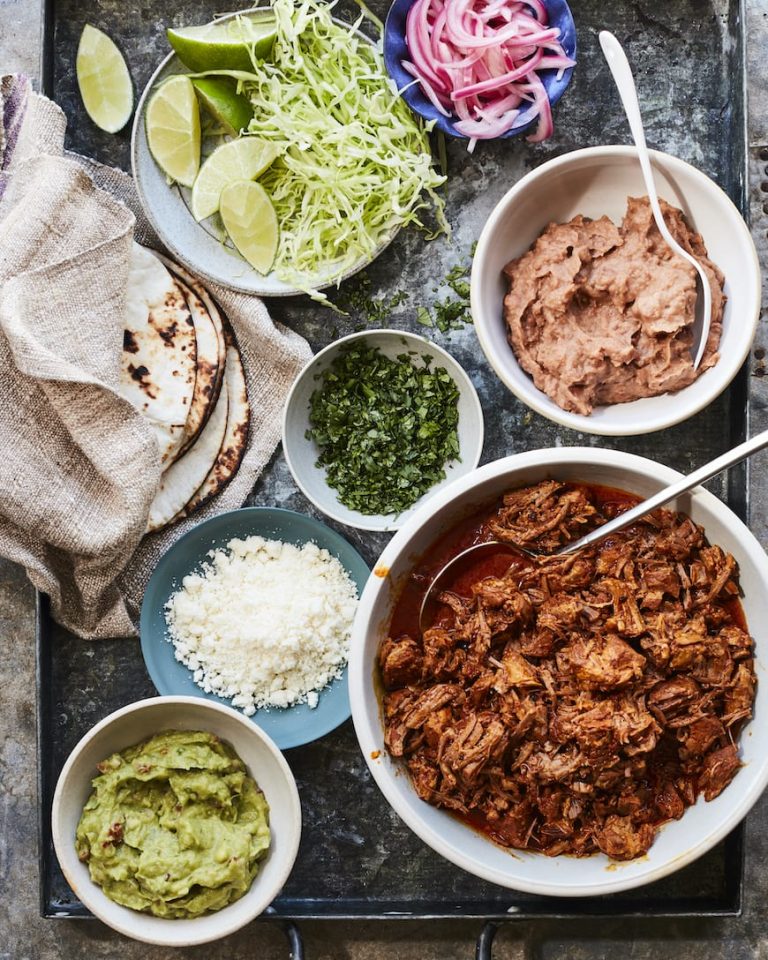 Cochinita Pibil from what's gaby cooking
Why We Love It: Another pork superstar, this Cochinita Pibil is something to behold. As Gaby shares, Cochinita Pibil is a "Yucatán-Style Barbecued Pork that is typically slowly cooked in a giant hole in the ground." It takes on a subtle sweetness that makes it perfect for tacos, quesadillas, sandwiches, burrito bowls, and more. Impress your guests with a taco bar for the books!
Hero Ingredient: Achiote paste lends a peppery, earthy flavor to the pork that's enhanced by orange and lime juices. Grab some from your local Hispanic market and get cooking!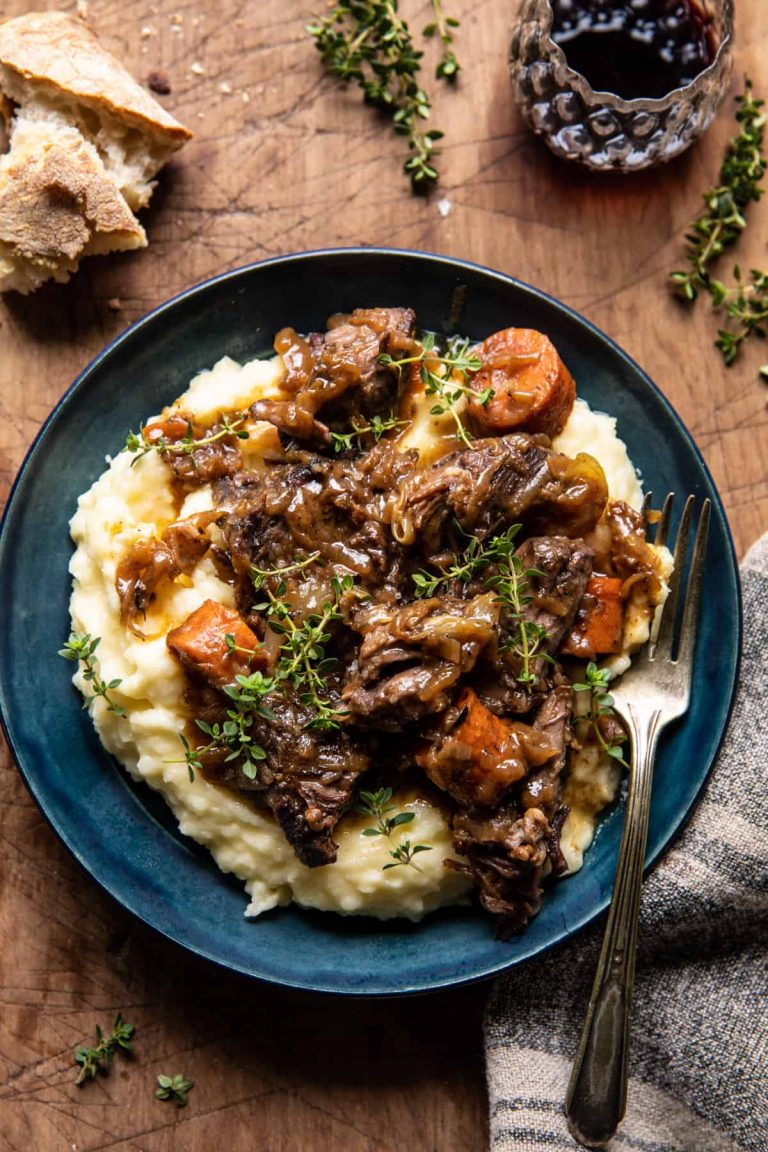 Cider Braised Short Ribs with Caramelized Onions from half baked harvest
Why We Love It: If there's one dinner party recipe that never fails to score, it's braised short ribs. They're so easy to prepare and leave you with an elegant dinner. The ribs get braised in apple cider, garlic, chicken broth, and fresh thyme for a slightly sweet, very savory flavor profile that's simply divine. Serve them over mashed potatoes, cauliflower mash, or polenta for a complete dish that's full of comfort.
Hero Ingredient: The gravy that's left in the crockpot is liquid gold. Spoon it over everyone's plates and be sure to include lots of caramelized onions, too.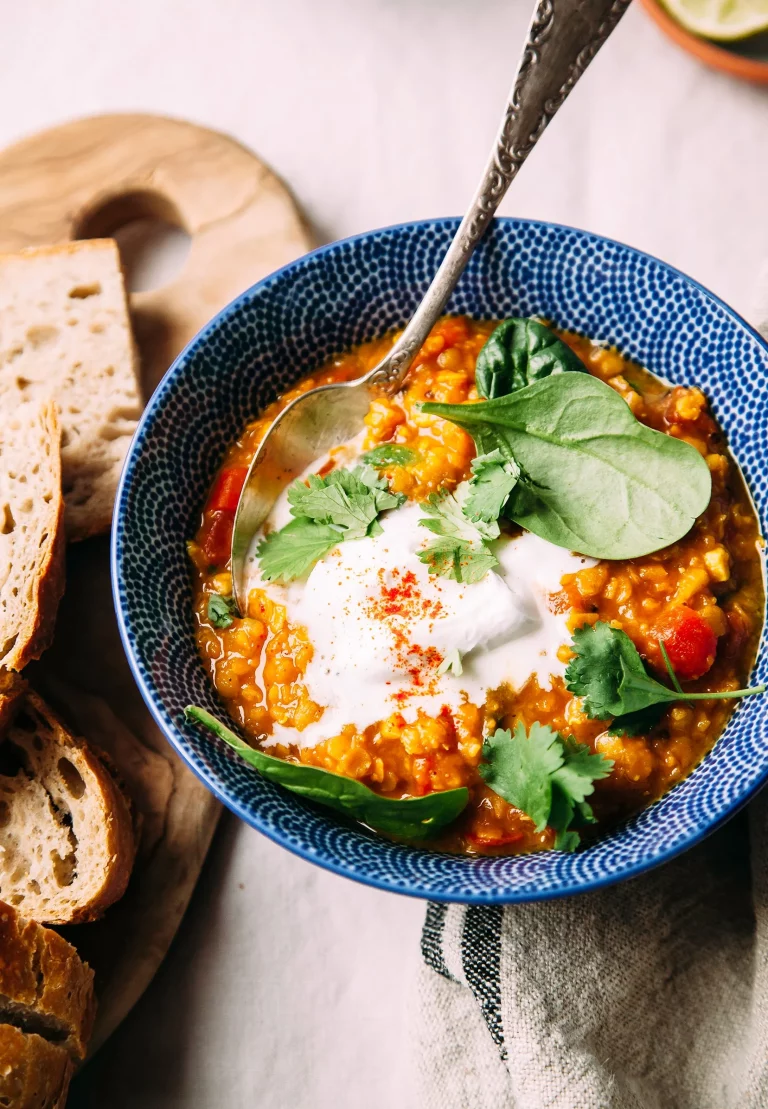 Golden Lentil Soup with Sweet Potatoes, Coconut Milk & Lime from the first mess
Why We Love It: Red lentils, sweet potatoes, ginger, coconut milk, crushed tomatoes, spinach, and more come together to make this satisfying golden soup. It's vegetarian, packed with nutrients, and celebrates all the cozy vibes. It's simple to make and even simpler to enjoy, plus it uses an impressive lineup of spices to keep those flavors interesting.
Hero Ingredient: A dollop of yogurt over top takes things to the next level.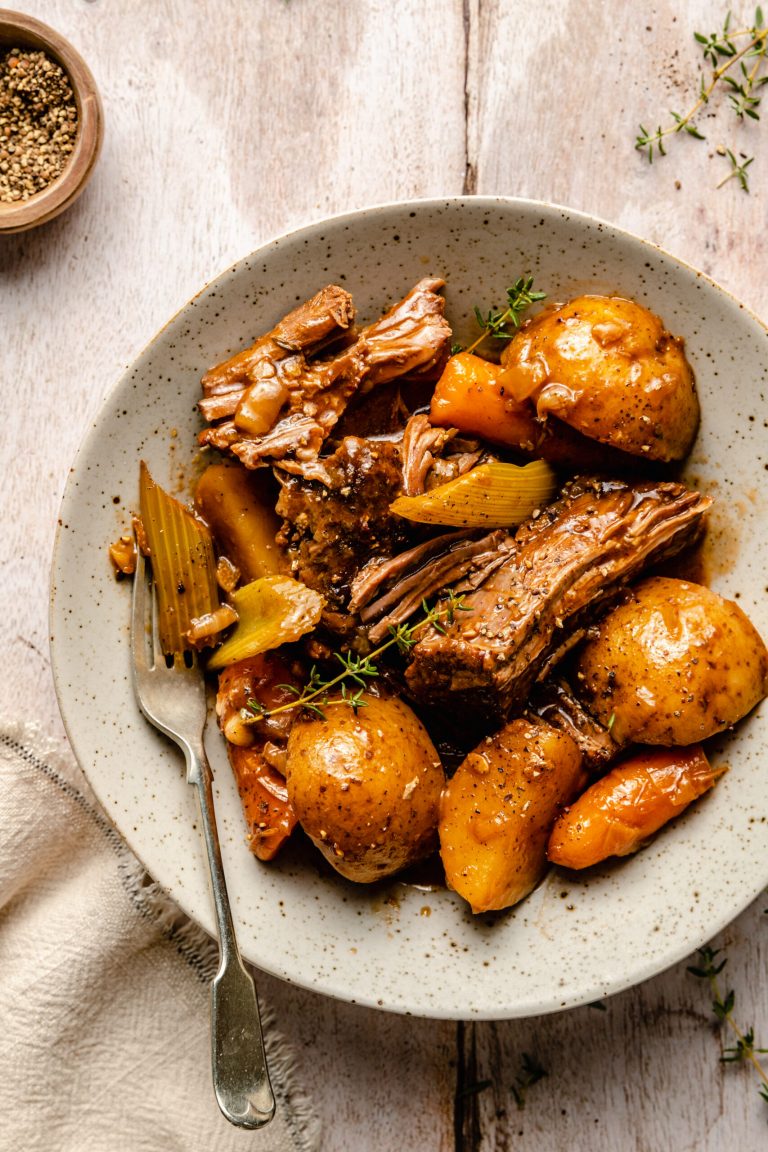 whole30 Pot roast from the defined dish
Why We Love It: Like short ribs, pot roast is one of the most comforting meals in the book. Potatoes, carrots, celery, and tender beef roasting together low and slow yields a meal that soothes the soul. All you have to do is brown your meat and combine everything together in the crockpot. From there, cook on low for eight hours to help all those delicious flavors shine.
Hero Ingredient: A hint of Dijon mustard brings a little tang and spice to the mix.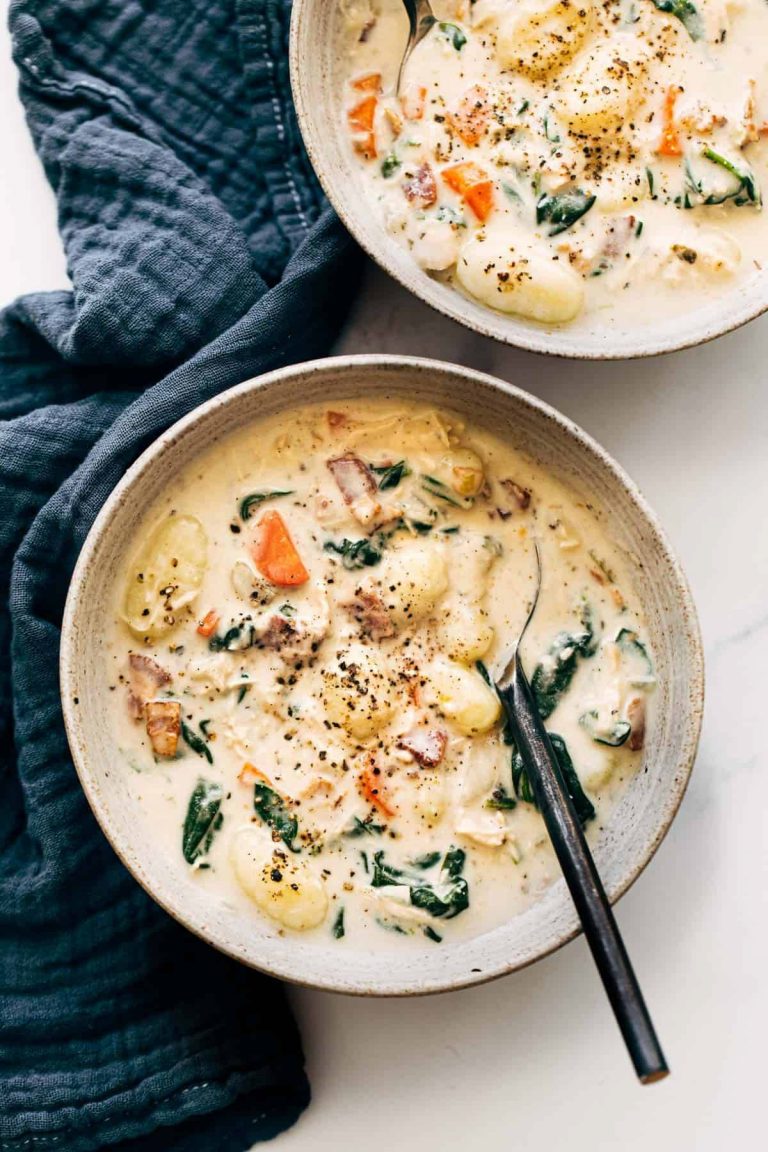 Crockpot Chicken Gnocchi Soup from pinch of yum
Why We Love It: Soft gnocchi combined with creamy soup broth? Sign me up. These little potato pillows thread themselves throughout the chicken soup to give you a bite of heaven in each spoonful. Plus, salty bacon and savory chicken make the soup that much more substantial. It's creamy, flavorfully complex, and so comforting.
Hero Ingredient: The bacon takes this soup to perfection status.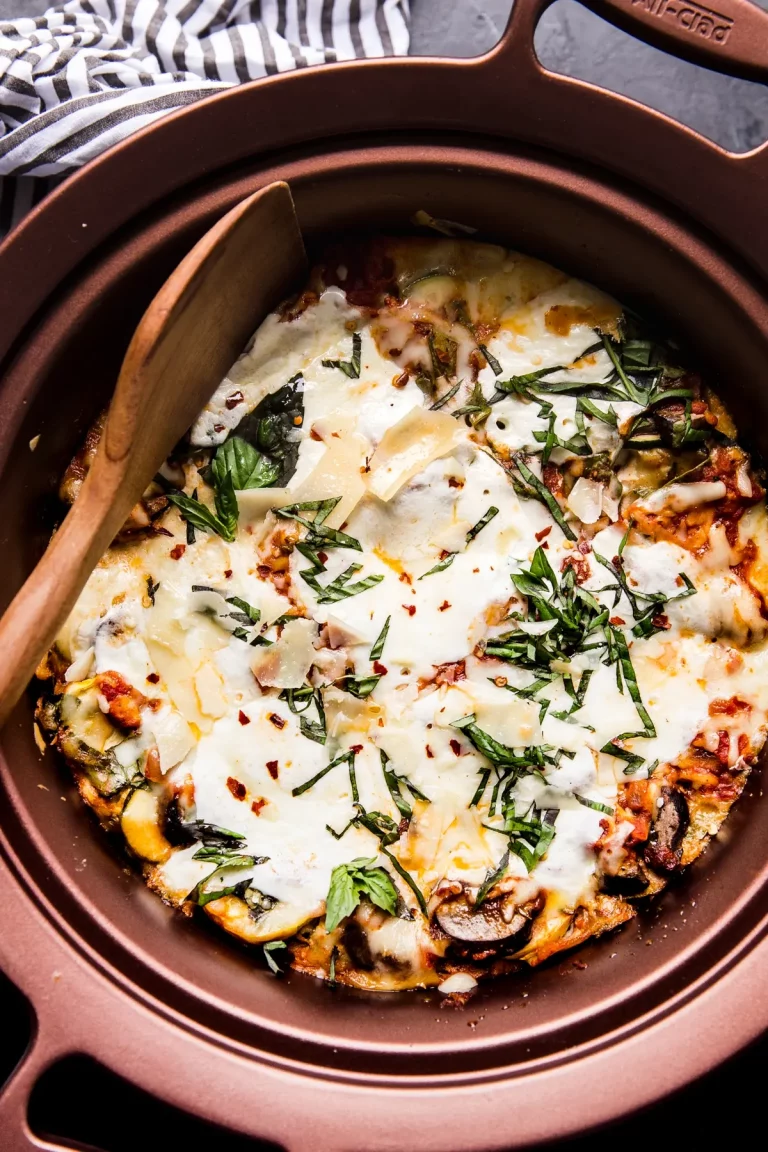 Crockpot Vegetable Lasagna from the modern proper
Why We Love It: Lasagna in the Crockpot? Yes, please. Simply stack the dried lasagna sheets with mushrooms, zucchini, yellow squash, chopped spinach, mozzarella, and sauce, and repeat until you've used all those veggies up. After three hours, top with lots of fresh parm and basil before serving.
Hero Ingredient: If you don't have a favorite, check out our pick of the best grocery store pasta sauce to use here.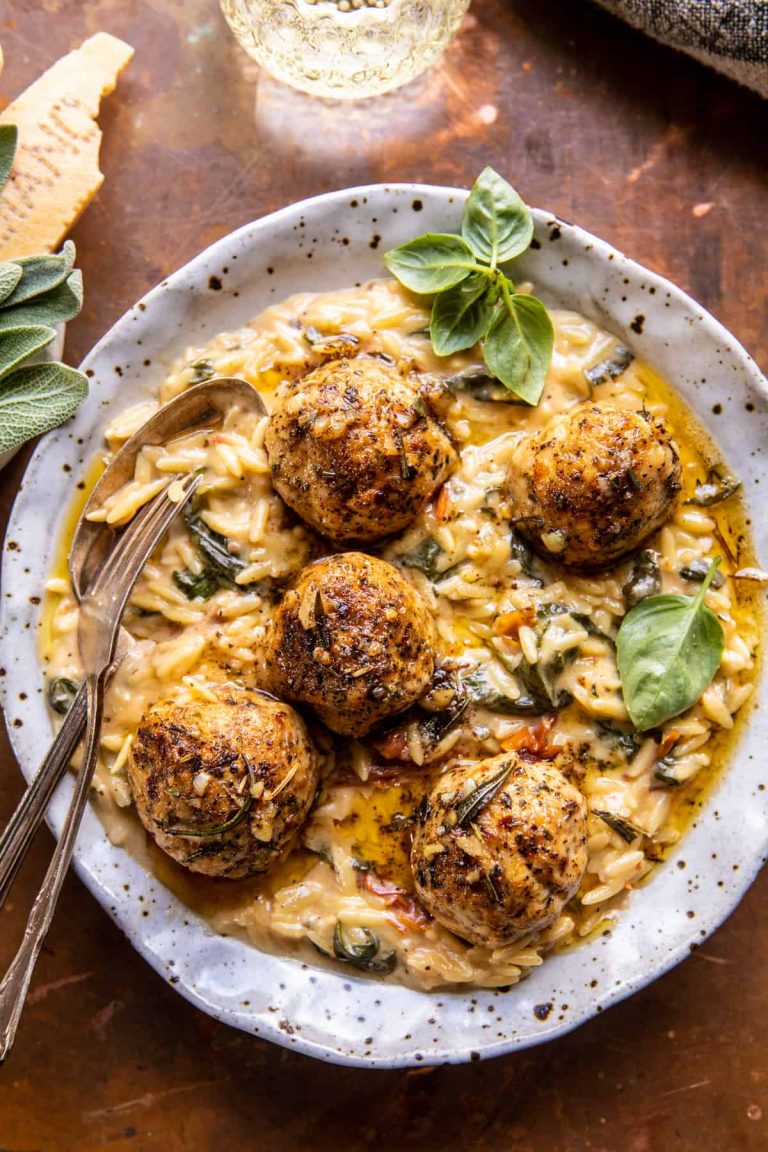 Crockpot Garlic Butter Chicken Meatballs with Creamy Orzo from half baked harvest
Why We Love It: Three words for you: garlic butter meatballs. How amazing does that sound? These chicken meatballs are so tender, flavorful, and (dare I say) moist. Combine them with creamy orzo, tart sun-dried tomatoes, and fresh spinach, and you have a winning dish that your guests will devour.
Hero Ingredient: The sun-dried tomatoes cut through all that richness and keep things perfectly balanced.
Crockpot Chicken Wild Rice Soup from Pinch of Yum
Why We Love It: You can never go wrong with a simple chicken and wild rice soup. It's a cure-all soup that everyone loves and that warms you from the inside out. This soup is just as perfect for a dinner party as it is to drop off for a friend in need. It comes together in the crockpot in 7-8 hours while you're off addressing other party-planning needs.
Hero Ingredient: The dried rice cooks right alongside the soup—no extra effort necessary. Now that's brilliant.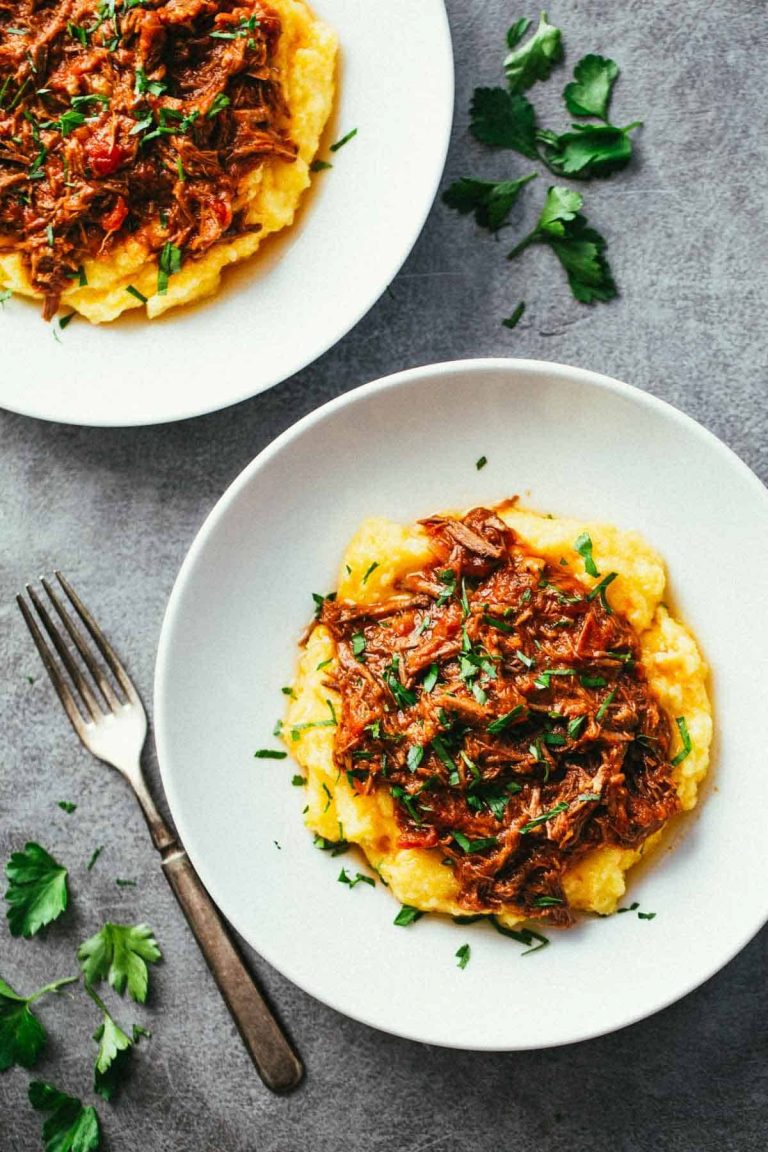 Crockpot Braised Beef Ragu With Polenta from pinch of yum
Why We Love It: Talk about comfort—this braised beef ragu over a creamy polenta is just plain delicious. All those meaty flavors layered over rich polenta make the most succulent dinner for your next gathering. It's effortlessly elegant as it comes together entirely in the slow cooker, but looks impressive enough to pass for a restaurant-quality dish.
Hero Ingredient: While the recipe doesn't call for it, you could absolutely sneak some cheese into that decadent polenta.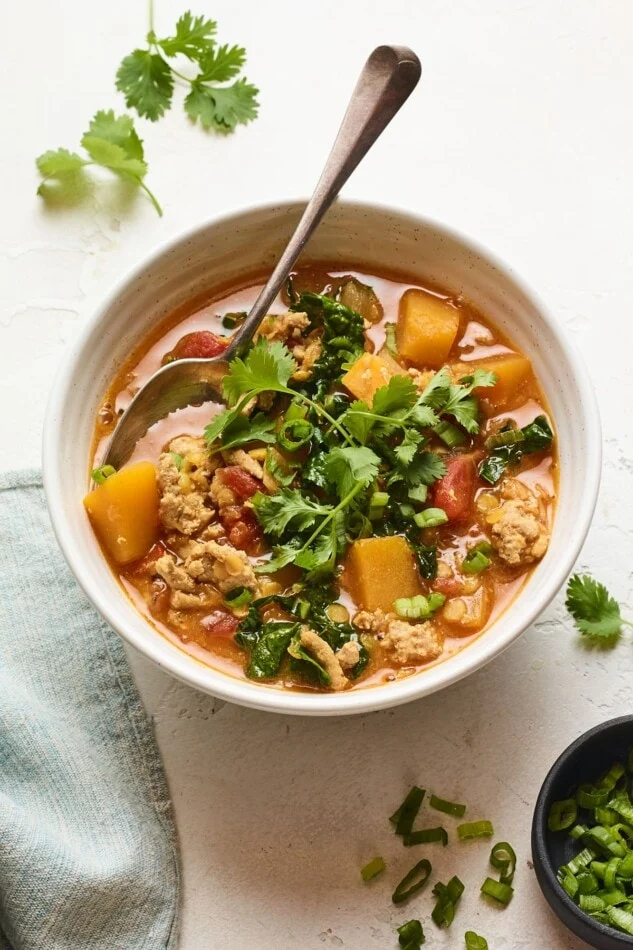 Butternut Squash and Turkey Chili from Eating Bird Food
Why We Love It: Tald about comfort food—butternut squash and soup recipes couldn't be a better combination. To make it easier to share with a crowd, this butternut squash and ground turkey chili brings tons of flavor in one crockpot.
Hero Ingredient: Cilantro is a must for the best flavor in this chili.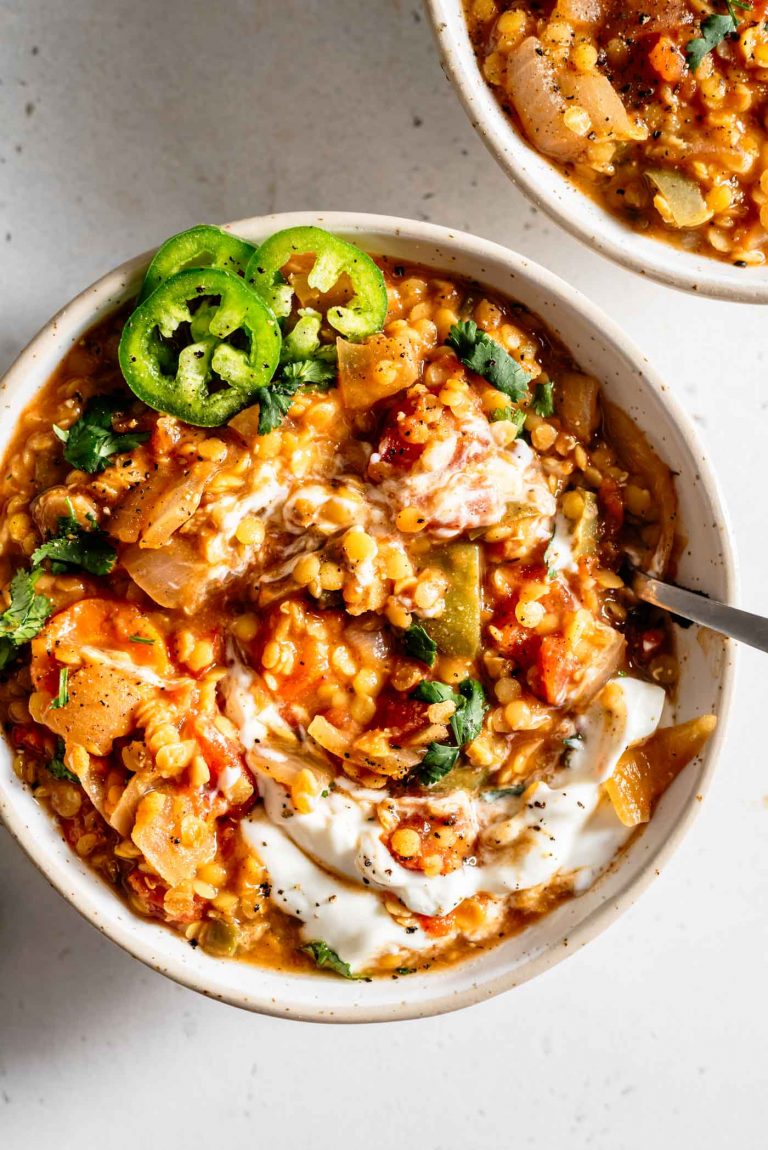 Slow Cooker Vegan Red Lentil Chili from Running on Real Food
Why We Love It: Lentils are quickly becoming one of my favorite soup ingredients. It's only fitting to put this healthy and hearty ingredient in a cozy chili recipe. This bowl is a blend of creamy warmth we just can't get enough of.
Hero Ingredient: It's time to celebrate lentils.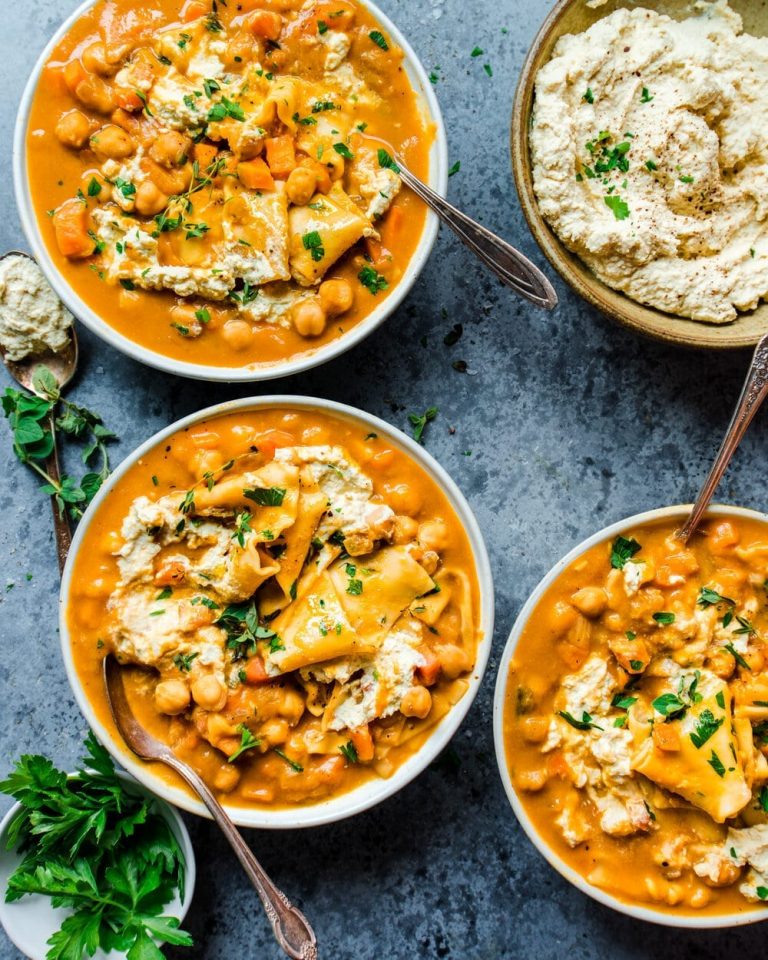 Vegan Instant Pot Pumpkin Lasagna Soup from Rainbow Plant Life
Why We Love It: What's better than lasagna soup? PUMPKIN lasagna soup. If you're skeptical but nevertheless a lover of all things pumpkin, this recipe is a must-try during the fall months. Trust: you'll have it on repeat any night of the week.
Hero Ingredient: Chickpeas add a boost of protein and great taste to your bowl.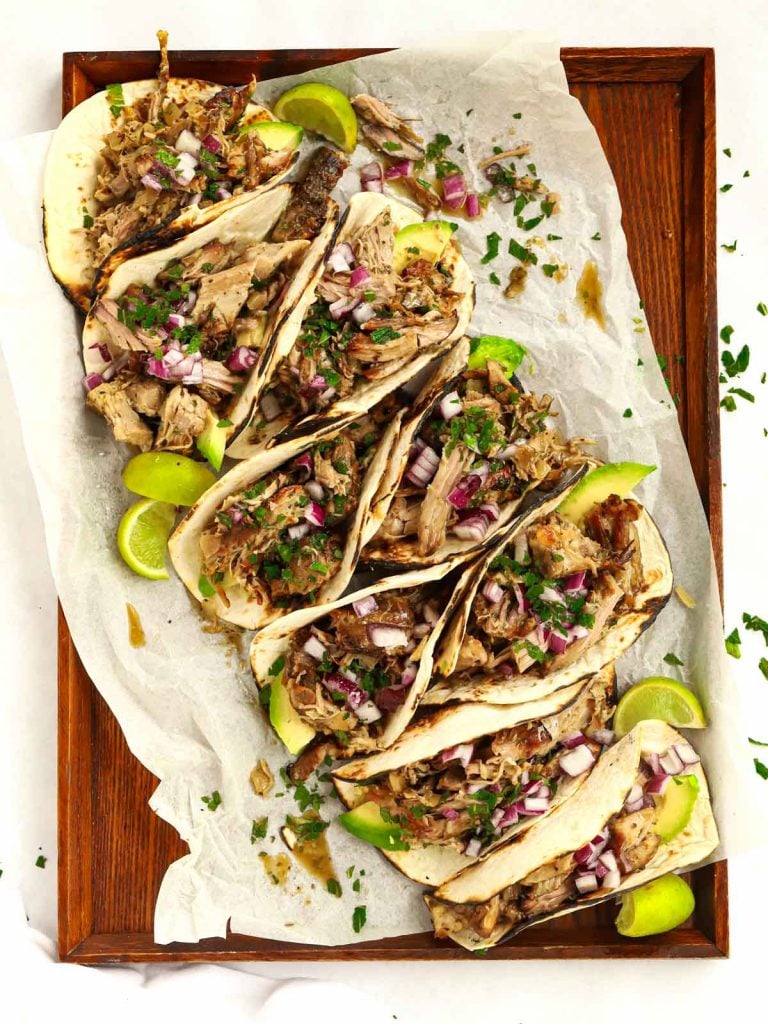 Slow Cooker Pork Carnitas from Taming Twins
Why We Love It: Personally, I'd be happy if every night was taco night. Fortunately, with a slow cooker, it's never a hassle to throw together delicious taco recipes with such strength in flavor. These pork carnitas are juicy and packed with everything you could possibly be after in the ultimate taco.
Hero Ingredient: A squeeze of lime is the finishing touch.
This post was originally published on October 30th, 2022, and has since been updated.