In the world of interior design, even the smallest details have a major impact on a room's look and feel. Case in point: plumbing fixtures and hardware. I incorporated the brilliance of Kallista to bring my design vision to life in our Malibu renovation.
Featured image by Michelle Nash.
Creating Impact
Plumbing fixtures are one of those decisions that many people leave until the end—and those decisions require all of the wisdom I've learned from my many renovation projects. For our coastal California home, I took a different route by choosing the metals and finishes that will grace the sinks and showers early on in the project. I wanted to lock in that decision as part of my vision that will help guide the other elements of each space.
My choice was one of equal parts beauty and utility. I looked to Kallista, the revered manufacturer of luxury faucets and fixtures, to add the hardworking touches to various rooms.
Alexander Dornbracht, Managing Director for Kallista, notes that with our choice to include the brand comes a functional luxury. "Our products showcase a compelling beauty to enhance your space, " says Dornbracht. "They simultaneously offer a quality composition that makes your everyday routines more enjoyable."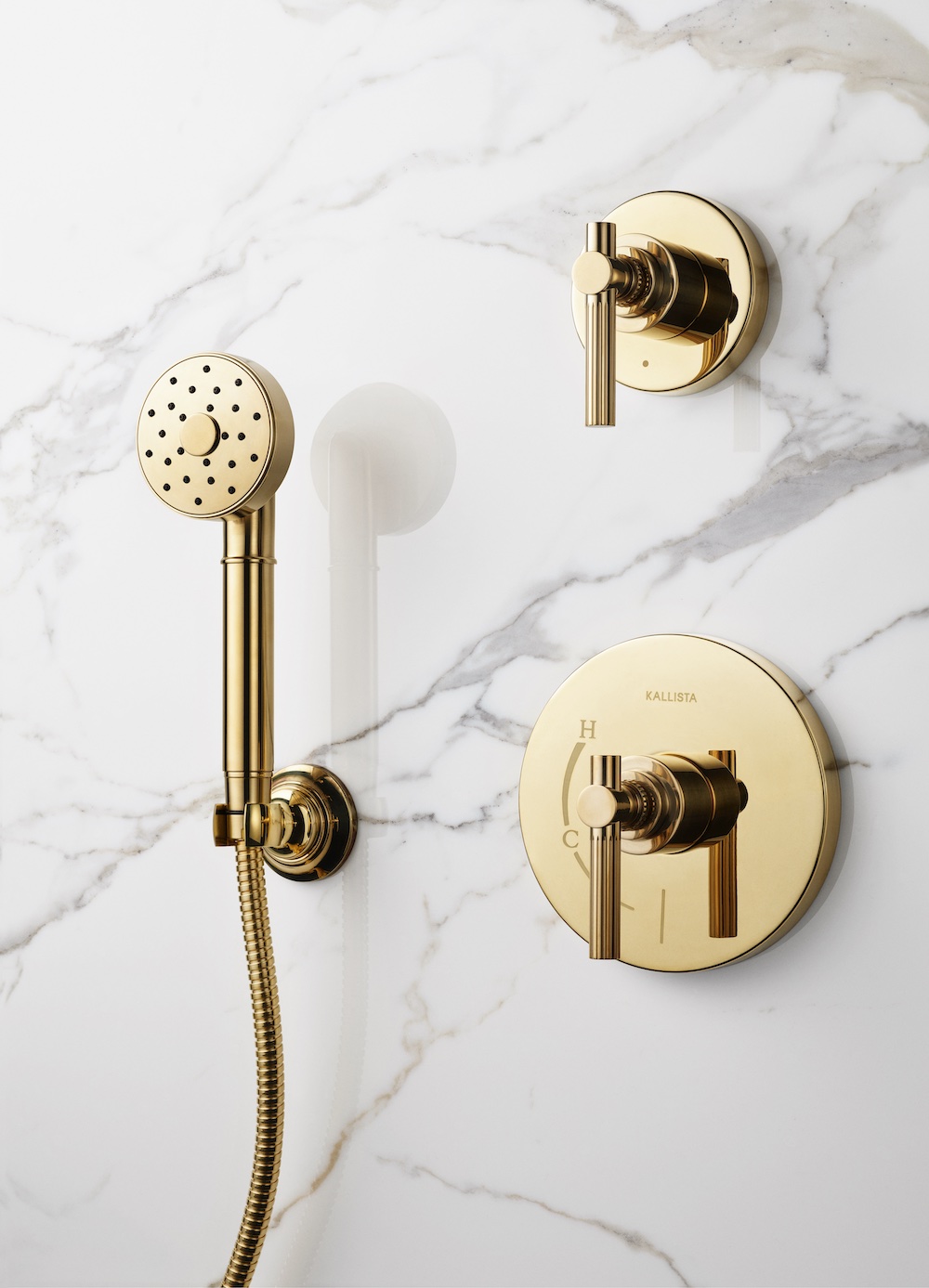 A Stunning Statement 
Since KALLISTA offers a wide range of forms and finishes, we had a sea of options to navigate. But my design eye was set on the brand's unlacquered brass, a warm, inviting metal with a rich aged patina. In addition to the finish, I fell in love with the clean, quiet sophistication of Kallista's One collection. I wanted to embrace its simple design throughout our home.
I admit I swooned over unlacquered brass hardware for many years, but it was never the ideal fit for our current more contemporary Austin residence. This "living finish" was perfect for our coastal California beach house, in which we're imbuing materials from the earth—from stone and wood to linen and clay. The warmth and softness that unlacquered brass brings to a kitchen or bath will feel right at home in the casual, sun-bleached palette I'm envisioning.
Dornbracht agrees. "Our sought-after Unlacquered Brass finish not only adds a deep golden hue but furthermore a unique, timeless patina that evolves with the space."
The "Jewelry" of the Home
If there's one element of the KALLISTA pieces that strikes me the most, it's the products' humility in the face of their beauty. They work hard, allowing our hands to maneuver them countless times a day, all the while offering an unparalleled touch. I believe they'll offer a contrast and tension with the rest of the home's materials, creating an aesthetic that invites the eye to linger, absorb, and find unique beauty in each space. 
This is all a case for honoring the small details. "Think of Kallista fixtures as the 'jewelry' of the home," says Dornbracht.