It goes without saying: the pandemic changed many things about how I entertain. One that stuck with me beyond quarantine? Hosting a happy hour at home. And truly, there's no better time to embrace the DIY hosting experience than summer. When the mere thought of turning on the oven makes you break a sweat, it's time to enjoy the season's carefree vibes and host an impromptu happy hour with friends. With no cooking required, you can focus on assembling quick appetizers starring beautiful in-season produce and mixing up refreshing no-fuss cocktails. So let's slip into our breezy gauze and linen outfits from our partner Haven Well Within and dive into this simple summer soirée.
Despite our best efforts, the summer can get away from us. Much like the holidays, it's a special time of year when we want to make the most of every sun-soaked moment. Of course, that means stepping into each day with intention, donning summer fits that move with us all season long. Our entire team has been obsessing over Haven Well Within's collection of dresses and summer sets that help us keep our cool while still maintaining an effortless-meets-elegant aesthetic. And when a summer gathering is underway, Haven Well Within is our one-stop entertaining shop for essentials like Mediterranean-inspired glassware, serving dishes, and the very best olive oil.
Ready to see how it all comes together? These are my very best tips for hosting an easy, but memorable happy hour at home.
Featured image: Organic Cotton Gauze Dress.
How to Host a Happy Hour at Home: Elevate the Snacks
When it comes to easy-breezy summertime entertaining, you want food that doubles down on being both simple and totally delish. My favorite way to make it happen? Snacks for dinner. (Who needs a main course when you can indulge in a delicious spread of appetizers?) Grazing on a few elevated snacks is not only delicious—but also way more fun.
I whipped up these three no-cook appetizers in under an hour, and I have a feeling they'll become your go-to snacks all season long.
Pro tip: Finish each dish with a drizzle of Le Marké's special olive oil for that extra burst of fresh, summery flavor.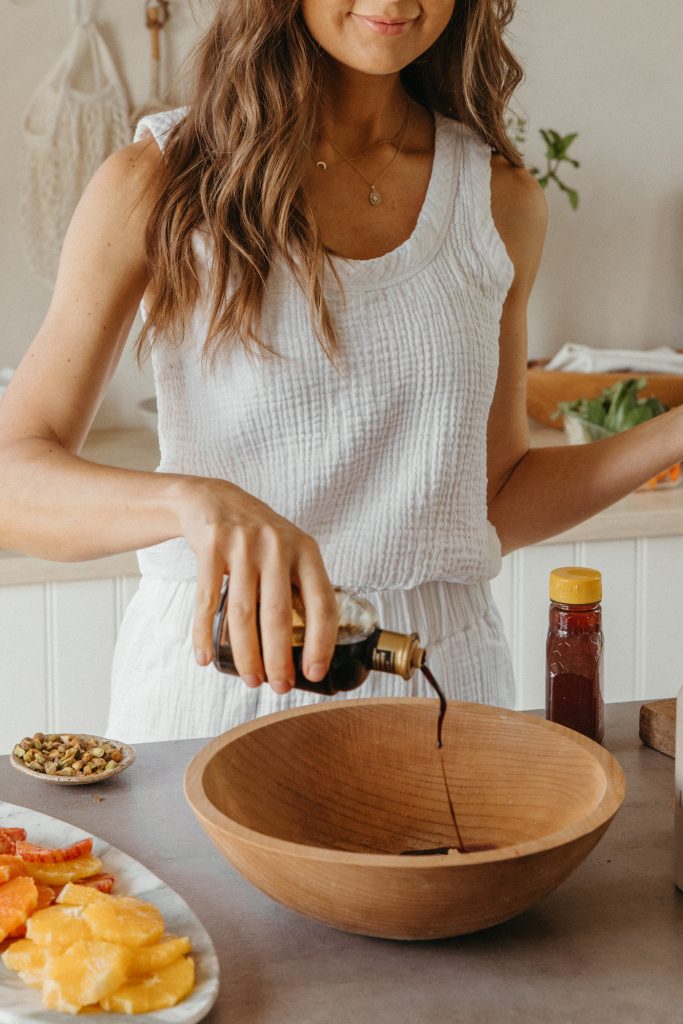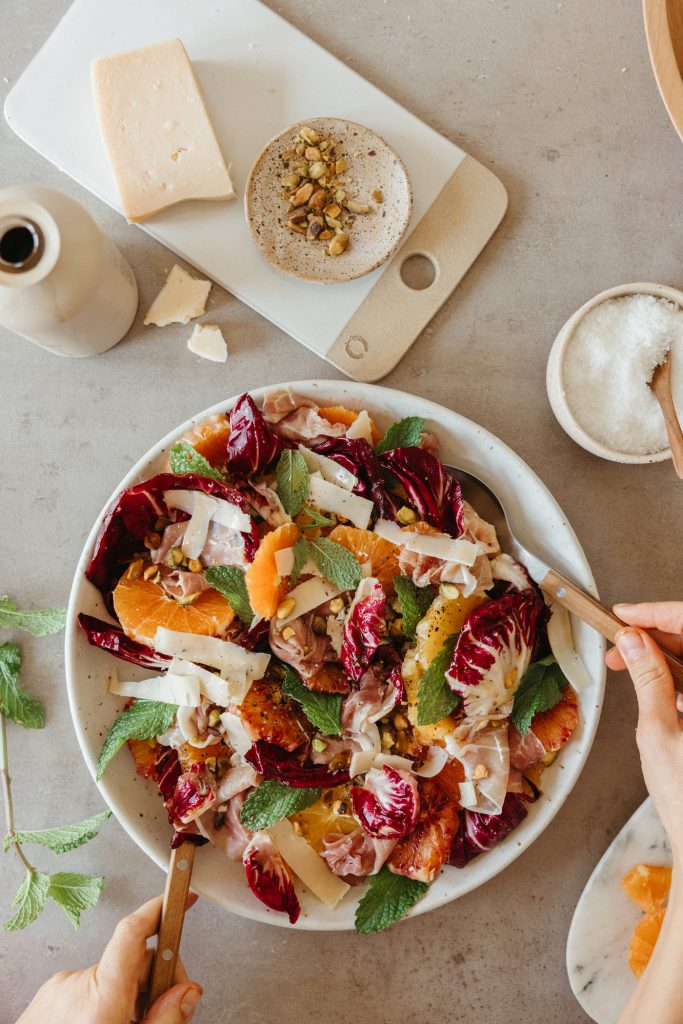 Bitter Greens, Citrus, and Prosciutto Salad
This vibrant salad combines radicchio with juicy oranges and thinly sliced prosciutto. The bitterness of the greens pairs perfectly with the sweet and tangy flavors of the citrus. A sprinkle of salty pistachios and thick shavings of parmesan gives Italian summer vibes. The final presentation is such a feast for the senses that no one will ever guess it's one of the simplest summer salads around.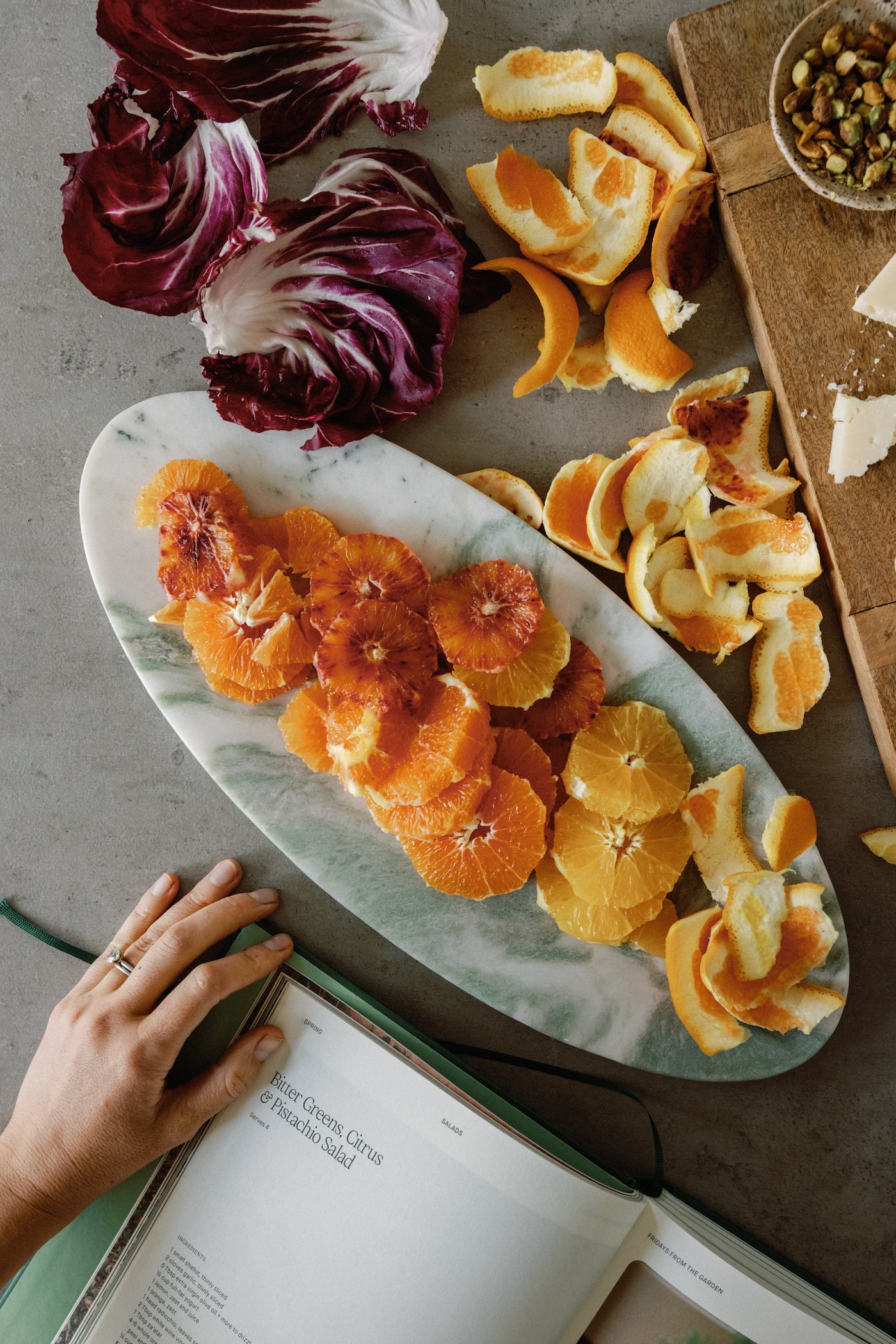 Pro tip: Here's how to get those gorgeous slices of citrus without the peel or pith:
Take a sharp knife and cut off both ends of the fruit, creating flat surfaces.
Stand the fruit upright on one of the flat ends.
Starting from the top, carefully cut downwards, following the natural curve of the fruit, to remove the peel and pith in sections. Repeat this process all around the fruit until all the peel is removed.
Once the peel is removed, you should see the colorful segments of the fruit.
Turn the fruit on its side, then use a serrated knife to cut thin round slices that can then be used for layering in salads, desserts, or ready for snacking.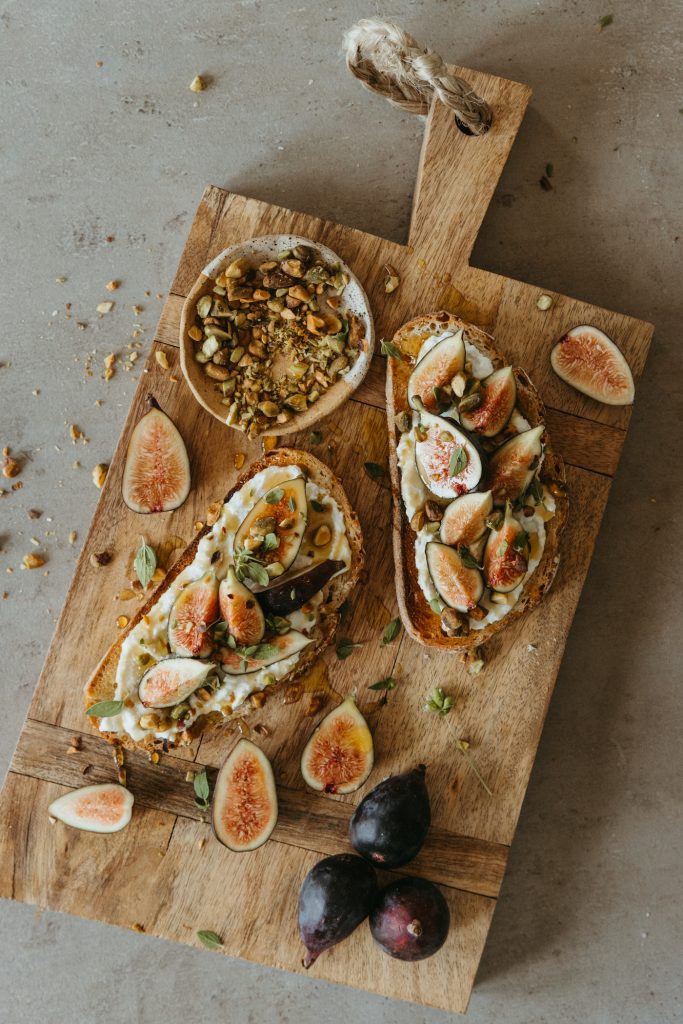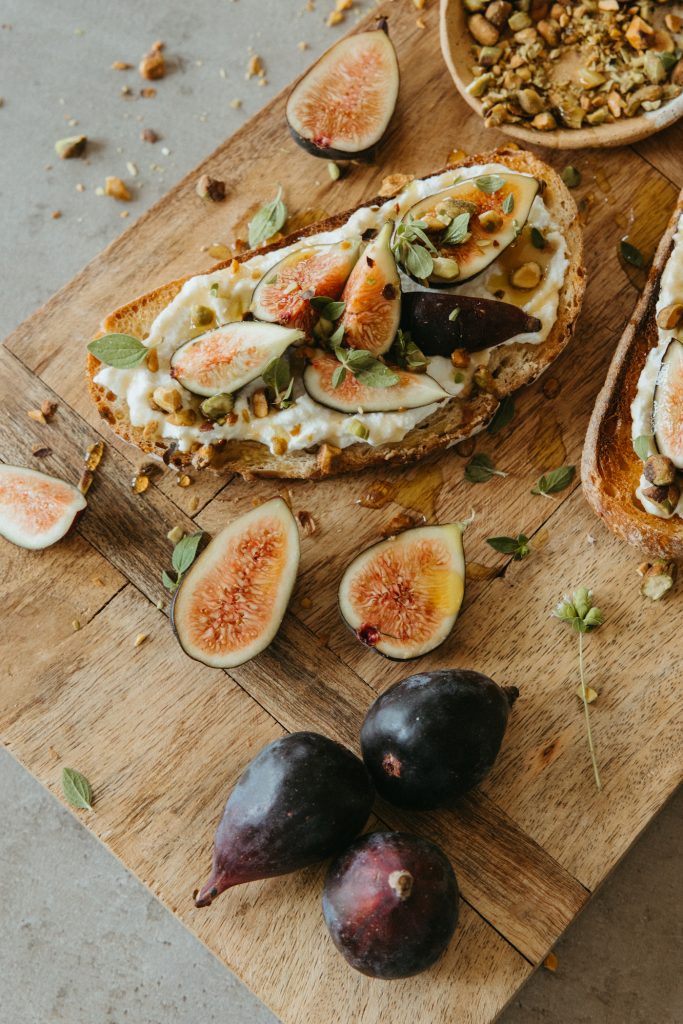 Ricotta Toast with Figs and Honey
This is one of the prettiest toasts in my repertoire. Just a handful of ingredients come together to create a stunning, delicious appetizer that doubles as a delicious vegetarian main course. Here's how to make it.
Spread creamy ricotta cheese on toasted baguette or sourdough slices. Then top with fresh sliced figs, a drizzle of honey, a sprinkle of chopped mint leaves, and a scattering of crushed pistachios. The combination of creamy, sweet, and nutty flavors creates the perfect bite, especially with a final drizzle of Le Marké's olive oil.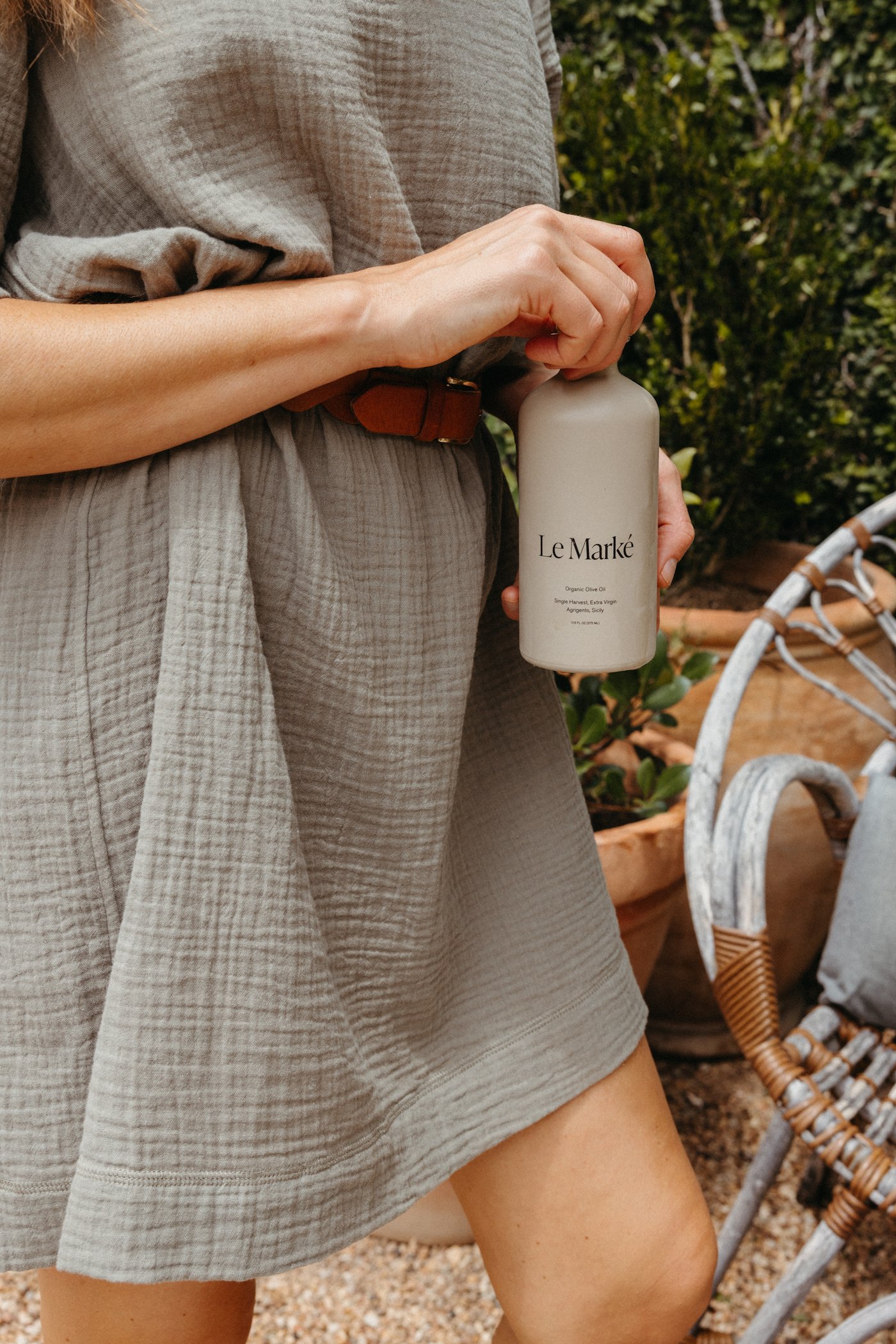 Pro tip: Figs are one of those fruits that are only good when they're perfectly ripe. Here's how to identify a ripe fig when you're grocery shopping:
Color. Ripe figs generally have a rich, deep color. The skin should appear vibrant and have a consistent hue. Depending on the variety, ripe figs can range from green to purple, brown, or black.
Texture. Gently squeeze the figs. Ripe figs should have a slight give and feel soft to the touch. Avoid figs that are overly firm or mushy, as these are likely underripe or overripe.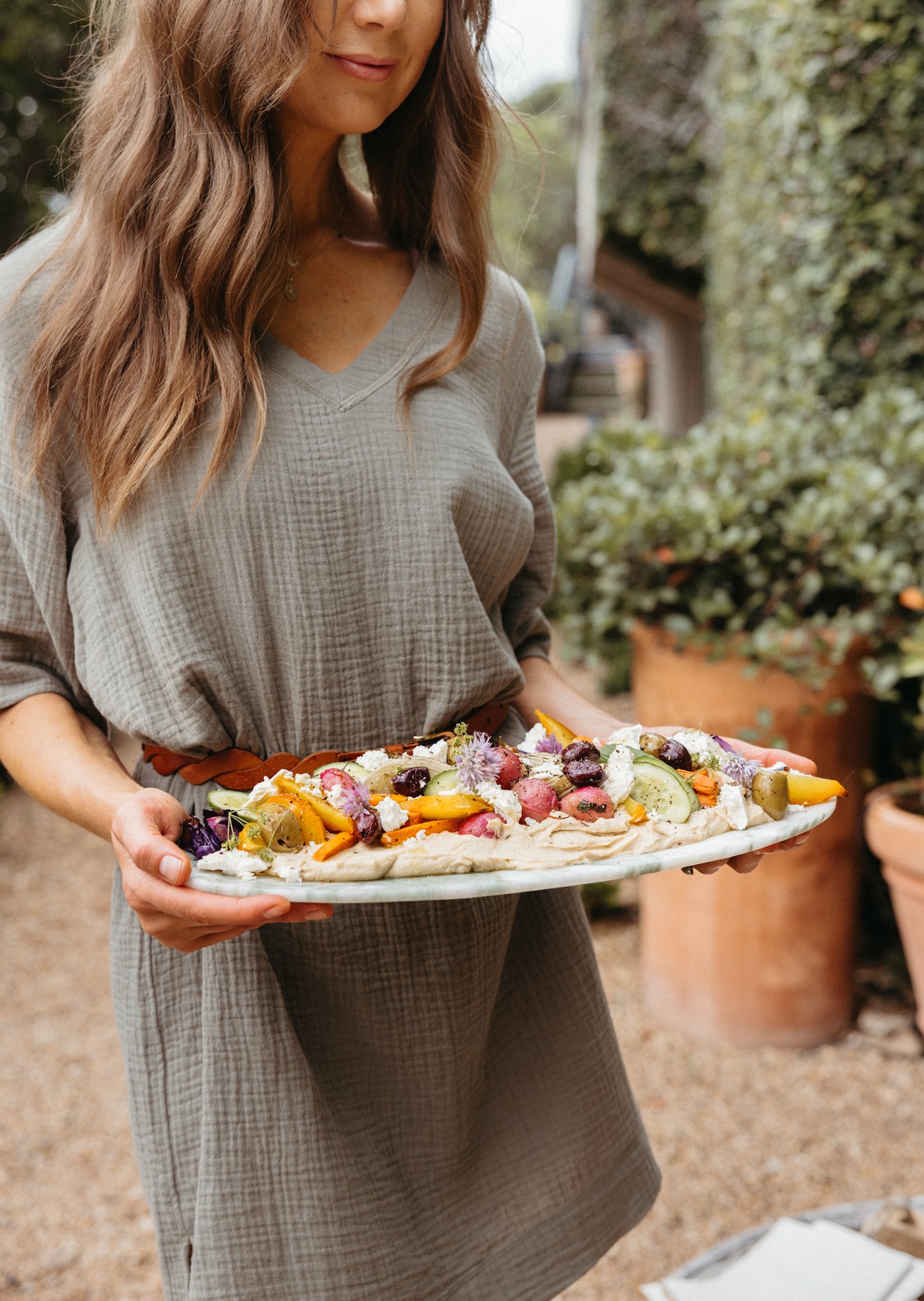 Hummus with Crudité and Edible Flowers
I know, I know: hummus with veggie sticks is about as basic as it gets. But this recipe proves: It's all in the presentation! To make this hummus platter party-worthy, I started with a beautiful oval marble serving platter, and made a dramatic swoosh with the hummus along half the platter.
Then, I topped it with a vibrant display of colorful crudité, such as carrot sticks, cucumber slices, radishes, and fennel. For a final summery touch, I popped in a few edible flowers (these are chive blossoms, but you can also use nasturtiums or pansies). The freshness of the vegetables combined with the creamy hummus creates a delightful contrast of textures and flavors.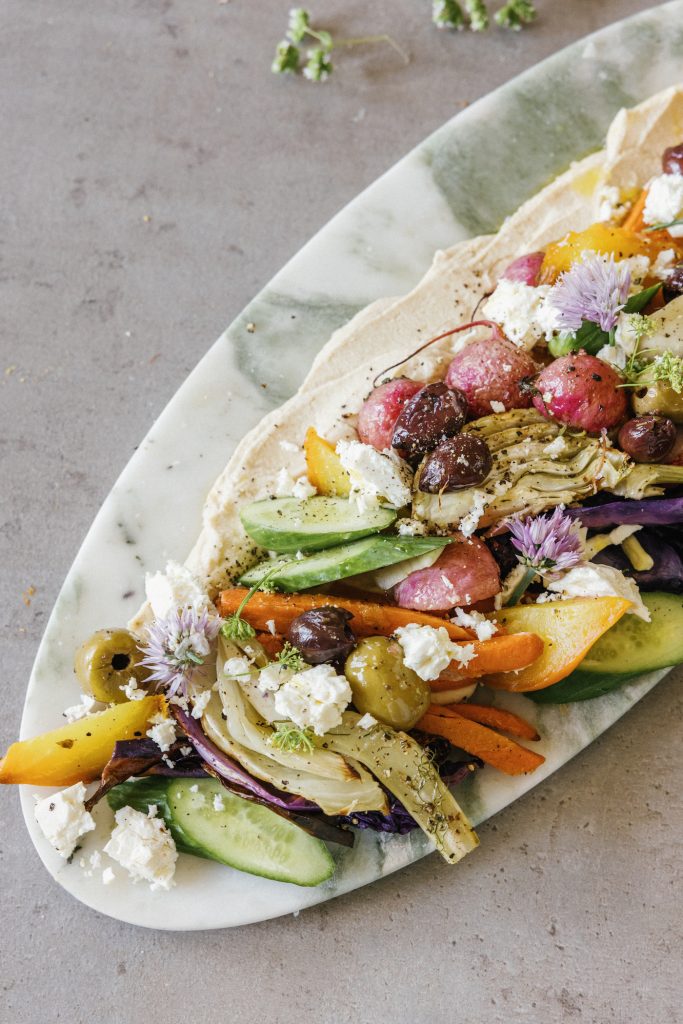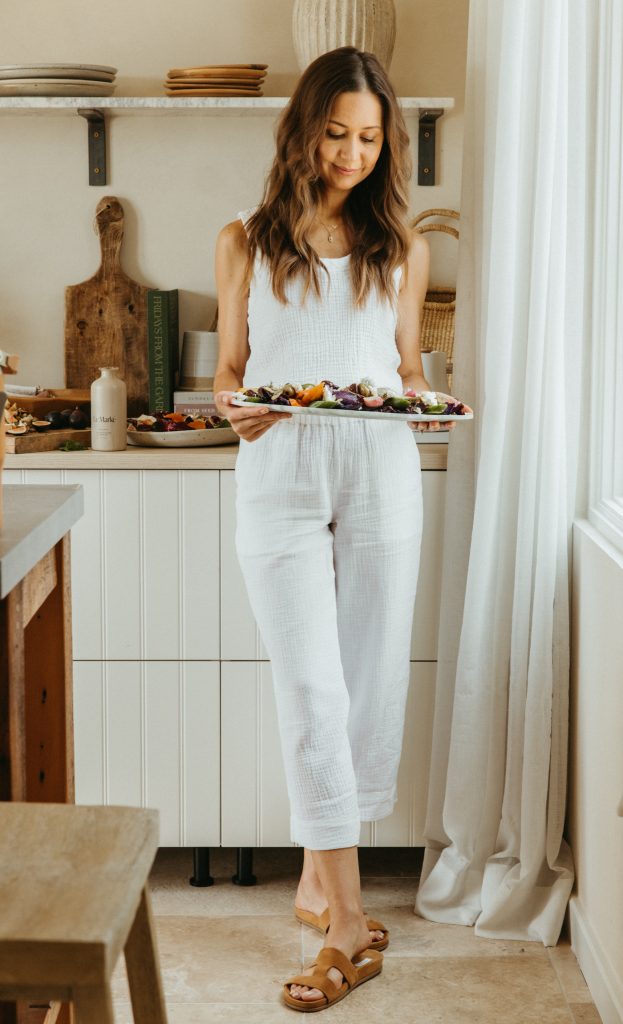 Pro tip: An unexpected way to level up your crudités is to use a mix of raw and roasted veggies. Here, I used a mix of raw cucumbers, marinated olives, roasted radishes, carrots, and fennel for a display that looked as delicious as it tasted.
Pour the Cocktails (and Mocktails) with Fuss-Free Mixers
We kept the drinks light, fruity, and fuss-free by using Sayso's mixers. Simply mix up these sachets in a pitcher, and you're ready to serve refreshing cocktails that capture the essence of summer. Don't forget to offer mocktail options for those who prefer non-alcoholic delights. I made this fun specialty drink in less than five minutes.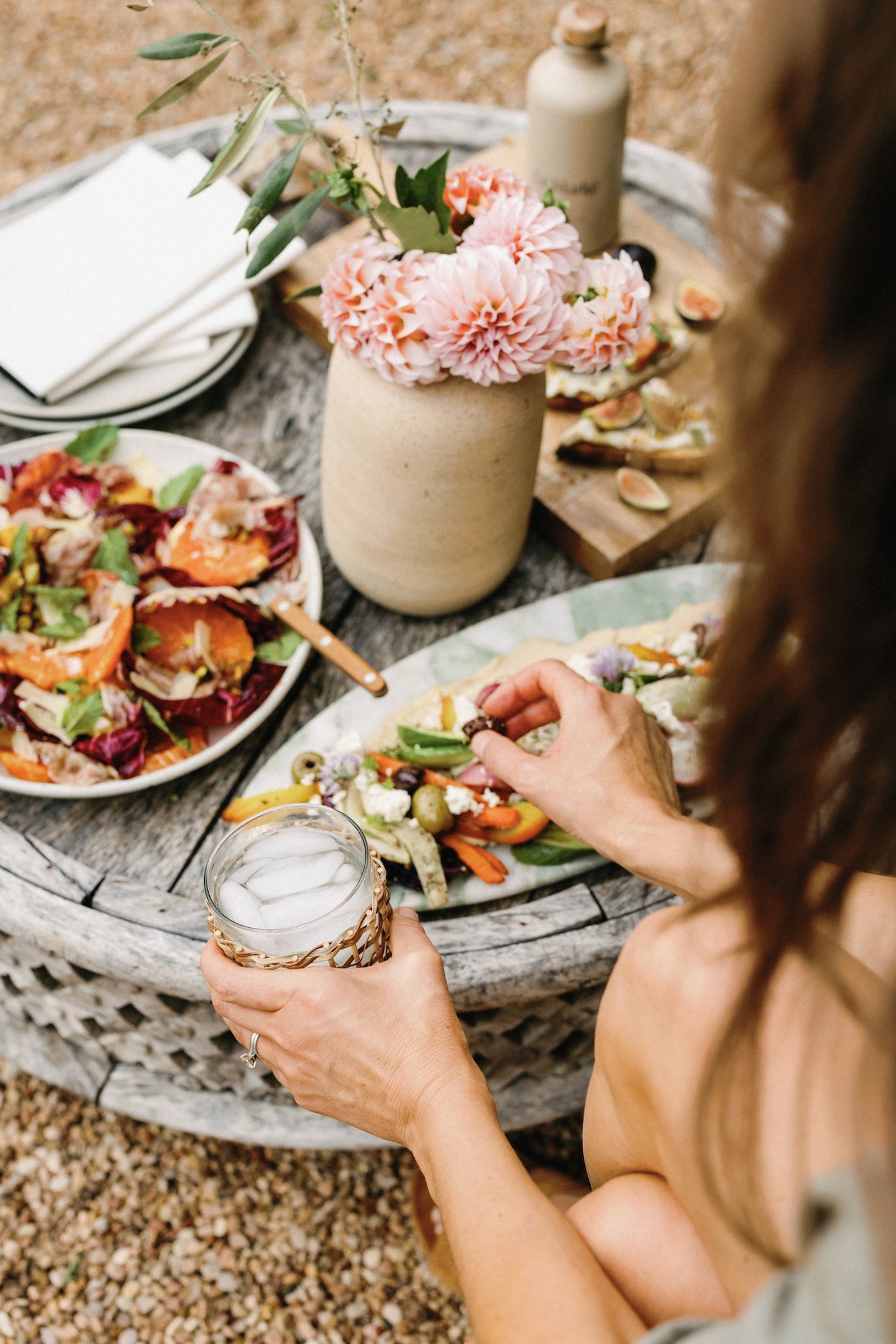 Mezcal Cardamom Paloma
Add a few of Sayso's Skinny Cardamom Paloma sachets to a large pitcher filled with water, ice, and a few splashes of mezcal. Stir well and garnish with citrus slices for a refreshing drink that channels vacay vibes.
Rosemary Honey Mocktail Mule
For a zesty non-alcoholic option, mix Sayso's Rosemary Honey Moscow Mule sachet with sparkling water. Add some ice and garnish with a twist of lemon or lime. This sparkling mocktail is perfect for staying refreshed on hot summer days.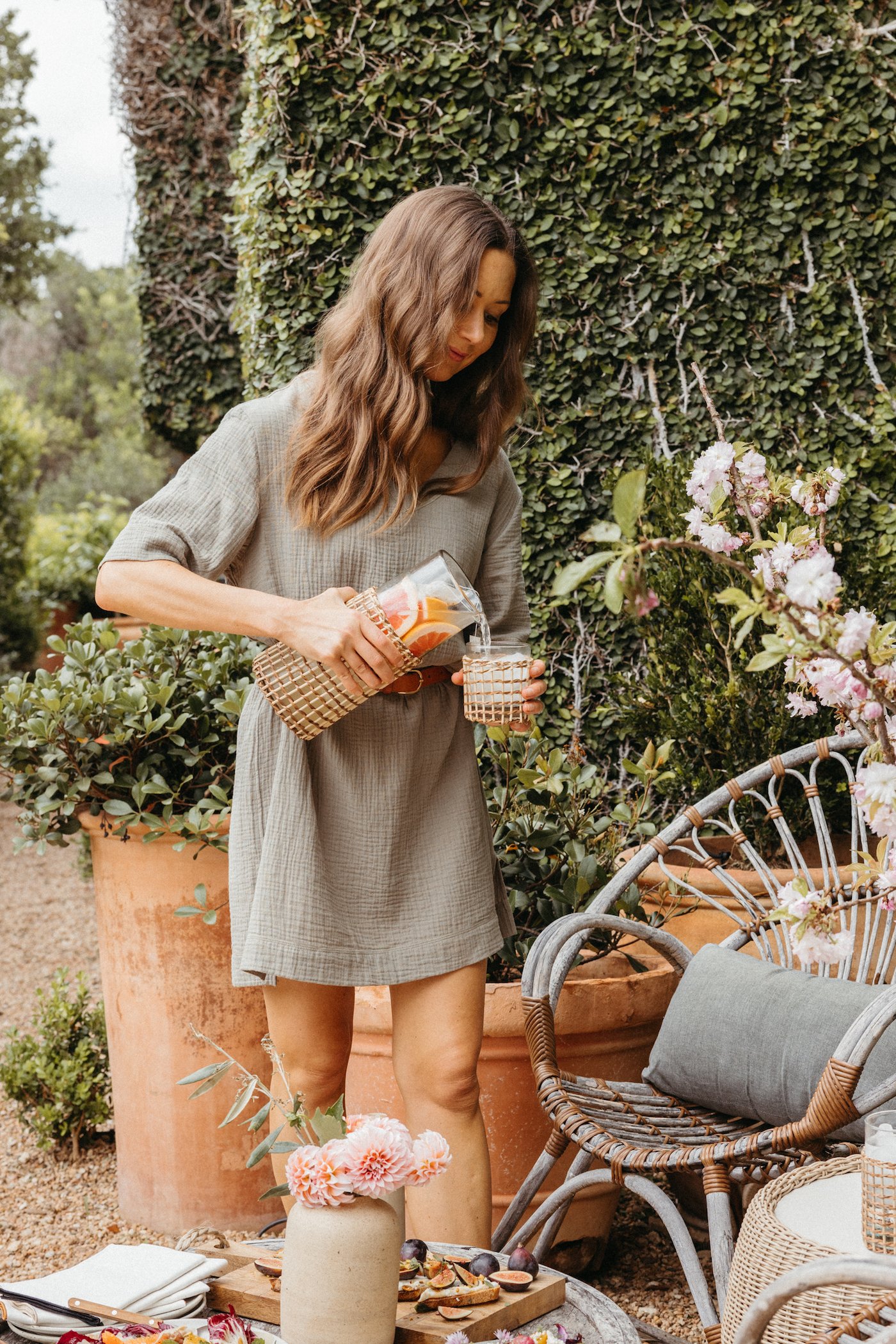 An Earthy, Elevated Table: Nature-Inspired Décor
For a simple happy hour setup, I let the season be my guide. Incorporate these elements to add an earthy, nature-inspired touch to any gathering.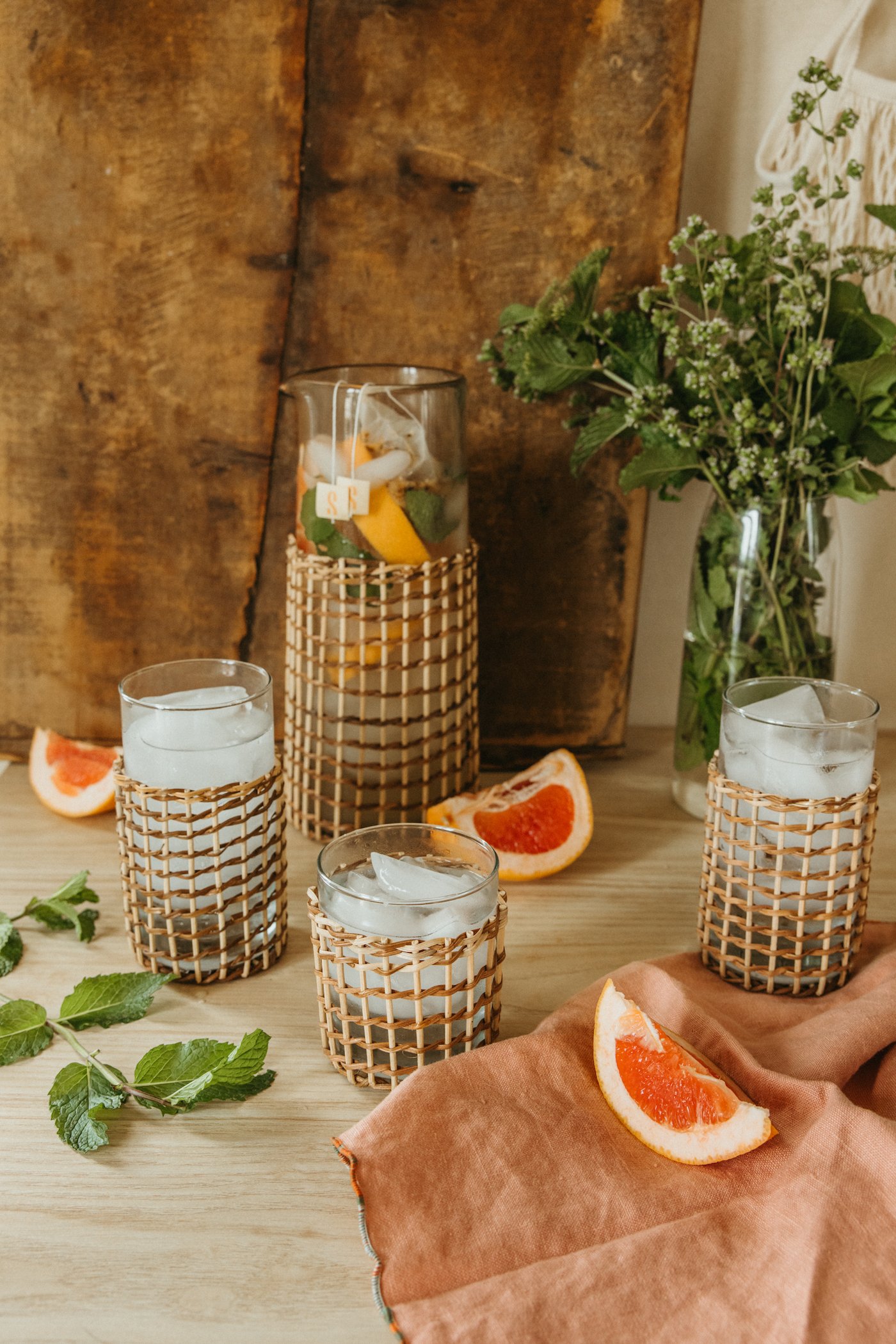 Rattan-Wrapped Glassware
Glassware wrapped in rattan brings rustic, beachy character to the table. This natural material complements the summer vibes and adds a nice touch of warmth to the entire aesthetic.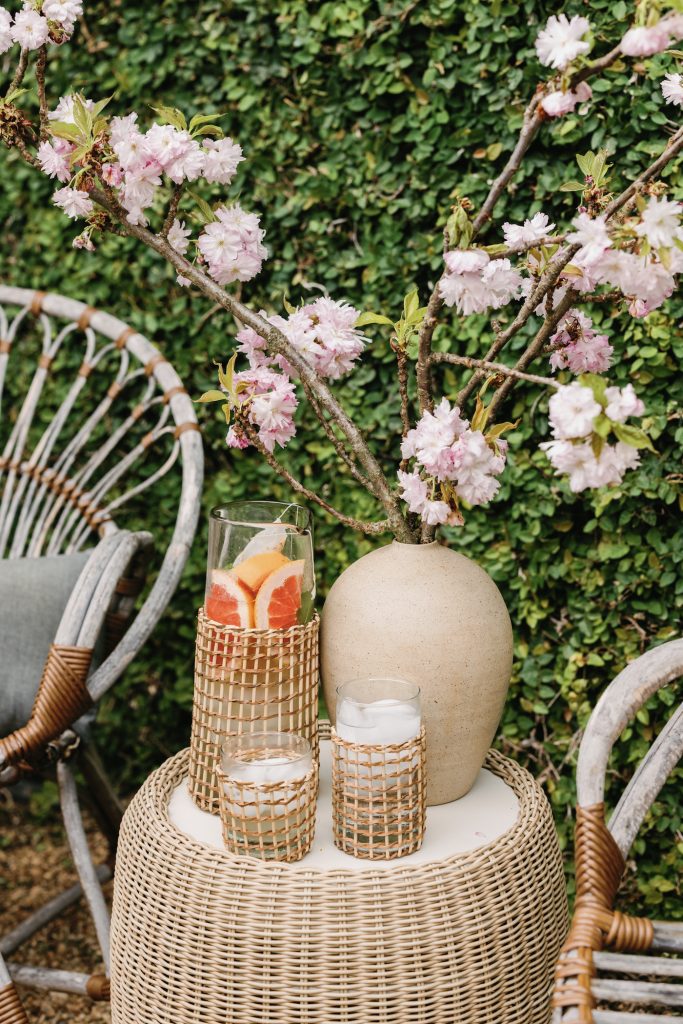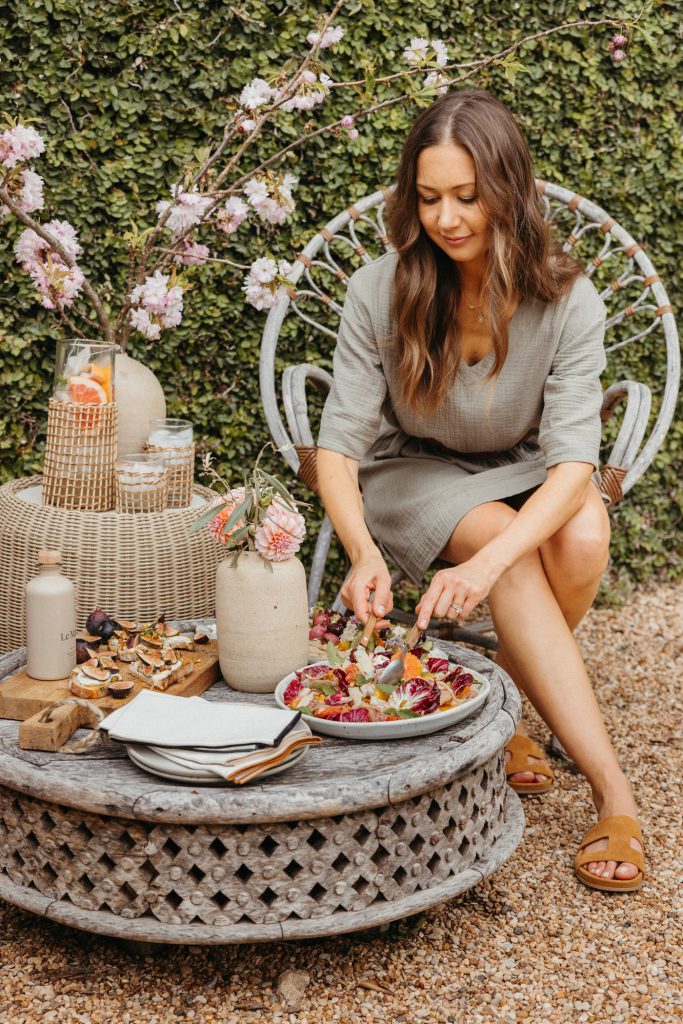 Colorful Edged Linen Napkins
Wrap linen napkins with colorful edges around flatware to infuse even the simplest setting with a pop of color. These napkins are the perfect blend of minimalist and fun.
Elevated Marble Serving Board
Give even the simplest appetizers a major hit of style with a gorgeously green marble serving platter. This material is both sophisticated and earthy, letting the natural beauty of the dishes shine through.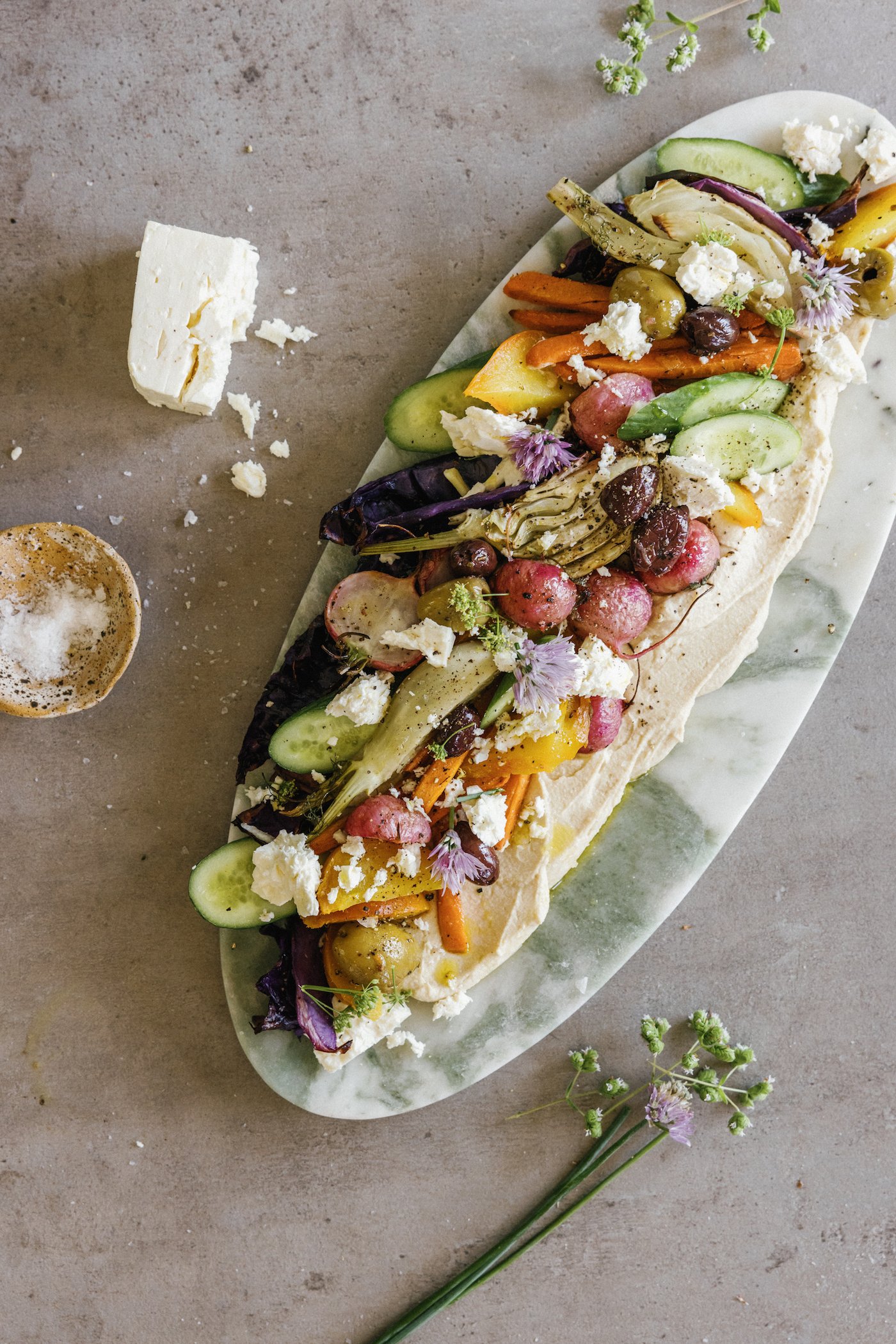 The Takeaway
These no-cook appetizers and refreshing cocktails are all you need to effortlessly host a summer gathering without breaking a sweat in the kitchen. So invite a few friends over, throw on your gauze and linen, and enjoy a carefree evening of delicious bites, refreshing sips, and beautiful conversation. Cheers!