It's officially al fresco season, which means that, like many of you, I'm focused on transforming our outdoor space into a cozy retreat that feels like an extension of our home. My own backyard is so central to our family's everyday life, and we've designed it for enjoying the things that capture the essence of summer: laid-back conversations, rosé pours on repeat, and chill vibes on hot nights.
But if you've ever designed an outdoor space, you know that costs can add up quickly—from hardscaping to landscaping to adding furniture and décor. Our own backyard has been a 12-year evolution (get caught up here), and our strategy has typically been to tackle one project a year. This "phased out" approach allows us to be more thoughtful with our design, plus it's more realistic from a budgeting standpoint than trying to do it all at once.
This summer, we set our sights on the big wood deck overlooking our vegetable gardens. Adam and his dad built this deck last summer, and up until this point, it's been an empty space that's bursting with possibility. So, to show just how simple and affordable good outdoor design can be, I'm transforming the deck using my favorite finds from today's partner, Target. There's no doubt that when it comes to home décor (and most other things in life) Target is where I turn when I want high-quality and chic design—at a great price.
So, let's dive in. I'll show you the "before" so you can see the blank slate we were working with. Then, I'm spilling all the details on every beautiful and wallet-friendly find from Target that brought me to the final look. And of course, I'll share all the affordable backyard design tips I used to get me there. Summer hangs have never felt (or looked) this good.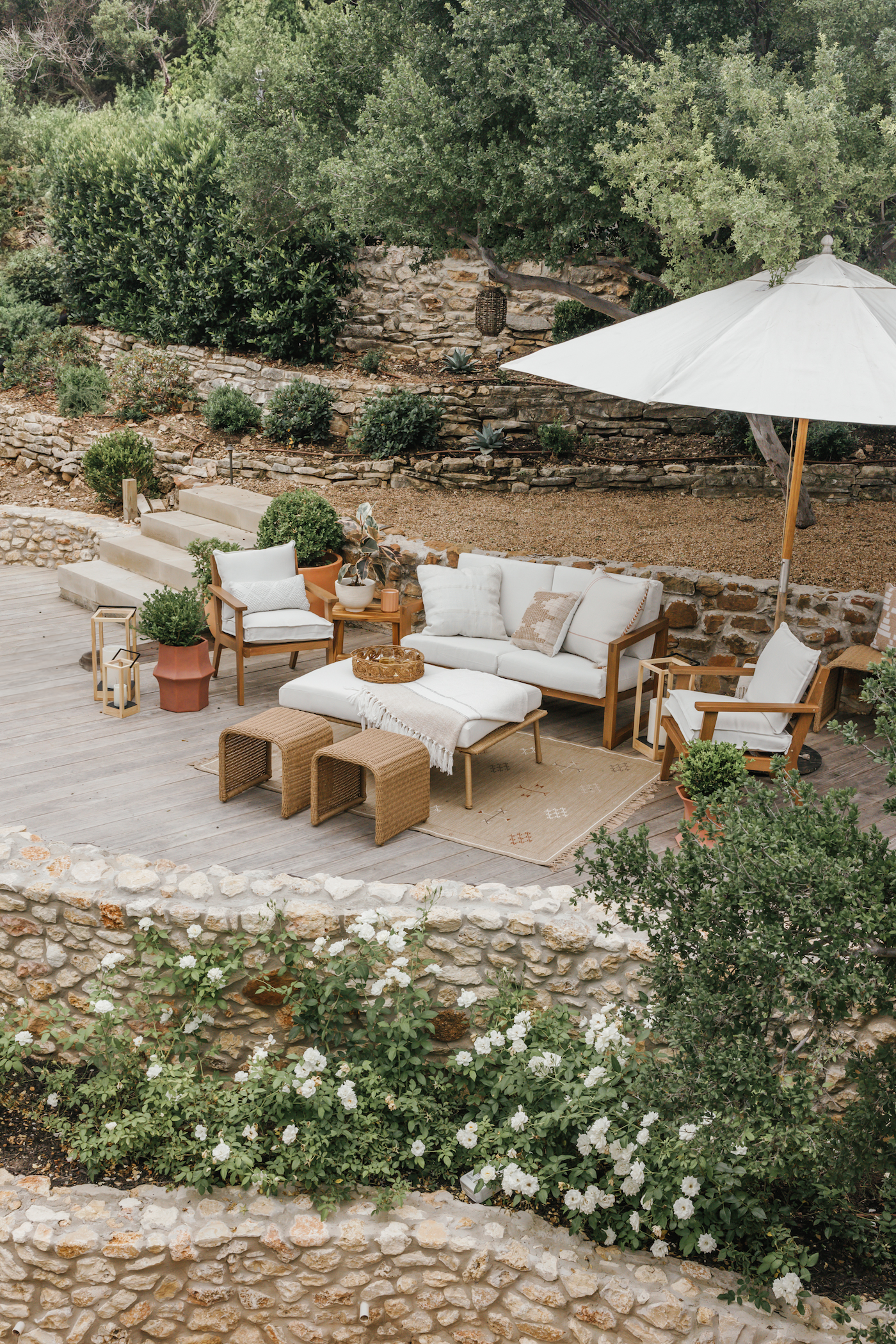 Make It Cozy and Inviting
Backyard design can be intimidating (and expensive) when you're looking at the entire space at once. So, let's break it down. Instead of trying to do it all at once, focus on one section or "room" at a time. Create a cozy nook where you can unwind and make memories on those balmy summer nights. You don't need perfection around every corner—all it takes is one cozy, well-designed space for memorable summer nights outside.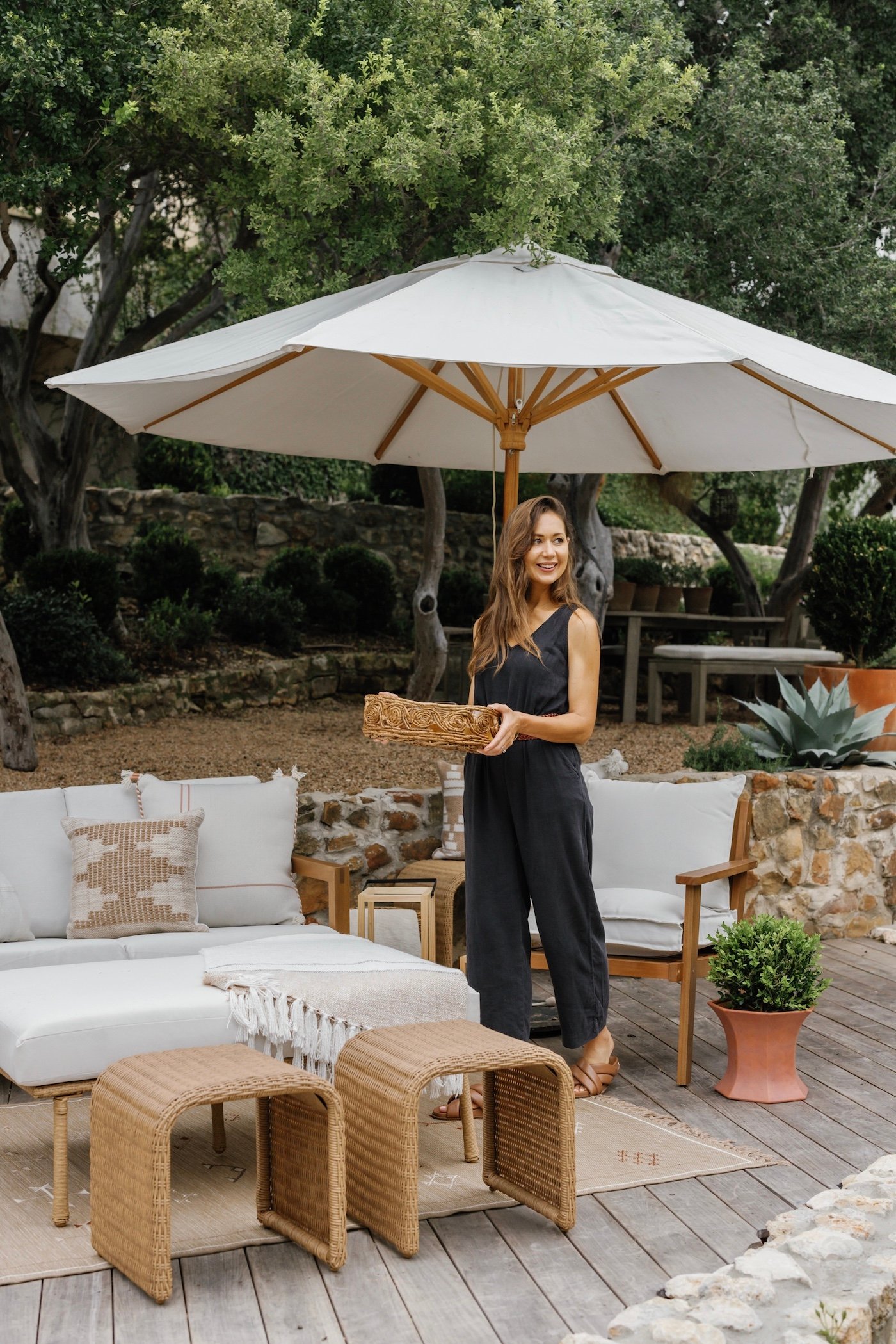 Know Your Planting Zone
Potted plants are one of the quickest ways to add lushness to a space. But take it from me, if you want your plants to come back summer after summer, it's important to know your planting zone. After losing our plants in the Texas freeze, we now only plant hearty plants that come back year after year. Time and money saved? Check. Trust me, it's so worth the extra planning.
Opt for a mix of potted plants and garden beds to add greenery and vibrant colors. Bonus points if you select low-maintenance varieties that require minimal effort to keep them looking their best.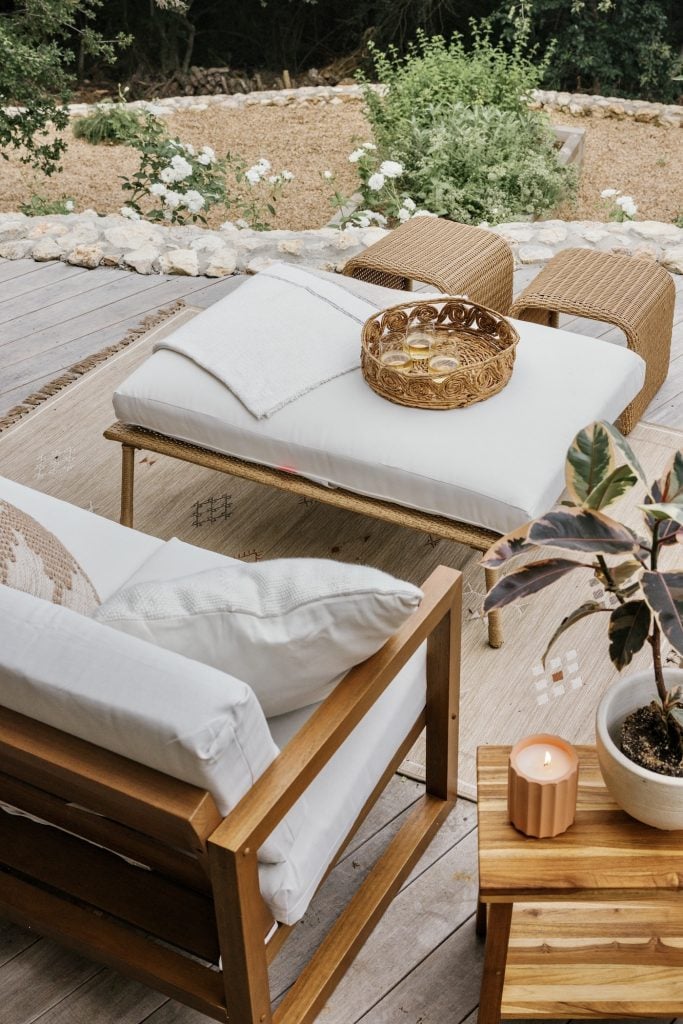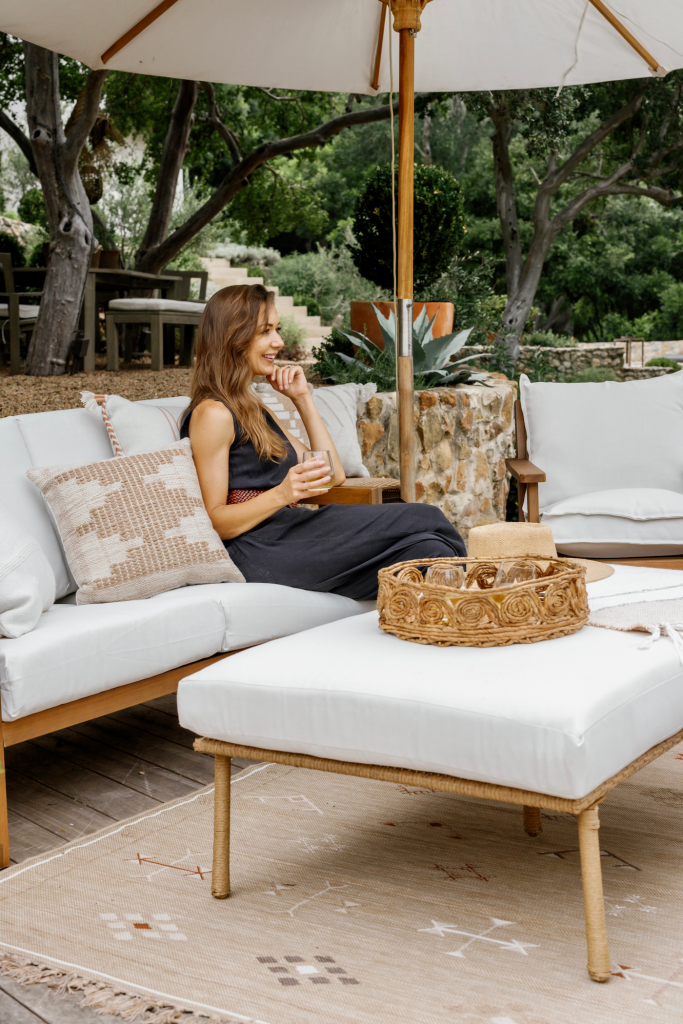 Choose Multi-Tasking Furniture
Outdoor furniture can be a major investment. One way to maximize your space and budget is to select pieces that can play multiple roles. Tables that act as stools and vice versa are a great place to start. And while you're at it, consider versatile décor items (like pitchers that double as a vase, citronella candles, etc.) for ultimate functionality.
And remember, outdoor furniture doesn't have to be limited to traditional chairs and tables. Get creative with seating options to add personality and maximize space. Think cozy floor cushions, hammocks, or even repurposed wooden crates topped with cushions. These alternatives can be budget-friendly and create a relaxed and inviting atmosphere.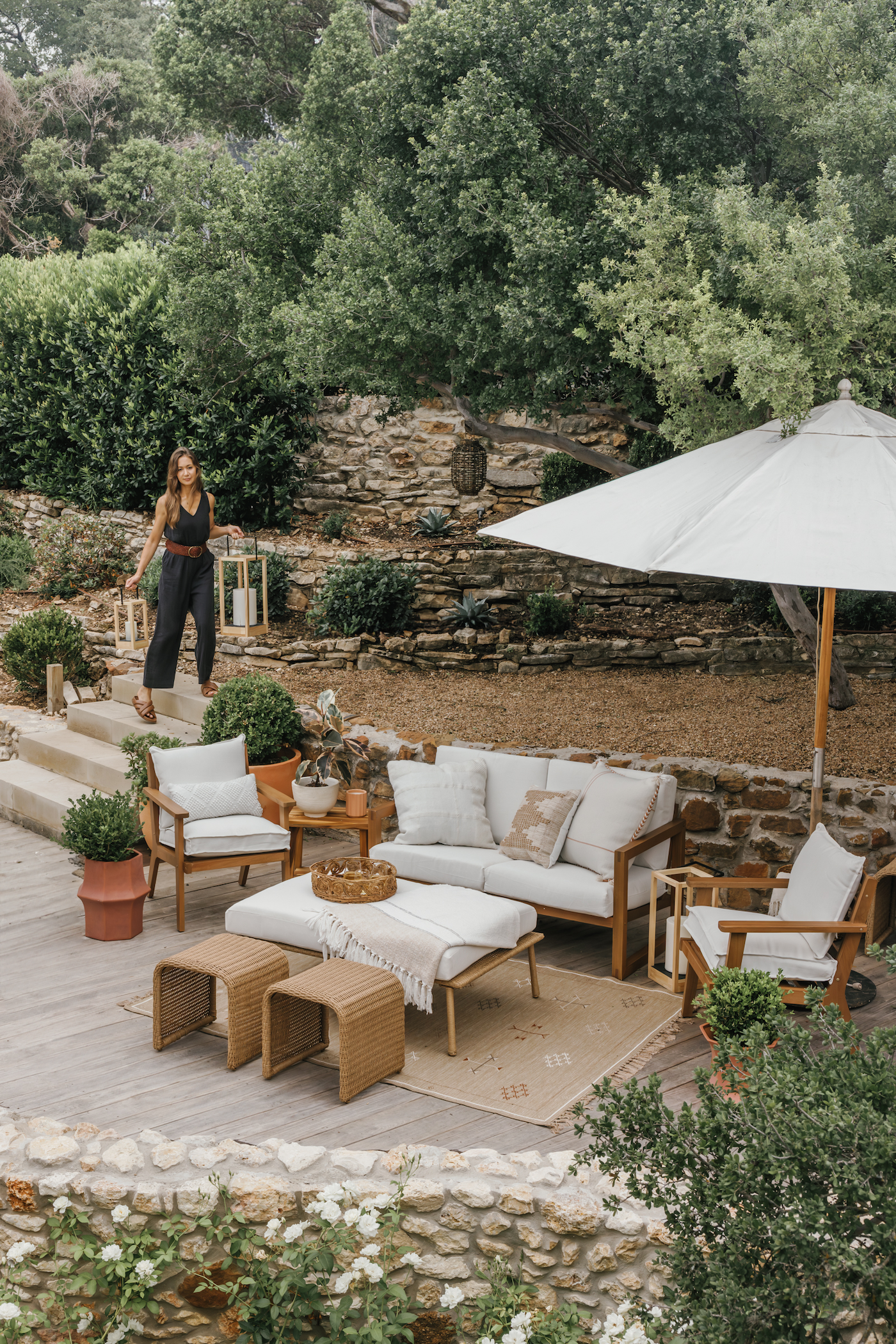 Know Your Sunny (And Shady) Spots
If you're planting a vegetable garden, this tip is vital. But it's also important to consider when you're setting up a space that's prime for summer hangs. Shade is ideal for obvious heat protection, but it'll also prevent sun bleaching and make your furniture last longer. Install an umbrella over your dining area or invest in a retractable awning. You can also create natural shade with strategically placed pergolas, trellises, or even tall plants and trees. Your skin will thank you, and your furniture will last longer, too!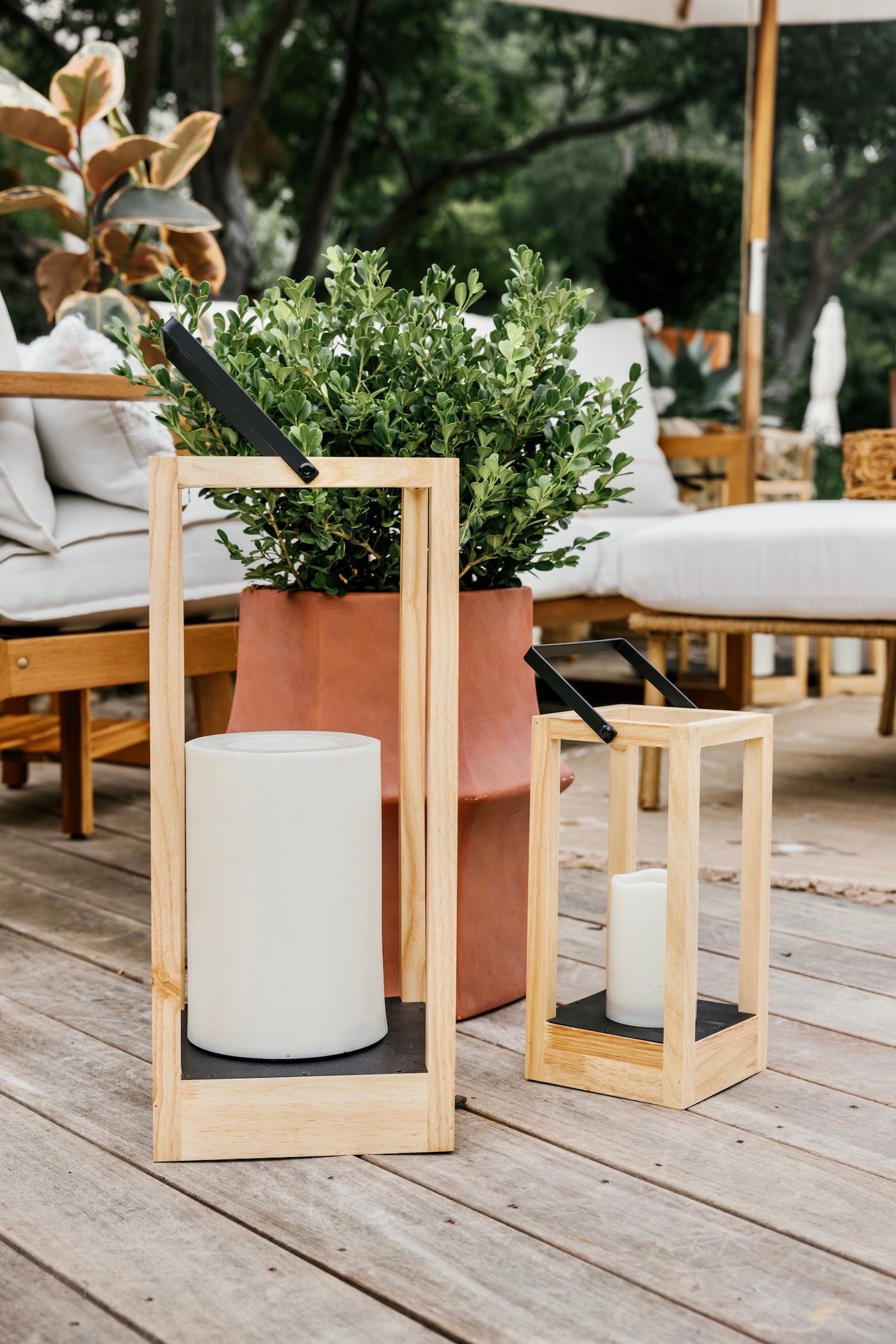 Embrace the Power of Lighting
Lighting sets the mood and adds enchantment (and utility) to your outdoor space. Hang string lights or lanterns above your dining area for a cozy ambiance. Consider solar-powered pathway lights to illuminate your garden and create a magical nighttime experience. Don't forget candles—they provide a warm and intimate glow for those memorable summer evenings.
Lighting is the finishing touch that makes a major impact. Whether you opt for café lights or candles and lanterns, create a magical glow that lights up the space after sunset.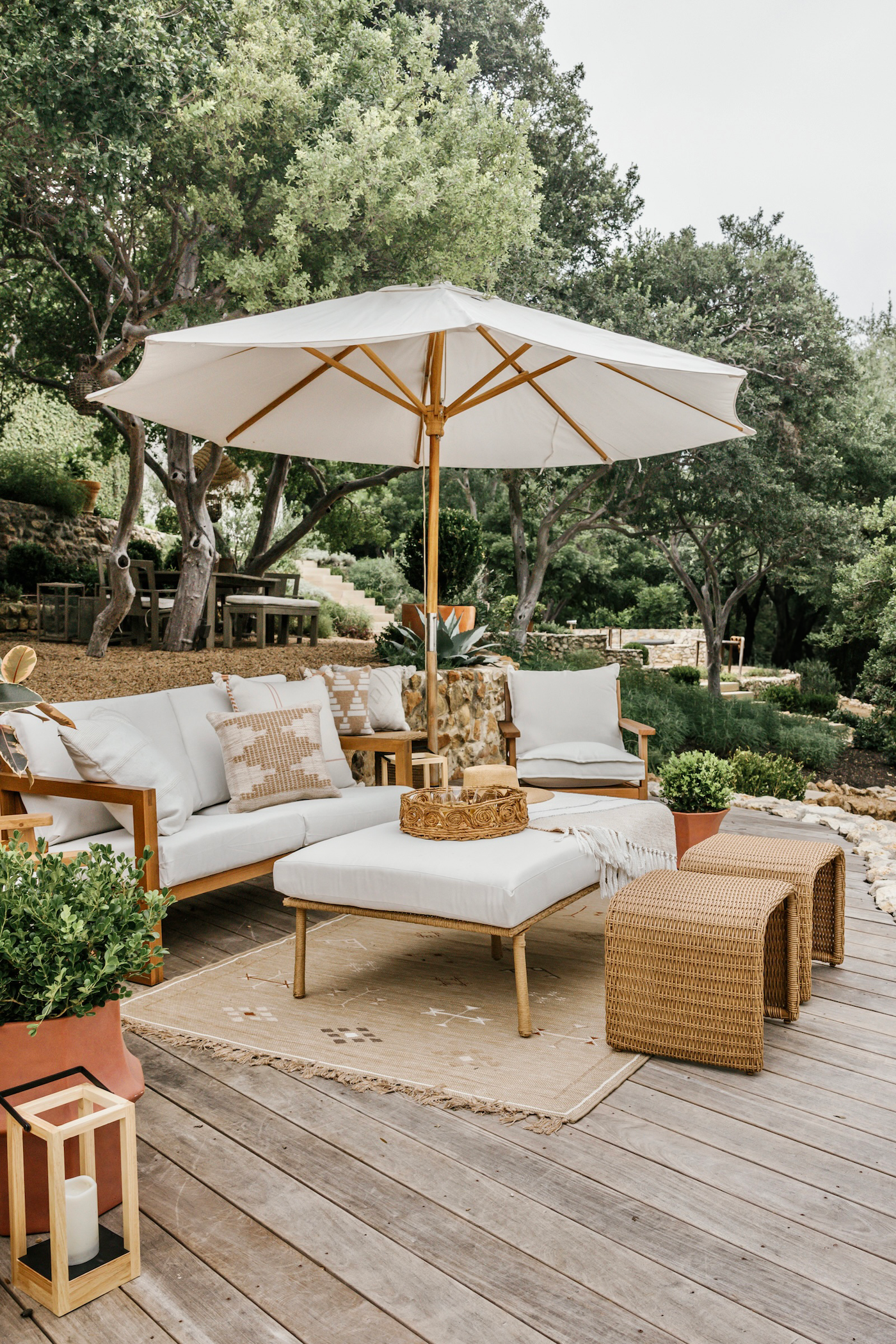 Give Outdoor Spaces the Indoor Treatment
Don't stop at large furniture items when decking out your outdoor space. A few easy décor touches go a long way in making the backyard feel as inviting as your living room. All-weather pillows, throws, and rugs add texture and color—and are the quickest way to transform your patio into a cozy sanctuary. Don't be afraid to mix patterns and textures to create a visually appealing and inviting space.
Remember, designing your backyard should be a fun and creative process. With a little planning and some affordable furniture finds, you can create a stunning outdoor retreat that reflects your style and enhances your summer experience. It's all about creating a cozy haven where you can unwind and enjoy the season to the fullest. You got this!
You can shop the entire look on my Target storefront, where you'll find all of my favorite Target buys for every space.
This blog post contains affiliate links. If you make a purchase through these links, we may earn a small commission at no additional cost to you. Your support helps us continue providing helpful content.