Little known fact: I started my career in catering. When I landed in Austin at age 21, I scored a job as an event planner at a catering company, having no idea how much I'd fall in love with the rush of making sure a high-pressure event went off without a hitch. (And if something did go wrong, making sure my client never knew about it!) I was single and living in a new city, and I can remember staying up late at my neighborhood coffee shop, pouring over menu ideas to create a food experience that was the perfect balance of interesting and familiar, satisfying without being heavy. To this day, I feel the same way about Thanksgiving menu planning.
It was during those late-night work sessions that my slight obsession with menu planning was born. For me, settling in with my cookbooks and designing a menu for a dinner party is a true creative outlet. Over the years, friends have shared that they feel ill-equipped in the area, and I get a lot of menu-planning questions from you guys here and on IG—especially as the holidays approach.
Intuition is a key ingredient in my Thanksgiving menu planning process. However, when it comes to this holiday in particular, I lean on a tried-and-true formula that checks all the boxes for what the people want, without totally exhausting the host (me) or resulting in way too much food. Some leftovers are good. But a massive casserole dish that barely got a dent put in it? Not so much.
Read on for my tried-and-true Thanksgiving menu planning formula, then get inspired with some of my favorite recipes so you can mix and match to make it your own.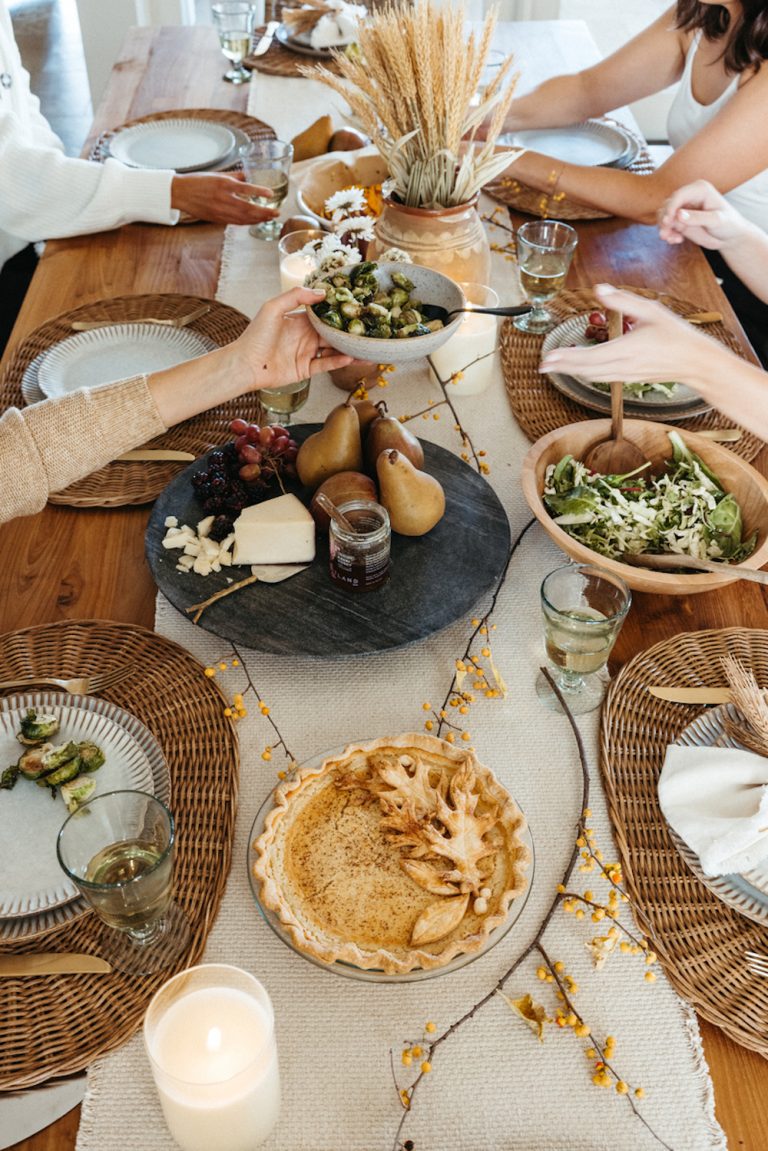 Here's the general formula I use when deciding what we'll be serving each year. Thankfully, most of my family members are great cooks, so I also use this formula to divvy up what people will bring potluck-style.
Turkey. Adam usually fries one, and I often roast a second turkey for leftovers. If we've got a really big group, we'll pick up a honey-glazed ham, too.
Gravy. Not my favorite, but it must be done.
Potatoes. Mashed, roasted, or scalloped.
Dressing. Or "stuffing," depending on where you live. Cornbread, white bread, wild rice, oyster.
Orange Vegetable. Sweet potatoes, butternut squash, acorn squash, carrots.
Green Vegetable. Brussels sprouts, green bean casserole, broccolini, sautéed greens like collards or kale.
Bread. Rolls, focaccia, cornbread. I usually pick these up from a local bakery.
Pies. Pumpkin, pecan, chocolate, buttermilk, apple, I could go on and on.
Remember: if you're having a smaller group, choose your faves and leave the rest. Just because it's Thanksgiving doesn't mean you need to spend the entire day in the kitchen.
Now for the fun part! Scroll on for my favorite recipes for Thanksgiving. Choose one from each category, and you've got yourself a foolproof Thanksgiving menu all served up.
Turkey
Brined Roast Turkey
No matter how many turkey recipes are out there (thousands? millions?) not a November rolls by that I don't type "What's the best Thanksgiving turkey recipe?" in my Google search bar hoping to gain some clarity. And although there are many delicious ways to cook 'em, from stuffed to spatchcocked to fried, it's hard to beat the simplicity of a classic brined roast turkey—especially when it's cooked to perfection with crispy skin and an interior that's juicy and flavorful. So, in an effort to finally nail down the absolute best, foolproof technique for a brined roast turkey, I called in the pro: Michael Fojtasek, the owner/chef of award-winning restaurant Olamaie, here in Austin.
Potatoes
Make-Ahead Vegan Mashed Potatoes
It's hard to picture Thanksgiving without a savory bowl of buttery-smooth mashed potatoes on the table. And this crowd-pleasing version can actually be enjoyed by everyone. It just so happens to be vegan without sacrificing any of the classic creaminess that they're all craving. Perhaps the best part of these mashed potatoes is that they can be made a couple of hours ahead of the feast so you're not scurrying to mix them up when everything else is going on the table. Starring Yukon Golds, these have a velvety texture that's to die for. 
Faux Parmesan Cauliflower "Potatoes"
As a self-pronounced mashed potato connoisseur, the idea of cauliflower mashed potatoes did not originally excite me. How could they possibly live up to the real thing? This recipe for faux parmesan cauliflower mashed potatoes from chef and author, Helene Henderson's cookbook, Malibu Farm Sunrise to Sunset, alleviated all of my doubts. Not only do they look like cheesy mashed potatoes, but they taste like them, too. I have tried cauliflower mash after cauliflower mash, and no other recipe can match this one's authentic potato flavor.
Orange Vegetable Side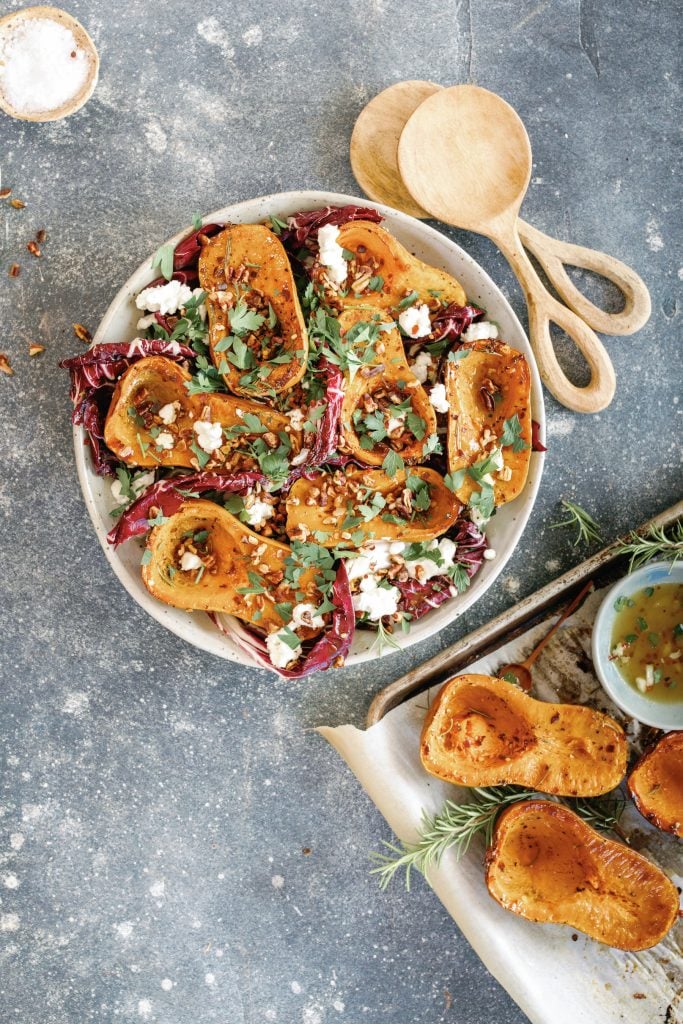 Roasted Honeynut Squash
Everything about this roasted honeynut squash recipe makes it a top-tier option for your Thanksgiving menu planning options. Topped with pecans for the perfect crunch and hot honey for a bit of a kick, guests will be raving over this unique and flavorful side.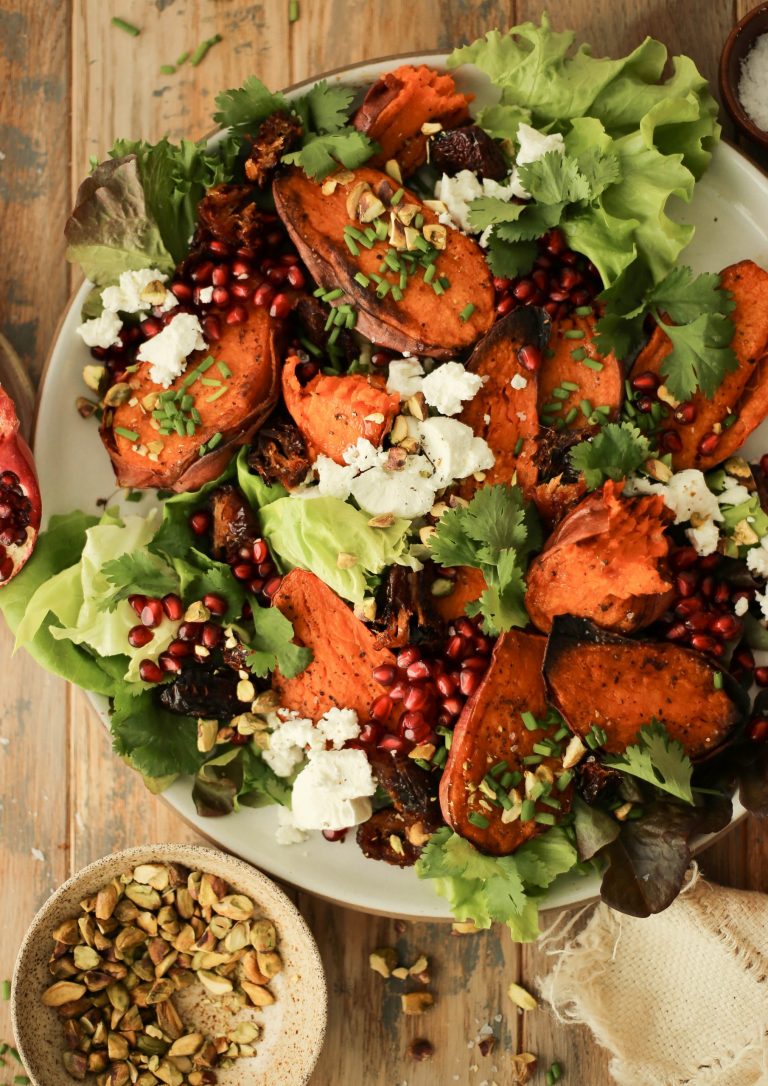 Sweet Potato and Caramelized Date Salad
Sweet potatoes are an obvious choice for an orange Thanksgiving side dish, but this salad is anything but basic. Pomegranate seeds bring a tangy contrast to the savory flavors of the autumn root veggie, and caramelized dates encapsulate the perfect sweet salad topping.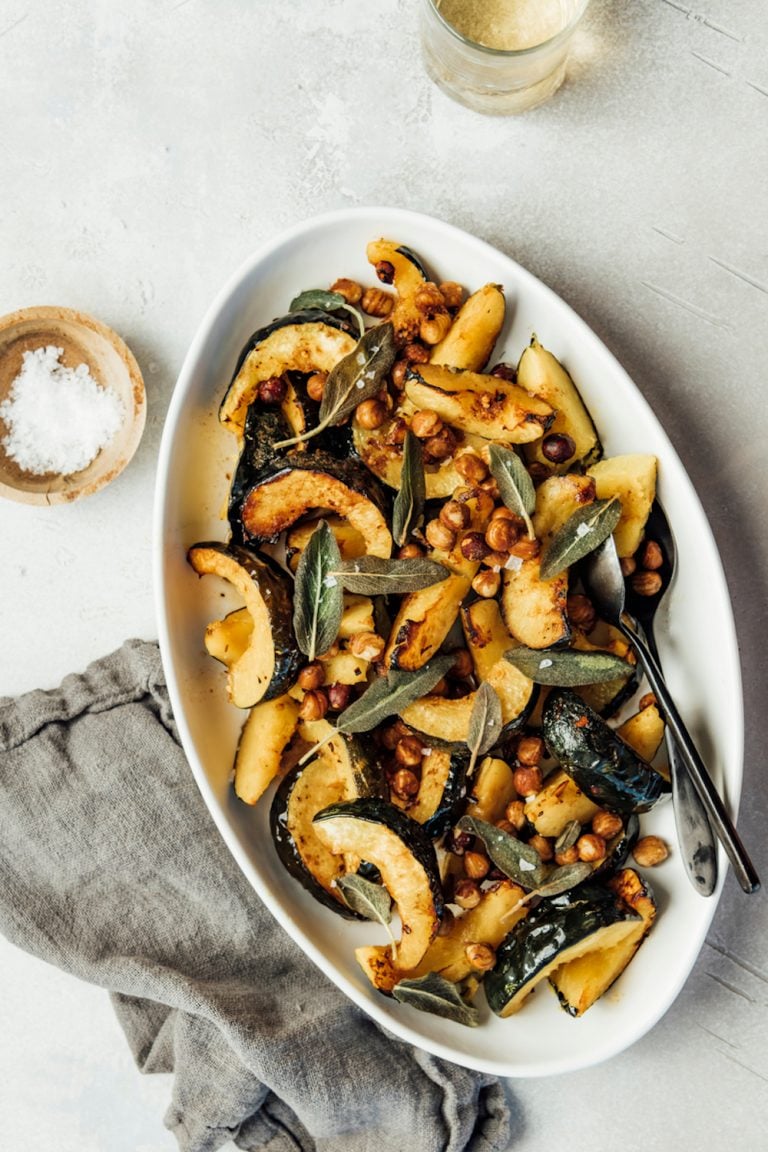 Roasted Acorn Squash
When it comes to Thanksgiving sides, Tieghan Gerard, aka Half Baked Harvest, absolutely nailed this roasted acorn squash. Squash is always a filling side that everyone loves, but isn't always prepped to its fullest potential. It's balanced, sweet, and a little bit nutty. What more could you ask for?
Blood Orange and Beet Salad
Have you ever seen a prettier color combo? Bring the beets and oranges in a bowl separate from the yogurt, then arrange on a platter just before serving.
Mashed Sweet Potatoes With Brown Sugar Cornflake Crunch
If you love a nostalgic take on recipes, this classic Thanksgiving side dish was made for you. The filling is made of fresh mashed sweet potatoes and topped with a crunchy, brown sugary topping for the ultimate blend in textures. One bite will bring you right back to your golden youthful days watching Saturday morning cartoons and eating a big bowl of cornflakes. 
Roasted Delicata Squash and Kale Salad
Sheela Prakash shared her kale salad recipe from her cookbook, Mediterranean Every Day. It's warm, comforting and our favorite salad to include in our Thanksgiving menu planning. 
Honey Roasted Carrots with Sage and Pepitas
Halved carrots are tossed with olive oil, salt, and pepper, then roasted at 425 F until just cooked through and crispy on the edges. Meanwhile, I make the secret sauce on the stovetop: a deliciously syrupy mixture of orange zest and juice, rice vinegar for a burst of acidity, a big squeeze of honey, sliced jalapeño or a shake of red pepper flakes (I go back and forth), and the key addition of fresh sage, which perfumes the entire dish with autumn vibes.
Dressing/Stuffing
Vegetarian Skillet Cornbread Stuffing With Kale and Caramelized Onions
This vegetarian cornbread stuffing streamlines the usual process by omitting that first step of baking a loaf of cornbread, then crumbling or chopping it up before folding in the mix-ins. This one is more of a cornbread/stuffing hybrid: you make an awesome cornbread batter and fold all the toppings and seasonings right into the mix, then bake it all together. Not only does it make the entire process quicker start-to-finish, but I love the rustic look of serving it right from the cast-iron pan it bakes in, especially with the vivid shades of red onion and kale crowning the top. 
Green Vegetable Side
Sweet & Sour Cider Brussels Sprouts
Instead of leaning on my typical method of roasting halved sprouts until crispy, I shredded these into thin little ruffly bites, then did a hard sear in a cast-iron skillet to get the char I'm always after. A quick toss in a sweet vinegar sauce with a secret ingredient (apple cider!) and a sprinkle of toasted pecans, dates, and chilli flakes, and these are pretty close to perfect.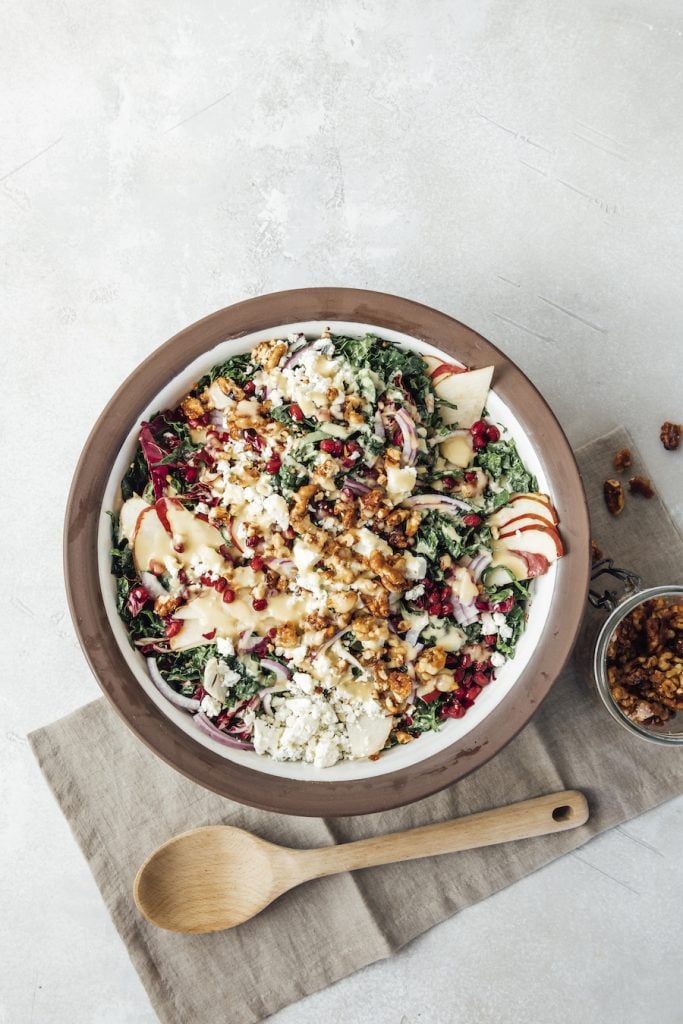 Holiday Jewels Kale Salad
Look no further for the most stunning (and simple) salad your Thanksgiving menu planning mind could imagine. Apples, pomegranate seeds, and a mouth-watering mustard-shallot vinaigrette make these greens a must-have for all your holiday gatherings.
Cacio E Pepe Brussels Sprouts
I'm already obsessed with Brussels sprouts, but when you add parmesan, lemon zest, and hazelnuts to the mix, consider me dead.
Pies & Tarts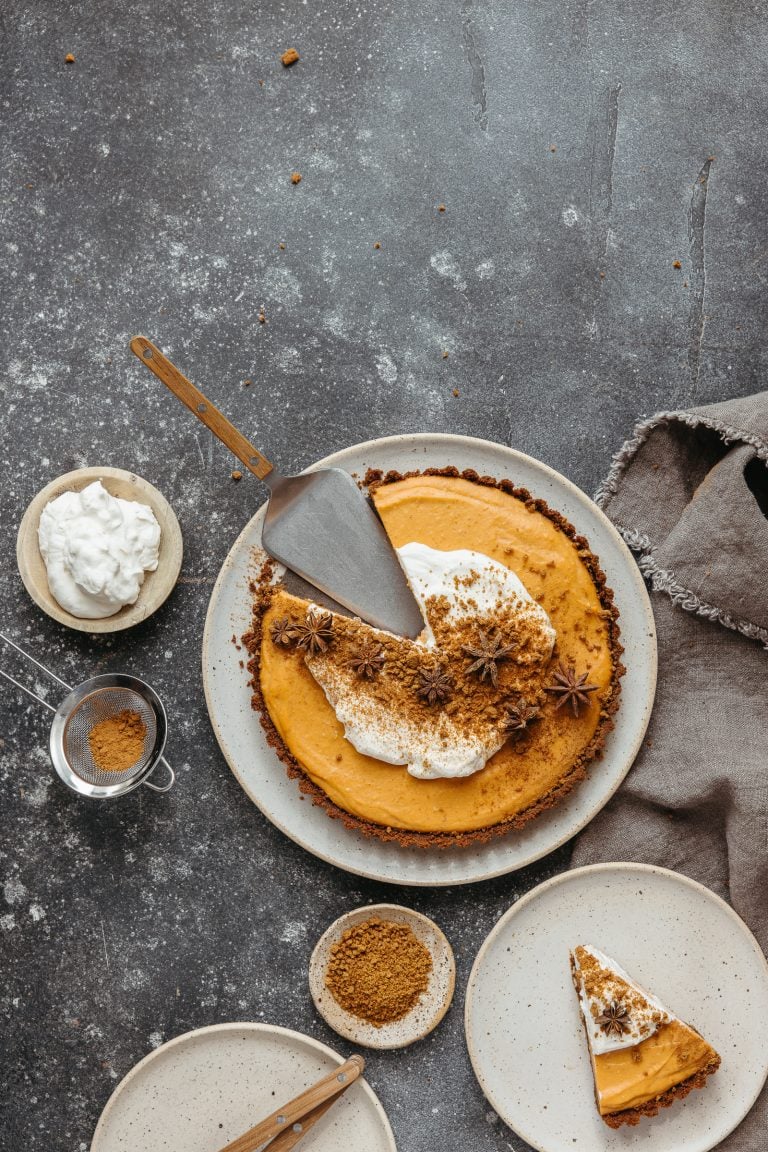 Pumpkin Pie with Gingersnap Crust
This pumpkin pie is my all-time favorite. While pumpkin is most people's classic Thanksgiving pie, I find it can get a little boring without enough flavor built in. Thankfully, this recipe is full of sweet and spicy notes, and the gingersnap crust is the most genius take on tradition. (If I do say so myself.)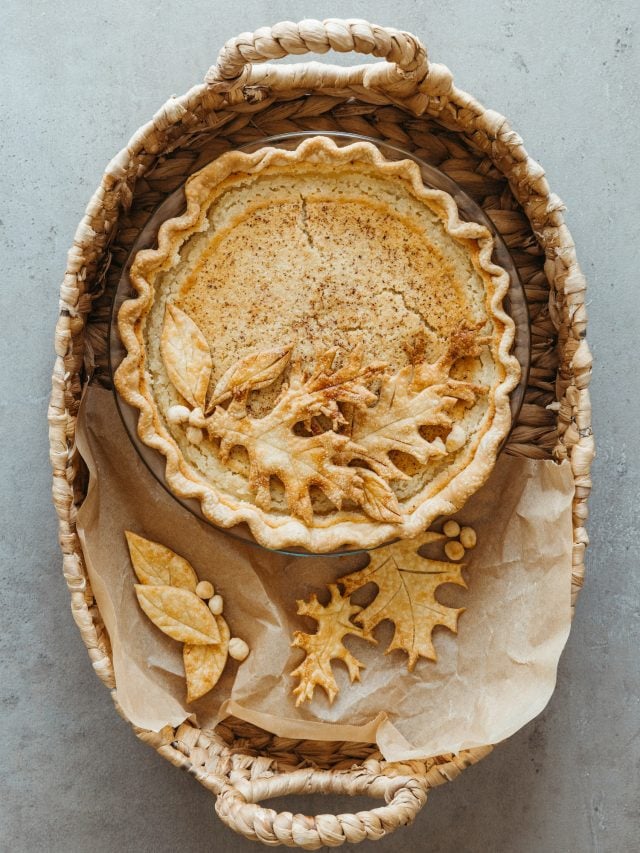 Classic Buttermilk Pie
This Classic Buttermilk Pie recipe is a Styles family classic. My mom is the pie baker in the family—we always beg her to make all the pies for Thanksgiving. So I think you're going to love this classic buttermilk pie recipe. It's so simple to make, yet the flavor is rich and delicious. 
Easier-Than-Pie Warm Apple Tart
This tart is hard to cut warm, but it melts in your mouth. (And no one minds a warm crumbled apple tart spooned into a bowl, with ice cream melting on top.) Cool, it is equally alluring and easier to serve in perfect slices. But the best thing about this tart—besides eating it—is knowing how easy it is to make it again. 
Apple Ginger Pie (Gluten-Free)
When the time rolls around to do my Thanksgiving menu planning, this pie always seems to make the cut. Granny Smith apples keep the pie from being overly sweet, and the warm spices make a slice of pie the comfiest cozy dish to curl up with after-dinner—and for breakfast the next morning with a cup of coffee! 
Chocolate Pecan Slab Pie
This always-delicious classic is bulked up to feed a crowd. The trick is doubling my favorite recipe and baking it in a jelly roll pan instead of a classic pie tin. Cut into squares instead of sliced in triangles, it's similar to a pecan bar but doesn't skimp on the gooey pecan filling. 
Now, I'm going to post up in front of the fire with my hot tea and stack of cookbooks. Happy Thanksgiving menu planning!
This post was originally published on November 12th, 2020, and has since been updated.