Meditation. Mindfulness. Movement. Meet the alliterative trifecta of stress-reducing practices. It's no secret that these ubiquitous solutions to stress are widely written about and adopted. After all, they're known to increase stress resilience and improve our ability to cope with triggers. But as we know, what we eat can also have the power to transform how we feel. Truly, it's no secret that nutritious meals can boost our mood. And when it comes to the best stress-relieving foods, delicious, supportive ingredients are the key to feeling our best.
I'm wary of sweeping generalizations, but it's safe to say that we're likely all pretty familiar with the concept of stress. It can be assumed that we've likely all experienced it, too. Reports of a national mental health crisis are on the rise—and they have been for years. A March 2022 ValuePenguin survey found that 84% of Americans feel stressed at least once per week (an increase from 78% reported in March 2021). In other words: not good.
The Expert on Stress-Relieving Foods
The good news though, is that we can intentionally design our meals, snacks, drinks, and occasional indulgences to combat the creeping stress. When it comes to stress-relieving foods, the usual suspects prevail. Fruits, nuts, and adaptogenic herbs reign supreme, but adding a few surprise superfoods to the mix (hint, hint: organ meats) will contribute to a happier, healthier outlook and life.
I've teased the takeaways long enough. Ahead Kim Rose, RDN, shares her expertise in the world of stress-relieving foods. Keep reading for her top seven foods to eat for stress, plus key insights into the role diet plays in improving mental and emotional wellness. Let's dive in.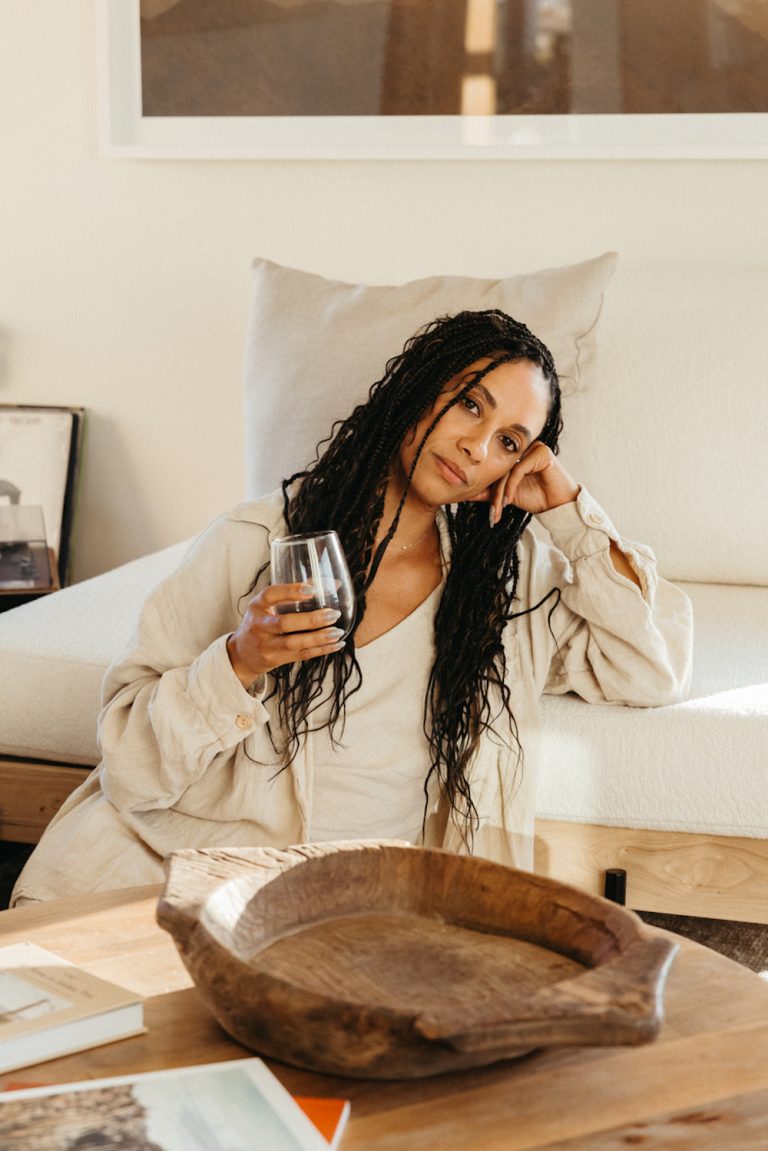 Foods to Avoid or Limit to Reduce Stress
Rose cites alcohol and "sugary, caffeine-laden beverages" like energy drinks as being two of the biggest stress-inducing culprits. "Energy drinks may give you an artificial boost," notes the dietitian, "but they can leave you with undesirable mental health outcomes that inflict stress." Of course, our social and even professional lives are often structured around going out for drinks, ordering wine with dinner, and enjoying the occasional nightcap. But according to Rose, adopting a sober-curious lifestyle can help keep stress levels stable. (Because, after all, a little *good* stress comes with its own health benefits.)
If you don't want to cut out alcohol completely, Rose looks to the Centers for Disease Control and Prevention for an understanding of safe, recommended amounts of alcohol. Daily recommendations suggest no more than one serving of alcohol for women and no more than two servings for men, daily. "Alcohol may initially free your inhibitions and drown your stress, but it's likely to leave you more stressed than you were before consumption," she says. (See here for our favorite zero-ABV drinks that offer a tasty break from the booze.)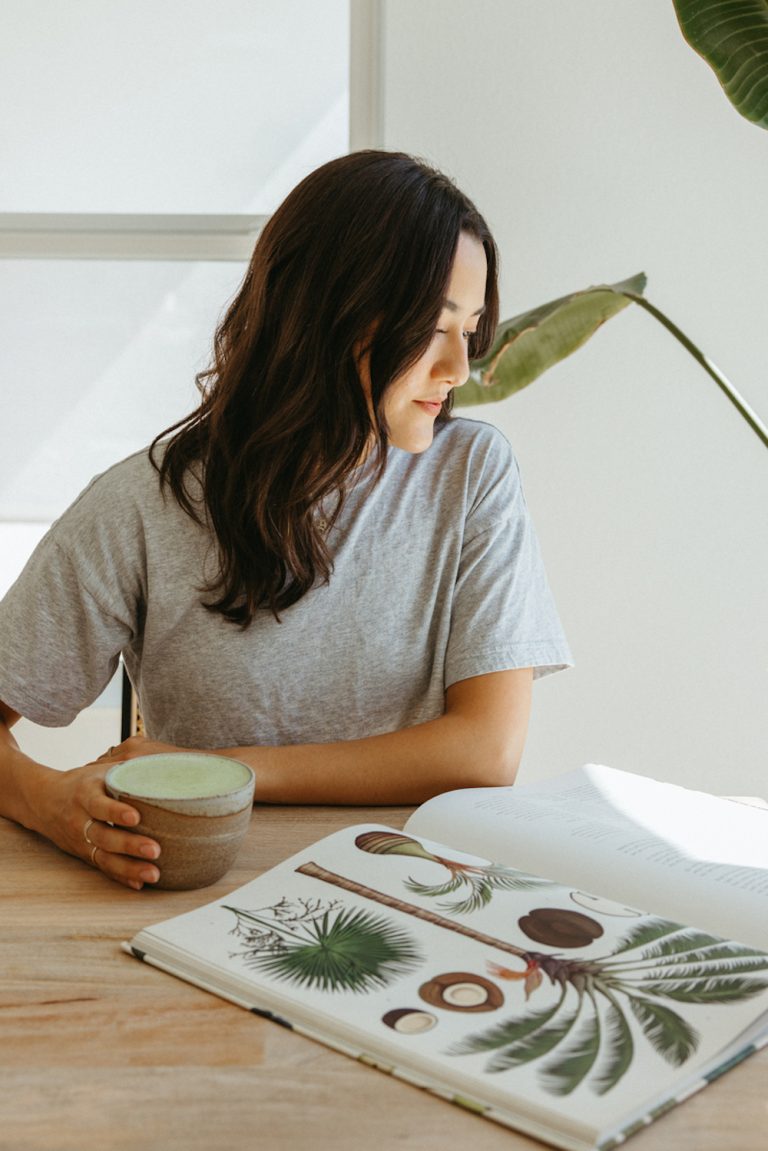 The Role Adaptogens Play in Stress-Relief
A buzzy word in wellness, adaptogens have been used in Chinese and Ayurvedic healing traditions for centuries to combat stress. "Think of adaptogenic plants as natural stress regulators," says Rose. Her top two favorites? Holy basil and ashwagandha. "Holy basil," she notes, "is one adaptogenic plant that provides a foundation of calm to help us unwind after a long day."
Ashwagandha, however, is perhaps the adaptogen that garners the most interest and attention. Rose says its popularity can be attributed to its stress-relieving magic. "The roots and berries of the ashwagandha plant have been used in traditional medicine for various purposes to enable you to relax and sleep well for a nightly recharge."
Unfortunately, as with any health trend, suspicious products often flood the market. To be sure you're purchasing high-quality, supportive adaptogens, Rose says to look for vendors with a National Sanitation Foundation (NSF) certification. "NSF certification ensures that products, such as dietary supplements, have been tested for safety and that what's listed on the label is what is in the product."
For calmer days ahead, Rose emphasizes ensuring that you're purchasing products with "clinically-effective levels of the adaptogen in question. This is another way to ensure that you get the benefit of that ingredient—in addition to clearing your use of it with your doctor, which is most important."
7 Stress-Relieving Foods a Nutritionist Wants You to Try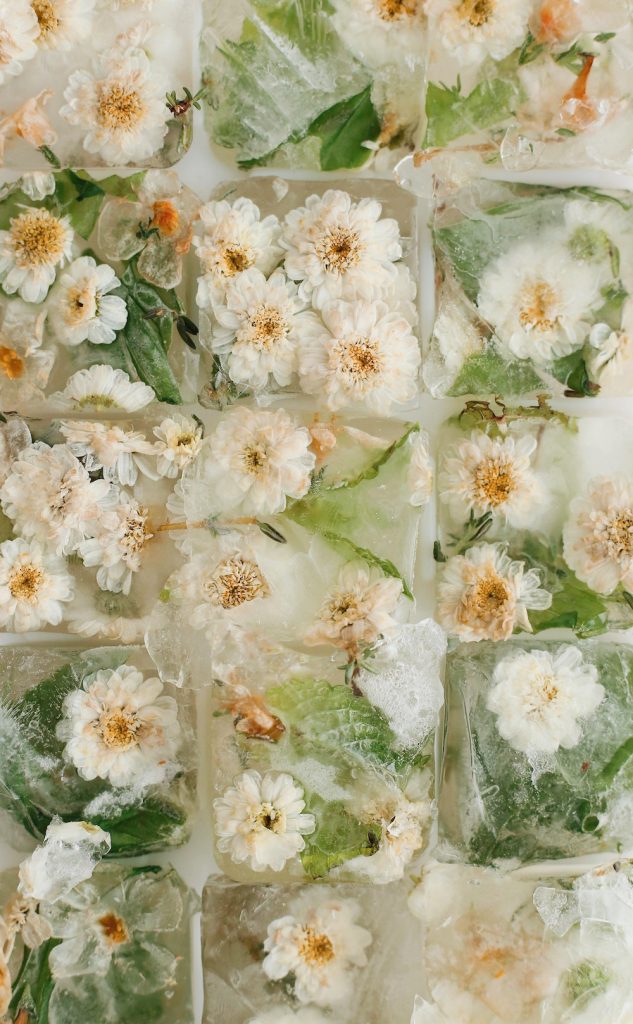 Chamomile Tea
Already well-attuned to sipping chamomile tea as a before-bed beverage? Not only are you helping your sleepy self snooze away, but you're proactively decreasing stress levels, too. Rose recommends brewing a cup at night to wind down or any time you're craving something soothing throughout the day. Functional nightcaps for the win.
Recipe: Chamomile and Jasmine Herbal Ice Cubes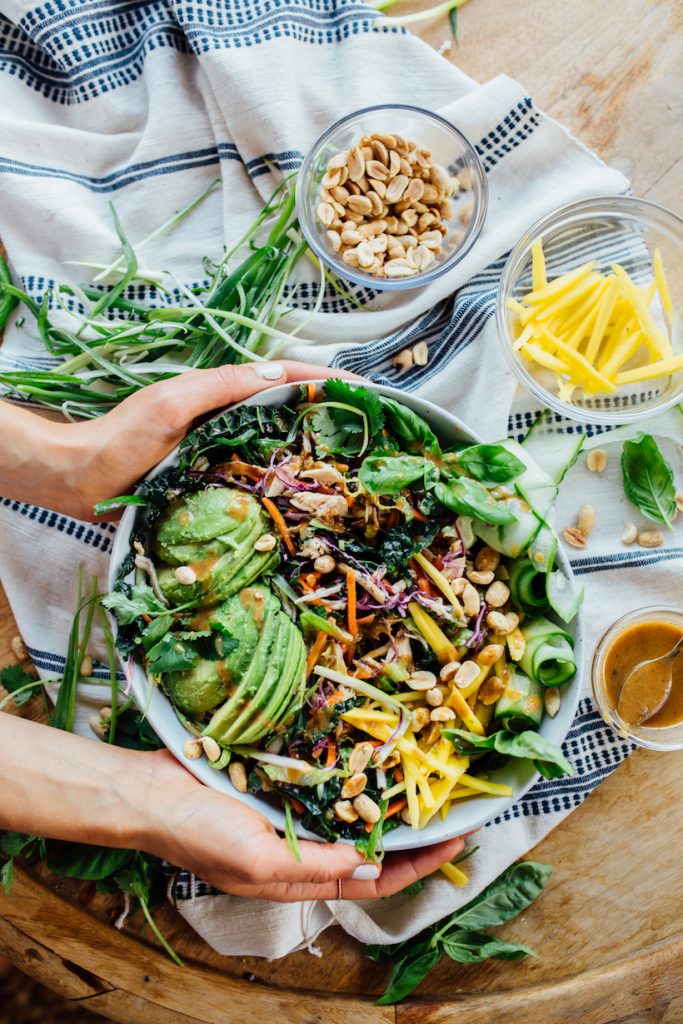 Poultry
It's no wonder turkey lulls us to sleep in the middle of our Thanksgiving meal, and according to Rose, it's all thanks to tryptophan. "Tryptophan is an essential amino acid that our bodies can't make; consequently, we must get it from the foods we eat." She adds that tryptophan is the sole precursor to serotonin. Sound familiar? Yep—serotonin's the feel-good, burnout-beating hormone known to reduce depression and regulate anxiety.
Recipe: Thai Chicken Salad With Spicy Peanut Dressing
Avocado
Our forever-favorite fruit (a berry, if we're getting specific) knows no bounds. Lauded equally for being full of skin-supporting biotin as they are for being delicious on a slice of toasted sourdough, avocados are also rich in magnesium. "Magnesium is important for stress management and guarding the body against susceptibility to stress," adds Rose.
Recipe: Grapefruit, Avocado, and Golden Beet Salad with Crunchy Chickpeas and Feta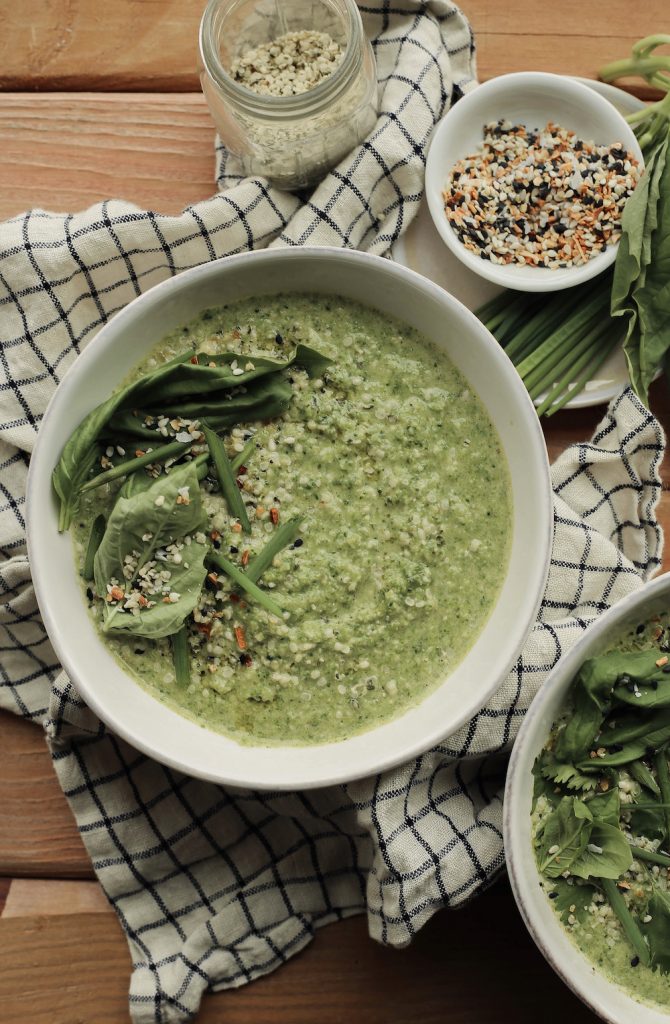 Cashews
If they aren't already your go-to snack, it's time to stock up. "Cashew nuts are the way to go when looking for a tryptophan-rich food that can help you avoid burnout," suggests Rose. If you don't consume or crave poultry, cashews are a great plant-based option—and they make this cozy soup delectably creamy.
Recipe: Big Green Immunity-Boosting Vegetable Soup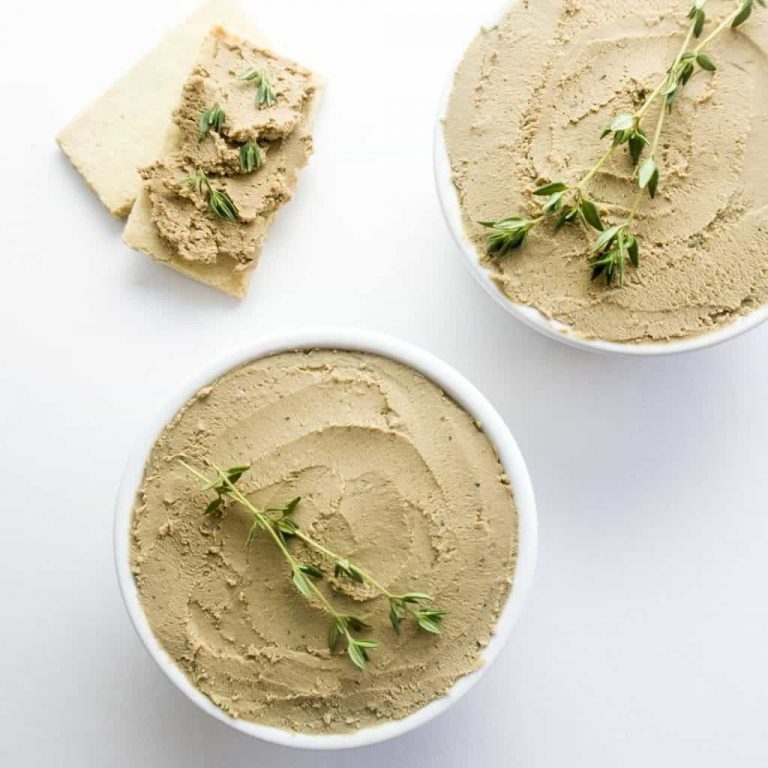 Organ Meats
Now here's the wild card. Rose advises adding liver, gizzards, and kidneys to your cart during your next trip to the store. "Vitamin B-2, also known as riboflavin, is found in organ meats," she says. "Riboflavin helps to convert carbohydrates into energy that the body can use. It may also help you overcome the physical aspects of burnout." Those benefits are enough to make anyone a believer. And if you're still wary, trust that the taste is surprisingly, incredibly palatable. Some may say delicious.
Recipe: Chicken Liver Paté from Wholesome Yum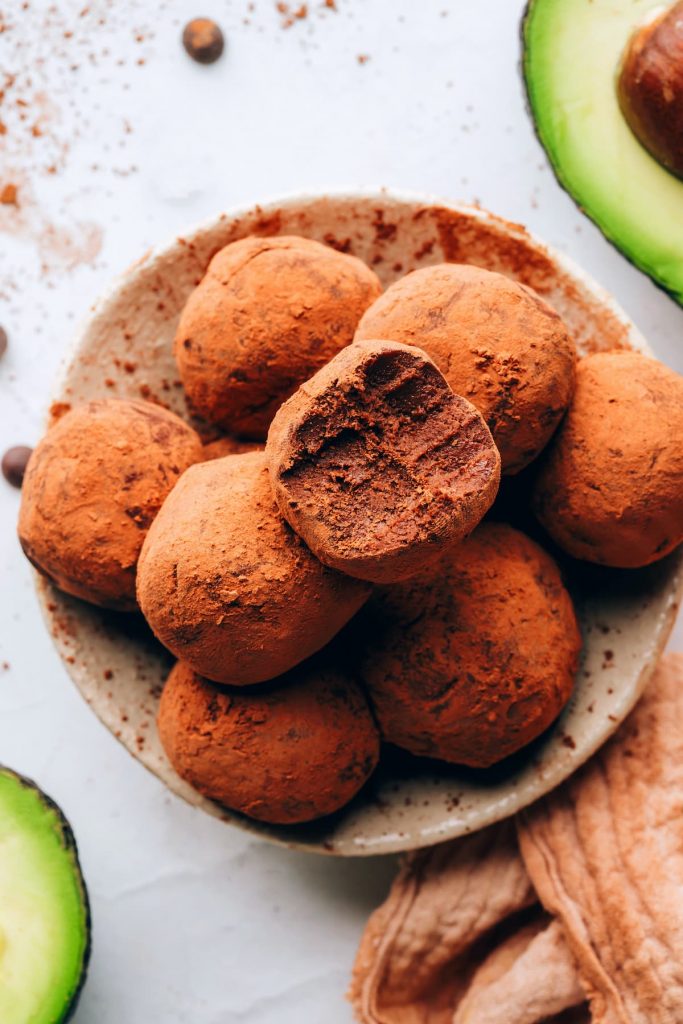 Dark Chocolate
Chocolate lovers, unite! This tried-and-true health-promoting staple is a favorite among the wellness-obsessed—and for good reason. "One, among several benefits," notes Rose, "is that dark chocolate can be a great mood booster, combatting the overwhelming feelings of burnout." Another reason to always say yes to a midday or after-dinner treat. These truffles pair the superfood with avocado to double down on the calm-inducing effects.
Recipe: Dark Chocolate Avocado Truffles from Eating Bird Food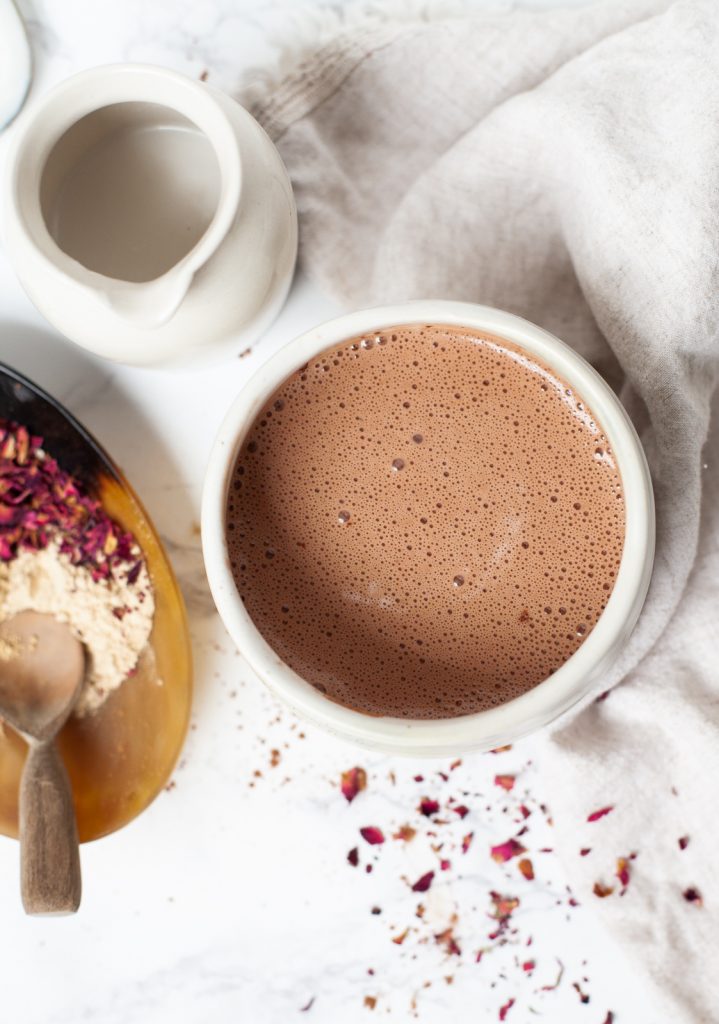 Adaptogen-Fueled Beverages
If you're new to the (wide) world of adaptogens, one of the easiest ways to reap the stress-busting benefits is to incorporate them into your drinks. This creamy and comforting hot cocoa incorporates a mix of adaptogens and is perfect for sipping on after your nighttime meal.
Recipe: Adaptogenic Hot Chocolate
This post was originally published on May 5, 2022, and has since been updated.