Soup season is more than just a mark on the calendar—it's a state of mind. It's about curling up in your softest blankets, lighting your favorite fall candles, embracing the slow coziness of the season, and taking the time to turn inwards. Before I start waxing poetic on my favorite time of year, I'll get on with why we're really here. Today, we're making one of my favorite cozy recipes: the often overlooked but always delicious tortellini soup.
While I love soup, I don't often consider it a full meal. I like soup alongside some pieces of crusty bread and a nice crisp salad, or as a mid-afternoon snack sipped straight from one of my favorite mugs. But this tortellini soup checks all the boxes of a meal that will keep you satisfied and indulging in the coziness we're all craving in abundance this time of year.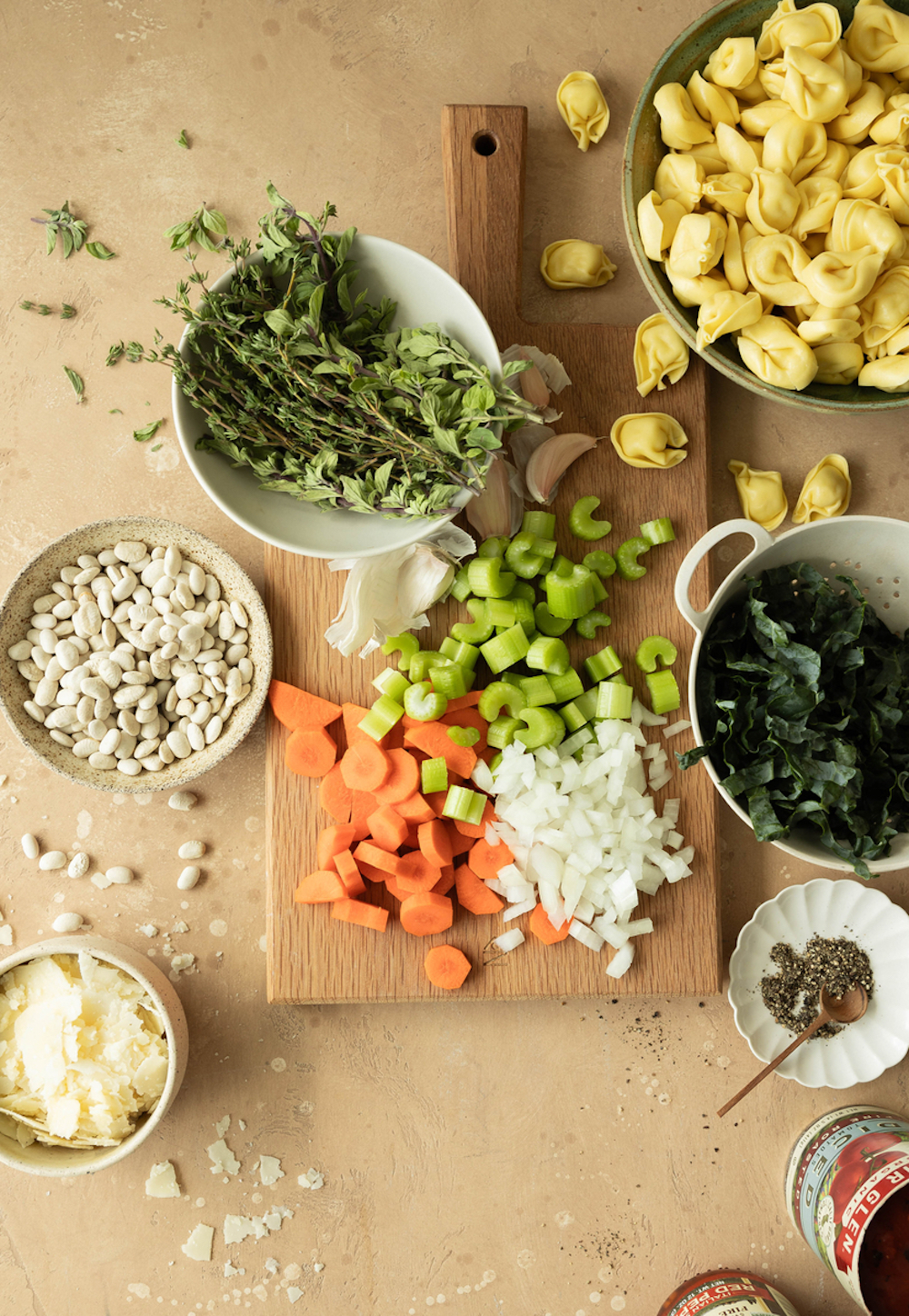 Ingredients for Tortellini Soup
Onions, carrots, and celery. Otherwise called a mirepoix, this blend of vegetables is the flavor base for many soups, stews, and sauces. To take the flavor to the next level, I like to cook the onions just a bit longer until they get golden brown before adding the other veggies to the mix.
Garlic. You know the rule, measure garlic with your heart.
Oregano and thyme. I'm using the fresh stuff. I find it much more potent in flavor, but if you only have the dried versions, those work perfectly as well. These herbs add a nice warmth and savoriness to the soup so don't skip 'em!
Fire-roasted tomatoes. While you could use a regular can of crushed tomatoes, fire-roasted tomatoes add a nice kick of heat and that slight smokiness and savory flavor that makes recipes taste like they've been cooking for a lot longer than they have.
Vegetable broth. Pre-packaged works great, just use your favorite.
Cannellini beans. To make this soup a bit more hearty with some plant-based protein, I like adding a white bean. Whether you use cannelini, great northern, or chickpeas, this is an easy way to add extra heft to your soups.
Roasted red peppers. This might be my favorite trick of the soup trade. Rather than using cream, I opt for roasted red peppers to lend a little creaminess to my soup. But I can't take credit for this tip—I learned from Laura that blending red peppers into a sauce not only adds flavor, but also a creamy texture. Blend the roasted peppers with some of the white beans for a creamy texture and flavor that isn't too overwhelming or rich.
Lacinto kale. A handful of chopped kale added to the pot at the end is the perfect way to incorporate some greens into this soup.
Tortellini. Whether you get fresh pasta from your local shop or the packaged version at the grocery store, using ready-to-go tortellini is the perfect hack to add something delicious and filling to this soup. You can use a cheese or spinach tortellini, or whatever filled version you prefer.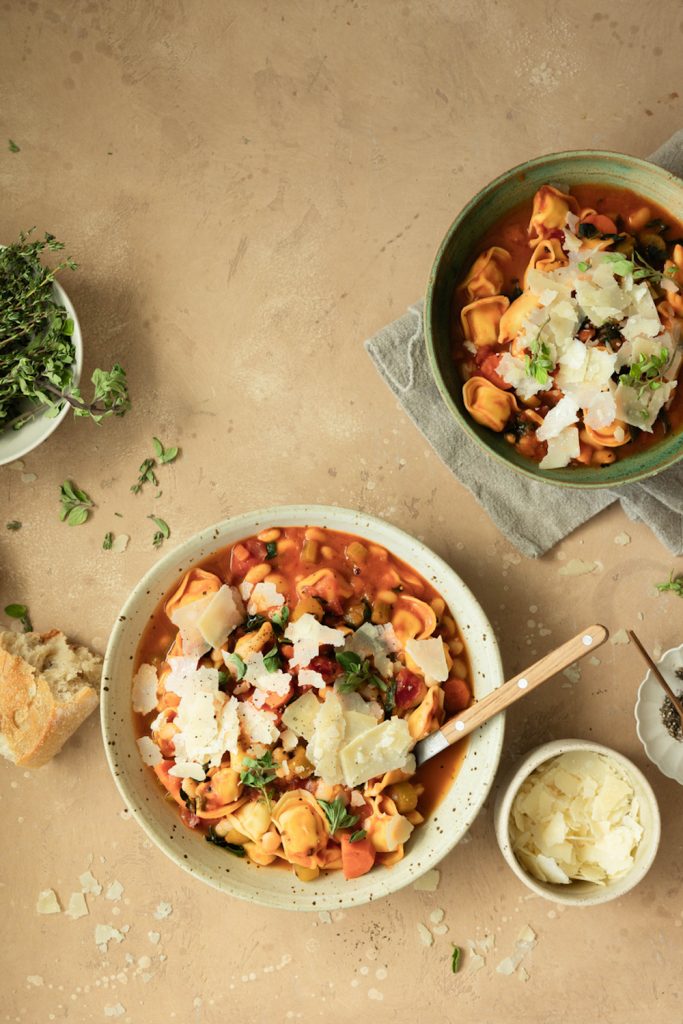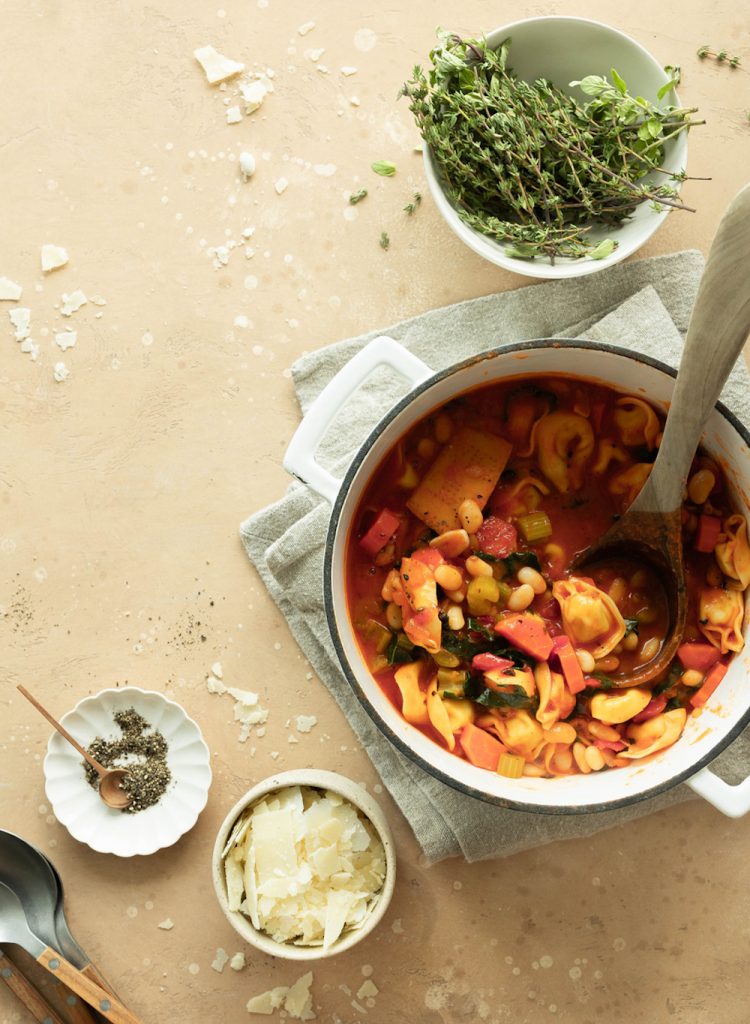 Tips for Customizing and Serving
The best part about a soup like this is that you can customize it to your heart's content. Plus, if you prep and chop everything ahead of time, all that's left is to toss everything into the same pot.
This soup is already vegetarian-friendly, but you can easily swap out or add any additional vegetables you like. I've added peas and grated zucchini and used a bunch of spinach instead of kale. If you want to add meat, you could easily sauté some sausage or use meat-filled tortellini. For even more flavor, use a bone broth or chicken broth.
And while this soup is hearty and doesn't need extras to make it a full meal, I like serving this alongside a crusty baguette to soak up any leftover broth and with a crisp, fresh salad. And don't forget the parmesan cheese to serve on top. It's a little boost that makes this soup taste even better.
How to Store and Reheat Leftovers
To store leftovers, keep soup in an airtight container in the fridge. 
I find that the broth becomes less brothy when stored in the fridge. To solve this, reheat your soup on the stove top or in the microwave, and be sure to add some extra broth to help make it more soupy the next day.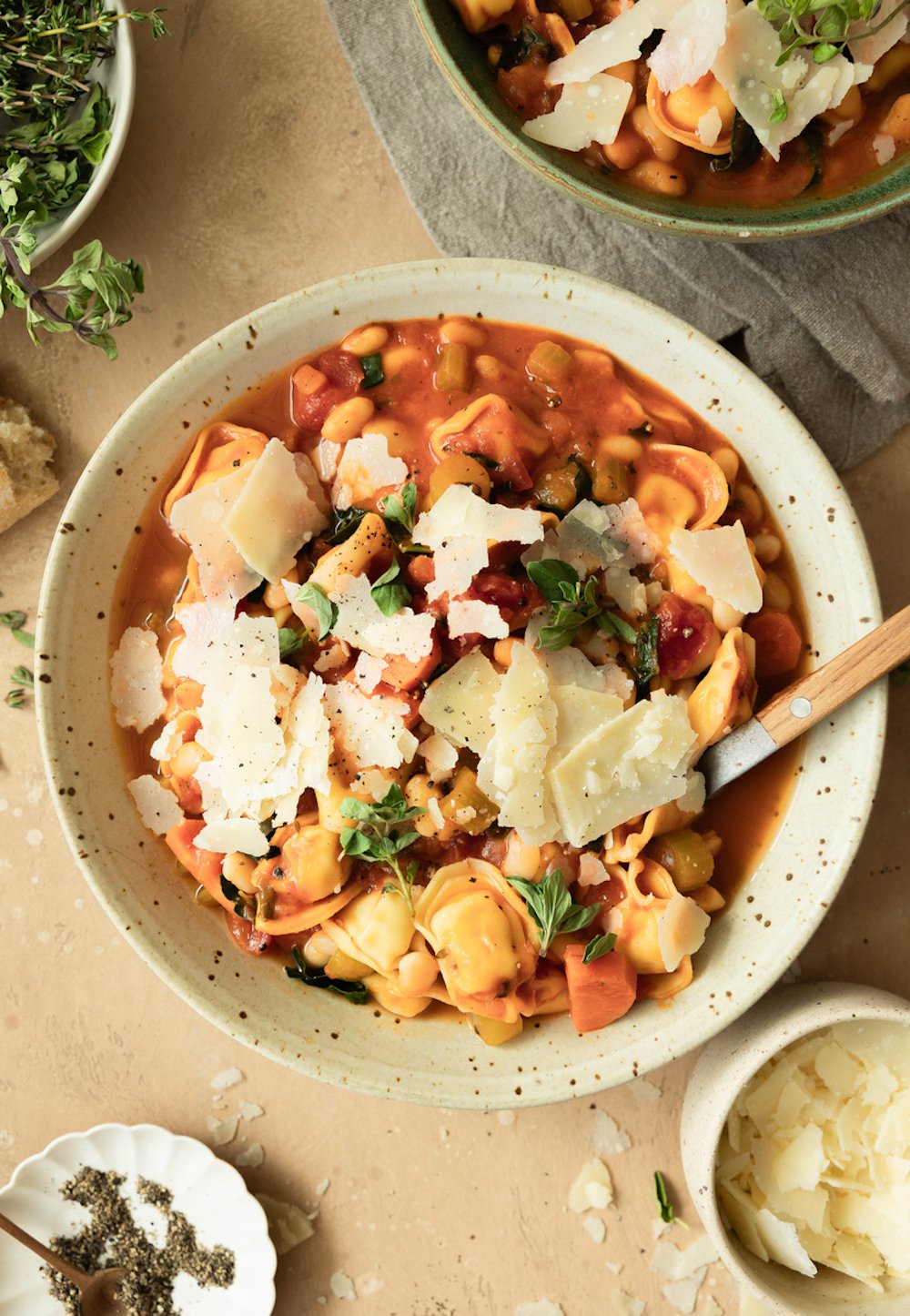 Print
Description
This hearty vegetarian soup is full of rich, creamy flavor. It's an easy weeknight meal that practically cooks itself.
---
3 tablespoons

olive oil

1/2

large yellow onion, diced

1

large carrot, chopped

3

stalks of celery, chopped

2

–

3

stems of fresh thyme, leaves removed

1 teaspoon

oregano, chopped

3

–

4

cloves of garlic, chopped

1

can fire-roasted tomatoes

1 tablespoon

soy sauce

1

32-ounce carton vegetable broth

1

can cannellini beans, 1/4 cup reserved

2

roasted red peppers

3 cups

pre-packaged tortellini

1

–

2

cups chopped kale

Salt and pepper to taste

1 cup

shaved parmesan for garnish
Juice of

1/2

a lemon + more to finish
---
In a large stovetop pot, add the olive oil and bring to a medium heat. Add onions with a big pinch of salt/pepper and cook for a few minutes until the onions are slightly golden brown.

Add the carrots, celery, thyme, and oregano to the pot and stir to combine. Cook for another few minutes until the carrots and celery have just started to soften.

Add the garlic and the fire-roasted tomatoes with the soy sauce. Cook again for another few minutes to let all the flavors mellow together.

Add the broth and then let cook until the broth starts to simmer.

In the meantime, add the red bell peppers and ¼ cup of the canned beans to a blender and blend until smooth. Add to the pot.

Bring the soup up to a boil then add the rest of the beans and the tortellini and cook according to package directions until the tortellini are just cooked through. 

Remove from heat and stir in the kale. Adjust salt and pepper as needed to taste. Squeeze fresh lemon into the pot to taste.

Serve hot and top with parmesan cheese. Enjoy!
Prep Time:

15

Cook Time:

30