Is there anything better than a movie night? While I love an evening out, the introverted, on-the-cusp-of-30 gal in me is always down for staying in. Transitioning from my daytime, work-from-home loungewear to my post-6 p.m. sweats is a dream on its own. And when I have zero plans beyond kicking back with a cat on my lap to browse the streaming app du jour, I'm convinced I've found it: pure, unadulterated bliss. But there are times, of course, when we want our evening in to be a little more intentional, which is where creative movie night ideas come into play.
Featured image from our interview with Liana Levi by Teal Thomsen.
8 Movie Night Ideas to Elevate Any Night In
I have friends who are more than happy to cosplay as potatoes with me on the couch. But sometimes, the evening inspires me to take my hum-drum movie night up a notch. When the occasion calls for it, I'm happy to have a few go-to movie night ideas up my sleeve. From snacks to serve to invitations that are *extra* in the best way, this is how to plan a movie night you'll remember long after the credits roll.
1. Identify a Theme in Advance
While not every gathering requires a theme, a movie night is the perfect opportunity to structure your evening around a specific idea, it opens the door for everyone to get a little creative. The easiest way to do this? Match your theme to your movie. Some ideas: decade theme, sports theme, music theme (Bohemian Rhapsody pairs perfectly with an epic Freddie Mercury jacket), horror theme—the list goes on!
From there, you can choose to let your theme guide the rest of your movie night ideas. Themed decor, invitations, food, and the film itself—if you're new to hosting movie night, choosing a theme makes it easy.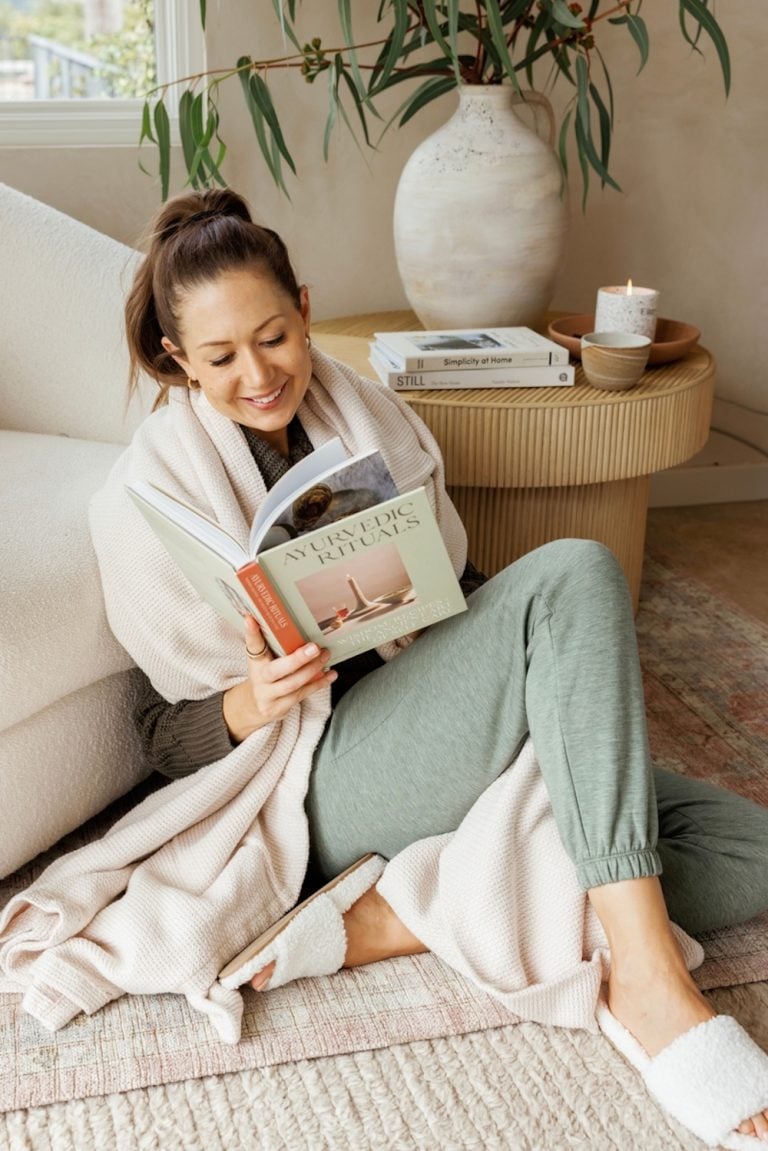 2. Step Up Your Invitations
Sure, you could send a quick text a few hours before (movie night @ mine. bring snacks). But… you could also have a little fun with the invites. I love the idea of taking things truly old-school and going the paper route. Find a movie night ticket template online, customize it with your details, and mail the tickets a few weeks in advance to your guests. It's a fun, personalized way of letting your friends and family know that they're in for a treat.
If going to the post office is a little too archaic for your speed, send an invite via email. Sites like Paperless Post and Evite offer tons of affordable options so you can send your invite faster.
3. Opt for a Crowd-Pleasing Film
Unfortunately, all of your other movie night ideas will fall flat if you don't select a film everyone will love. Of course, it's hard to land on a pick that appeals to all viewers. Some of us obsess over rom-coms (me) while others love a good action flick. And if kiddos are in attendance, you want to ensure the movie is family-friendly. Thankfully, with all of the options available today, there are a few tried-and-true picks that deliver for everyone, every time.
Paddington 2. That's right, this seemingly juvenile film has been dubbed "the perfect movie" by reputable sources. And this writer? 100% in agreement. It's heartwarming, aesthetically pleasing, and full of beyond-charming British accents. What's not to love?
The Parent Trap. Iconic Meredith Blake outfits, lines we've been reciting since childhood, and of course, an early Nancy Meyers favorite. If there are kids in the audience and they haven't yet been initiated to this campy classic, now's the time.
Fantastic Mr. Fox. Wes Anderson is an easy pick for movie night. With a few of his films' usual suspects (Bill Murray, Owen Wilson, and Jason Schwartzman) starring—alongside George Clooney and Meryl Streep—it's hard not to fall for the children's classic brought to life. Alternatively, if your movie night is kid-free, opt for The Grand Budapest Hotel. Anything Edward Norton is a movie night-must.
Princess Bride. A true epic. With iconic lines like the Inigo Montoya monologue, everyone will be reciting along. It's original, unabashed, and goes all in on itself. Also: a late-80s Robin Wright! She alone makes the film.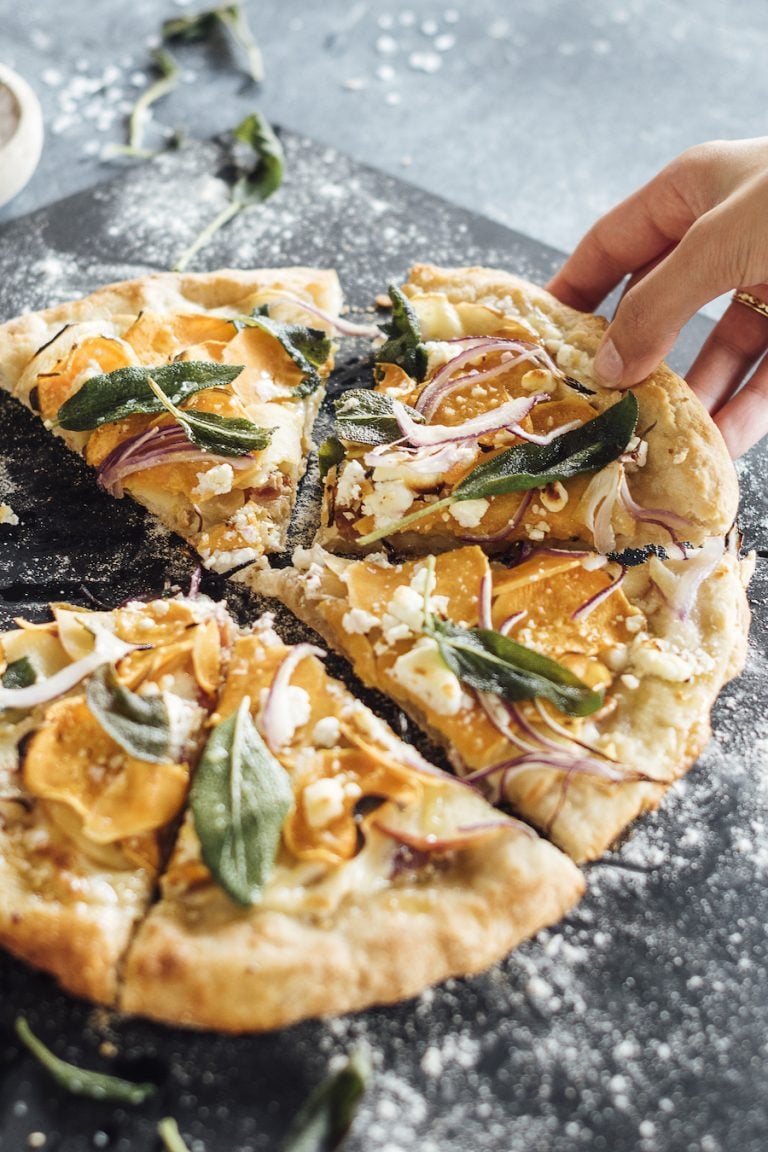 4. Pair With an Easy Meal
With all this planning going into your movie night ideas, it's unlikely that you'll have lots of time for a multi-course meal. And when the film is the main attraction, you shouldn't have to sweat it! The key here is opting for dishes that support hands-on snacking. Pizza, cheese boards, and a snack bar filled with treats galore. If you're going to use utensils, then for a cozy movie night, chili is your answer.
Ahead, I'm sharing my go-to Camille Styles favorites for a movie night in. With carbs galore and a solid mix of sweet and savory, you can rest assured: your bases are covered.
Bacon, Apple, and Sweet Potato Pizza with Crispy Sage
While I'd wager that any and all pizzas are fair game for movie night, this has to be my favorite. The trifecta of bacon, apples, and sweet potatoes creates a blend of sweet flavor and crispy textures that sit perfectly atop a thin crust. While this dough only serves two, it's easy to multiply and make many for a crowd. Alternatively, you can buy a pre-made dough and top as you please. And for even more ease, takeout pizza is perfect.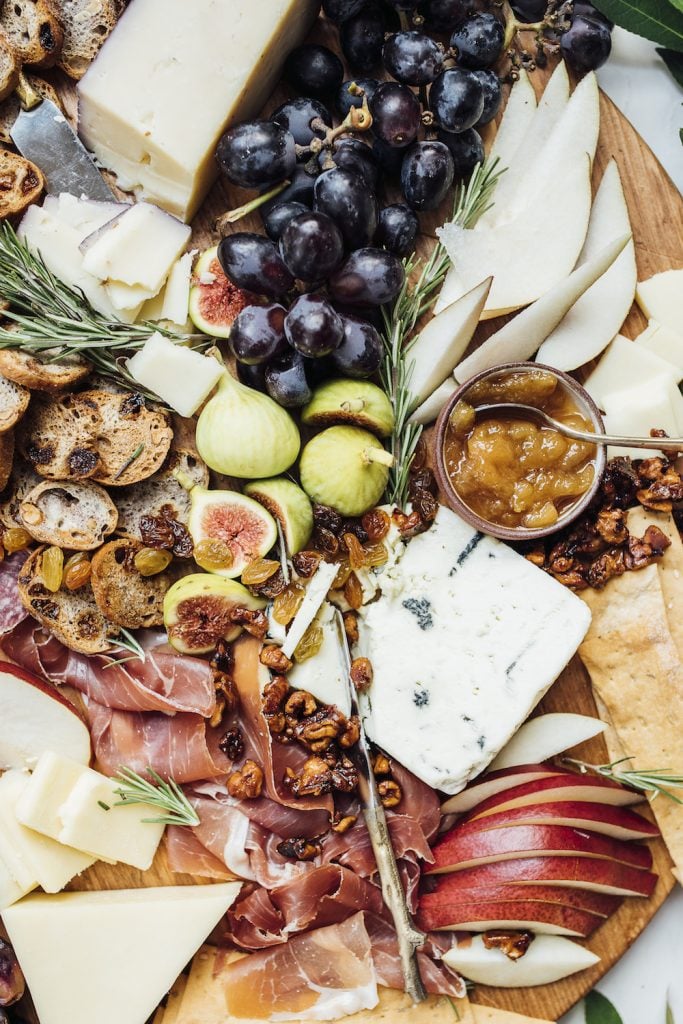 The Ultimate Fall Charcuterie Board
Charcuterie boards are the ultimate movie night snack. They're an easy and aesthetically pleasing way to welcome all of the season's flavors into your home. You're welcome to mix and match ingredients as you please, but keep in mind a consistent color palette, a few good cheeses, and hearty meats to ensure everyone's satisfied.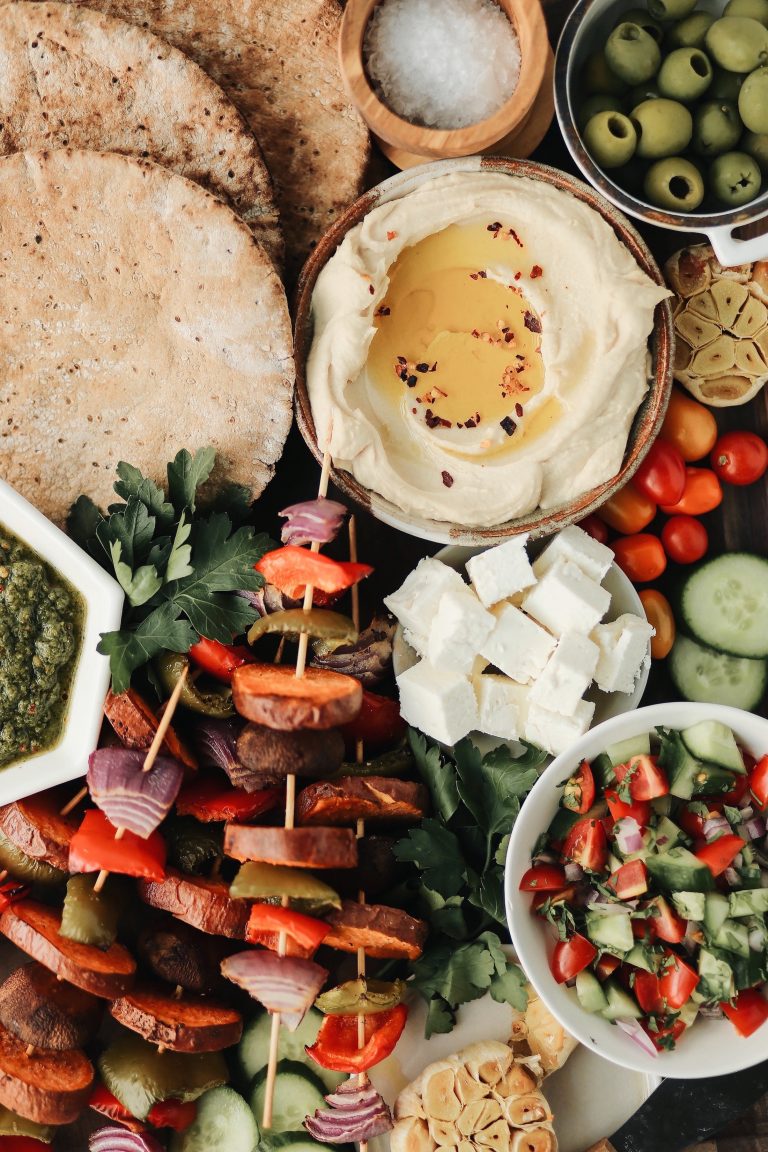 Pita & Kebab Board
While I've loved the trend of eating everything in bowls, I'll also happily enjoy all of my meals from a board. Case in point: this flavor-packed pita and kebab board that couldn't be easier to assemble. The majority of components can be store-bought, so all that's left for you to do is assemble to your heart's content.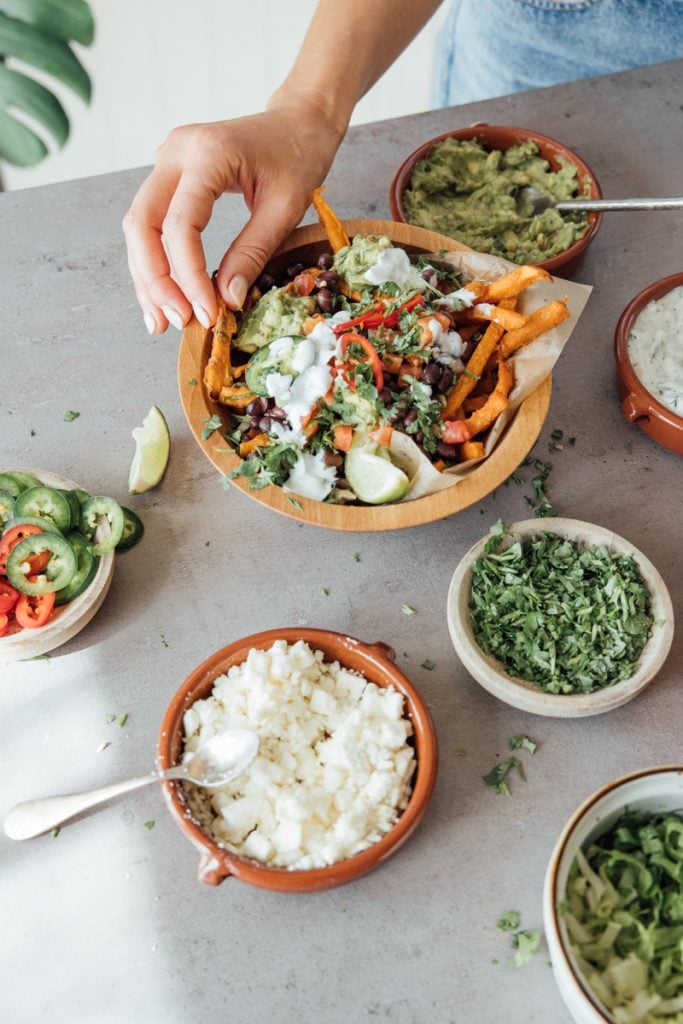 Loaded Sweet Potato Fries
I repeat: loaded. sweet. potato. fries. I live life by the rule that when I can make a good thing all the better, I will. Sweet potato fries are delicious on their own, but when toppings of your choosing get added to the mix, they become downright addicting. There are endless ways you can customize your bowl, but I like switching between Mediterranean-inspired (chickpeas, salty feta, tzatziki, and kalamata olives) and Mexican (guacamole, pico, black beans, sour cream, cilantro, iceberg lettuce, and cotija). There's no way you can go wrong.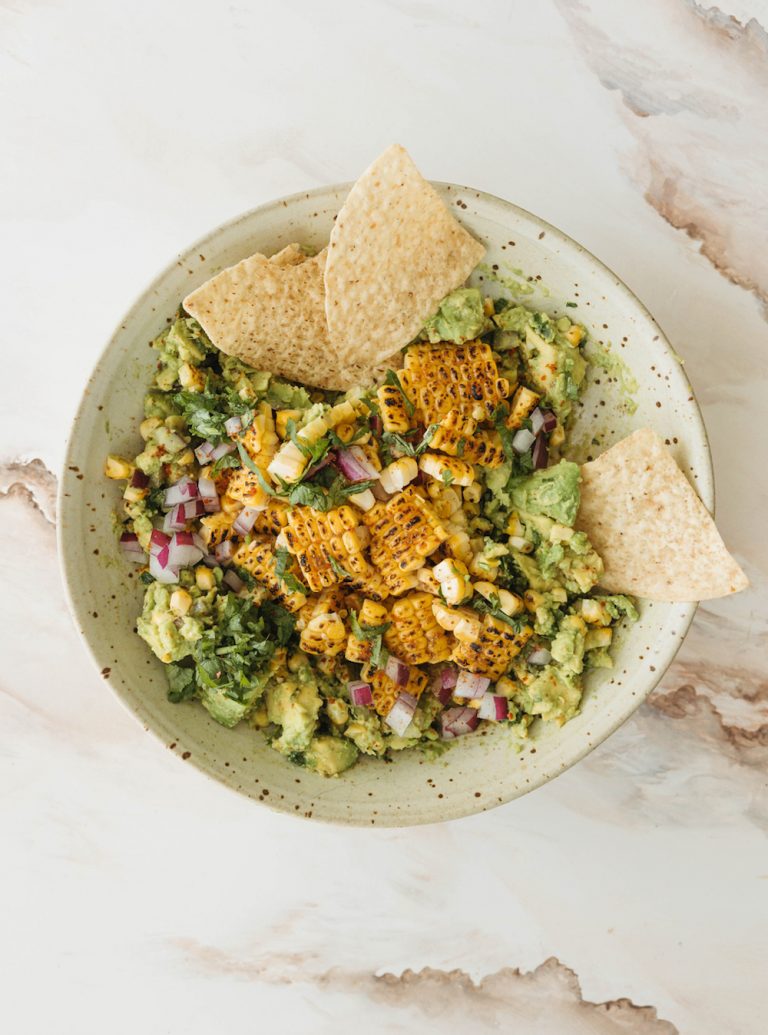 Bhutta Street Corn Guacamole
You thought your guacamole recipe was good—trust: this one is better. The Indian-inspired appetizer takes the classic base of avocados, cilantro, red onion, and lime up a notch with jalapeño, charred corn, chaat masala, and a kick of red chili powder. You've been warned: you're hosting every movie night after you make this. Simply pop a bag of chips and you're good to go.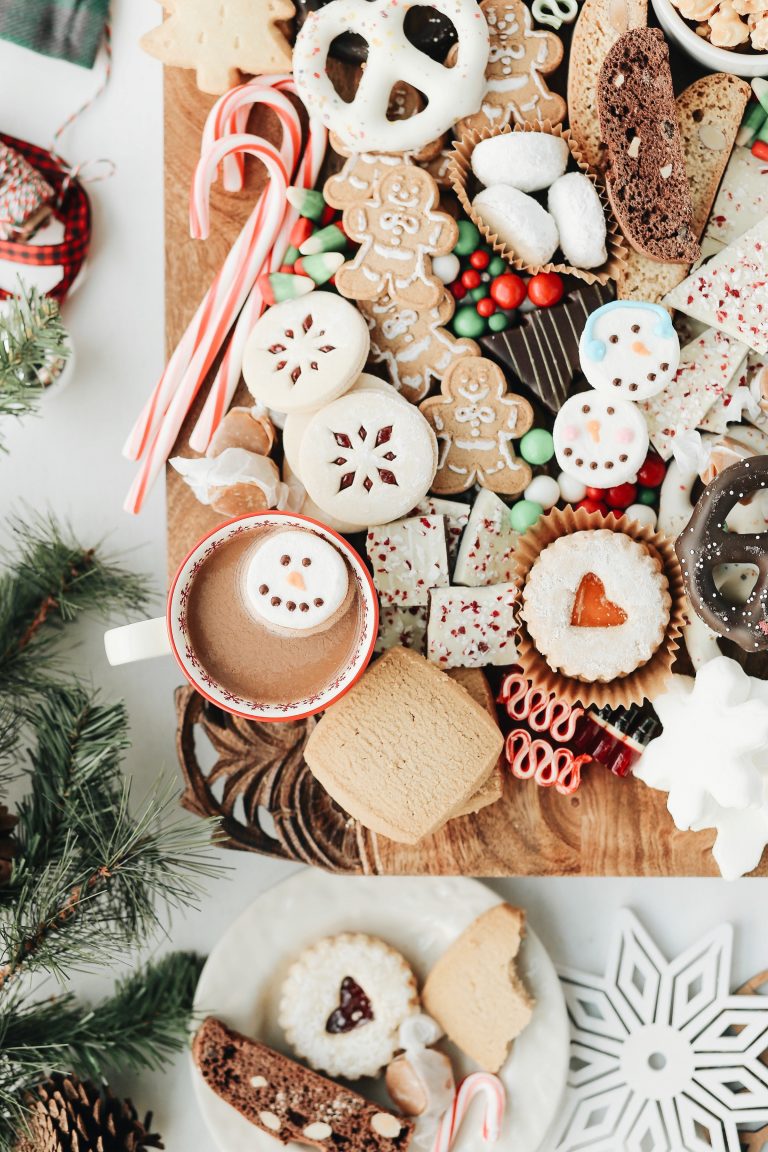 Cookie and Candy Board
For when you're watching Charlie and the Chocolate Factory and want to give your movie night all the Willy Wonka vibes. Of course, cookies and candy does not a well-balanced meal make. But if you're at a loss for what to serve for dessert during the film, it can be as simple as arranging all the good stuff on a board. Take things up a notch and make your own cookies (may I suggest these?). Although, in the spirit of ease and embracing a little laziness, a trip to Trader Joe's will work just fine.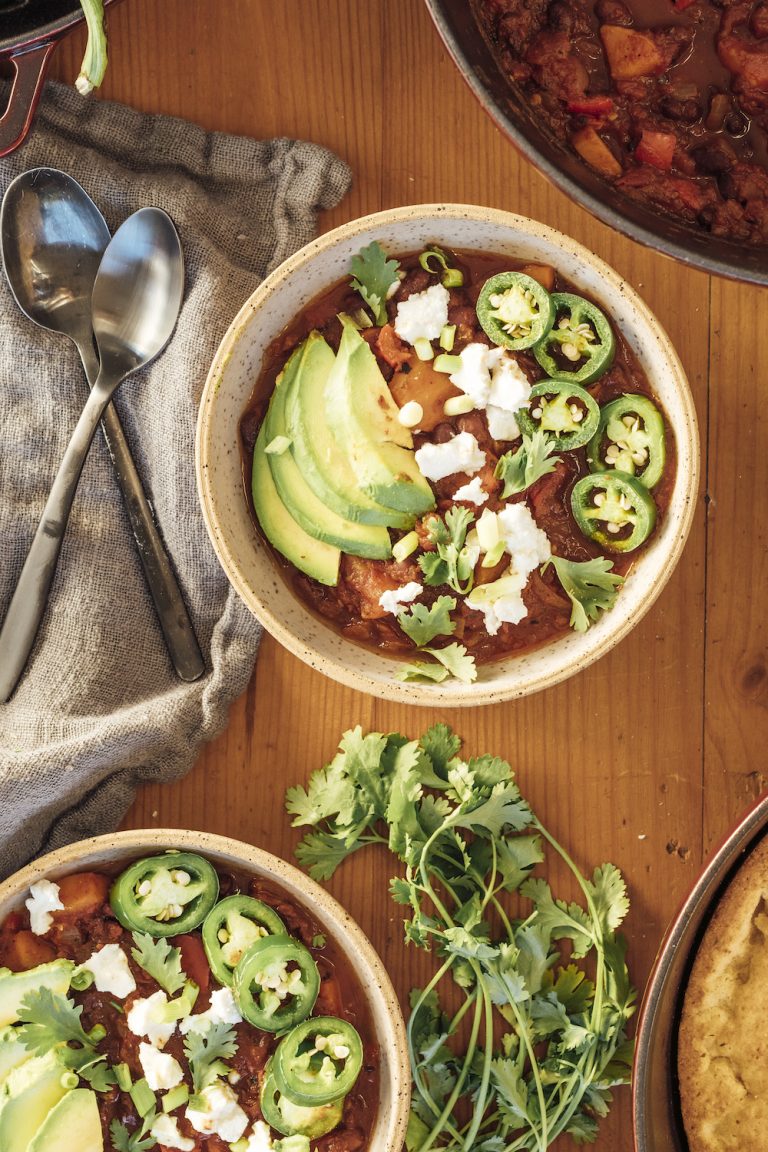 Vegetarian Black Bean and Sweet Potato Chili
Alongside bowls of butter-laced popcorn, chili is the perfect movie night companion. It's hearty, warming, and in the case of this recipe, suitable for all dietary needs. With a blend of equally good-for-you and delicious ingredients (hi—sweet potatoes, black beans, peppers, and more) it'll quickly become a movie night fave. Scratch that, a year-round, top-tier meal.
5. Mimic the Movie Theater
When it comes to movie night ideas, the more the merrier—and you can bet we're going all in. If you have the space, I like the idea of arranging comfy seats in rows, giving audience members the full cinema experience. Be sure to turn the lights down low, pull the curtains, and maybe even invest in surround sound if you feel so inclined. Remember: this is not your average *scrolls Netflix forever* evening on the couch. It's movie night! So honor it as such.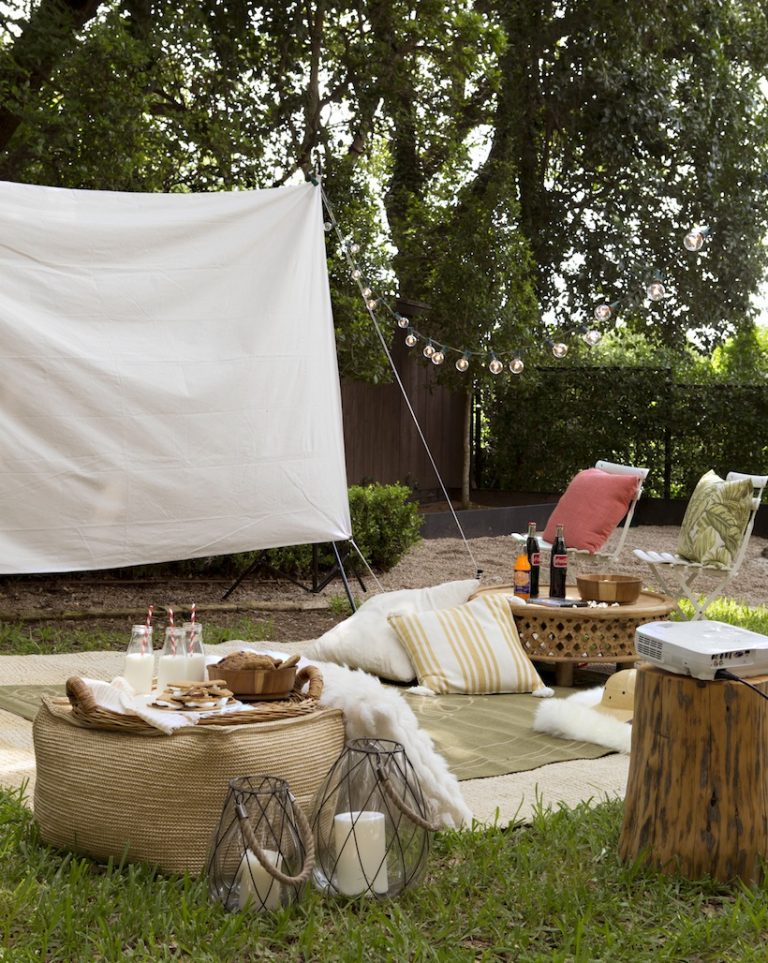 6. Take the Film Outside
If you live in a warm area or are hosting your movie night during the summer, it can be fun to take the festivities outside. A backyard movie night can make for a magical experience. Invest in a projector, strew blankets, cushions, and pillows along the grass, and pack a picnic of movie-perfect meals. To take the decor a step further, I love the idea of illuminating the space with a set of string lights and lanterns. It's the perfect way to add a little romance and surprise and delight to your movie night vibes.
7. Offer an Intermission
To send the theater experience home, an intermission is key. Particularly if you're watching a longer movie (I'm talking Oppenheimer length) or if you're hosting a movie night with kids, an opportunity to use the bathroom, fill your cup, or grab a snack will be much appreciated.
8. Make It Cozy
Last but not least, you'll want to keep things cozy all night long. That goes for everything from the living room setup to the food you serve to the movie you watch. (Some people consider horror movies cozy, I'm not one of them.) For all of your movie night ideas, keep this theme of coziness in mind as you plan your evening. With every gathering, even one as simple as a movie night, it's important to remember that you're inviting people into your home to be heard, loved, and cherished. In my book, coziness achieves all of that and more.