We shop for organic produce, we've swapped the toxic cleaners for safer stuff, ditched the artificial fragrances in our home, and moved to cleaner choices for our skincare routine. However, many are surprised to find that our cookware can actually be a major source of lurking toxic chemicals and can contribute to our body's toxic load. The good news is that there are so many better non-toxic cookware options out there! And the best non-toxic cookware in 2023 makes clear: the options for healthier, safer picks are truly endless.
Materials and metals like aluminum, plastic, lead, and Teflon can pose serious risks to your health and are prevalent in a lot of cookware options. And if the cookware we constantly use is dishing out harmful toxins, we are doing ourselves and all that effort a disservice. So toss the toxic pots and pans and check out our guide to the best non-toxic cookware ahead.
Featured image from our interview with Claire Zinnecker by Michelle Nash.
Toxic Cookware to Toss
Traditional Non-Stick Coatings
Teflon is the trademarked coating that makes non-stick cookware non-stick. It's incredibly convenient and was a gamechanger for cooking when it was introduced around 80 years ago. The issue is that these coatings (which contain compounds like PFOA or PTFE), are highly toxic and have been linked to cancer, hormone disruption, organ failure, reproductive damage, and other health issues. (Check out the film Dark Waters and the documentary The Devil We Know for a deeper dive into the health risks.)
Newer nonstick coatings, like Teflon, technically no longer contain PFOA and PFOS. But you want to keep an eye out for Teflon cookware that was made before 2013 as it could still contain these dangerous chemicals. And while most Teflon coated pans these days are PFOA-free, this often means that they still contain PTFE (PFOA or C8, which is used to make PTFE coating, and as we discussed, is considered a carcinogen). On top of that, high heat causes the chemicals to break down, releasing toxic fumes. Additionally, PFOAs and PTFEs don't biodegrade, which means they can accumulate in our bodies increasing the risk of damage.
Aluminum
There is some debate over whether aluminum is safe. Aluminum exists in our environment and we all have some amount of aluminum exposure daily. However, research shows that aluminum is toxic at certain levels. Elevated aluminum levels have been linked to everything from anemia and other blood disorders, to ALS and Parkinson's to cancer, Alzheimer's disease, and neurological problems.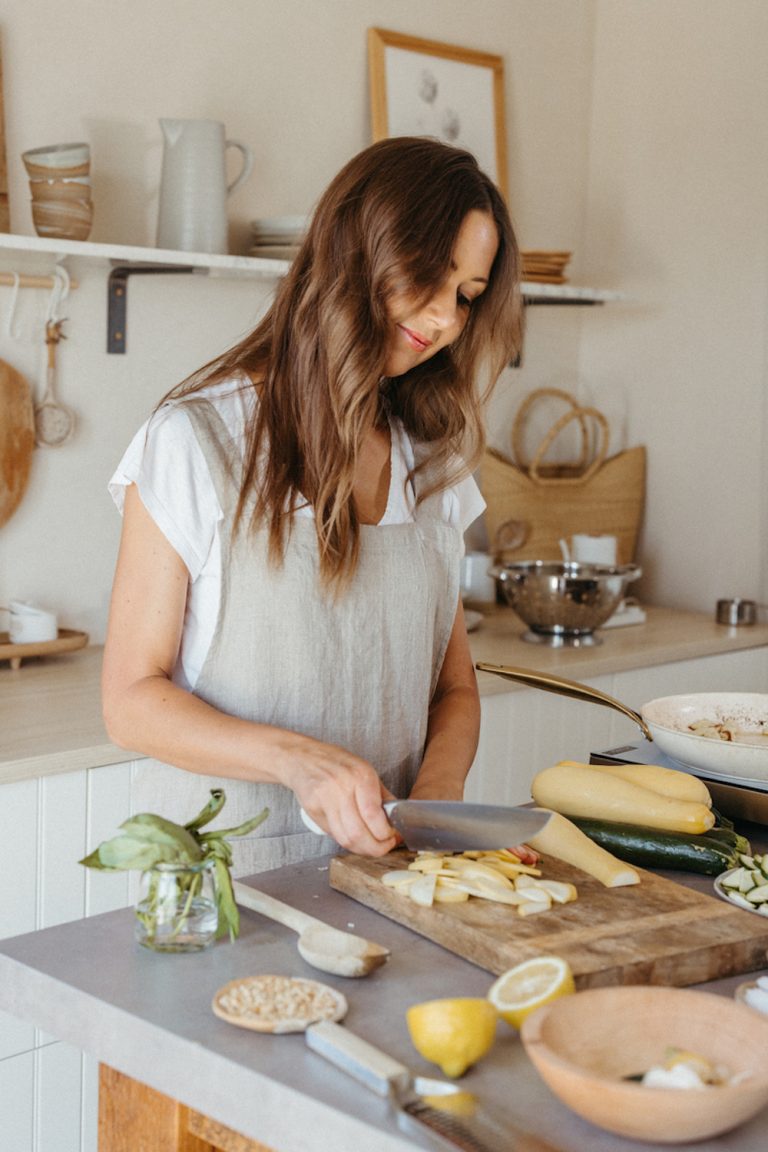 Healthier Non-Toxic Cookware Swaps
Every product is curated with care by our editors and we'll always give an honest opinion, whether gifted or purchased ourselves. If you buy something through our links, we may earn a small commission at no cost to you.
Ceramic coated
Not all ceramic coatings are made equal. Skimp on the cheap ceramic coatings and instead look for one that's certified by third-party testing and free of PFAs, PFOA, lead, and cadmium. I personally have a few Green Pans and love them! They're nonstick, affordable and with some care hold up well. Another great option is the Always Pan—the color options are so good!
Ceramic
Ceramic is great as it's completely inert—meaning it won't leach any harmful toxins. Ceramic non-toxic cookware pans are generally free of heavy metals, polymers, coatings, and dyes, plus, they're dishwasher safe! Easier to wash than cast iron, you can just use warm soapy water. If you're interested in trying, Xtrema is a great brand to check out. A note: you do have to be more careful with these pans, as they're more fragile than other types of pots and pans.
Stainless steel
Not all stainless steel is created equal. When shopping you will see numbers like 200, 304, 316, and 430—the higher the number the stronger, longer-lasting it is and the less nickel content it will have. Be sure to use gentle cleaners as something harsher can damage the lining, which then can allow the heavy metals in the core to leach into your food.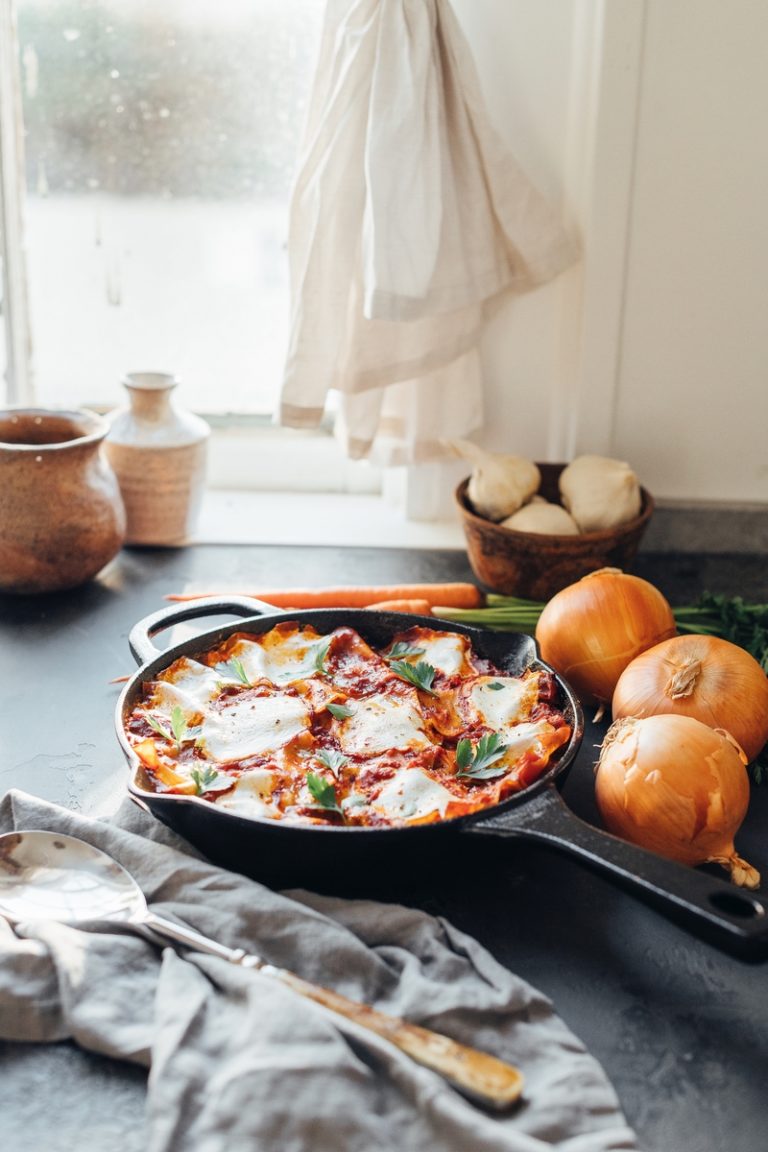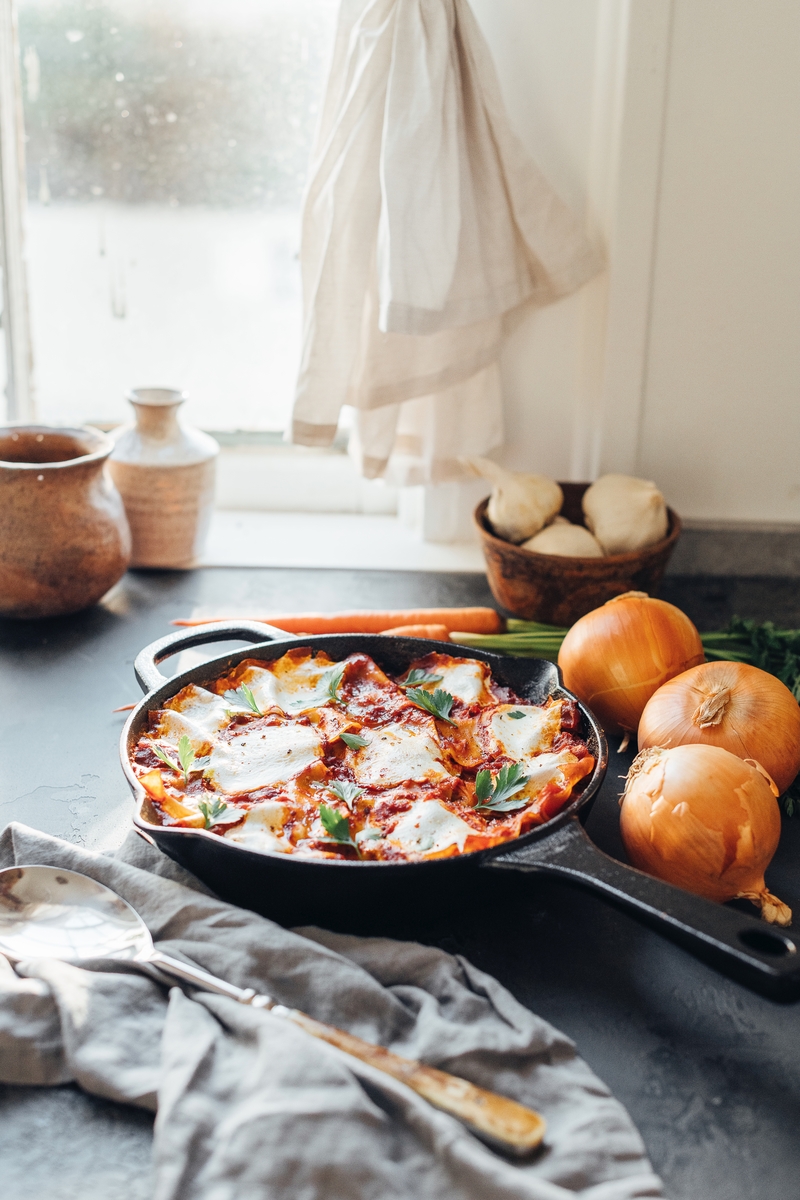 Cast iron
This is the OG non-toxic cookware. They take a bit of time to get used to if you've never tried them, but work so well once you figure it out and are budget-friendly! Some tips: heat before adding food, avoid soap when cleaning, and season regularly. (Check out this post for tips for seasoning.) There are many methods for cleaning cast irons, but my go-to is scrubbing with some salt and rinsing with water. I then dry thoroughly, drizzle with cooking oil, spread it around, and then set on low heat for a bit to ensure the pan is completely dry.
Glass
The main perk of glass cookware is that there are tons of budget-friendly glass options out there, Pyrex being the most common one. You can find everything from baking dishes, to round soup dishes to loaf pans.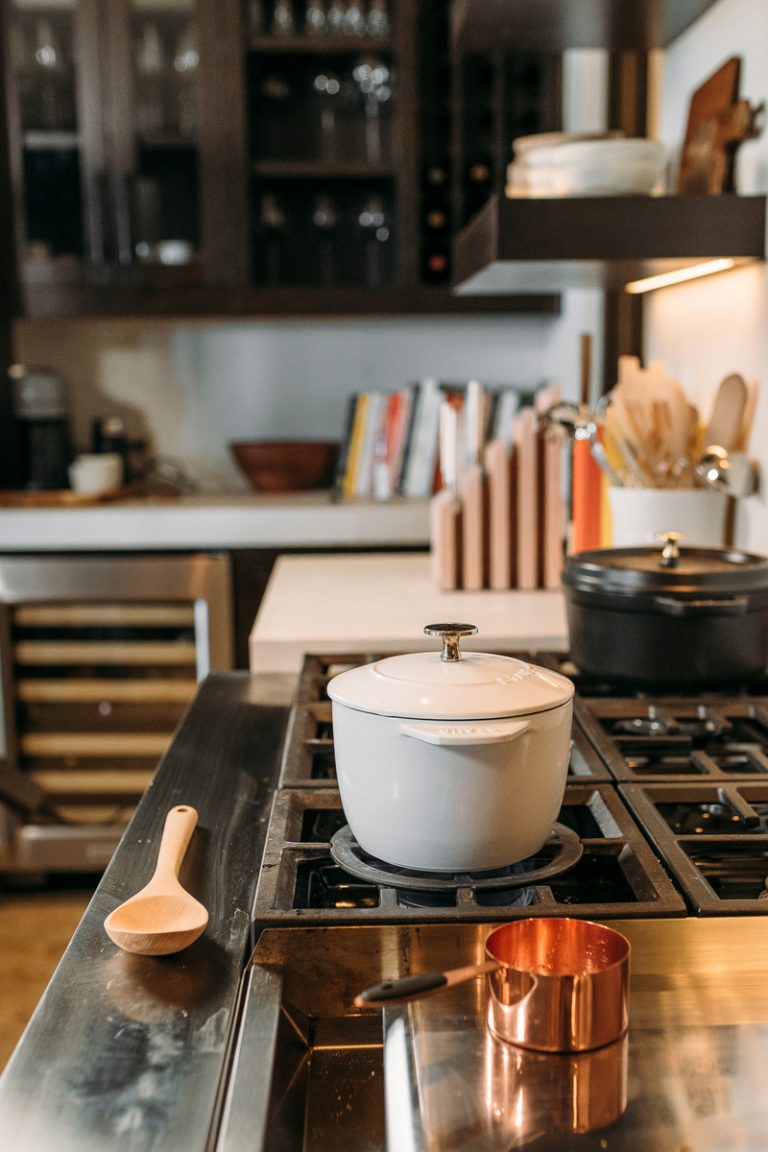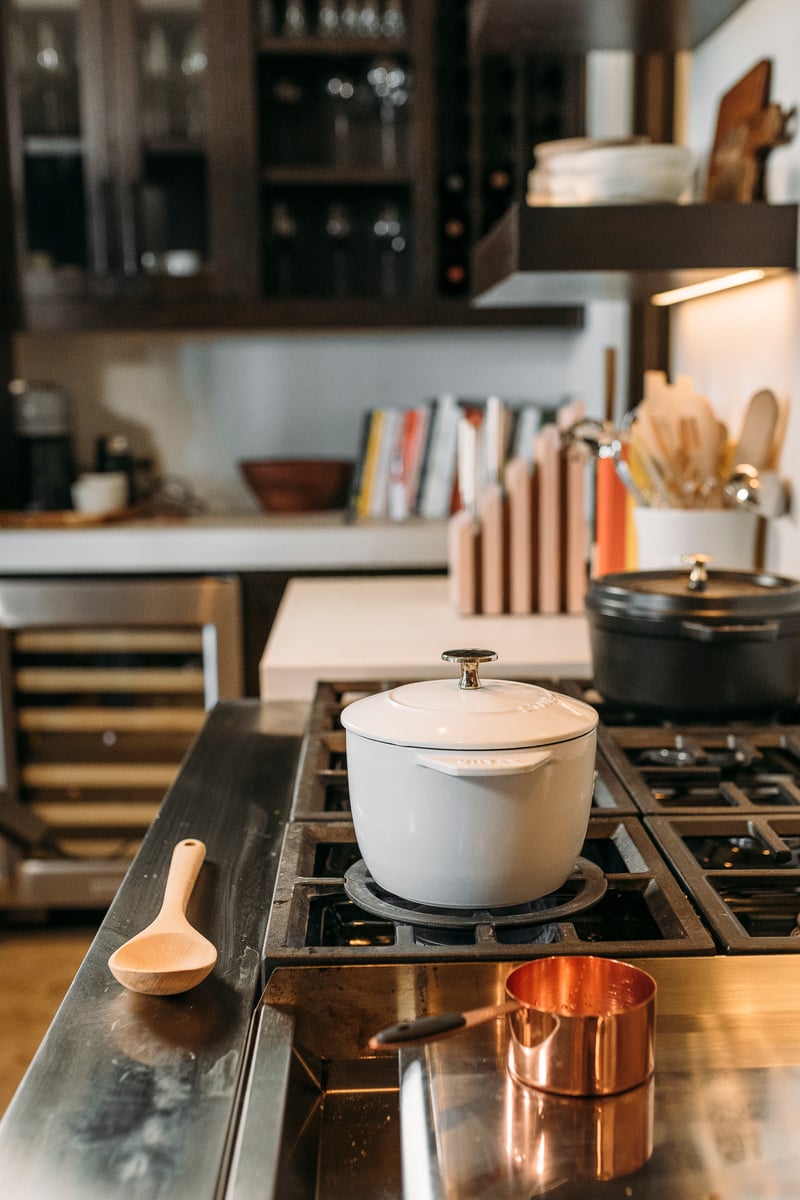 Carbon Steel
Carbon steel is sometimes used for frying pans and woks. The non-toxic cookware option is similar to cast iron, and can output small amounts of iron into food, which is great if you happen to have someone with slight anemia in your home!
Porcelain Enamel
Enameled non-toxic cookware is usually made of cast iron that has been coated in enamel (think Le Creuset). While not perfect in terms of low heavy-metal content, I'd say this is one of the "better" options. The perk of this cookware is that it won't rust, in contrast, to cast irons, if not properly seasoned. Cleaning is super easy with mild soap, water, and a gentle scrub pad. It is a bit on the pricier side, but your investment will last you a long time!
This post was originally published on May 21, 2020, and has since been updated.