Is it just me, or does life feel busier than ever right now? The days are so full, and while they're packed with people and projects that I'm incredibly grateful for, I frequently long to slow it all down and soak up more unhurried days at home (anyone else bingeing #quietlife content?) Which is why I'm feeling extra excited for Thanksgiving this year. It means an entire week to bake cozy recipes, watch holiday movies, and read in front of the fire. And as you guys know from all the Thanksgivings I've shared here in the past, one of my favorite parts of the entire holiday is taking time to set an extra special Thanksgiving table for our families.
My usual approach to family dinners is laid-back and casual. Let's be clear—I'm not usually designing elaborate tablescapes—my focus is really on making the food delicious and spending quality time our families. But—Thanksgiving is different! This is a day when I embrace the chance to go all out and make the table feel really special. I have so much fun planning it, and then when our family shows up and sees this really special table, it's like a mental cue that says—today is a festive day.
In today's post, I'm sharing my "practice round" for our real family Thanksgiving this year. I'm going with warm, natural wabi sabi vibes, and I'm using all dishes from Casa Zuma and incorporating some fall produce from the grocery store and olive branches from my backyard. And of course I'll include links where you can find everything below. So let's go set the Thanksgiving table!
Get inspired
I approach setting the table as a creative project and the table is my blank canvas. I always start by creating an inspiration board on Pinterest so I can hone in on my color palette and what materials I want to use. Then I shop my own house for vases, candles, and linens that I already own that fit the vibe of what I want to create.
The fun part is figuring out how to style everything in a way that feels fresh and different from last year. I don't usually get super theme-y – I'm not a big fan of having things I only get out once a year. If I'm going to buy something new, I'm looking for things with a timeless quality that I can mix and match with everything I already own.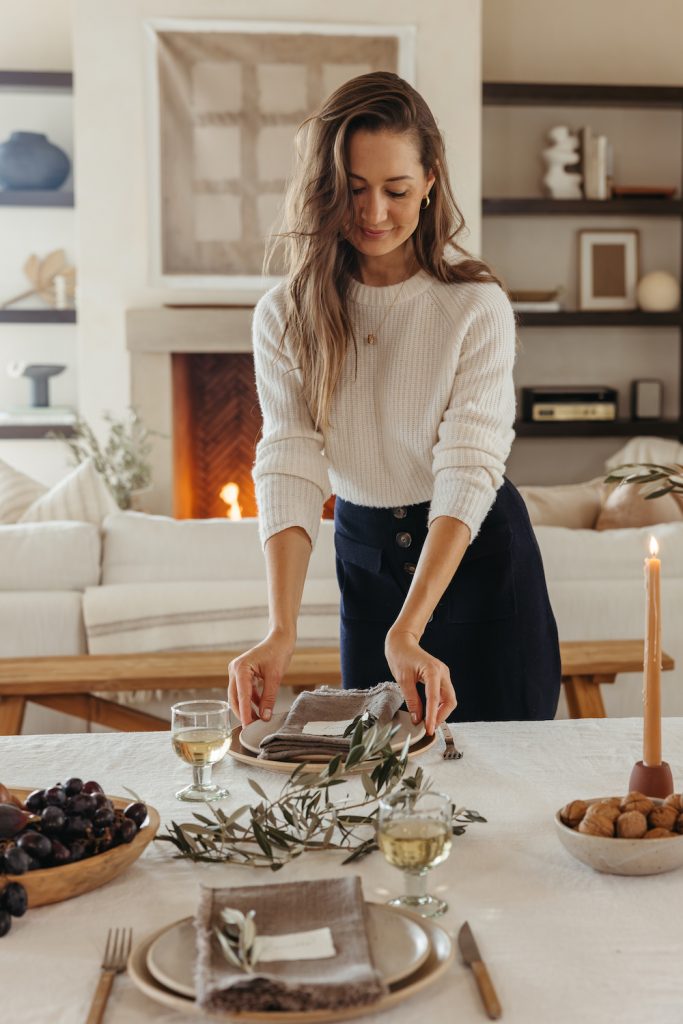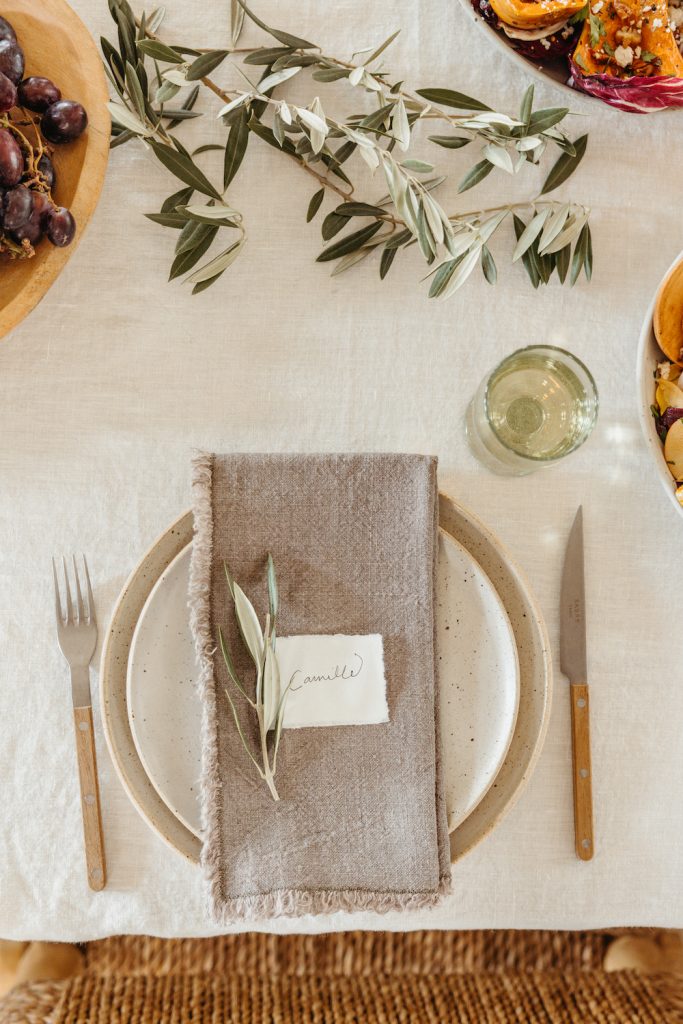 Keep it stress-free
My top priority with any Thanksgiving tablescape is that it's not going to stress me out. That's why my number one tip is to set the table completely the night before—on Thanksgiving, there's already so much to do just to get all the food on the table, I want my table to be already set and ready to go.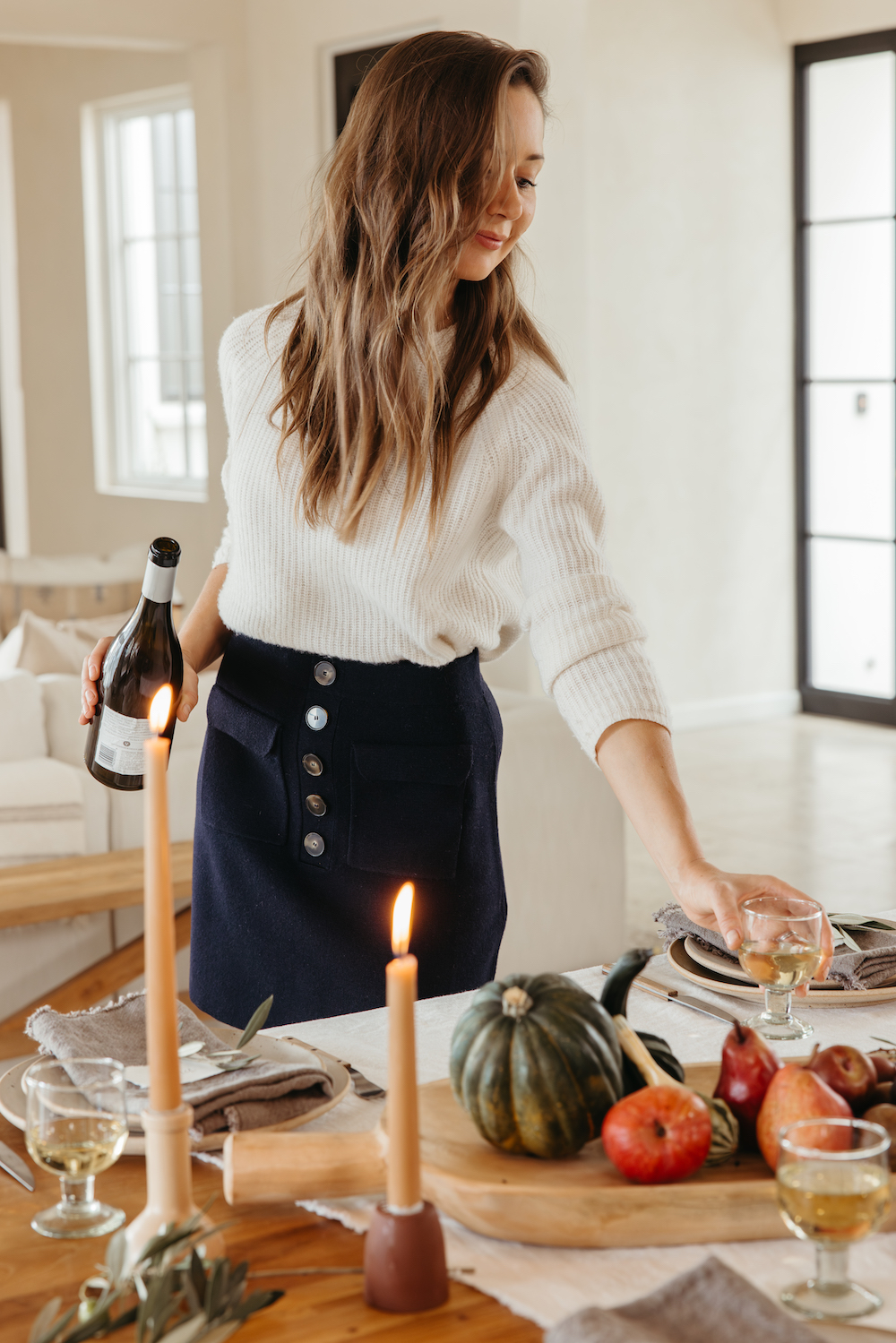 Color palette
I love a neutral color palette any time of year, so at Thanksgiving I lean hard into all the organic earth tones. I love all of those muted autumn colors, but I also want my Thanksgiving table to feel special, so I rely on lots of texture to warm things up. From the table linens to the woven serving pieces, I incorporate so much texture so my table feels warm and layered.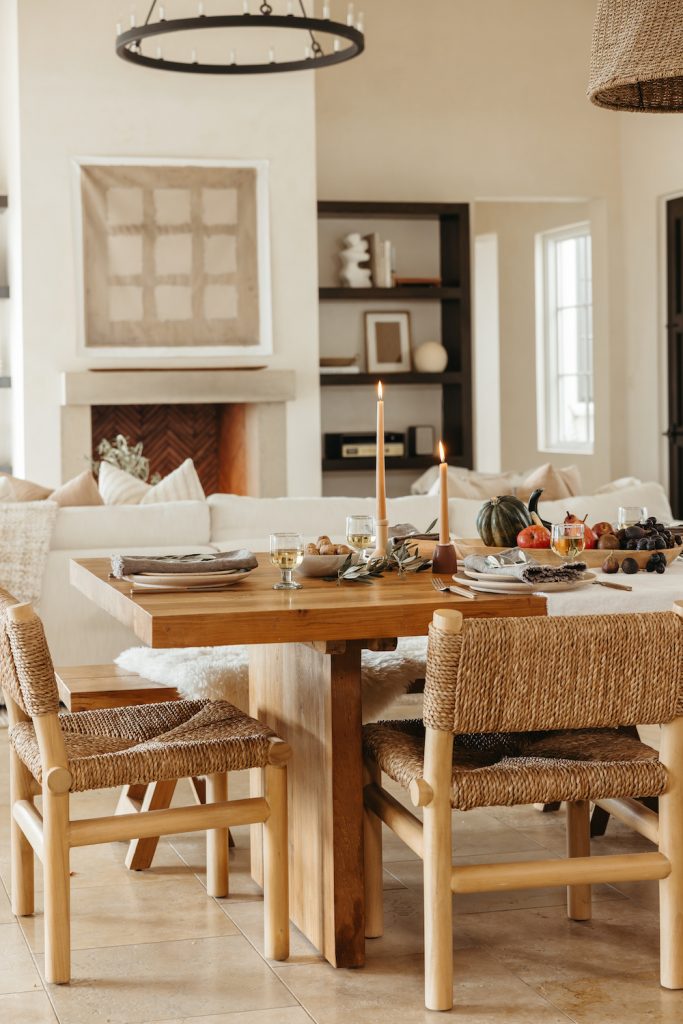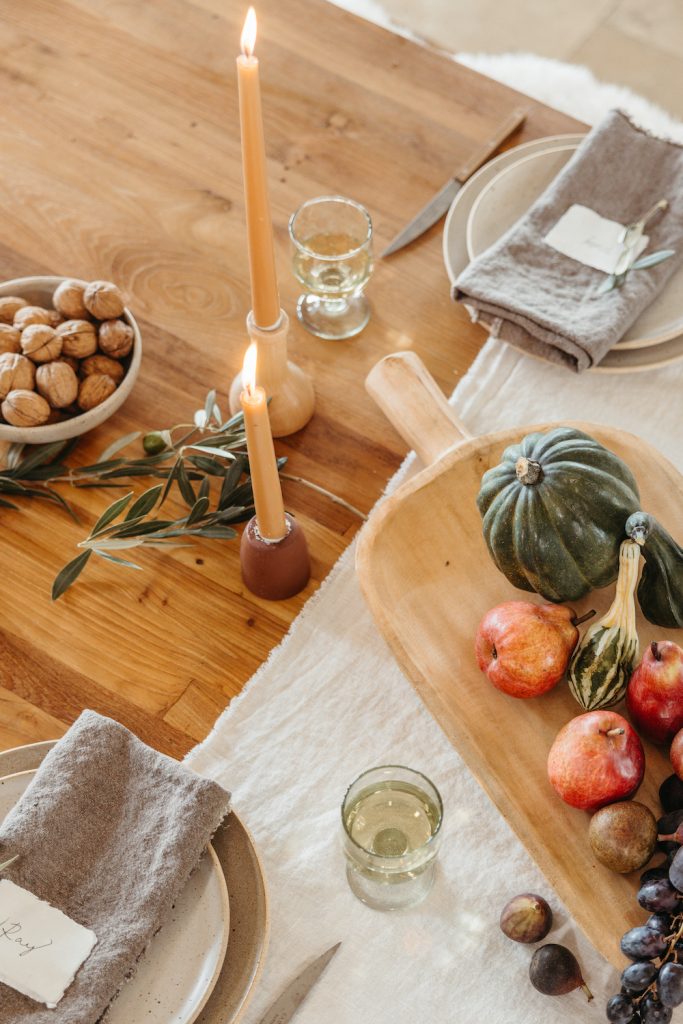 Laid-back linens
I am not one for perfectly starched linen tablecloths. My vibe is almost always a casual linen table runner or linen table throw that lets the beauty of our teak wood table show through. Today I'm using our white table throw from Casa Zuma and it feels really fresh, like the perfect palette to everything we're going to layer on top of it.
Also hot tip: I almost never iron my tablecloths anymore. I love my wrinkle release spray, and give the entire linen tablecloth or runner a spritz before I shake it out or throw it in the dryer. The result is that perfectly rumpled (but not too wrinkled) look that I love.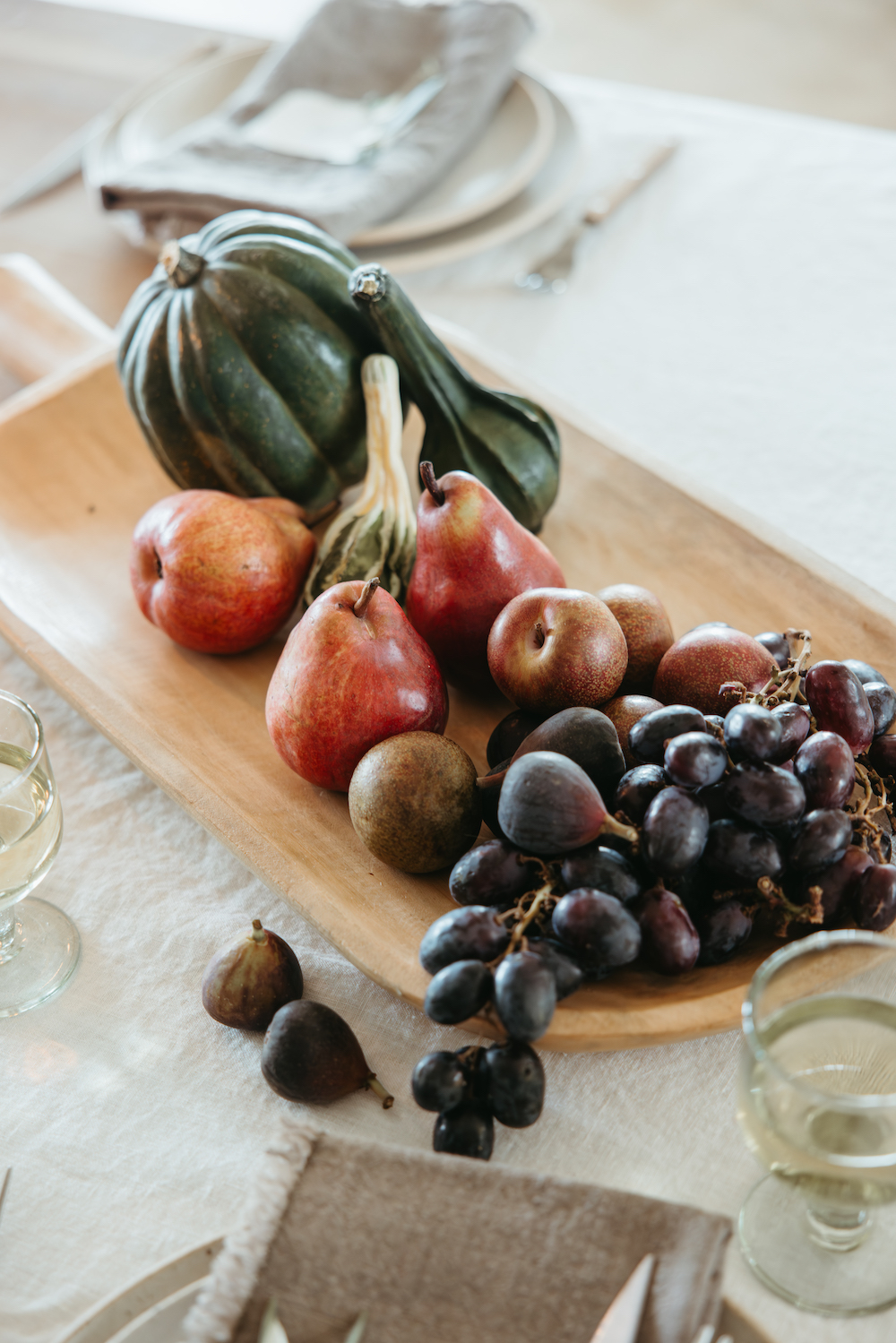 Celebrate fall's bounty
Thanksgiving is the perfect time to let food double as decor. Often I'll set out a cheeseboard on the center of the table so its like a centerpiece and appetizers in one. This year, I kept it really simple and got inspired by the idea of a modern cornucopia, but instead I used my mango wood serving platter, and just filled it up with the prettiest fall fruits and veggies.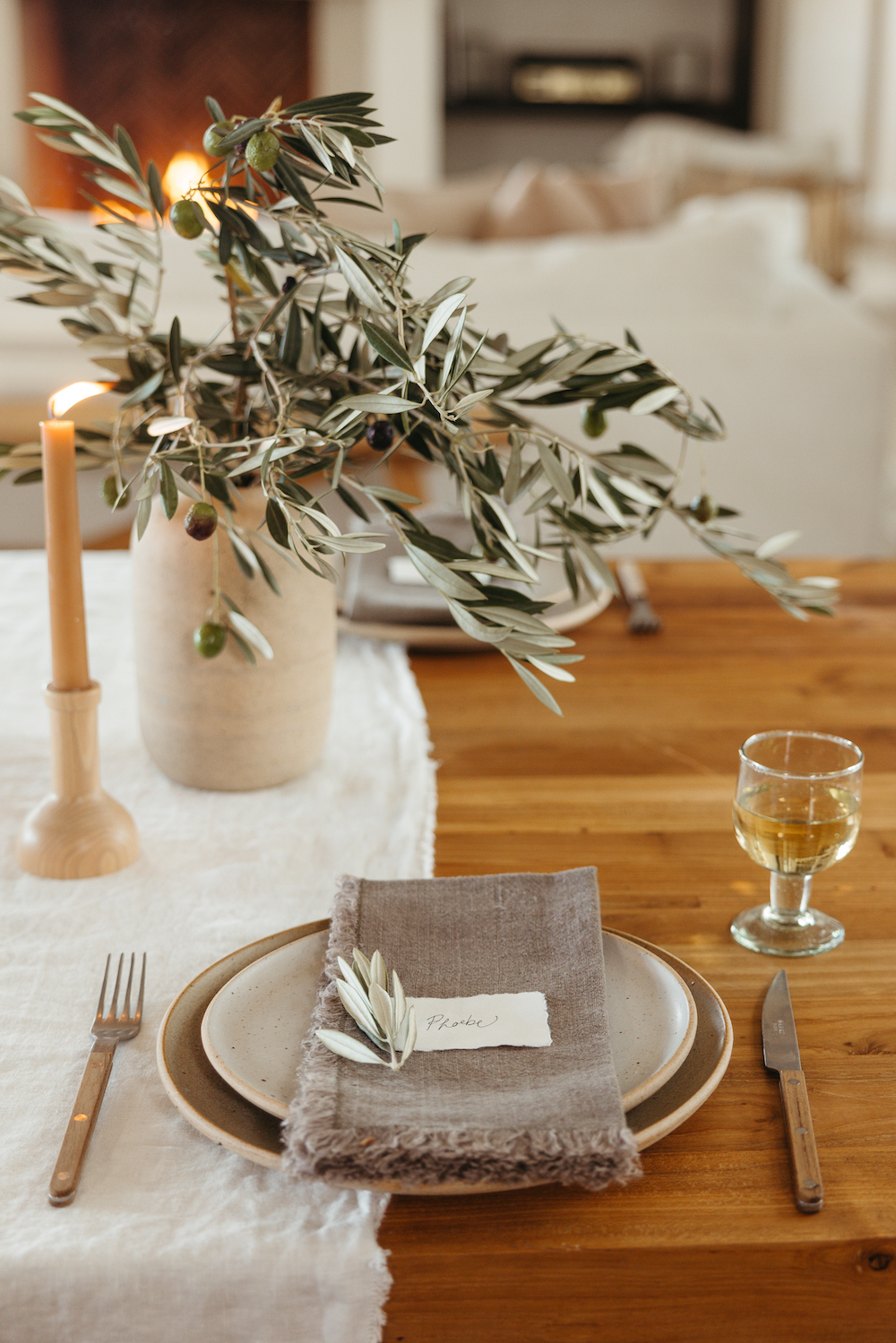 Bring the outdoors in
Instead of buying flowers, I headed into the backyard and pruned a few branches from our olive tree, then laid them simply down the middle of the table. The effect is so pretty—almost like a natural runner.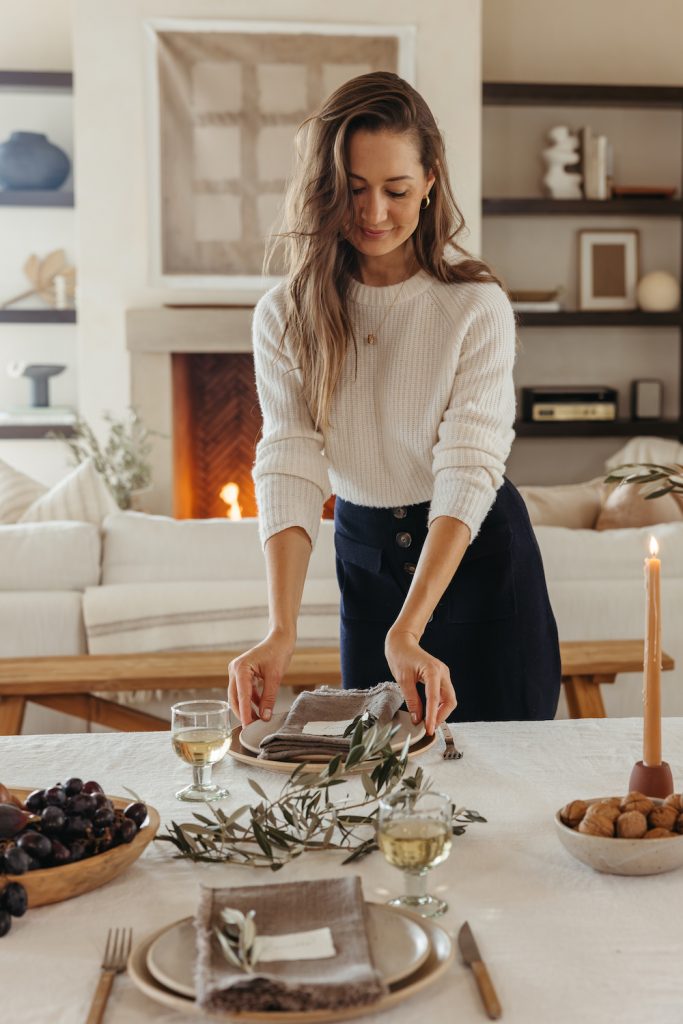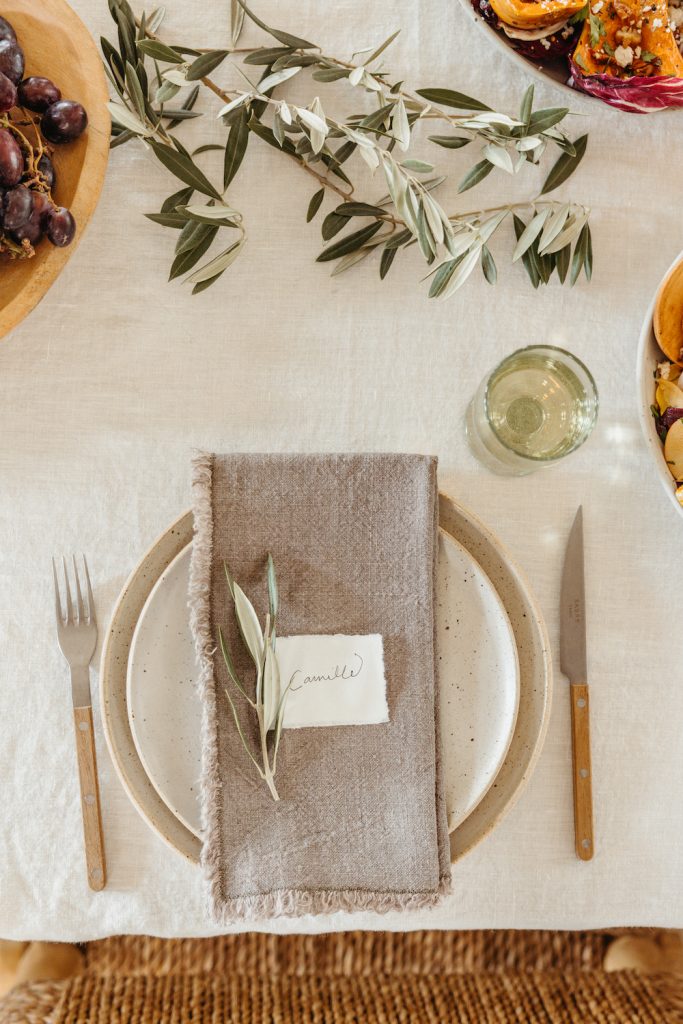 Warm & rustic dinnerware
If you know me, you know that I am a DISHES GIRL – beautiful stoneware and pottery dinnerware is one of my passions in life, and that love was one of the main things that inspired me to start Casa Zuma. All the pieces in our collection are in a neutral color palette, so that I can mix and match all of the pieces and continually come up with a fresh look. 
Today I'm using plates from our Playa dinnerware collection, recycled glass goblets, and our teak wood flatware sets. I gravitate towards pieces that are handmade and rustic and not too perfect. These are the things that really give a table its character and make it feel warm and welcoming. 
Spark conversation
I love to tuck simple conversation starters under each plate, to spark lively discussion throughout the meal. Creating connection and meaningful conversation is what it's all about.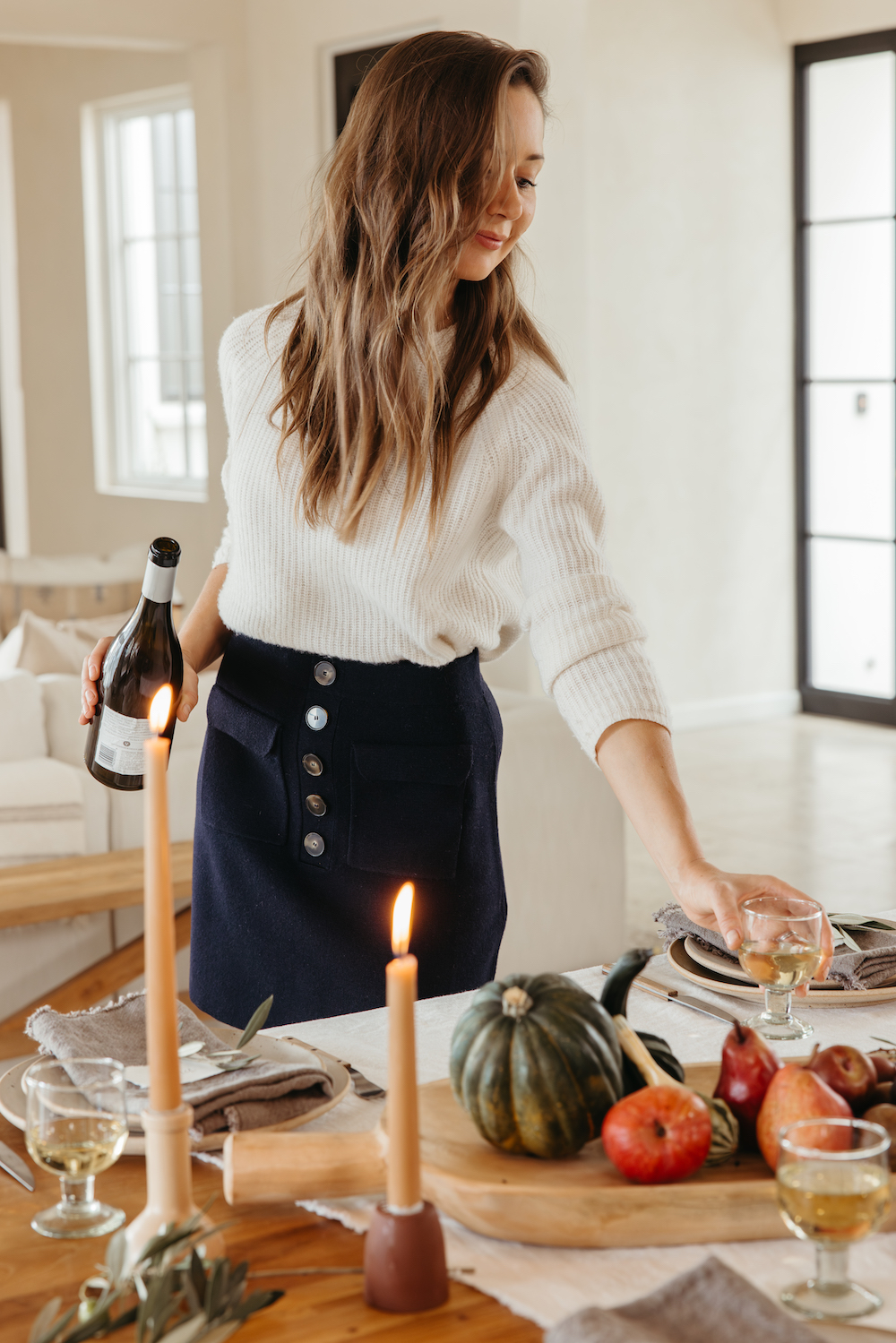 Pour a glass 
I love using a mix of our recycled stemless wine glasses, tumblers, and goblets for a table that's not too perfect. And I love recycled glassware for a few reasons:
It's a sustainable option (it removes millions of pounds of glass waste from landfills)
It's also beautiful and it's more durable because it has this thicker wall – I always put these in the dishwasher.
And aesthetically, I just love the more rustic and casual look that recycled wine glasses and goblets bring to the Thanksgiving table.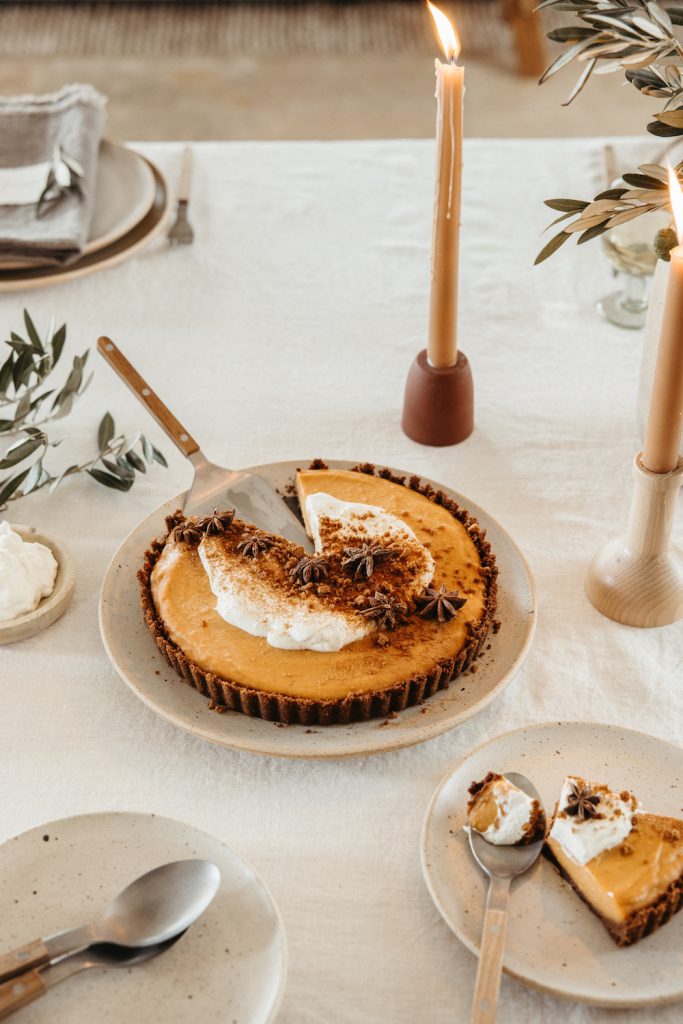 Add sparkle with candlelight
I always say that flickering candlelight is the easiest way to make an impact on the table. You could literally let a grouping of simple pillar candles be your entire centerpiece, and it would still feel special.
I have a mix of ceramic and wood candlesticks that I've been collecting for years, and I like to mix and match them together on the table. Some of them are special marble and stoneware pieces I've collected through the years, while others are from Target—the high-low mix totally works.
***
And that's my 2023 Thanksgiving table! I hope that you feel inspired to use what you have, infuse it with a little creativity, and take your cue from nature and the beauty of the fall season. With your own unique style as your guide, you can create a Thanksgiving table that's all your own and that brings more joy to your holiday this year.
And don't forget to hop over to the Youtube episode to watch me set the table start-to-finish—I've been loving creating these videos and hope that you'll subscribe to our channel!