I know what you're thinking: does the world really need another chocolate chip cookie recipe? And I'm here to say absolutely. Because what's better than having a chocolate chip cookie recipe for every moment and occasion? Some are thick and gooey, others thin and chewy. Some use a mix of milk and dark chocolate and others swear by adding extra flaky salt or walnuts. What makes the best cookie is truly up to your taste and preference—and of course, the season. That's why today, we're exploring what I consider the perfect fall treat: pumpkin chocolate chip cookies that are spicy, buttery, and totally delish alongside a cup of hot cider.
Cozy season is here, y'all—and there's no better way to celebrate than with fuzzy socks, hot beverages, and sweets that warm you from the inside out. Ever since making Sarah Kieffer's pan-banging chocolate chip cookies, I've been obsessed with the extra thin and chewy cookie. And I won't lie: it's my absolute preference over a thicker cookie. I love how crisp the edges get as the cookies spread in the oven. The chewy middles with shards and pools of dark chocolate add that rich satisfaction while being balanced out with extra salt. For me, this is the ultimate chocolate chip cookie.
Ingredients for Chewy Pumpkin Chocolate Chip Cookies
Browned Butter. Nothing screams cozy fall baking like browned butter. You'll notice its nutty flavor, and it adds a delicious dimension of flavor to your baked goods.
Brown and White Sugar. As you may know, both sugars serve different purposes with chocolate chip cookies. Brown sugar helps with chewiness while white sugar adds a crispy texture.
Pumpkin Puree. The pumpkin adds moisture and the slightest sweet flavor while also giving the cookies that extra autumn orange tint. Note: Do NOT use pumpkin pie mix. Make sure you are using only pumpkin.
All-Purpose Flour. I highly recommend measuring with a scale when baking for 100% accuracy. If you don't have a scale, make sure to fluff up your flour, spoon it into your measuring cup without patting it down, and then scrape off the top to level.
Pumpkin Spice. While this is a chocolate chip cookie, the pumpkin spice shines through in this recipe, adding warmth and spice to the cookies. You can make your own or use store-bought.
Chocolate. For chocolate chip cookies, I prefer using chopped bar chocolate over chocolate chips. Chocolate chips are made with stabilizers which prevent them from spreading or melting as a chocolate bar would. Use good-quality chocolate and chop both ways on the diagonal, both into large chunks and little shards that will spread throughout the entire batter of the cookies.
Salt. I tend to add extra salt when making other baked goods because I prefer desserts that lean slightly on the savory/salty side. Use the salt in the batter and add flaky salt over the top when the cookies come out of the oven. Bonus: It helps bring out the chocolatey flavor.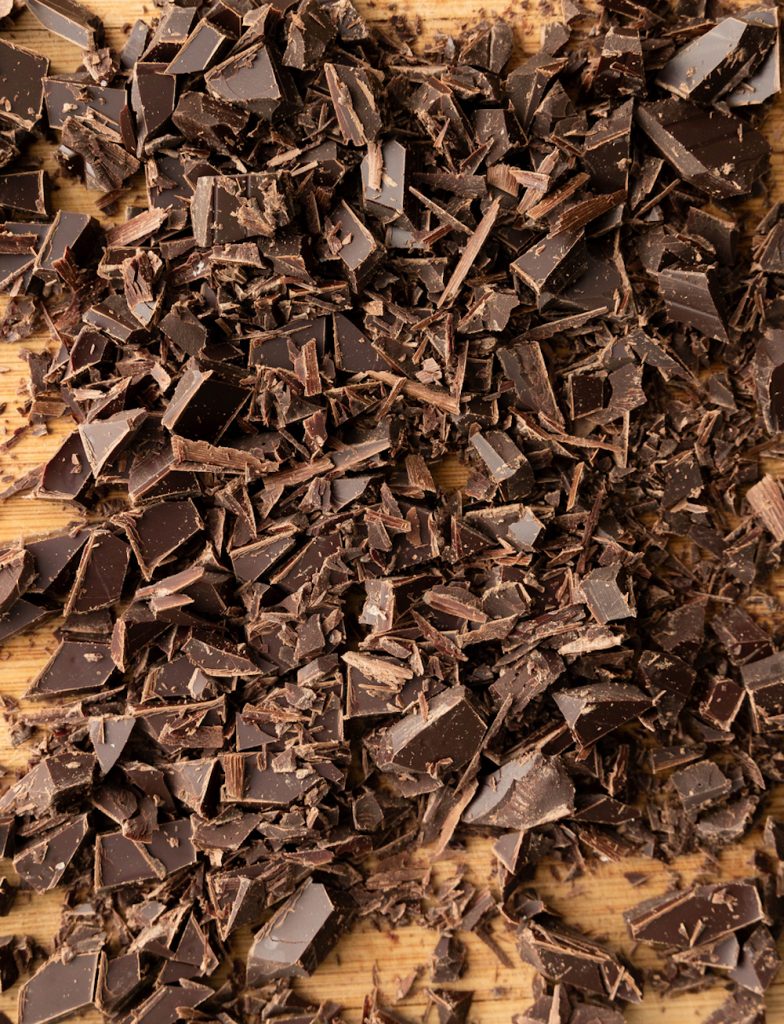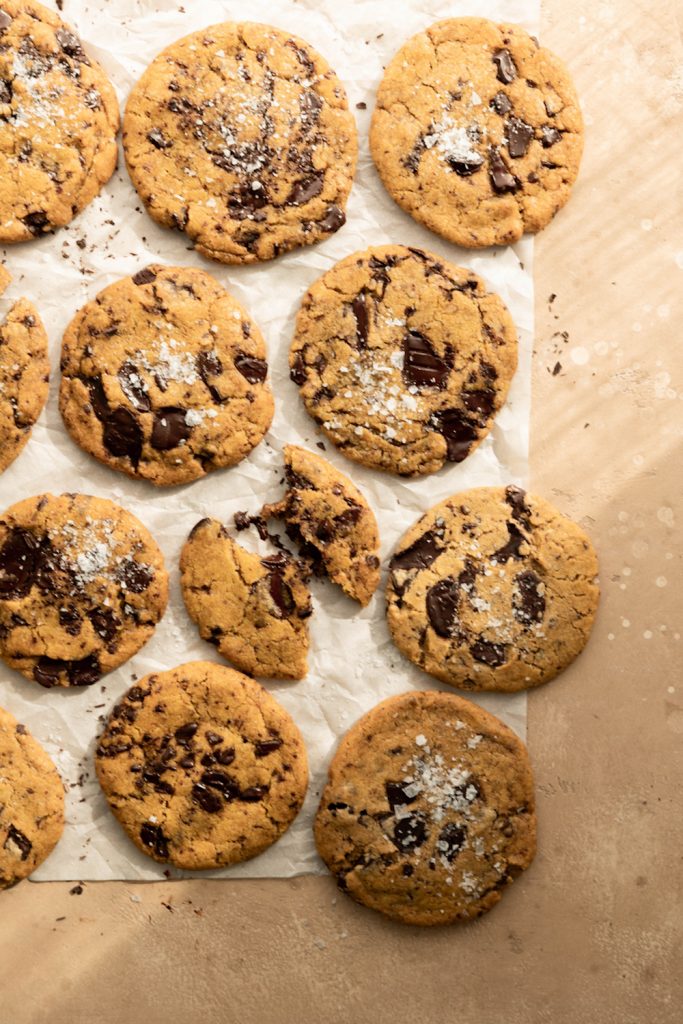 How to Bake Better Chocolate Chip Cookies
I've learned a lot from all the chocolate chip cookie recipes I've made over the years. This is how to ensure you're making the very best batch:
Salt is your friend. The easiest way to bring out the best in your chocolate chip cookie is to incorporate salt into each layer. Salt the dough and add a little flaky salt under the cookie as well as over the cookie when they come out of the oven. If you love your sweets sweet, go ahead and ignore this advice. But for the best balance of flavor, don't skimp on the salt.
Chill the dough. I tested this recipe by baking the dough right away as well as after chilling the dough for an hour. There was a noticeable difference in flavor and texture between the batches, and I liked the chilled version better. Letting the dough rest in the fridge ensures proper hydration of the dough and helps everything meld together. Because this recipe doesn't use an egg, chilling also helps maintain structure during the bake so that the cookie doesn't spread too much.
Don't overdo the chocolate. I know that sounds like wild advice for a CCC, but especially when chopping from a bar of chocolate, it's very easy to end up with bites that are basically just chocolate. And while that's not really a problem—especially for my fellow chocolate lovers—these are cookies. We want to taste the cookie-ness of them in every bite. We also want the warm spices in these pumpkin chocolate chip cookies to shine—so exercise a little restraint with the chocolate.
Tip: To ensure you get aesthetic (and tasty) pools of chocolate on top of each cookie, once you've balled up your dough, dip the tops in chopped chocolate pieces.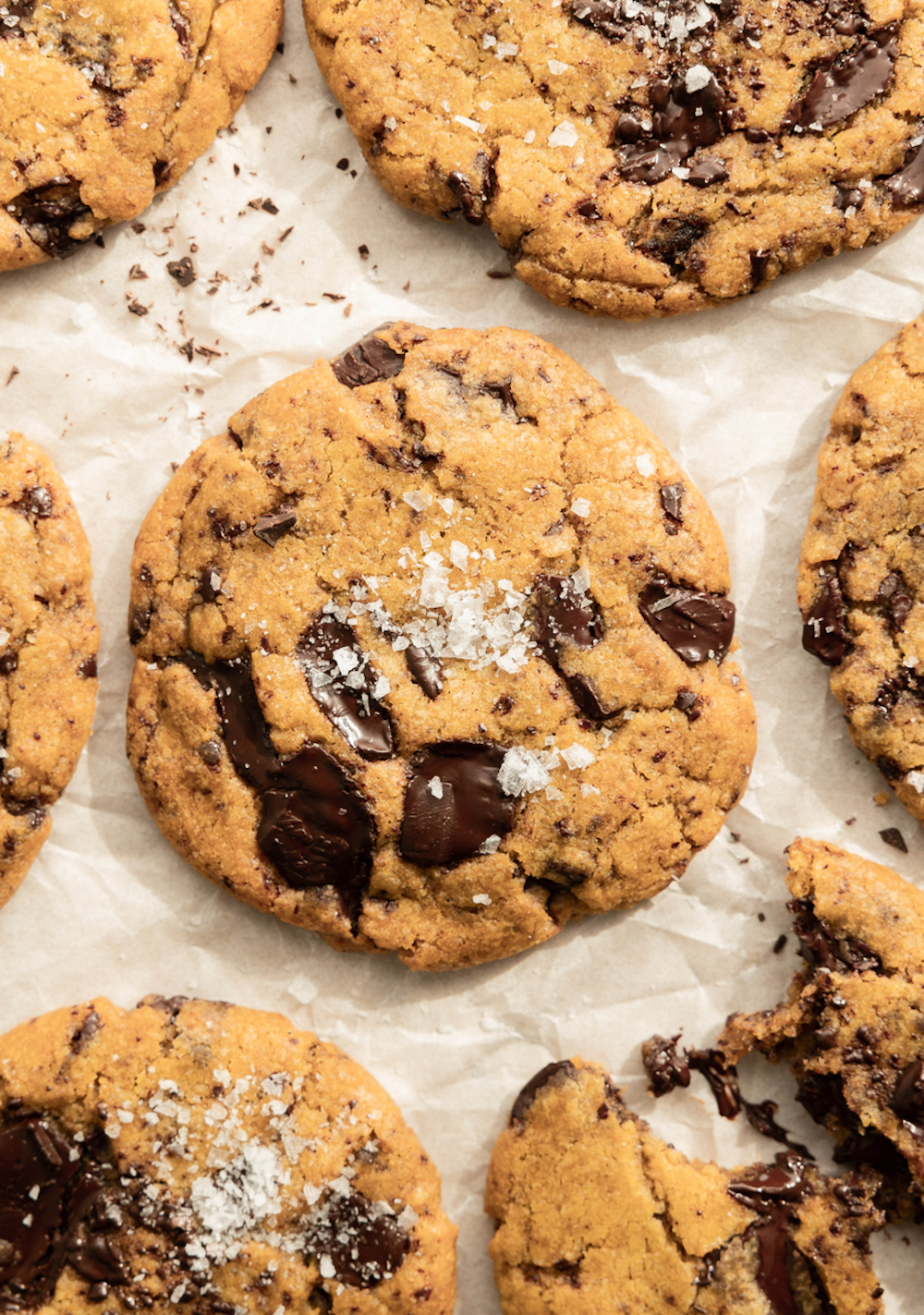 Storage Tips
Chocolate chip cookies will last a week when stored in an airtight container. Alternatively, you can bake a few cookies and freeze the dough for fresh cookies ready at a moment's notice. Here's how to make it happen:
Prepare the cookie dough as written. Scoop the dough into balls onto a parchment-lined cookie sheet in a single layer. Place the cookie sheet into the fridge to chill for at least an hour, the move to the freezer and freeze until the dough is solid. Once the dough is frozen, remove the dough balls from the cookie sheet and place into a Ziplock freezer bag or an airtight container. Frozen dough balls can be stored for up to two months.
Print
Description
Spicy, sweet, and of course—chocolatey. These little delights are the perfect fall treat.
---
1/2

cup

butter, browned and cooled to room temperature

100

grams

brown sugar (1/2 cup)

80

grams

white sugar (1/4 cup + 2 tablespoons)

60

grams

pumpkin puree (1/4 cup)

185

grams

flour (1 1/2 cups)

1/2 teaspoon

baking soda

1/2 teaspoon

salt

1 1/4 teaspoon

pumpkin pie spice

50

grams

chopped dark chocolate
---
In a small stovetop pot over low heat, add the stick of butter. Let the butter melt, it will soon start to bubble and make splattering sounds. Stir occasionally, keeping your eye on the butter. As the butter stops bubbling, stir occasionally until it just starts to take on a brown color. It's very easy to burn the butter, so keep a close eye on it. Remove from heat as soon as color starts. Pour butter into a small bowl and let cool to room temperature.

In a large bowl, add the cooled brown butter, brown sugar, and granulated sugar. Stir to combine with a spatula until light in color. Add the pumpkin puree and stir until the sugar granules have dissolved. The texture of the wet ingredients should be light and smooth.

Add the flour, baking soda, salt, and pumpkin spice to the bowl. Slowly incorporate the dry ingredients into the wet. The dough will feel dry at first, so continue to press the flour into the wet ingredients until smooth. (Sometimes I'll use my hands here to help combine everything.)

Once the dough comes together, add the dark chocolate and stir to combine. Once the dough is combined, using a tablespoon scoop, scoop out 1 ½ tablespoons of dough and roll into a ball. Flatten slightly between your palms and place onto a parchment-lined baking sheet. Repeat until all the dough has been scooped. Cover with plastic wrap or a parchment sheet and a kitchen towel.

Place dough into the fridge and chill for about an hour.

Preheat oven to 350 F. Line a baking sheet with parchment paper and place cookies at least 2 inches apart. You may bake in two batches to prevent crowding the pan.

Bake for 10 minutes. At the 10-minute mark, tap the baking pan onto the oven rack to de-puff the cookies. Bake for another 2 minutes, then tap again, bake another 2 minutes, then tap again, for a total bake time of 14-15 minutes.

Remove from oven and tap once more on a kitchen towel over the counter. Let cookies cool for five minutes on the pan, then transfer to a cooling rack and cool completely.

Top with salt, enjoy!