There's simply no way to go wrong with bruschetta. If you're not familiar, bruschetta is a simple combination of sweet and savory flavors that typically tops a toasted slice of baguette. Our ricotta and plum bruschetta perfectly combines creamy ricotta, juicy plums, and fresh mint leaves, all nestled on a crispy grilled baguette. It's an appetizer that will be in my recipe book for years to come.
Tomatoes, step aside. This ricotta and plum bruschetta might make you forget about the classic summer fruit staple. Just kidding—but it is a great alternative to enjoy during the summer. When developing our list of grilling recipes, we knew this recipe would be a fan favorite. It gets bonus points for comprising only five ingredients and consists of things you can easily snag on your next grocery store trip. This vibrant toast is sure to impress no matter the occasion.
What makes this recipe different from traditional bruschetta?
This ricotta and plum bruschetta is far from typical due to the unique combination of flavors and textures. Classic bruschetta often combines tomatoes, basil, and garlic, with no sweet elements. This fusion of sweet and savory flavors is vastly different—using rich ricotta cheese as a base for juicy ripe plums. The unexpected twist is something your guests definitely won't see coming. But trust me: they're going to love it.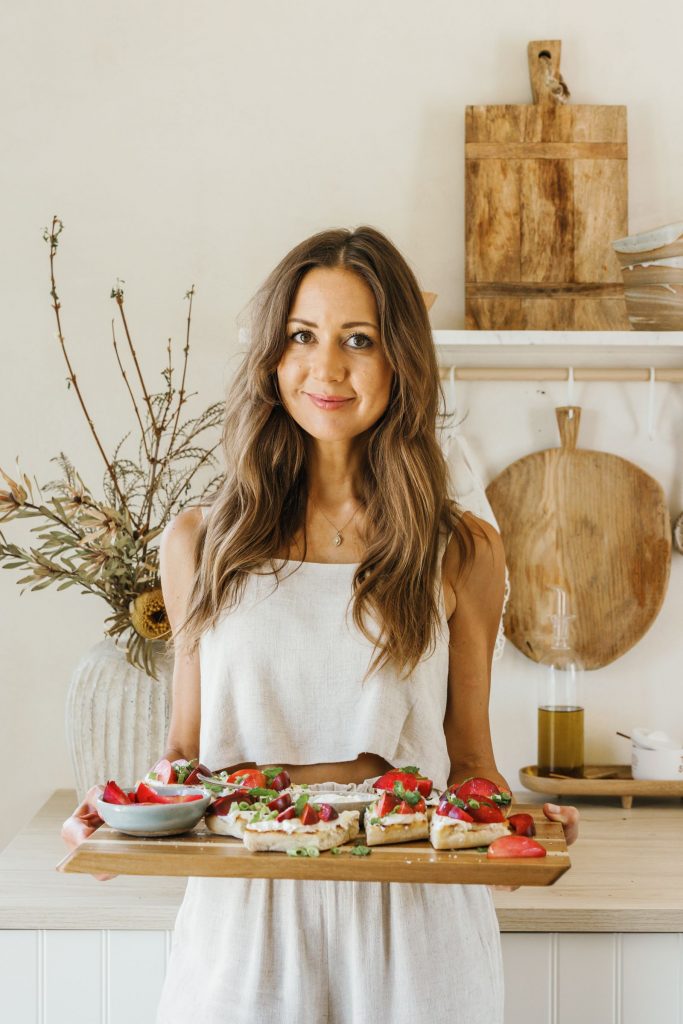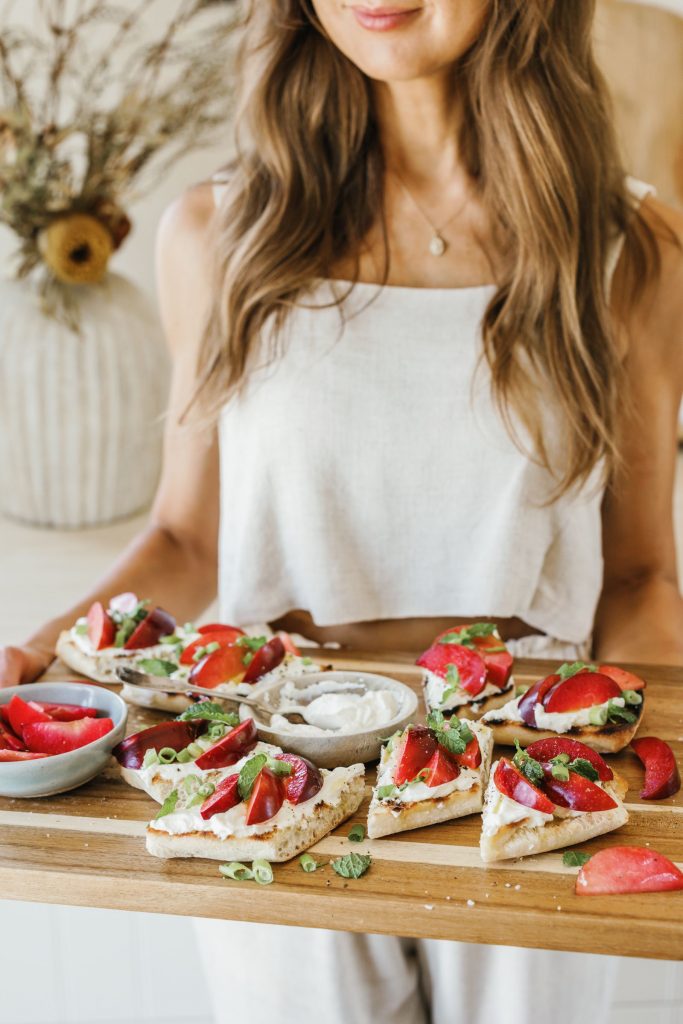 Ingredients for Ricotta and Plum Bruschetta
Plums. Be sure to pick the ripest plums for the juiciest flavor.
Baguette. This is ideal to complement the light and fresh bruschetta, but any bread or loaf would work in a pinch.
Ricotta. This is the best twist on a classic I've ever tried.
Green onions. Green onions complement the creamy and sweet flavors of the bruschetta while also giving the topping the perfect crunch.
Mint leaves. Mint leaves are ideal for sprucing up just about any dish or cocktail.
Other Simple Bruschetta Recipes
Easy Bruschetta
If simple is your game, go with the easiest bruschetta recipe of them all.
Bruschetta with Slow-Roasted Tomatoes and Ricotta
Slow-roasted tomatoes deliver a flavor like no other, and when paired with ricotta, they're simply incredible.
Sweet Potato Crostini
For lovers of all things sweet potatoes, these crostini are exactly what you need.
Kale and Cannellini Bean Crostini
A healthy, tomato-less bruschetta option.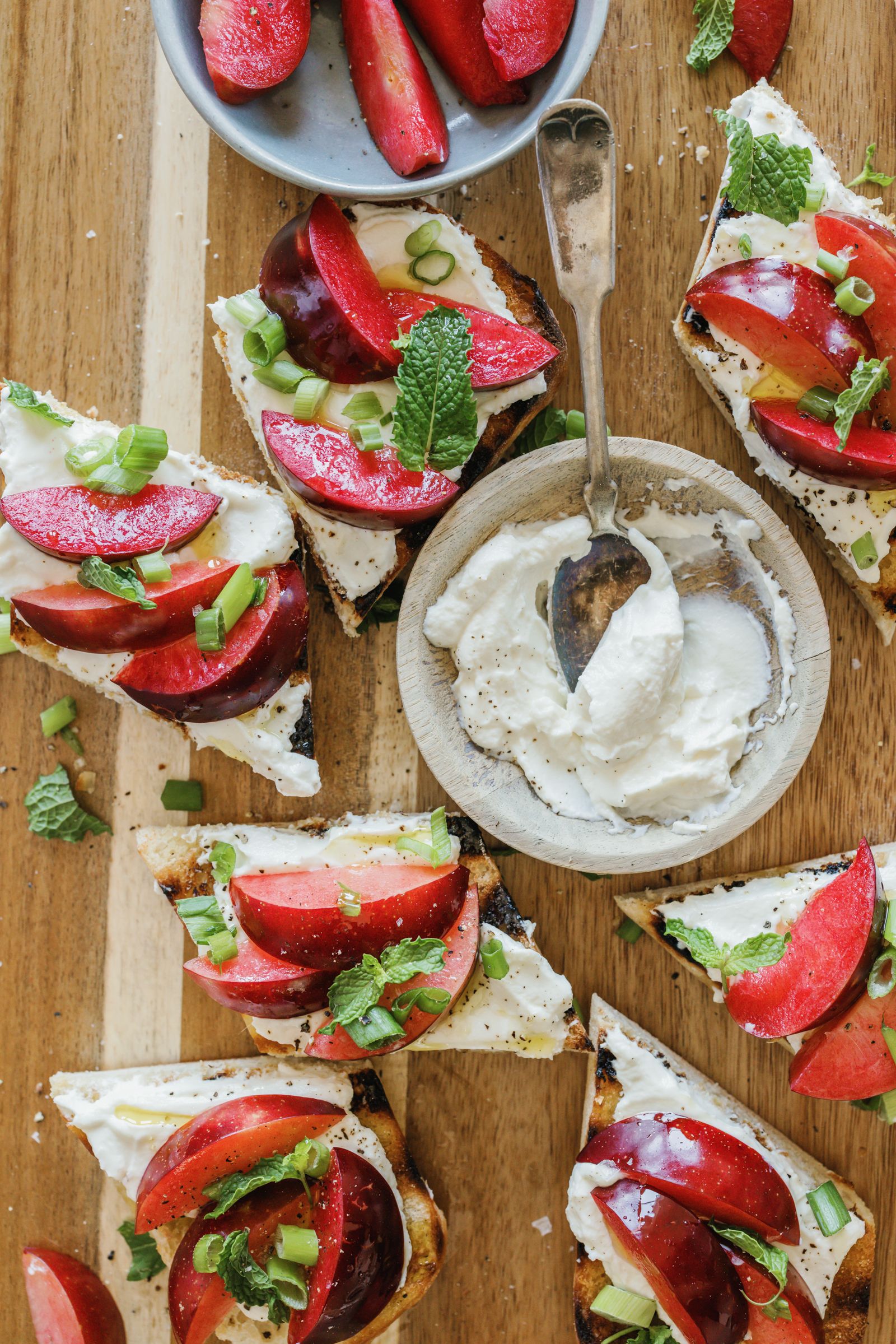 Print
Description
This ricotta and plum bruschetta takes a traditional topping to the next level with five in-season ingredients and perfectly balanced flavors.
---
Green onions, sliced on diagonal

3

plums, sliced

1

–

2

tablespoons olive oil
kosher salt & freshly ground pepper
baguette, sliced in half lengthwise

8

ounces

of whole milk fresh ricotta
fresh mint leaves
---
In a bowl, toss together onions, plums, and olive oil. Season with salt and pepper.
Heat grill to medium-low. Brush the cut sides of the baguette with oil. Grill, cut sides down, until bread is toasted and golden brown.
Let cool for a minute, then spread ricotta over both pieces. Sprinkle lightly with sea salt.
Cut each half diagonally into six pieces. Arrange on a wood board, and top with the plum salsa. Garnish with fresh mint. Eat!