If you love hosting as much as we do, you've felt that familiar excitement that comes with setting the table for a big event, holiday, or celebration. It's a joy that combines seasonal elements, the latest trends, and your personal design touch to create a gorgeous table that makes your guests feel welcome. The only question is, where do you start? Ahead, we're sharing some of our favorite table-setting ideas for every celebratory occasion. From basic settings for a casual baby shower to formal ideas for a holiday meal, consider this your one-stop shop for table-setting inspo that you can use to elevate any celebration.
Table Setting Ideas for Every Occasion
Let's be honest: as fun as it is, setting the table can also be a challenge. Personally, I find myself going back and forth between the smallest details that I know my guests probably won't even notice. Does this linen napkin work? Will a pop of color liven things up? Are these candles totally ugly, or have I just been looking at them for too long? You know the drill. I think I speak for all of us when I say that having a couple of guiding principles is never a bad thing when it comes to setting the table. There's inspiration everywhere, and we've taken it upon ourselves to cull the best of it together in this handy guide for your musing.
While trends are constantly changing (as are your personal tastes), these tablescape ideas are the perfect springboard for sparking creativity. And whether you've got an occasion coming up or you're just looking for eye candy to swoon over, we've got you covered with ideas for any celebration in your life that require an equally-joyous tablescape.
Basic Table Setting Ideas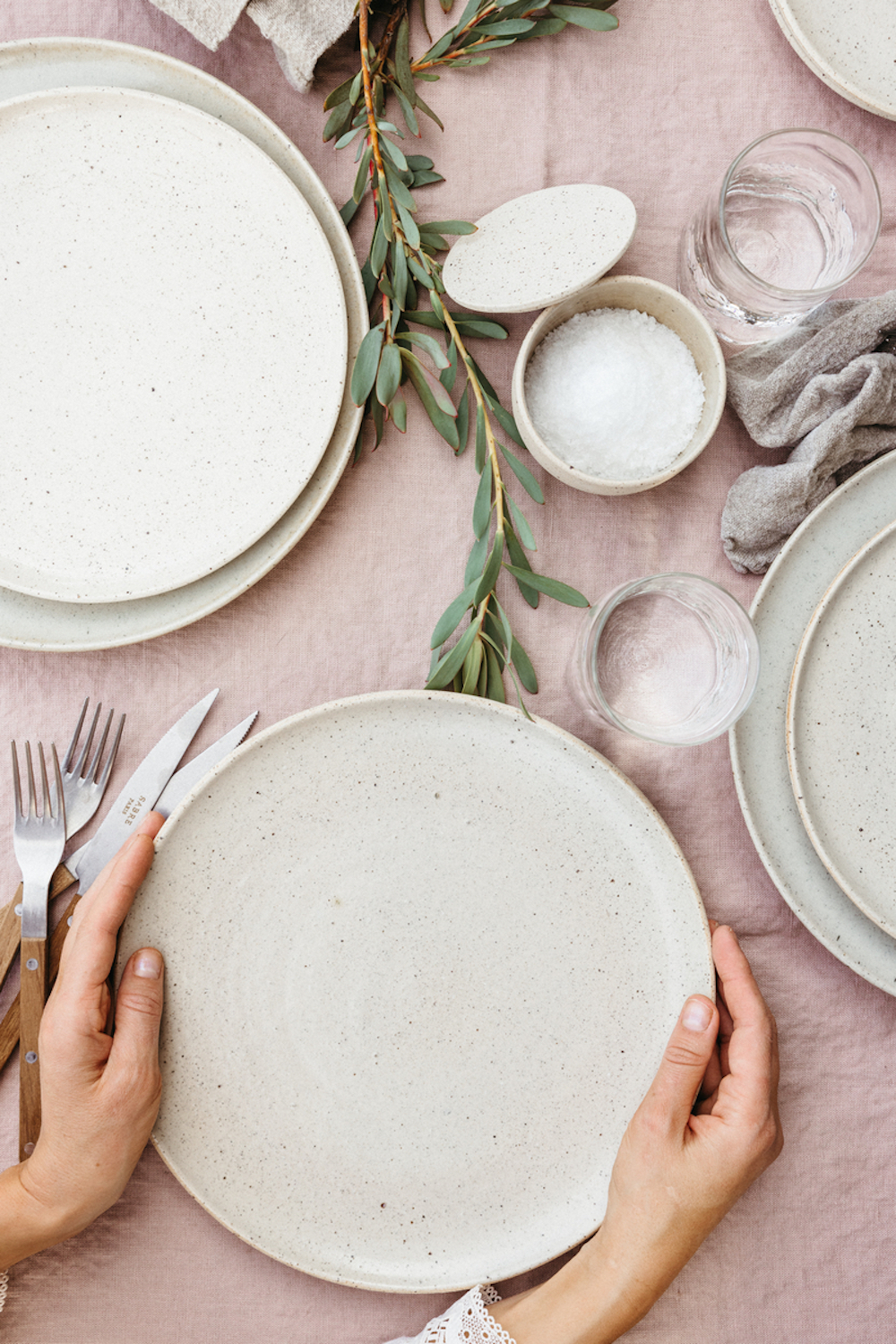 1. Incorporate Handmade Ceramics
Weaving wabi-sabi beauty into your table is a wonderful way to spark conversation and make your table stand out. It can also lean more on the more casual side, which is a plus when you're not wanting a perfectly uniform look.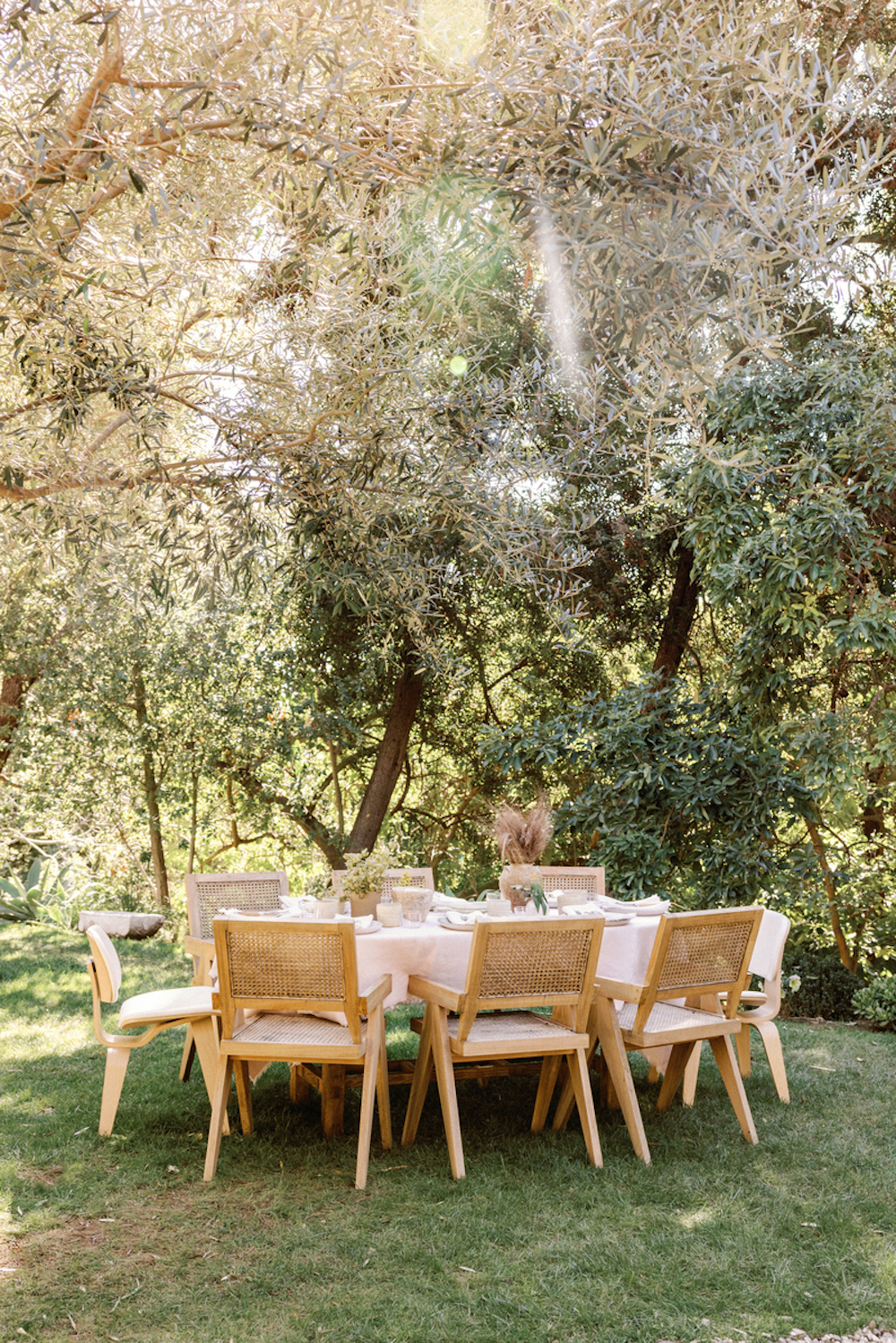 2. Let Nature Lead the Way
Filling your table with branches from the garden is a simple and beautiful way to add a natural element to your table. Olive branches, birch branches, eucalyptus branches, you name it. On that same note, greenery of all shapes and sizes are always welcome at the table.
More inspiration: Athena Calderone shares tips for styling decorative branches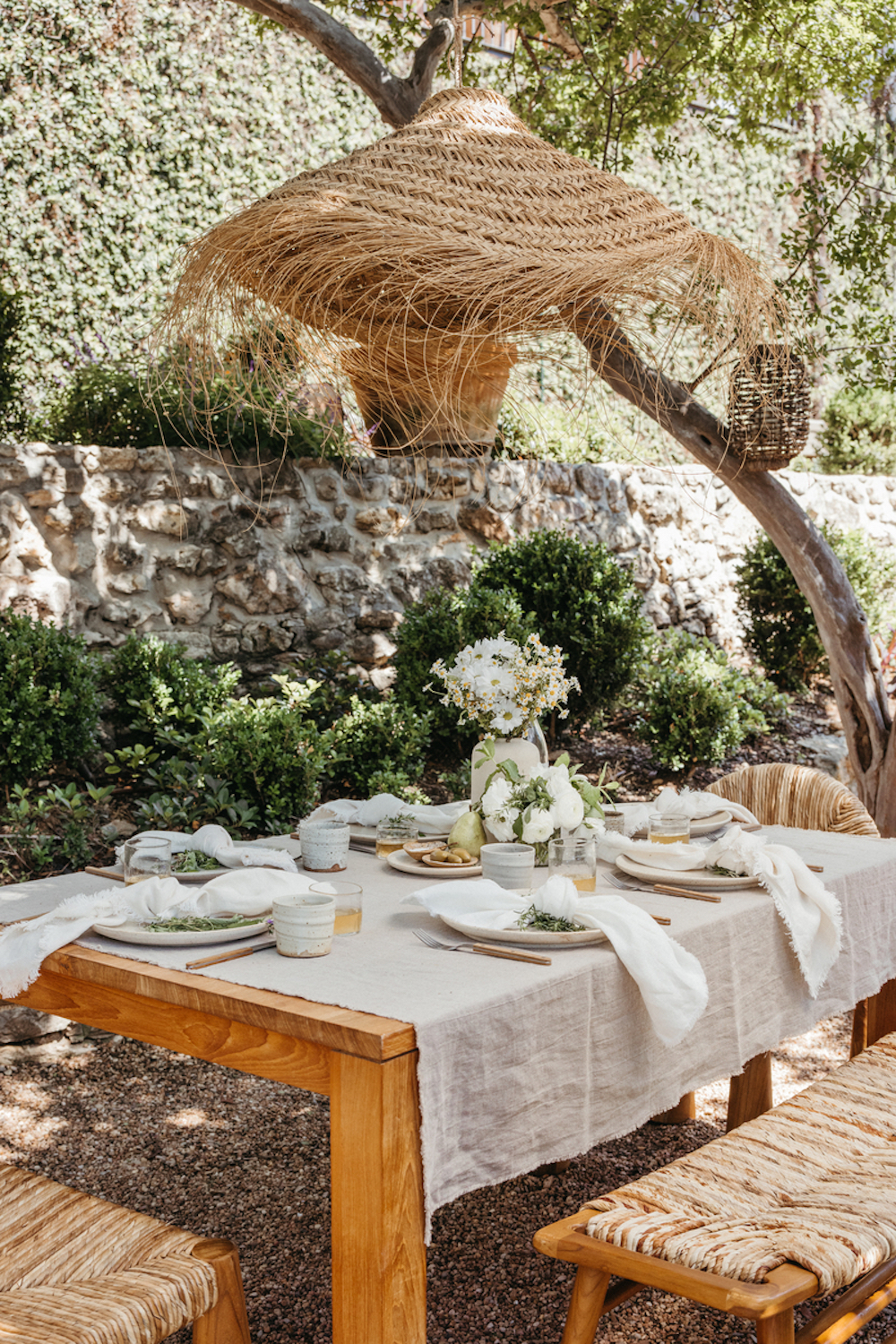 3. Embrace Neutrals
Neutral colors combined with textural elements make for a simple-yet-welcoming table that's lovingly full of life. It's natural, simple, and full of timeless beauty.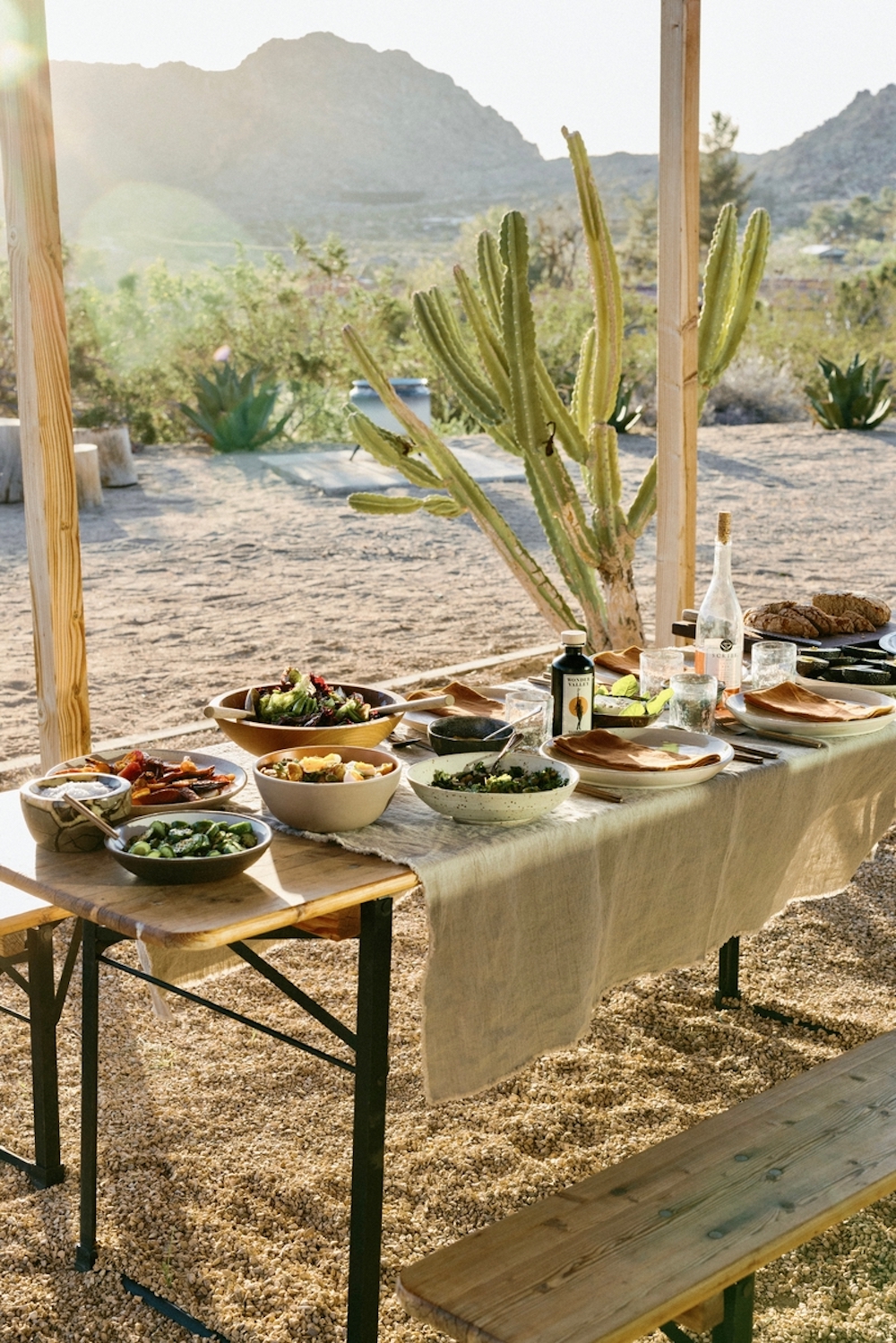 4. Take It Outside
This may seem obvious, but setting your table outside is a lovely way to embrace nature's beauty. Setting a table al fresco is one of the easiest ways to keep it simple while reaping the benefits of mother nature's charming allure.
More inspiration: How Camille is styling her table for Mother's Day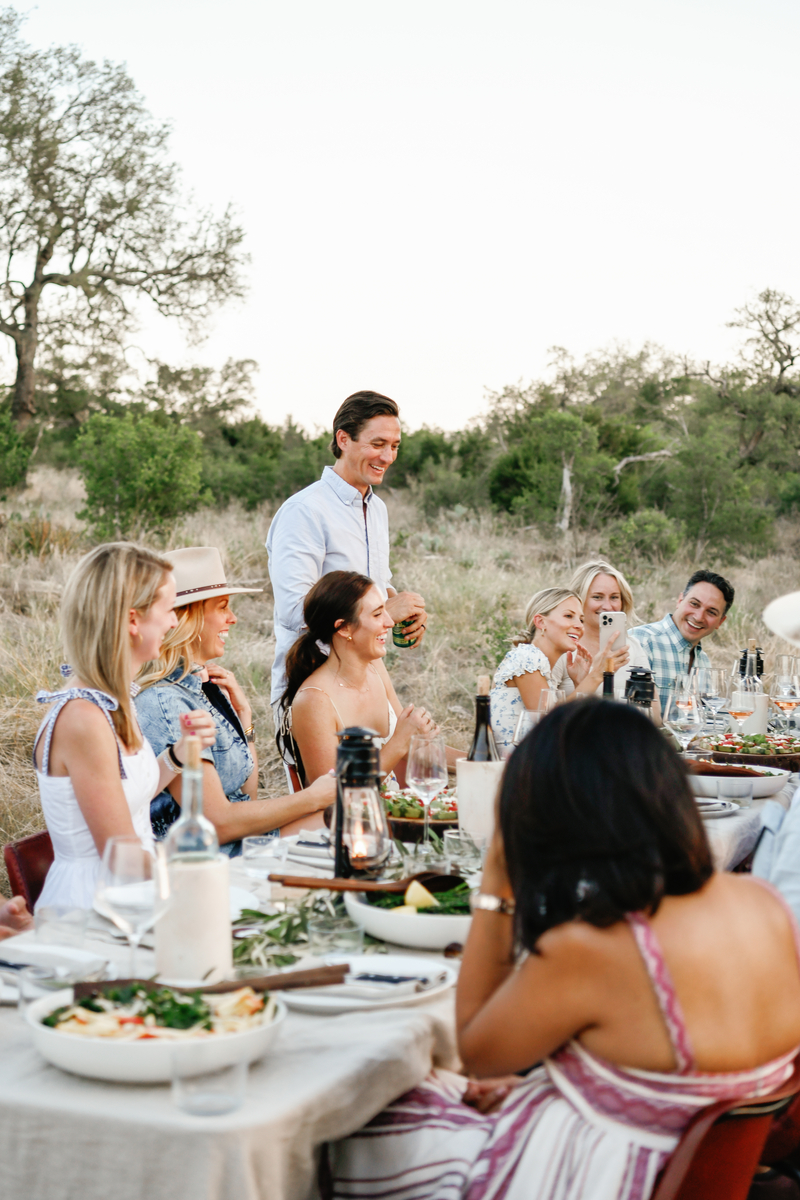 5. Mix and Match
Just because you're going for simple doesn't mean your table can't be special. If you're low on dinnerware or don't have enough matching glasses, thrift for coordinating pieces that each bring their own character to the table (literally). The key is to be intentional—found objects shine when the tablescape feels cohesive.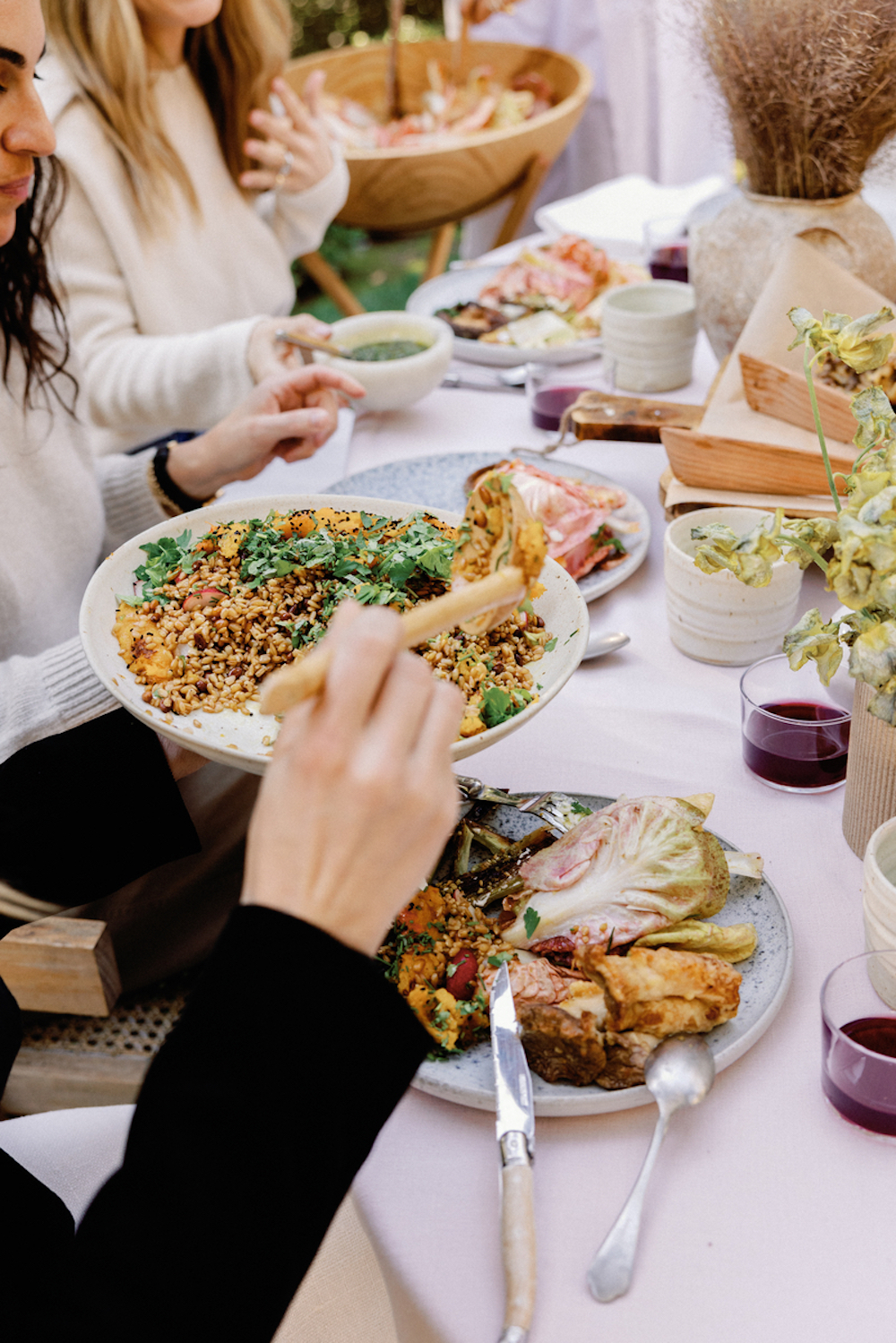 6. Family-Style Dining
Everyone has their own style, but I've always preferred family-style dining for a celebratory occasion. If there's not too much dishware to include, scatter your culinary offerings around and allow the food to naturally flow around the table right alongside the conversation.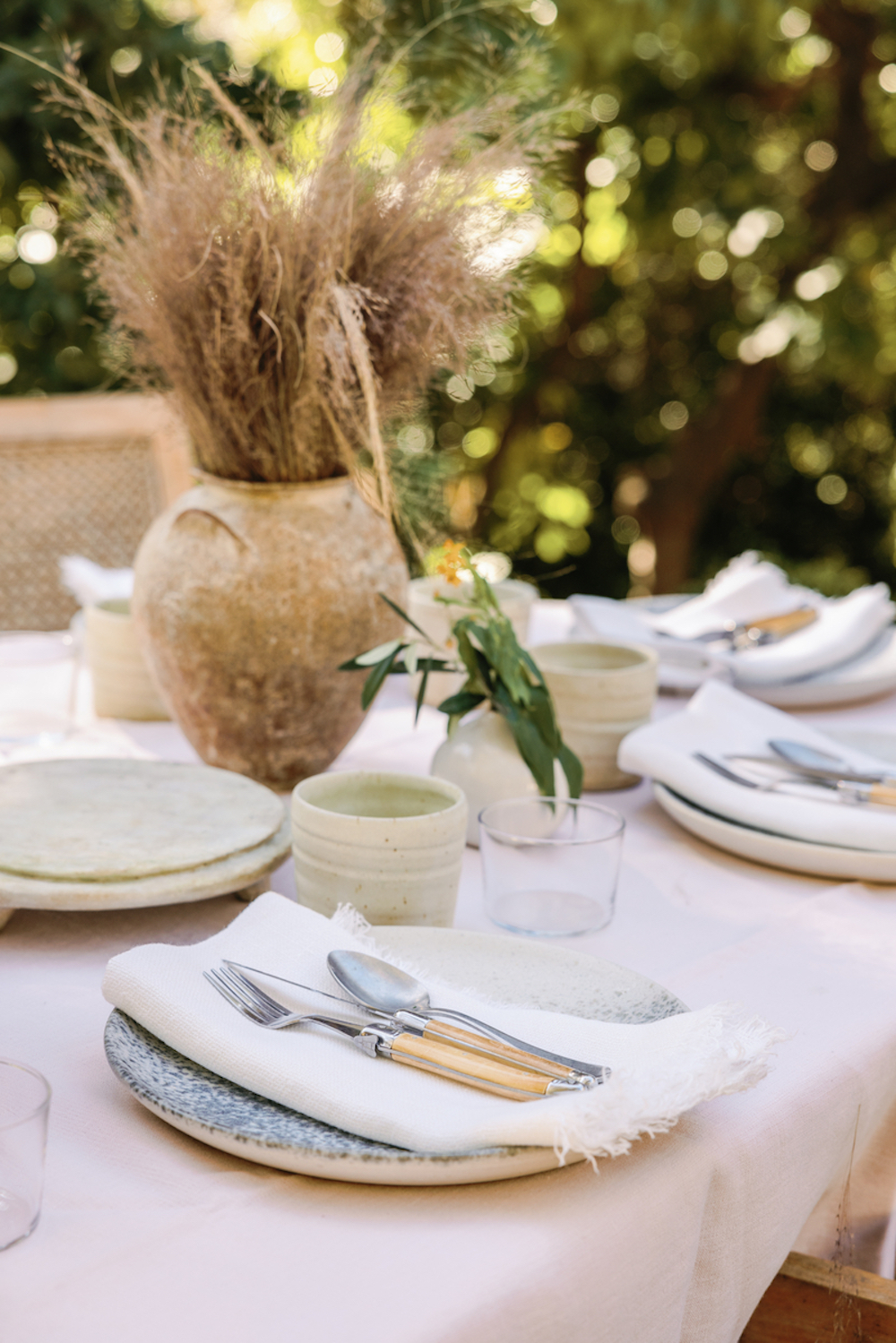 7. Add Touches of Green
Pops of nature scattered throughout your table will evoke immediate garden party vibes. Opt for florals, small plants, or echo the color in your linens or dinnerware. It's an easy way to make a basic table setting special.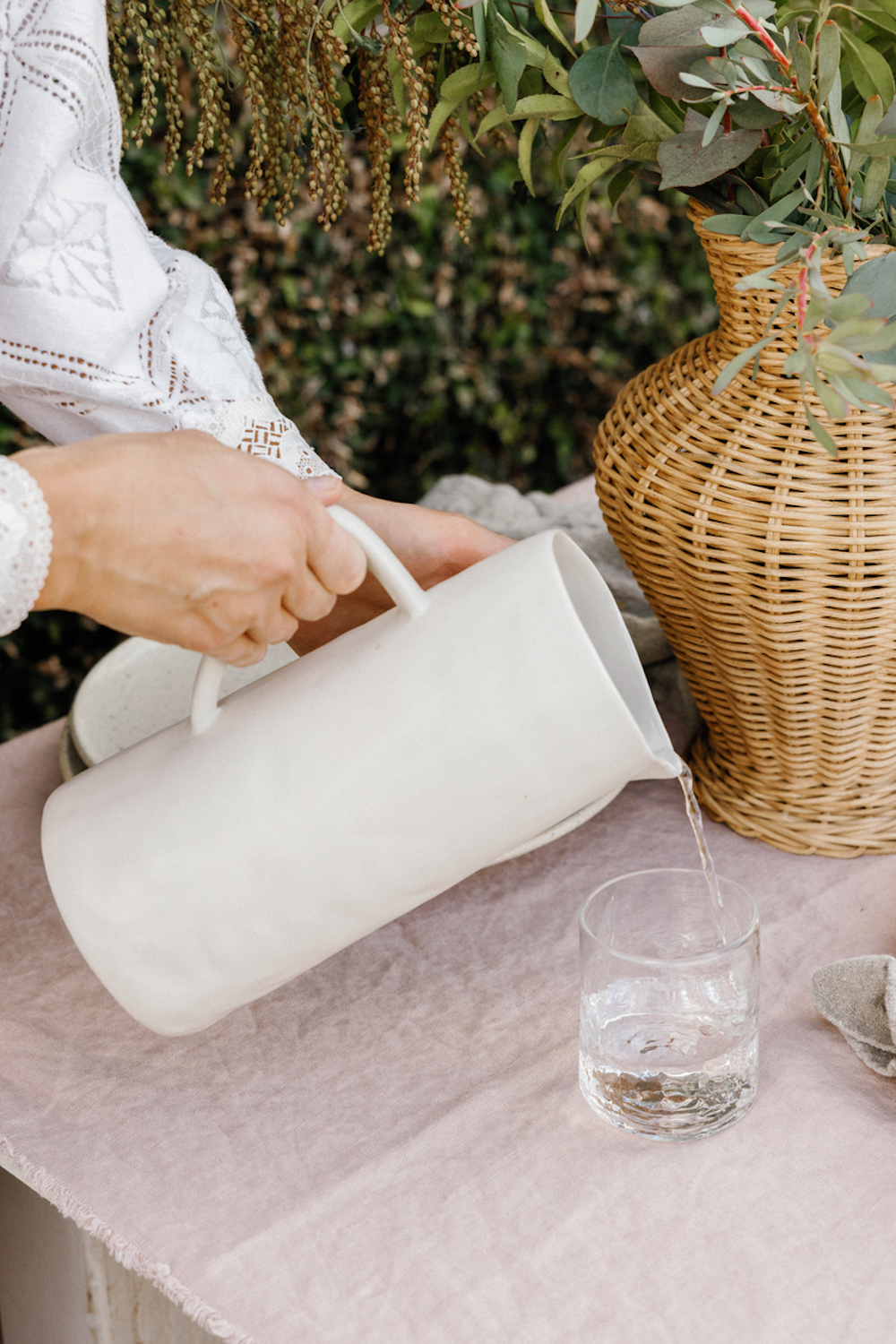 8. Carafe Your Beverages
To save you time and effort in the long run, using carafes for the beverages you're serving is a true savior. Whether it's water, wine, or a fun cocktail, pouring your offerings into a carafe will keep you from worrying about refilling glasses throughout the meal. Plus, chic pitchers add shape and dimension to your table setting.
Casual Table Setting Ideas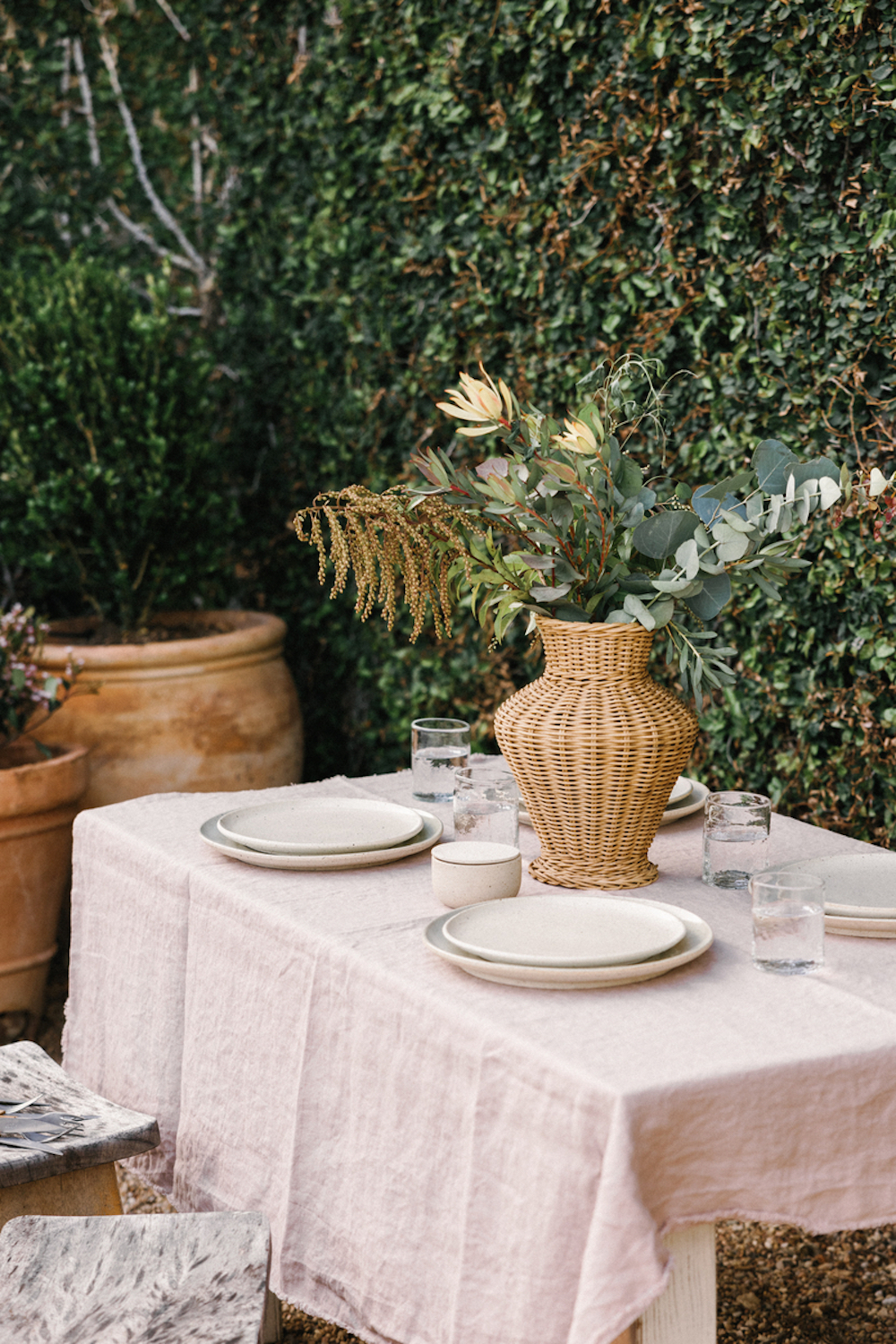 9. Start With Linen
Laying the groundwork with a simple linen tablecloth is a casual-yet-elevated way to infuse natural elements into your table. Toss it over your table, bunch it up in places, and let nature take the reins.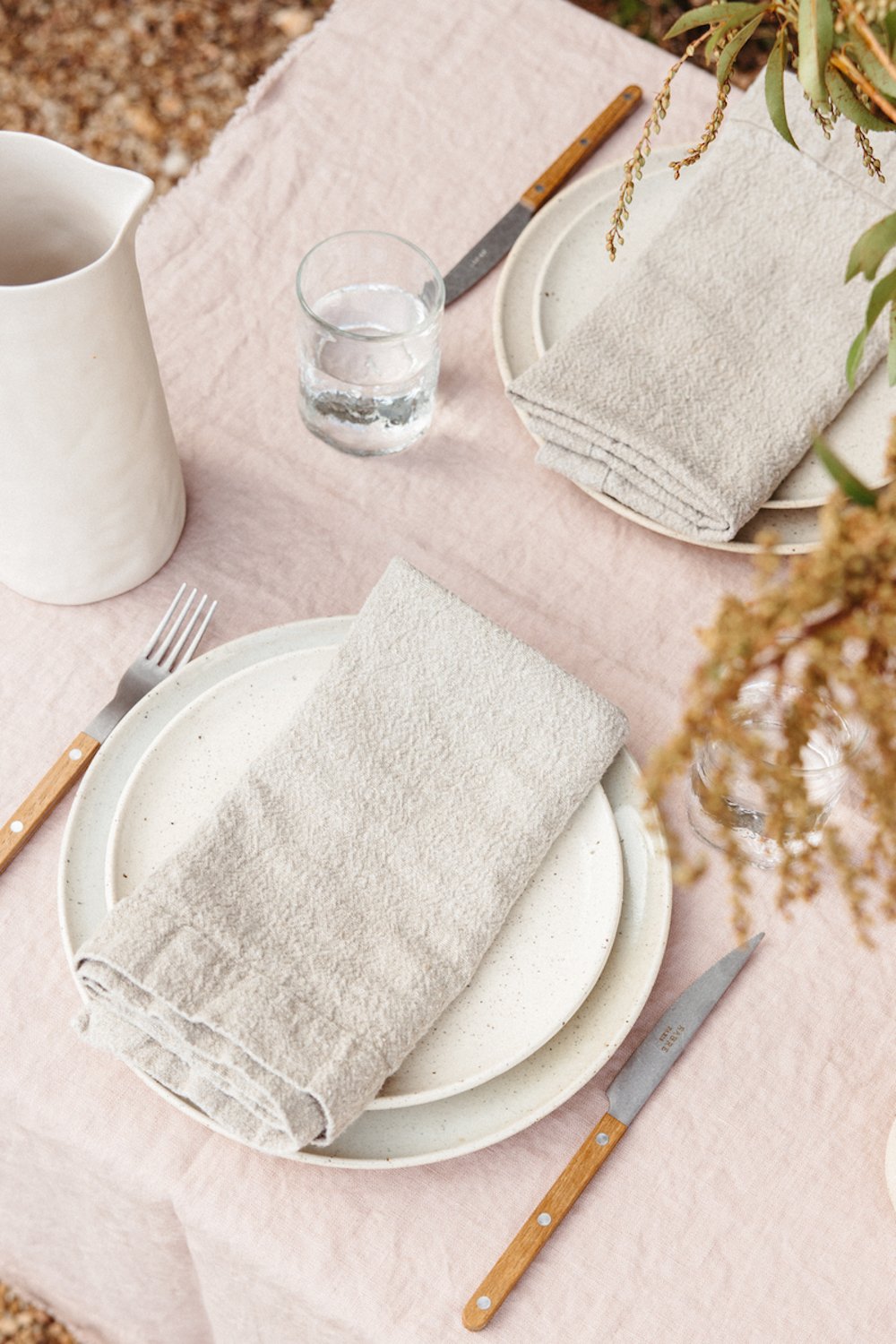 10. Keep Place Settings Simple
Just because you have it in your inventory, each setting doesn't need all the fanfare of a formal place setting. Keep it minimal to allow your pieces to showcase their beauty. This could be as simple as a salad and dinner plate, flatware, napkin, and a goblet that works equally well for water and wine.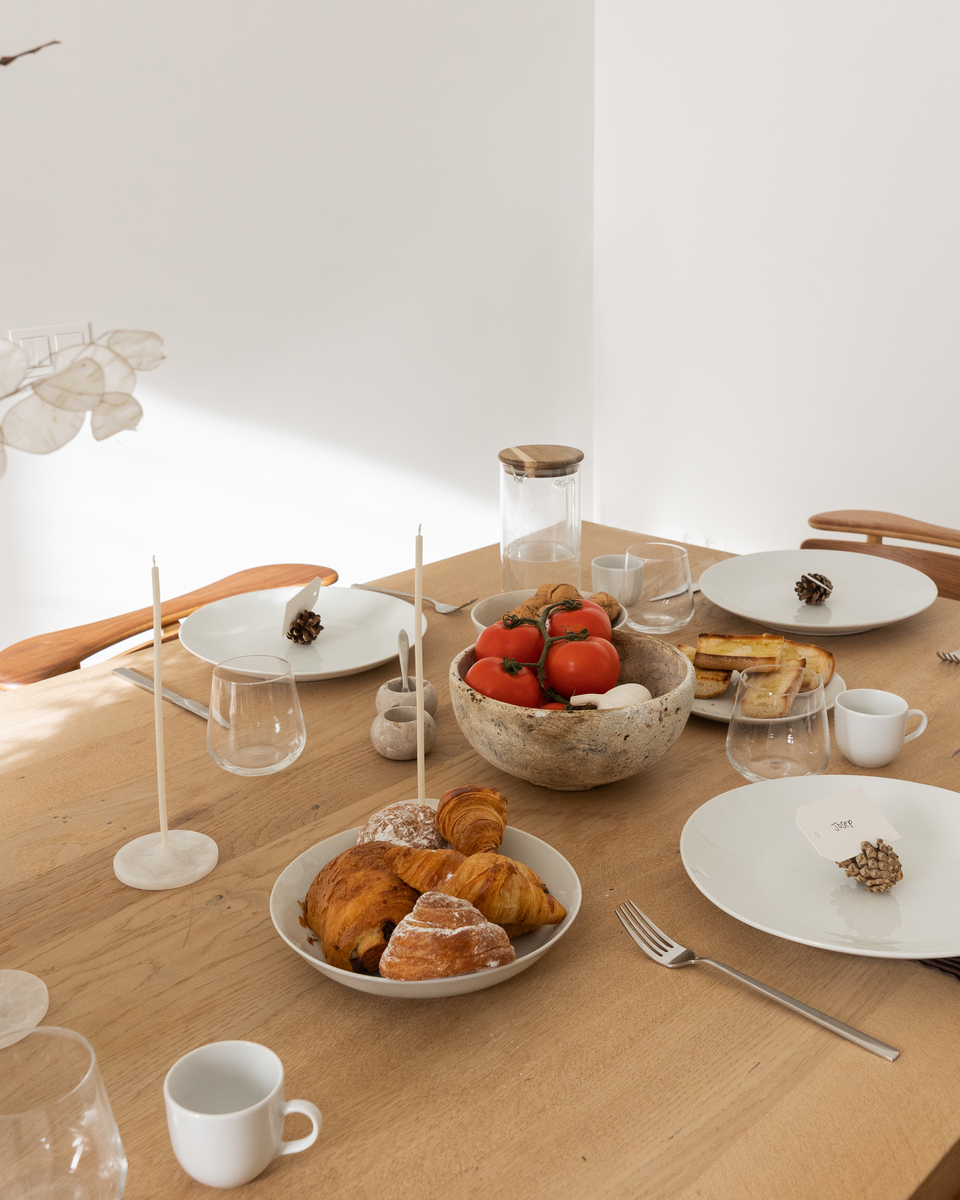 11. Lean Into Scandi Vibes
If minimal-yet-cozy sounds up your alley, you can always turn to Scandinavian design inspo to lead the way. The key here is to think simple. Start with a simple linen tablecloth, neutral colors, and handmade ceramics, then let nature come through on its own. You'll be amazed by the shining beauty inherent in a few simple wildflowers.
More inspiration: A Barcelona dinner party with Devon Liedtke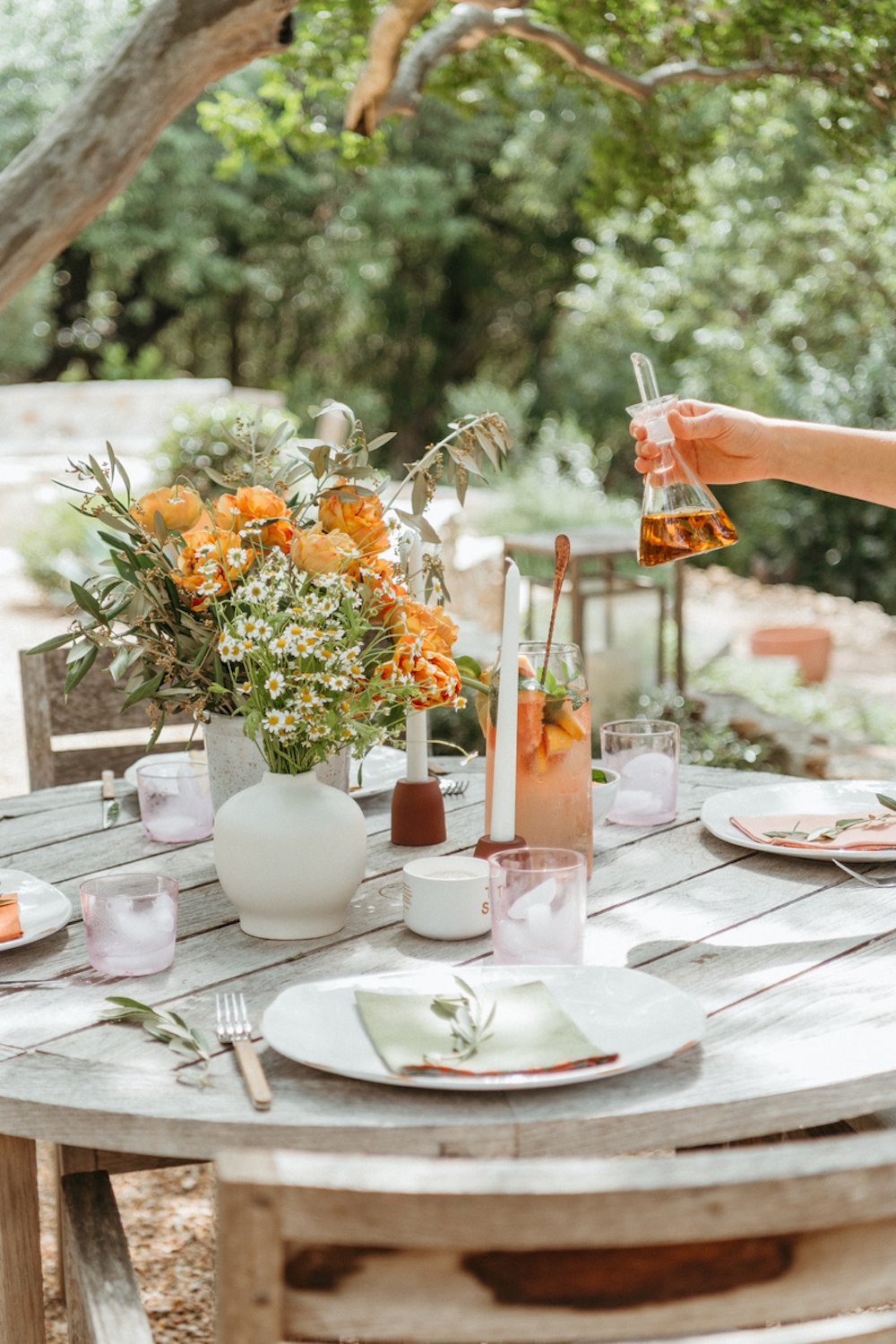 12. Keep It Earthy
Earthy elements are a soul-soothing way to infuse nature's beauty into your table. Incorporating organic materials like rattan, wood, and other natural fibers can help balance your table with an easygoing feel. A natural and neutral placemat means you don't have to waste a lot of time color-matching your table elements.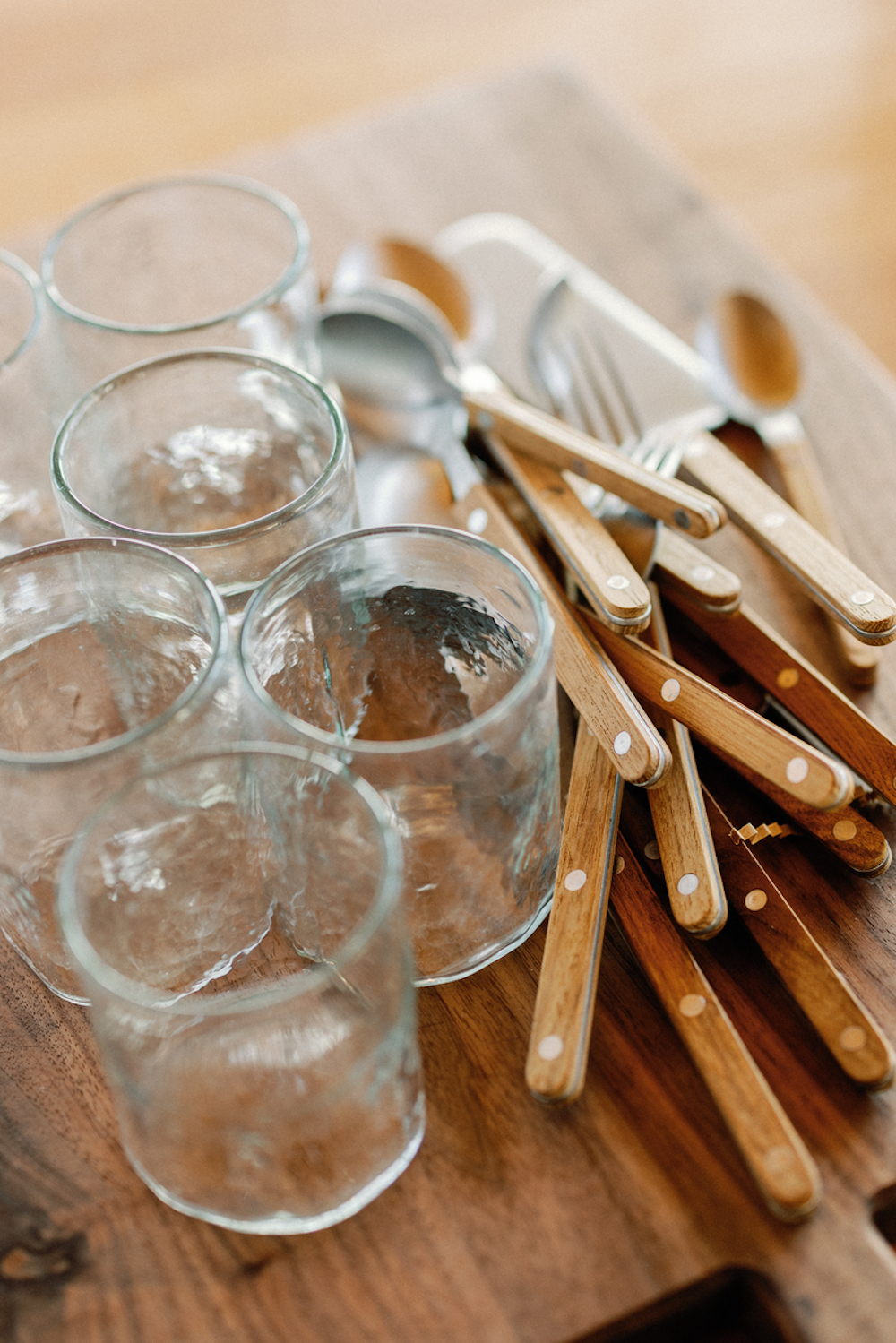 13. Utilize Recycled Glassware
Handmade recycled glassware is all the rage right now—both a win for the planet and your table's look and feel. Its natural beauty and handmade touch is truly timeless and just plain gorgeous.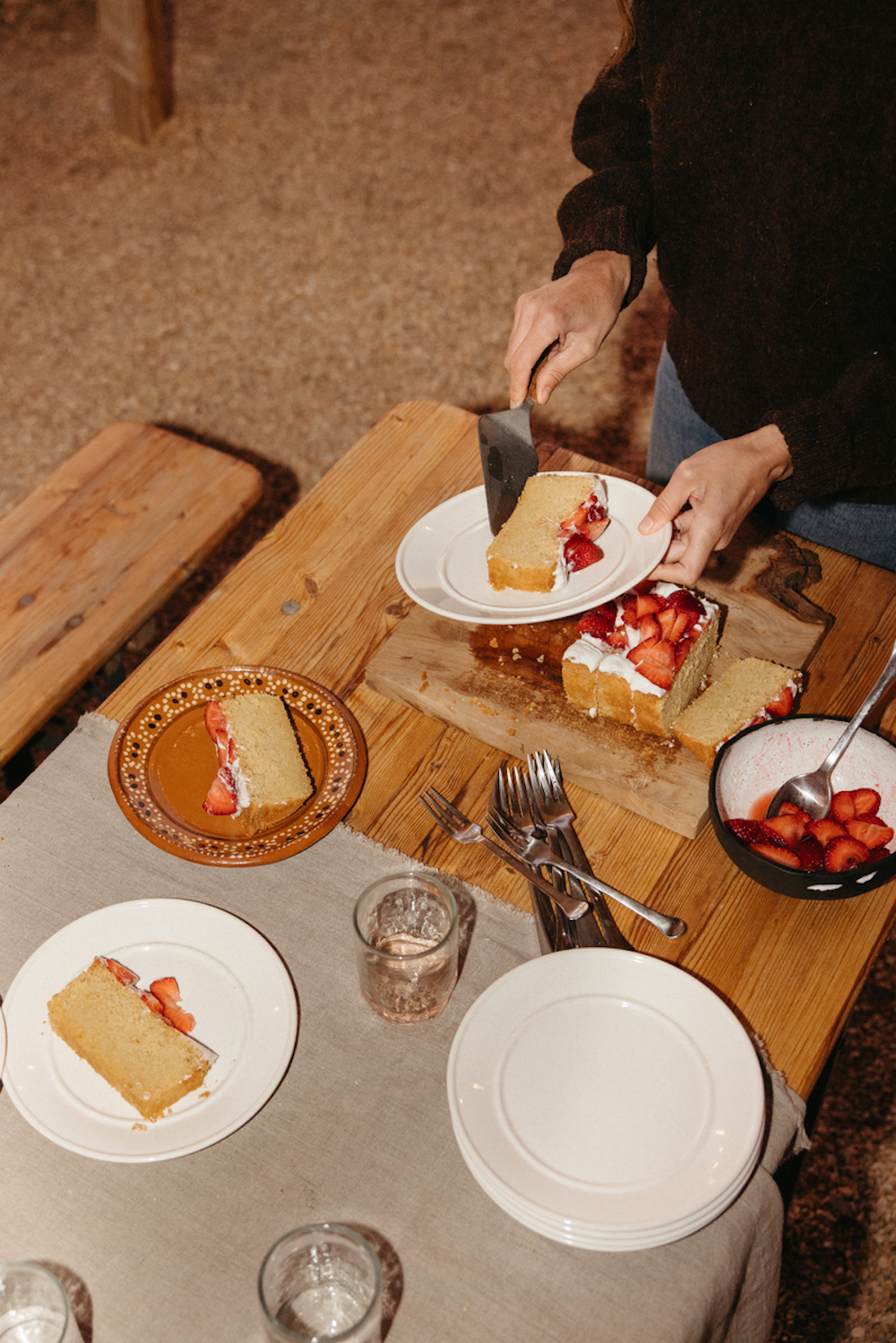 14. Don't Leave Dessert Behind
For all the dedication you poured into them, you bet the desserts will be on display! Showcasing your desserts on the actual table is an appetizing preview of what's to come later in the meal. We love creating varying heights with cake platters and display stands.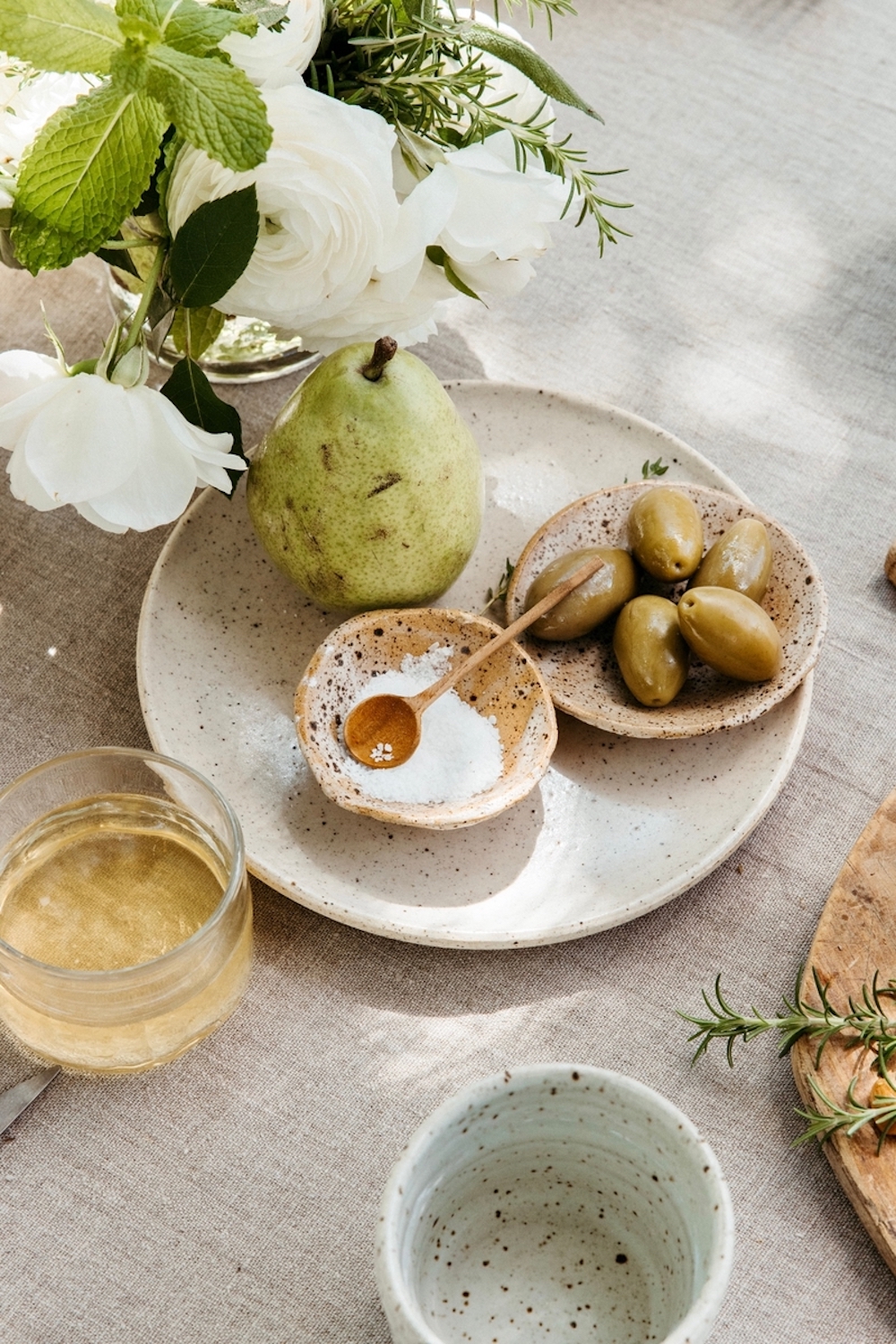 15. Keep It Light With Mezze
While you might not want to create a full-blown grazing board for a casual gathering, having something on the table—however small—for your guests to graze on is crucial. Try laying out some olives, sea salt, nuts, sliced fruit, cornichons, you name it. A little bite of something goes a long way.
16. Give Your Napkin a Twist
Twisting each napkin adds something interesting to the table that catches the eye much more than a flat, lifeless napkin that's been pressed and folded. This isn't your mother's tabletop—we create our own rules here.
Formal Table Setting Ideas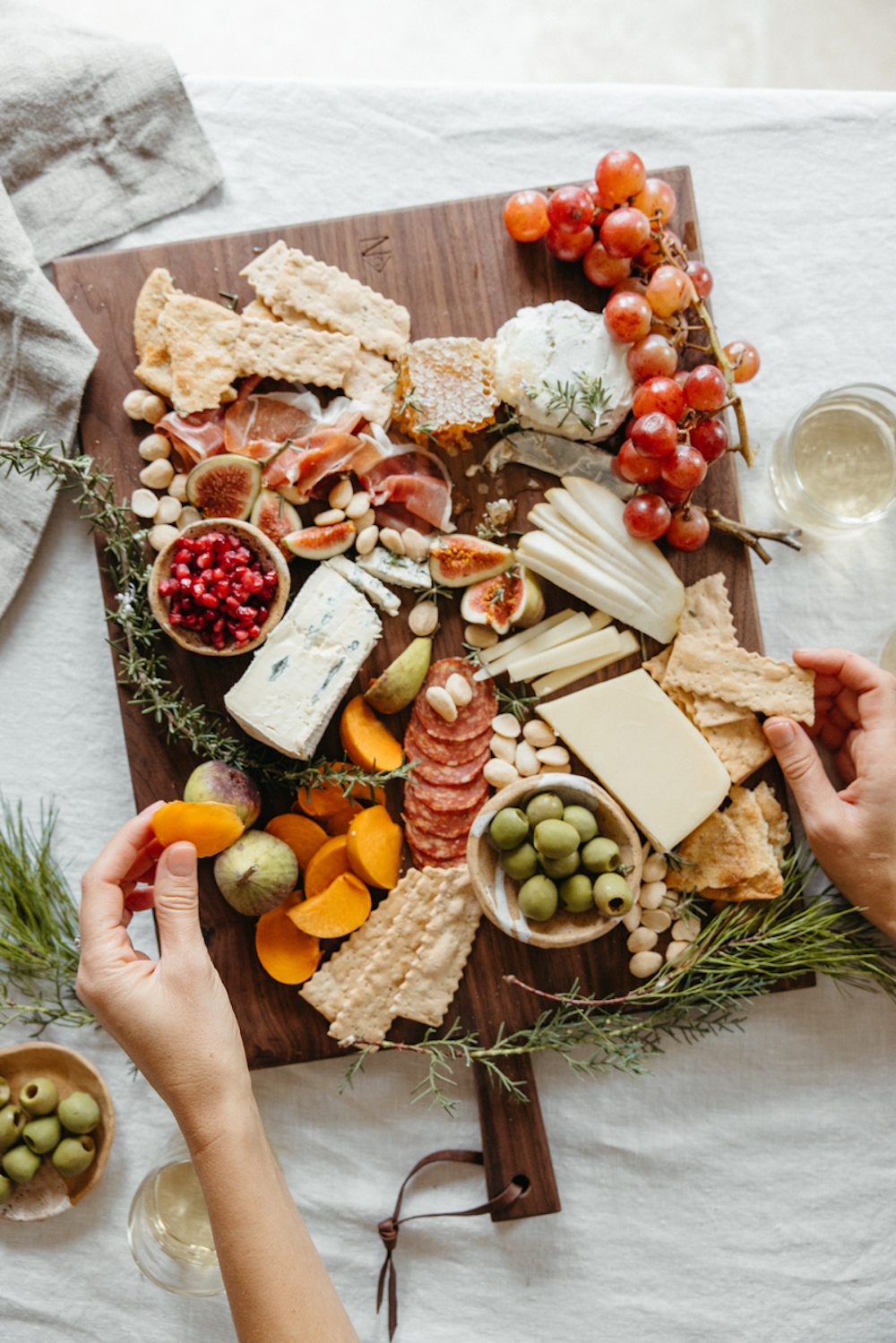 17. Add An Edible Centerpiece
Cheese boards are not going anywhere anytime soon, which we can all agree is a blessing. Arranging a grazing board for your guests to snack on before/during the meal is a pro move that everyone will be thankful for. This is also a great opportunity to have your guests help out while having fun in the process! Once it's done, you can place it smack dab in the center of the table. Cue the "oohs" and "aahs".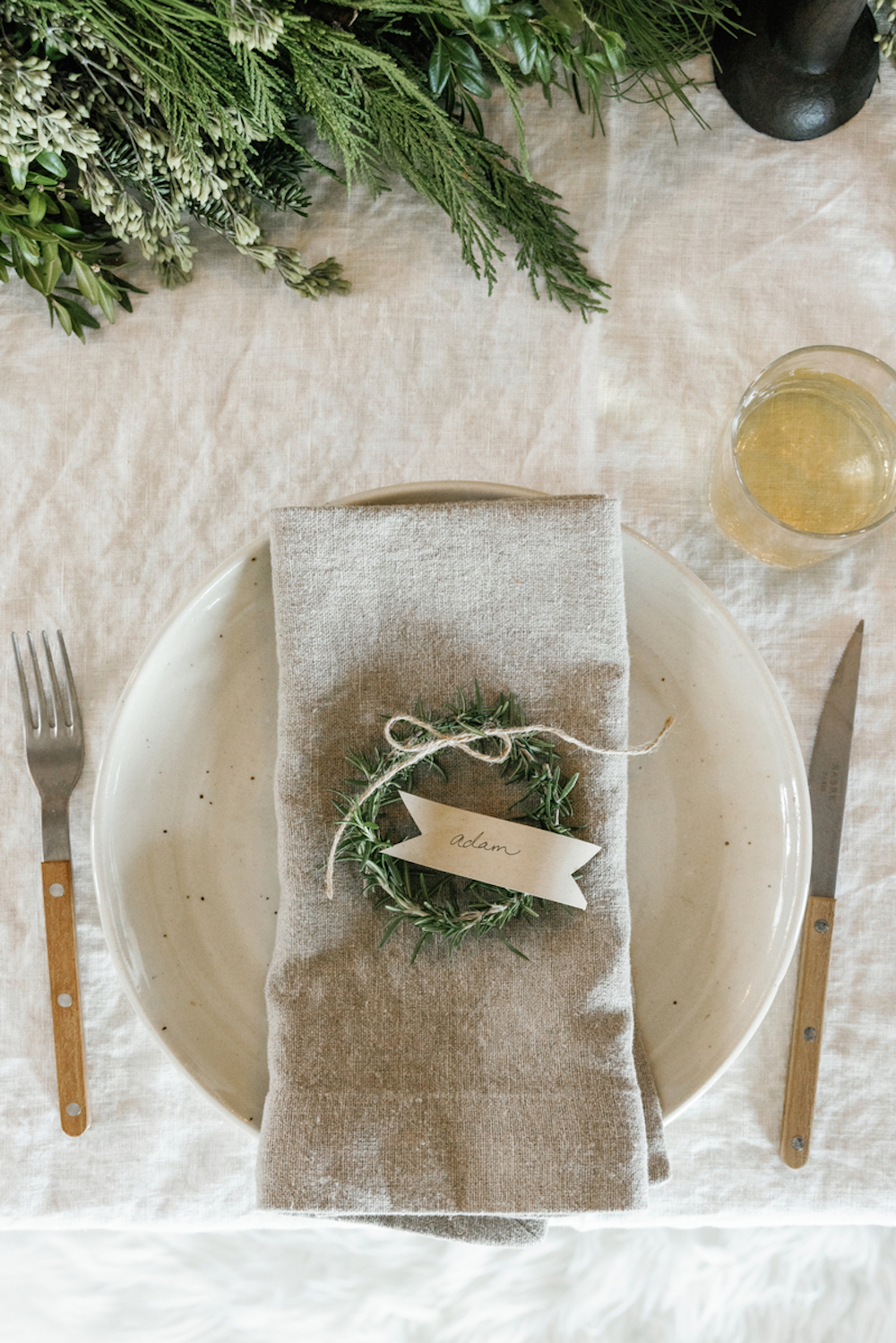 18. Use Place Cards
Adding a personal touch to your table is something your guests will undoubtedly appreciate—not to mention how nice it is for them to know where to sit! These simple place cards made of rosemary sprigs are absolute stunners.
More inspiration: Camille's modern holiday table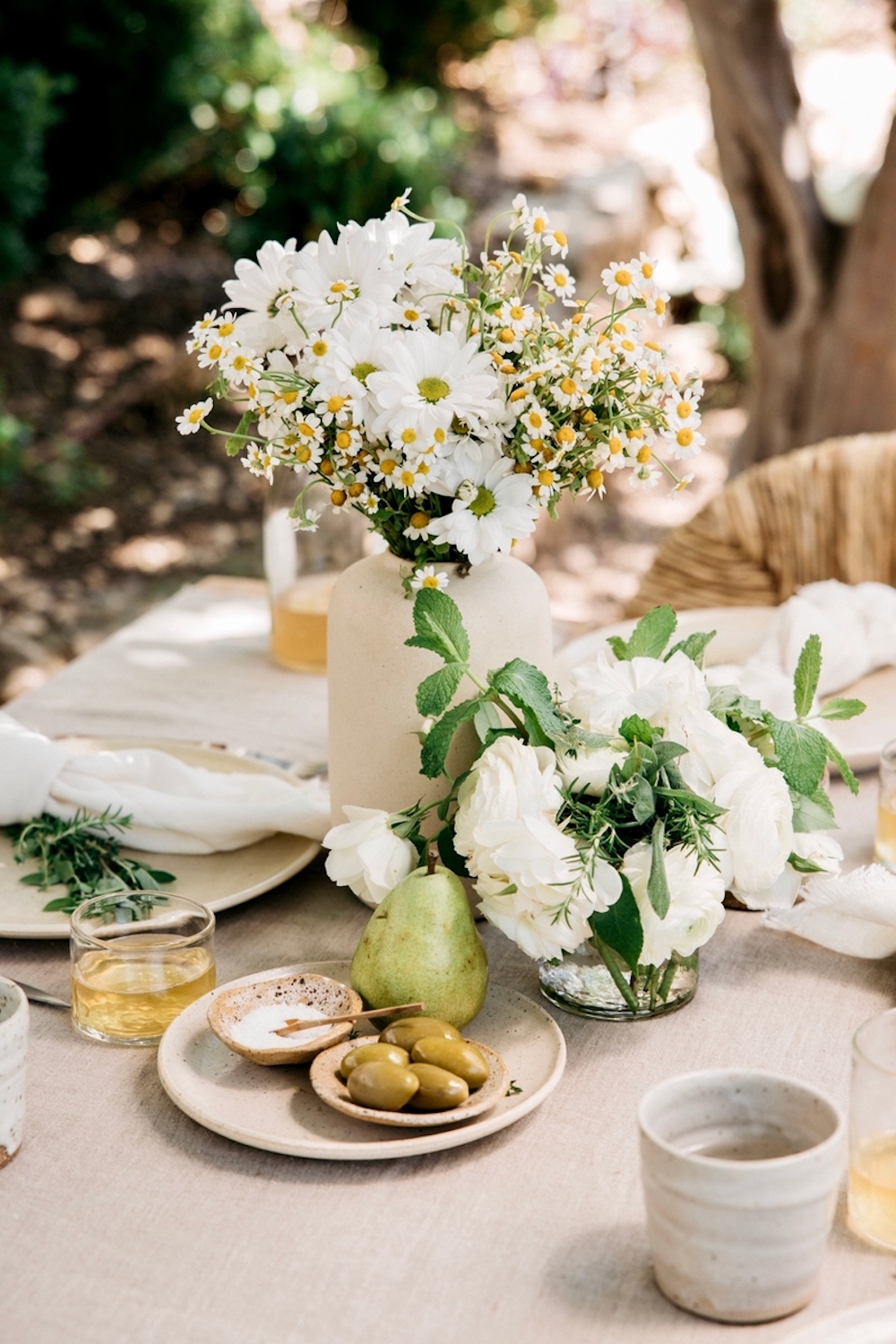 19. Find Your Favorite Flowers
Floral arrangements don't have to be extravagant. Instead, why not gather a few of your favorite stems and place them in a vase you're loving? It's a simple way to elevate your table and make it feel more formal.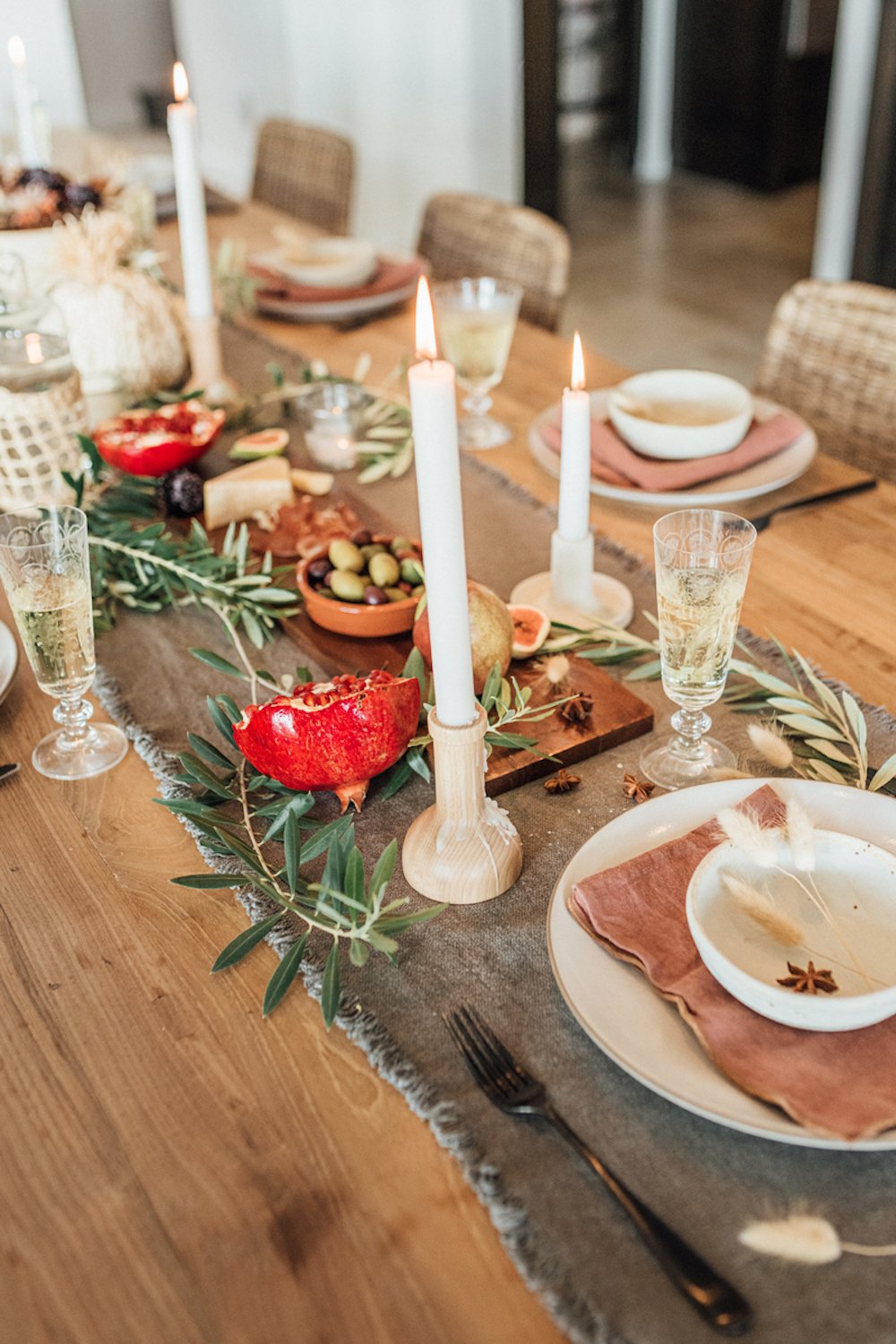 20. Layer Your Lights
Utilizing candles at different heights can elevate your table by adding a layering element and some simple variety. Height is huge here! While you should still be wary of placing candles that will obstruct the table view, a few different heights can make your table seem bigger and more inviting.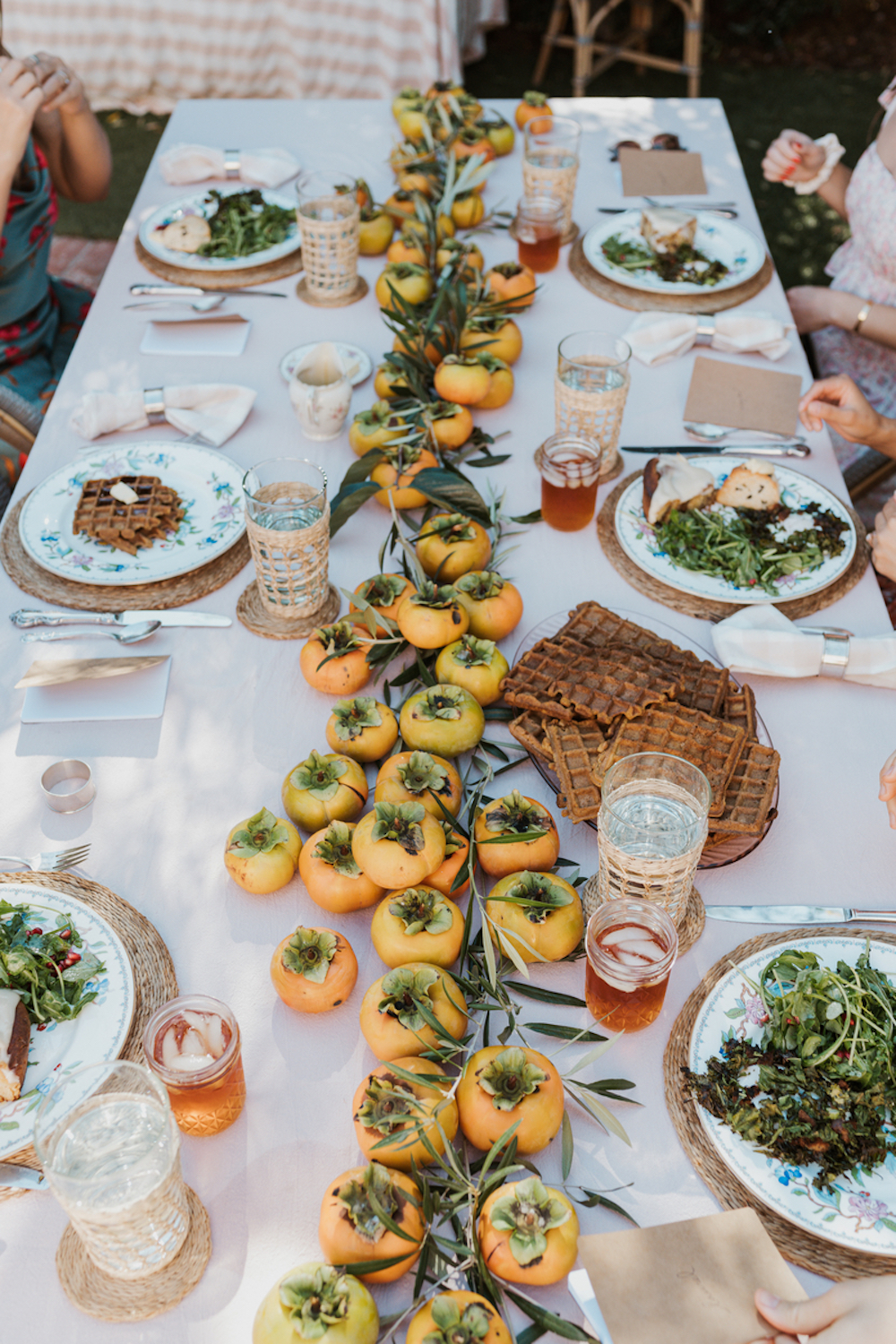 21. Play With Fruit
Weave a pop of color into your table with clementines, persimmons, tiny pumpkins, you name it. Each of these is a simple way to give your table some vibrancy.
More inspiration: An LA brunch with Sweet Laurel Bakery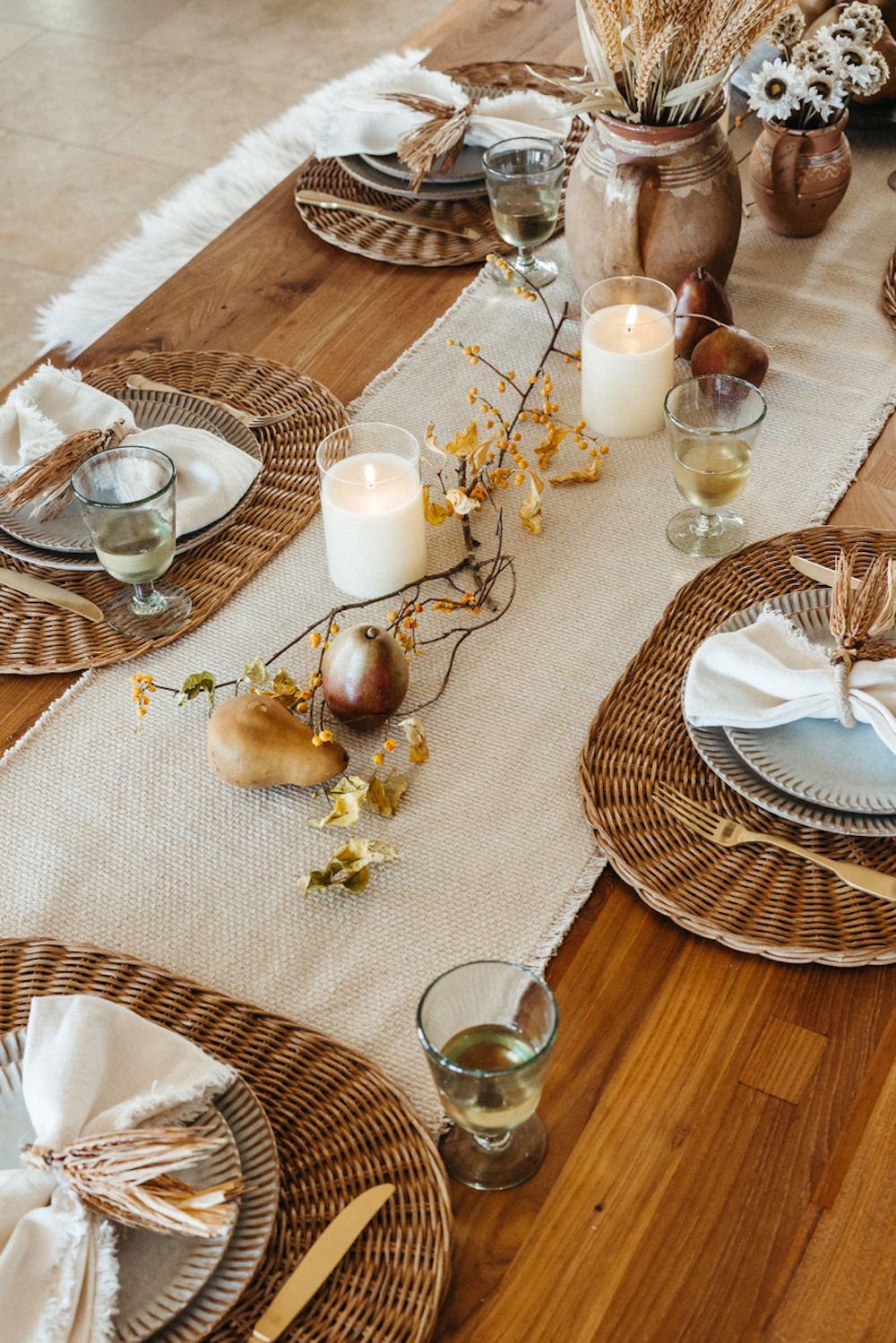 22. Give Flameless Candles a Go
No one wants their tablecloth to walk away from a gathering covered in wax. The good thing is, thanks to modern technology and design, realistic flameless candles are out there! And they're the real deal—trust me.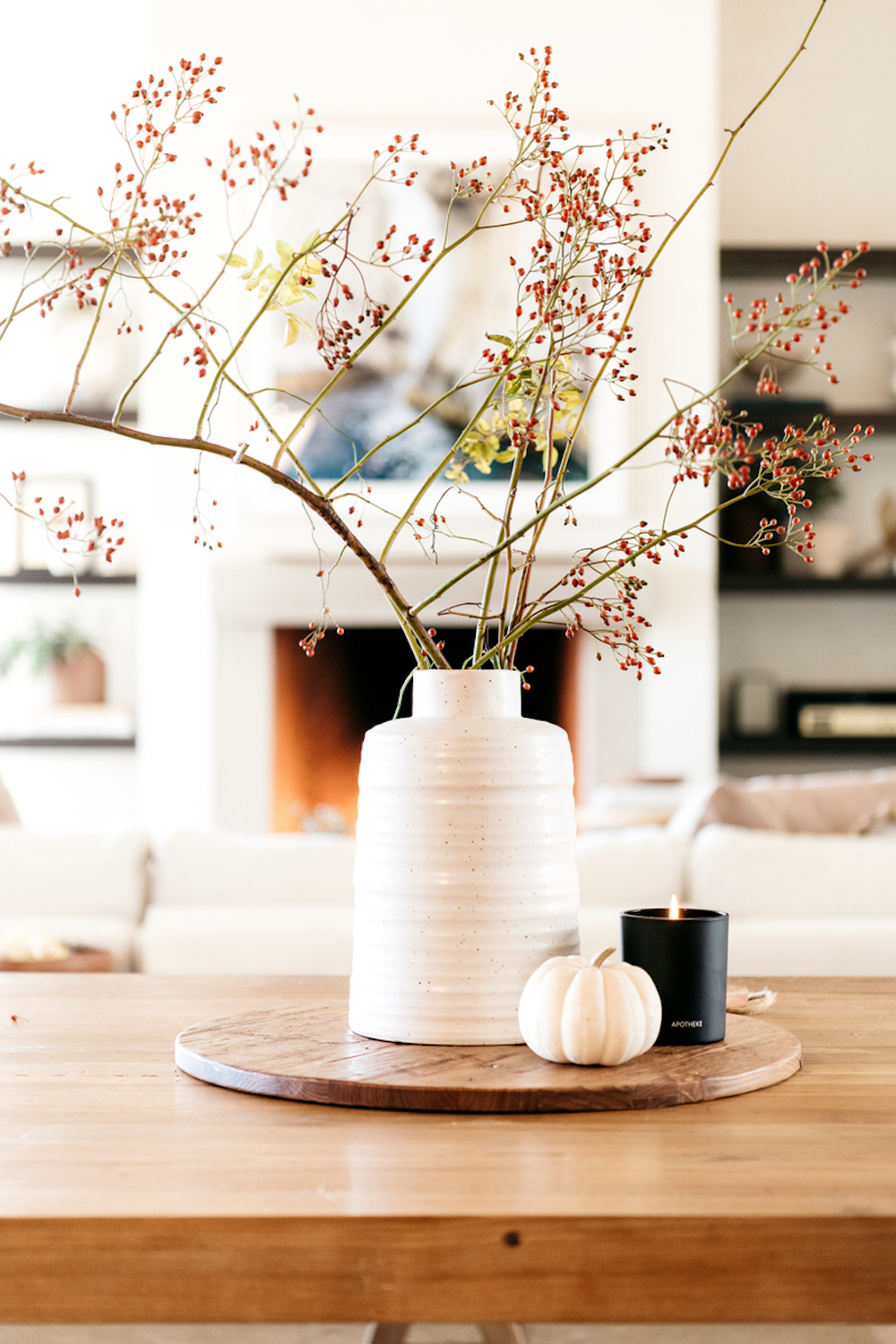 23. Weave In Dried Flowers
Dried flowers are still all the rage, and it's no wonder why. They're budget-friendly (as you can use them for multiple years), modern, and elevated. Mix them in with your fresh flowers, add them to their own vase, or simply scatter them about the table.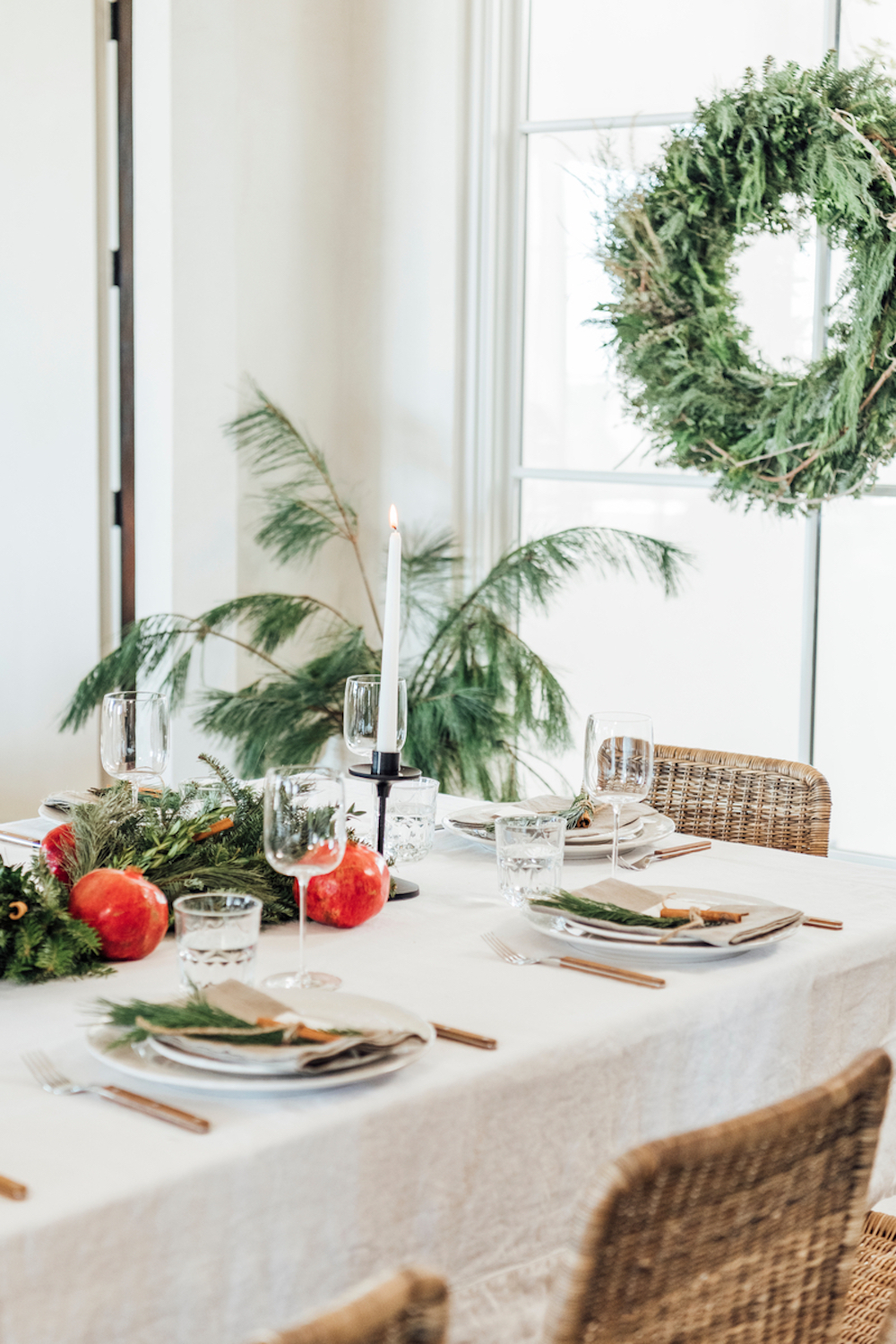 24. Keep Your Colors Cohesive
When it comes to coloring, creating a complementary scheme can help ensure you don't have any clashing going on. Plus, intentionally mapping the color palette out beforehand makes the biggest difference in the end. It's much more pleasing to the eye, and even makes things simpler for you to set up.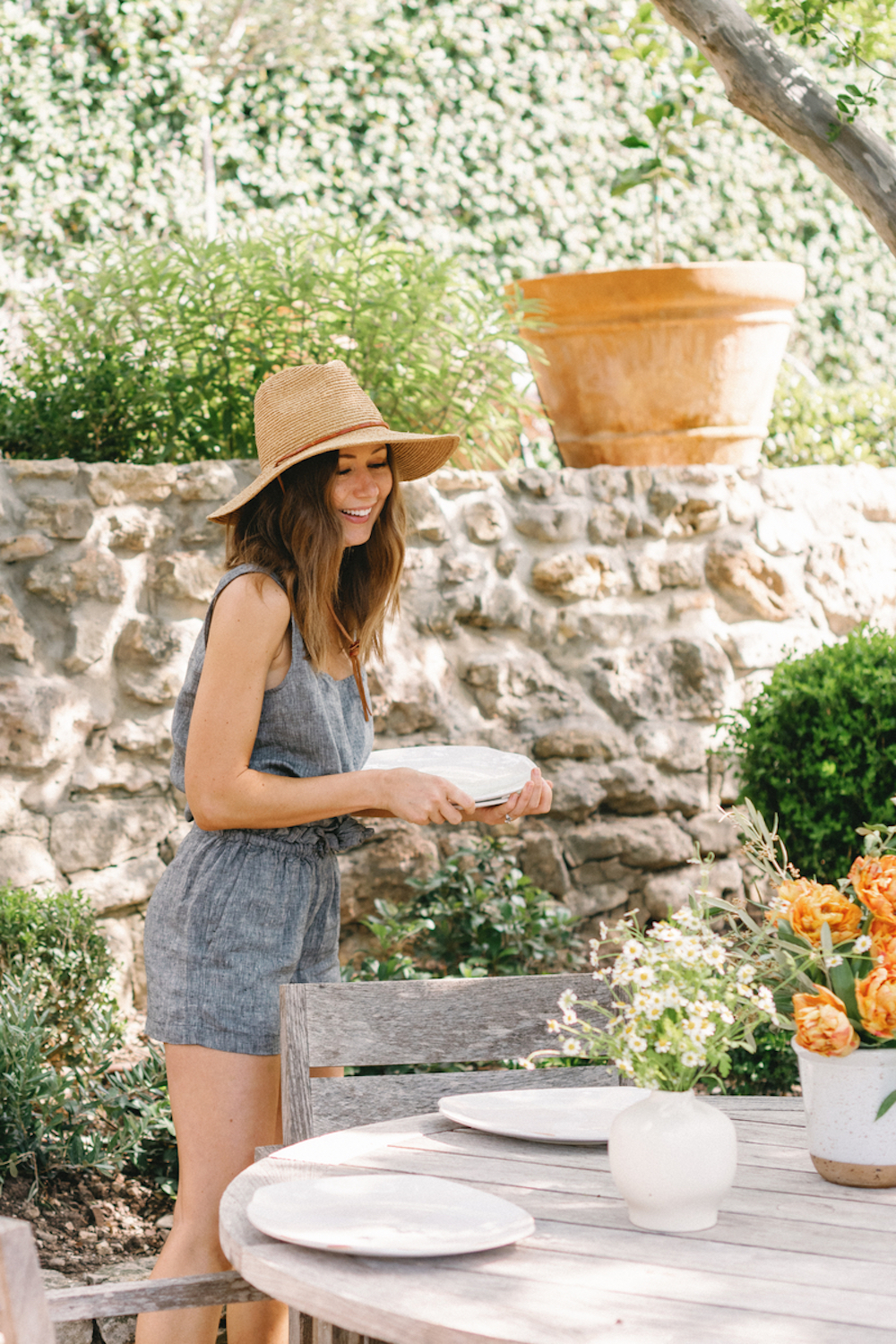 25. Have Fun With It!
At the end of the day, this is your table for your gathering in your home. There's no strict rulebook you should be following other than your own intuition. A little extra something here or a pop of that there is just what you should be itching to include. These table-setting ideas are your starting point for igniting (or reigniting) an endless supply of decorative creativity. Use these as a guide to your very own tablescape and get to gathering!