Whether you're a mom or a daughter, a grandmother, aunt, sister, or friend—Mother's Day is a beautiful opportunity to celebrate the women in your life. It's a day when I feel celebrated as a mother–but it's also a time to show gratitude to my own mom and mother-in-law. And I can't think of a better way to show my appreciation than by hosting a Mother's Day brunch to celebrate—all of us!
Let's be honest: moms are usually the ones that actually care about a beautifully set table, so it's a perfect opportunity to be a bit more intentional with some simple Mother's Day table decorations that will make her feel special. Scroll on for the all the inspiration from the table I set in my own backyard this year, along with simple Mother's Day table ideas that will make your favorite women feel celebrated.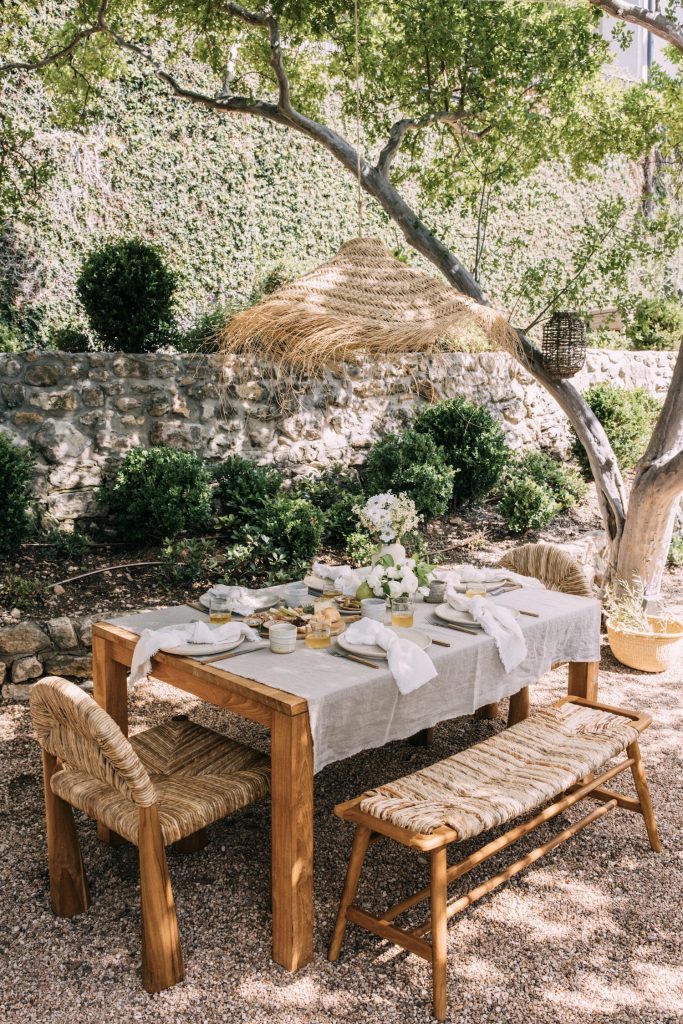 Here's how to set a table for a simple and special Mother's Day gathering:
Choose a decor theme
Hear me out: I'm definitely not a fan of cheesy party themes. But it can really help your decor process if you come up with a simple concept to tie the elements together. Here are a few ideas for Mother's Day table themes that are chic, not corny: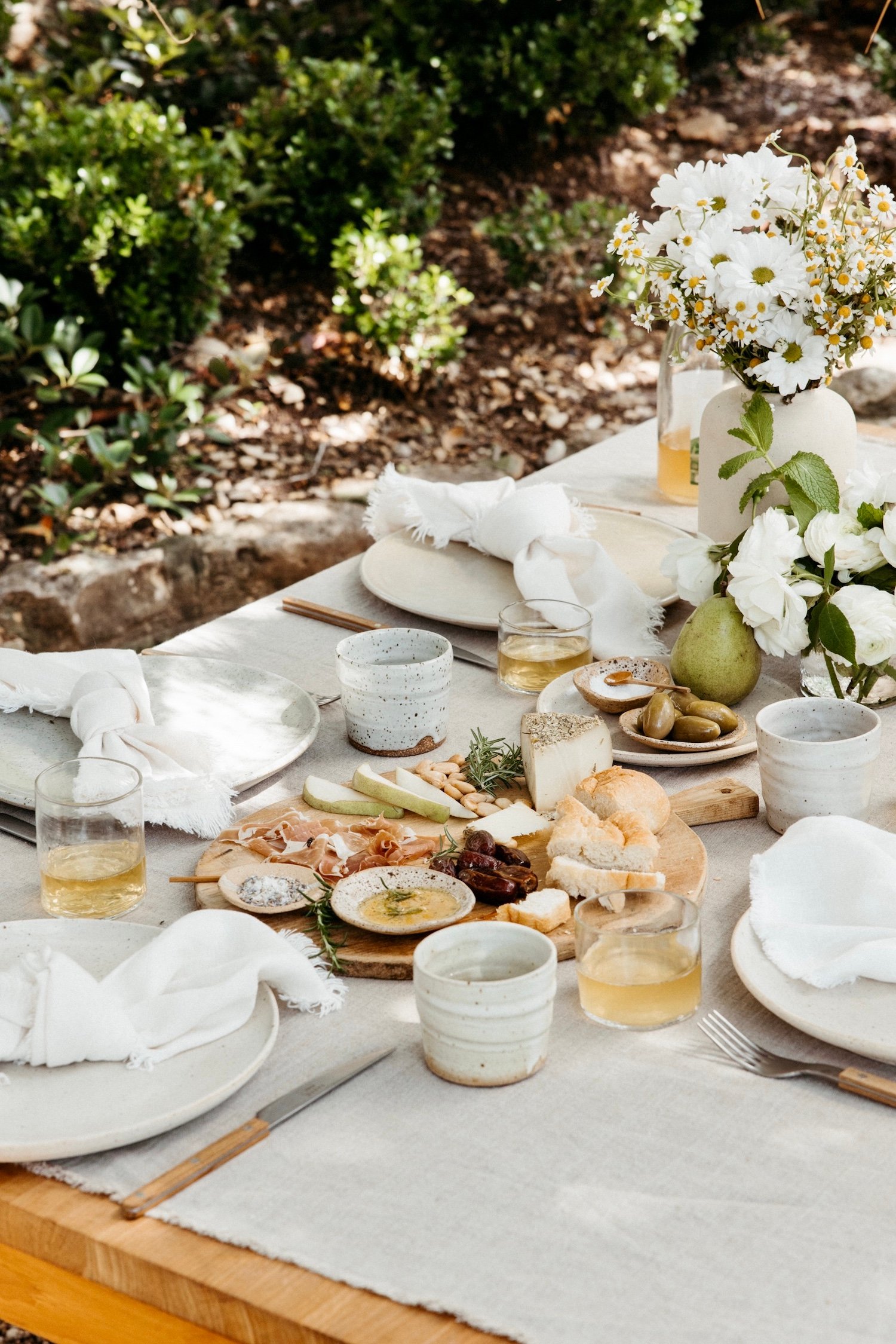 Farmer's market-inspired
Use fresh spring produce to decorate the table. An overflowing bowl of spring veggies, simple and sculptural artichoke hearts, or even cut citrus fruit can be a beautiful theme that ties it together.
Vintage vibes
Get inspired by her favorite decade and let it guide each element of your table design.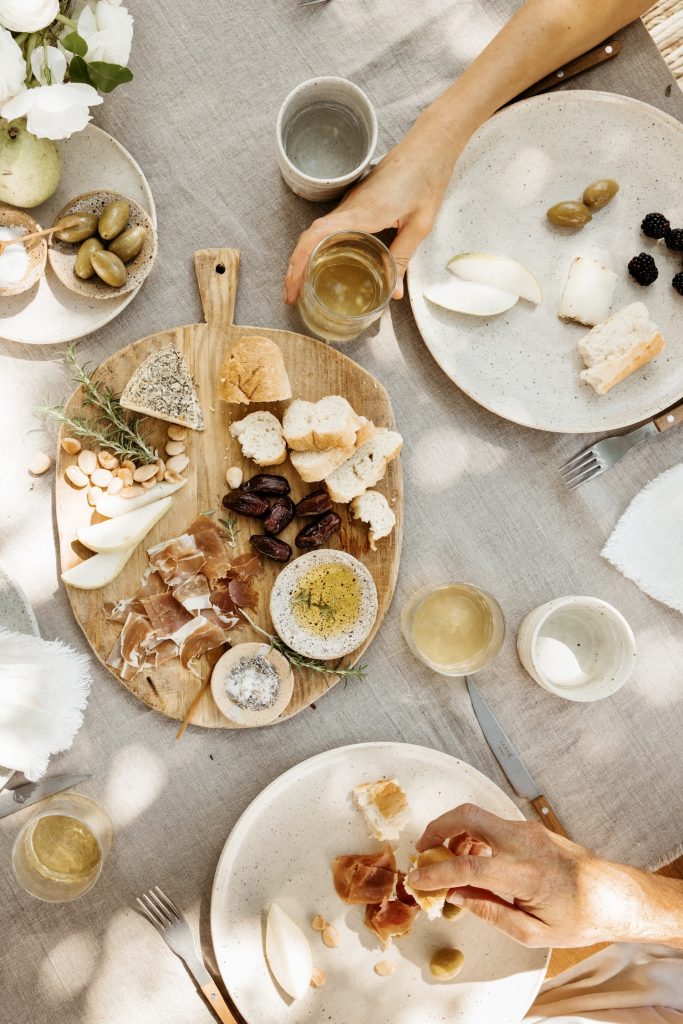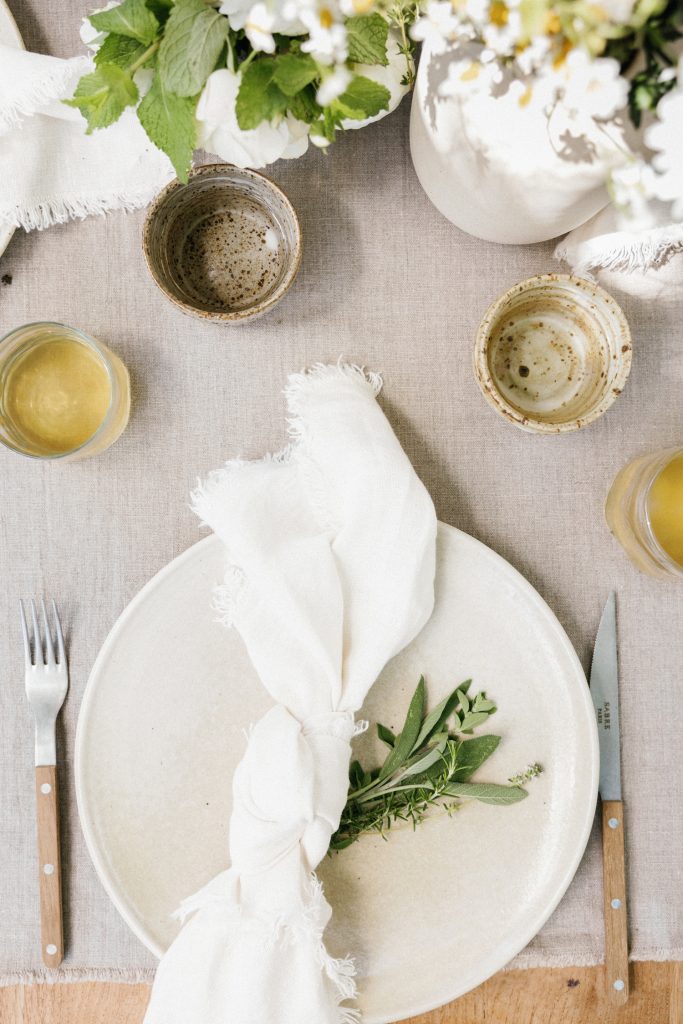 Pick a palette
A "theme" can be as simple as choosing a color combination and letting it guide every element of your table design, from food to flowers to place settings. I typically choose just two colors and use them throughout, for max impact with minimal effort.
Her favorite travel destination
Whether it's Santa Fe, Paris, or anywhere with sun and sand, let her favorite getaway inspire the menu and decor.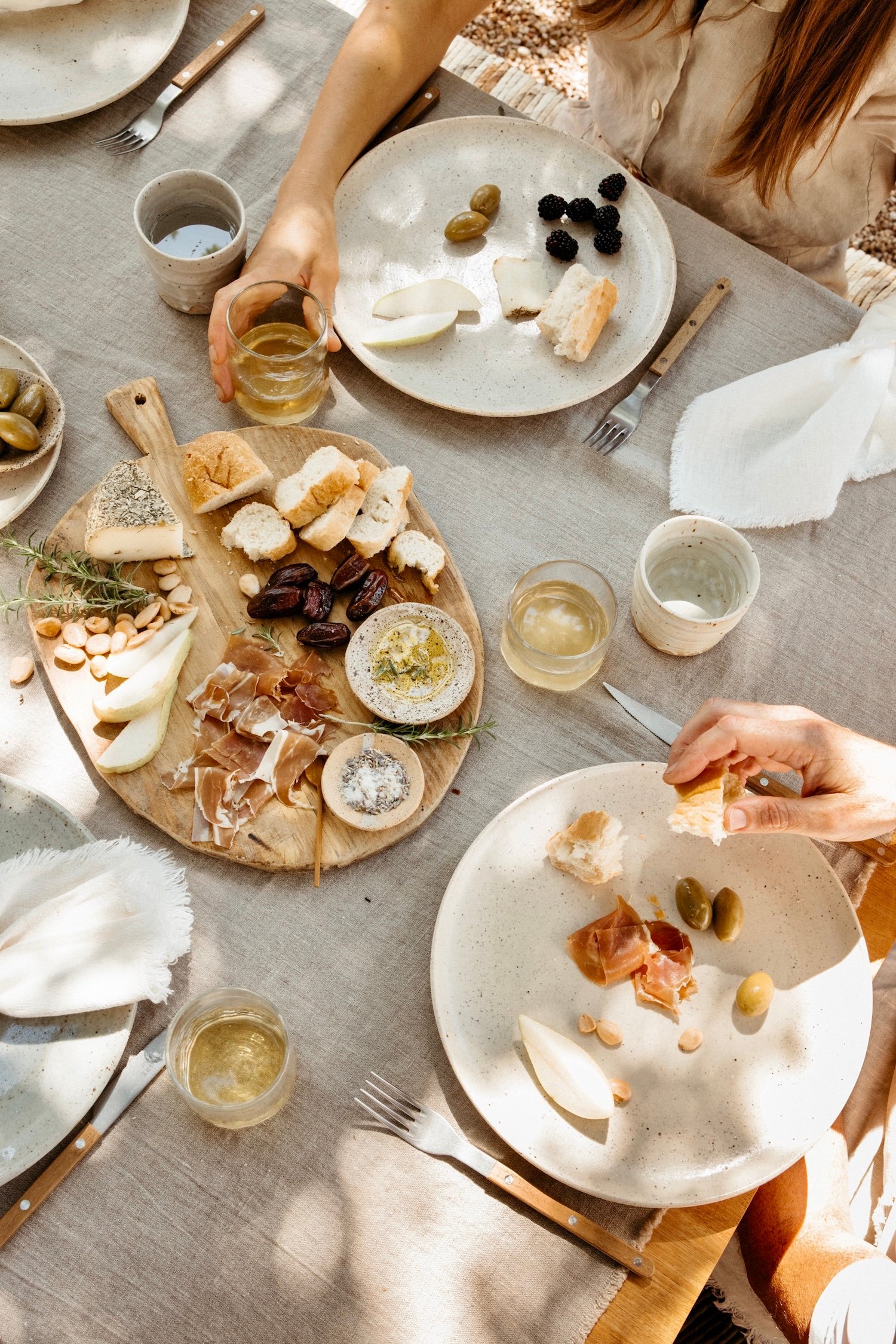 Lay the foundation with linen and beautiful dinnerware
The quickest way to elevate any Mother's Day table is to lay down a beautiful linen tablecloth and set the table with your prettiest dishes.
Here are my favorite products for setting the Mother's Day table: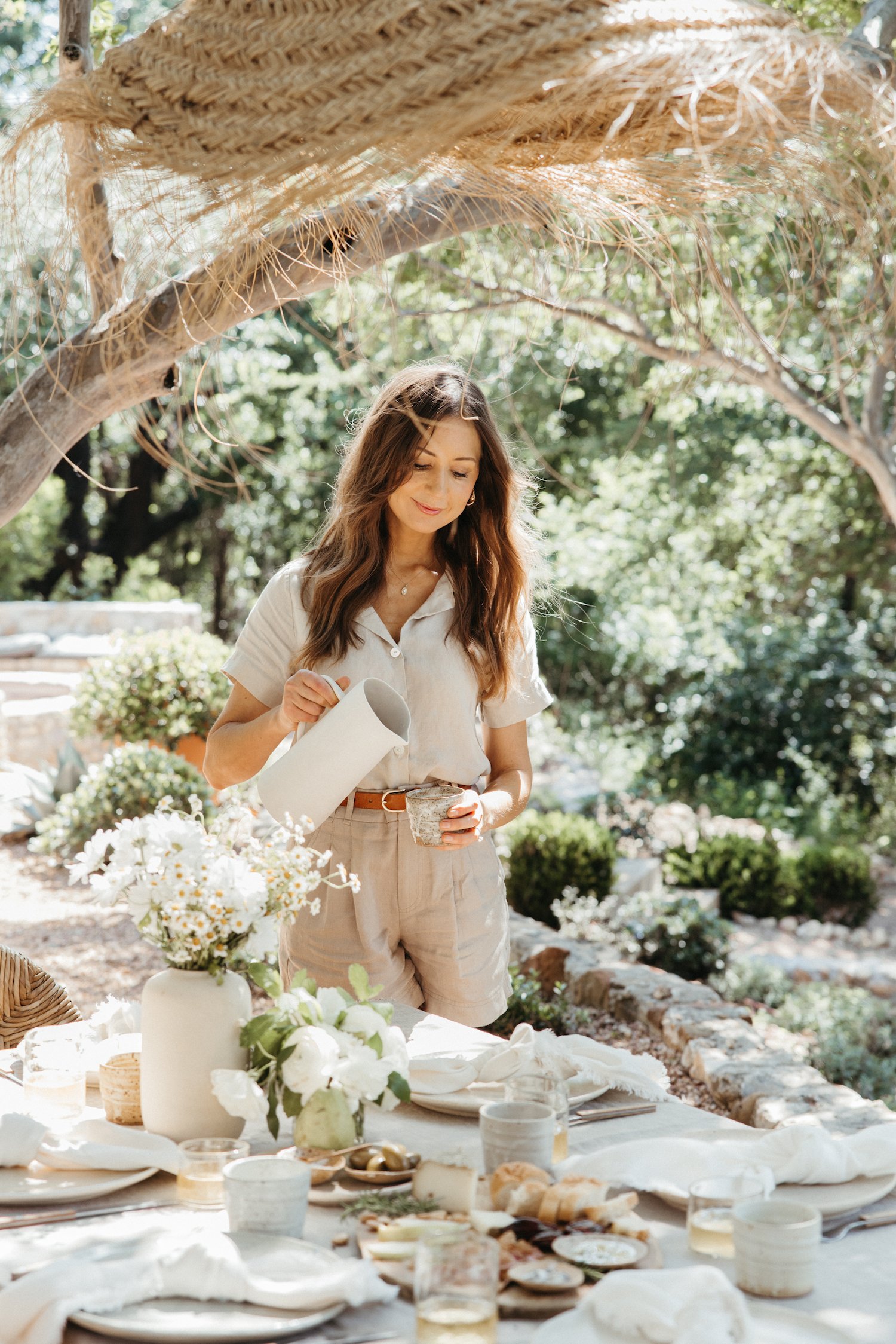 Blanco Stoneware Pitcher
Every table needs a simple white pitcher, and this one is sized perfectly for water, cocktails, lemonade—it's the versatile pitcher you'll reach for all the time. I love the handcrafted nature of this pitcher, as the unique variations make it feel really special.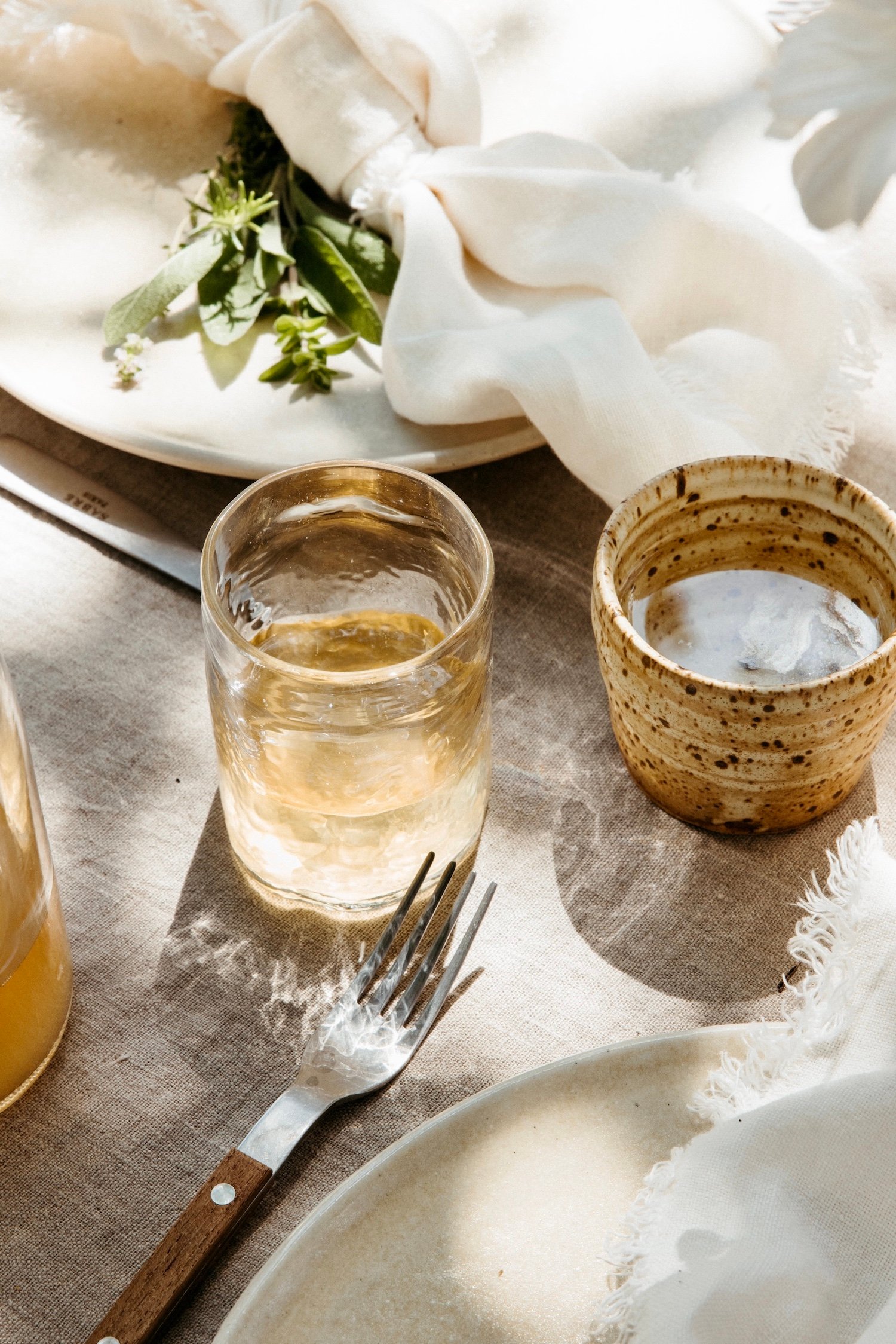 Recycled Glass Tumbler
These handblown recycled glasses elevate anything you drink from them. Made in Oaxaca, these tumblers are dishwasher safe and super durable, and lend a relaxed, organic vibe to the Mother's Day table. Sized perfectly for water, wine, or cocktails, I also love to fill them with votive candles or small blooms as a simple centerpiece.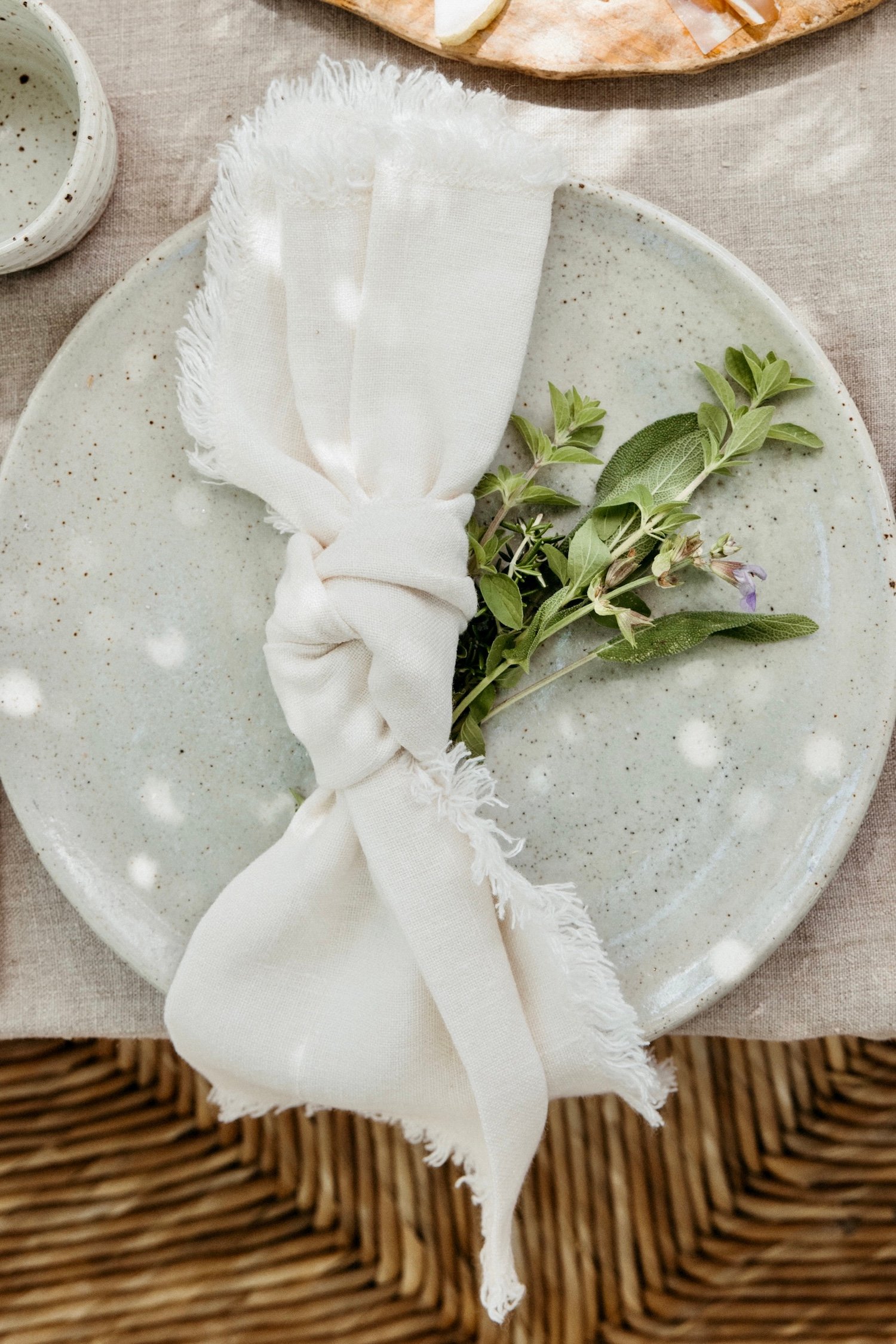 Canyon Dinner Plates
These oversized stoneware dinner plates are made in Mexico, and their neutral palette and organic shape make them feel versatile enough for any occasion, but are especially perfect for setting the Mother's Day table. Made of high-temperature glazed ceramic, this is dinnerware that you'll keep forever—and I love that it's dishwasher-safe.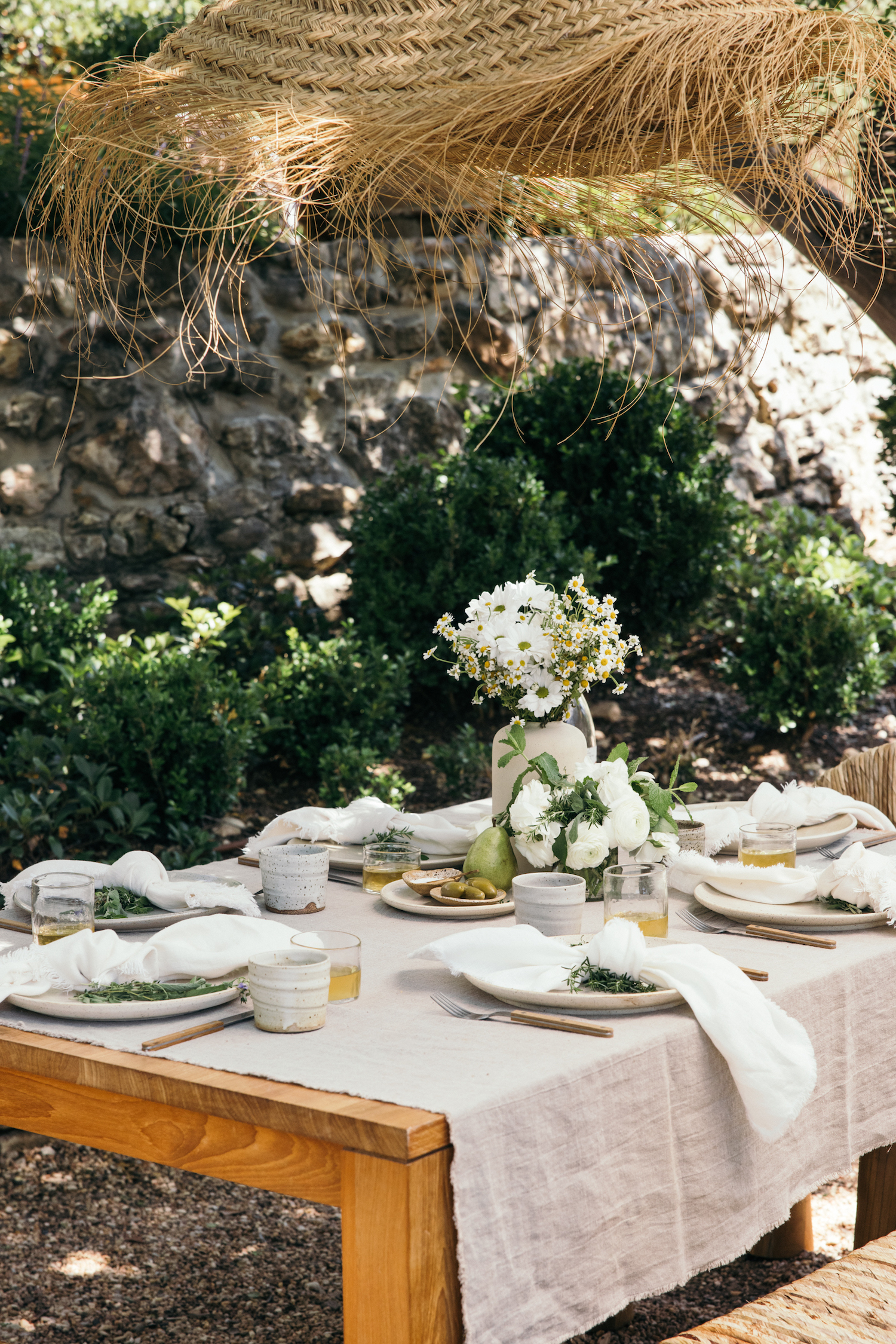 Linen Table Throw
This casual 100% linen tablecloth adds texture and warmth to the Mother's Day table. These are made in Lithuania, and the square size makes it versatile enough to use on square, round, or rectangular-shaped tables. It's machine-washable, and I tend to embrace the linen's natural wrinkles for a look that's (perfectly) imperfect.
Creative Mother's Day centerpiece ideas
When it comes to Mother's Day table decorations, a beautiful centerpiece is usually in the mix—but it doesn't have to be pricey or elaborate. Here are a few of my favorite simple centerpiece ideas for any spring gathering: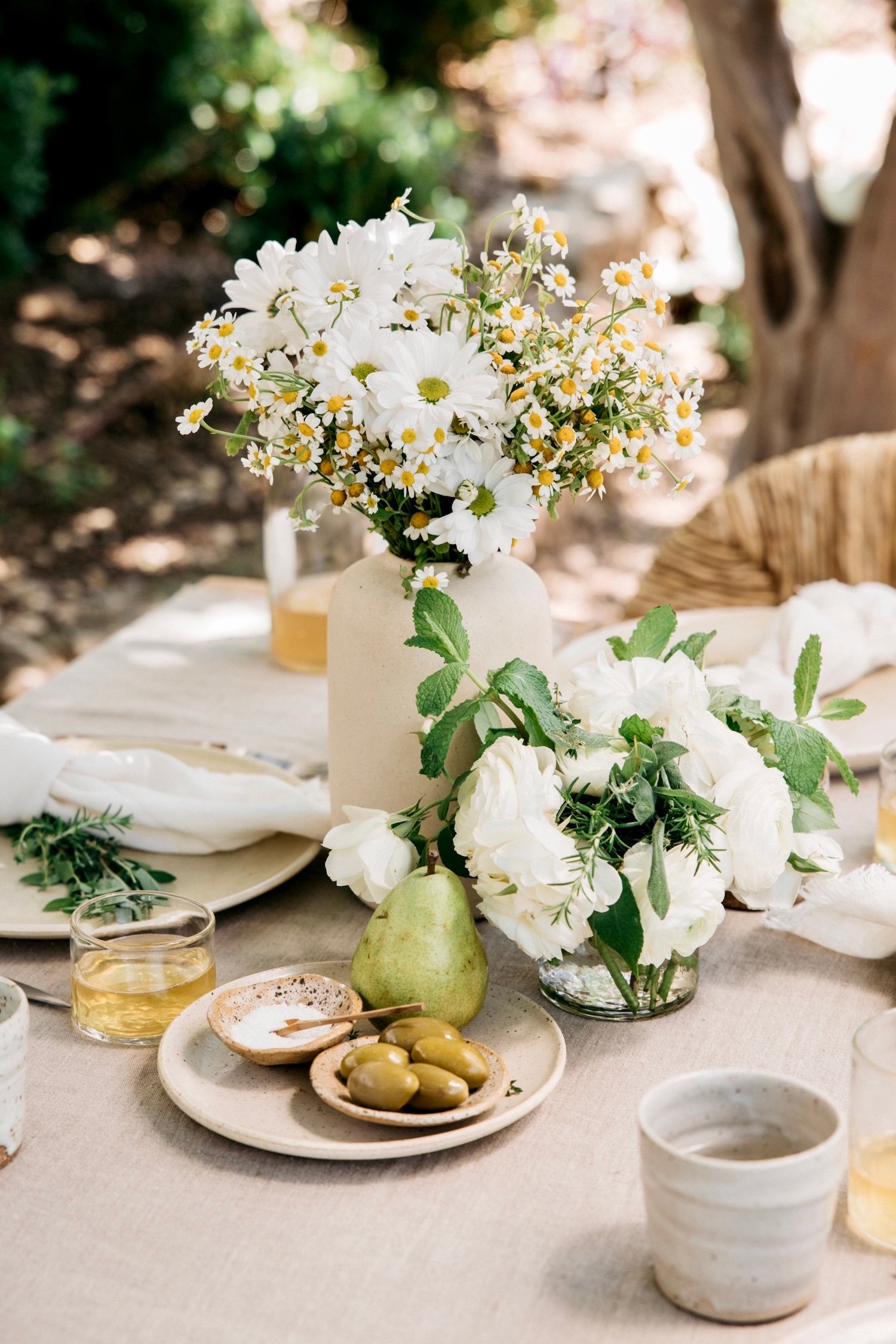 Fill a vase with daisies or chamomile flowers.
These inexpensive blooms can be found at just about any grocery store—I usually grab them in Trader Joe's floral section. They're happy, timeless, and instantly make any table feel bright and spring-y.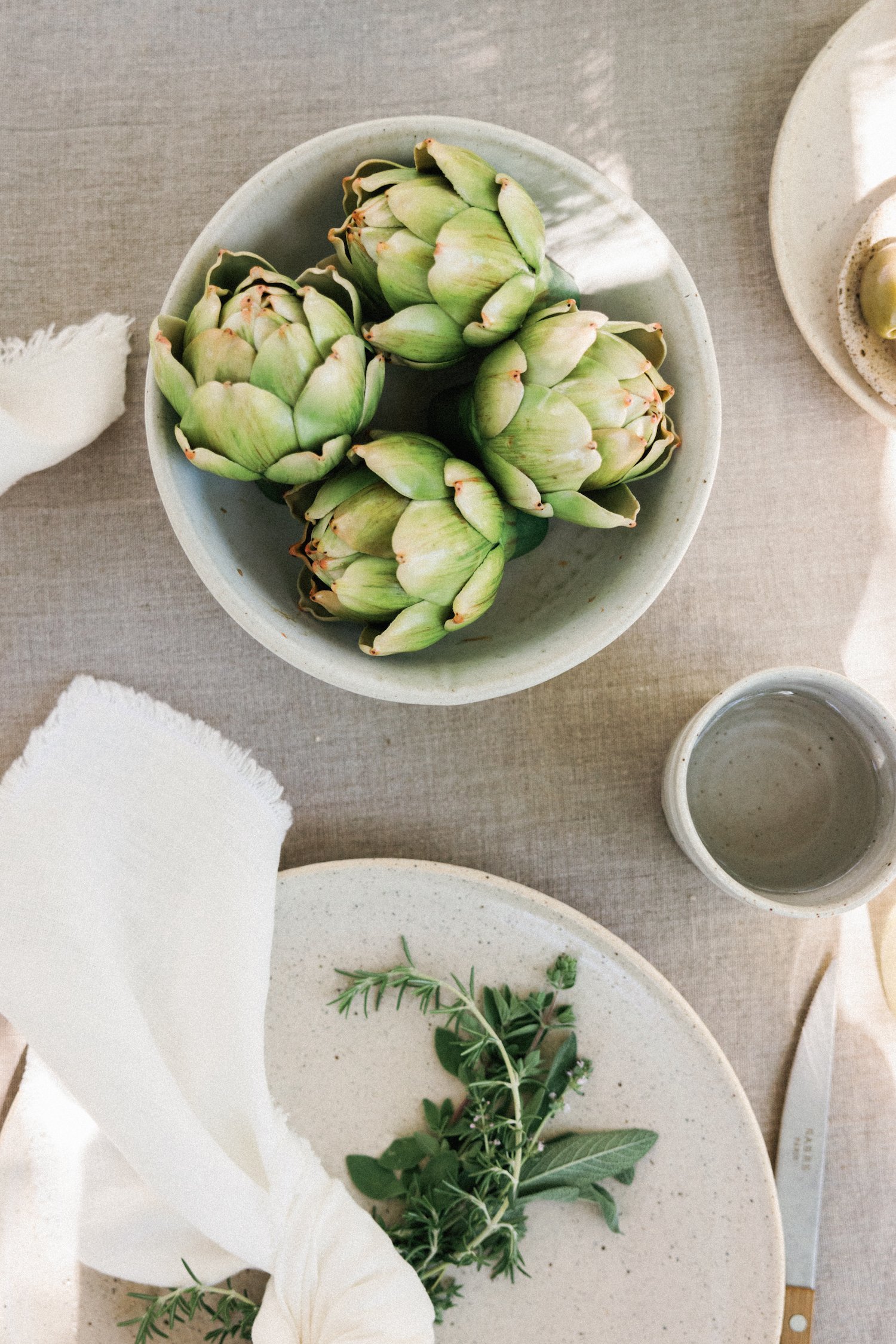 Decorate with seasonal produce.
I love this alternative to a traditional floral centerpiece. It's simple, affordable, and takes zero floral arranging skills. Plus, you can eat the produce when it's done serving its decor purpose, making it a zero-waste solution.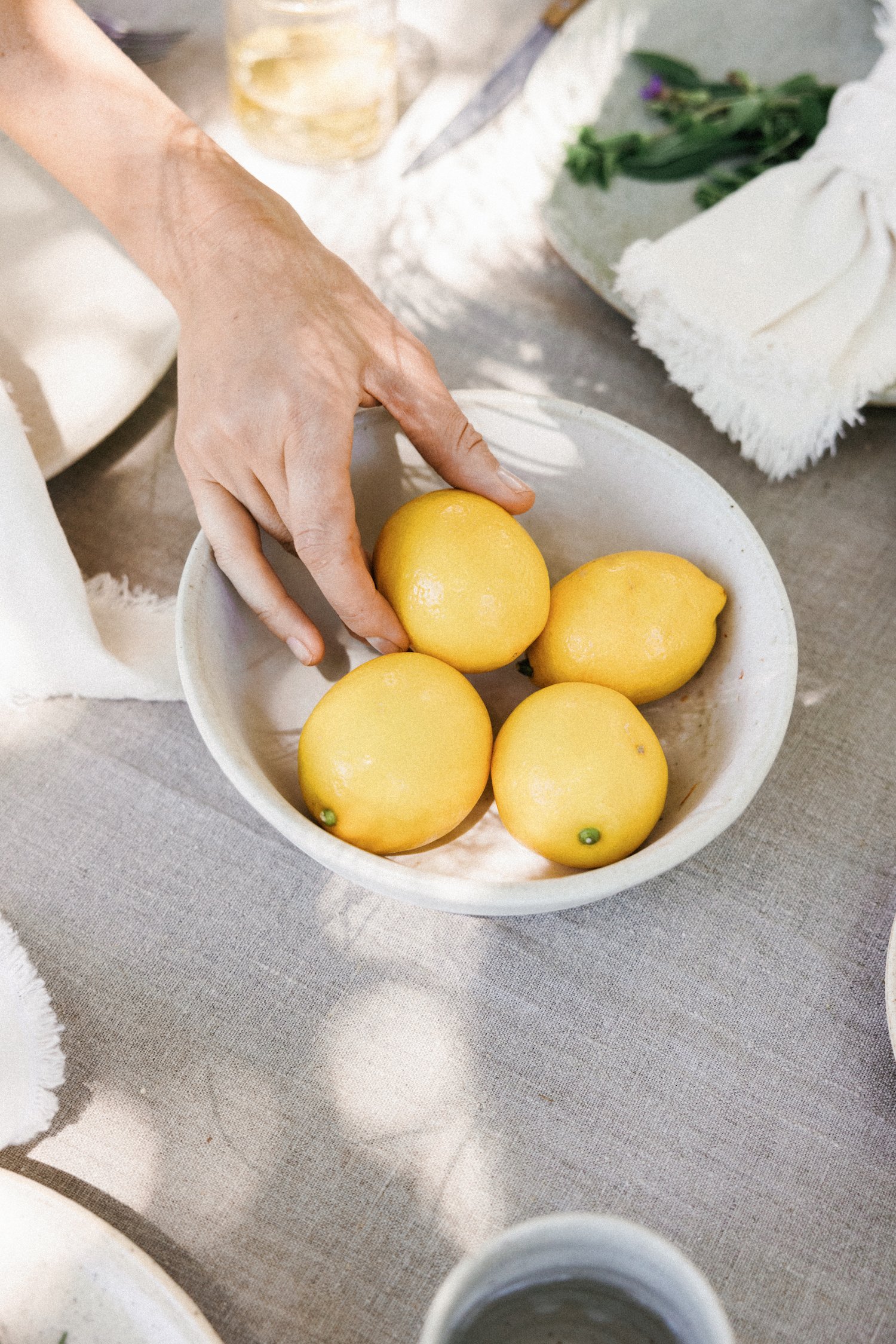 Fill a bowl with lemons
This easy breezy centerpiece is created from ingredients you probably have from the grocery store! Just fill a pretty bowl with lemons, limes, or any other citrus fruit. Tuck in a few herb sprigs for a pretty touch of green.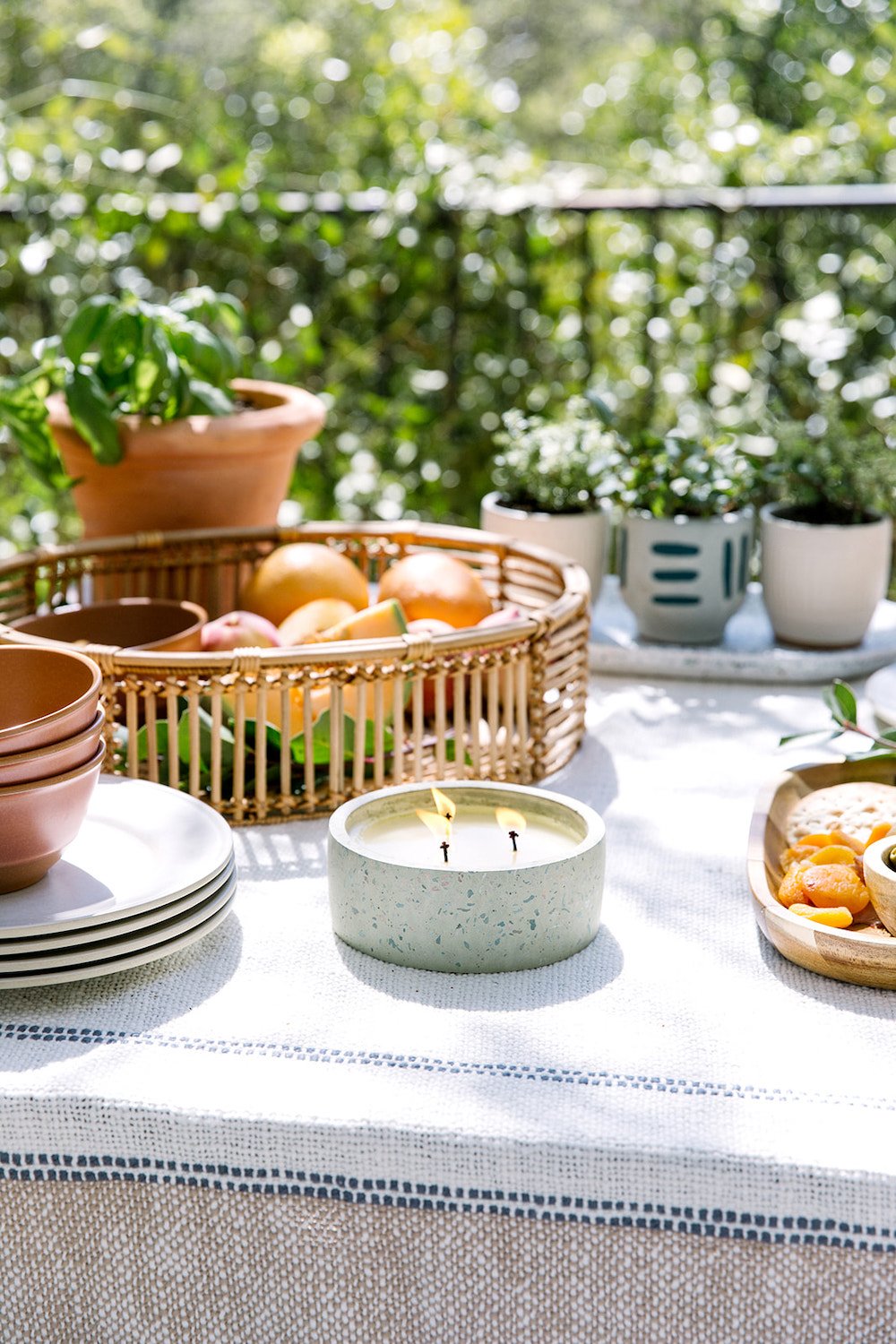 Add a few votives for sparkle.
Nothing beats the magical glow and flattering light of candles, so even for a daytime gathering, I love to scatter a few votive candles down the center of the table as a final touch.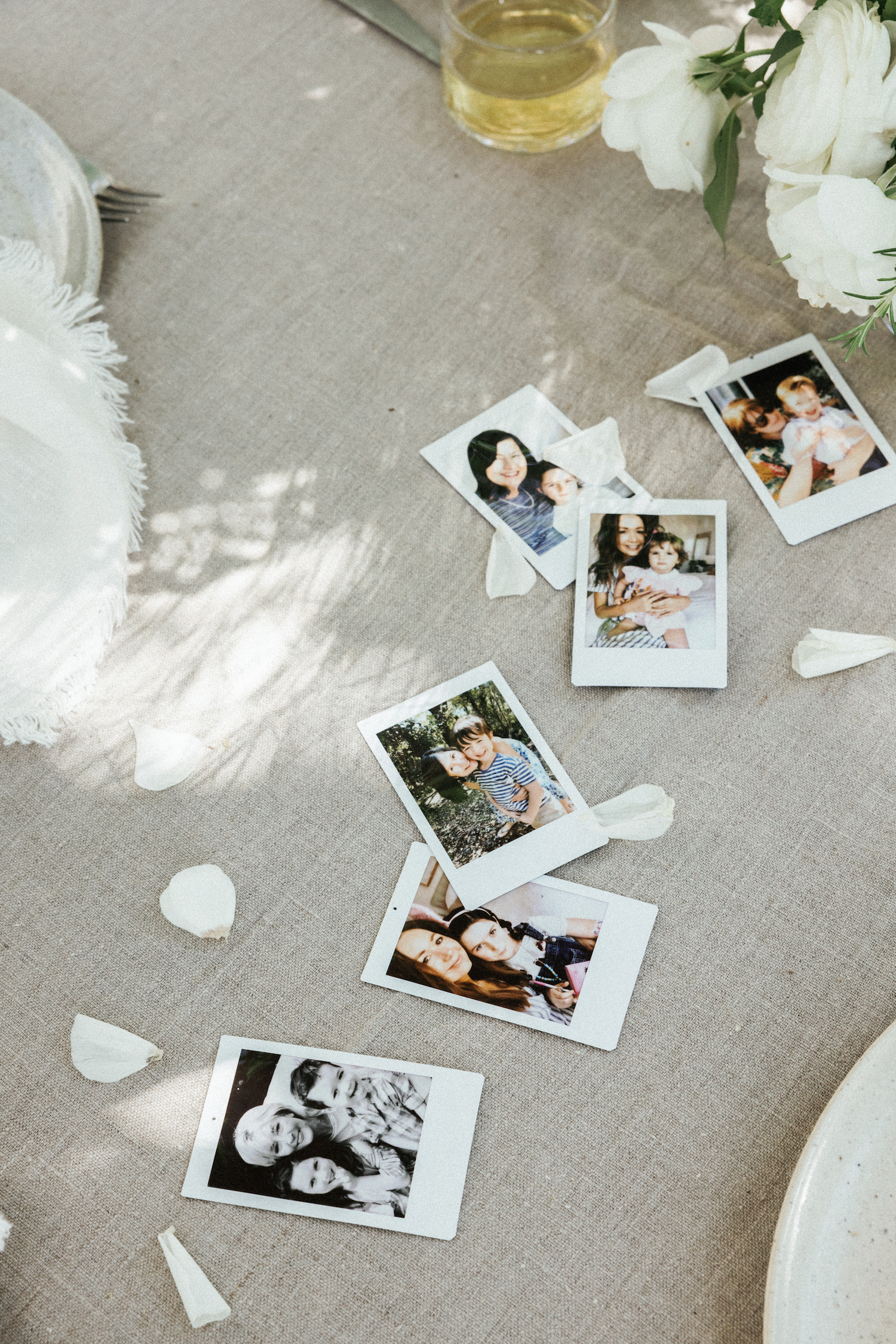 Unique ideas for Mother's Day place settings
Now that you've got the tablecloth on and the centerpiece set, it's time to add a special touch to each place setting. Here are some simple and budget-friendly ideas to add a decorative twist to each place.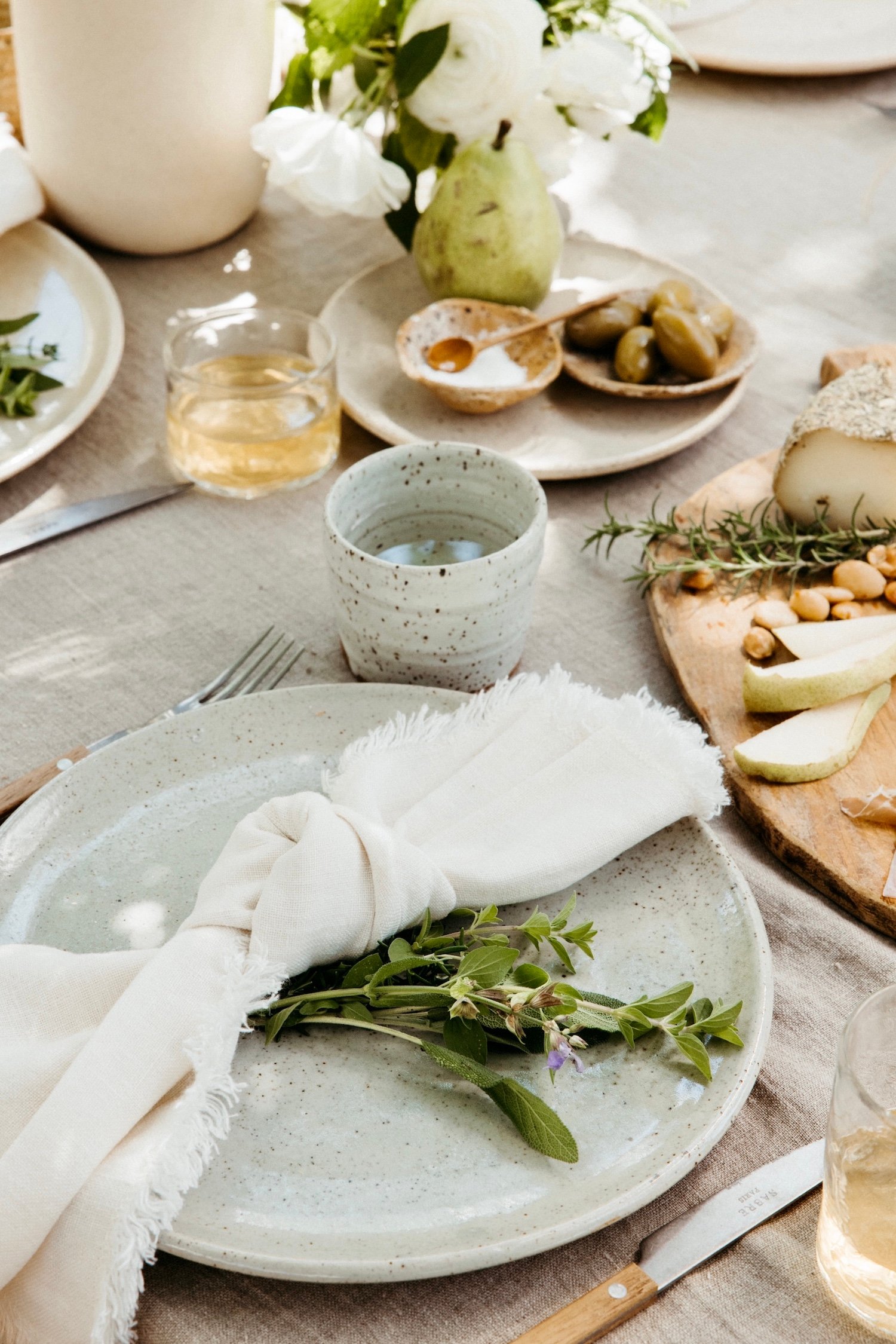 Tie a knot with your linen napkin
Elaborate napkin folds are a "no" for me, but I love the carefree look of a simple linen napkin, knotted and placed loosely on top of each plate.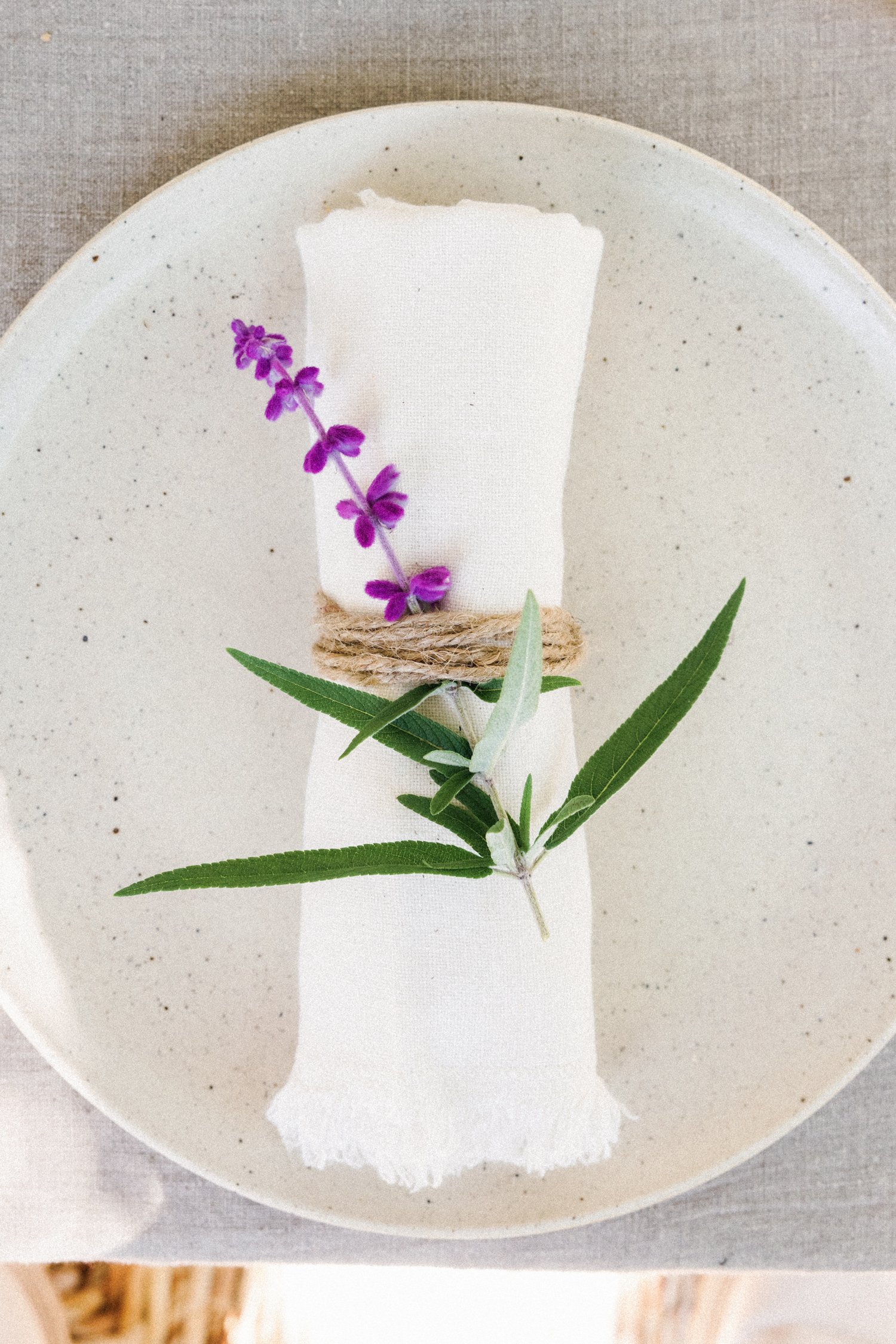 Tuck in some fresh herbs or flowers
It doesn't get simpler than adding a sprig or a small bunch of fresh herbs to each place setting. I like to use the woodier herbs for this, like rosemary, thyme, oregano, and sage. Bonus points for making the table smell delicious!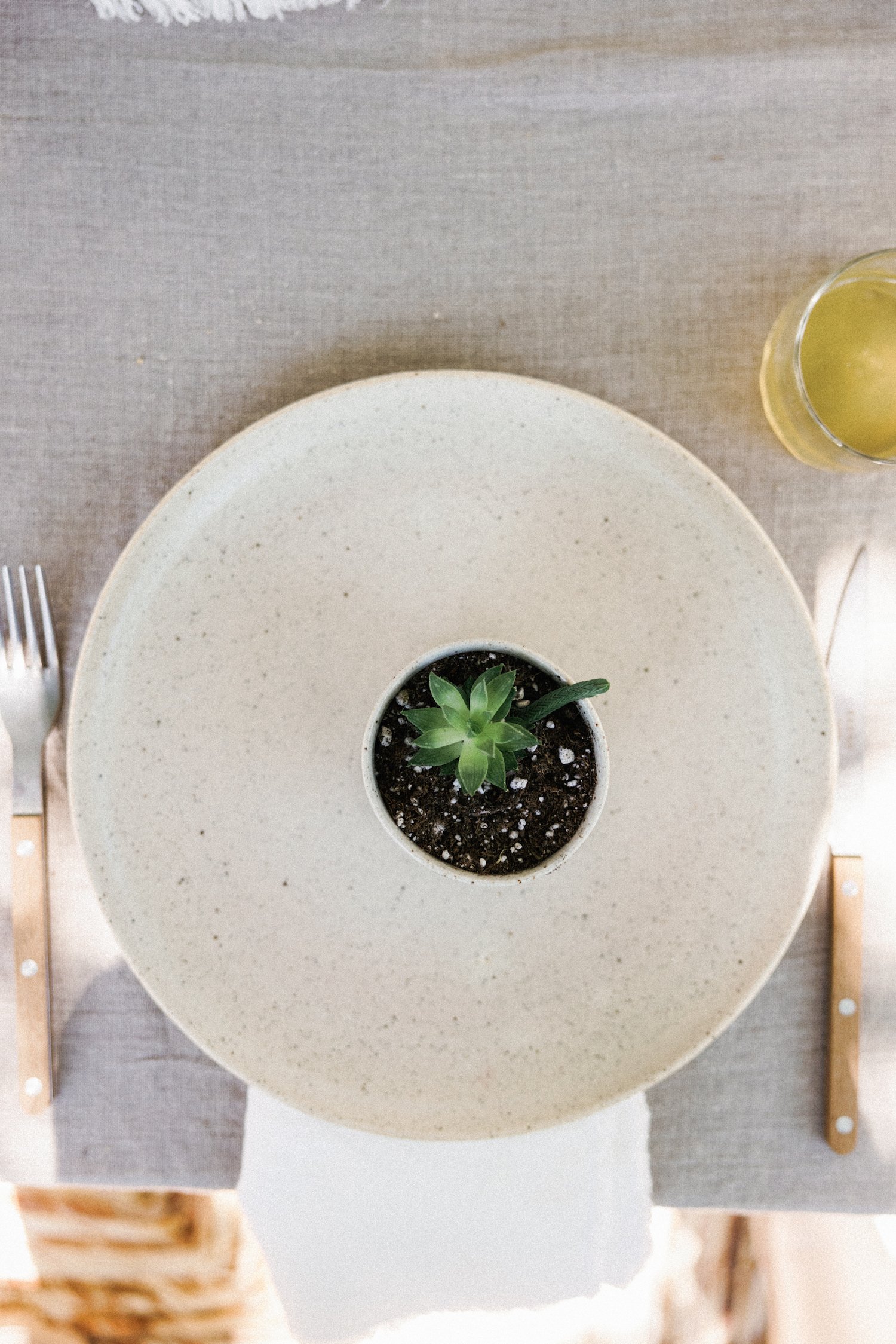 Add a potted succulent
This cute idea for setting the Mother's Day table provides a place setting and party favor in one. Just pickup some tiny succulent plants from your local nursery, add them to a small terra cotta pot or a teacup, and place on top of each napkin. Guests can take them home at the end of the gathering as a lovely reminder of the day.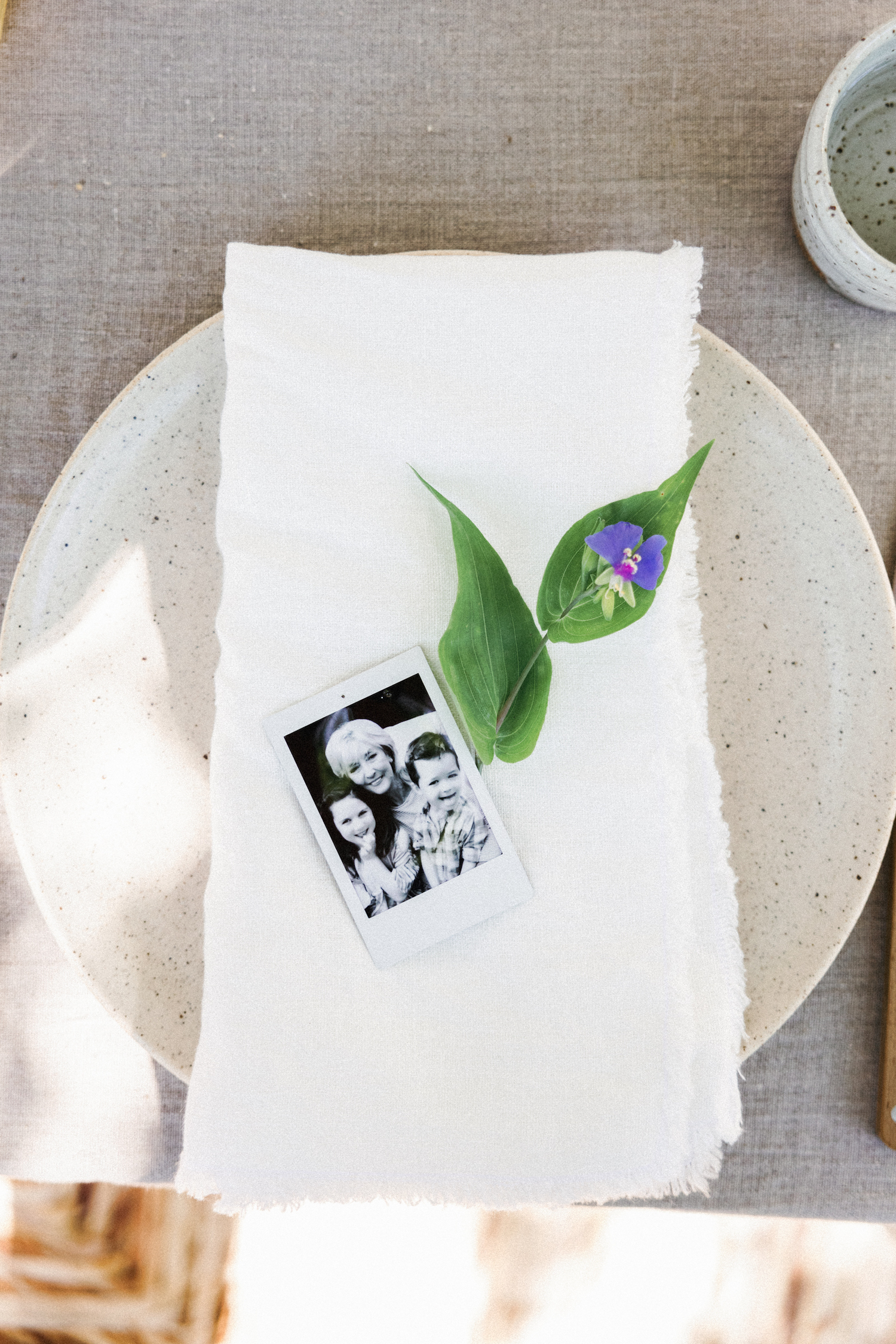 Take a walk down memory lane
Print out a few favorite photos of your mom (or any women of honor in attendance) and scatter them around the table, or place on top of each napkin. It feels so personal, and is a great conversation starter to inspire walks down memory lane.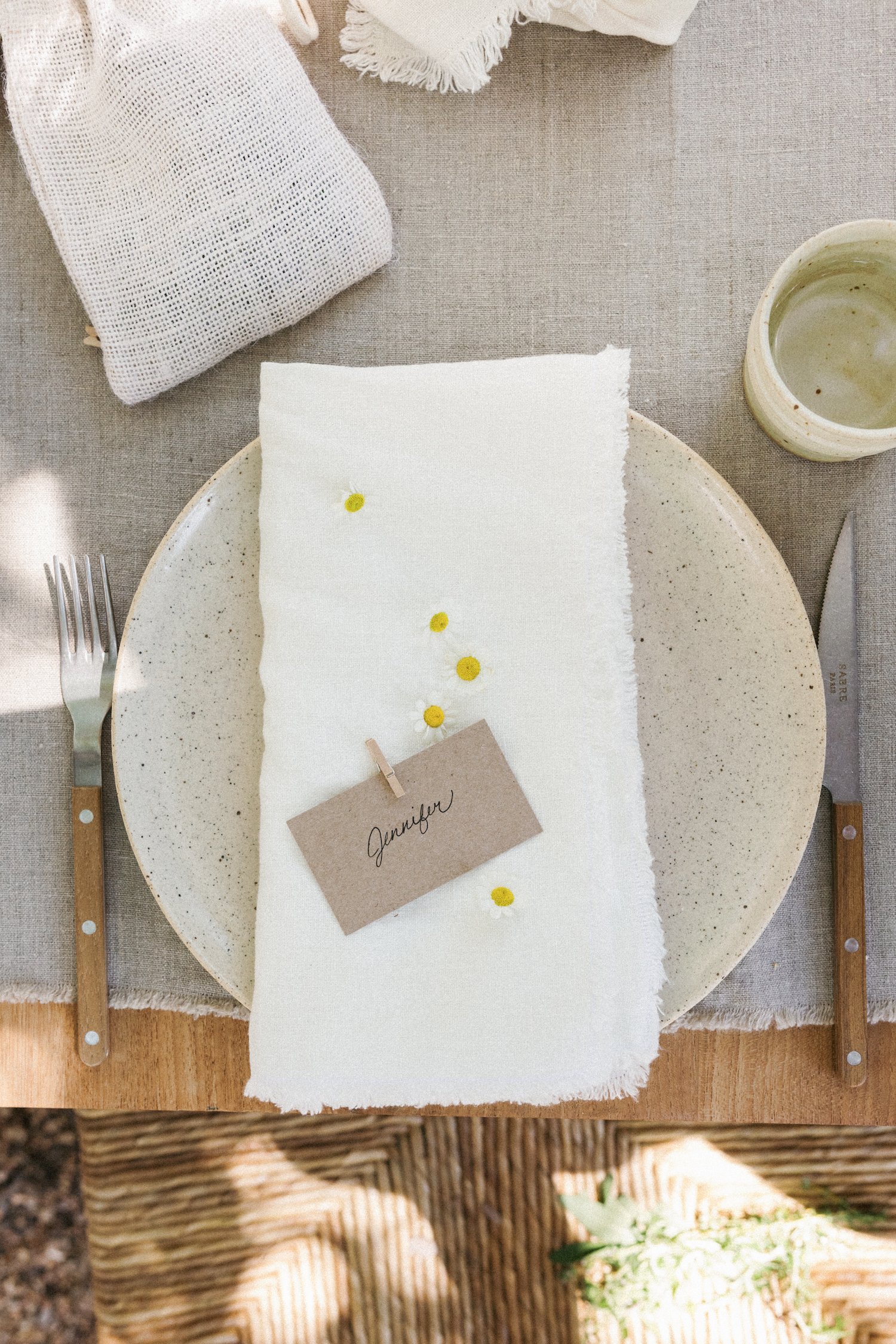 Add place cards
Although by no means required, a simple handwritten place card is a simple way to add a thoughtful touch to each setting. I especially love a place card for larger gatherings, as it removes any confusion about where to sit, and allows me to be intentional with who I sit next to one another.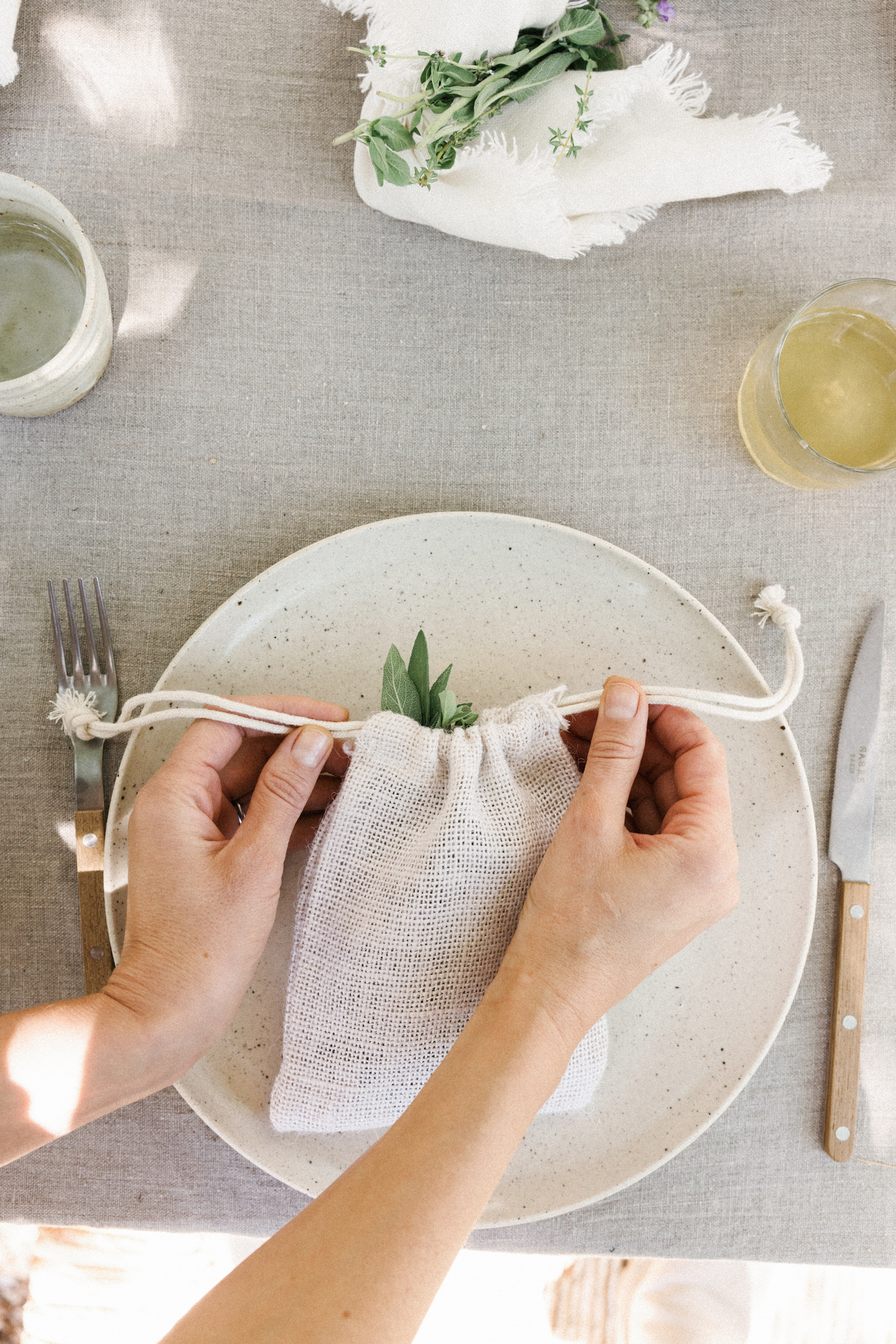 Leave a sweet memento
Stock up on inexpensive muslin or linen bags from Etsy, then tuck in something special for each guest. I filled these with herb-infused bath salts, to inspire a moment of self-care.
***
Hope you loved these Mother's Day table decoration ideas—be sure to tag us on Instagram to show how you set the table for Mother's Day this year!