When we think of shopping wholesale for our groceries and household items, there is one name that instantly comes to mind: Costco. There's no doubt that Costco is the undisputed mother of bulk-buying heaven. And as the mother of two hungry and messy children, I can confidently say I am a proud member of the Costco cult. I even have a membership card to prove it. That's why when folks are wondering the best things to buy at Costco, you better believe I'm happy (and perhaps unexpectedly thrilled) to show them the way.
Yes, I'll admit that the bougier side of me once preferred a strict grocery shopping experience at Whole Foods or even Trader Joe's. But after having kids, that's a concept I had to put to bed—at least for the items that need to be bought in bulk. For things like spices, sauces, and high-quality veggies, I tend to do my shopping at smaller, local stores. However, for big things like meat and snacks for my family, Costco is practical and substantially more affordable than the leading grocery store. Sounds like a win-win!
Featured image by Michelle Nash.
The Best Things to Buy at Costco
It's clear that many other parents agree, too. The only common downside to Costco is how overwhelming it can be sometimes. With that in mind, I thought I'd round up my list of the best things to buy at Costco. For even more insider insights into the wide world of bulk shopping, I tapped fellow Costco mom, Brittany, to share her top picks she never leaves the store without.
Below are all the items that make the shopping list before I head out. Who knows, they might just inspire your own Costco journey. Let's get into it!
Snacks and Sweets
Naturally, food and beverage are the staples of Costco's wholesale catalog. Who doesn't love to stock their fridge and freezer with goodies after just one shopping trip? From family favorites to kid pleasers, Costco has it all. These are Brittany's and my must-add items to your list.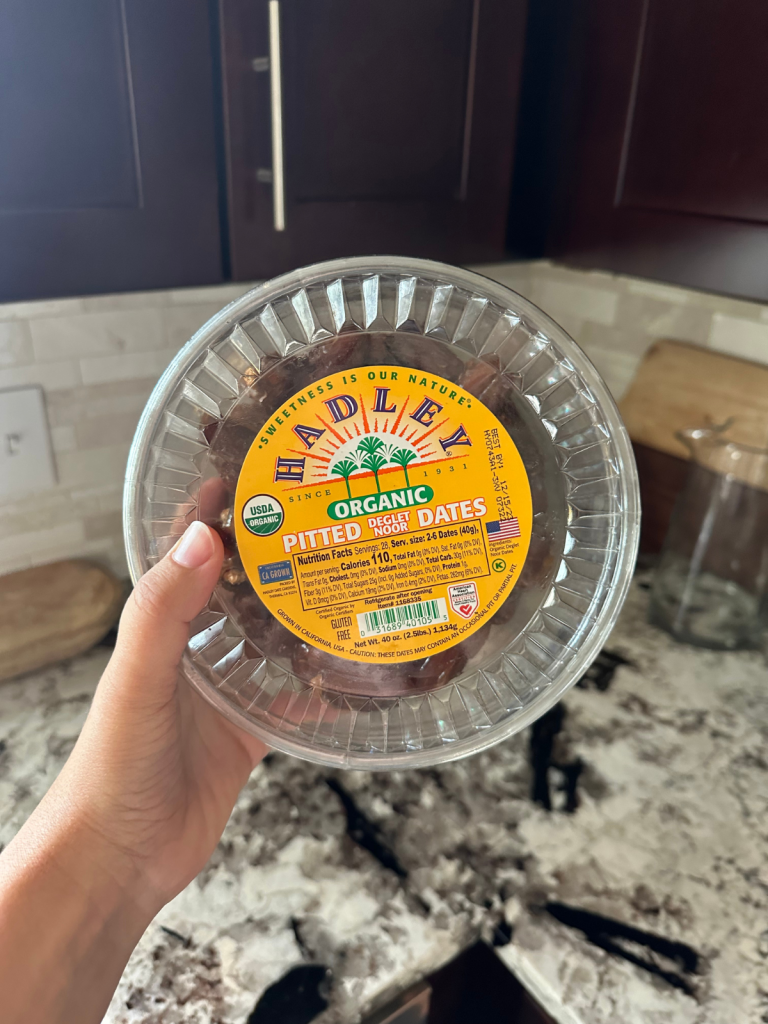 Organic Pitted Deglet Noor Dates
Organic dates at Costco come in clutch for snack time (slather with nut butter!), to sweeten smoothies, to chop up for salads, to make your own date caramel—the price can't be beat.
Organic Dried Mangoes
One of my favorite snacks that my kids also can't get enough of. Mango makes a regular appearance in their lunch boxes.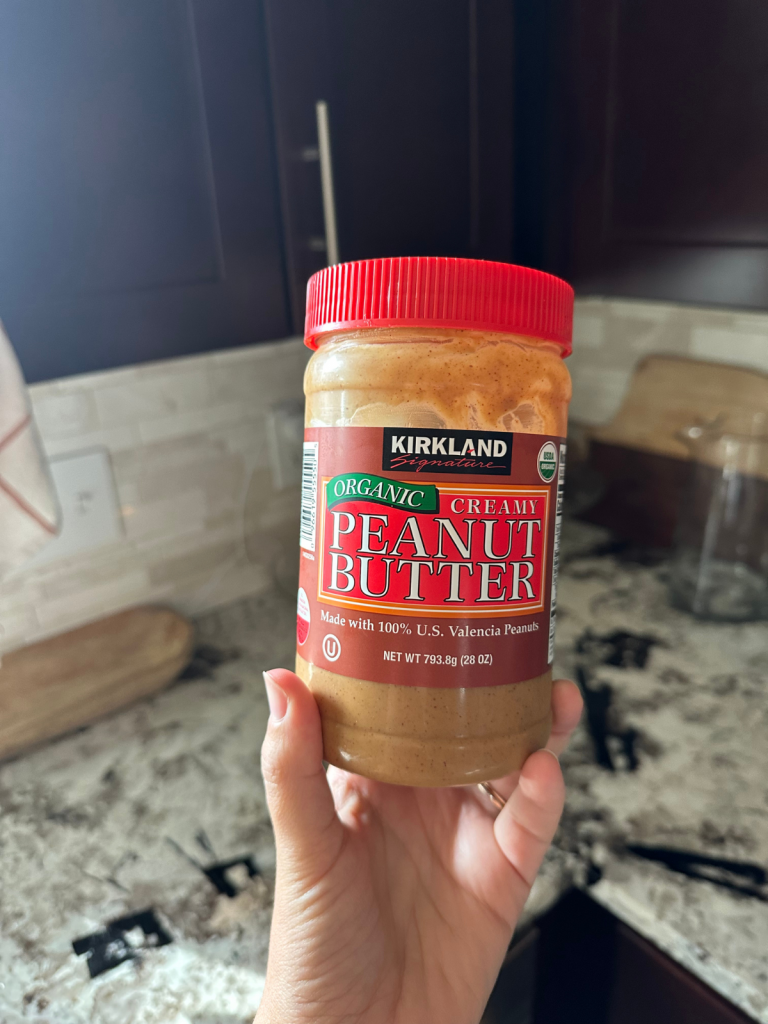 Organic Creamy Peanut Butter
IYKYK. No peanut butter tastes better than this.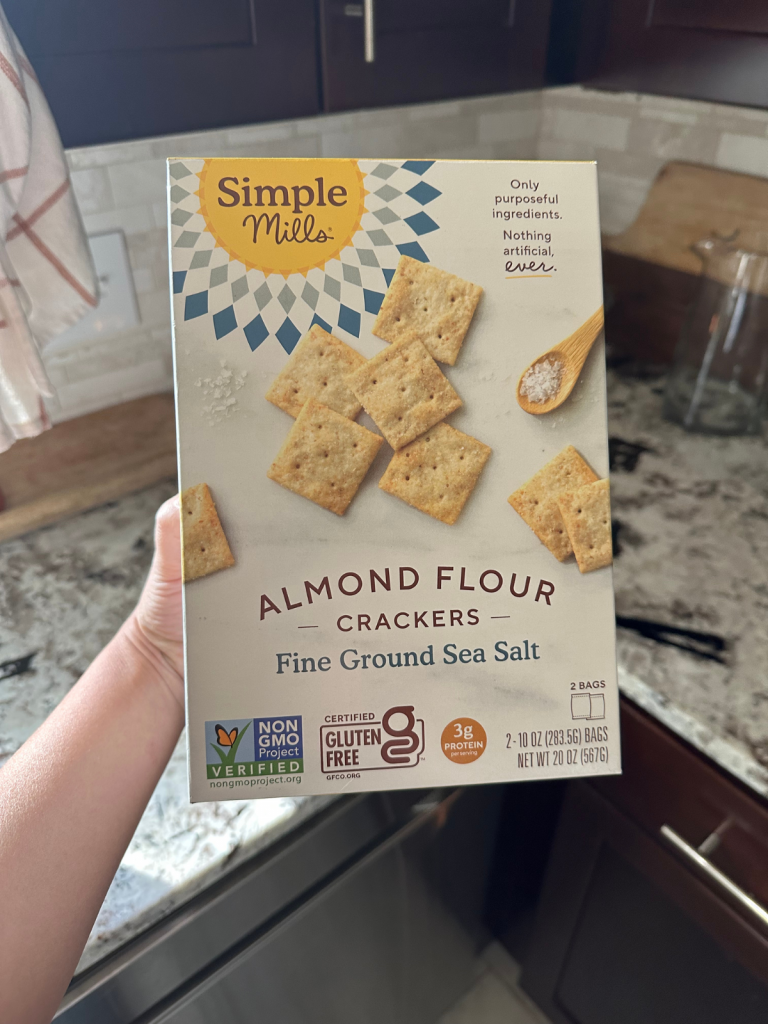 Simple Mills Almond Flour Crackers
You must always leave Costco with something crunchy and snacky in your cart. Simple Mills Almond Flour crackers are addicting in the best way and buying them in bulk is the most affordable way to go.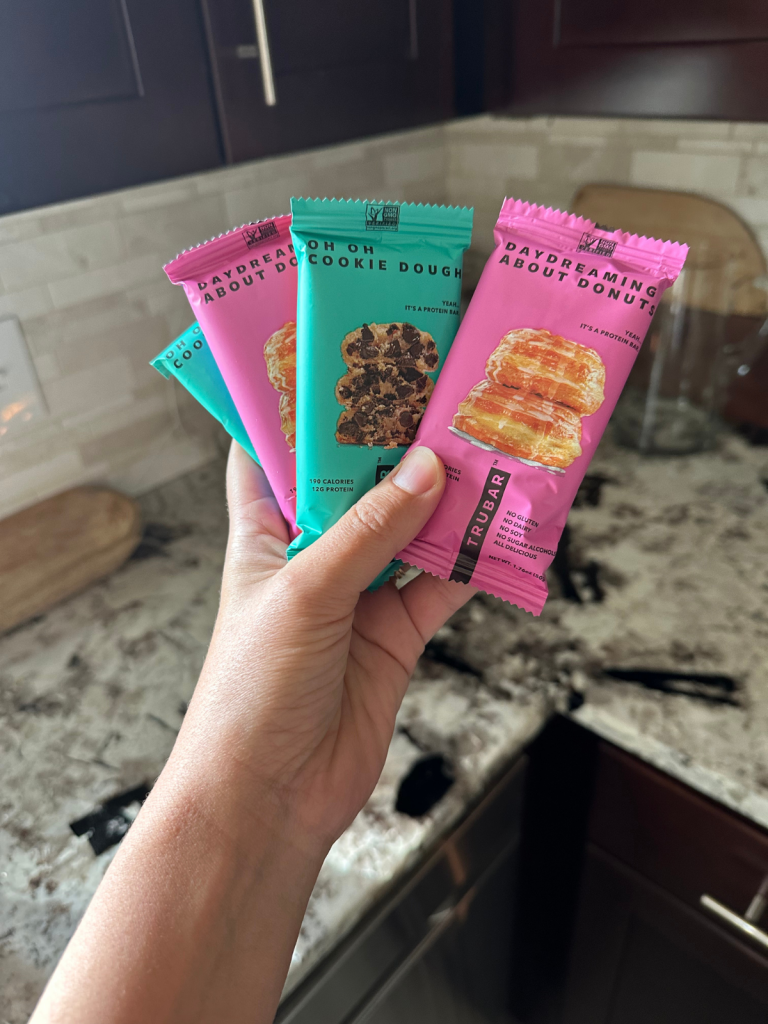 Trubar Protein Bars
These protein bars are DECADENT and such a treat. Trubar is a woman-founded company and they knew what they were doing when they formulated protein bars that taste like cookie dough and donuts. Favorite Costco find of the year.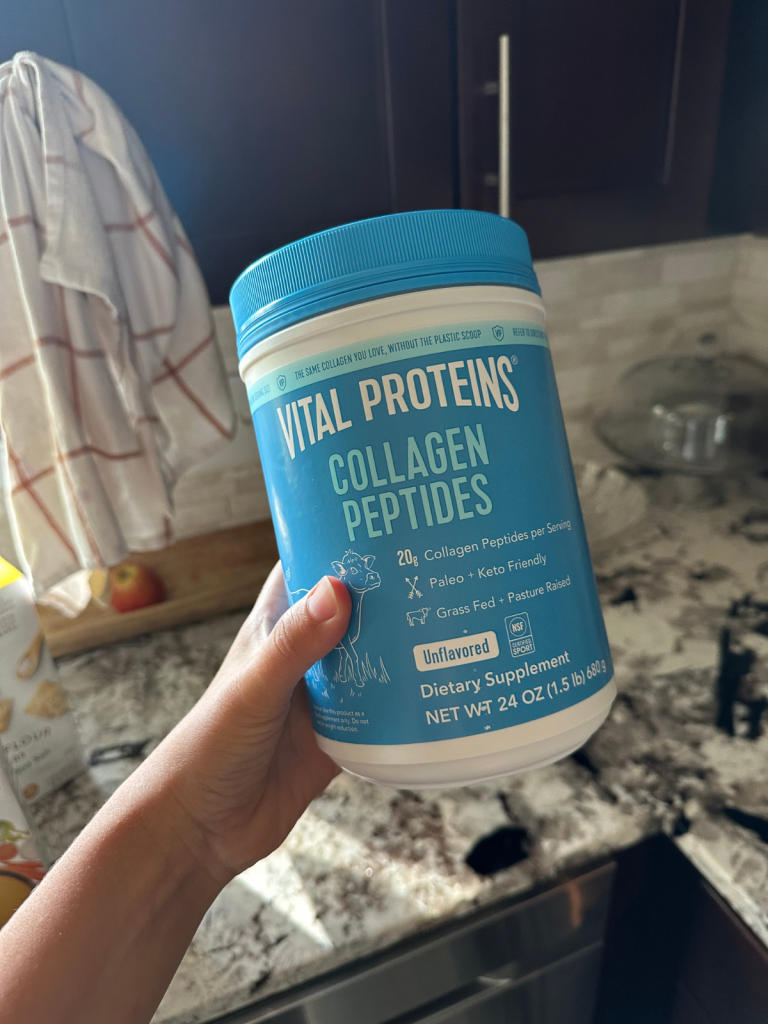 Vital Proteins Collagen Peptides
Maintaining a protein-heavy diet can be expensive. However, at Costco, you'll find tons of affordable options for protein powder and pre-mixed shakes. Vital Proteins are one of my favorite clean protein options, and you can find almost any variety of the popular brand's protein blends (from marine collagen to collagen peptides and its standard protein powders).
Humm Organic Probiotic Kombucha
Your favorite brands of kombucha in bulk? Yes, please! You can find Bend, Oregon-based Humm Organic Probiotic Kombucha on your local Costco shelves. Personally, even the Kirkland brand's raw Ginger-Lemonade kombucha is a gut-friendly fave.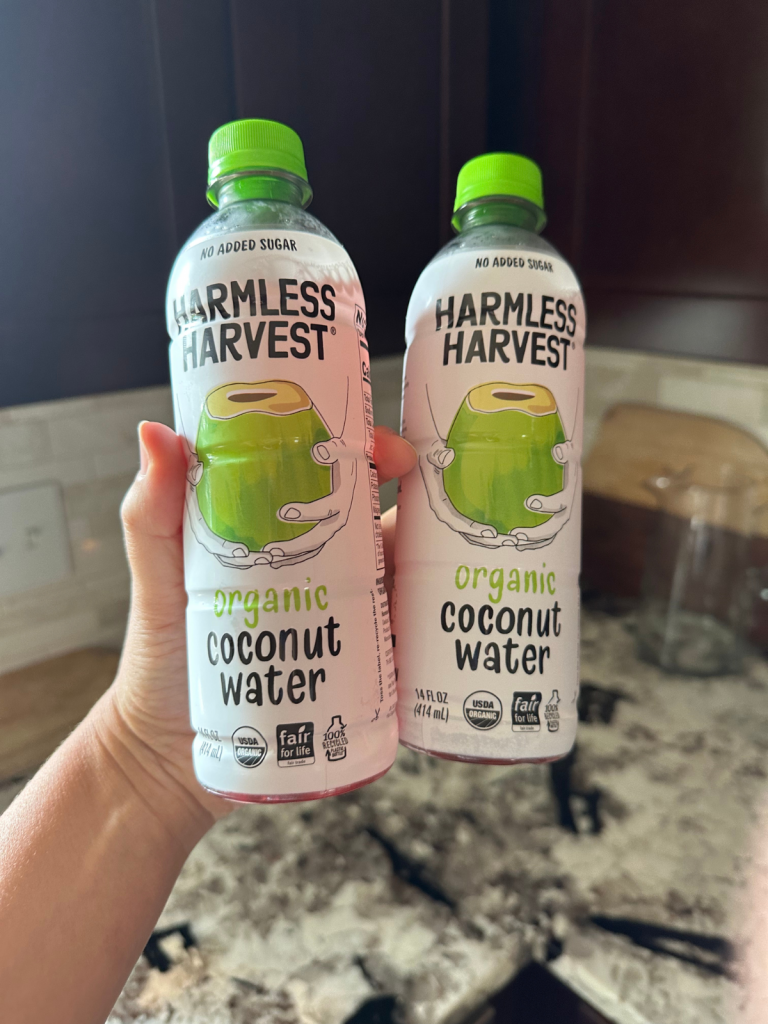 Harmless Harvest Organic Coconut Water
Harmless Harvest is one of our favorite coconut waters and Costco sells them six in a box. Essential for summer hydration and so good in smoothies.
Breakfast Foods
Kirkland Signature Bagels
If you're someone who loves venturing out for your weekend bagel and coffee, I totally feel you. It's a little luxury that I could always do with more in my life. But if you're looking for a quick-and-easy option—whose price you can't beat—Costco reigns supreme. I love that the bagels are water-boiled, making each nice and chewy on the inside while the exterior gets a crispy, golden-brown texture. I'd even go as far to say that their plain bagel is a treat—but the parmesan is my true fave.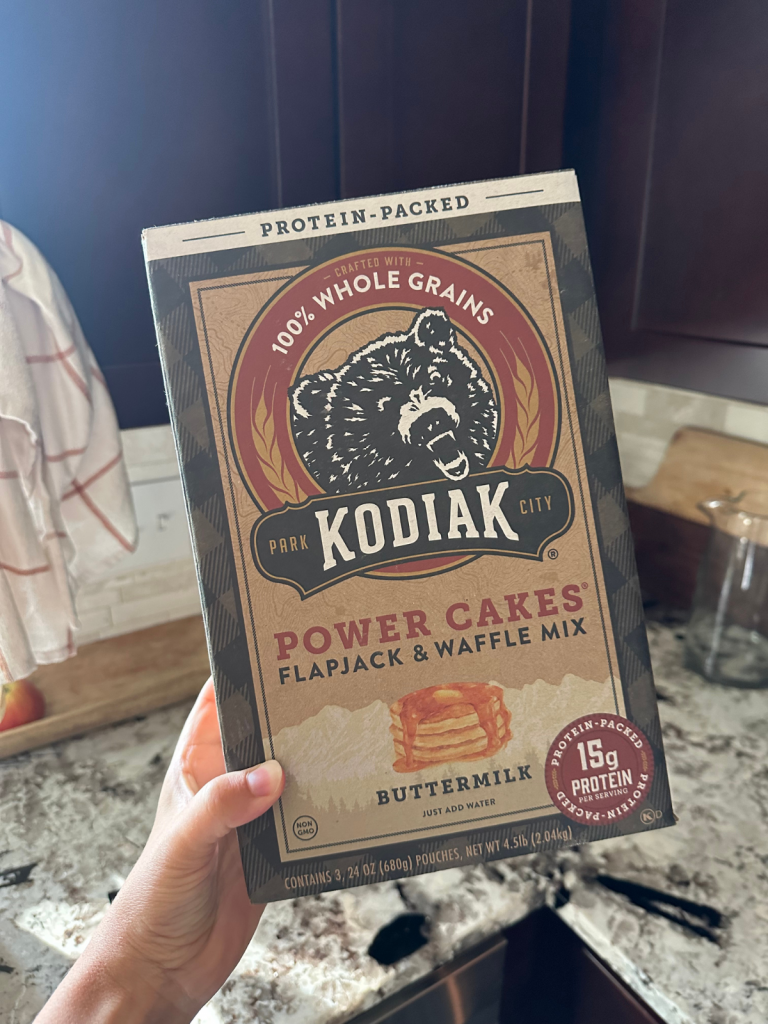 Kodiak Pancake and Waffle Mix
A solid protein-fueled breakfast is essential for kids (and your) brain health going into a day of school (or work). When eggs or yogurt just won't do, this mix gets the job done. And you can make more than just waffles or pancakes—the muffins and breakfast cookies are perfect to whip up for on the go or quick snacks.
Au Pain Doré Frozen Butter Croissants
For a fancier take on a morning pasty, stock up on some delicious, buttery croissants. They're excellent from the bakery, but the Camille Styles team has even raved about our mutual love of the brand's frozen croissants. While Costco's in-house Kirkland brand offers them, my favorite are those from Au Pain Doré (a Montreal-based bakery). Hot tip: Bake yours in the air fryer and brush on a little egg wash before popping them in. You'll get the perfect golden-brown croissant.
Meal Essentials
Kirkland Signature Pepperoni Pizza
Costco has some delicious options for pizza, both frozen and already baked. It's definitely a must-have that will please the whole family (and is a great option when you have zero dinner plans).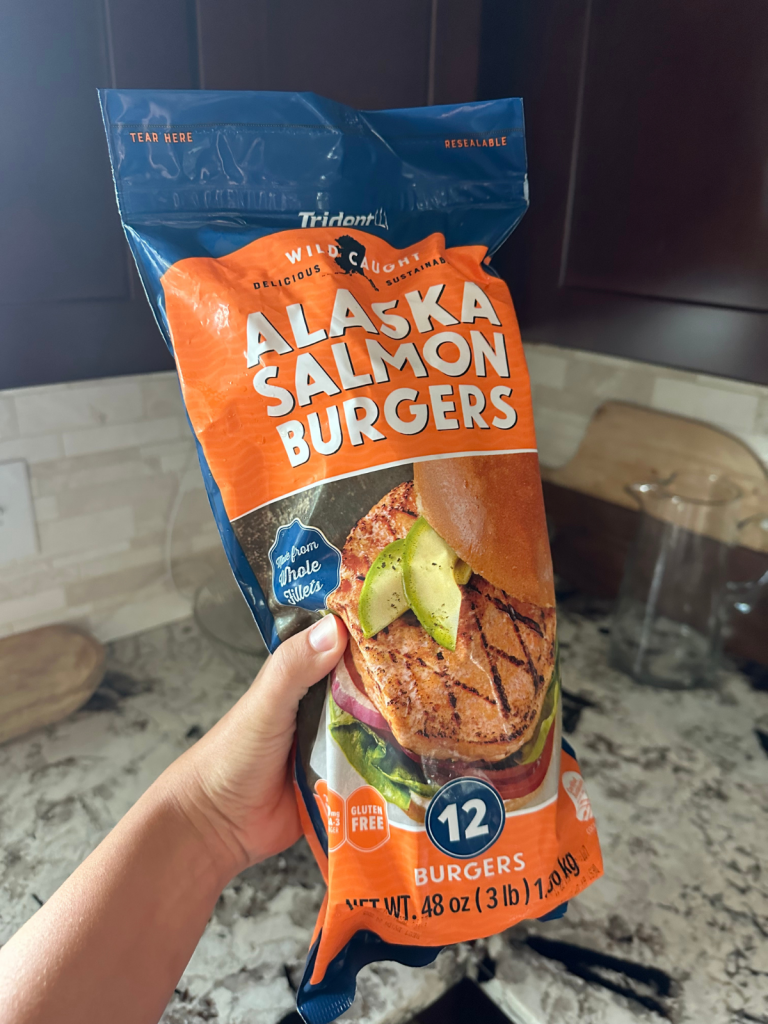 Wild Alaskan Salmon Burgers
If you're looking for a protein-fueled lunch or a quick dinner idea, a single salmon burger packs a whopping 20g of protein.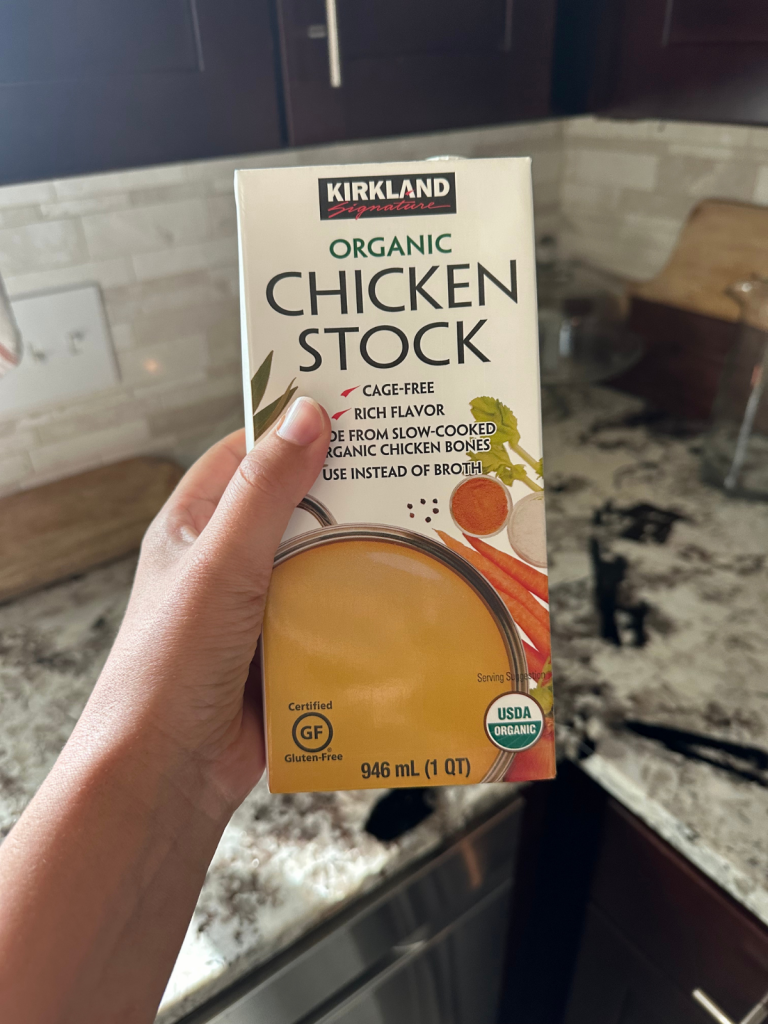 Organic Chicken Stock
Chicken stock is a pantry staple when it comes to sauces, pastas, soups, or even livening up rice. Kirkland's Organic Chicken Stock is delicious on its own, so you know it'll pump flavor into whatever you're cooking. Plus, it's made from simple ingredients—the same simple vegetables and spices I'd use if I were making stock at home.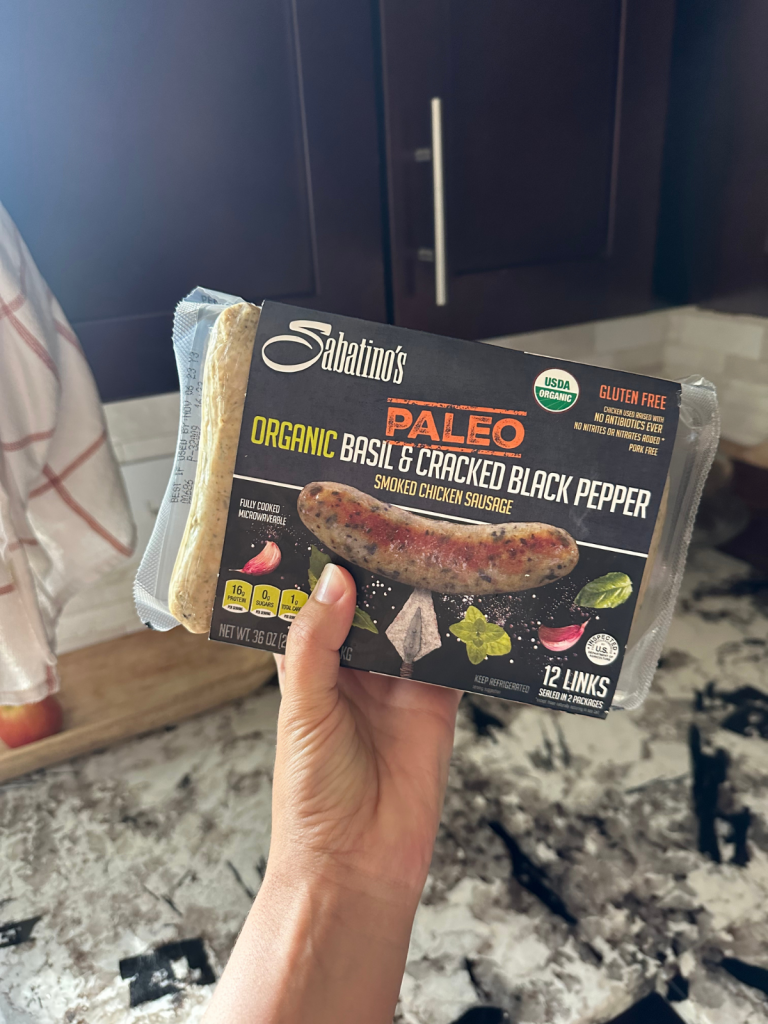 Organic Smoked Chicken Sausage
These sausages are made from simple ingredients and the perfect jumping off point for a quick dinner. Grill with onions and peppers, slice and serve over pasta, roast on a sheet with veggies—easy and delicious.
Siete Almond Flour Tortillas
A personal favorite of mine. They're great for quesadilla night or a simple lunchtime wrap. We're obsessed with everything the famed Austin-based brand puts out. And while these tortillas taste purely authentic, they're also friendly on your digestive system and keep you from feeling weighed down post-meal.
Home Items
At Costco, you can fill your fridge and furnish your home in one trip. In fact, they have a full home section where you can find tons of affordable pillows, blankets, and more. While I don't personally take advantage of many of their household selections, some items that I do love to buy while on a Costco run include the following.
Pendleton Blankets
No matter what your vibe is at home, Pendleton blankets are the perfect way to cozy up your space. If you're familiar with Pendleton, then you'll be as blown away as I was to find it on sale at Costco. Perfect for you or as a gift. 
Toilet paper 
It's not furniture, but it's a household staple nonetheless. Arguably one of my favorite items to get at Costco is toilet paper in bulk. It usually lasts several months and yes, is unbelievably soft. If you were also traumatized by TP Gate 2020, you'll never miss an opportunity to stock up at Costco.
Paper towels
… same goes for paper towels. When it comes to Costco, the brand excels in both the little things that make life a luxury (see Pendleton blanket and croissants above) as well as the staples every day requires.
Self-Care Buys
Much like household items, I still prefer to get lots of my makeup, body care, and skin care from other brands. However, Costco has some great options that you might find surprising. Here are a few I always add to my cart. 
Retinol
Everyone's getting on the retinol train. PSA: While some of the pricey options do work like magic, budget buys can be just as effective. Below is my fave that delivers results, minus the harsh side effects.
Vitamin c 
We all know well that once you enter the supplements game, things can start getting expensive, fast. But if you shop at Costco, don't pass up the opportunity to get solid picks at a fraction of the price of other brands. I take this Vitamin C every day to keep my cells healthy and happy and my body loves the results.
La Mer 
Lastly, one of the most surprising brands I have found at Costco is La Mer. Think what you will of Kim K, but her skin is flawless—and La Mer skin cream is her fave. So, of course, I'm going to jump at the opportunity to buy it in bulk. Costco really is the greatest.
Some Surprising Favorites
You may or may not know this, but Costco also sells some incredible activewear. (Gen Z is already way ahead of the trend.) But when I first found this out, I was in awe. Now, I can get a variety of different gym outfits to swap for different days of the week without having to spend a ton of money on the big athleisure brands. Game changer.
And of course, a Costco list for parents wouldn't be complete without one last item: diapers. It seems like a no-brainer, but before I started shopping at Costco, it never registered that I could buy bulk diapers there. You're welcome!
This post was originally published on February 28, 2023, and has since been updated.