It's nice to have things we can count on in this wild world. Hopefully, it's people or a go-to comfort watch, but for me, it's the excitement of discovering the best Trader Joe's fall snacks of the year. (There are other things, of course, but this one is honestly a biggie.) Time relentlessly marches on, but the grocer's best seasonal snack foods largely stay the same—and always seem to show up right when you need them most.
Featured image by Christie Graham.
The Best Trader Joe's Fall Snacks
The autumnal scene in and of itself is wholly comforting, but some seasonal Trader Joe's snacks burrow their way into your heart—and your pantry—like none other. To get a sense of what TJ's has on tap, I took a trip down to my local store and perused the isles with no time limit.
From pumpkin brioche and spiced Joe-Joe's to seasonal soup (it counts as a snack in our book!), these are the Trader Joe's treats our editors stock up on every fall.
Autumnal Harvest Soup
Kicking off our list is one of our favorite snacks (or meals) here at Camille Styles… soup! Soup is one of those items that can be enjoyed any time of day during fall. This Autumnal Harvest Soup uses seasonal root veggies with a creamy tomato base. Pair it with a toasty grilled cheese or a hearty sandwich, or simply enjoy it on its own!
Almond Butter Filled Pretzels
Life is like a bag of pretzels, said no one ever. But I'm telling you: When I have a bag of these almond butter-filled goodies in my possession, they're all that matter in life. The smooth almond butter paired with crunchy pretzels topped with chunky salt hits all the salty-sweat-creamy notes I crave in a snack. Funnily, I grabbed these by mistake when aiming for the peanut butter ones. Well, there are no mistakes. Get these while they're on shelves—in bulk.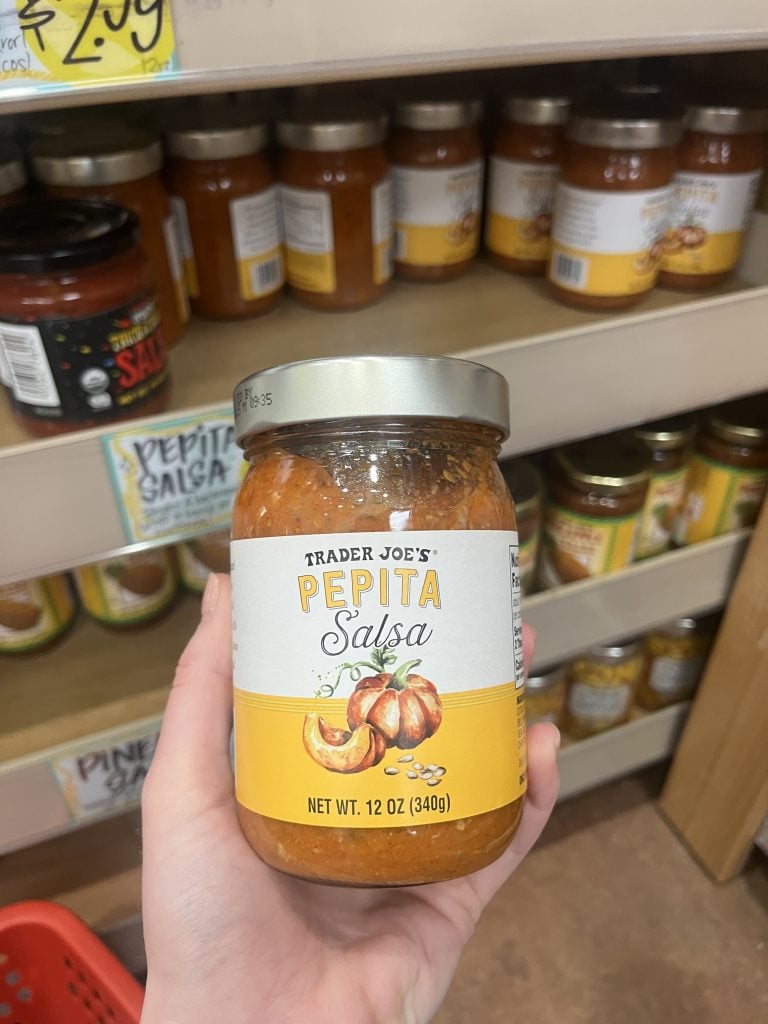 Pepita Salsa
When it comes to pepitas, I'll take any chance I get to enjoy their spiced nutty flavor. Tomato and pepper flavors of traditional salsa meet the texture (and autumnal bliss) of chopped pepitas. How could we say no?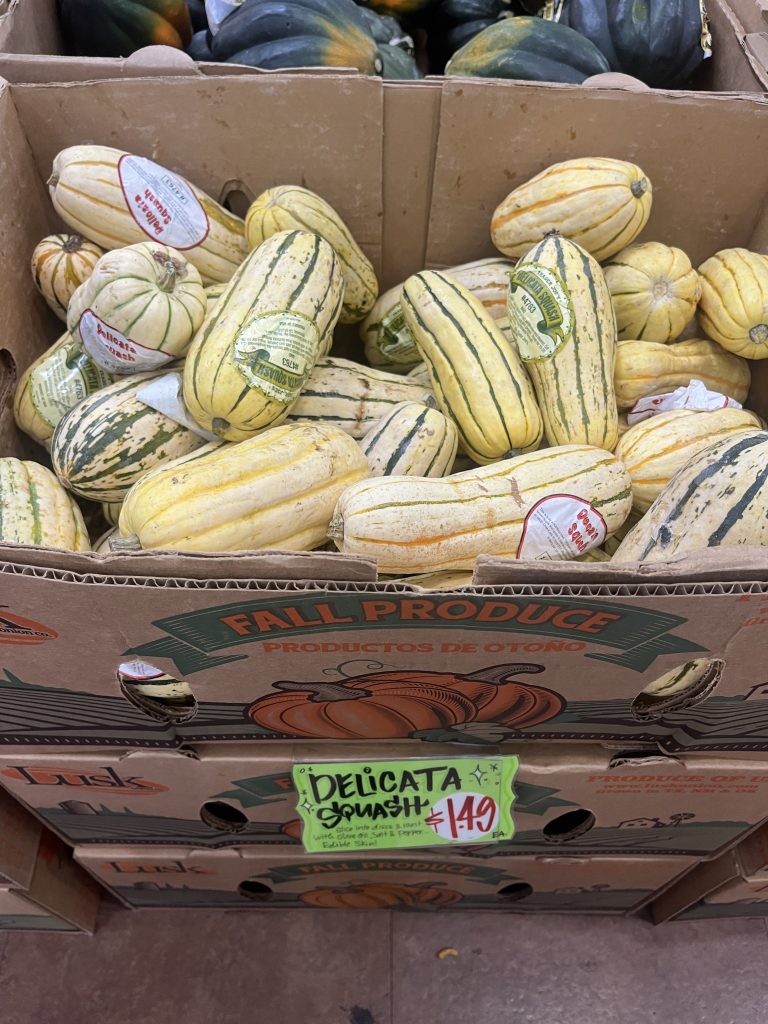 Delicata Squash
I know, I know—you gave me a pass on the soup. But delicata squash? A snack? You bet. When fall rolls around, all I want to do is cook with squash in every way possible. The recipe potential for this veggie is practically endless, and can, by all means, be made into a tasty snack. Give it a spin in your air fryer and you'll know what I mean. And before you go wondering if you can just buy these at any old grocery store, know this: whereas other Trader Joe's produce leaves much to be desired, somehow the delicata squash always hits right.
Pumpkin Blondie Brownies
If you can't make the tough choice between blondies and brownies, now you don't have to. Bonus: pumpkin. While I often choose the former treat, and these are admittedly more of a spiced pumpkin bar than leaning squarely on either side, I'm obsessed. With white chocolate chips (score), pecans, and *legit* pumpkin flavor, these are high up on my list of the best Trader Joe's fall snacks. They're the perfect post-dinner treat.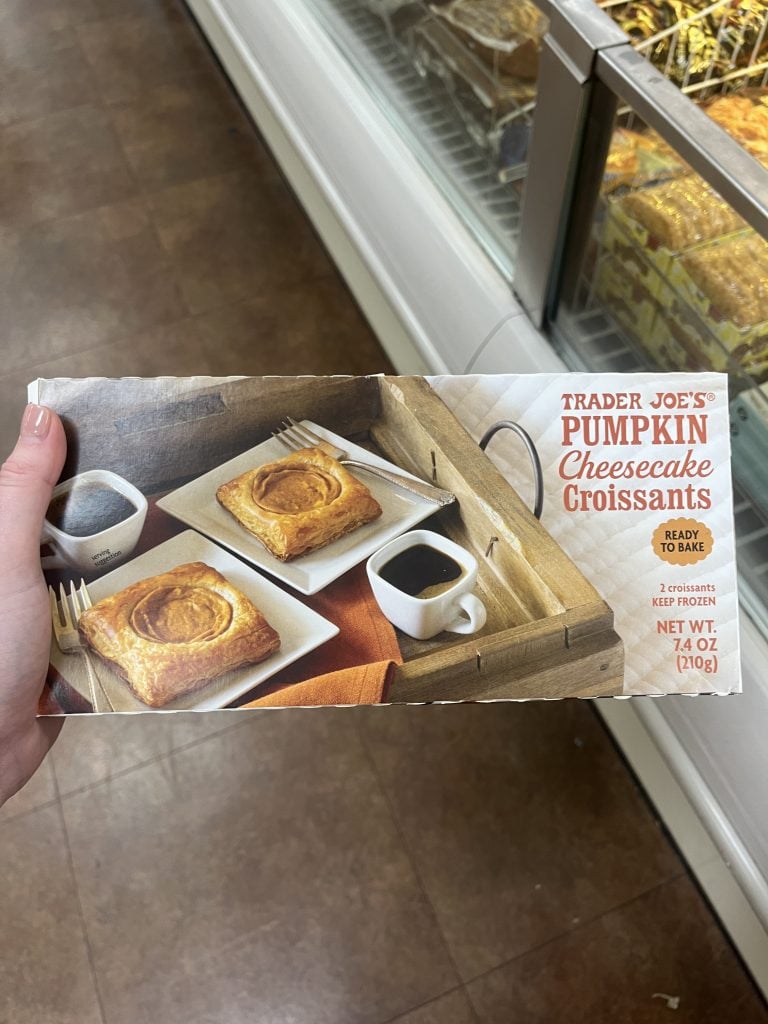 Pumpkin Cheesecake Croissants
With two of my favorite things in one dessert, it was impossible to pass up on these pumpkin cheesecake croissants. They're the perfect balance of sweet and spiced packed into just the right size for a small dessert or sweet snack.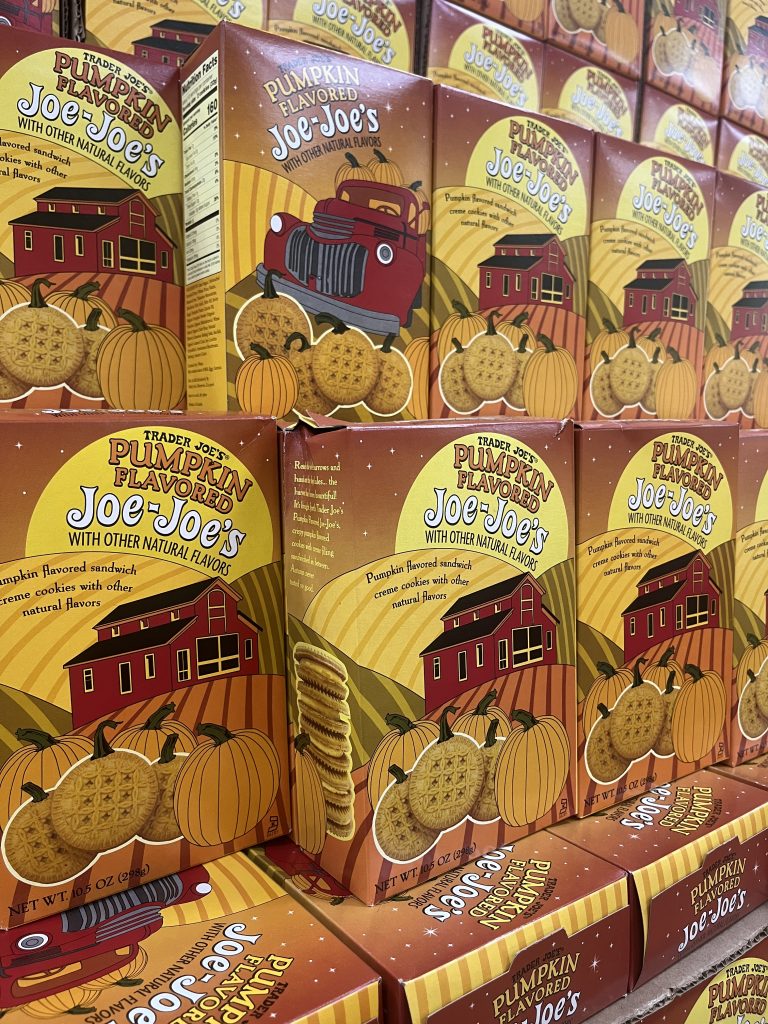 Pumpkin Spiced Joe-Joe's Sandwich Cookies
Snacks may shift from season to season, but one thing stays the same: the everlasting, forever joy of Joe-Joe's. While the chocolate classics are my standby throughout the year, nothing gets me more excited for October than the return of my forever faves. Filled with creamy, pumpkin-spiced flavor, I can't imagine a world where I can only have one of these.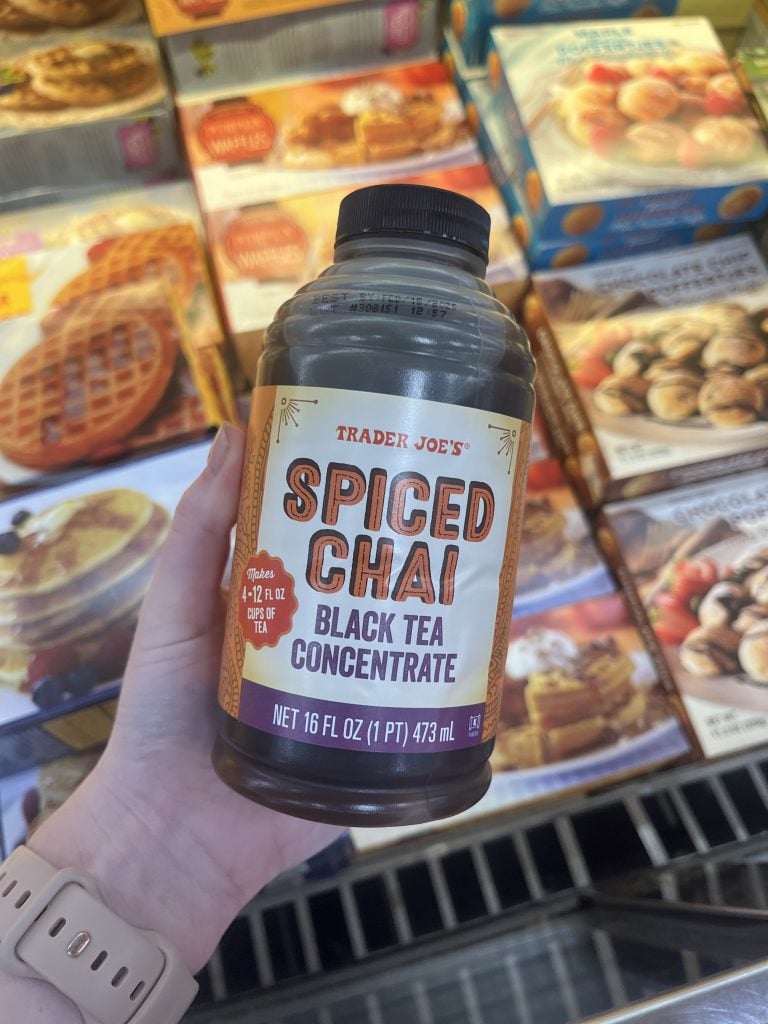 Spiced Chai Black Tea Concentrate
Some love their PSLs, but I can't get enough cups of chai once autumn rolls around. And while other chai concentrates lean far too sweet, this blend retains plenty of spicy, fall-ish flavor. If you really want to step things up, go 1:1 with your favorite apple cider for a chaider that's absolutely delish.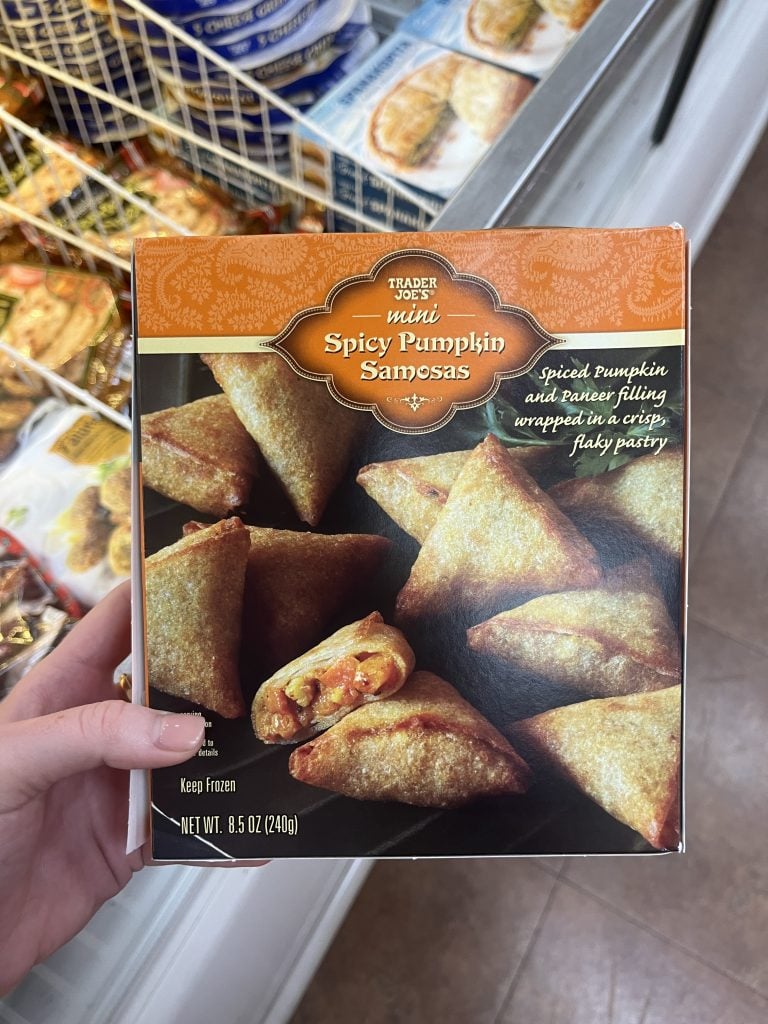 Spicy Pumpkin Samosas
To keep things real with you, I'm currently munching on these spicy pumpkin samosas—and I'm blown away by how delicious they are. Sometimes when pumpkin season rolls around, I'm not always drawn to the overly sweet recipes (although I do love a good pumpkin dessert). These pumpkin samosas are the best savory, bite-sized snack to cozy up with after a chilly fall day.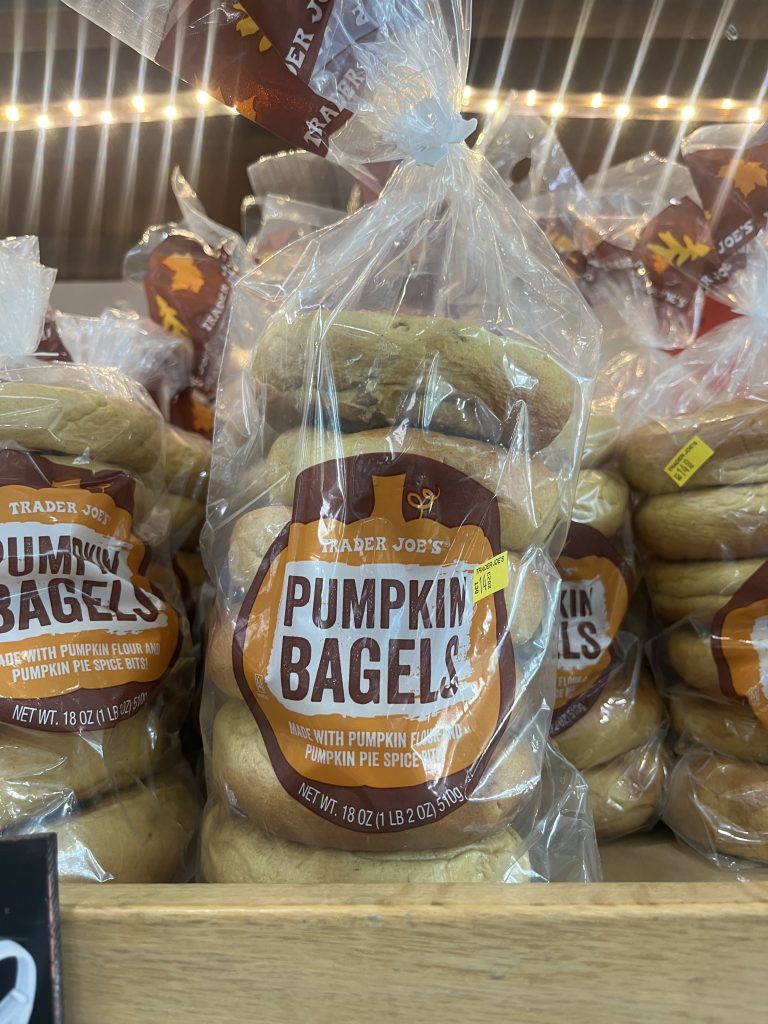 Pumpkin Bagels
Pumpkin bagels? Highly underrated. I'm a bagel girl through and through, and I simply couldn't resist these the first time I strolled through a Trader Joe's last October. They have the perfect hint of sweetness and fluffiness you want in a good bagel. Pair with any autumnal cream cheese of your choosing to really send this home.
Gluten-Free Norwegian Crisp Bread
These crisp breads make a great snack year-round, but they're an especially perfect vessel for the real reason we all like snacks: the TOPPINGS. I love mixing it up with different fall ingredients. Perhaps some goat cheese and everything seasoning (another TJ's staple) on top, or maybe some almond butter and apple slices for a sweet and savory treat. Heck, I've even topped these with some pumpkin yogurt and cinnamon, and it was delicious. Feel free to get creative! These crisp breads have brought my snack game to new heights.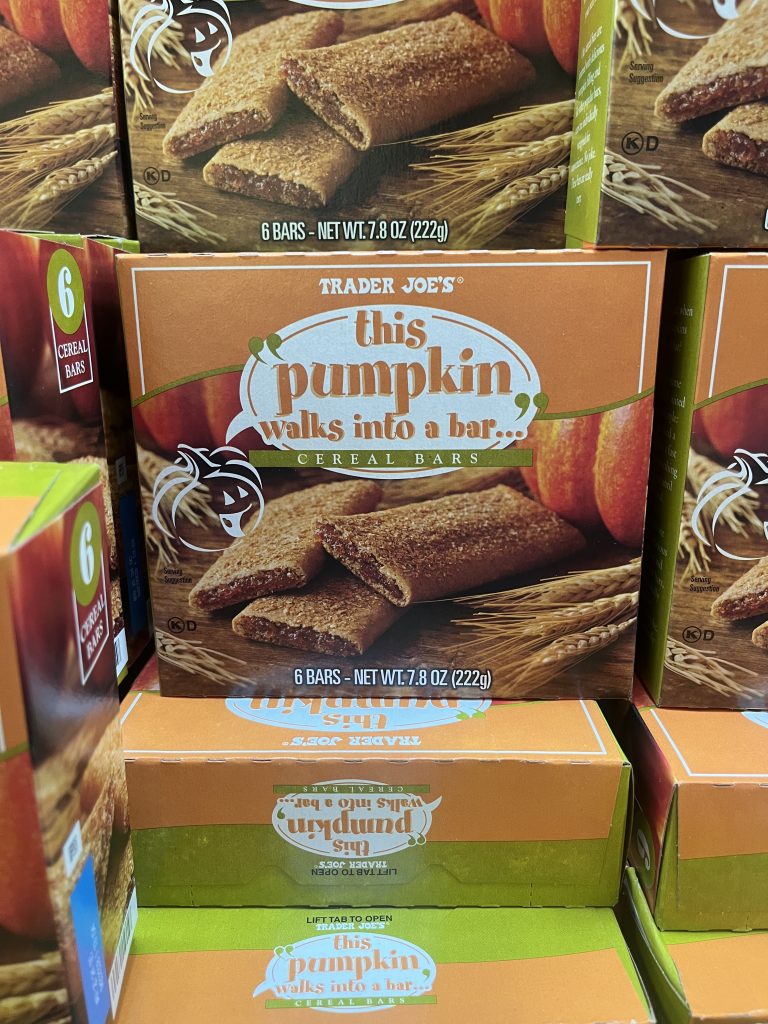 This Pumpkin Walks Into A Bar… Cereal Bars
I swear, my mom has the fig version of these bars in every bag, jacket pocket, and her car at all times. Well, come October, she happily swaps these fall-ified treats into her rotation. While I typically pass on other cereal bars, these boast pure pumpkin flavor. They're ideal as a snack on the go or enjoyed in the afternoon with a steaming cup of chai. Perfect in a pinch.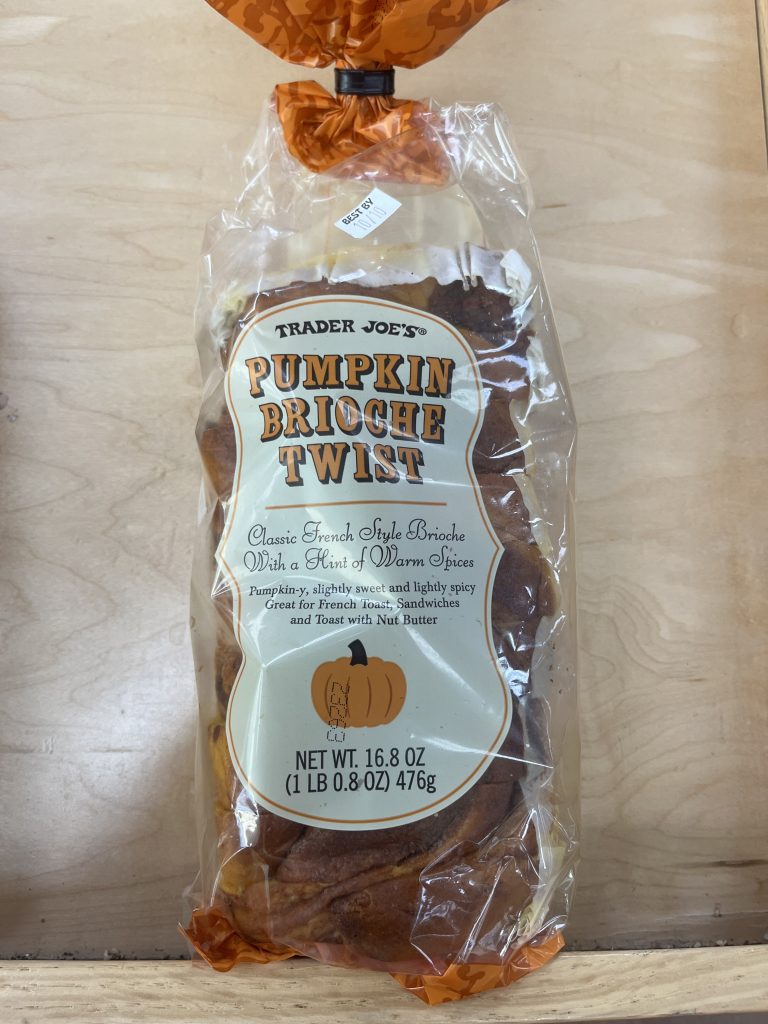 Pumpkin Brioche
Soft, sweet, cinnamony, and all the pumpkin flavor—what's not to love about this perfect brioche loaf? I love it toasted with a little butter or, even better, for French toast. It's indulgent and delicious, and I look forward to it every fall.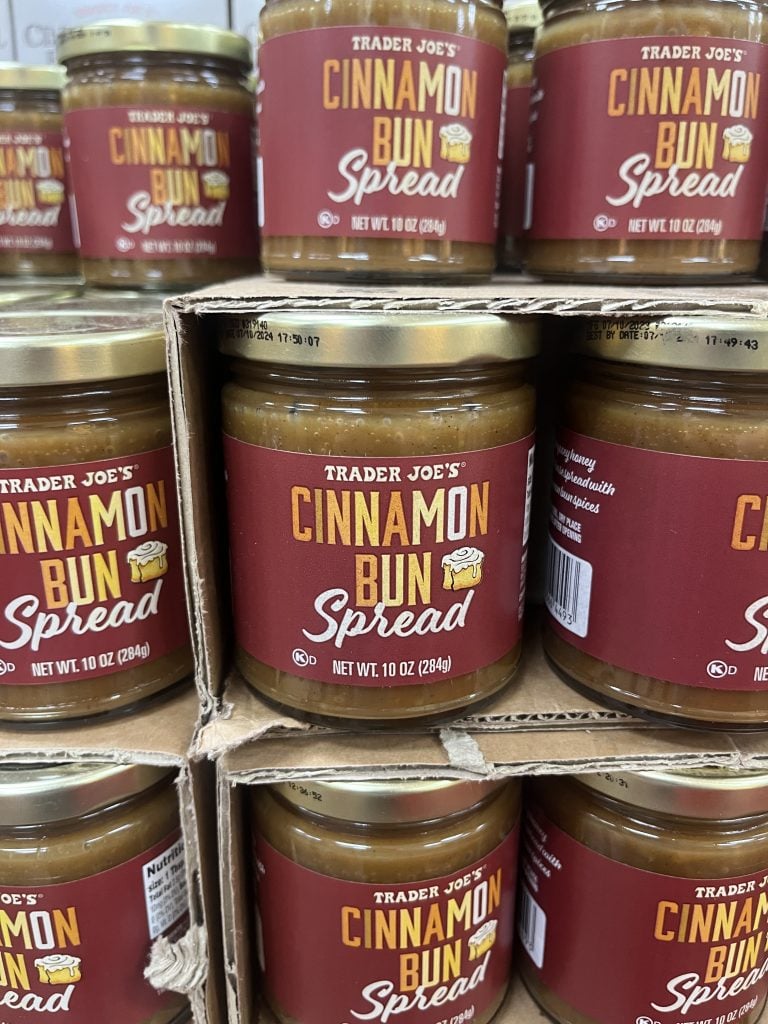 Cinnamon Bun Spread
You might think this cinnamon spread exists purely to slather onto cinnamon rolls or even TJ's pumpkin rolls (also very good!), but you'd be so terribly wrong. This ridiculously sweet spread—which is surprisingly low in added sugars—can be spread across whatever your fall flavor-loving heart desires. And it's way better than TJ's pumpkin cream cheese or pumpkin spice hummus—trust us.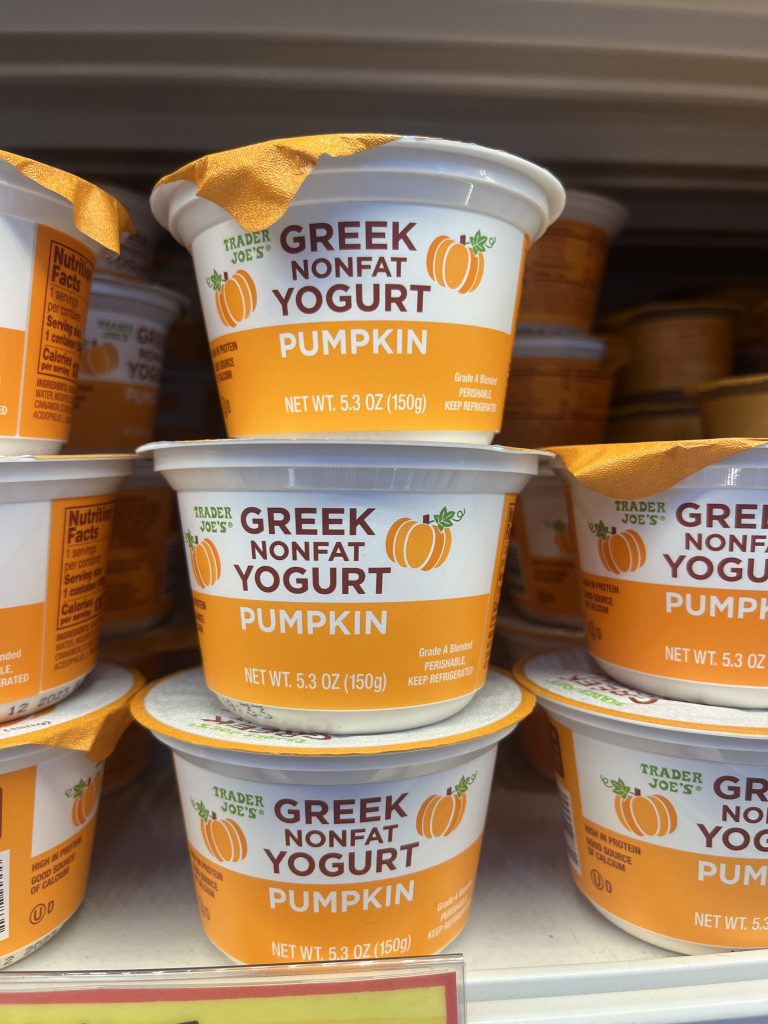 Pumpkin Greek Nonfat Yogurt
I loooove thick and creamy Greek yogurt and of course, I'm obsessed with pumpkin. When my two faves join together in one totally addicting and satiating snack? It's game over. The pumpkin flavor hits perfectly, giving the yogurt a slightly sweet bite. It's perfect on its own or made into a yogurt bowl with chopped apples, cinnamon, and maybe even a little maple syrup drizzled on top.
Pumpkin Spice Pretzels
Pumpkin-spiced pumpkin seeds, real bits of lemon peel, and a touch of flaky salt come together to create (arguably) the best fall snack on this list. Covered in creamy yogurt, these tiny pretzels are a delish sweet treat with the perfect balance of fall flavors. If I don't stop myself, I will undoubtedly eat this entire bag in one sitting.
This post was originally published on October 13th, 2022, and has since been updated.