Growing up, my household favored savory summer fruit. We appreciated fruit as a deliciously sweet, warm-weather treat. When picked at peak ripeness, it was evident: whatever fruit was served would rival the sweetness of almost any dessert around. (Summery cakes, very much so included.) And while I love a good bowl of honey-kissed peaches, ice cream, and berries galore, my association with fruit is first and foremost savory. That's why, when I was tasked with creating a ricotta toast that would become my ultimate late-summer snack, I sought an edge of spicy, jalapeño-laced goodness.
Without fail, my mom always kept a bowl of whatever fruit was in season on the counter. She would top it with black salt and chaat masala—giving the melons, pears, apples, and so forth a sweet-meets-savory and slightly salty flavor that is very near addictive. And when summer comes around, I'm always looking for ways to pair these savory flavors with the sweetness of warm-weather fruit. Today's version? My truly addicting, minty melon ricotta toast.
I know what you're thinking—at first, it's an intriguing, if not unexpected combo. But in the search of new ways to celebrate summer fruits, I figured adding a little spice would be the perfect way to elevate the sweetness of summer melons. This toast is one of those "no recipe" recipes, coming together in about ten minutes. It's perfect for those evenings when the thought of turning on the stovetop seems just a little too much.
Ingredients for Spicy Melon Ricotta Toast
Cantaloupe. I love cantaloupe, particularly in the summer when its flavor leans more floral in sweetness. If you don't, you can use honeydew, blackberries, peaches, or whatever fruit you crave.
Jalapeño and red chili powder. Both add a slightly different heat and flavor. I like using both to bring a little spice to this recipe.
Mint. Freshly chopped to add some brightness to the toast.
Honey. I find that honey complements the sweetness of fruit without being overpowering. If you want a little more sweetness, add a pinch of sugar to taste.
Lemon juice. A little acidity is always the key to brightening up any recipe while cutting through the sweetness.
Ricotta. Whole milk, always.
Sourdough. Toasted until golden brown. The crunchy texture acts as a nice complement to the creamy and soft toppings.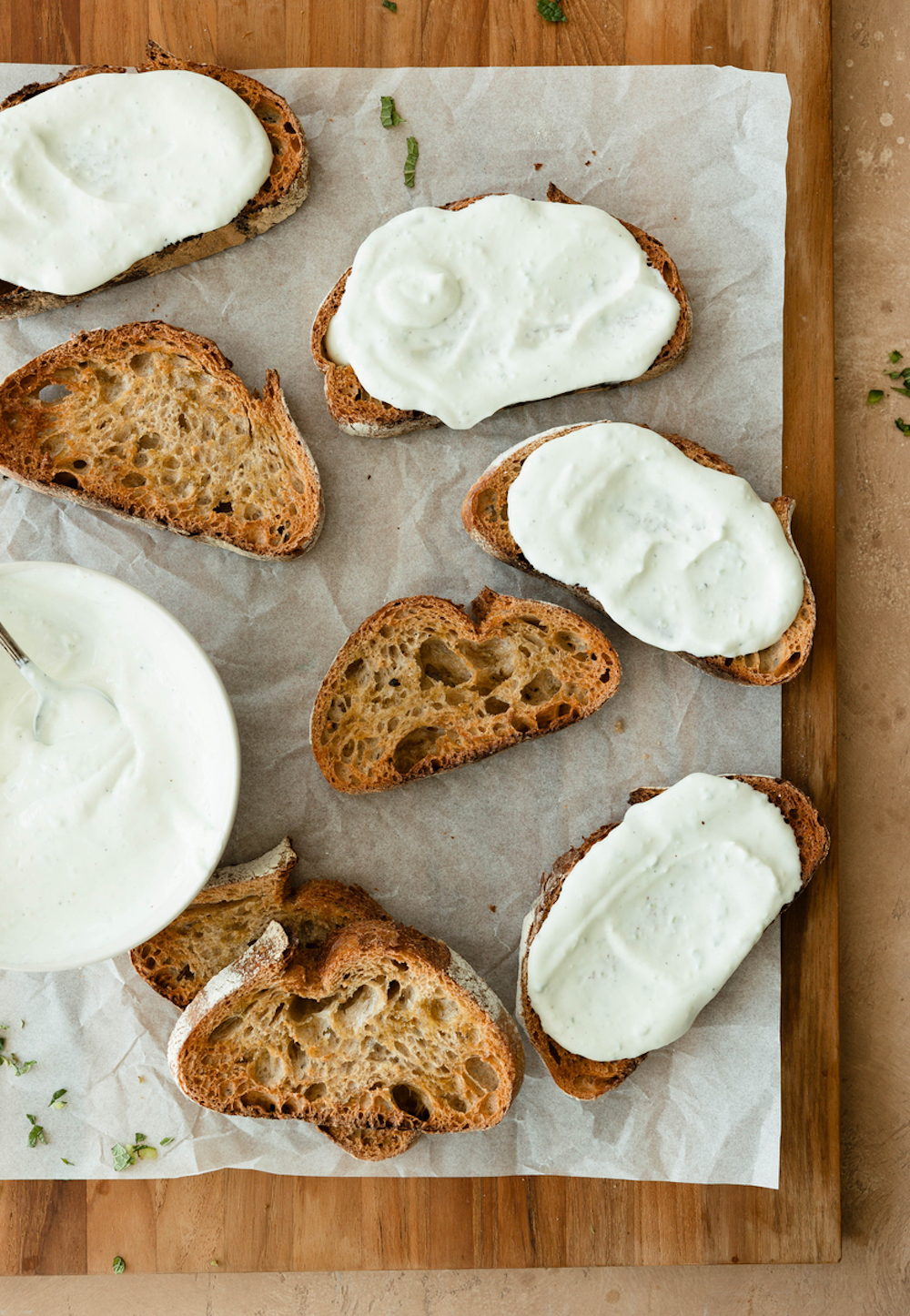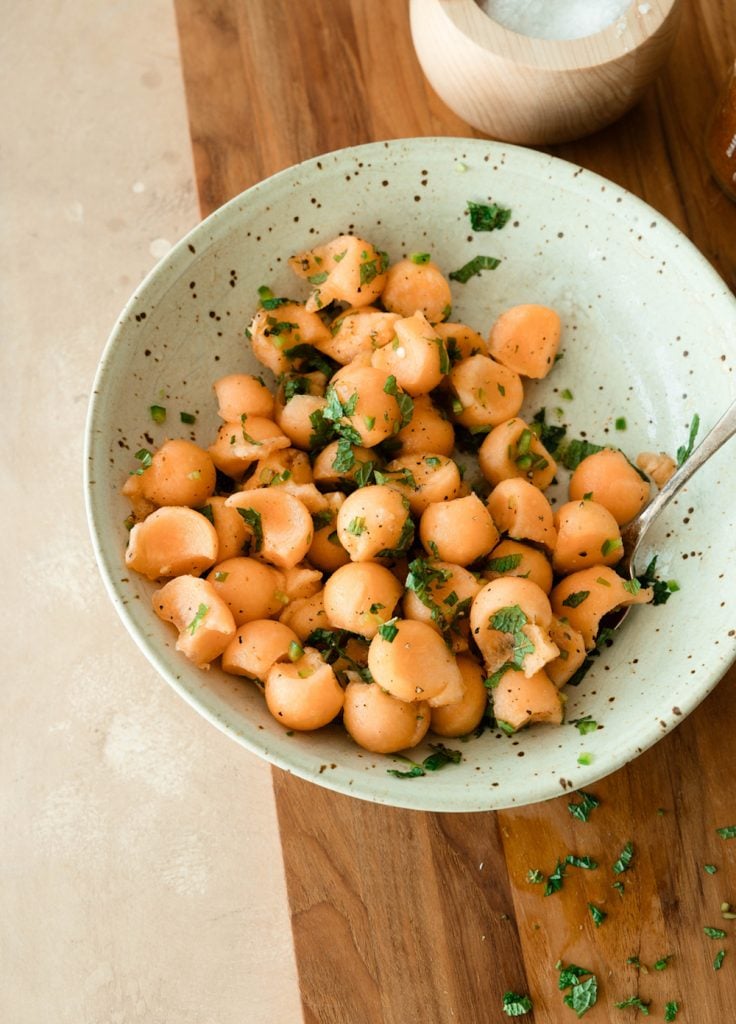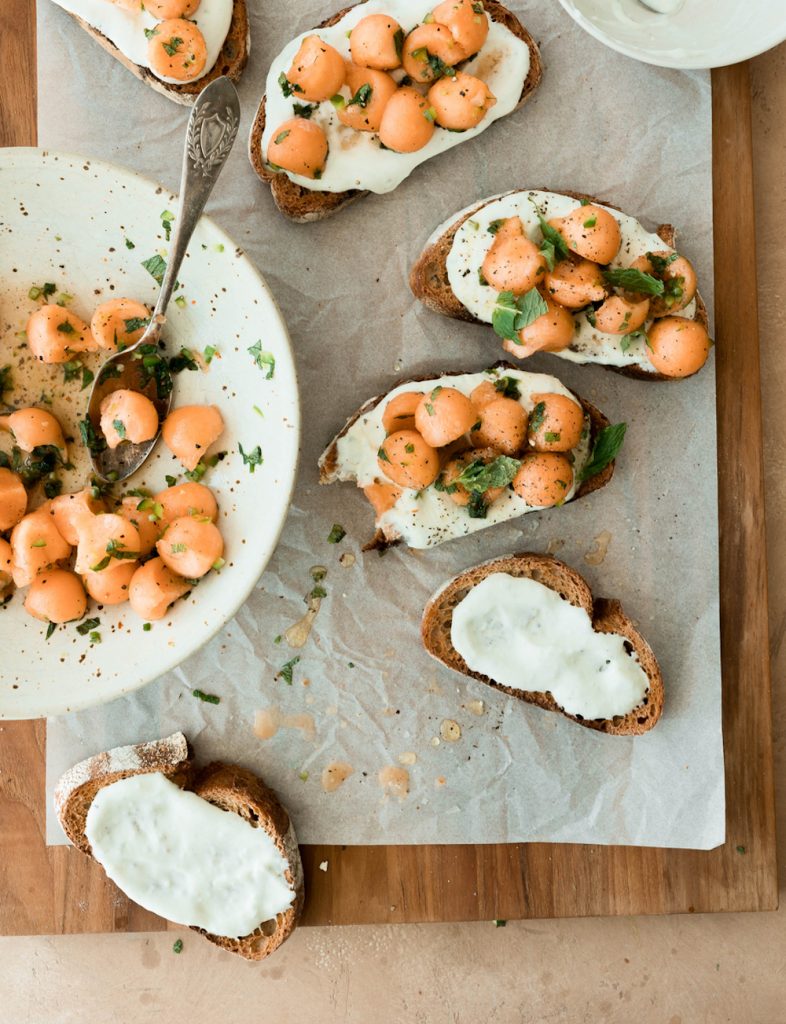 Tips for Serving
While this is a no-recipe recipe, there are a few tricks to maximizing flavor.
Prep the cantaloupe ahead of time. Not only does this allow the flavors to all meld together, but giving it a chance to hang out in the fridge keeps everything cold. And I don't need to tell you that summer melons taste ten times better when ice cold and crisp.
Serve as an assembly line. The nice part of prepping the melons and the ricotta ahead of time is that you can set this up as a "serve yourself" meal. This also keeps the bread from getting soggy and allows people to serve up their toast as they prefer.
If you wish, serve as a salad. Spread ricotta onto a platter and pour over the melons. Top with as many fresh herbs as you can, drizzle with olive oil, and enjoy.
What to Serve With This Spicy Melon Ricotta Toast
This recipe is perfect for any end-of-summer menu you have planned. Consider serving as a side dish, appetizer, or salad at your next golden hour dinner alongside your favorites.
To take things over the top, serve some arugula tossed in lemon juice and olive oil so guests can assemble their own salad. Put out a bowl of Greek yogurt for a sweet-meets-savory summer yogurt bowl. Make it a whole fruit salad and use a medley of fruits of your choice. Either way, you'll be coming back to this one for seconds—guaranteed.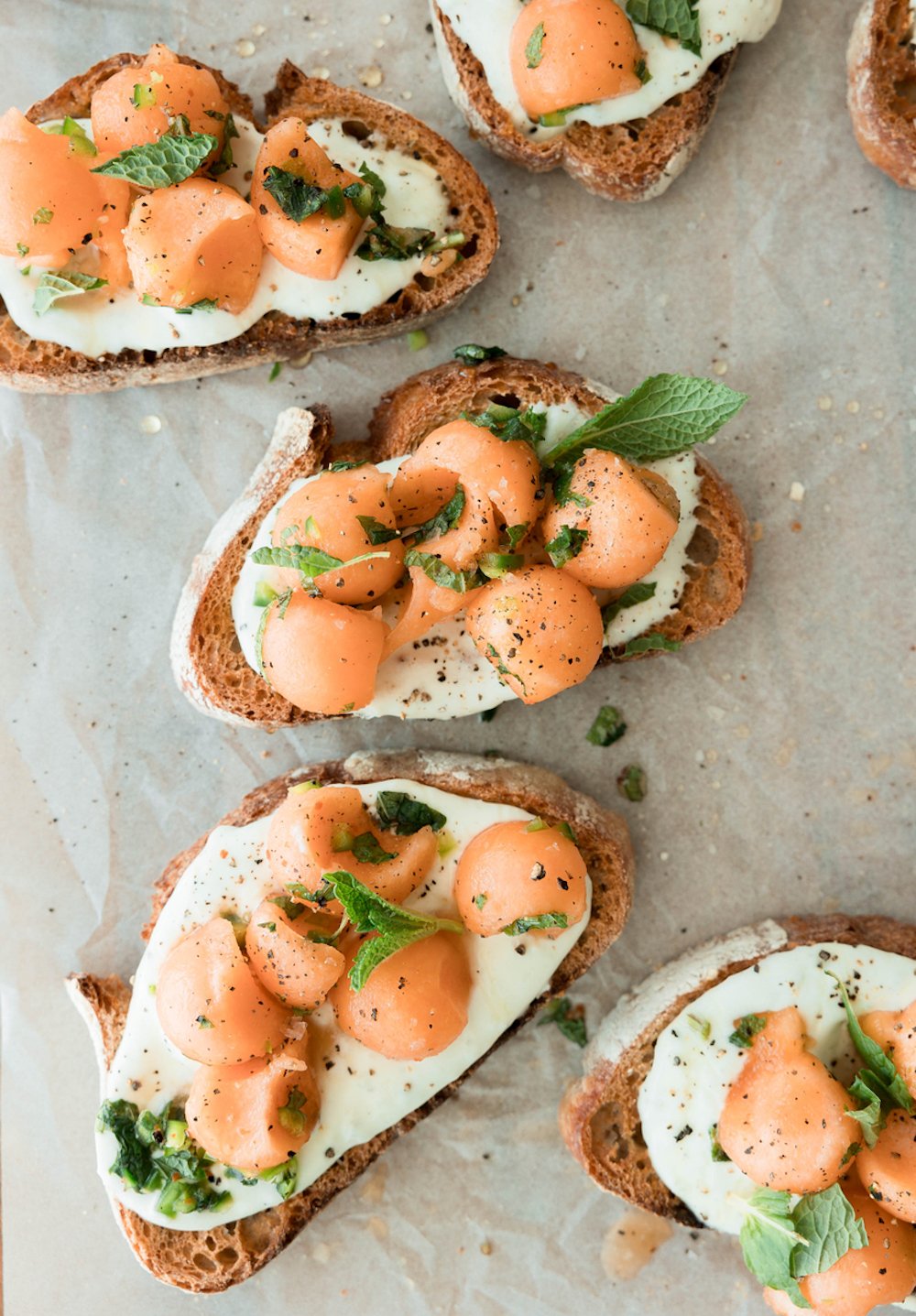 Print
Description
This sweet-meets-savory toast is the epitome of summer, letting you celebrate the end of August with succulent fruits and fresh herbs that'll have you holding onto the warm-weather season.
---
1/2

cantaloupe, chopped into small pieces or scooped with a melon baller

1/2

j

alapeño

, seeded and finely chopped

1

small bunch mint, finely chopped

1/2 teaspoon

red chili powder, more or less to taste

1 tablespoon

honey

1/2 teaspoon

black pepper

Big pinch of salt to taste

Juice of

1/2

lemon

6 ounces

whole milk ricotta

1/2

j

alapeño

, seeded

1 tablespoon

honey

Sourdough bread, sliced and toasted
---
Prep the melons. Add the cantaloupe, ½ j

alapeño,

mint, red chili powder, honey, black pepper, salt, and lemon juice to a bowl. Stir to combine, and set in fridge to keep cold.

Prep the ricotta. To a food processor, add the ricotta, ½ jalapeño, honey, and salt and pepper to taste. Blend until smooth. Pour into a serving bowl and set in the fridge to keep cold.

To assemble and serve, spread ricotta onto bread, and spoon over melons. Top with additional fresh mint and salt to taste. Enjoy!