PSA: Summer is still going strong. While my social feeds say otherwise (it's PSL *everything* around these parts), there's still end-of-summer produce to be devoured. Though I understand the cozy season frenzy and love a Gilmore Girls aesthetic, I'm far from ready to throw summer's bounty to the sidelines just yet. Juicy tomatoes are still a perfect snack, sweet watermelon is my favorite salad staple, and I'm embracing an all-things-corn mentality this month. Thankfully, I have Laura Wright's vegan red pepper pasta to fill my kitchen with the flavors of summer.
Laura Wright on Making Delicious Vegan Recipes
Laura, creator behind the celebrated food blog, The First Mess, was one of the first recipe creators I followed back in the day. Years later, she's continued to be my go-to resource for flavor-forward, produce packed, and wildly delicious recipes.
I've made her tahini chocolate chunk cookies more times than I can count and her butternut minestrone is a fall staple. And while I myself am not vegan, Laura's recipes have opened my kitchen in new and inspiring ways.
To help wrap up summer, Laura is sharing her vegan red pepper pasta recipe with us. Keep reading for her fool-proof tip to making food taste good, her less is more vegan cooking philosophy, and this stellar recipe that'll make you want to hang onto summer for just a little longer.
How would you describe your cooking and food philosophy? How has it influenced recipes like this one?
My cooking and food philosophy is rooted in the natural goodness of seasonal, plant-based ingredients. I like to make dishes that are comforting, a bit familiar, but also nourishing with a little surprising twist here and there. I'm always trying to make veggies the star of the show whenever possible.
Lately, my cooking and recipes are also considered with the economies of time and effort. I used to love taking all the extra steps and adding all the things, but I've realized that you can still make dinner special with fewer dishes, fewer ingredients, and in less time. More with less!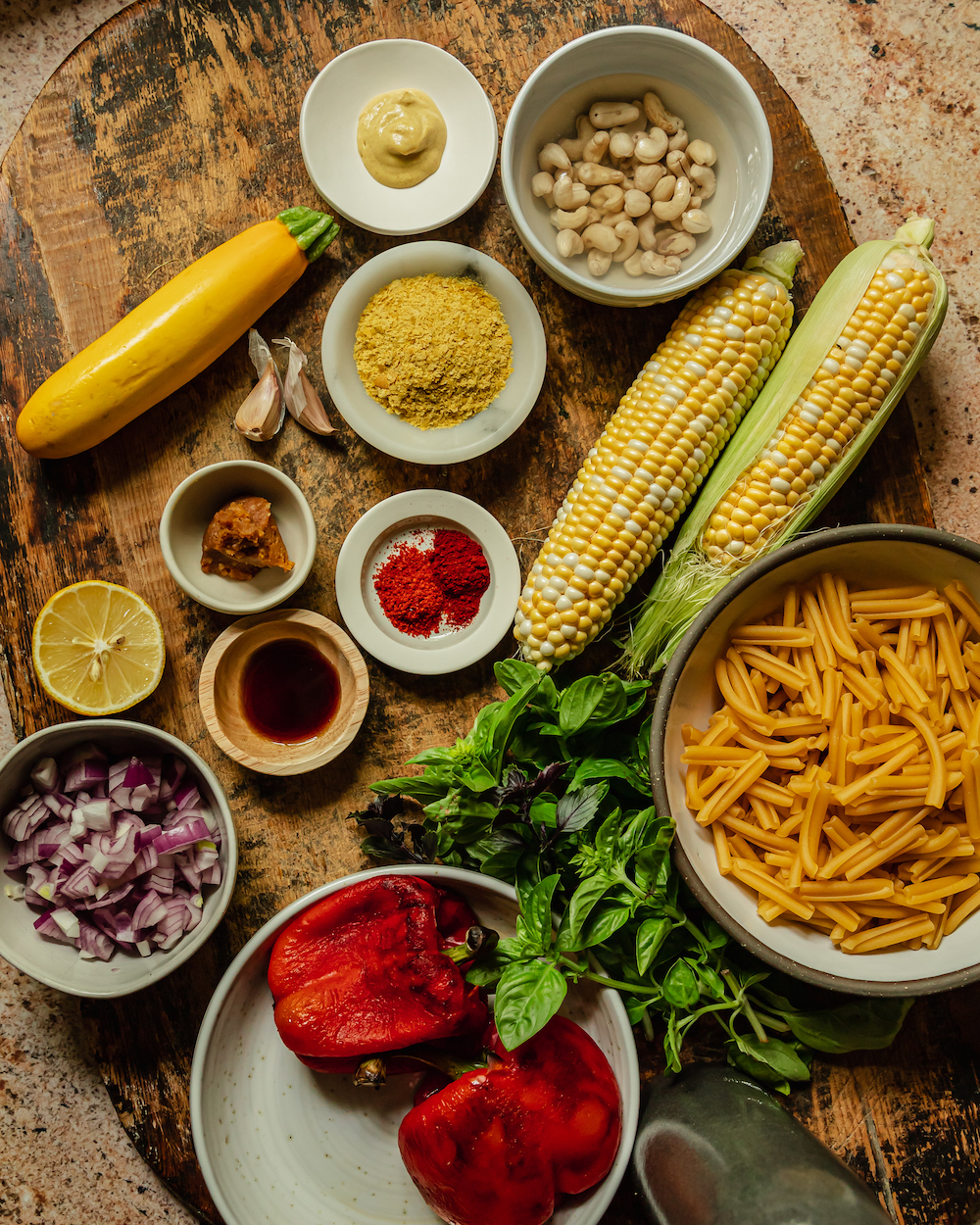 How did you develop this recipe?
Roasted red peppers make a super creamy sauce base without having to use a ton of cashews, which is nice sometimes! I use them as a vegan "mac and cheese" style sauce base often. Knowing their potential, and also being in the thick of summer produce season, I wanted to create a veggie-loaded pasta with some other summer crops. I decided on charred corn, sautéed summer squash, and lots of fresh basil as my additional summery add-ins. I really just wanted a creamy-dreamy pasta that used up my farmer's market goodies.
What makes this recipe your go-to?
It really is a crowd pleaser! Nobody has any clue that this pasta is dairy-free. It's also a pretty chill recipe to cook for guests that allows you to make some elements ahead of time. When I have people over for dinner, I want to spend time with them AND spoil them with good food. This one accomplishes both. I also find it easy enough to make for me and my partner on a weeknight with leftovers for lunch the next day.
Can you make this recipe with minimal tools?
This one comes together with one pot to sauté the sauce base and corn and to bring the whole dish together. You'll need a separate pot for your pasta and your blender for the sauce.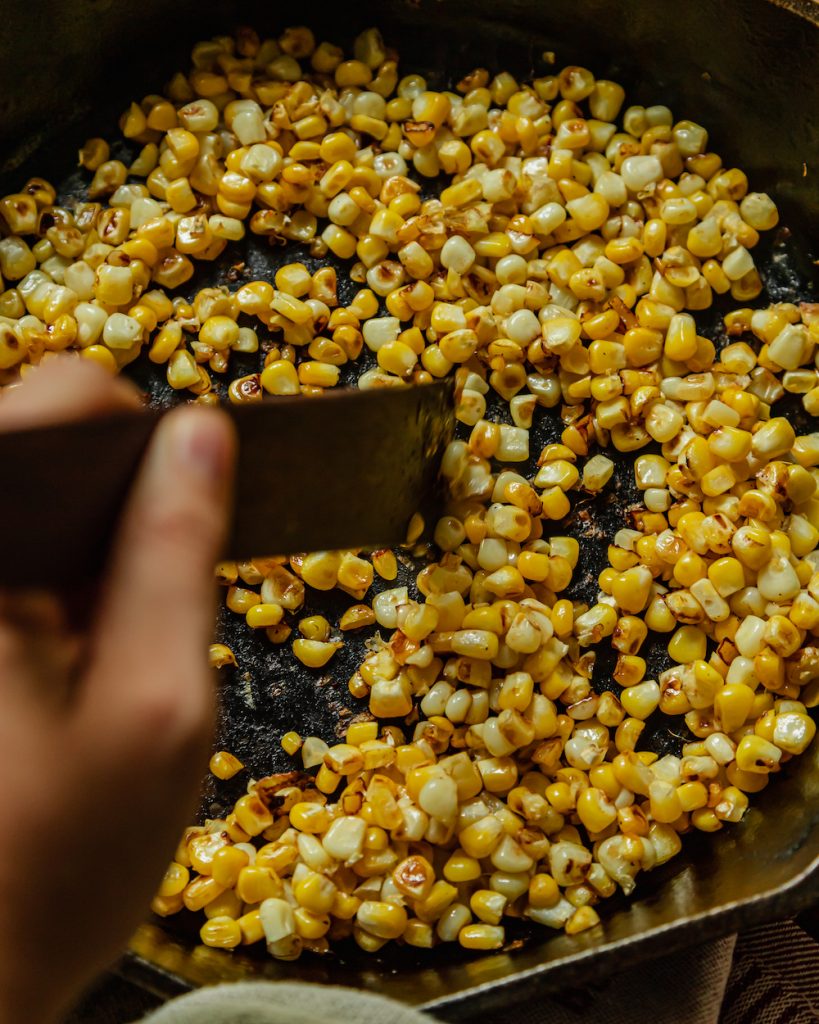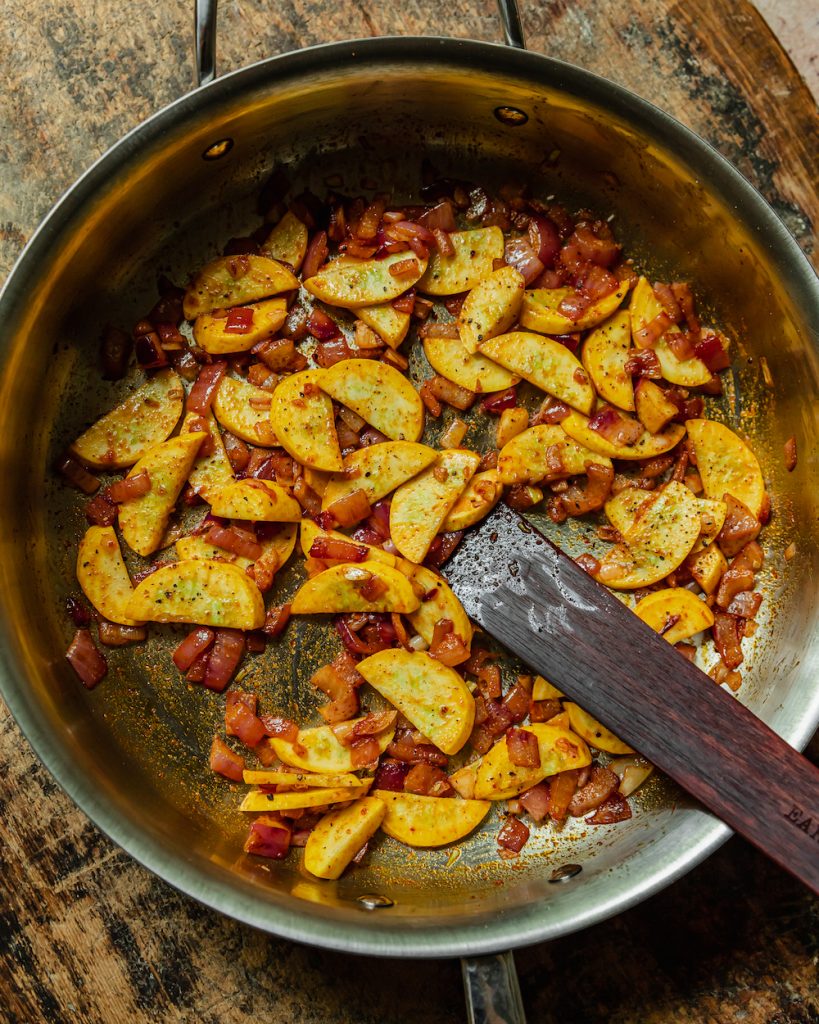 What kitchen tool do you recommend for making this pasta?
I use my 10+ year old Vitamix to blend the sauce up to a silky smooth consistency. No other appliance gets as much play in my kitchen—totally worth the investment in my opinion! I use mine every day for smoothies, salad dressings, dips, soups, sauces, homemade nut milk, and more. In addition to the blender, I also swear by a Benriner Mandoline, Microplane, and good quality knives that feel nice in your hand.
What ingredients make this recipe special?
Fresh basil and seasonal summer corn are really key here. I don't recommend making this one outside of the peak summer months when both items are in abundance. Miso and tamari are also important ingredients that add umami depth to the sauce—something I'm always looking to add to my vegan recipes.
Can we make any ingredient swaps in this recipe?
You can swap the cashews for soaked raw sunflower seeds, macadamia nuts, or pine nuts. Any gluten-free pasta will work great in this recipe. If you're allergic to soy, you can swap in chickpea miso and coconut aminos one-for-one.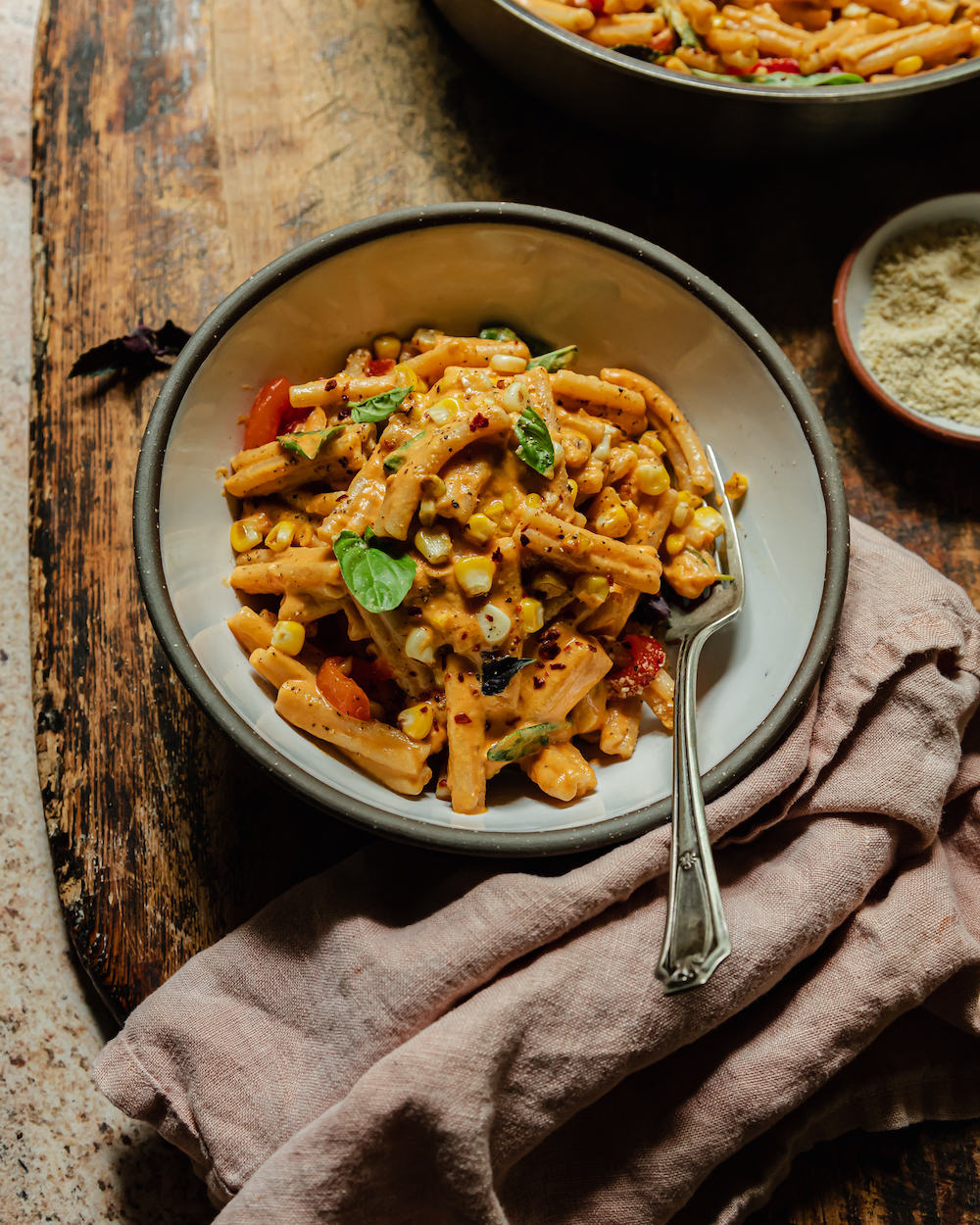 What tricks have you learned in the kitchen that we should all know about?
Add acidic ingredients to your food always! With this recipe, we use lemon juice in the sauce to brighten it up. Adding citrus juice, vinegar, wine, or pickling liquid to your cooking wakes up and sparkles the existing flavors. Most of the time when you taste something and it seems flat (or it's just missing something), you truly just need a bit of acid to get it to the finish line.
What advice would you share with someone who feels intimidated by vegan cooking?
I always recommend starting slow! Maybe try one vegan meal a day for a week to see how that feels. And then add more from there if it's working for you! I also like to view vegan cooking as the addition of MORE foods, rather than a subtraction of certain foods. More vegetables, fruit, grains, legumes, nuts, and seeds to explore!
If there's a certain meal that you love and don't want to go without, try searching for a vegan version online and playing around with it. It helps to have a solid five-meal rotation that can be remixed with seasonal ingredients or just based on your mood. If you really want to make the switch to eating vegan full-time, I recommend going slow and taking small steps. It's not a race and you don't have to aspire to some "perfect" conception of the lifestyle.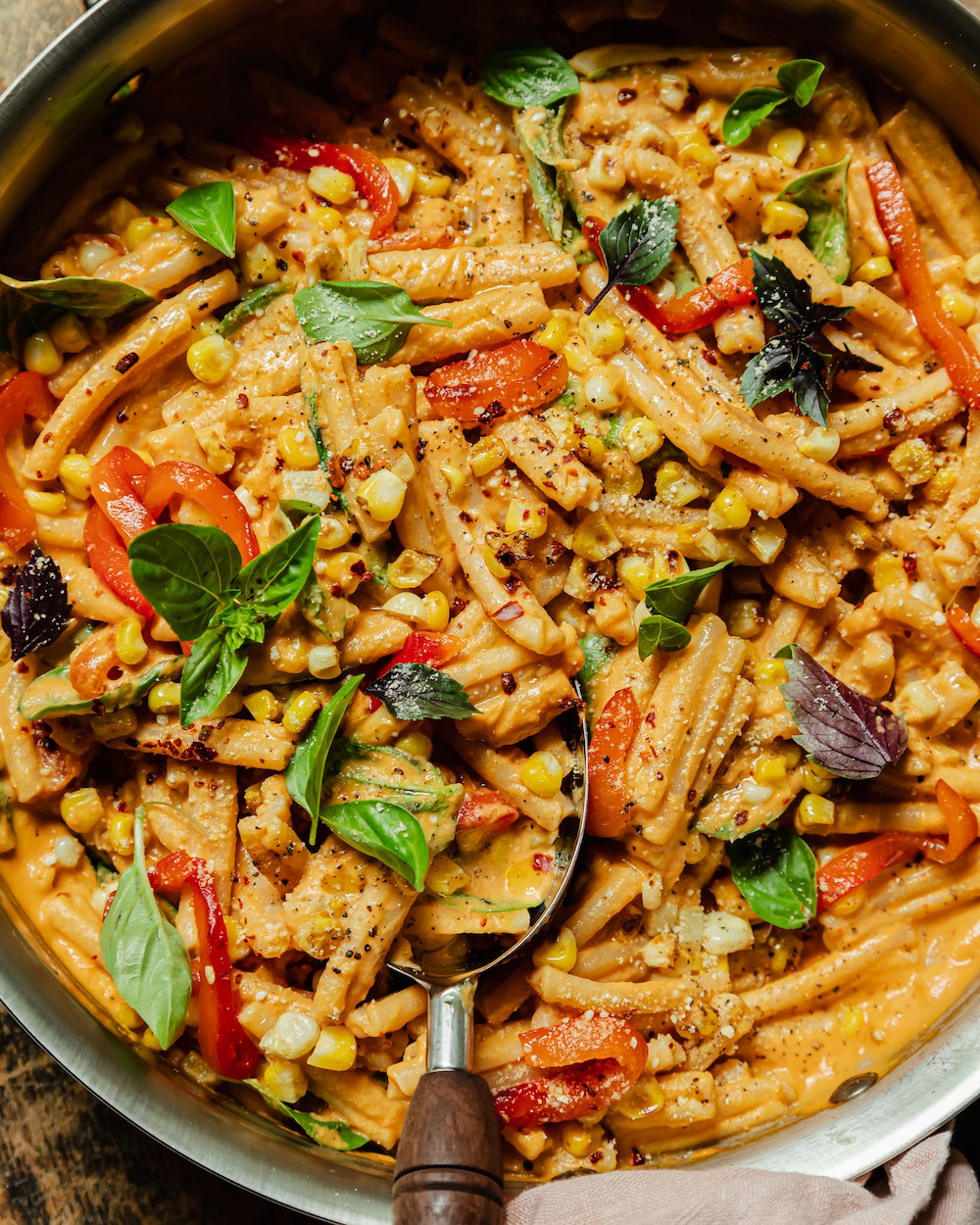 What is the best part of creating recipes to share for people to bring into their own homes?
I really am grateful that I get to do this as my work. When folks report back with success on a recipe that they made for non-vegan family and friends, it feels like my mission is accomplished. I hope that people can arrive at the idea that vegan cooking is beautiful, abundant, energizing, and enjoyable for everyone regardless of dietary proclivity. 
Which of your recipes should readers cook first?
My Ginger Sweet Potato Coconut Milk Stew is super popular, so I definitely recommend that. I'm also personally partial to my 30-Minute Lentil Bolognese and this Kale Power Salad.
You can find more of Laura's recipes in her book, The First Mess Cookbook.
Print
Description
This vegan red pepper pasta is super flavorful, and satisfying, and takes 30 minutes to make. This vegan main is easy to make gluten-free and perfect for summer with lots of charred corn and basil.
---
1

small red onion, chopped

2

cloves

garlic, chopped

1/2

teaspoon

chili flakes, or more to taste

1

medium

yellow zucchini, chopped

sea salt and ground black pepper, to taste

1/4

cup

raw cashews, soaked for at least 1 hour and drained

3

roasted red peppers, divided

3

tablespoons

nutritional yeast

1 1/2

tablespoons

light miso

2

tablespoons

lemon juice

1 1/2

teaspoons

Dijon mustard

1

teaspoon

Tamari soy sauce or coconut aminos

1/2

teaspoon

smoked paprika

1/2

cup

vegetable stock

(or water)

3/4

pound

(340 grams) short pasta (I used cassarecce)

2

cobs

of

corn

1

cup

fresh basil leaves, roughly chopped
---
Heat the olive oil in a large sauté pan over medium heat. Add the red onion, garlic, and chili flakes and cook, stirring often, until soft and slightly translucent on the edges, about 3 minutes. Add the chopped zucchini and season with salt and pepper. Sauté and stir often until zucchini is soft on the edges–about another 4-5 minutes.

Transfer the sautéed zucchini mixture to an upright blender. To the blender add the cashews, 2 of the roasted red peppers, nutritional yeast, miso, lemon juice, Dijon, tamari, smoked paprika, and vegetable stock, plus a little bit of salt and pepper. Blend the mixture on high until smooth and creamy, about 1 full minute. Add more stock by the tablespoon if necessary to get a thick but pourable consistency. Set aside.

Give the large sauté pan a wipe and place it back over high heat with a drizzle of olive oil. Cut the kernels off of the corn cobs and toss the kernels into the skillet. Sauté the corn until there's a bit of char on the edges and the corn is soft, about 7-8 minutes. Season with salt and pepper and set aside.

Cook the pasta according to package directions and drain. Reserve about a cup of the pasta cooking water.

 

Slice the remaining roasted red pepper into strips. In the large skillet with the corn, also add the roasted red pepper strips, cooked pasta, red pepper sauce, and chopped basil. Set the heat to medium. Add splashes of pasta cooking water if needed to loosen up the sauce. Keep stirring until pasta is nice and hot. Serve immediately with extra basil, chili flakes, and finishing drizzles of olive oil.