There's something magical that happens when you gather friends and family around a beautifully-set table. It's the good conversation and lovingly crafted meal, yes—but it's also the alchemy of table linens, glassware, and dishes that were chosen with care. And with al fresco dining season in full swing, it's the perfect time to get inspired by our best outdoor table settings so you can soak up the joy to its fullest. With a few tips under your belt, you might be surprised by how simple it is to craft your dream table—no stress required.
From decor ideas to practical tips, these outdoor table settings will help you make your outdoor dining experience a feast for all the senses.
Featured image by Michelle Nash.
Outdoor Table Settings: Your Go-To Guide
Whether you're hosting a garden party, celebratory brunch, or simply enjoying a meal under the open sky, you can count on one thing to bring it all together: outdoor table settings. These table settings play a crucial role in setting the mood and giving your guests (and yourself) the best dining experience possible.
To lead the way, we've rounded up a few of Camille's expertly-designed tables alongside those crafted by tastemakers we've accompanied over the years. With these tablescapes as inspiration, you'll have everything you need to set your own dreamy table. So, pour yourself a glass of rosé, pull up a chair, and slip into design paradise as we uncover how to turn your backyard into the ultimate dining oasis.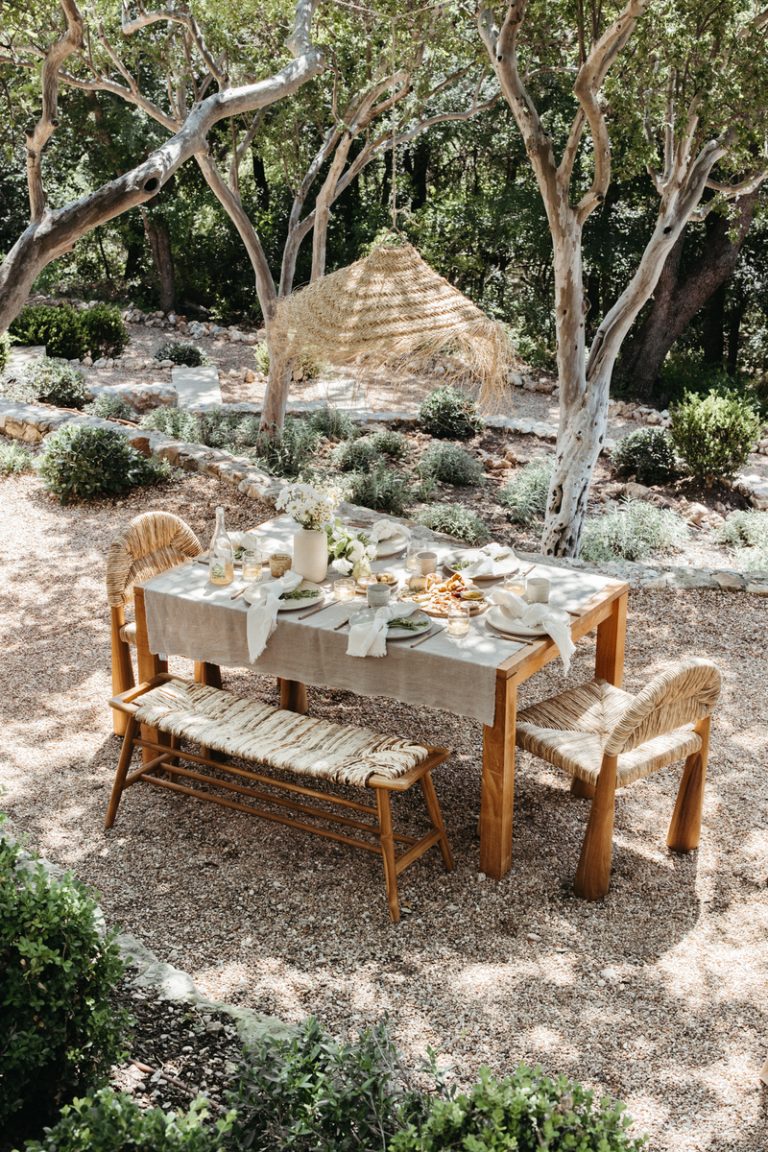 How to Set an Outdoor Table
When it comes time to set your outdoor table, it's important to pay attention to your design preferences. You may be all about the neutrals, or love to weave in color to your table. Whichever you prefer, you'll find that nature offers the perfect canvas for both. Also, depending on the occasion and/or meal, you might find yourself shooting for a formal table setting or something more casual. Whichever the occasion calls for, you can create a stunning tablescape that's appropriate and perfectly in tune with the celebration at hand. And no matter what, you can rest easy knowing that everything tastes better outdoors—and that's a fact. With these outdoor table settings inspiring your own creations, you're totally equipped to meet all your outdoor hosting needs in style.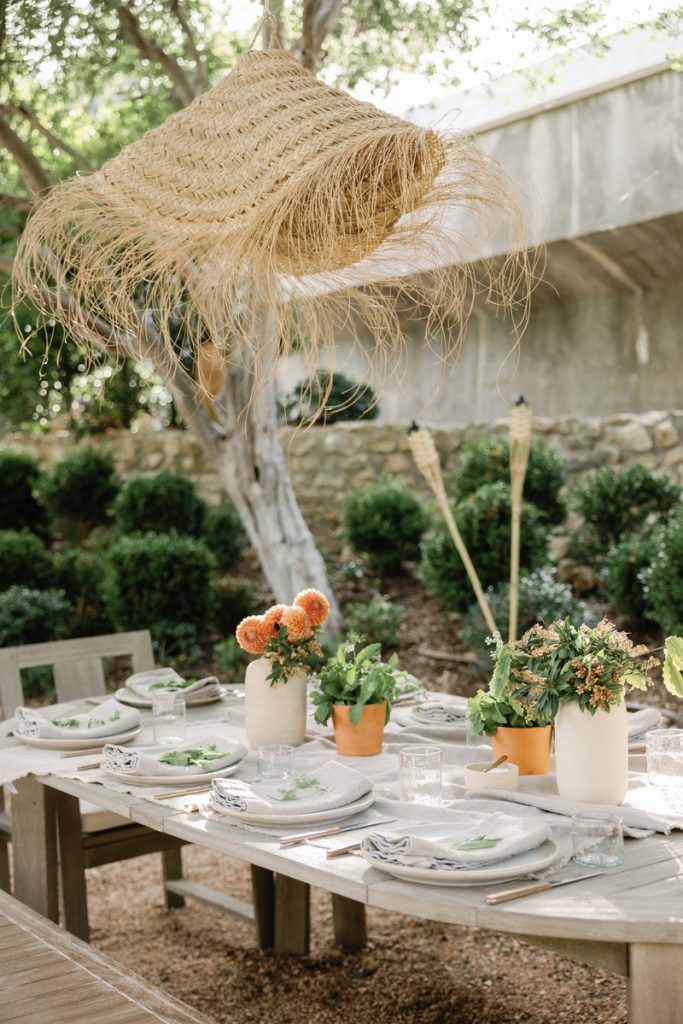 1. Incorporate Nature's Beauty
When dining outside, why not utilize what's around you? From flowers to branches and everything in between, incorporating a bit of your surroundings is an easy way to create a gorgeous table that feels organic. Grab some flowers from the garden for your centerpiece or clip a few fresh herbs to lay over each napkin to incorporate that organic beauty into your table.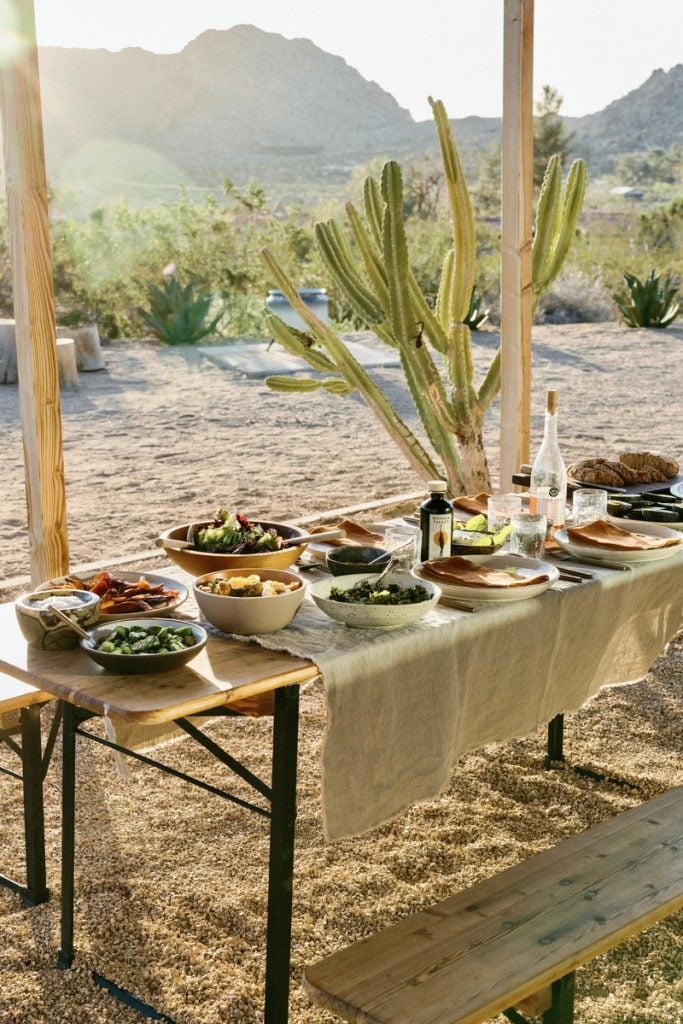 2. Incorporate Clay-Colored Elements
For a desert-inspired look, weaving in natural clay colors makes for a casually cool table that's elevated all the same. You can do this by using a linen tablecloth, napkins, or ceramics that marry neutral hues with muted color in the most beautiful way.
More inspiration: A desert dinner party with Alison Carroll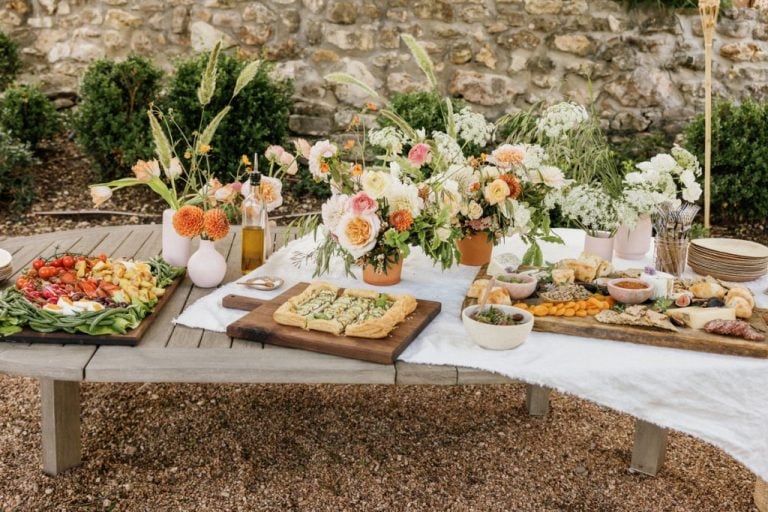 3. Make It a Grazing Table
For a gathering that's all about the mingling, creating a grazing table is the perfect way to encourage casual conversation. Instead of a sit down dinner, this aperitif-style table is a fun change of pace for your guests that will allow them to make the rounds without any obstacles. Load your table with lots of floral arrangements, grab-and-go menu items, and handcrafted ceramics and flatware for your guests to use at their own speed.
More inspiration: Ajiri Aki's backyard apéro book party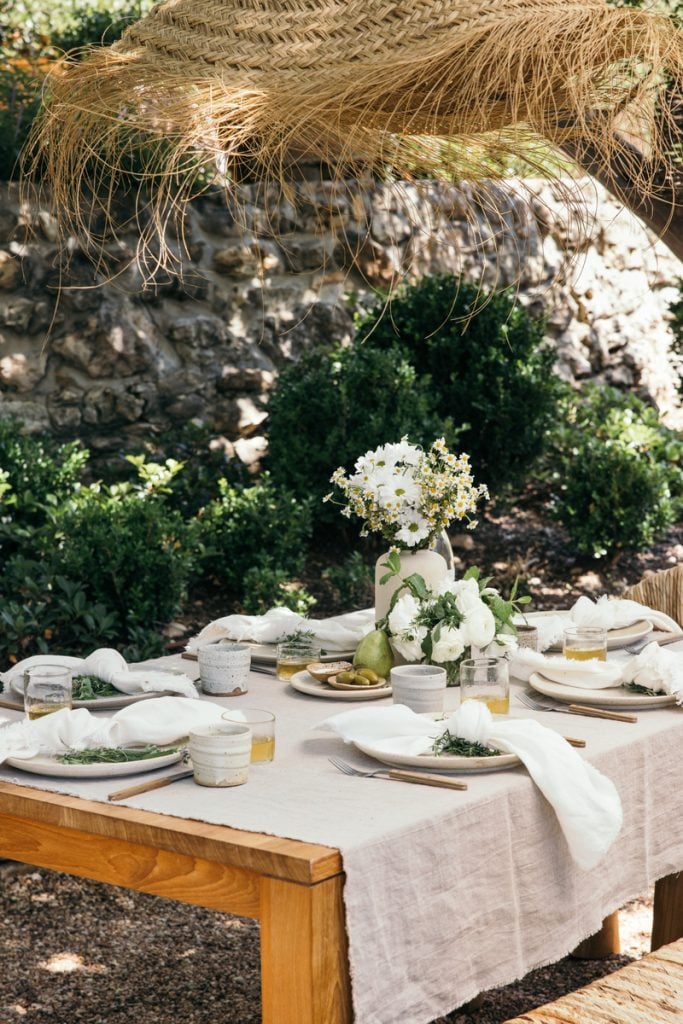 4. Let Neutrals Lead the Way
A neutral color palette is always fit for the outdoors. By keeping your colors muted, you're allowing space for the beautiful colors of the outdoors to shine through. Whites fare really well here alongside a more demure base to keep things from being too stark. From there, you can weave in some color in the form of flowers, fruits, herbs—you name it. It's all about the natural beauty.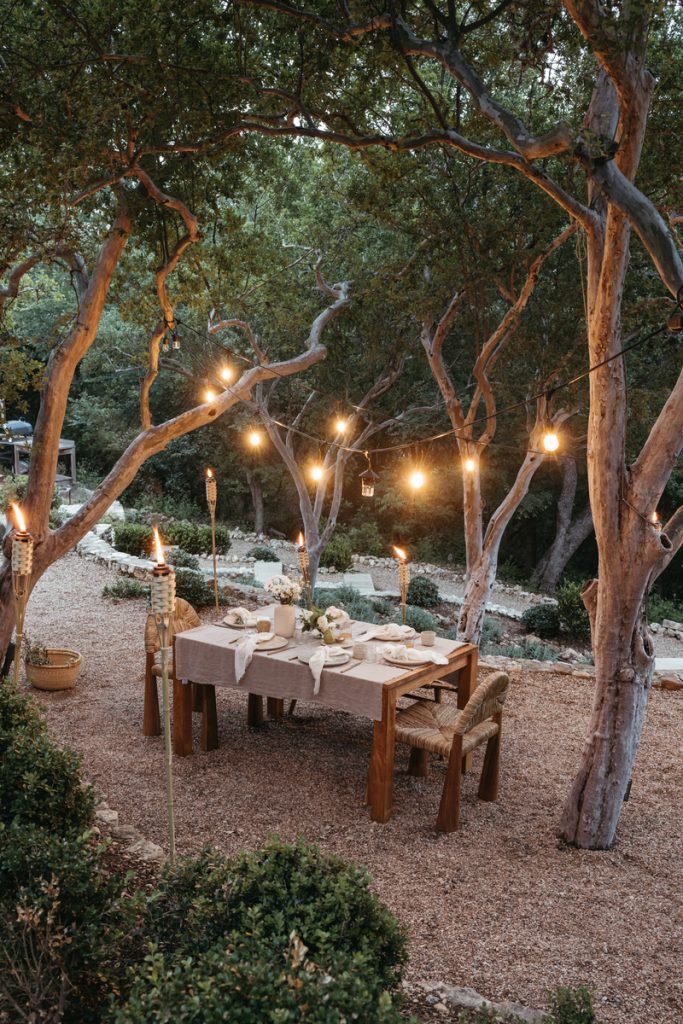 5. Light It Up
String lights are not going away anytime soon and for good reason! They elevate any outdoor space and are so simple to incorporate. Aligning your table under the lights means you get to reap the benefits of a candlelit dinner without having to light any candles. It's mood lighting, reimagined.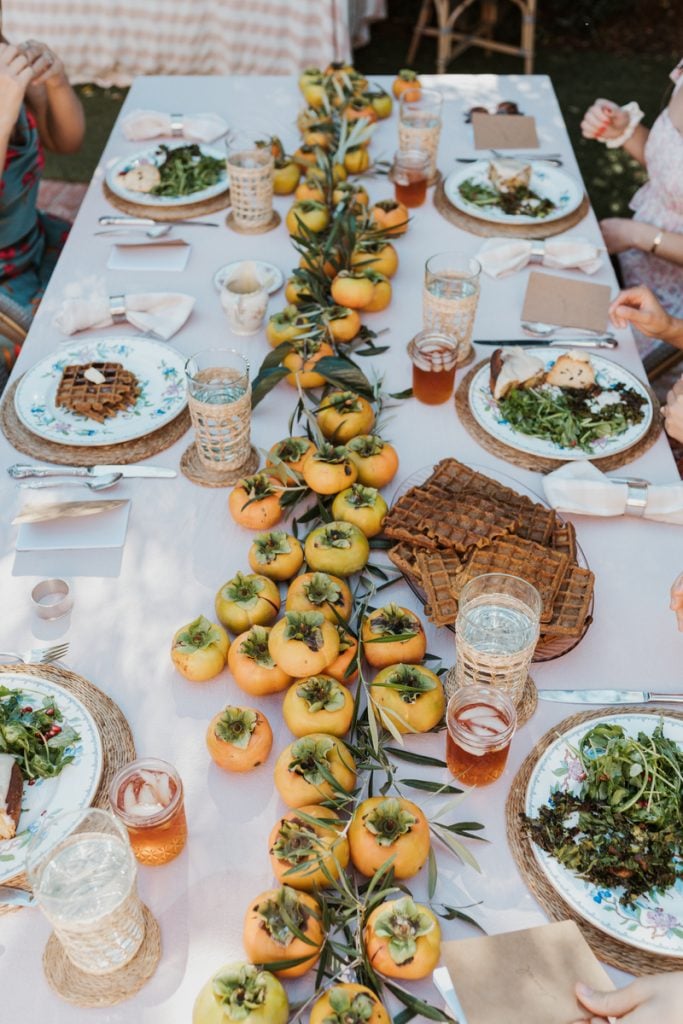 6. Go Fruit-Forward
How stunning is that vine? Not only does it add a gorgeous pop of color, but it's a statement centerpiece that really defines the table. It's natural, full of life, and can be plucked straight from the garden to the table. Plus, it's a guaranteed conversation starter.
More inspiration: A friendsgiving brunch with Sweet Laurel Bakery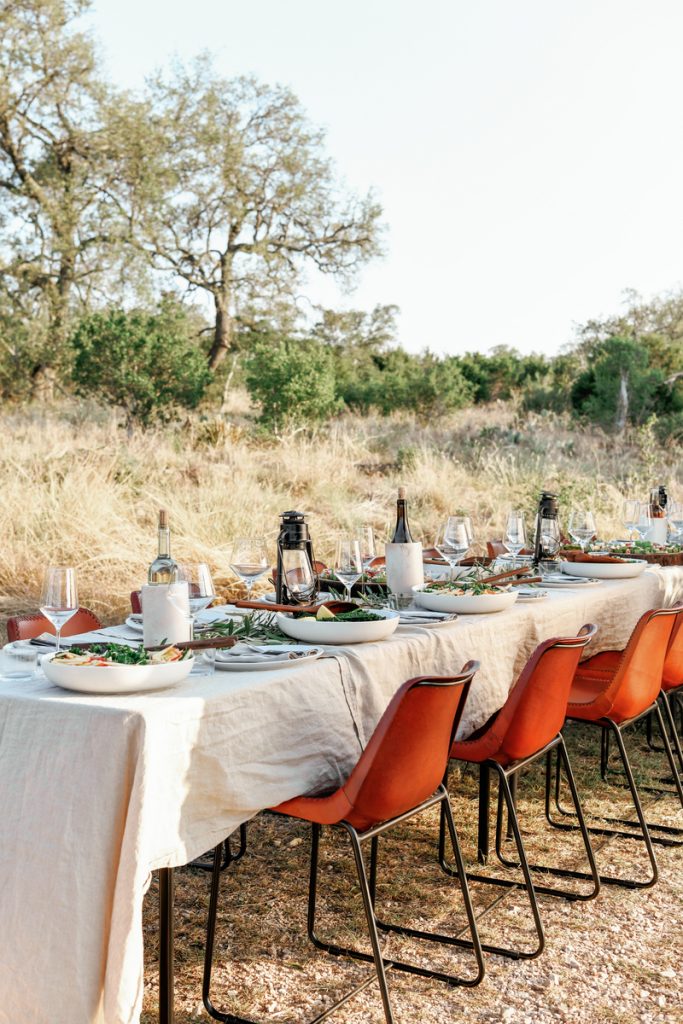 7. Rustic Beauty
When it comes to outdoor table settings, you can never go wrong with a few rustic elements that feel home-y and nostalgic. In this case, oil lanterns and artisanal furniture pieces introduce a familiarity to the table that you can't beat.
More inspiration: An outdoor gathering with Walden Retreats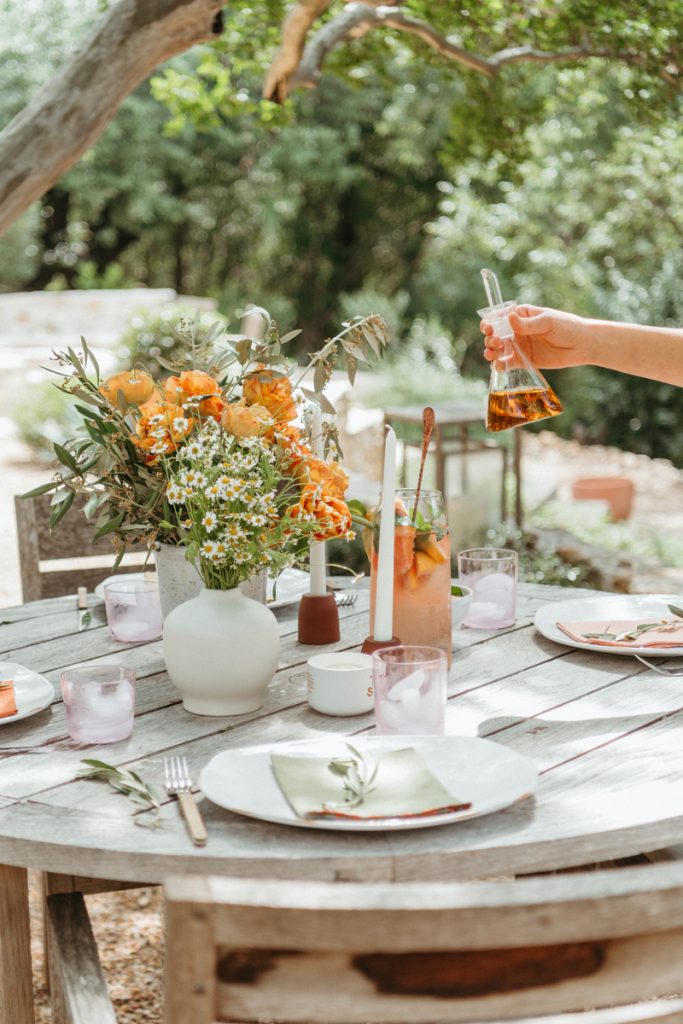 8. Simplify Your Settings
There's no rule book that says you always have to use the traditional table setting elements. In fact, simplifying your table can often make your gathering more approachable for you and your guests. Something as simple as omitting a placemat can make your table feel more relaxed and casual.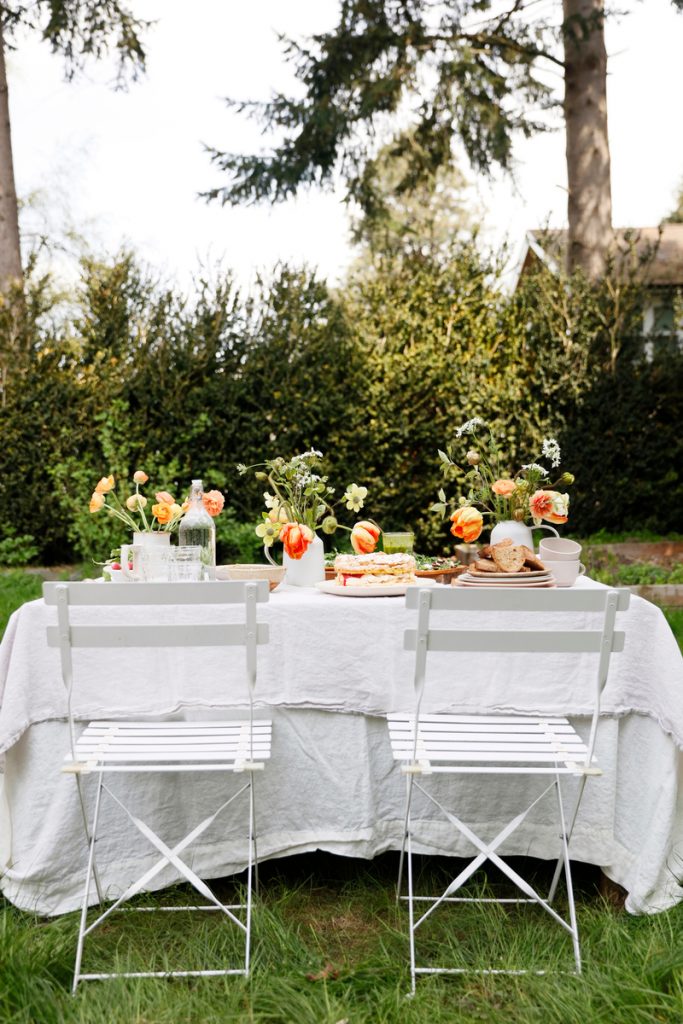 9. Monochromatic Magic
It may seem counterintuitive to attribute monochromatic elements to making your colors shine, but that's exactly what's going on here. If you love a pop of color but don't want to clash with nature's colors around you, give each of your colors a buddy. Here, white chairs match a white tablecloth—lending way for those stunning orange flowers to take the spotlight. If you put your mind to it, it's super easy to implement.
More inspiration: Backyard lunch with Aran Goyoaga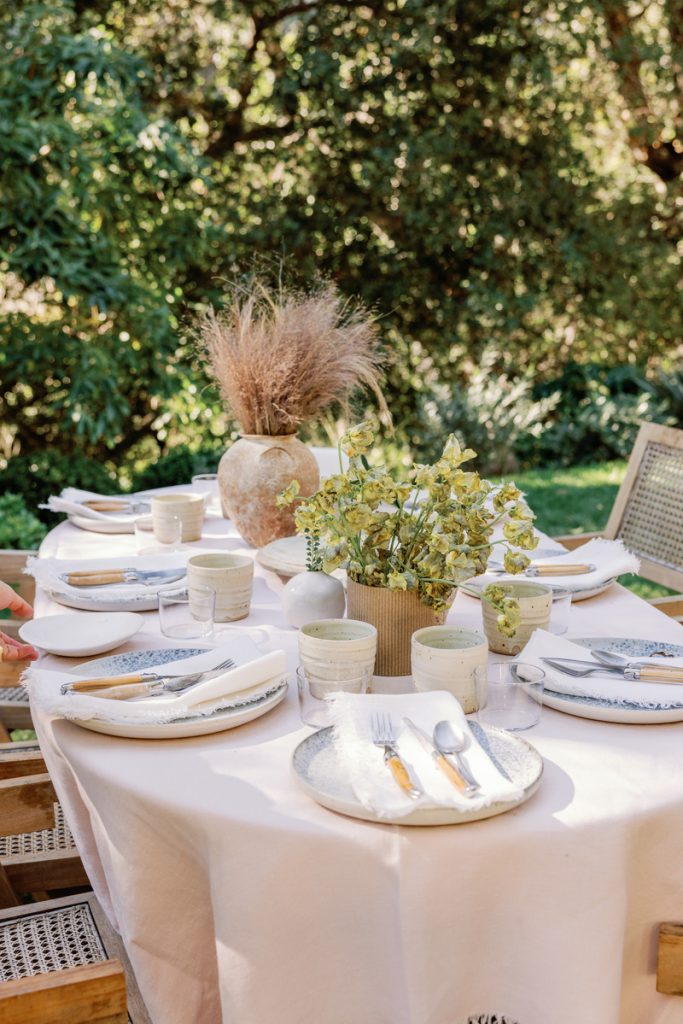 10. Stack Your Silverware
For an outdoor table, I love a napkin bundle that encases everything you need. Set on top of the plate, the flatware and napkin are both in one place, ready to use. It's a more casual setting that feels on par with the outdoor table setting. Plus, it's easier on you as the table setter to not have to worry about the alignment and spacing of the silverware. A win-win, if you will.
More inspiration: A garden-to-table lunch with Camilla Marcus
With your outdoor table set, all you need now is some menu inspiration! Check out our favorite outdoor cooking recipes for the perfect al fresco meal.