It always comes back to olive oil, doesn't it? In the kitchen, it's a constant while others oscillate in and out of favor. Who remembers when everyone was cooking everything with coconut oil? Using olive oil for skin is also a wellness superpower. It's a frequent fave in Blue Zones for any number of applications and health benefits. (Also, it's delish.) And no, the claims aren't overblown. If you want to age well, reduce inflammation, and enjoy the complexion-boosting benefits of olive oil for skin care, keep reading.
Rich in antioxidants as well as vitamins A, E, and D, olive oil is famed for its cleansing, moisturizing, and skin-protective properties. To uncover the secrets of using olive oil for skin, I went to the experts. Ahead, learn how to pick the right olive oil for your skin and where the golden elixir fits into your beauty routine.
Featured image from our interview with Laura Lee by Sara Ligorria-Tramp.
Meet the Experts
Alison Carroll, co-founder of Wonder Valley, has made olive oil the star of your tablescape and skincare routine. Wonder Valley does it all, developing olive oil-infused skincare and producing our go-to olive oil for any and every recipe. "Extra-virgin grade olive oil has endless benefits and uses for skin care and really is one of the oldest beauty ingredients," she says.
I also spoke with Lena Philippou Korres, founder of the Greek beauty skincare brand, Korres. Korres harnesses natural ingredients bountiful on the Grecian islands, like Greek yogurt and olive oil, to create lush, effective skincare with a modern take on ancient rituals. "Anyone can use a product containing olive oil or its derivatives and enjoy multiple skin benefits," says Korres.
Ahead, our experts offer insights into how to use olive oil for skin. Get ready—you're about to take this underrated beauty secret way more seriously.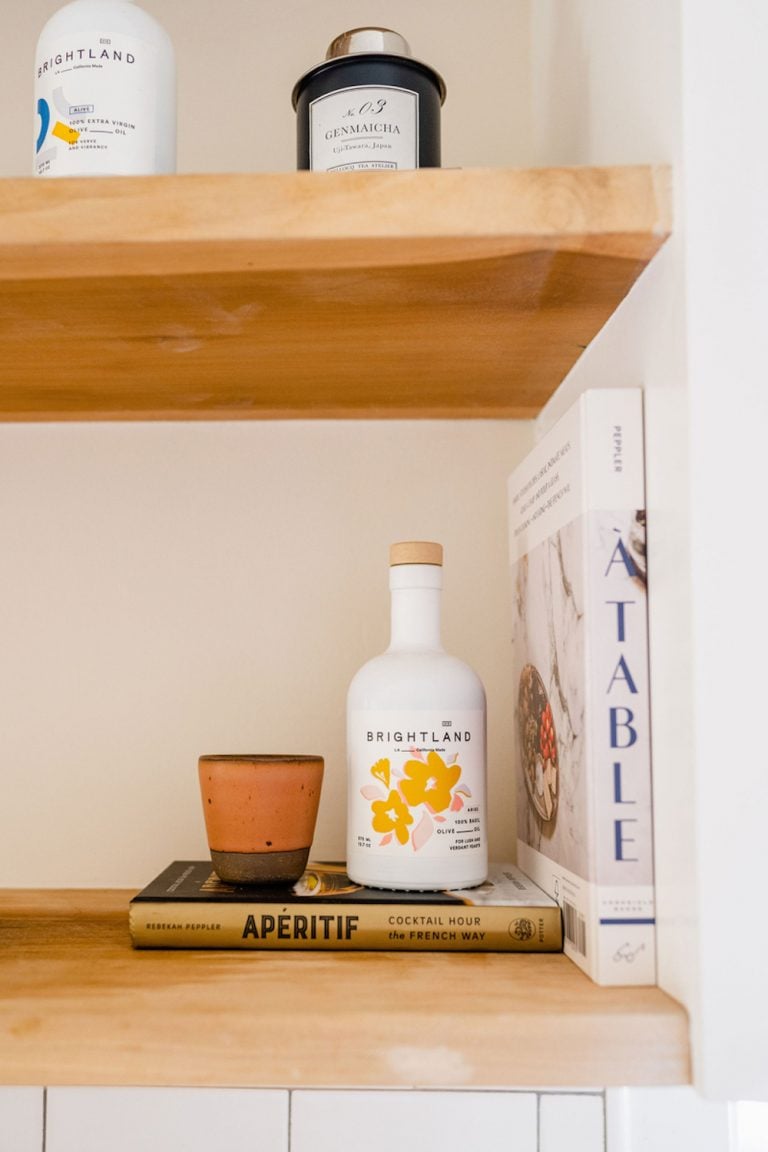 The Benefits of Olive Oil for Skin
Of course, olive oil isn't the only pantry staple known to make a skin-brightening impact. From probiotics to collagen, what's good for your gut is usually good for your face. And fun fact: olive oil is an ancient beauty trick. With a history that can be traced back to ancient Greece and Rome, using olive oil for skin care isn't anything new. (People literally bathed in olive oil to reap its moisturizing properties. I'd call that an ideal self-care ritual.)
But what makes olive oil so versatile is its laundry list of beneficial beauty ingredients. Korres lists them off:
High concentration of essential fatty acids. This includes linoleic acid, oleic acid, and squalene (a skin-strengthener) with "excellent emollient, nourishing, and antioxidant properties."
Skin-compatible. Olive oil's composition mimics our skin's natural oils.
Natural source of vitamins. Including A, D, K, and E.
Carroll expands on this, noting olive oil's potent polyphenols (antioxidant) content. "Antioxidants fight free radicals caused by pollutants, environmental toxins, and sun damage. These can have a premature aging effect on the skin, particularly its elasticity."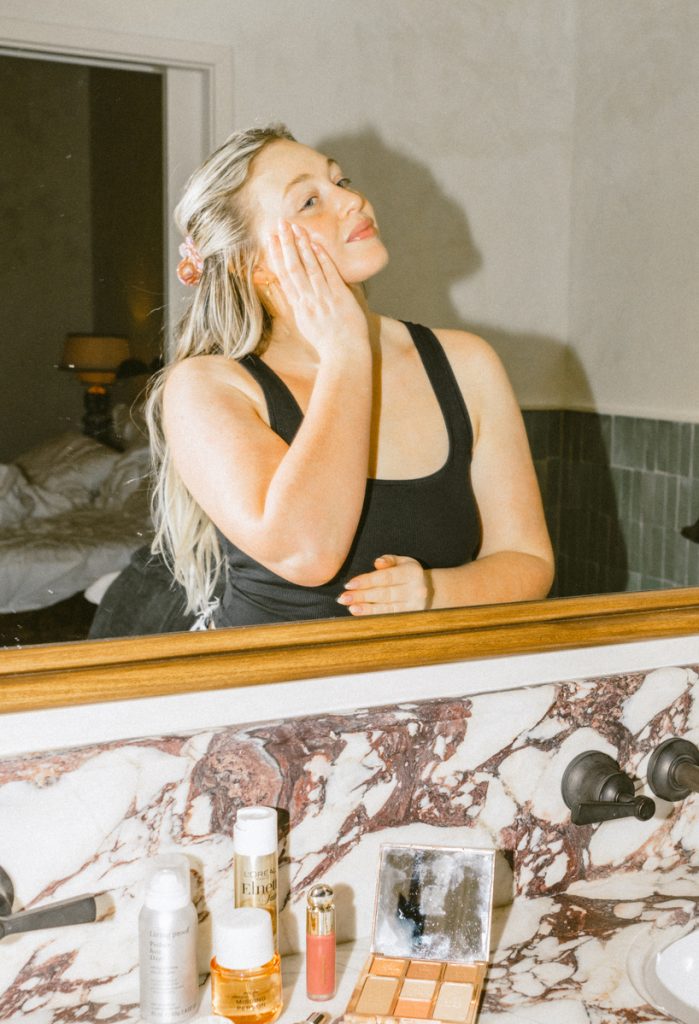 Olive Oil Skin Side Effects
Though olive oil can have many benefits, picking the right formulas is crucial. You shouldn't raid your pantry for a DIY treatment, for example. Olive oil "is a heavier oil," says Carroll, "which can clog pores if used directly onto your face or not balanced with other, more linoleic oils like sea buckthorn or rosehip."
Korres adds: "Despite the superior beneficial effects of olive oil, there are controversial opinions about its effects on the skin with an epidermal barrier dysfunction such as atopy-prone skin or immature, newborn skin. Therefore, olive oil is not recommended for atopy-prone skin types or baby products due to its high content of actives."
Tips for Use
The good news is, you can use this multi-tasking ingredient everywhere. "Olive oil is literally a skin-compatible multi-tasker," says Korres. "It moisturizes and deeply nourishes the skin, while also improving elasticity. Even oily skin types can benefit from olive oil as long as the formula is balanced for their skin type."
The Best Olive Oil for Skin
"Olive oil is a universally beneficial ingredient that helps repair, hydrate, and soften skin. My favorite way is using it in [Wonder Valley's] Oil Cleanser," says Carroll. "Oil cleansing is a great alternative to using a face wash. It removes all the build-up, excess oils, makeup, sweat, and SPF without disrupting sensitive and hardworking microbiomes or our skin's pH."
Singing the product's praises, she says: "Our Oil Cleanser has a gorgeous, thicker texture like honey that has the added benefits of boosting circulation and promoting lymphatic draining if you spend a few minutes massaging it in. When it comes in contact with water, it transforms from honey to a milky consistency and washes all those impurities away. This results in a soft, clean, balanced complexion."
Every product is curated with care by our editors and we'll always give an honest opinion, whether gifted or purchased ourselves. If you buy something through our links, we may earn a small commission at no cost to you.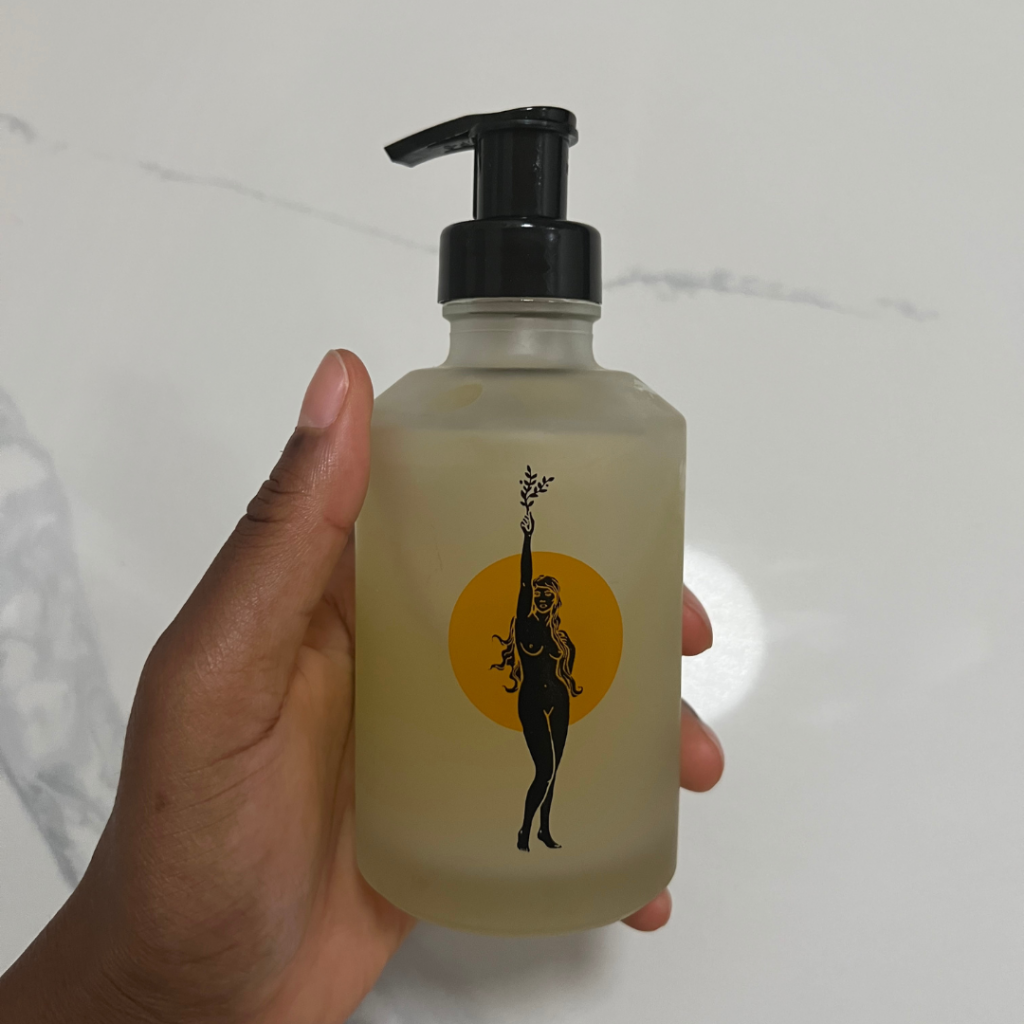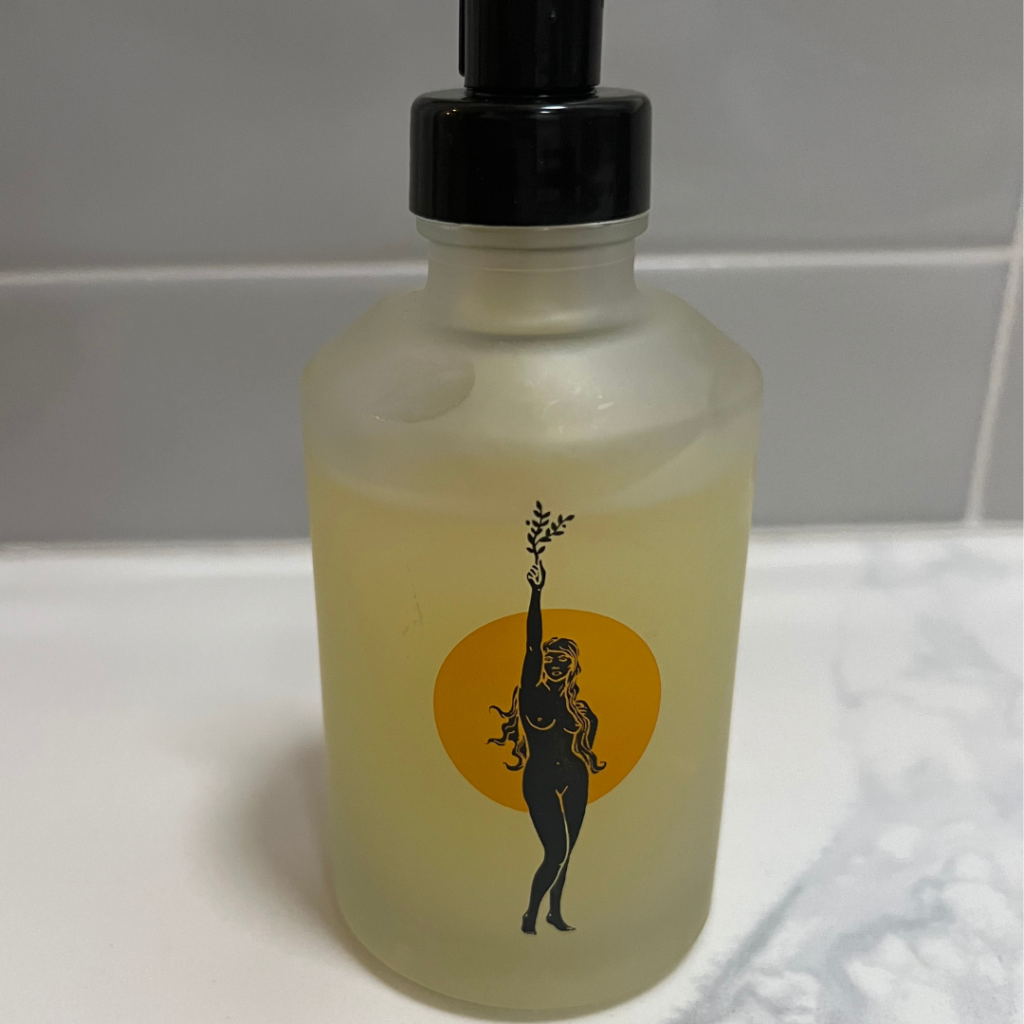 Taking Carroll's directions, I added the Wonder Valley Oil Cleanser to the first step of my routine. She was right, the texture was like no other oil cleanser or balm I have ever tried. The consistency was somewhere between the two—both fluid but thick and substantial—unlike other runny or more viscous formulas.
Applying it felt luxurious. I have begun using this when my skin is irritated and stressed. It instantly calms my skin and bathes it in a relaxing film with an almost-cooling effect. I also enjoy using it when my skin is extra grimy with sweat and SPF after a long summer day outside. Unlike other oil cleansers, I feel like this thick texture can handle it and effectively eliminate the day's impurities.
Washing it off is satisfying too, as it turns into a milky consistency. I like to follow up with a foaming cleanser to make sure any excess oil comes off. Alternatively, I pair it with the Olive & Lotus Exfoliant, a powder cleanser that's activated in water. This gentle exfoliant foams and instantly clears any residue that might be left on my face.
Afterward, I am left with softer, calmer skin. This cleanser is now a double-cleanse staple for me and a treat for the senses.
At a Glance: A nourishing oil-to-milk cleanser that removes impurities without stripping the skin.
"Our Pure Greek Olive collection is formulated with organic, extra-virgin olive oil from world-renowned Cretan groves along with our Korres Cretan Olive leaf extract. It is a luxurious, highly effective, non-comedogenic, and clinically tested formula." — Lena Philippou Korres
At a Glance: A 3-in-1 olive oil formula for face, body, and hair.
Soothing green tea and moisturizing olive oil combine to create this gentle but effective cleansing balm. The sherbet-like texture melts into a balm on your skin, then washes away like a milky cleanser.
At a Glance: A green tea and olive oil balm for your double cleansing ritual.
Whether you're looking for the second step for your double cleanse or a gentle cleanser for everyday use, this blend of barrier-boosting botanicals delivers. Olive oil and other antioxidant-rich ingredients help fortify and revitalize your skin while removing impurities.
At a Glance: A lathering cleanser to help support your skin barrier.
This holy grail face oil is a must-have for youthful skin. Olive oil moisturizes and fights free radicals alongside brightening vitamin C. Meanwhile, leaf water locks in hydration and plumps the skin. Together, they feed your skin barrier and create an envious glow.
At a Glance: An oil and water-based serum for glowing skin.
"Our new Hinoki Body Wash has a really hydrating and creamy lather," says Carroll. Enriched with the natural scent of hinoki, it'll have you smelling and looking your best. The fragrance is subtly piney—not too floral, not too spicy but with a hint of citrus that's pure luxury.
At a Glance: A lathering body wash to hydrate and purify your skin all over.
This mineral SPF protects your skin with its non-sticky, lightweight shield. The oil-based spray uses olive oil for its moisturizing and UV-resistant properties while other antioxidants help fight sun damage.
At a Glance: An oil-based mineral sunscreen spray for both face and body.
This salve is great for dry or damaged skin, especially on your lips, hands, feet, or elbows. The olive and sunflower oils are known to be effective for wound healing. Plus, black seed oil combats damaged skin with anti-fungal properties and vitamin-rich oils.
At a Glance: A thick, healing salve for dry and damaged skin.
Take the power of olive oil wherever you go with this rollerball version of the cult-favorite, lightweight olive oil. The metal applicator is great for de-puffing and soothing skin. Pro tip: Keep it on hand for dry skin and eczema flare-ups.
At a Glance: A facial oil with a rollerball applicator for portable convenience.
In a perfect world, I simply do my skincare and rouge my skin with a few swipes of this multi-stick. Made with skin-supporting ingredients like shea butter, beeswax, and olive oil, it's a hydrating and moisturizing option for cheeks, lips, and whatever else could use a little color. The clear version can even be used on hair or dry patches!
At a Glance: A tinted multi-stick that blends skincare and makeup for non-irritating, natural pigment.