At our house, grilling is a summer weekend tradition. There are few things I love more than a Saturday night, rosé in hand, kids jumping in the pool while Adam and I prep dinner on the grill. It makes me feel like I'm doing summer right, savoring the moment and the delicious smokiness of food that's cooked over fire.
When we entertain throughout the warmer months, we almost always grill the main course to keep the heat outside and our cleanup to a minimum. There's nothing better than not having a sink full of pots and pans to wash up at the end of the night! Summer gatherings call for easy grilling recipes that are quick to make, simple to prepare, and incredibly delicious. So, today I'm sharing three of my favorite grilling recipes—each only has five ingredients and comes together in 15 minutes or less.
First, watch me make these recipes in the video below (told you they were easy!).
To make things even easier, I picked up all my groceries for grilling at Target, our partner on today's post. Whether you're grilling with your family or entertaining a big crew, you're gonna want to know about the ready-made salad dressing and spice blend from Good & Gather I used to keep things simple without sacrificing an ounce of flavor. So grab your apron, fire up the grill, and let's dive into my favorite easy grilling recipes of summer.
Tips for Grilling Success
Before we jump into the recipes, let's address the elephant in the room: grilling can be intimidating. I used to leave the grilling to Adam—until I tried it and discovered that it really couldn't be easier. Here are a few simple grilling tips that every beginner should know: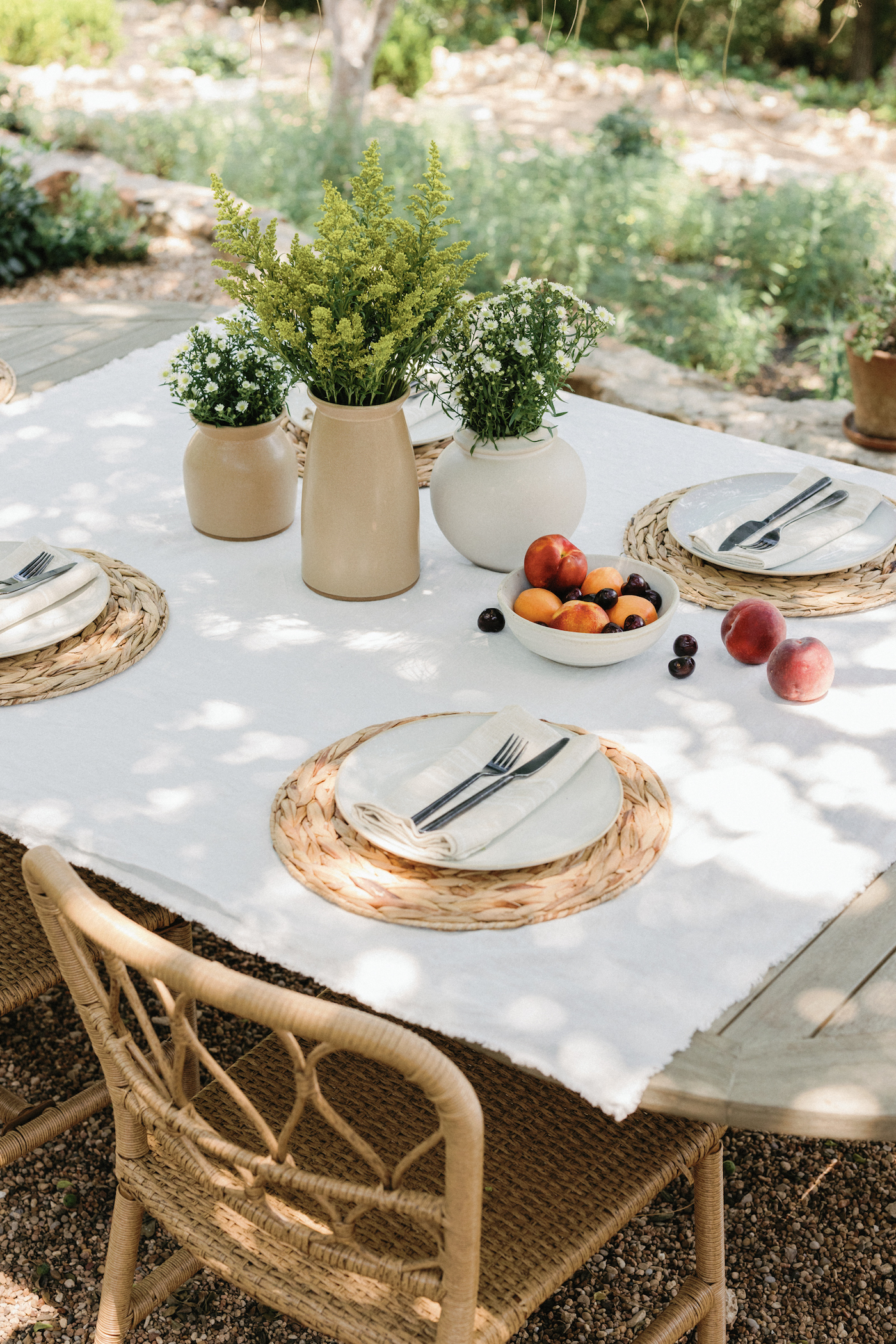 Preheat Your Grill
Always preheat your grill for at least 10 minutes with the lid closed. This helps the grill reach the right temperature, ensuring a perfect sear on your food and preventing it from sticking.
Clean the Grill Grates
Before and after cooking, clean your grill grates with a grill brush. This is a lot easier than you'd think—when the grate is hot, use a grill brush to remove any bits of food that have stuck to the grate. This will help prevent sticking and ensure that your food doesn't pick up any unwanted flavors.
Prevent Sticking
Prior to cooking, oil your grill grates to prevent sticking and make cleanup a breeze.
Choose Your Heat
Depending on what you're grilling, select either direct or indirect heat. Direct heat is ideal for smaller items that cook in less than 15 minutes, giving them a seared exterior while maintaining a tender texture inside. Indirect heat is perfect for larger cuts of meat or vegetables that require longer cooking without drying out.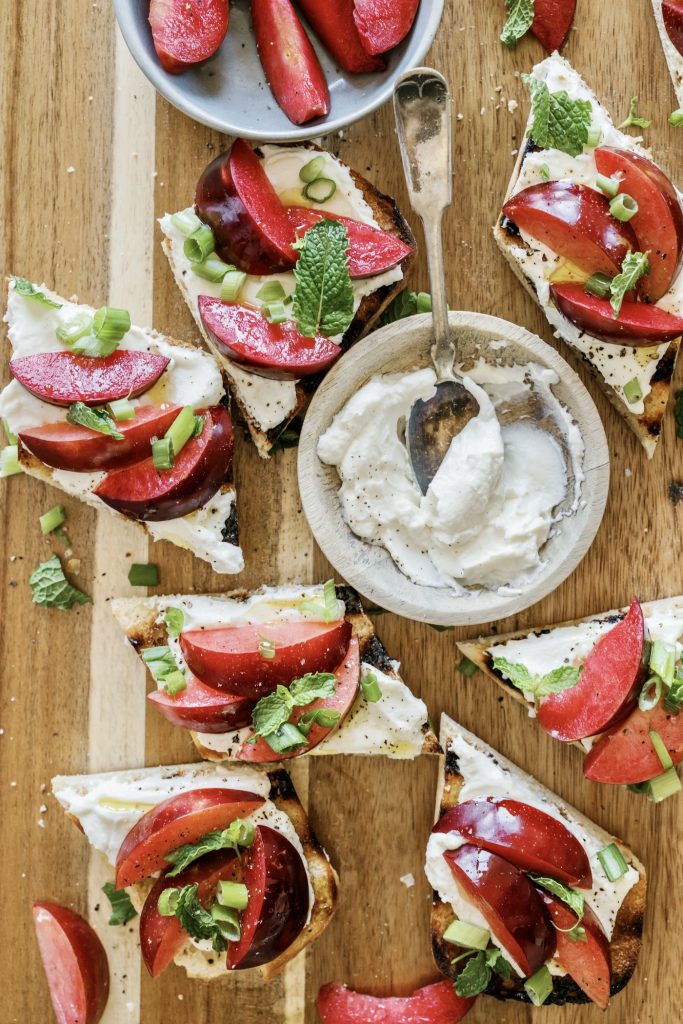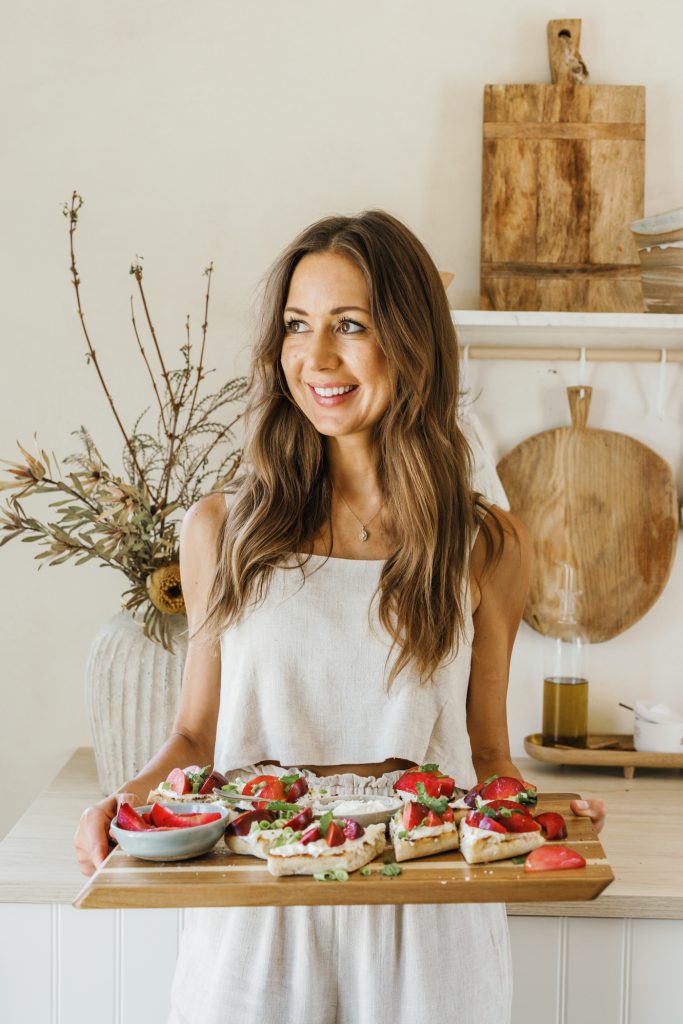 Recipe 1: Ricotta and Plum Bruschetta
Our first recipe is a Ricotta & Plum Bruschetta that makes the most delicious summer appetizer—and it even makes a great vegetarian main course for nights when you don't feel like cooking. To make it, I spread creamy ricotta over grilled baguette, then top with sweet, tart plums and fresh mint. It feels really special, and that char with the creaminess of the ricotta and the sweetness of the plums makes the perfect bite. I could eat this all day every day. 
Get the recipe: Ricotta and Plum Bruschetta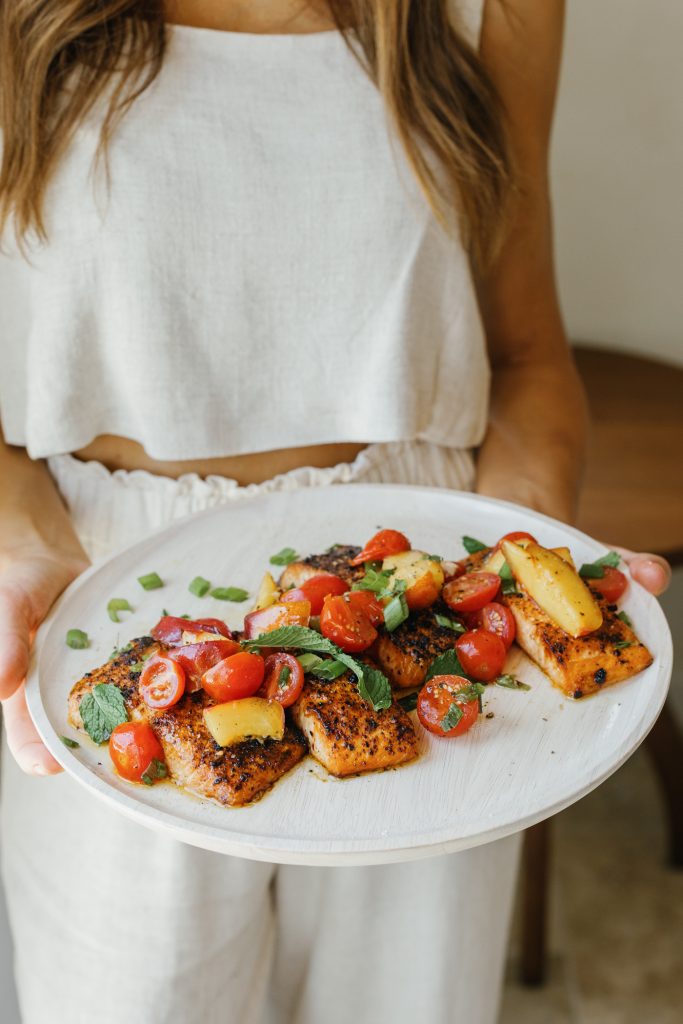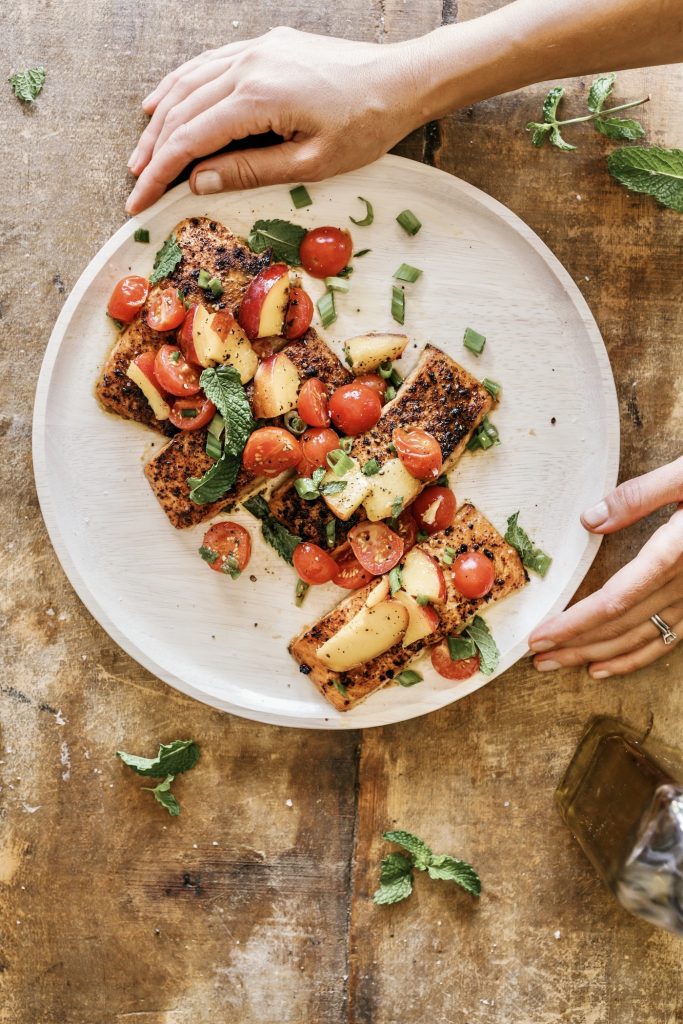 Recipe 2: Plank Salmon with Peach Tomato Salsa
Our simple main course just might be the easiest salmon recipe you've ever made. There are only two steps: first we mix together our three-ingredient salsa, then we grill our salmon. That's it.
If you've tried making salmon on the grill and struggled with sticking, try this foolproof method that results in perfectly tender grilled salmon. Soak a cedar plank (available at any hardware store and most grocery stores) in water for about an hour. Then I just place my salmon filets on the cedar plank, drizzle with olive oil, and season with Good & Gather Chile Lime Seasoning.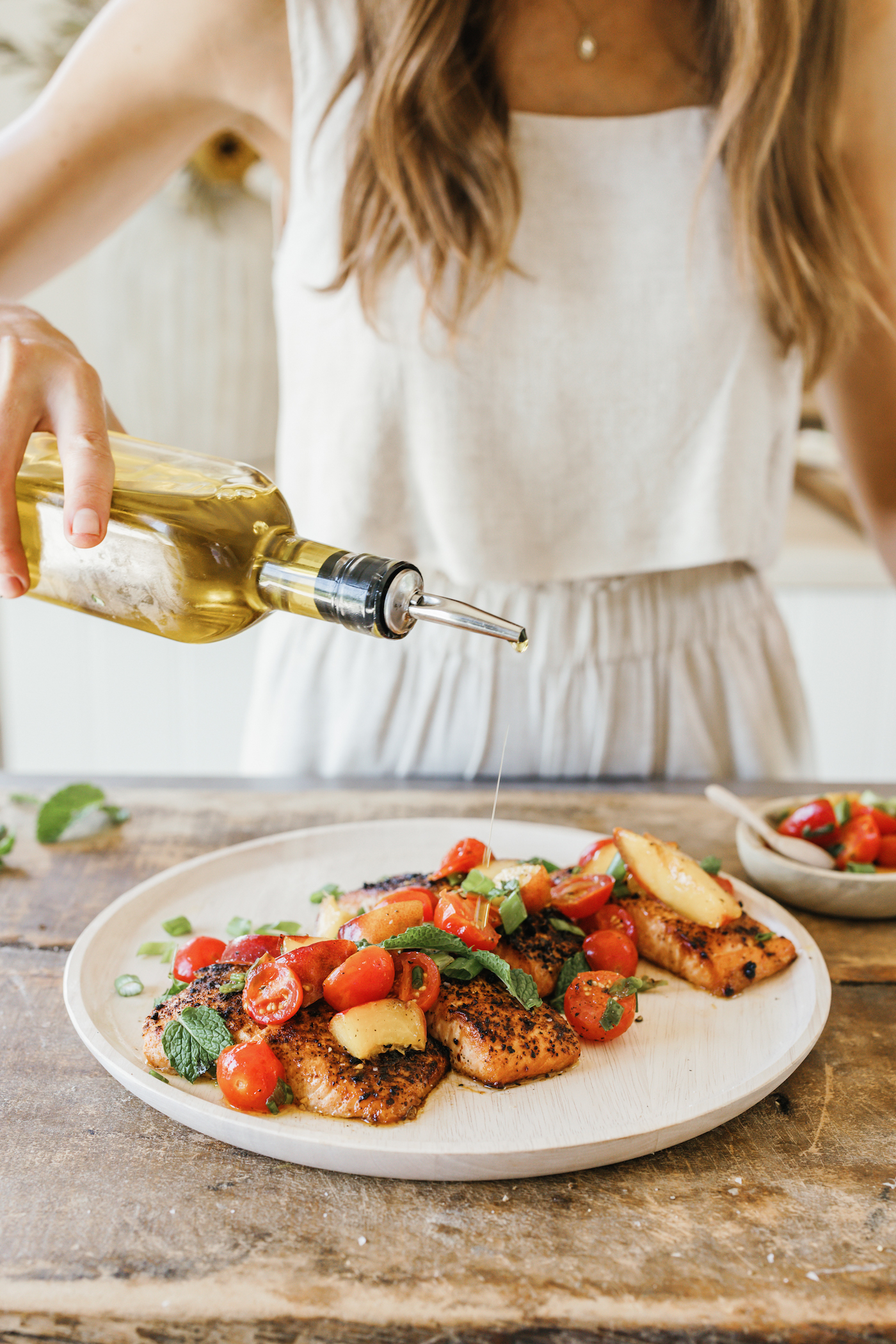 Place the cedar plank right on the grill, close the lid, and cook for 12-13 minutes until it's cooked to perfection. It's so easy to remove it from the grill this way since there's no sticking. You just use a spatula to transfer the salmon to a serving platter and top it with all that delicious peach-tomato salsa.
Get the recipe: Plank Salmon with Peach Tomato Salsa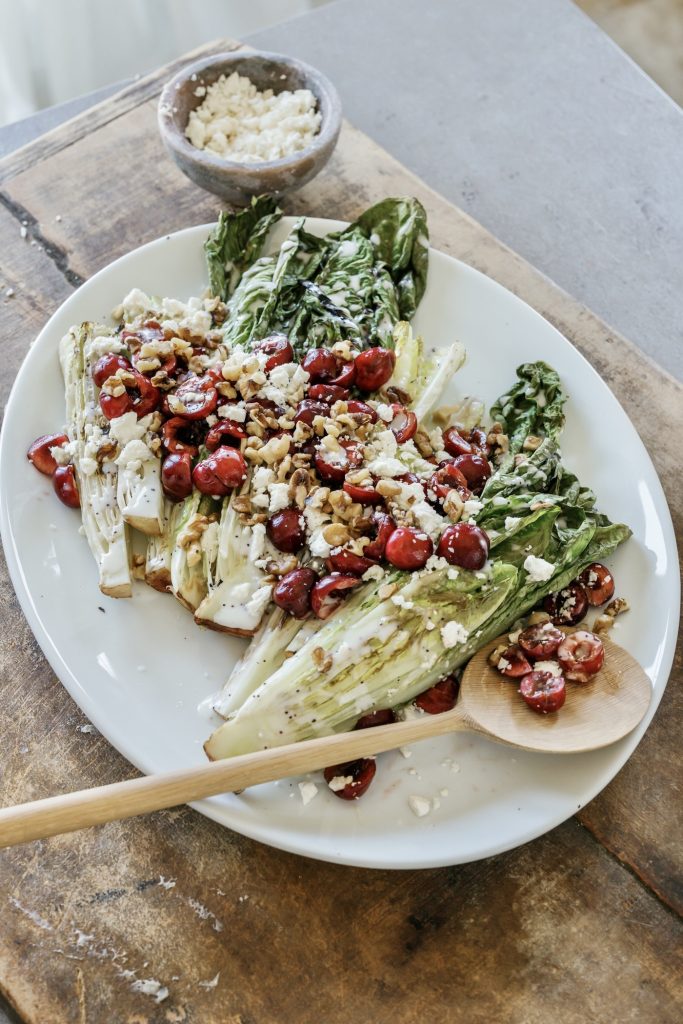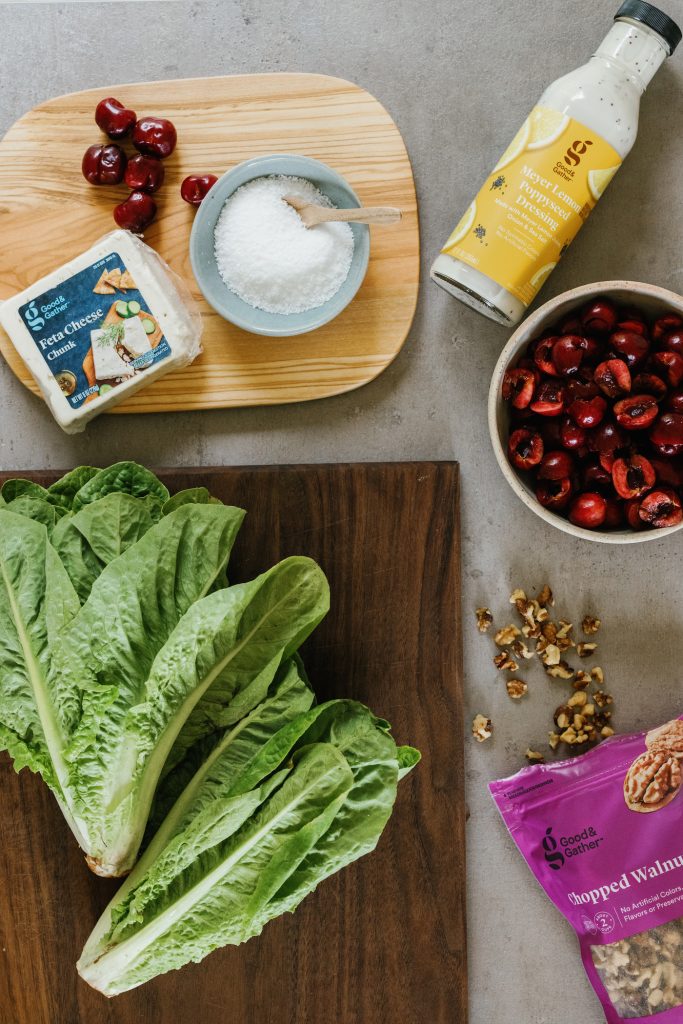 Recipe 3: Grilled Romaine with Cherries and Feta
In my opinion, people are not grilling lettuce enough. I know it sounds kinda crazy but here me out—romaine hearts are sturdy enough to stand up to the grill. They get charred on the outside and a little soft on the inside, transforming lettuce into something so delicious. Try it, and I promise you'll be addicted.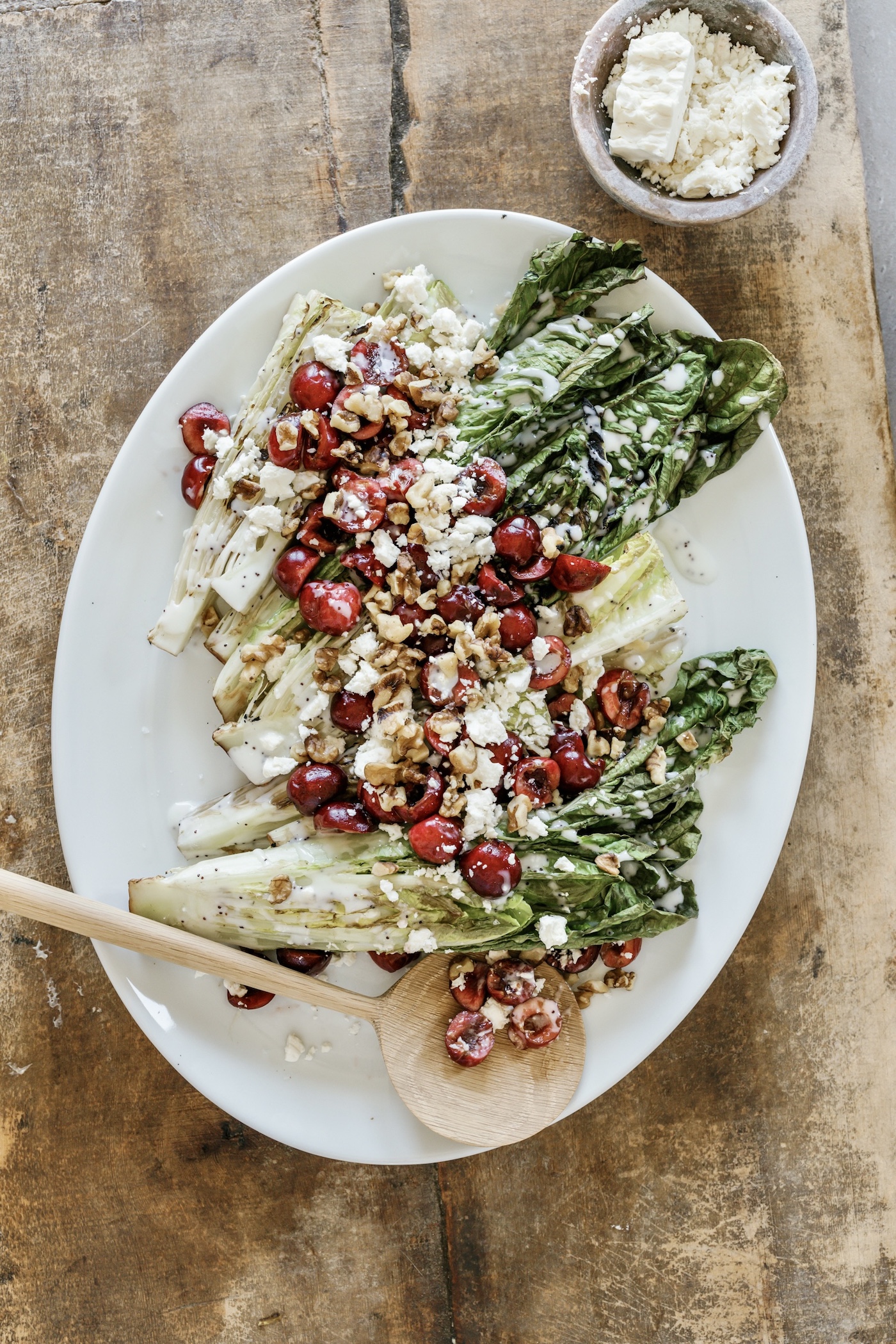 What really takes this grilled romaine salad over the top is this Meyer Lemon Poppyseed Dressing from Good & Gather, which is hands-down my favorite store-bought dressing right now. I love how it adds a hit of sweetness that perfectly balances the bitterness of the lettuce. A scattering of fresh cherries, some crumbled feta, and toasted walnuts take this salad over the top and make it actually addictive.
Get the recipe: Grilled Romaine Salad with Cherries and Feta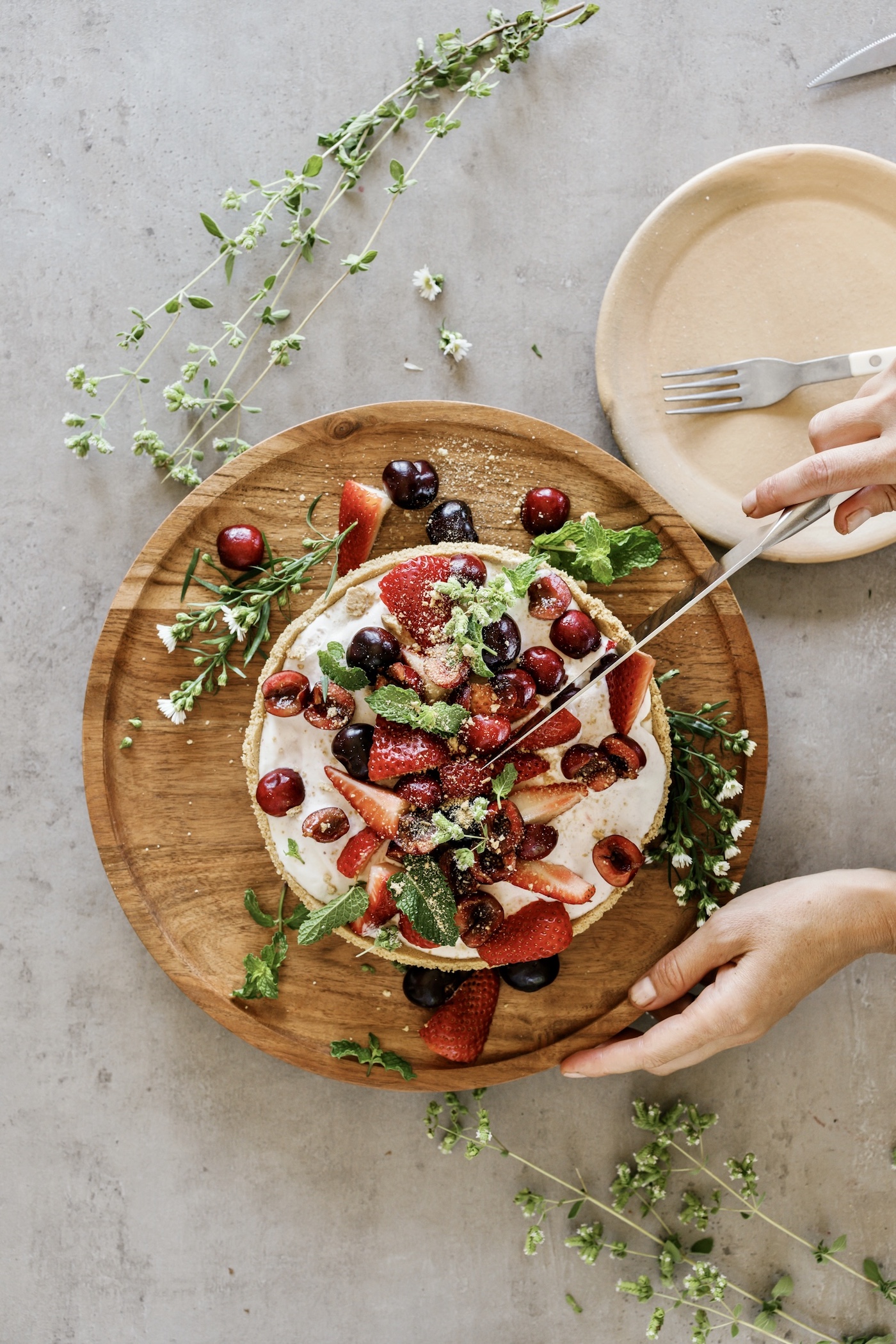 Recipe 4: Cherry Berry Ice Cream Pie
Of course, this recipe doesn't require the grill. But in keeping with the theme of summer simplicity, we're leaning into the ease that all good summer entertaining recipes should have. Plus, I'm kind of obsessed with this pie, so I had to find a way to share it, asap. It's almost too easy to be called a recipe, but I won't tell if you won't. Here's the rundown: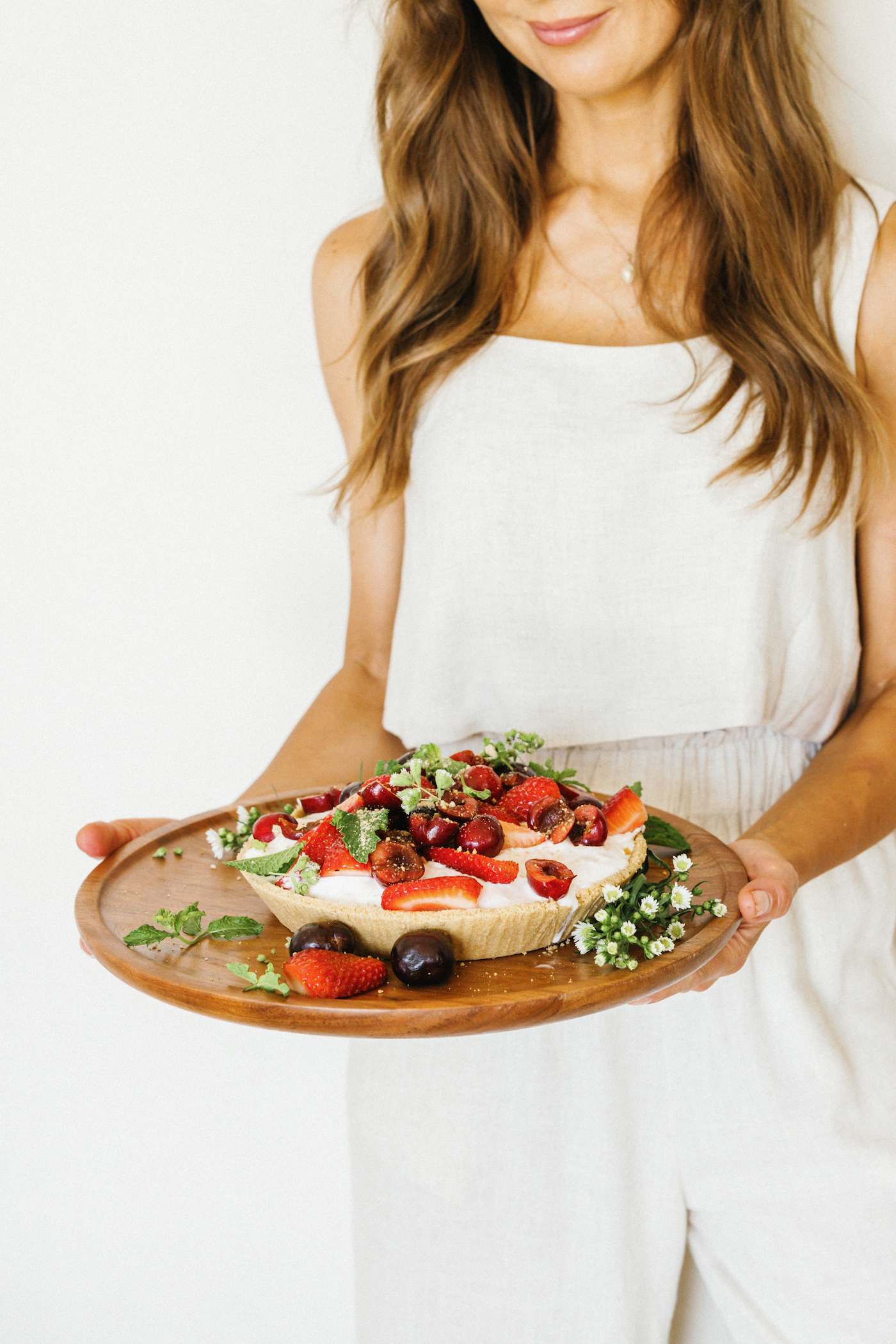 A store-bought graham cracker crust gets piled high with strawberry cheesecake ice cream. After firming up in the freezer, you top it all with the prettiest cherries and fresh berries of the season, sprinkle a few more graham cracker crumbs over the top, and devour.
Get the recipe: Cherry Berry Ice Cream Pie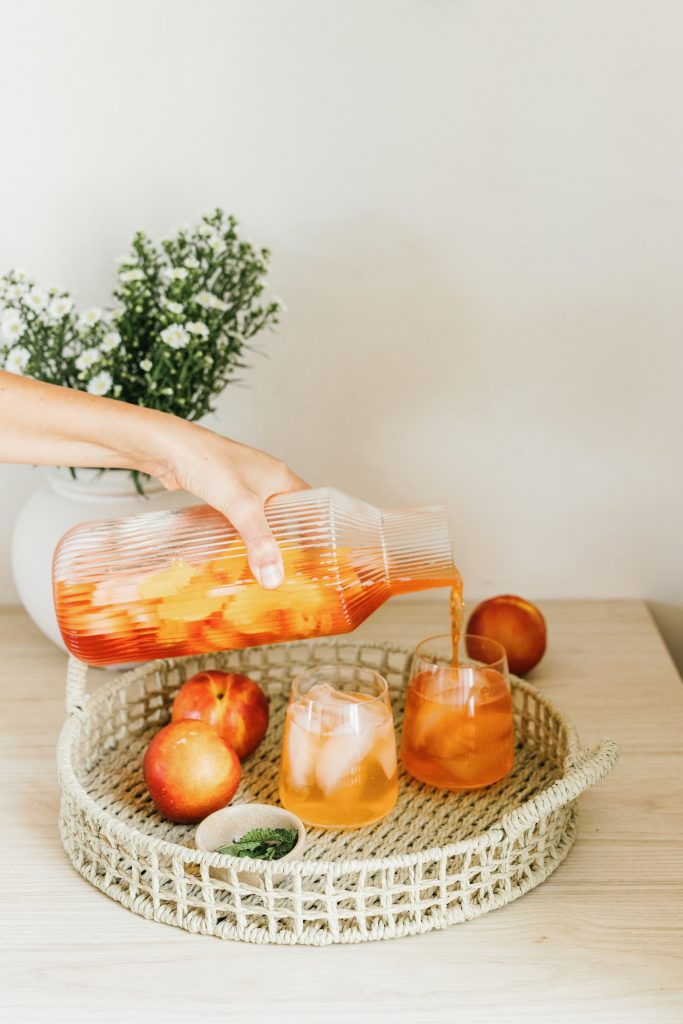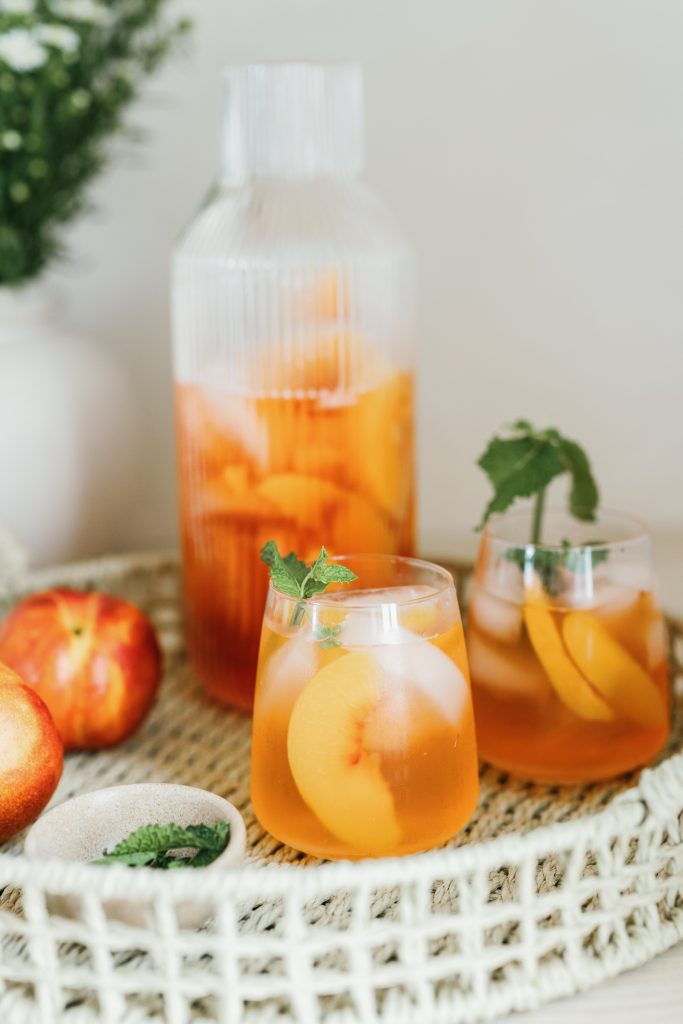 Simple Summer Cocktail: Peach Aperol Spritz
In keeping with our minimal effort/max flavor theme, I mixed up the simplest summer cocktail using just a few ingredients. Here's how to make this Peach Aperol Spritz: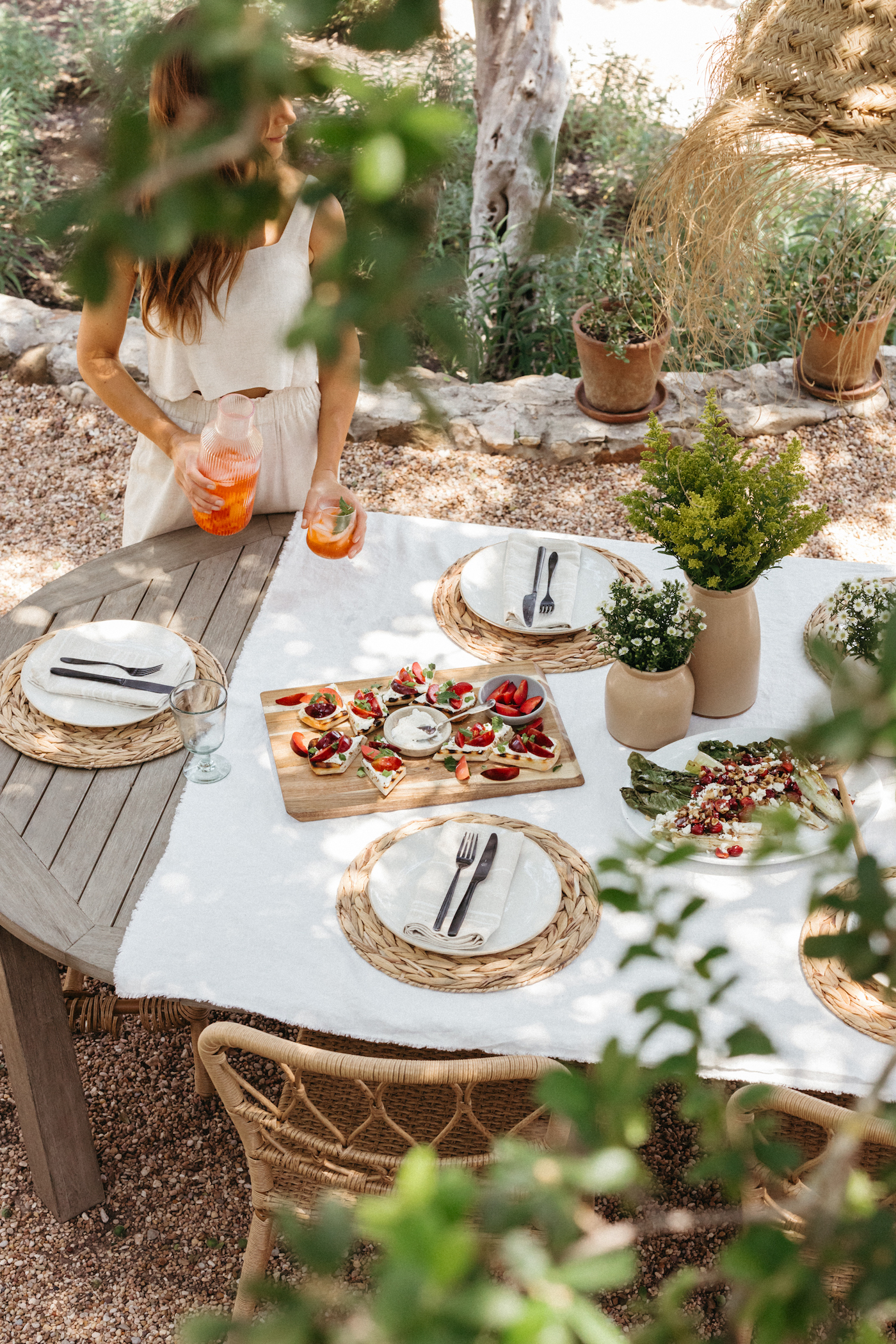 ***
These recipes are all the proof you need that grilling doesn't have to be intimidating. And if you need a little extra guidance, be sure to watch my Youtube video where I'm breaking them allll down (link to episode.)
With these easy grilling recipes, you can effortlessly delight your family and friends all season long. So, fire up the grill, savor the smokiness, and enjoy these quick, simple, and delicious dishes that are low-effort, high reward. Happy grilling!
You can shop the entire look on my Target storefront, where you'll find all of my favorite Target buys for every space.
This blog post contains affiliate links. If you make a purchase through these links, we may earn a small commission at no additional cost to you. Your support helps us continue providing helpful content.