We're knee-deep in the holiday season, and truthfully, I couldn't be happier about the gatherings that are quickly filling up my calendar. Just a few years ago, the thought of entertaining friends and family so frequently would send me down an anxiety spiral. Party planning and menu prepping—they may be some of my favorite things, but they can take a lot out of you. These days though, my stress is low and my excitement for get-togethers is at an all-time high. What's changed? I've embraced the wow-factor simplicity of an aesthetic crudité platter.
Your Guide to Curating the Perfect Crudite Platter
No longer do the holidays mean extensive menus and fussy table settings. For me, it's all about casual gatherings where my friends can squeeze together in my living room and around the kitchen island, topping up their drinks while deep in conversation and grazing straight from a board. Think of it like a giant mix-and-match dinner of conversation-worthy flavors and textures. And most of which can either be assembled ahead of time or requires very little prep.
Throughout the holiday season, I'll be sharing some of my go-to grazing boards, each with a different theme. That way, you can serve an entire evening's worth of meals, all on a board. And to kick us off, I'm sharing one of my favorites: the crowd-pleasing crudite platter.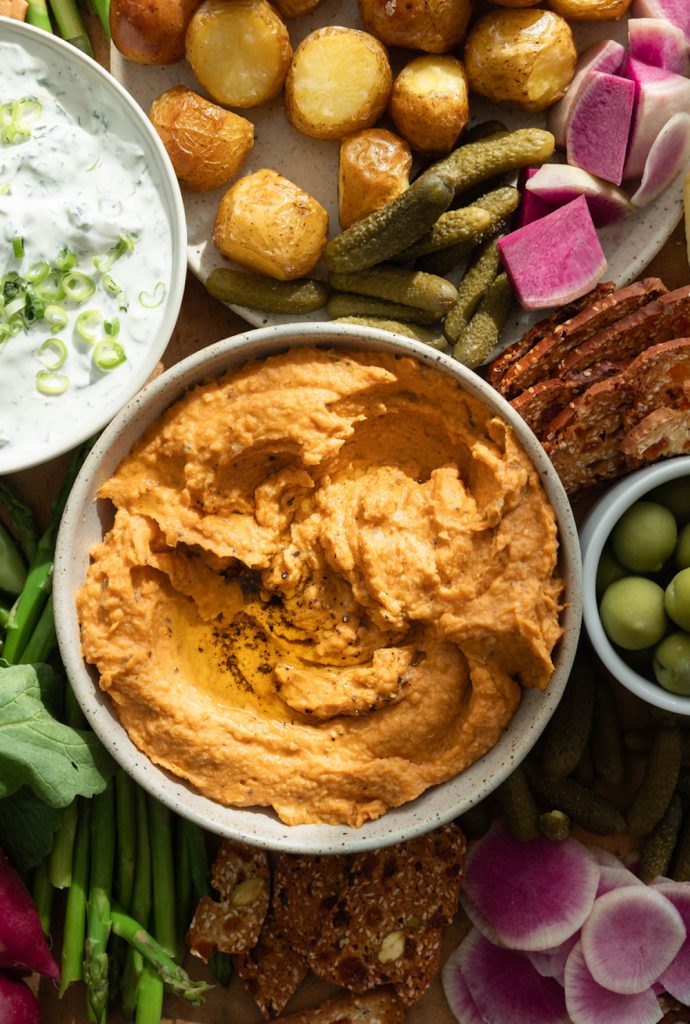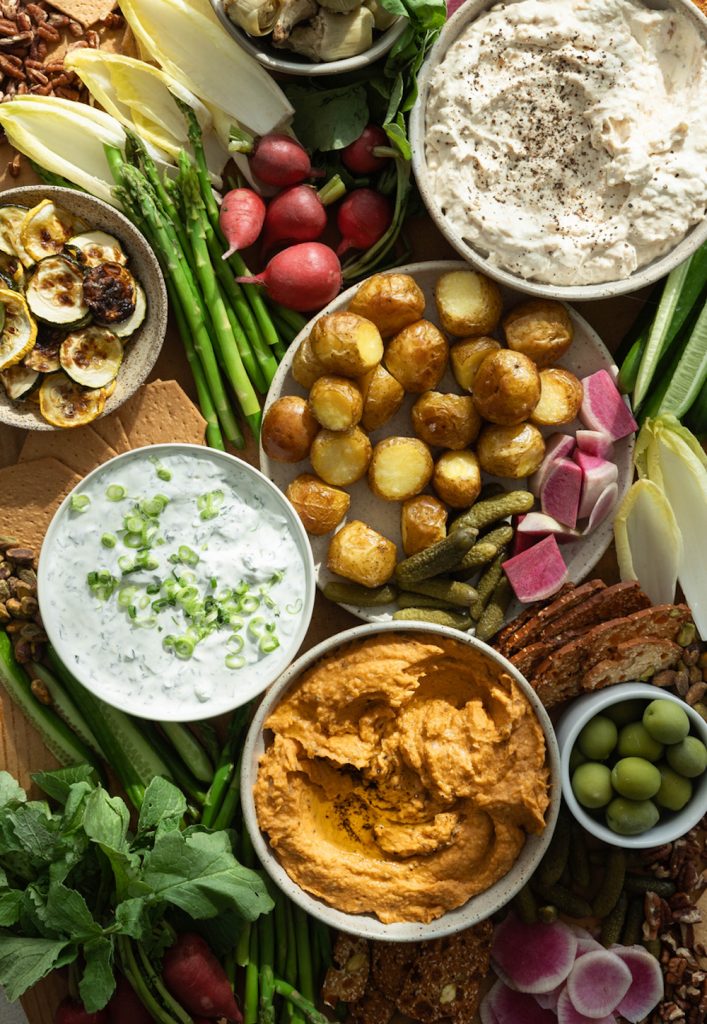 How to Choose Veggies for a Crudite Platter
I know, I know, a board of vegetables? One word: yes. Especially during the holidays when I'm enjoying indulging in extra sweet treats and delicious things, I LOVE when someone breaks out a flavorful vegetable side dish or platter. It feels refreshing—and when done right, just as satisfying as any other food. But just because we're doing a veggie crudite platter doesn't mean you need to stick to boring vegetables. I live by one rule: exciting veggies only.
Follow this formula to ensure your veggie boards stay exciting for all to enjoy.
Fresh and crisp vegetables. Think crunchy and refreshing veggies that stand strong on their own. Cucumbers, radishes, rainbow carrots, sugar snap peas, and fresh baby greens or endive. I'll also quick-blanch some asparagus or broccolini if I have it on hand.
Roasted and charred vegetables. Roasting these veggies adds a bit of that savory char to create a nice depth of flavor. Sliced zucchini tossed in lots of olive oil, baby potatoes, seasonal squash, and even out-of-season tomatoes all benefit from the roasting treatment while adding some interest to your board.
Pickled and bright vegetables. Perhaps my favorite category. This group of veggies is truly a make-ahead party trick since most of them are store-bought. (Unless you love to pickle veggies yourself, by all means!) Jars of artichokes, pickled peppers, olives, cornichons, and any fun vegetable from the olive bar at your local market make a great choice. Their pickled bite adds a nice flavor element to your crudite platter.
Following this formula ensures a strong variety of textures and flavors, making for the perfect holiday grazing board.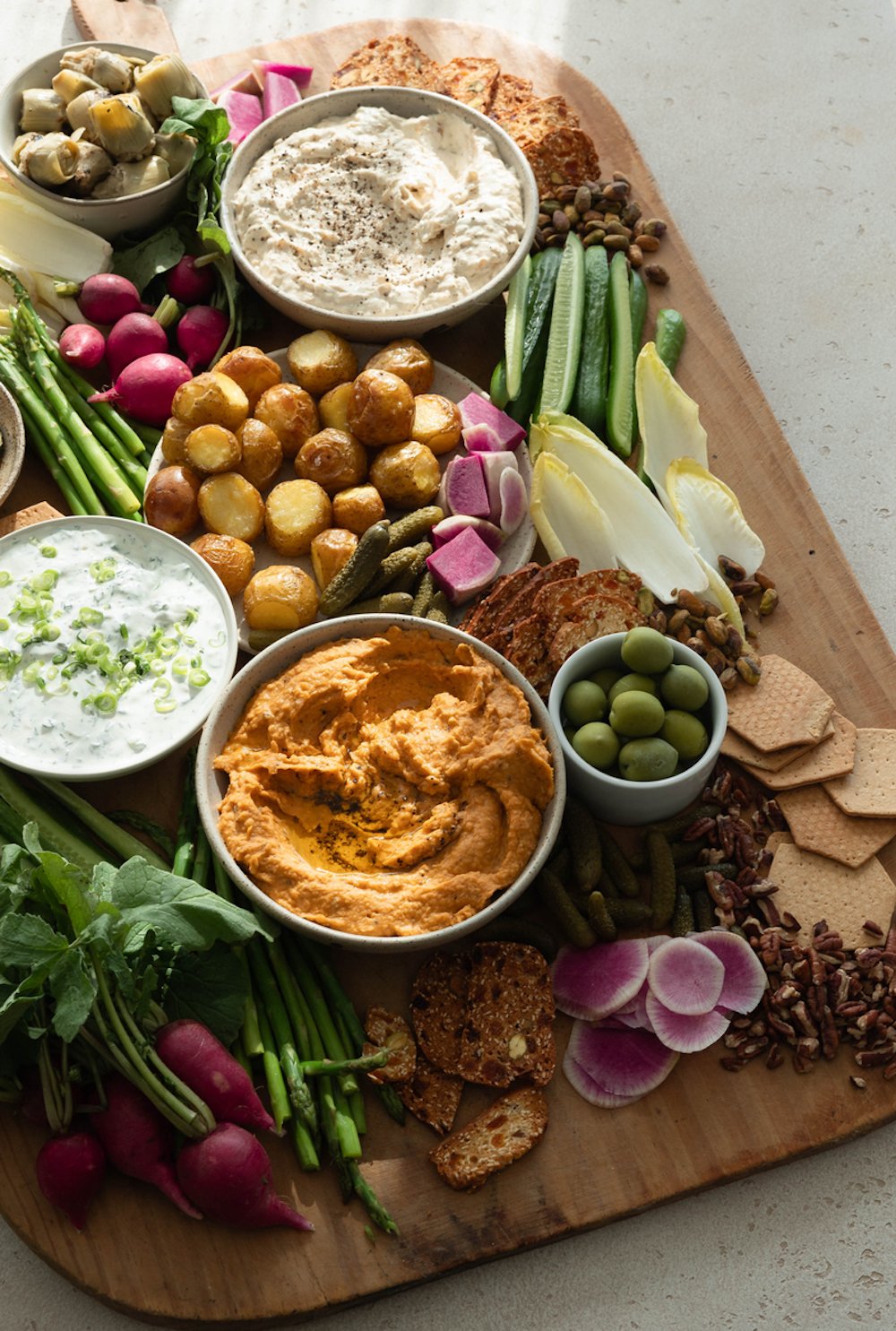 How to Choose Dips for a Crudite Platter
For the purpose of satiety and satisfying flavors, a selection of dips is a must. And if you're at a loss for where to start, don't worry—I have a formula for that as well.
A creamy and rich dip. 'Tis the (holiday) season, after all. Including an indulgent dip on your tray is the perfect pairing for your crisp veggies. Spinach artichoke dip, cheesy jalapeño, buffalo chicken, pimento, or in this case—a caramelized onion dip. (Recipe below!)
A bright and zesty dip. Including a light and zesty dip adds a tangy and bright flavor to contrast any rich dishes. From tzatziki to salsas, or in this case, my herby lemon and sour cream, go with your favorites. (Yes, even a great ranch dressing!)
A bean dip. Seems simple enough, but having a hearty dip on the platter helps transform a snack plate into a full meal. While you could stick with hummus, for the holidays, you can find a seasonal variety, a black bean dip, or try a homemade recipe, like this spiced pumpkin white bean dip.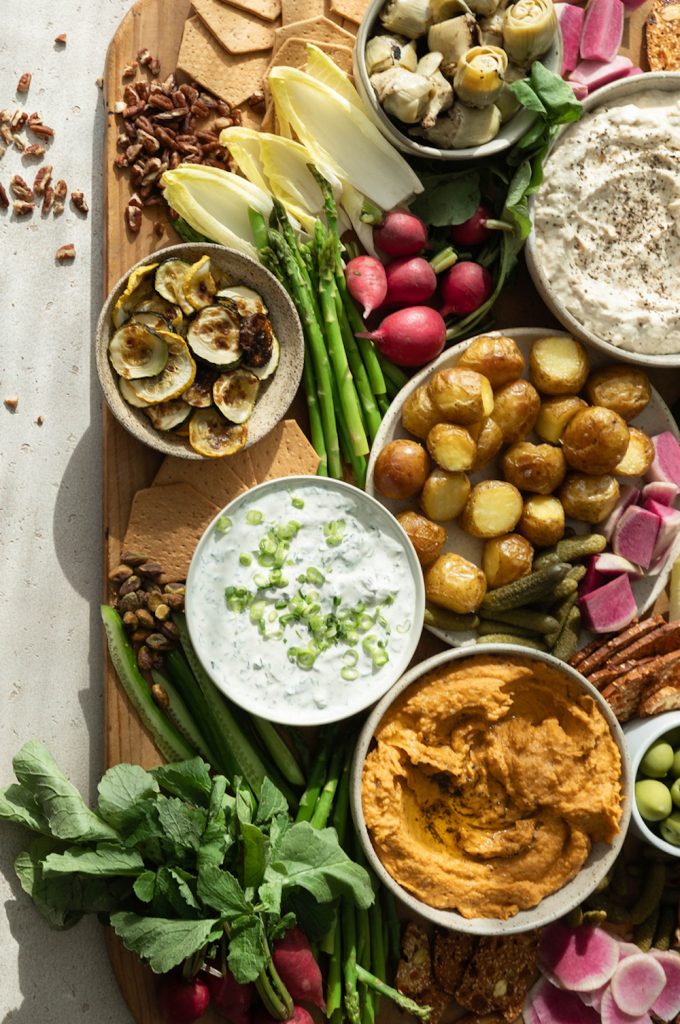 Assembly Tips and Tricks
Like any good charcuterie board, a few simple tips will help you craft a holiday-worthy crudite platter that'll impress every guest.
Mix and match bowls and platters. The best part of serving everything on a board is that clean-up and serving are so much easier. But to add some depth and visual interest, layering small bowls and plates is a great way to group and ground different items together.
Use the same ingredient in several places on your board. This creates a visually cohesive vibe while also filling in any empty spaces you might have.
Include strategic filler ingredients. If a crudite board is all you're serving, you'll want to include some other ingredients that can make this board more satisfying. Think crackers or bread, or different nuts and salty snacks. This again will add textural interest while also adding more visual depth to your board.
Keep to-go boxes on hand. My number one hack for hosting is always having to-go boxes for my lingering friends to take with them. Is it mostly to save myself the headache of post-party clean-up? I'll never tell… But a board like this is a great way for friends to add a bit of everything into a box to take home or snack on in their Uber on the way home.
Follow these tips and tricks for an Instagram-worthy crudite platter. And steal my recipe below for a crave-worthy caramelized onion dip that's sure to be the star of your next holiday gathering. Enjoy!
Print
Description
Creamy, vibrant, and packed with plenty of flavor, this caramelized onion dip is the star of any and every grazing board. Be prepared to share the recipe with every guest.
---
2 large yellow onions, chopped

3 tablespoons olive oil, more as needed

1 teaspoon salt

2 tablespoons apple cider vinegar

8 ounces sour cream

8 ounces cream cheese

1 tablespoon honey
---
Prep the caramelized onions. In a stovetop pan, add the oil and bring a medium heat. Add the onions and salt and cook until translucent. Cover the pan, keeping on low-medium heat, and cook the onions. Stir occasionally to prevent sticking, this is a low and slow process. Continue cooking until the onions are a golden brown color. Add the apple cider vinegar to deglaze the pan. The total cooking time should be 30-40 minutes. Remove from the heat and let cool completely.

In a food processor, add the sour cream, cream cheese, honey. Blend until smooth. Add about half the caramelized onions and blend. Stir in the other half of the onions. Salt to taste and adjust flavorings as desired.

Pour into a serving bowl and chill until ready to serve.