When September rolls around, my mornings rarely leave time for building an entire breakfast from scratch. Aside from the weekends, I like to keep my breakfast routine simple and quick. And if I plan ahead enough to whip up a baked oatmeal recipe on a Sunday night? It's gonna be a good week.
There are plenty of health benefits to eating oatmeal as the first meal of the day, but that's not the only reason it's one of my most-cooked dishes. I think of oatmeal as a blank canvas—a hearty base that can be enhanced in flavor by an endless amount of toppings. Pair it with peanut butter for sweetness and protein or add fruit for a boost of nutrients.
If you're craving fall (aren't we all) but still want to take advantage of the seasonal late summer fruits, this peach and pecan baked oatmeal recipe is here to satisfy. And for the skeptics, trust: this recipe is proof that your morning meal doesn't have to be boring.
What is baked oatmeal?
I like to think of baked oatmeal as a cousin of traditional oatmeal. Its core ingredients are similar, but the baking methods and assembly are slightly different. Baked oatmeal typically consists of rolled oats, milk, eggs, and a sweetener (mashed banana, maple syrup, honey, etc.). The mixture of that base—and any add-ins you desire—is baked in anything from a muffin pan to a cast iron skillet to create a gooey and hearty breakfast.
The best part of a baked oatmeal recipe? It can be saved and easily reheated throughout the week. I find these recipes perfect for early mornings when I'm not necessarily feigning for a huge meal but still need substance.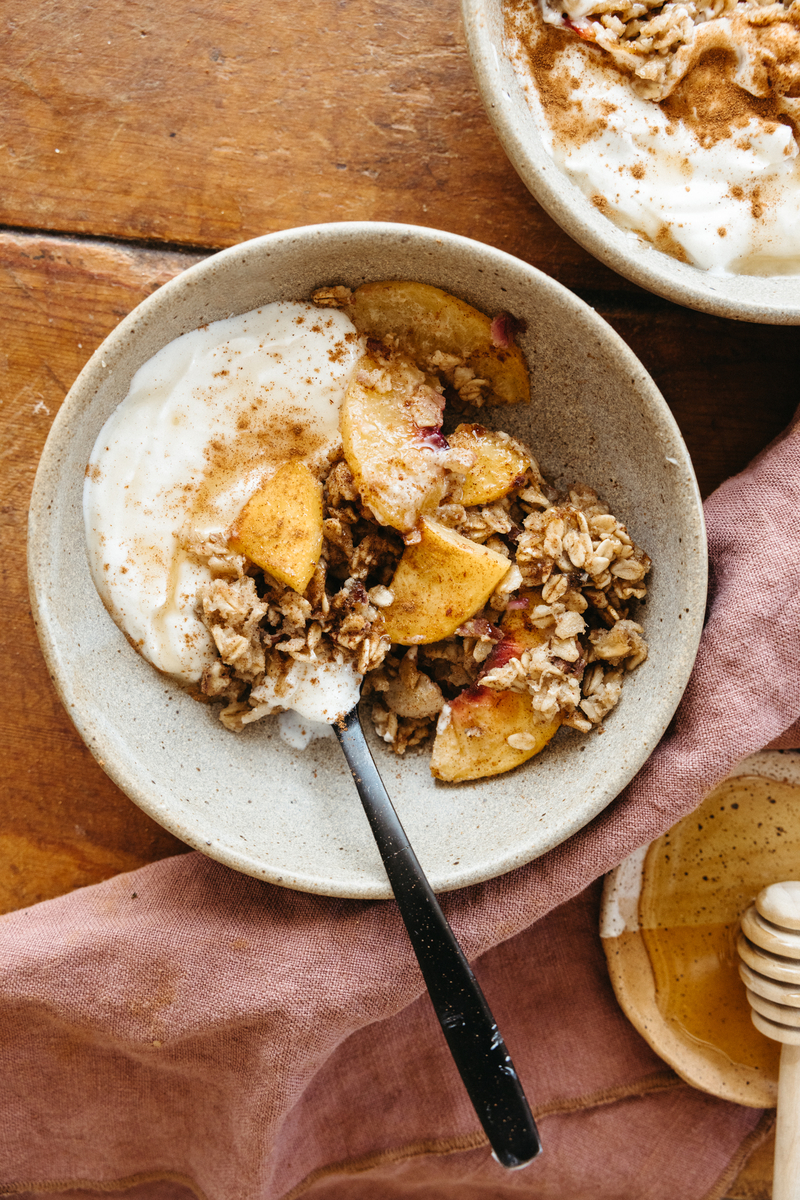 Key Ingredients
Rolled oats. I tend to lean toward organic grain products, but any rolled oats will do for this recipe. Note: Steel-cut oats will not work for this recipe due to their different texture.
Eggs. BIG binding ingredient here—eggs are a great way to keep the oatmeal moist and hold everything together.
Cinnamon. Cinnamon and oatmeal are peas in a pod. It gives the peach and pecan a bit of spice that'll get you excited for fall.
Almond milk. I've been drinking alternative milk for as long as I can remember, so almond milk was a natural choice for this recipe. Whole, soy, or oat milk can also be substituted with the same effect.
Maple syrup. For a bit of an enhanced fall flavor, I chose maple syrup as the primary sweetener for this baked oatmeal recipe.
Mashed banana. While I love the subtle sweetness banana adds to this oatmeal, it also helps bind all of the ingredients together and keeps the oatmeal from getting dry.
Fresh or frozen sliced peaches. Frozen peaches can be used in a pinch, but nothing compares to fresh peaches when they're in season.
Chopped pecans. Sometimes oatmeal needs added crunch, and chopped pecans do just the trick.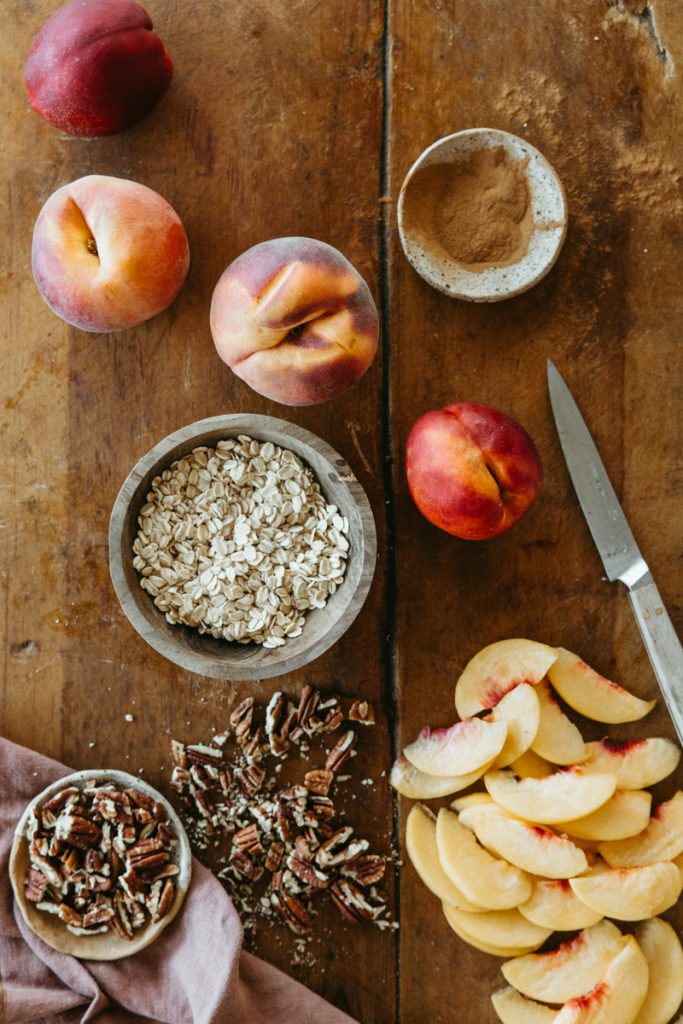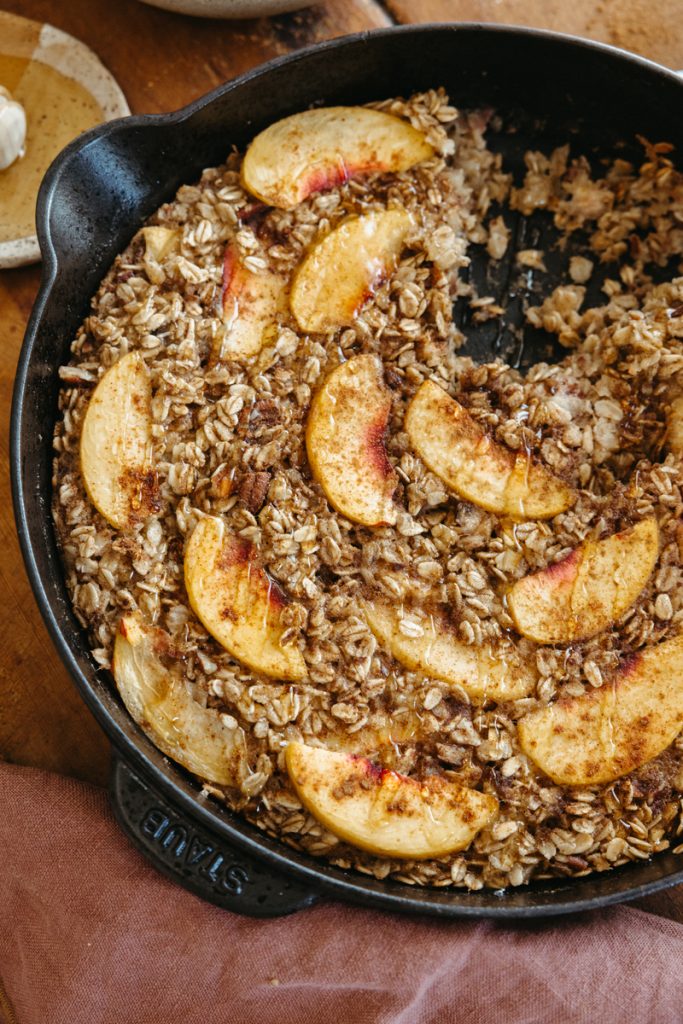 Tips for Meal Prep + Storage
While it's stunning to cook this baked oatmeal recipe in a cast iron skillet (I'm a bit obsessed with mine), the great thing about a one-bowl recipe like this is that it can be cooked in any baking dish you desire. The batter can be transferred into a muffin pan for an easy grab-and-go breakfast or baked in a cake pan if that's what you have on hand. This baked oatmeal can be refrigerated for 4-6 days and frozen for 2-3 months.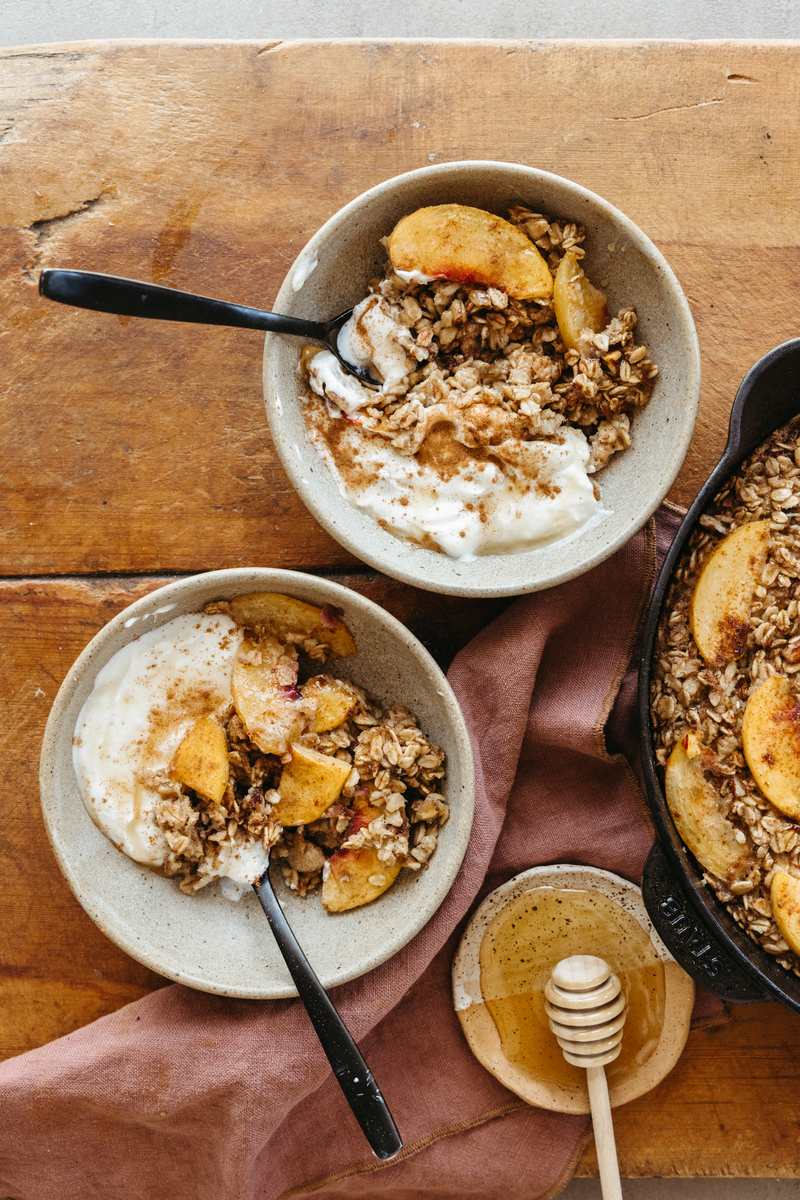 Print
Description
With crunch, spice, and just enough sweetness, this baked oatmeal recipe is one you'll want to wake up to when the temperature starts to drop.
---
3

cups

old-fashioned rolled oats

1 1/2

teaspoons cinnamon

1 teaspoon

baking powder

1/4 teaspoon

sea salt

1 3/4

cup

almond milk

1/2

cup

maple syrup

2

large eggs

1 teaspoon

vanilla extract

1/4

cup

unsweetened applesauce or mashed banana

1/2

tablespoon brown sugar

5 tablespoons

unsalted butter, melted

1/2

cup

chopped pecans

1

cup

fresh or frozen sliced peaches
Optional: Vanilla Greek yogurt
Optional: Honey
---
Preheat oven to 350 F. Grease a 9×9 inch baking pan or melt 1 tablespoon of butter in a 9-inch cast-iron skillet.*
Melt the remaining 4 tablespoons of butter in the microwave and set aside to cool.
Pit and slice peaches into ½-inch thick slices. Set some aside to top your oatmeal.
Whisk all of the ingredients together in one large bowl aside from peaches and walnuts.
Place your peaches and pecans in the skillet and sprinkle with cinnamon. Pour the oat mixture over the fruit and nuts. Top the oatmeal with the reserved peaches for garnish and sprinkle with brown sugar.
Bake for 30-35 minutes or until your center is almost set. (A soft, gooey middle section is ideal.) Cool for 5 minutes before serving.
Serve in a bowl with vanilla Greek yogurt and honey if desired. Covered leftovers last for around a week in the refrigerator.
Notes
*If your recipe has leftover oatmeal batter, feel free to add batter to muffin tins to bake.