'Tis the season for hearty and comforting one-pot dinners. Our days are filled with warming flavors simmering on the stove and cozy moments gathered in the kitchen. Soups play a large part in all of this, but I'm looking to other cold-season staples like one-pot orzo, one-pan lasagna, and kitchari that make entertaining all the easier this time of year. A little chopping and some mise en place is all you need to get a delicious dinner on the table. And when you're craving something that'll warm you all the way through, nothing satisfies quite like this one-pot lentil chili.
I love a good chili recipe and have made Camille's sweet potato and black bean chili more times than I can count. Since my Sundays are filled with football, and my calendar is blocked off for plenty of low-key nights at home, I began experimenting with my own chili recipe. This spin on the classic cool-weather meal doesn't require much effort—only keeping a pot on the stove and setting out an array of toppings. Plus, "cooking" this lentil chili mostly looks like opening cans and adding them to the pot. (Okay—there's a little chopping involved, too.)
This one-pot lentil chili recipe is vegetarian, packs the perfect amount of heat, and makes the most of all the savory flavors I crave from my favorite fall dish.
Ingredients for One-Pot Lentil Chili
Onions. The start of all great recipes. This aromatic will be the base of this chili.
Cumin, Coriander, and Paprika. I'm a stickler for freshly ground spices, and they certainly make a difference here. Use freshly ground cumin and coriander for warming flavors, and a little paprika to add smokiness.
Chipotle Chilis in Adobo. My favorite ingredient in this chili. It adds a depth of flavor that's rich and smoky, with a slightly sweet heat that makes you think this chili has been cooking for hours.
Poblano Pepper and Jalapeños. For fresh flavor and more layered heat, I like adding poblano peppers and chopped jalapeños. The poblanos are totally optional but come highly recommended.
Diced Fire-Roasted Tomatoes and Tomato Sauce. I always have cans of tomatoes in all forms in the pantry for recipes like this. Fire-roasted tomatoes add another layer of smoky heat, and tomato sauce helps create a rich flavor.
Cocoa powder. I like the subtle sweetness cocoa powder adds to the sauce. It really rounds out the chili's flavor.
Red Bell Pepper. I like adding red bell peppers to help balance out the flavor with a bit of sweetness. Plus, they add texture—and more veggies are always a good thing.
Corn. Because this is a vegetarian lentil chili, I like to add vegetables that will add texture and heartiness. The corn also introduces another layer of sweetness to help balance out the savory flavors.
Black Beans and Kidney Beans. Two different kinds of beans are best in terms of creating a variety of texture and flavors. But you're welcome to use one or the other depending on what you have on hand.
Black Lentils. Lentils are a great source of plant-based protein and are a go-to pantry staple. Soak dried lentils overnight to ensure they cook all the way through.
Vegetable Broth. Homemade if you have it, but store-bought broth is convenient and often tastes just as good.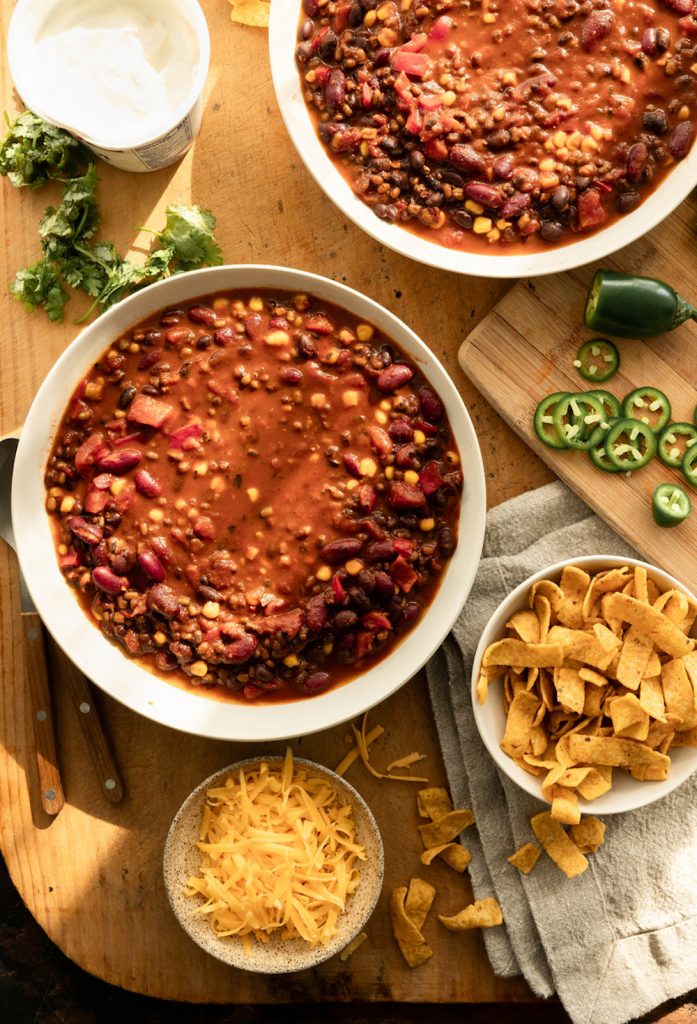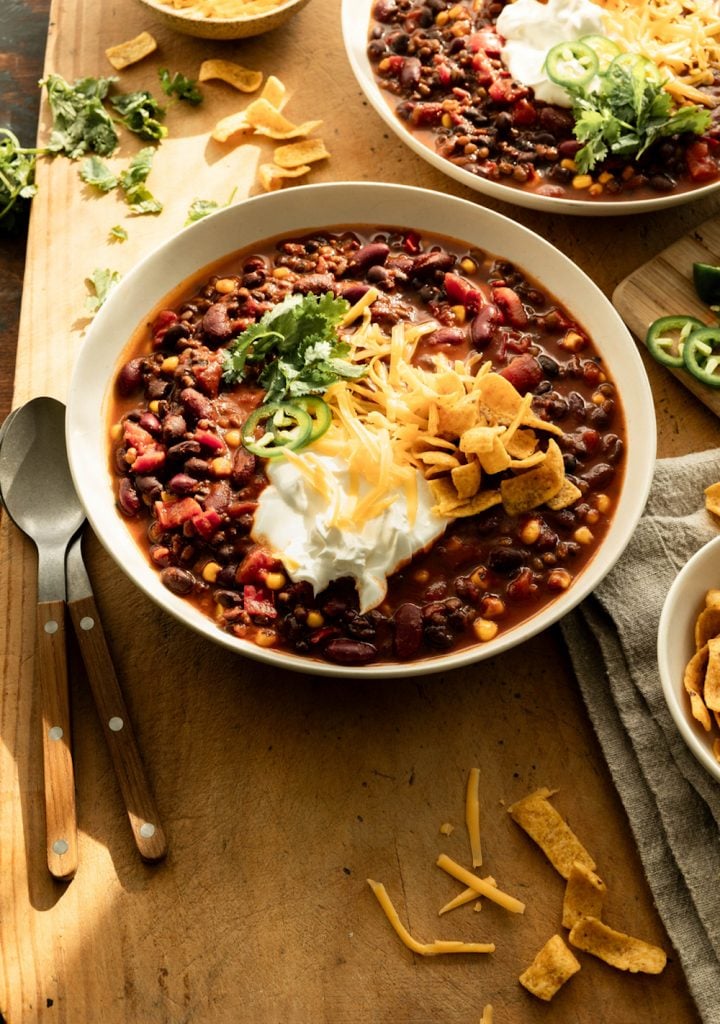 How to Prepare Lentils
I grew up in a lentil household. We had some kind of lentil on the dinner table almost every night. But… I've often made the fatal mistake of forgetting to soak them. While it's not impossible to cook lentils without soaking, I don't recommend taking the chance.
First, without soaking, lentils take a really long time to cook on the stove. You can cheat by using a pressure cooker, but the cook time is still much longer without a soak.
Second, soaking lentils helps improve digestion and nutrient absorption as the soaking neutralizes lectins and phytates in the lentils. 
To prep, add lentils to a large bowl and cover with double the amount of water. I let mine soak for about 24 hours in the fridge, but soaking overnight and even up to 4-6 hours helps. When you're ready to make your chili, rinse the lentils off and cook as needed.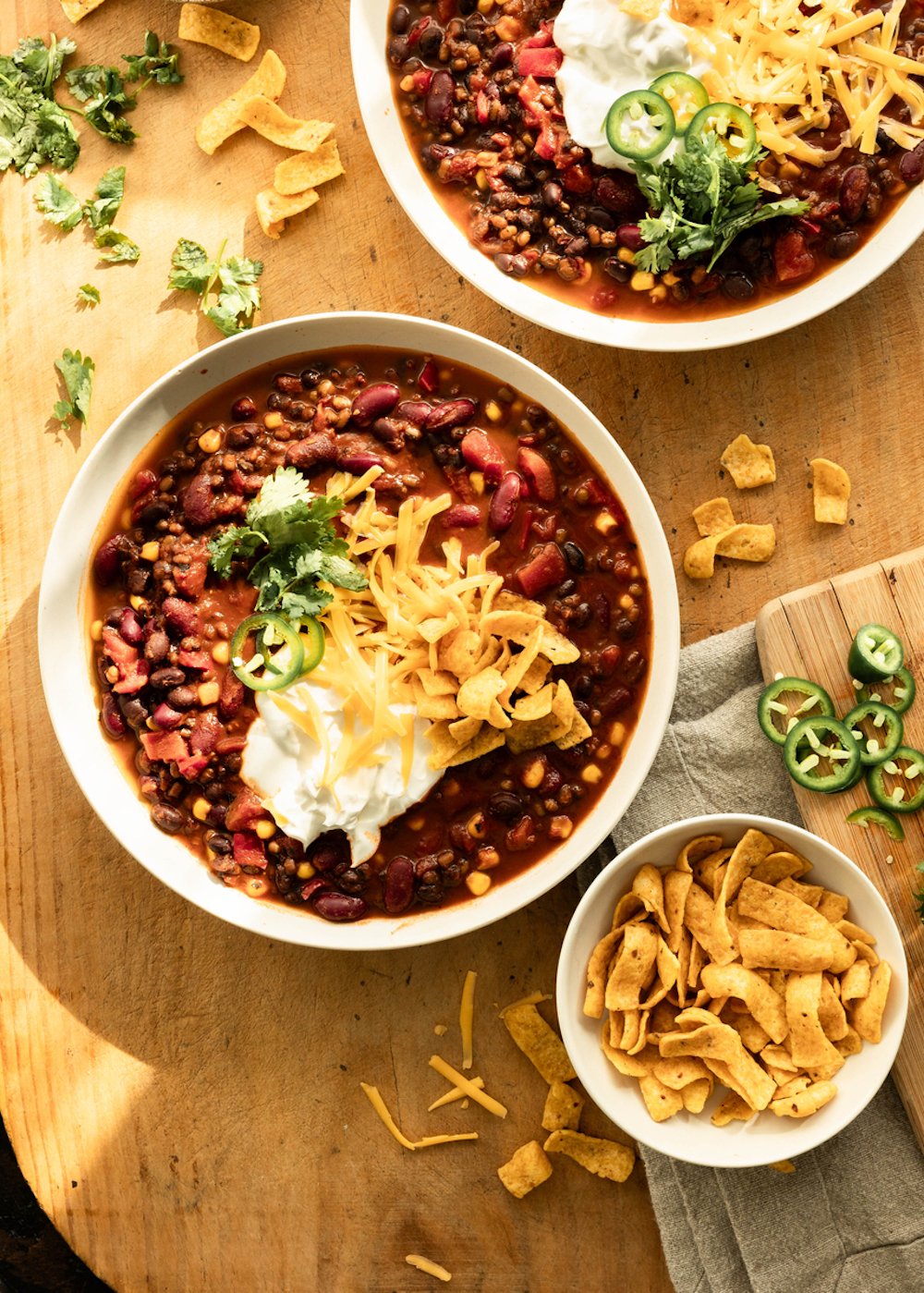 Toppings for Lentil Chili
I'm a toppings girl, and they're admittedly my favorite part of this lentil chili. (And really all chili, to be honest.) Toppings let you build your perfect bowl, opting for a little crunch here and some creaminess there. Use whatever you have on hand. These are the options I use to stock my chili bar:
Sour cream
Cheddar cheese
Goat cheese
Diced red onions
Chopped jalapeños
Green onions
Cilantro
Avocado
Roasted corn
Corn chips
Tortilla chips
Cornbread
Lime wedges
How to Store and Reheat Lentil Chili
The best part of this lentil chili is how easy it is to make a big batch to meal prep for the week and freeze for nights when you don't want to cook. 
To store in the fridge, keep in an airtight container for up to five days. To reheat, add to a stovetop pot and bring up to a slow simmer for 10-15 minutes until warmed through. You can add a little extra broth if the sauce has thickened too much.
To freeze, cool completely and keep in an airtight container. To reheat, let thaw overnight in the fridge and then add to a stovetop pot and simmer to warm through. You can also reheat in the microwave.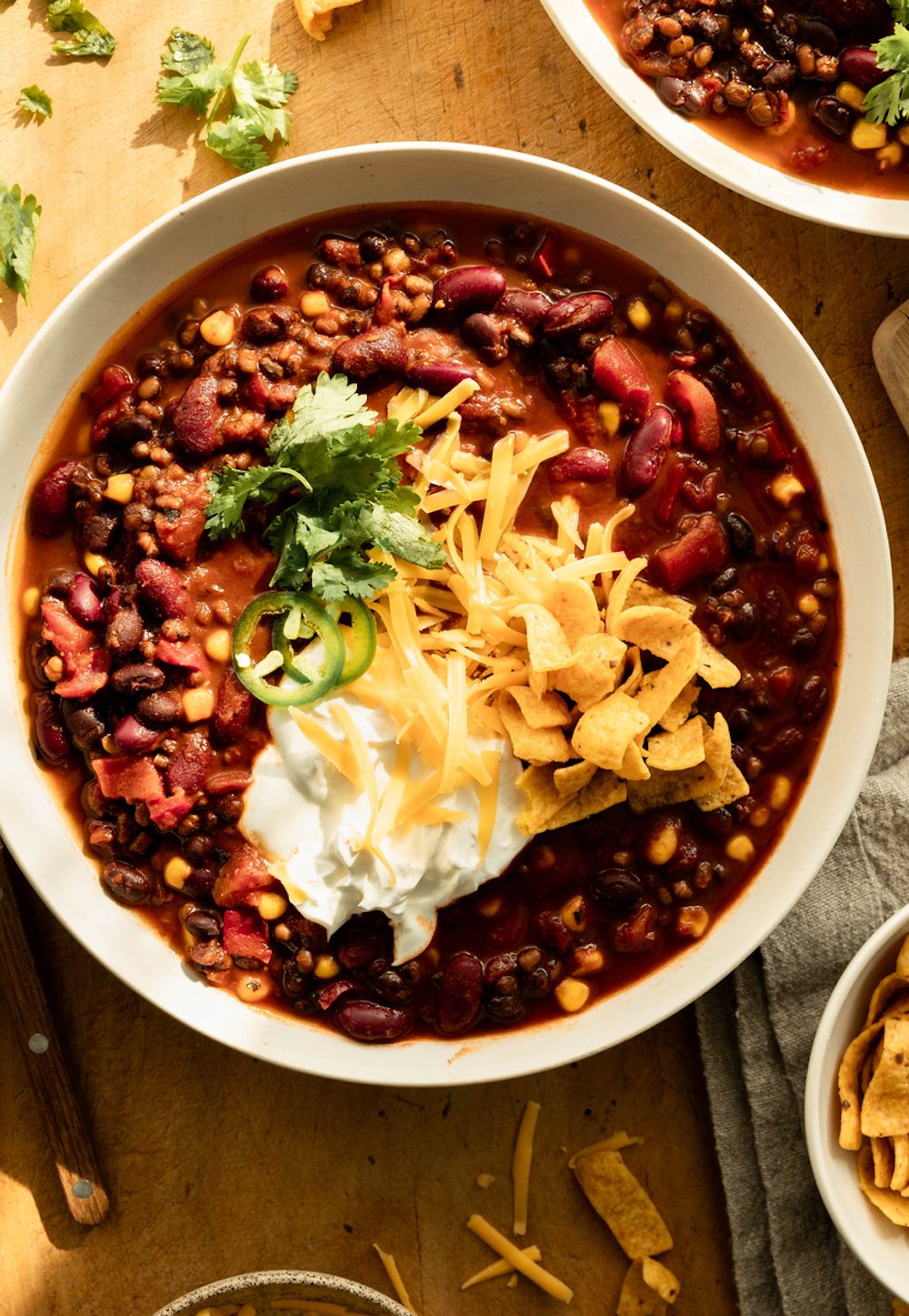 Print
Description
Cozy, comforting, and perfect for football season (or anytime you're craving a hearty meal)—this vegetarian chili makes the most of our favorite plant-based, protein-packed pantry staple.
---
2-3 tablespoons olive oil

1/2 yellow onion, finely diced

1 teaspoon ground cumin

1/2 teaspoon ground coriander

1/2 teaspoon smoked paprika

Salt and Pepper to taste

4-5 ancho chilis in adobo sauce, seeded and very finely chopped

1 poblano pepper, chopped

1 jalapeño, seeded and chopped

1 red bell pepper, chopped

1 cup frozen corn, thawed

1 15-ounce can tomato sauce

1 15-ounce can diced tomatoes

1 tablespoon cocoa powder

3/4 cup black lentils, soaked overnight

4 cups of vegetable broth or water

1 15-ounce can black beans

1 15-ounce can kidney beans

Optional: a squeeze of lime juice
---
In a large stovetop pot, add the olive oil and bring to medium heat.

Add the onion with a pinch of salt and let sweat until translucent. Add the cumin, coriander, paprika, a teaspoon of salt, black pepper, and the chopped and seeded ancho chilis. Cook for a few minutes until fragrant.

Add the poblano pepper, jalapeño, red bell pepper, and corn. Cook until the peppers start to soften.

Add the tomato sauce, diced tomatoes, and black lentils to the pot with the cocoa powder. Stir to combine and let cook for about 5 minutes. Add the broth and stir. Bring up to a simmer and cover the pot. Cook for about 30 minutes, stirring occasionally.

Add the black beans and kidney beans to the pot. Cover the pot and cook for another 15 minutes until the black lentils are completely cooked through. Turn off the heat. Taste and adjust salt as needed. If desired, add a squeeze of lime.

To serve, distribute hot chili in bowls and add desired toppings. Enjoy!