I pride myself on not falling for Instagram's targeted ads, so when Jolie's slick sponsored post popped up on my feed for the umpteenth time earlier this summer, I scrolled right on by. Who needs a filtered shower head anyway, I thought as I began absentmindedly Googling heavy metals. The next thing I knew, my skin was feeling dryer than ever post-shower and I found myself studying yet another glowing, 5-star review of Jolie, which promises to remove chlorine and heavy metals.
"Possibly the best purchase of my life," gushed Elizabeth R. about Jolie.
"No really, this is worth it. It's an example where the hype is merited," shared Rachel.
But it was Chloe H. who finally convinced me with "Just get it already."
A few short days later, the Jolie showerhead showed up at my door in perfectly Instagrammable packaging. It was all so pretty… too pretty, I thought suspiciously as I pulled out the supplied "Tiny but Might Wrench" and "The Cutest Tape in the World." The installation was simple and the hardware was stunning (options include brushed copper or steel but I opted for Jet Black). I hope you're satisfied, Chloe H., I thought.
Featured image by Teal Thomsen.
What Makes Jolie the Best Shower Head Filter
But it was me who was satisfied after my first shower with the Jolie filtered showerhead. I was on high alert for bogus hype (who knows if Chloe H. is even real!?), but I felt the difference instantly.
My skin and hair love it. My showers tend to run scalding hot (I know it's bad—I can't stop), but my skin didn't feel stripped at all. (In fact, I put moisturizer on afterward out of habit, not because my skin felt dry.) My fine, color-treated hair also felt notably softer. I let it dry naturally—no frizz or funky kinks ensued.
It's intentionally designed. Beyond the filter of it all, Jolie showerheads have more jet streams than usual, making it super easy to wash product evenly out of your hair. The Jolie filter also includes calcium sulfite balls, which quickly remove chlorine without slowing the water pressure (very important!).
I found myself looking forward to my showers. Not just for the clean (which I've desperately needed during an unusually hot summer in Texas), but for the way it made my skin and hair feel after—beautifully balanced. About a week into using Jolie, my friend's 6-year-old daughter noticed how soft my skin felt.
"How do you do it?" she asked earnestly.
"Jolie," I replied. She didn't know what that meant because she's six, but honestly, she should. Everyone should.
An Honest Review of the Jolie Showerhead Filter
Last week, I went on a trip to what I would consider a luxurious resort. The shower was objectively swanky, lined with natural stone, and stocked with Natura Bissé beauty products. But you know what it didn't have? That's right—a shower head filter. The best shower head filter.
It showed too. Every day was a bad hair day. The provided products were gorgeous and I had packed my trusty Dyson Airwrap with me, but my hair never quite settled. (We were on a farm in Franklin, Tennessee too, so the weather and humidity were essentially the same as at home.) I gave up trying to style it by the end of the trip, letting it devolve into a flat frizzy mess.
As I expected, my hair bounced right back when I returned home to my beloved Jolie. I am now, officially, a shout-it-from-the-rooftops filtered showerhead convert.  
After a month of use, there are other noticeable perks to Jolie. My blonde balayage has looked brighter and shinier than ever. My hair has even started drying faster. My shower water just feels fresher.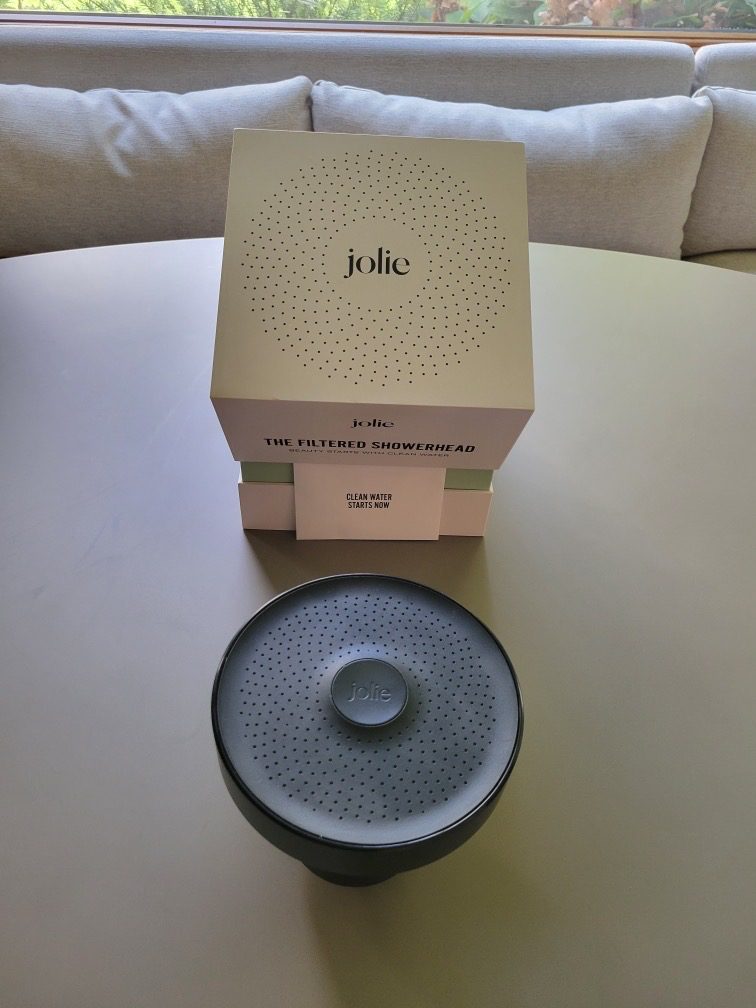 How does the Jolie shower filter work?
I love a little science with my skincare. Jolie's sexy modern design may have helped propel it to social media stardom, but its filtration system is what makes the product a solid investment.
The key is the KDF (kinetic degradation fluxion) filter, a combination of high-purity copper and zinc shavings that can remove over 99% of free chlorine in water. Chlorine strips the skin and hair of natural oils, leaving it dry and damaged. It can alter how highlights look, leave skin feeling flaky or itchy, and cause acne to worsen.
But wait, there's more! The filter exchanges electrons with contaminate likes iron, mercury, and other heavy metals to transform them into harmless elements. KDF also helps control the buildup of bacteria and algae.
The Takeaway
It all looks and sounds quite cool and high-tech, but the proof is in my ridiculously soft skin and hair. It would take a lot for me to recommend a $150-plus product heavily hyped on Instagram (one that also necessitates a subscription—ugh, the worst!), but Jolie is a solid beauty investment. Think of it as a companion piece to all the lovely hair and skincare products you already own.