Food is a major part of my life. Not only does recipe development, food styling, and writing about food make up a large percentage of my job (though granted, one that doesn't feel like work)—making, learning about, and eating delicious food is one of my greatest passions in life. So, it's probably no surprise that I love watching other people's What I Eat In A Day episodes on social media. Especially when they're created by other women who lead very full lives while still prioritizing healthful, bursting-with-flavor meals. I want all the details on how they do it.
A Note on 'What I Eat in a Day' Videos
On the flip side, most of us can relate to the tendency to compare our own eating habits to those of others, and one thing I've learned for sure through my years of research on diet and nutrition? There's no one-size-fits-all "perfect diet" for anyone. The idea of bio-individuality is that each person has unique health needs and that our bodies react differently to various foods—which means that we can't assume that just because one way of eating makes one person feel their best, it's the best for us, too. Each of us has to discover our optimal diet by listening to our bodies, observing how we feel when we eat certain foods, and getting in tune with our own hunger and fullness signals.
With that as our foundation, we can approach What I Eat In a Day videos with a sense of curiosity and fun, as a source of inspiration for how we can fill our lives with a little more ease and deliciousness. I hope that my WIEIAD below sparks creative ideas in the kitchen, provides you with a few new recipes to try, and inspires you to keep it easy when life gets busy.
Watch the video, then scroll on for the sources and links that I mentioned. And if you have any questions, be sure to drop a comment on the Youtube episode. (And subscribe to our channel if you're enjoying it!)
Wake-Up Call
First thing: I make a pot of coffee. I prep it the night before so that all I have to do is hit the "power" button for it to start brewing. Lately, I've been adding some steamed pistachio milk which adds a little sweetness without any actual sugar.
I drink my coffee during my journaling/morning routine time, then mix up my daily dose of AG1 to sip on while I help the kids get ready for school. I love that AG1 gives me a potent burst of vitamins, minerals, and probiotics first thing and lays the foundation for good eating choices ahead.
Breakfast
I'm learning a lot lately about the importance of getting sufficient protein in the morning, so I've been focusing a lot more on including high-protein food with my breakfast. Today it's Greek yogurt—I like plain, full-fat varieties from Fage, Chobani, or Siggis. Then I add berries, banana, a drizzle of manuka honey, and a handful of my grain-free coconut granola that I meal prep every Sunday for the week ahead.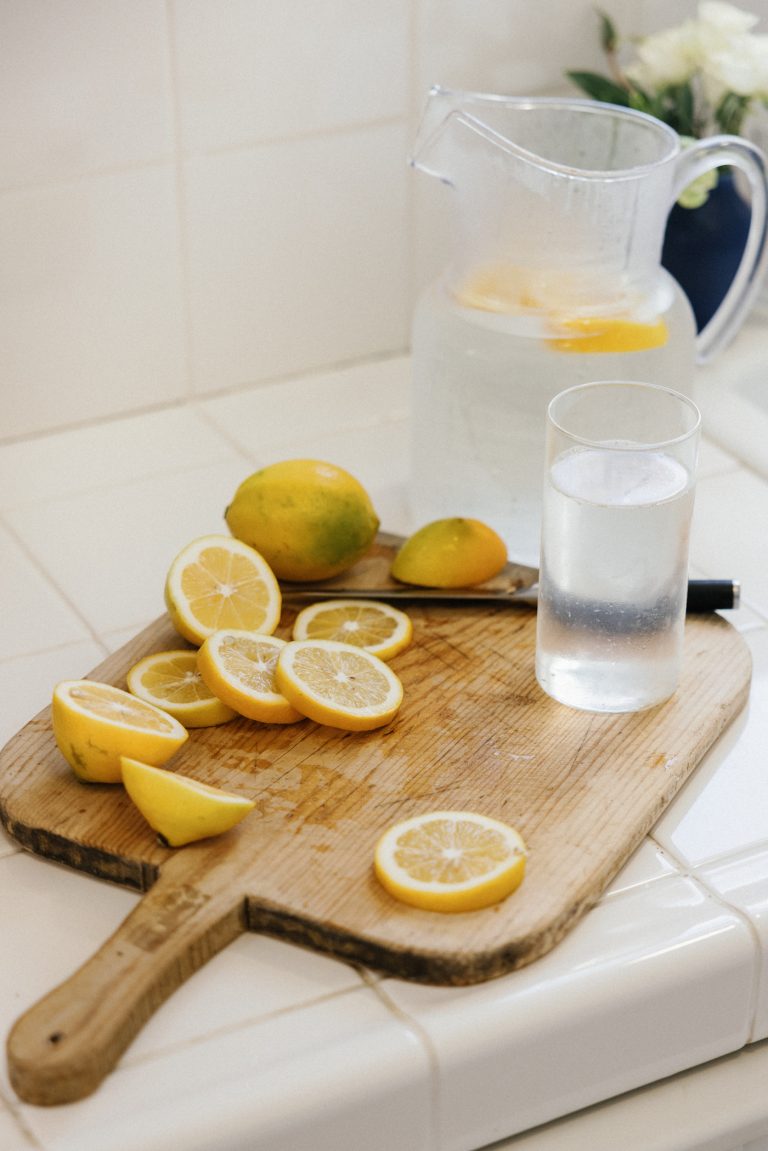 All-Day Water
Every morning, I fill up my big water bottle with filtered water, then I add a packet of Sunfiber (a prebiotic/probiotic blend that nourishes good gut bacteria—it's invisible and completely tasteless) and a packet of LMNT electrolytes which helps me stay high energy and makes my water taste really good which keeps me sipping all day. I'm a fan of all the flavors, but watermelon is probably my top choice.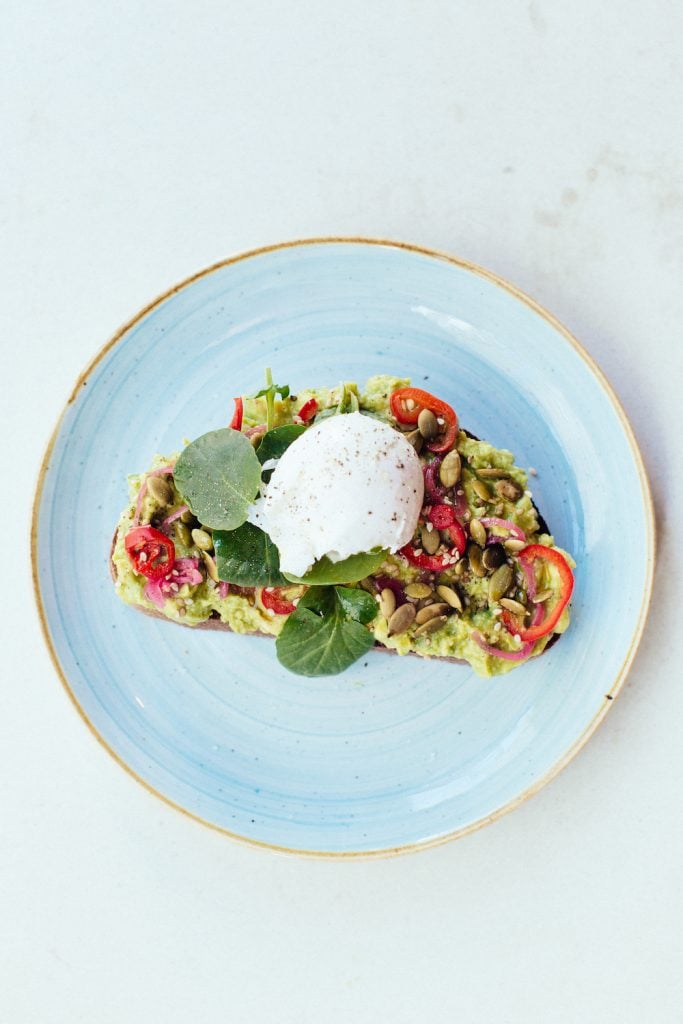 Lunch
When it comes to work-from-home lunch, I'm a creature of habit. Some days I'll eat leftovers from last night's dinner, or I'll throw together a salad with whatever veggies and proteins I have in the fridge. More often than not, I'll make an open-faced sandwich/toast situation with an egg, avocado, and some fresh veggies. It's a combination I never get tired of, and I always feel good at lunch when I consume a good balance of protein, healthy fats, and fiber.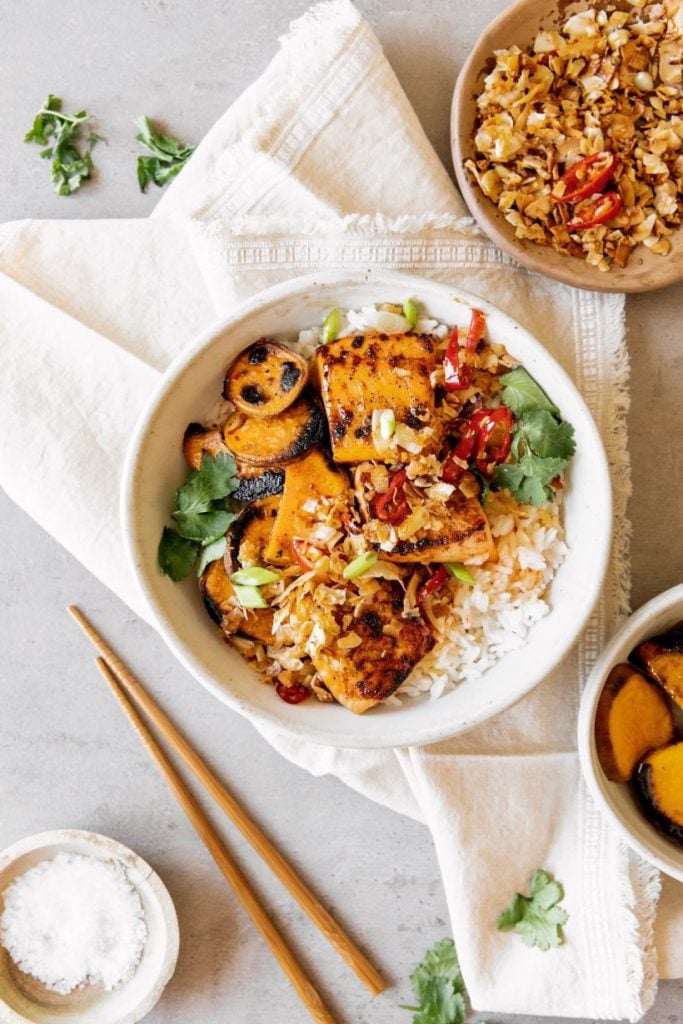 Dinner
We try to eat dinner as a family several nights a week, which anyone with kids old enough to have after-school sports and activities knows: it can be a challenge. I get a lot of questions about how to feed different members of the family when you've got picky eaters (YEP), and often my approach focuses on making components of dinner that can be eaten in different ways or disassembled to suit different tastes.
Case-in-point: this Hot Honey Glazed Salmon is one of my favorite weeknight meals for its ease and off-the-charts deliciousness. It's easy for Henry to eat the salmon on its own with a side of rice and some cut-up cucumber spears. If someone in the family doesn't like heat, just leave the glaze off one of the salmon fillets and season it simply with salt and pepper. Make it low-carb by swapping the rice for cauliflower rice. Let people add their own coconut crunch at the end to suit their liking. This one is infinitely customizable and also feels like a really nourishing end to the day that comes together in less than 30 minutes.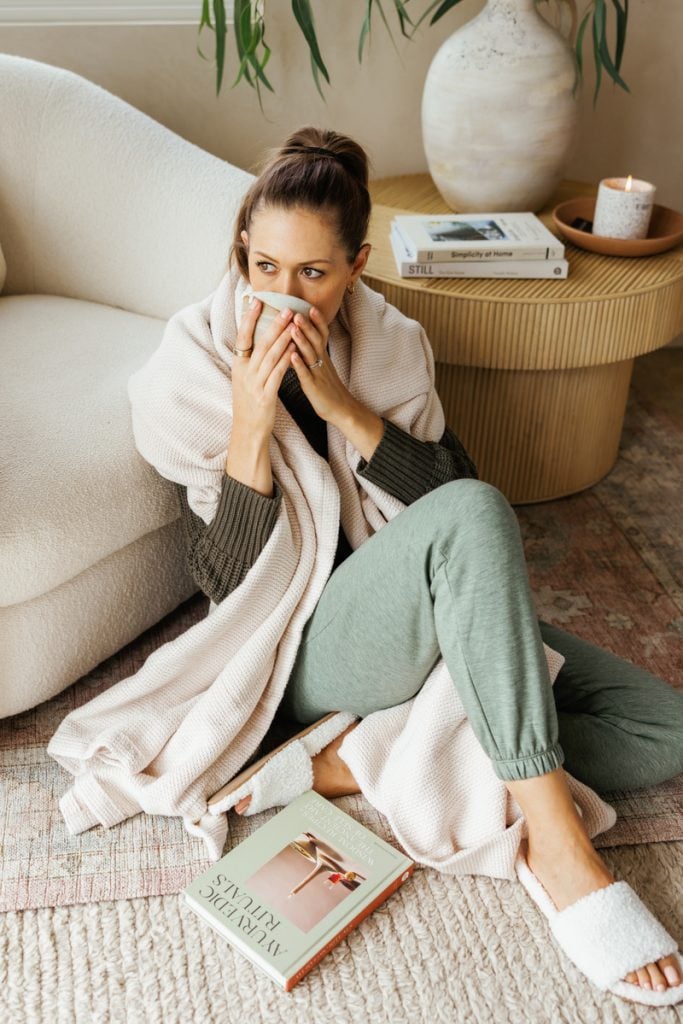 Bedtime Snack
I try to avoid mindless snacking at bedtime, but I also cannot stand to go to bed hungry, so I just try to listen to my body and eat something if I feel like I need it. I always have a cup of tea (decaf chai or bedtime tea) with a little steamed pistachio milk or whole milk, which usually does the trick. If I need something more, I might have a handful of my coconut granola—or a scoop of ice cream, which is my absolute favorite thing in the world.
Goodnight!