For the uninitiated, it's difficult to overstate just how satisfying a great salt cellar can be. How absolutely chef-level you feel when a recipe calls for a "dash of a salt" and yours is within arm's reach, ready for the pinching.  
But it's not just easy access that makes them so wonderful—being able to tangibly measure your salt is far more reliable than a shaker. Salt cellars—or salt pigs, as they're sometimes called—can also help hone your seasoning skills over time. As ideal as they are in their essence, they can also be an aesthetic addition to your countertop or for when you want to set a truly stunning table. With ease and beauty in mind, we've gathered the 12 best salt cellars available on the internet today, from ceramic beauties to Japanese-inspired table toppers.
Feature image by Belathée Photography.
The Best Salt Cellars Available in 2023
Our best list includes a variety of materials, such as porcelain, glazed stoneware, and bamboo, that absorb water from the air to keep moisture safely away from your salt. Because investing in a salt cellar should be good for your cooking and your salt.
Every product is curated with care by our editors and we'll always give an honest opinion, whether gifted or purchased ourselves. If you buy something through our links, we may earn a small commission at no cost to you.
Best Ceramic: Casa Zuma
For the wabi-sabi acolytes, these handcrafted cellars are perfect for housing your favorite seasoning on the counter or tabletop, especially when paired with a Casa Zuma spice bowl (we're suckers for a tiny wooden spoon). Better yet, these delicate-looking beauties are dishwasher-safe.
Best Sustainably Sourced Wood: Material
Another swivel lid sensation, this gorgeous salt "sphere" uses sustainably sourced, FSC-certified wood that lets high-quality salt (or any other seasoning) breathe.
Best Marble: Evermill
The small, Los Angeles-based brand crafts high-quality kitchen containers that are a minimalist's dream. Evermill's customizable salt cellars come in marble or concrete, with an oak or walnut lid that swivels off with the flick of a wrist.
Best Porcelain: Year & Day
One of our favorite DTC brands for blending form and function, Year & Day offers a wide-mouthed salt cellar that's as California cool as it is utilitarian.
Best Bamboo: Totally Bamboo
This breathable bamboo salt cellar is a sustainable, stackable sensation on Amazon for good reason. The magnetic swivel lid makes it easy to pinch some seasoning with just one hand.
Best Glass: Lulu and Georgia
Glass salt cellars are a little harder to come by (you can find some glorious vintage collectibles on Etsy or eBay), but this durable container, which comes with a sleek wooden scoop, gets everything right.
Best for Stove-Side: Rosendahl
For those who have an affinity for Scandinavian design (and even for those who don't), this gorgeous stoneware cellar, designed by Danish chef Jesper Vollmer, makes a killer kitchen companion. Fair warning though: it may inspire you to elevate every utilitarian tool on your countertop.
Best Tabletop: Georg Jensen
We tried to edit this list solely to salt cellars that could travel from counter to table with ease, but we couldn't resist this stainless steel stunner. Inspired by the organic shapes of Japanese cherry blossoms, Danish designer Georg Jenson created a piece that's more of a minimalist centerpiece than a countertop companion.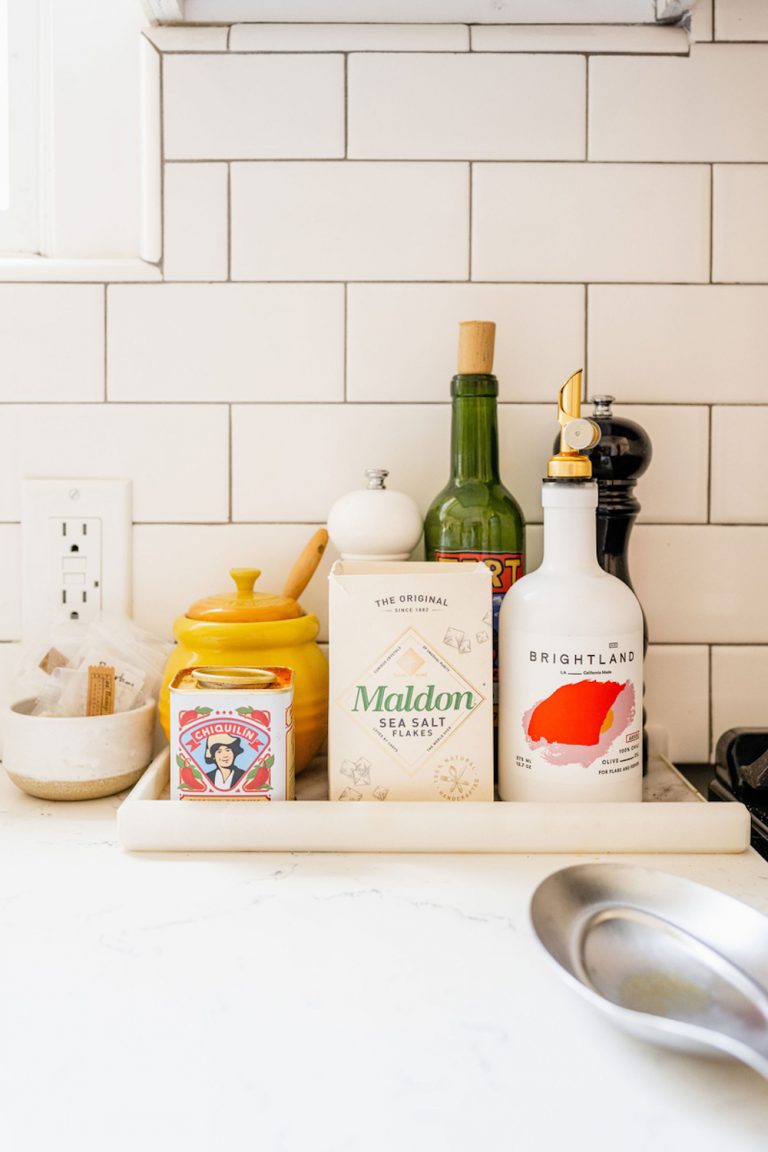 A Few More Great Salt Cellars
So charming we could just pinch them.